Treat your favorite feline to some new and creatively fun DIY cat toys that are sure to be a hit. Check out the homemade cat toy ideas in this list for inspiration and make one today!
Our cats are our furry friends… our constant (and sometimes fickle) companions. Who wouldn't want to spoil their favorite feline with some fun toys or yummy cat treats now and then?
After all, for most, pets are like family and you give gifts to family members, right? Instead of going to the store or ordering an expensive toy online, you can make some fun and frugal DIY cat toys right from the comfort of your home!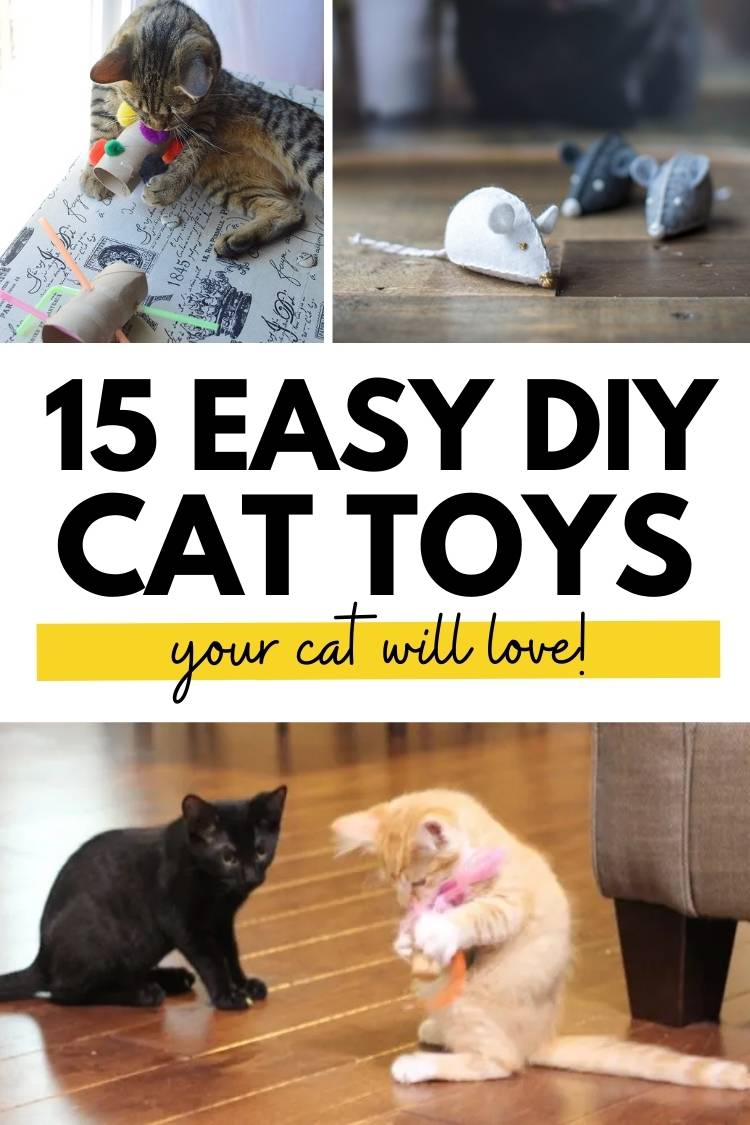 No need to be super crafty. You'll find lots of easy homemade cat toy ideas here that you can make TODAY to have your cat playing in no time.
15 Easy To Make DIY Cat Toys Your Kitty Is Going To LOVE!
If you're wondering how to DIY cat toys, wonder no more! All the homemade toys on this list are easy enough to make that you can make them whether you are crafty or not.
1. Use Wine Corks To DIY Kitty Toys
I hope you're saving your wine corks! In addition to these fun wine cork crafts, you can make some adorable wine cork kitty toys for your furry friend.
To make these adorable DIY cat toys, first, soften your wine corks by boiling and then make a hole in each of the softened wine corks. Using epoxy to make sure nothing comes loose, insert and stick some feathers, pipe cleaners, ribbon, jute, or anything else that will attract and keep your kitty busy for hours. Allow the toy to fully dry before giving it to your kitty.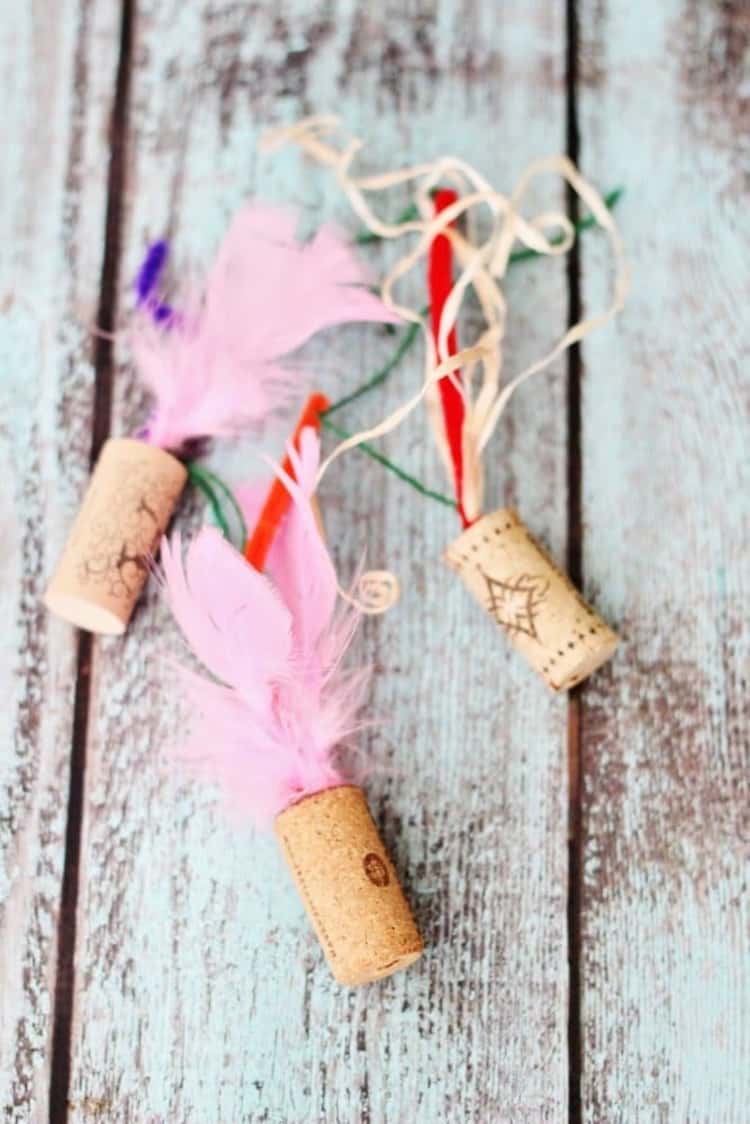 2. Cute DIY Cat Scratching Post
No cat owner's home is complete without a scratching post, but have you noticed how ugly some of those things are? Yikes!
Say bye-bye to those hideous cat-scratching posts by making one of these. This ombre scratching post is pretty, pink, and will look fabulous in just about any room in your home.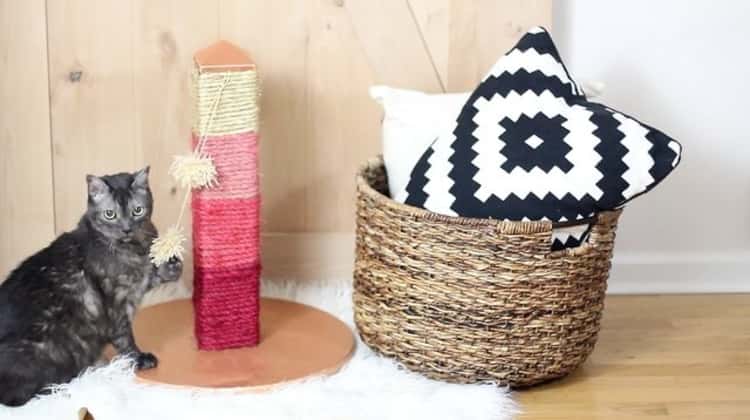 3. Simple DIY Cat Toy With Empty Paper Towel Rolls
I don't know about your cat, but our cat, Rosie, will make a toy out of just about anything. She goes crazy for these cardboard tube cat toys made with pom-poms and straws!
And that's the best part of being a cat owner – cats actually don't require fancy toys. Most prefer regular household items. Here's how you can DIY cat toys for cheap!
What you'll need:
Empty toilet paper and paper towel rolls
Pom Poms
String
Hot glue
Straws
Steps:
To make the DIY cat toy using straws and an empty toilet paper roll, poke holes in the toilet paper roll, then put the straws through the holes. Put the straws in straight, up, or down to make it interesting. To make sure the straws don't fall out, hot glue them at the points where they go throw the empty toilet paper rolls.

To make the DIY cat toy using pom poms, hot glue different sizes and colored pom-poms to the empty toilet paper roll.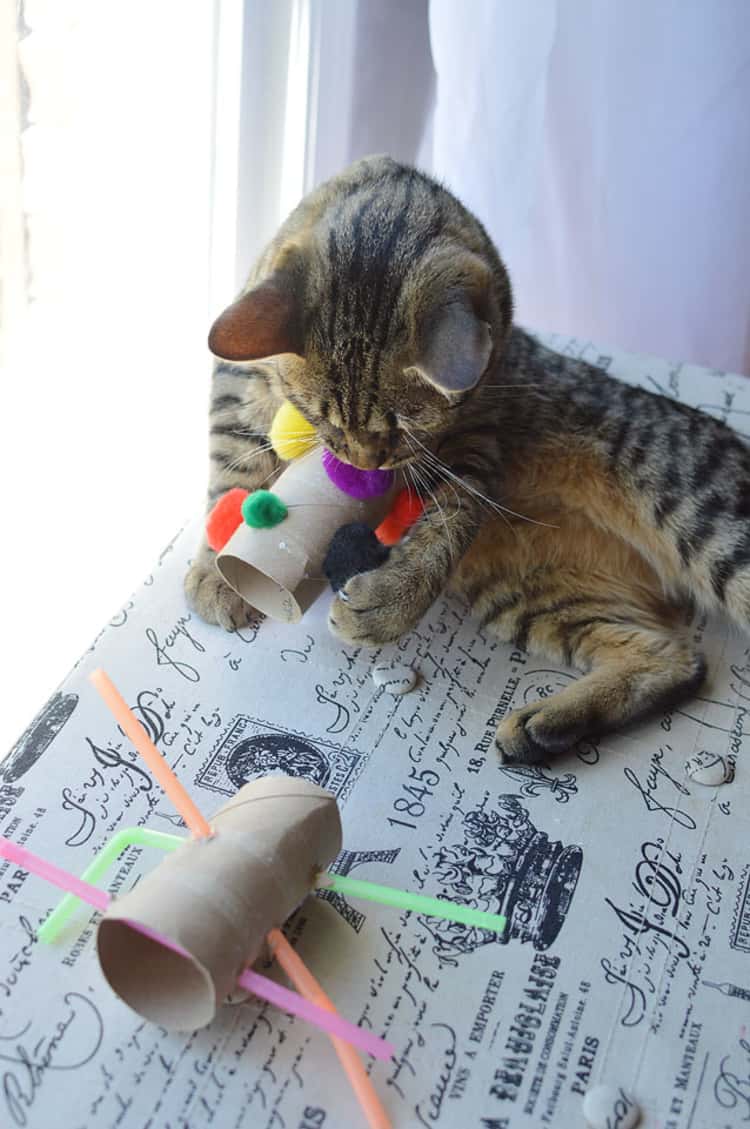 Our cat seemed to quickly get bored with his existing toys and so this got us back to crafting easy DIY toys, again. We recently made him a few toilet paper roll DIY cat toys filled with some of his favorite treats. These DIY toys are bound to keep your cat busy for a while once they realized they are treat-filled.
Just make sure you leave one end open enough for the treats to fall out while your kitty whacks the toy around. We mistakenly closed off both ends too tightly, and he got a little frustrated! Whoops.
5. DIY Cat Tent
While this DIY isn't a cat toy, we know that every cat needs a place to hide — a little sanctuary to get away in when the house becomes too busy.
A DIY t-shirt cat tent is just the ticket! Simply make it with wire clothes hangers (to shape the tent) and an old t-shirt. DIY'ing cat toys and stuff for your kitty couldn't get easier than this!
Here are more ways to make a cat tent at home!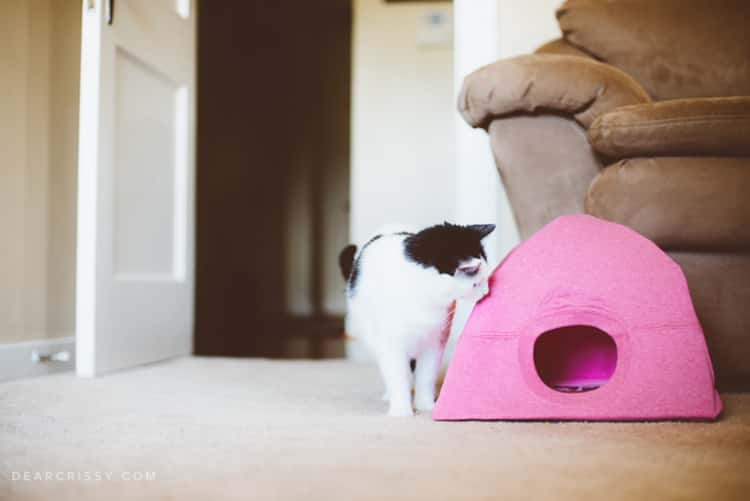 6. Knotted T-Shirt DIY Cat Toy
Speaking of old shirts, I'm yet to meet a cat that doesn't love smacking these DIY knotted t-shirt cat toys around. They were an immediate hit with my kitty … and are a great way to reuse fabric scraps.
Because they're so simple to make, be careful not to go overboard while making them, lol. But then again, you could gift the excess toys to friends and families with kitties.
Tip: To make them simply irresistible to the kitty, put some catnip in a few of them 😉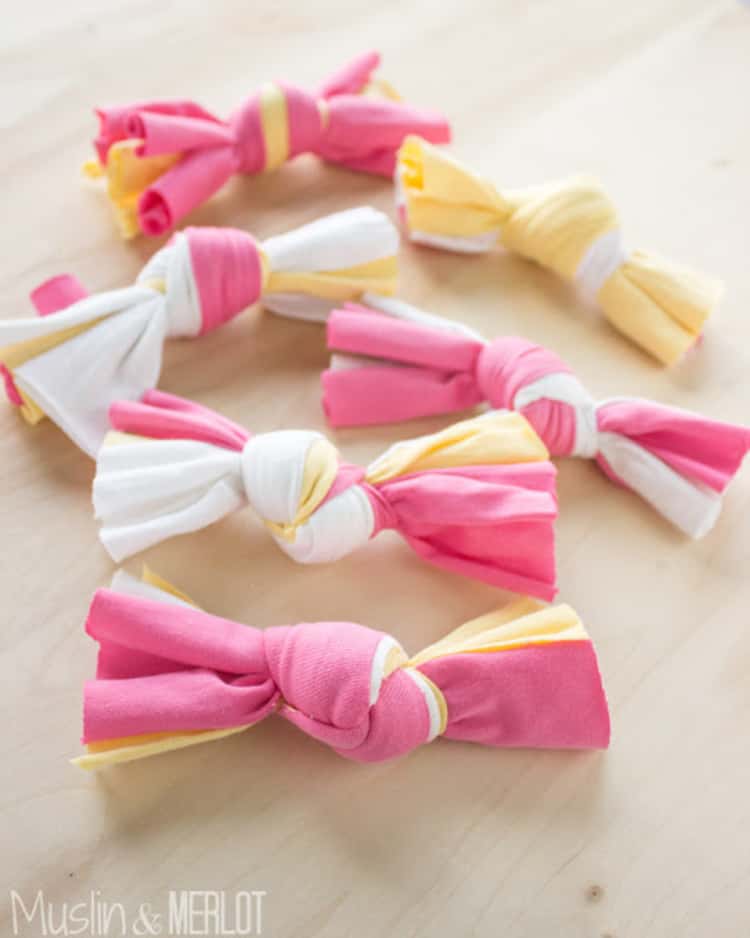 7. DIY Felt Mouse Toy
This little DIY cat toy project is for those not afraid of a little sewing though I must say, these felt mouse toys are so adorable. Since they are toys that are sewn together, you can add some catnip inside to make your cat really go wild for her new toy.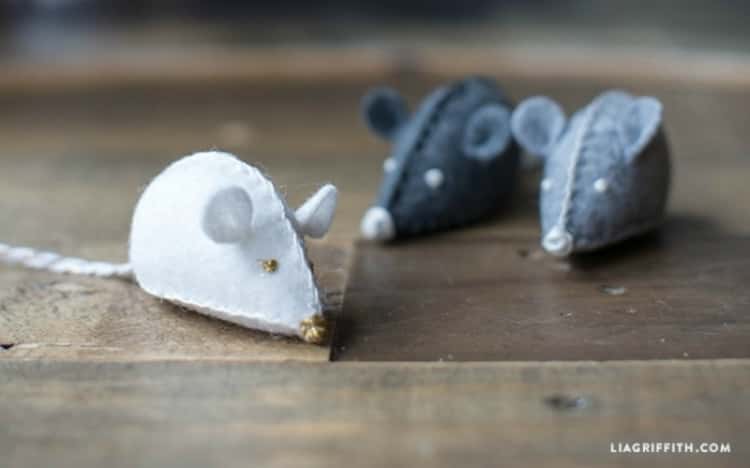 8. DIY Paper Mache Kitty Toys
This clever cat owner created paper mache kitty toys out of hollow paper mache shapes, catnip, and twisted paper. I can't get over how cute they look. And neither will your kitty!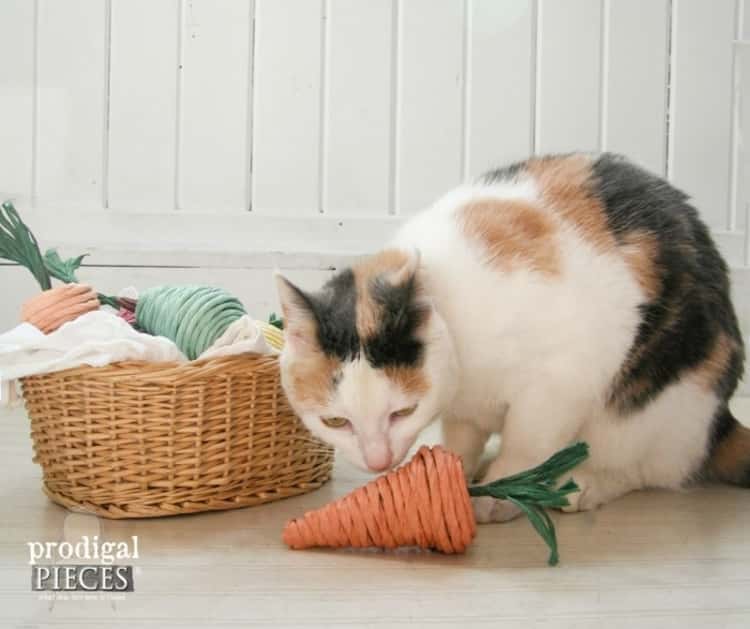 9. DIY No-Sew Homemade Toys
Make no-sew (and no-glue!) goldfish toys for your kitty. What could be better than relaxing while making these DIY cat toys?
Trust us on this, because even if you aren't super crafty, these projects are so easy you can absolutely make them yourself! Make them for your kitty…or make them as great gifts for the fur parents in your life.
10. DIY Pom–Pom Cat Wand
If you have a kitty that likes to chase and pounce rather than swat and toss, I highly recommend making a pom-pom cat wand.
If you know how to make pom poms, you can make one of these pom-pom cat wands in a pinch. Your kitty will be thrilled with the chance to leap and pounce on it.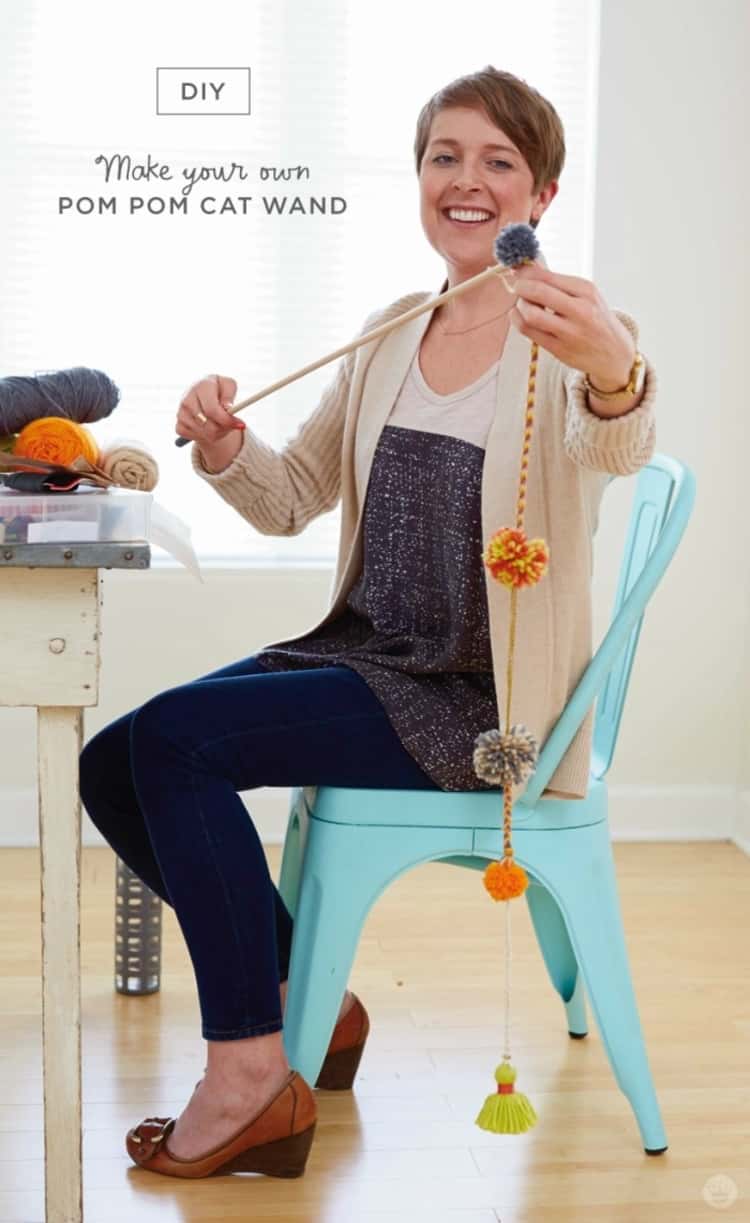 11. Another Pom-Pom Idea
Some kitties love feathers. Some love toys that make noises. And some cats love pom-poms toys!
If the idea of making a pom-pom toy confounds you, here's how to make easy pom-pom cat toys for your sweet kitty.
All you need to make pom-poms are cotton wool and a pair of scissors, and I must say it doesn't get simpler than this!
Start by holding the end of the cotton wool in the palm of your hand. Next, wrap the wool around your hand and loop it at least 50 times. Slide the looped wool off your hand and tie the center with a piece of wool. Cut through the looped sides to create your pom-pom. Feel free to make several of these so that your kitty is spoilt for choice!
12. DIY Feather Kitty Toy
While some kitties may prefer pom-poms, there are definitely a lot of cats that love feathers – especially feathers and bells. The cool thing is that you don't need actual bird feathers to make these adorable cat toys.
Cut wool felt, add a tinkly bell, and a string, and you can have one of these pretty feather cat toys in just minutes.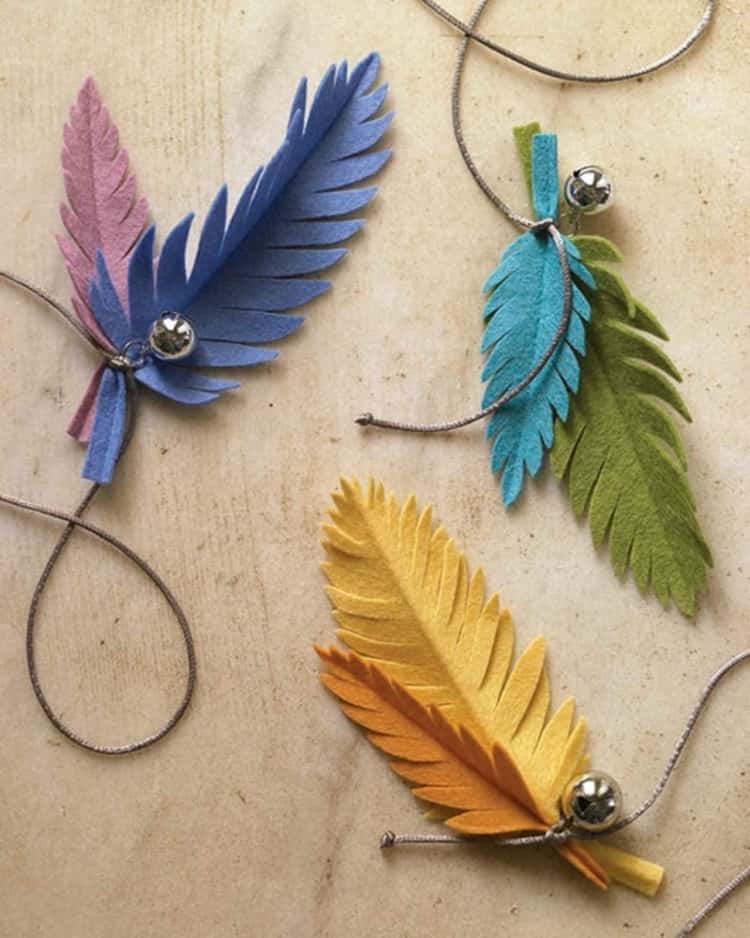 13. Ribbon Cat Wand
A ribbon cat wand never disappoints!
Add some bells for extra noise, and bunch the ribbons by tying them together with some twine. Attach to a stick, and you're good to go for some noisy minutes (or hours) of cat gaming fun with your new ribbon cat wand.
Does your kitty get bored during the day? By making holes in the lid of your Tupperware container, you can transform a Tupperware container into a brain exercise for your cat! All you need is to add some different-sized and colored balls in the container and your kitty is good to go.
This DIY cat puzzle will be lots of fun for inquisitive felines. No more bored kitty!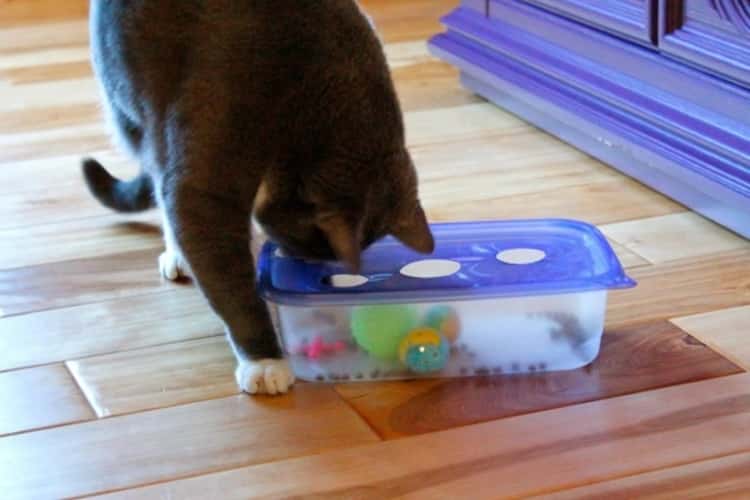 15. Fortune Cookie DIY Cat Toys
Want to make a gift for every cat you know? You know you do…
Try these fortune cookie cat toys. They make wonderful presents, and people will appreciate that you've thought of their cats during the holidays.
You could also make a dozen or so in almost no time to donate to your local shelter.
While it might be easier to buy a pre-made toy from the pet store, odds are your cat won't really play with it much.
Instead of asking yourself why you wasted your money, direct that mental energy toward making a DIY cat toy for your feline with stuff you already have.
You can customize the homemade cat toy for your kitty's needs, which is perfect since you know him/her better than any pet store ever could. And, you'll probably have a little fun embracing your crafty side!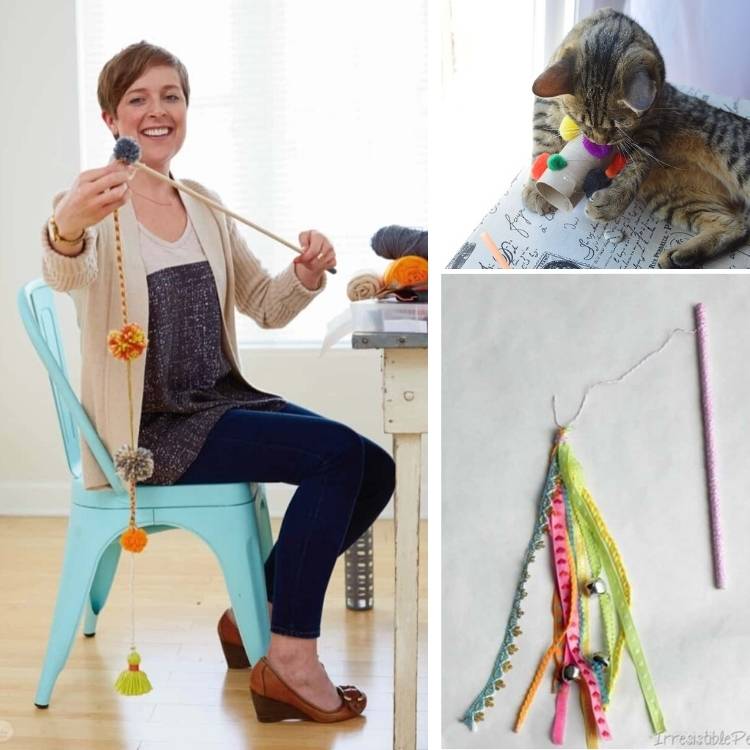 If you enjoyed making any of these DIY cat toys, here are more pet-related posts you should check out: