Camping is awesome. I've said it. Not only is it the perfect way for families to hang out and get away from the screens but it also means that kids can relax and get back to nature as well. This is why you need to see this great camping gears for kids items that will have you running for the hills. (to camp, of course!)
The next time that you want to get away from it all, you need to give camping with the whole family a try. There's nothing better than a bit of fresh air, some super fun camping items and Mother Nature to get everyone's head clear and back on track.
Check out these awesome camping items for kids that can easily provide hours of fun and entertainment while having some adventure at the great outdoors.
Epic Camping Gears for Kids
Every time we go on family camping trips, we seem to literally pack up our house. And then every time we get to our campsite or campground, we find out that we have so much crap that we're never going to use.
I mean…we're literally camping for like 2 days…but we've packed for like 2 months.
This is why these camping items are really perfect. They're simple, lightweight, don't take up much room and allow the kids and teens to have different angles of fun without really having to change it up all that much.
Here's a quick rundown of your must-haves:
Flashlights, headlamp and batteries
First Aid Kit
Binoculars, whistle and magnifying glass
Snacks
Sleeping bag and/or sleeping pad
Mattress and blankets 
Compass
1. Camping Patches
If you have a scout or an outdoor troop, check out that camper patch above that you can easily sew or glue onto any type of jack! I'm pretty much obsessed with making this happen and I think it's such a cute touch to any trip. It's like you're giving the kids a badge of camping after your first successful trip.
2. Camping Map
Check out the fun camping map that is printed on a small rag! It's a fun way to get the kids out and above exploring the whole area. You can also have them color this as well or just use the picture idea as a fun way to get them to create their very own map.
They can easily recreate what the campsite looks like and then use that as a good way to leave for others. Think of it as a map that other campers might be able to use as well.
3. Camping Planner
When planning a camping trip with kids, especially toddlers, mom's life can be super hectic.  The worst thing is forgetting something.  Promise.  Been there.  Done that. One trip we literally forgot the toilet paper!! Never again!  Don't let the stress of forgotten essentials ruin your camping trip. The Happier Camper Camping Bundle has everything you need to stay organized and prepared. This ultimate printable bundle includes the Happier Camper planner, the Campfire Crew Kids activity pack, and the Ultimate camping companion ebook. With customizable pages and expert camping tips, this bundle will make your camping experience unforgettable. And for a limited time, get it for just $7 (regularly $37). Don't wait, click here to grab yours and start planning your next adventure today!   Your sanity is worth it!!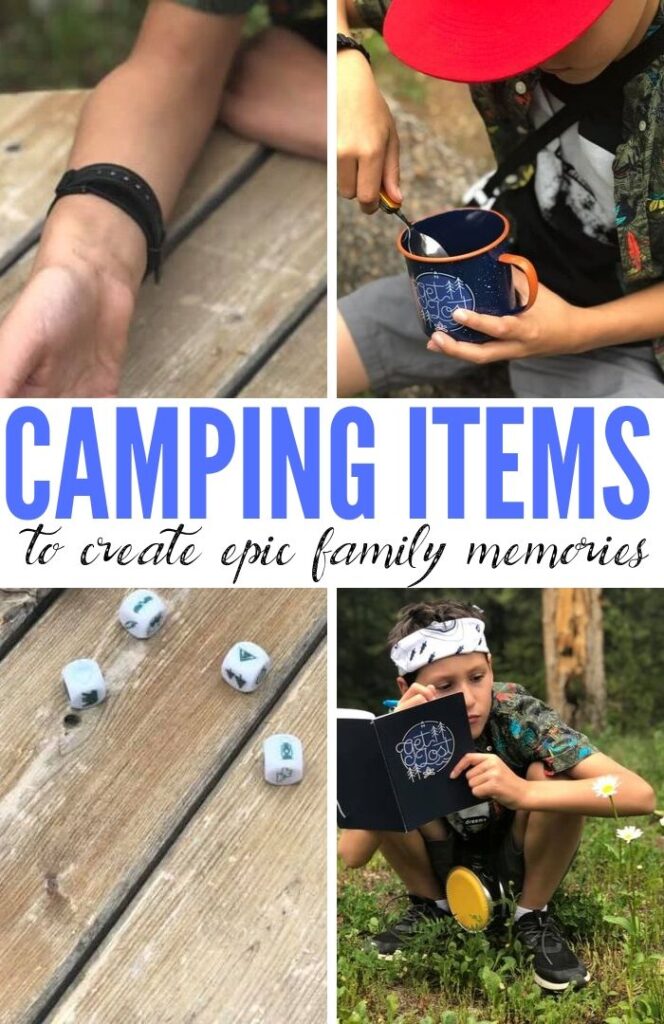 4. Story Dice for Camping
Don't leave home without the story dice! I can't tell you how much fun these camping toys are for older kids and teenagers! In fact, you can easily create your own story dice as long as you have white squares that you can draw or write on.
All you really need is a bit of imagination and some fun words to create a truly hilarious story. I'm 100% serious when I say that story dice really does shake things up. And if you've never played with them, you have to give them a try.
Just roll them, and then make up a story about what they rolled. Every person will be talking about unique things and laughing the whole time.
And after a while, those camping stories get WILD. It's like Mad Libs but instead of writing out the words, everybody is just saying them and as the night gets later, the stories get wilder.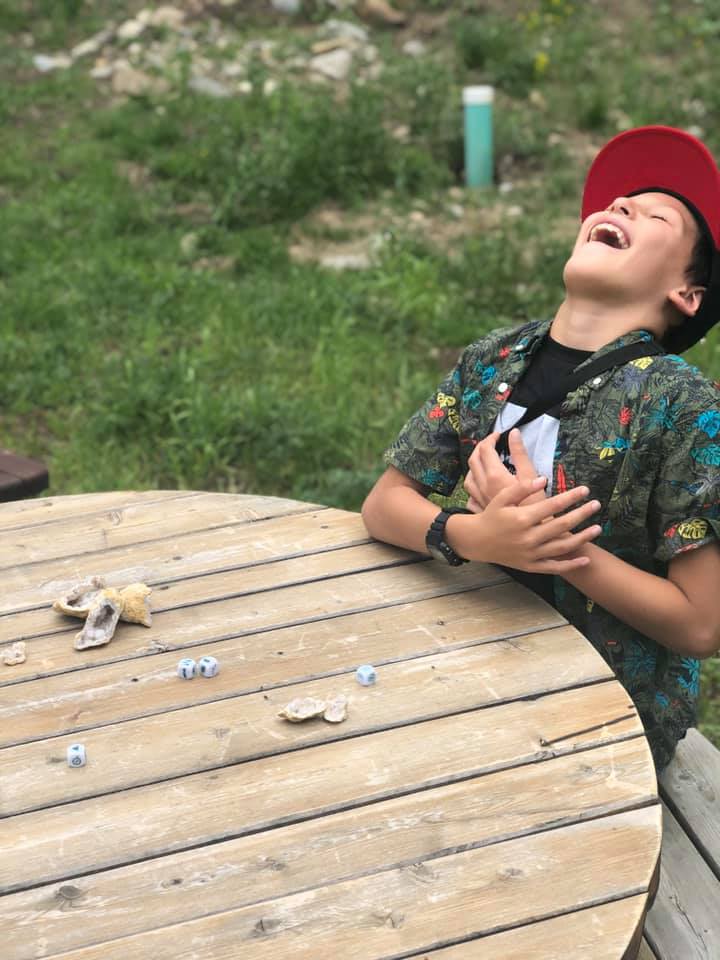 5. Camping Nature Journal
The other major and one of the essentials camping item that you need is a camping or nature journal for kids. While it might not sound overly exciting in the beginning, I can assure you that it is.
Just stop and think about everything that happens in nature. From seeing bugs to exploring in the woods, there is literally always something going on.
And if you gift your child a nature journal, they're going to take the time to record what they see and think. Who knows? Your child might just find out that they're a nature lover at heart.
While you can purchase a camping journal, you can easily make your own as well. Just staple together some pages and let your child have fun. (they really don't need much as far as this camping item goes!)
6. Tin Mugs for Camping
Don't forget the tin mugs. These camping items are used for everything. From hot chocolate to soup, you're going to love having these on your camping trip.
They hold the heat well and just have something 'rustic' and outdoorsy about them. They make waking up in Mother Nature and sipping on a cup of tea the perfect way to start the day.
7. Camping Utensil Set
This camping utensil has it all. Seriously. From a spoon to a fork and a few other gadgets like knife, your little camper will fill right at home knowing that they have all that they need right in their pocket.
And let's all just agree that there is something totally awesome about having a gadget like this, right?!
As long as they understand how to be safe with it, they'll love having it with them.
8. Canteen for Camping
And parent to parent, make certain that you do what you can to keep your children hydrated. Get them their own canteens, water bottles or anything else that they're drinking from so that you don't have to worry about them overheating or getting too thirsty.
I've found that the main focus for kids is food, drink and fun things to do. Everything else doesn't really matter. (or it's the parents' job and the kids just don't have to deal with it)
But when you're thinking about going camping, put your focus on some of these great camping items. And once you have a few camping trips under your belt, you can absolutely add to the list of items that you're going to want and need.
Camping is one of those family outdoor adventures and activities that just keeps evolving and evolving every single time. You'll start out tent camping and soon be the proud owners of a $50,000 camper…maybe not overnight, but that tends to be what happens.
You can easily go from camping to glamping in a flash…but until then, use this simple camping checklist to help. (and just from me to you – don't forget the toilet paper or bug spray! These are two items no one should ever camp without!)
What is your favorite camping item listed above?