Whether you're new to homeschooling or a seasoned veteran, getting organized is essential. Use these helpful homeschool organization tips and hacks to keep you on track and stress-free!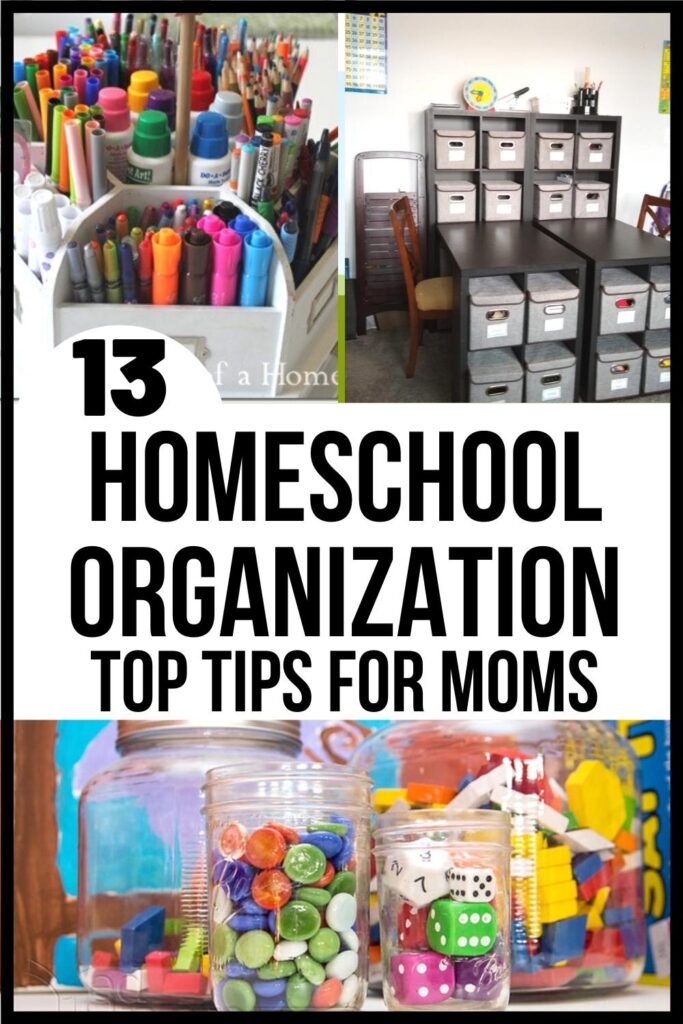 A year ago – even just a few months ago – almost no one would have imagined where we are today.
With schools getting ready to start back up, families around the world are finding a different scenario than they faced just one short year ago.
Many schools are choosing to take advantage of remote learning (online homeschool) or implementing some sort of hybrid schedule where kids go to school some of the time and learn from home some of the time.
Juggling homeschooling duties (often for multiple children!) as well as work and household responsibilities can feel daunting, especially for moms who have been thrust into homeschooling their kids for the first time!
Whether you are normally a full-time homeschooling mom, or you have to dive in headfirst (while also working from home) due to current life circumstances, use these helpful homeschool organization tips to help you stay on top of everything.
13 Insanely Useful Homeschool Organization Ideas
I don't know about you, but when our workspace is disorganized, I cannot function at optimum levels.
With school for most children containing at least some element of remote (homeschool) learning, I knew it was time to get our learning space in order!
Check out these helpful organization tips designed to get you ready for the start of the new school year and keep you in tip-top order all year long.
Homeschooling involves using a plethora of supplies. Give every item a home within your home without taking up a ton of space by using vertical cubbies.
This Expedit unit from Ikea is perfect and allows you to organize all the supplies by each child!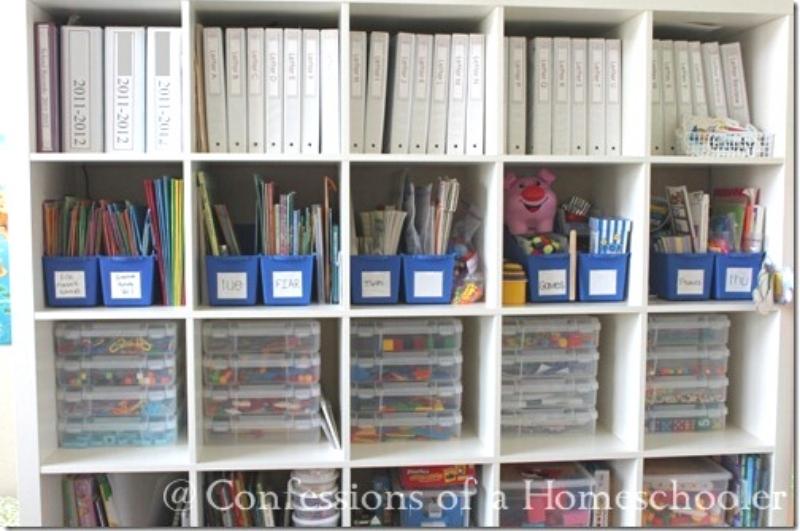 Storage is the key to homeschooling.
Honestly, many homes don't have enough room in them to dedicate an entire room to learning. That's why I love utilizing multi-purpose furniture like these desks that double as cubby storage.
No matter how big your homeschool space is, make the effort to create a dedicated space for homeschooling.
The kids may have to work at the kitchen table, and that's ok. You can still find a space (even a corner!) to keep and store homeschooling supplies.
My first mistake as a homeschool mom was to not set a schedule. I thought "we'll be flexible and adjust as the day goes on".
Huge mistake.
By not setting a schedule, I practically set myself (and my kids) up for failure. Without a schedule, we didn't accomplish anything! This basic schedule helped me get back on track.
What's a homeschool mom to do with all the dice, math blocks, and mountains of other small manipulatives?
Glass jars work wonders for keeping them organized, off the floor, and still visible so they are easy to find when you need them.
Fact: Kids can only focus for so long before their brains "turn off" and they start becoming very distracted. Help reduce those periods of distraction by scheduling in regular, short breaks!
10-15 minutes of moving around in between subjects can make the difference between organized learning and chaos.
Supply Caddy | Confessions of a Homeschooler
There's a reason that teachers have supply caddies all over their classrooms. Those caddies make it easy to organize those items that kids use all the time in their classrooms:
Pencils
Markers
Erasers
Scissors
Glue
Buy one. Use it. You'll be so glad you did.
If you like a desktop carousel more than a caddy/tote, that works well too!
Homeschooling comes with a lot of papers: schoolwork, grading, planning, and other creations. Keep it organized using 3-ring binders!
This system is simple but very effective.
Are your kids dependable when it comes to writing their names on their papers? Nope? Mine neither!
Buy coordinating binders, folders, Post-It notes, copy paper, in different colors – one color for every child.
That way, you know with a simple glance whose work you are looking at without guessing whose handwriting on each paper.
This tip works well both for playrooms and homeschooling young children who can't read yet!
Take a photo of the contents of a cubby or box and attach that photo to the outside so that small kiddos know where to put things when cleaning up.
Your kids will be using their homeschooling books every day, so they need to live in a place that the kids can easily access. That can be on a shelf, in a cubby, or in a drawer.
Whatever you decide, I recommend having it be in a place that naturally reduces clutter (ex: NOT on top of a desk).
If you really want to stay organized, you have to have some sort of supply closet or cabinet. This is for those items that you don't use often and homeschool books that you don't use every year (even if you have back-to-back kiddos).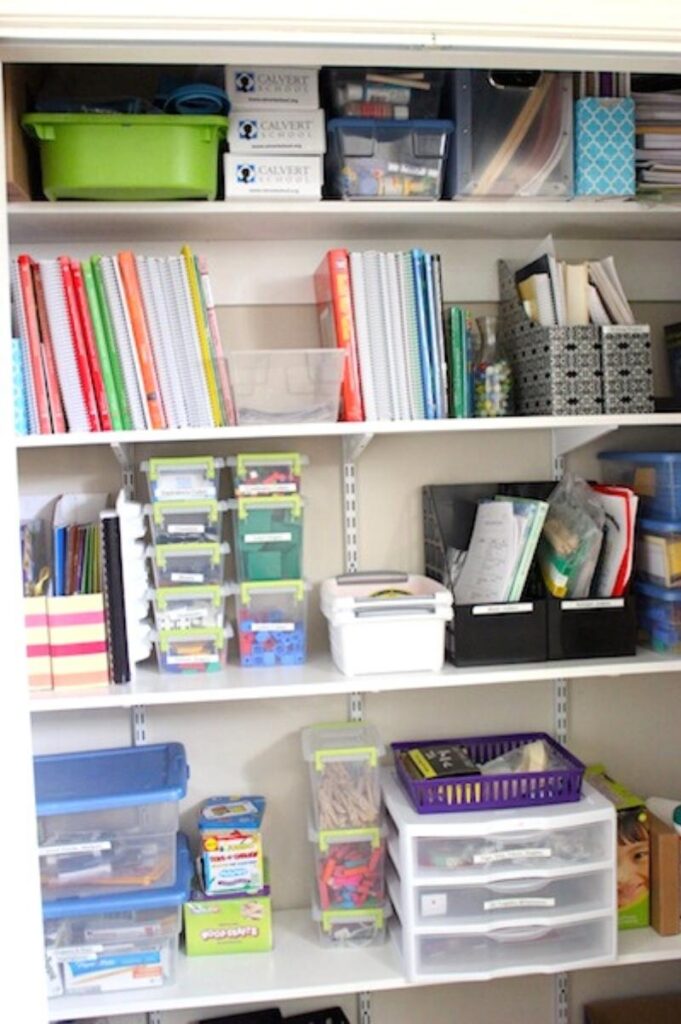 Use a Planner | Organized Homeschool Mom
Hands down, if you want to stay organized throughout your homeschool year, you need to use a planner. This free planner is a lifesaver.
Teach your kids to use a planner to help also teach them responsibly.
There you go! With these 13 tips from experience homeschool moms, you can quickly get organized and stay that way all year long.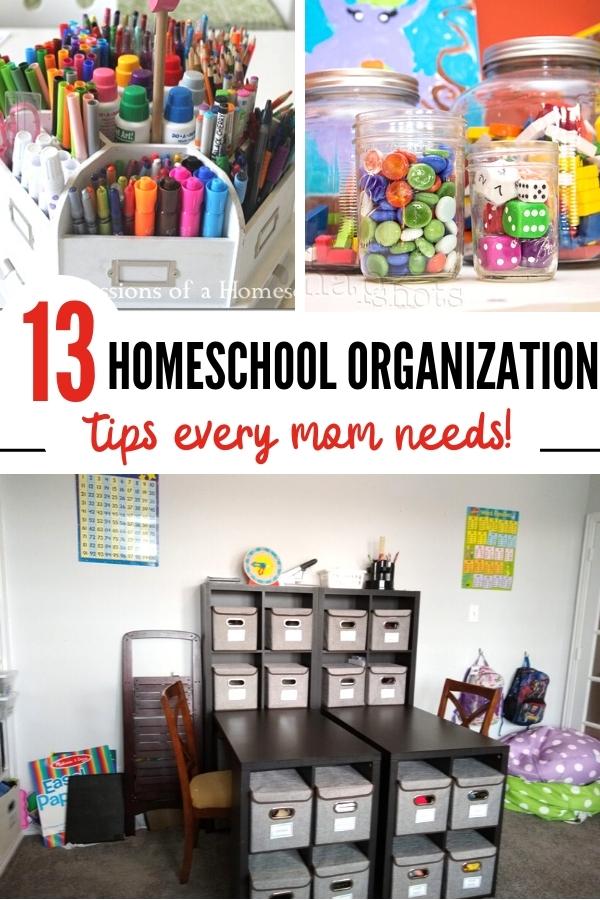 More From One Crazy House: