Have you been to baby showers where you groan when you find out the games? How about some fun baby shower games that you'll WANT to play?  Add a few of these 16 hilarious and fun baby shower games to your celebration. You'll have every guest enjoying themselves, all while celebrating the mom-to-be.
This list of baby shower game ideas is practically guaranteed to give you a riotously good time the next time you host a baby shower!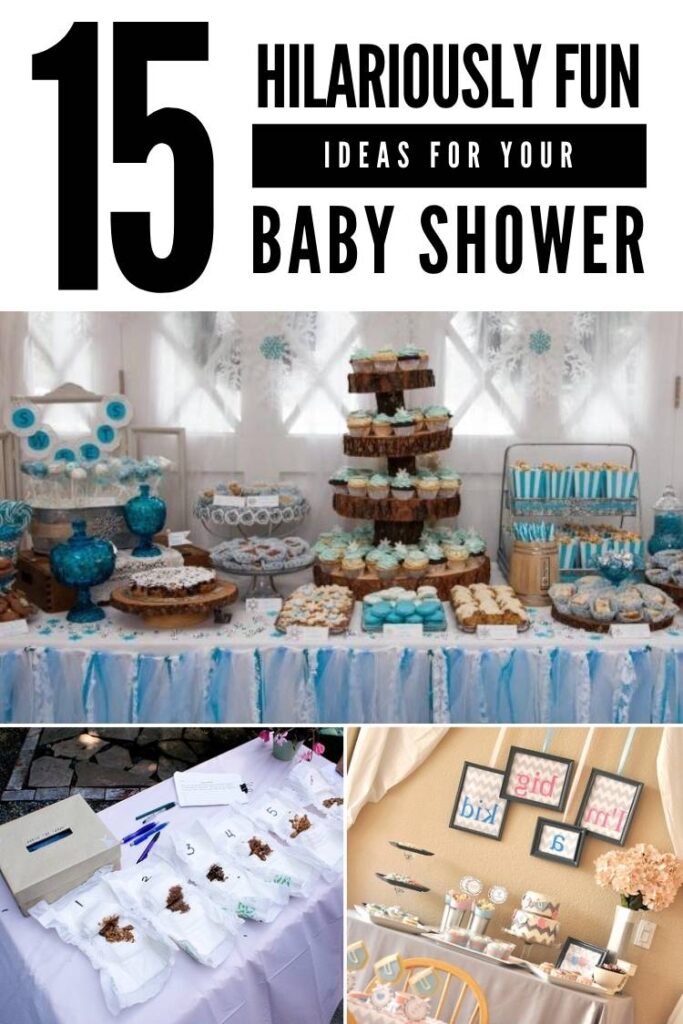 The 16 Best Baby Shower Games (Your Guests Will Actually Want to Play!)
Baby shower games are notorious for making guests groan when they're announced. That's why we decided to go out and gather up a list of games that guests will actually have fun participating in.  Let's celebrate pregnancy and the fact that a baby is on his/her way!
1. Name That Poopy!
Alright, this one is a little gross, but it's also pretty fun once you get past the poo idea. Prep for this baby shower game is pretty simple – grab a few different chocolate candy bars and a pack of diapers. Then, melt a candy bar inside each diaper…just don't forget to label your diapers and write down which chocolate is in each! 
Invite brave guests to venture a sniff or even a taste as to which candy is in each diaper. I dare you not to laugh!
2. My Water Broke!
That's exactly what your guests will be screaming as they melt their ice cubes to get the little baby figures inside. To prep for this game, grab an oversized ice cube tray and some plastic babies. Put it out with a cute sign by the drink station. The first person whose ice cube melts needs to yell out "my water broke" to win this baby shower game!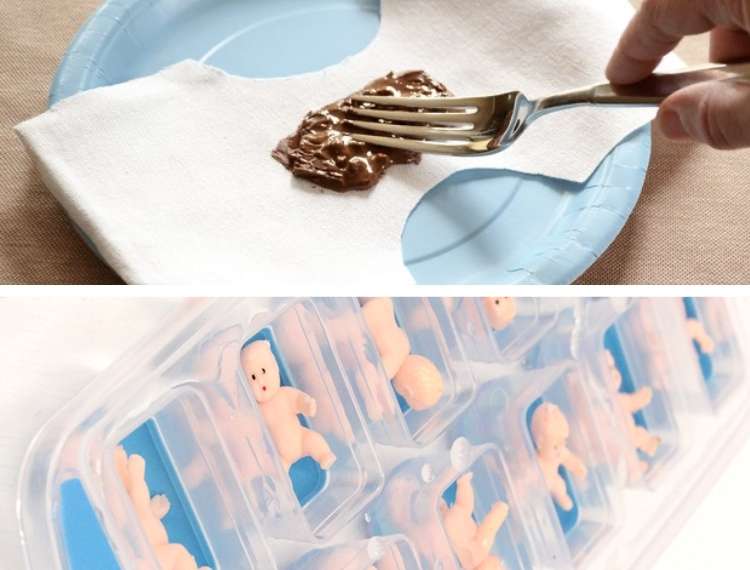 3. Make a Baby (with Playdough!)
Here's one of those timeless baby shower game ideas! Playdough babies is a fun game that will allow introverts to take a breather from the party action. Provide little canisters of playdough and cupcake liners for your guests to mold their own babies.
Your guests' inner sculptor will have a blast. Have prizes for the cutest, ugliest, weirdest, etc.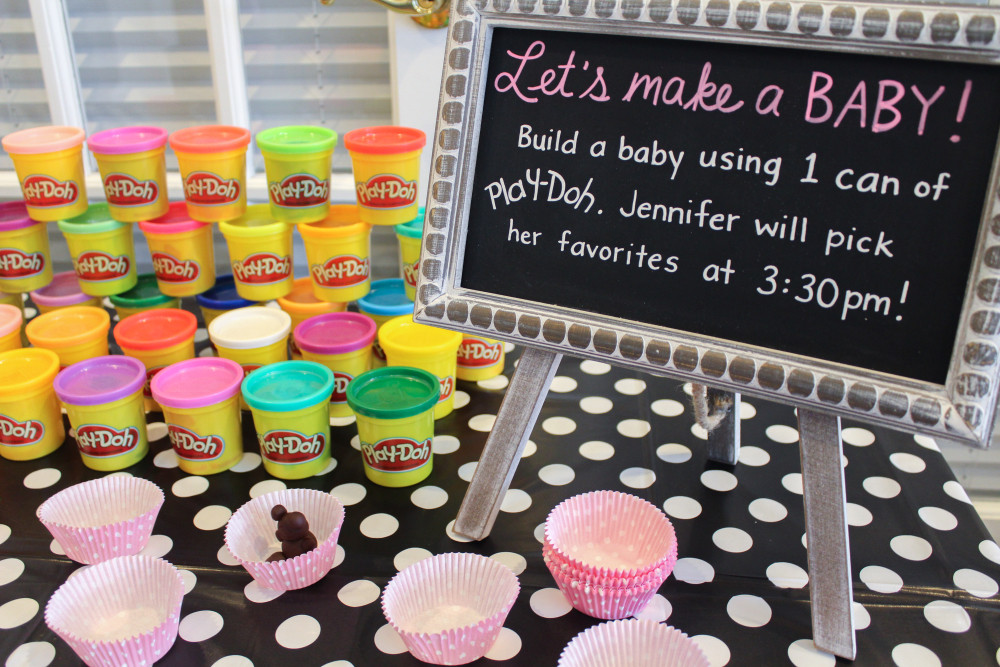 4. Play Chopstick Binky
Grab some pacifiers (make sure it's the kind with handles) and some chopsticks. Put the chopsticks in a pile and let guests use it to pick up the pacifiers. Sounds easy enough, but there's a twist—no hands allowed! This game of chopstick binky will have everyone rolling!
5. Guesstimate Mom's Belly Size
Alright, so you'll need to feel out the guest of honor to see if she's comfortable with the "Guess how big Mommy's waist/belly is" game. Some women like it, and some don't, but it can be lots of fun. This is a pretty easy game to set up – just add some yarn to a bowl with a sign directing how to play.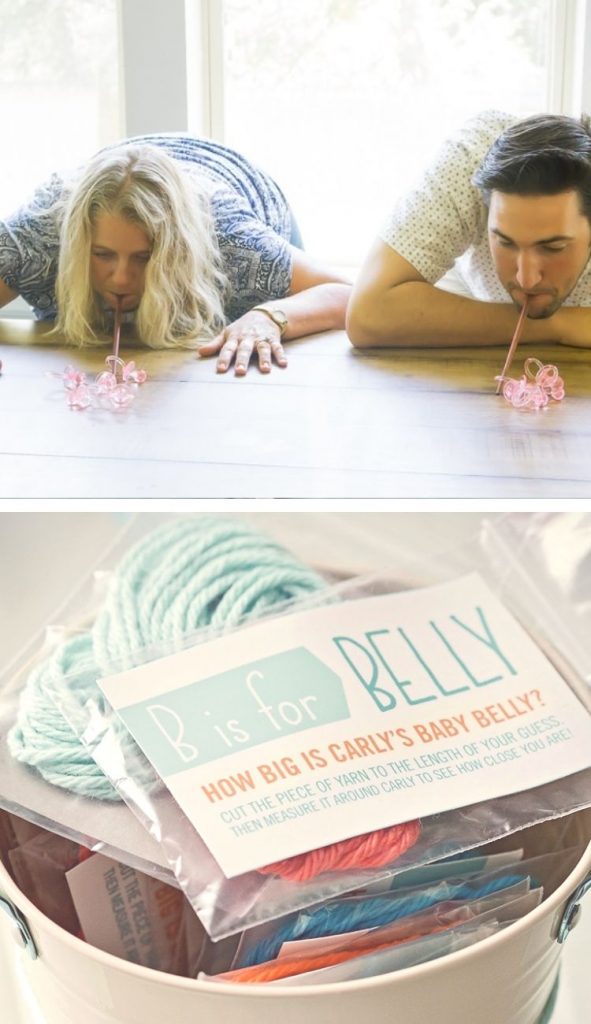 6. Try a Baby Food Taste Test
Here's another easy game to set up. Provide samples of several different types of baby foods, but hide (or remove) the labels. Label the jars with numbers, and provide mini tasting spoons. 
The guests try each one to see who can guess the most correctly. And it's just no fun if you don't put some real stinkers in there like spinach (which, oddly, was my baby's favorite) or beef. This is a great co-ed baby shower game!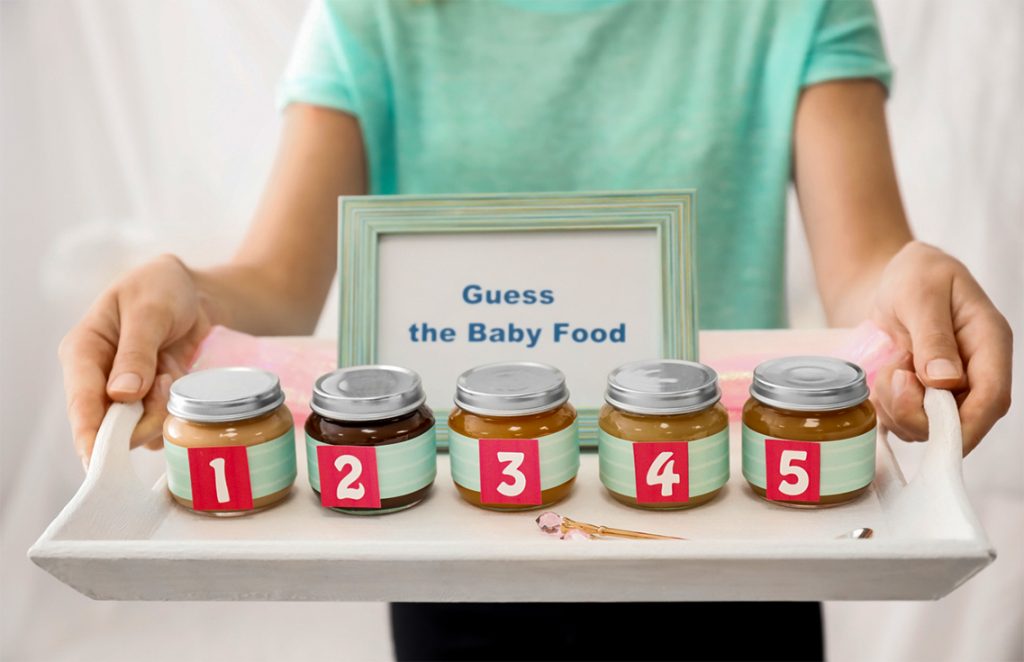 7. Play the Diaper Toss Baby Shower Game
And here's another fun coed idea: a diaper toss! If you're looking for easy baby shower games, this is one.
It's a skill every parent needs to learn anyway, because who has time to walk all the way to the trash can when you're bleary-eyed and exhausted? Not this mama!
Playing is simple – get a stack of diapers, and pour a little bit of water in them to get them nice and full. Then, bundle them up to create aerodynamic little diaper packages. Have your guests line up and play! 
8. Blindfolded Diaper Change
If there's one skill every new parent must master, it's changing diapers! You'll go through about a billion of them with a newborn, so start training mom and dad now.
Of course, we'll give this one a little twist…a blindfold! This blindfolded diaper change game separates the old pros from the newbies! Grab a baby doll or two and let people practice changing a dirty diaper. You'll get a good laugh!
It's a lot of fun and pretty accurate if you think about it with all those bleary-eyed late-night changes going on.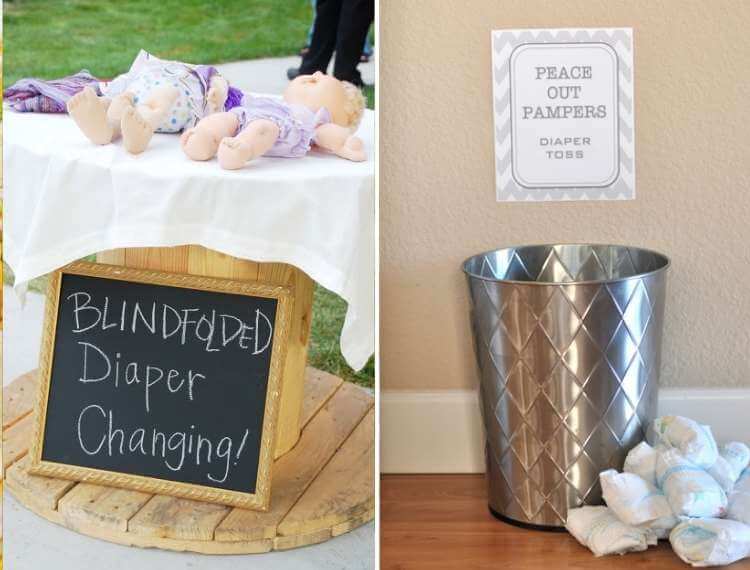 9. Diaper Fashion Challenge
Have a crowd of fashionistas? Try the diaper fashion challenge! Have guests attach as many diapers as they can to their clothes. Choose winners based on the number of diapers or creativity for the "outfit".  
10. Tinkle in the Pot (Fun Baby Shower Game!)
I dare you not to laugh with this one! To play Tinkle in the Pot, guests place large balloons under their shirts and ping pong balls between their knees. Then, they waddle over to the jars and drop the balls in.
It's a hilarious game, and if you've ever been pregnant yourself, you know just how real that waddling is in the last trimester. The mommy-to-be will love watching this one!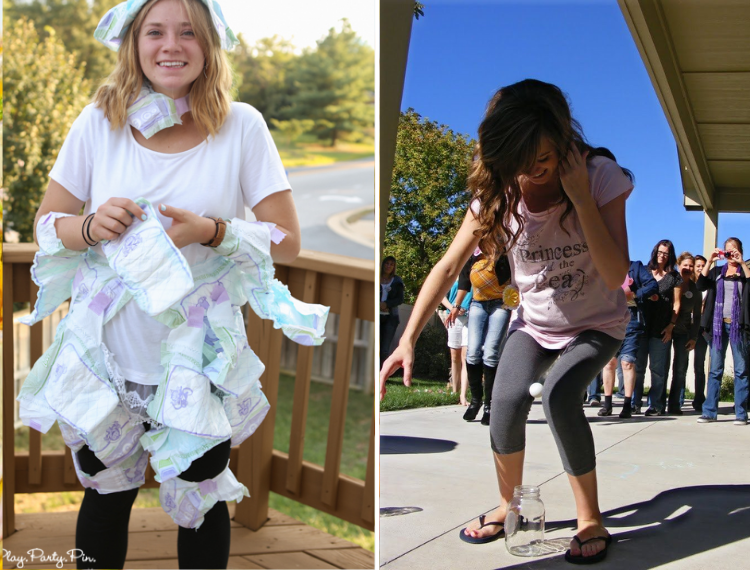 11. Don't Cross Your Legs!
In this game, every player gets a clothespin at the beginning of the baby shower. If guests notice someone's legs crossed, the pin is taken from that person. Some people are really competitive and observant with this one, while others tend to sit back and watch the fun! The last person with a pin wins!
12. Don't Say "Baby"!
This game is the same as the crossed legs game above, except instead of looking for crossed legs, you listen carefully and take pins from people who say the word "baby." You probably aren't surprised that this game is quite the challenge at a baby shower!
13. Draw the baby
Yes, you could simply dole out paper and markers, but we are talking about FUN baby shower games! Of course, you have to make it more challenging than that!
Instead, provide each guest with index cards and a marker. Each player needs to hold the card to their own head as they attempt to draw out a baby using the marker. 
Don't forget to have everyone sign their cards so you can look back at them years down the road! These would be perfect bundled together and added to the new arrival's baby book with their baby photos.
14. Babies Against Parenthood
Ever played Cards Against Humanity? It's hilarious. And this Babies Against Parenthood version is just as fun. This game can get a little wild, so make sure the cards you choose for playing are appropriate for the ages present!
It's a free download, so make sure you get it!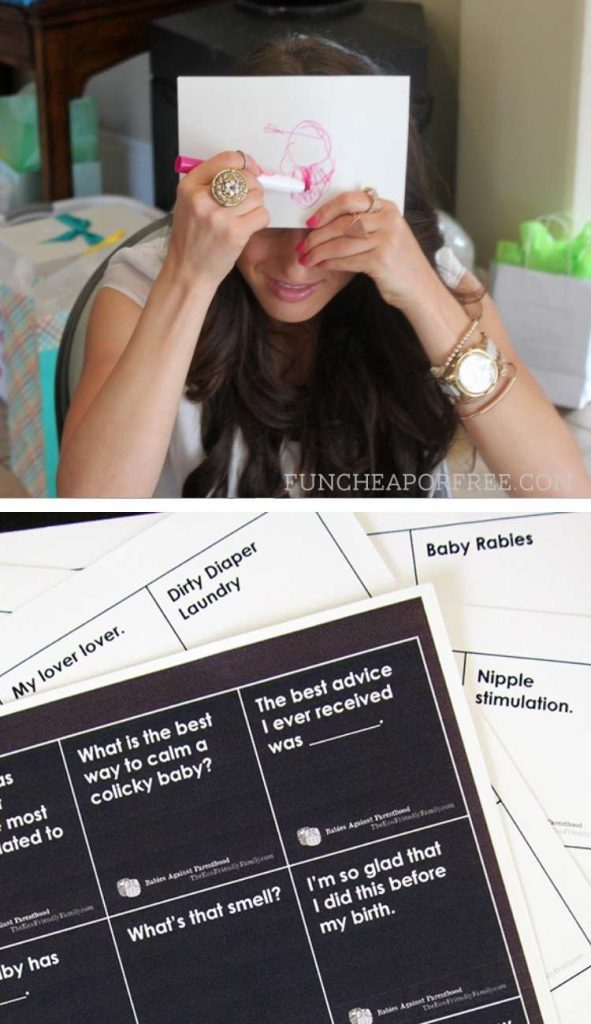 15. Play Bobbing for Apples…with a Twist!
Instead of bobbing for apples, try bobbing for bottle nipples instead. Even kids can join in this game! All you need to do is grab a blow-up kiddie pool, fill it with water and toss in the bottle nipples. You are guaranteed to have plenty of laughs as guests bob for them. 
I hope you loved these awesome and creative ideas for baby shower games!
As you're planning, here's some advice. Think of a baby shower like a birthday party. You want the baby shower guests to enjoy themselves but most of all, you want the guest of honor to know that she has a cheering section behind her supporting her as she begins this crazy parenting journey. 
16. Play Baby Shower Bingo
This is one of those super-easy printable baby shower games. Print out these bingo cards on a sheet of paper and hand them out to guests as mom-to-be is opening up her presents.
This is a simple game pre-filled with baby essentials she's likely to get. Everyone will enjoy playing, and this will help mom to feel less awkward about opening gifts too. The first one to get Bingo wins!  The cards are full of baby items.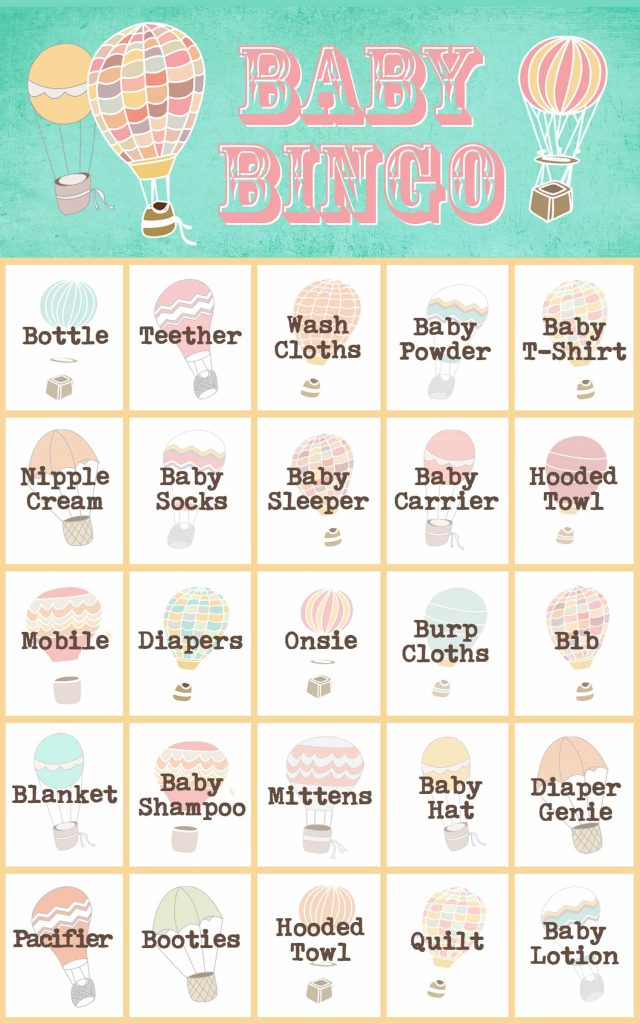 Want even more ideas to celebrate the new baby with fun? Check out these silly and fun baby shower games and goodies!
More Fun Baby-Inspired Reads: