Planning a day at the beach with your kids? Use these genius beach hacks on your next beach trip to make your fun day easier and more enjoyable!
The beach. For some, the thought of the beach conjures up feelings of fun, peace, and relaxation – a break away from the worries of life.
For others, a day at the beach creates a feeling of dread as they think of all the stuff they need to pack and precautions they need to take (and the sand that will inevitability get EVERYWHERE). 
No matter what category you fall into, kids tend to love spending a day at the beach. So when you decide to have your next beach day, you can never have too many beach hacks to make your stay a bit easier and more enjoyable. 
And luckily for you, we did all the research for you so you can get to your vacation that much faster.
Beach Hacks Moms Need to Know For A Perfect Day At The Beach
Check out these beach tips – beginner beachgoers and experts alike are sure to find some new ideas on this list that you can use on your next beach trip!
1.
Make a Sponge Lei for Your Beach Vacation
Make a sponge lei for every family member. When wet, it'll keep you cool when you're out of the water.  This one is so easy!!  Just cut up a sponge, thread them into a necklace. Before you go out for the day, get it wet and wear it.  The evaporation will help you stay cool.  For an extra cooling effect, stick it into the freezer before using it and then you can transport it to the beach in sandwich bags that are sealed.
2. Create a sand-free zone – Use a Fitted Sheet
Want to create a sand-free zone?? Try a fitted sheet with bags, coolers, etc. at the corners to keep your baby out of the sand – or even YOU!  We love how having the edges helps contain the fun and the mess, you'll especially love this trick if you have wind.  It keeps the sand from whipping at you! Your little one will have a blast crawling around and exploring their new spot with their sandy toes..sand-free! Of course, make sure to keep a beach umbrella handy too. 
3. Keep Kids Corralled in a Kiddie Pool
Keep babies, tots and even gear corralled in a kiddie pool at the beach. What a smart idea! If you are at the beach for a long time, the waves and the constant worry for safety can be exhausting.  Bring a small kiddie pool to create a tot-friendly zone.  This would have given me peace of mind when my children were younger.
Plus, you can ensure they stay nice and shaded the entire time, thanks to a perfectly placed beach umbrella.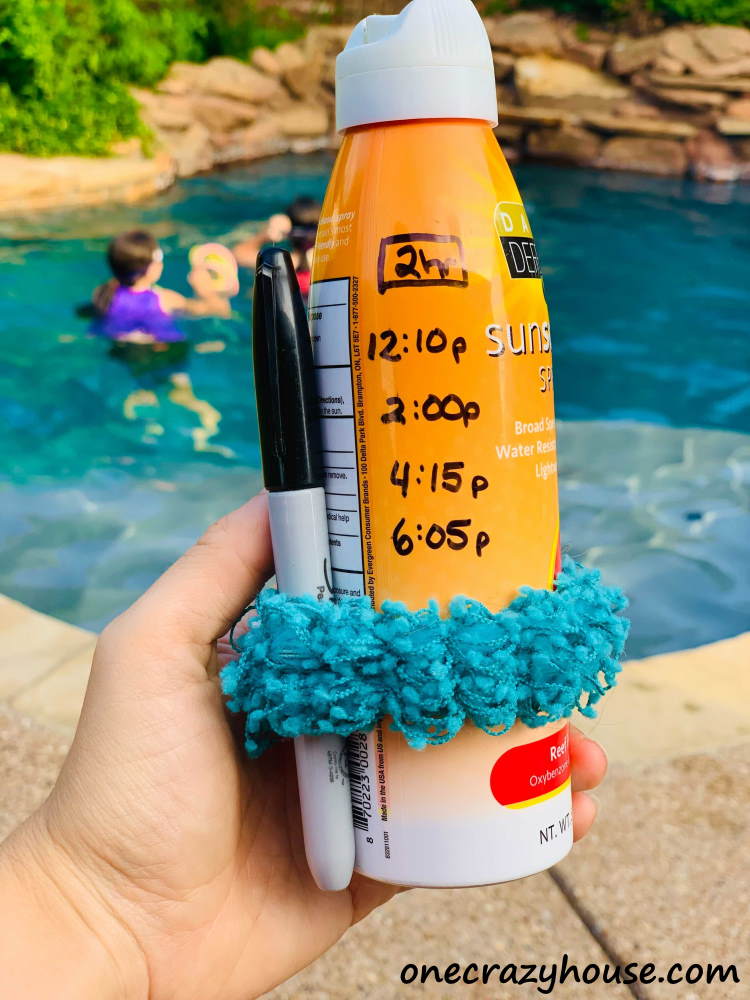 4.
Beach Tip: Record when you last applied sunscreen
The first time my toddler got a sunburn I bawled!!  I was so mad at myself for forgetting to reapply sunscreen!!  I know I am not the only one who has made that "mom-mistake".  UGH.  How many times have you forgotten when you last put on sunscreen (and when you need to reapply)? Me too! That won't be a problem anymore.
Take a marker along with you to write down the times you need to reapply sunscreen.  Oh, and I love the spray bottle sunscreen the best because it makes application so much easier to wiggly kids.
5. DIY Freezer Balloon Coole
r
To keep your food cool, freeze water balloons filled with water to pack into your cooler. These are great as they keep your food cool but dry – added perk is FUN!!  Cause after they've thawed completely, have a water balloon fight! You can even use non-traditional cooler boxes for this one…like a wagon or a bin on the bottom of strollers.
6. Safely Store Your Phone
Save plastic peanut butter jars to store your phone and keys in while you're at the beach. No sand or surf will get in there but easy to grab when you need them. Brilliant! Alternatively, you could also use zip topped plastic bags, but this seems safer to me. Whatever you choose will be easy to throw into your beach bag.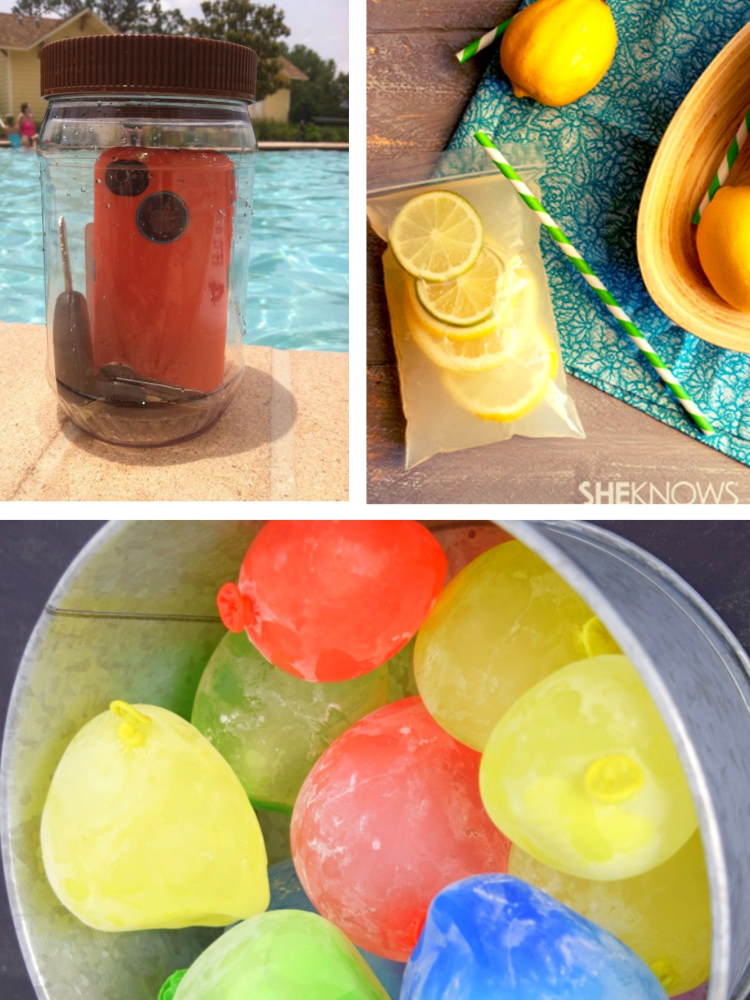 7. Whip up Some Lemonade Pouches
Bring along spiked lemonade pouches for the adults or delicious alcohol-free versions for the kids to stay hydrated. These are totally portable and completely delicious! 
8. Make an Easy DIY Slushi (with Capri Suns!)
For the kids, bring along some frozen Capri Suns. Let them thaw for a little while, and they'll be nice and slushy… the perfect way to cool off on a hot day at the beach! Don't forget to pack some spoons, too. 
9.
Freeze Your Water Bottles
Freeze your water bottles instead of bringing ice packs to keep your snacks cool. Your water will be extra cold for hours, and you'll keep your snacks fresh, too.
Less to pack – less to put away!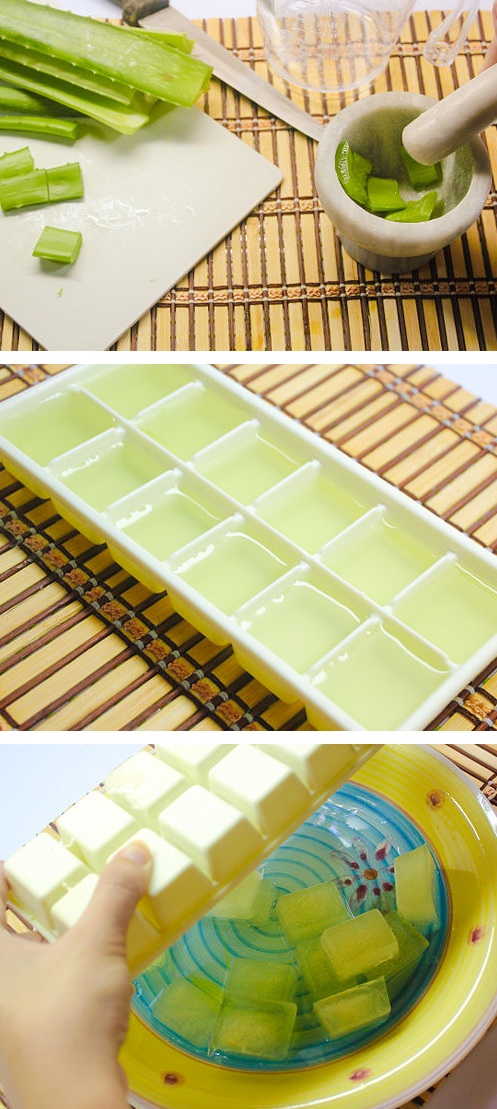 10. Make Frozen Aloe Vera Ice Cubes
Be prepared in case you get sunburns!!  Create Freeze aloe vera cubes – of course sunscreen is best, but it seems SOMEONE always comes back from the beach a little pink, these will HELP!!  All you need to do is process the aloe into an ice cube tray and pop them into the freezer until you need them later. But, more importantly, put on plenty of sunscreen regularly (by using the tip above!) so that doesn't happen!
Keep bugs out of your cup with cupcake liners. This idea is simple but genius! It's affordable too. With all the fun patterns and colors out there, these are sure to be a hit with your kids also. It is like a beach tent for your cup.
Another option is to use plastic wrap to cover your cup top up. There are so many amazing things you can do with plastic wrap!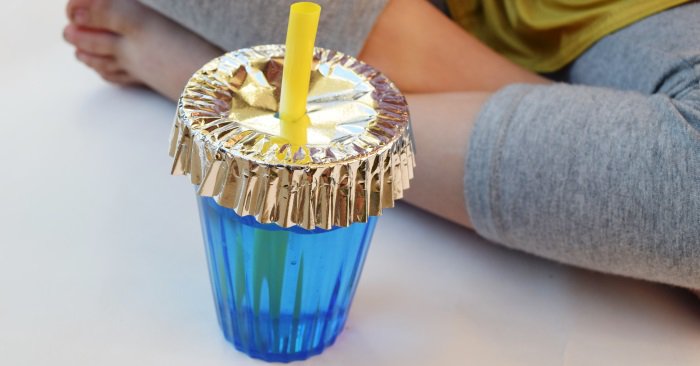 13. Hack Your Beach Towel
There are few things better than laying comfortably on the beach and reading a good book. Hack your beach towel to turn it into a towel/pillow combo that will make your summer beach trips a dream come true.  All you need is a mini-pillow (we grabbed ours from the dollar tree) and an extra long towel.  Sew the pillow into the end of your towel.  Wrap it up as you would a yoga mat when you need to leave.
14. Easily Remove Sand From Toys
A mesh laundry bag is a perfect container from The Idea Room for all your kids' beach toys! It sifts the sand, leaving it at the beach instead of trailing it into your car and home.  
Related:  15 ways you can use mesh laundry bags
15. Make a Sandcastle Building Kit
Put together your own sandcastle building kit with items you have around the house that could be sand toys!  Have them at-the-ready for an impromptu beach trip!
Paint spatulas, paintbrushes, and measuring cups are all great tools for little ones to use when building an imaginative sandcastle. Think outside the box and get creative.
This is a fairly simple DIY project, and it rolls up nice and tight, too!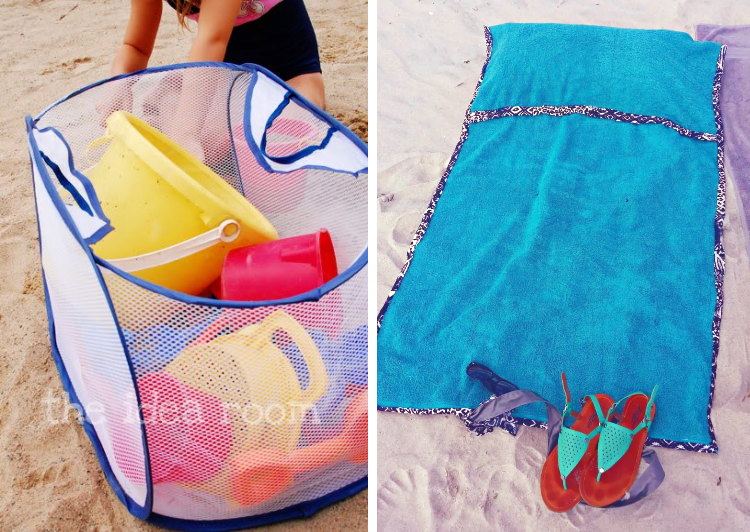 16. Bring Your Own Shade
Need another shade idea? Bring a small pop-up tent with you. This is a great and lightweight way to take a break from the sun—perfect for lunches and snacks. 
A tent is pretty ideal if you have littles who still nap because the tent will help them rest better too. Make sure the tent is well-ventilated! You can also use a large umbrella above the tent to keep it from getting too hot inside.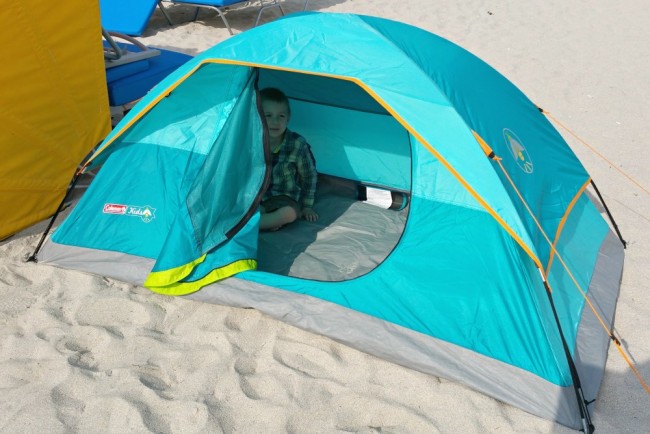 Keep your drinks out of the sand with this easy and cute DIY outdoor drink holder. Making this craft is pretty simple – you start with an empty can. Glue some fabric around the outside and the sharp edge and seal it so it's all waterproof. Then, drill a hole into the bottom and attach a stand using a washer. 
Stick in the ground and enjoy!
An insulated coffee cup is the perfect hiding place for keys, IDs, cash and other valuables you want to keep near you. 
You can also keep cash rolled and hidden inside of a pill bottle, and put it around your neck. That will keep it safe, but it doesn't matter if it gets wet. Here are 17 other nifty things to do with pill bottles too!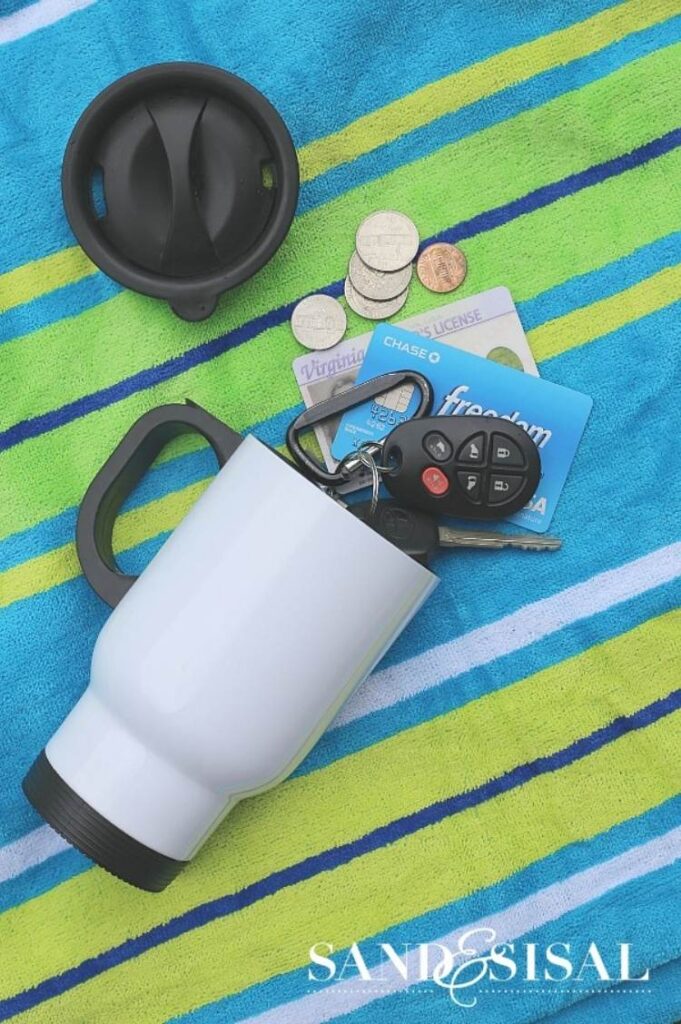 19. Dig a "Baby Hole"
Dig a "baby hole" in the sand. Place a towel over the hole, and you have a cozy little spot for your little one to lie down in.
Don't forget to pop up the umbrella for some shade!
20. Make A Beach Craft
Bring along a baggie of Plaster of Paris (and the instructions) to make sandy handprint and footprint mementos for the kids – or the grandparents. All you need to do is make an impression with your foot or hand in the sand, then mix up the plaster and some water from the ocean. Let it harden and you've got a one-of-a-kind souvenir!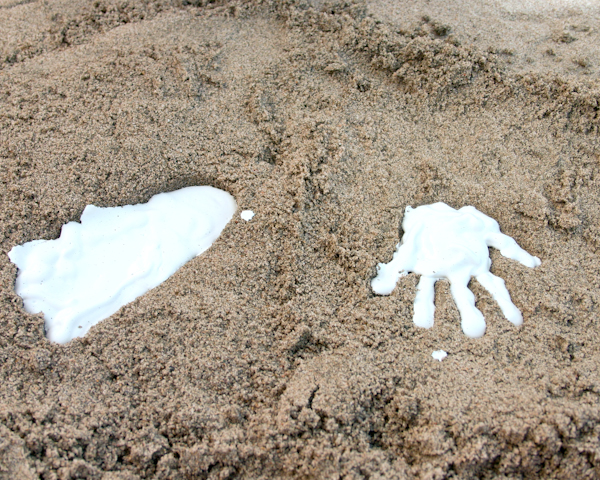 21. Easily Remove Wet Sand
Pack talc-free baby powder to remove wet sand from your hands, your legs…anywhere before you leave the beach. All you have to do is shake on some baby powder, then rub the sand right off. I don't know why it works, but it does, and it couldn't be easier!
Make your own fire starters out of dryer lint and an empty toilet paper roll. So simple and yet it works REALLY well. Nothing's better than an evening bonfire at the beach!
Related: Want more options? Here are 12 different DIY fire starters you can make!
23. DIY Beach Blanket
A flat sheet, tent poles, shoelaces, and a little bit of sewing will get you the BEST beach blanket ever. It sets up easily, stays in place, dries quickly, and is a cinch to carry.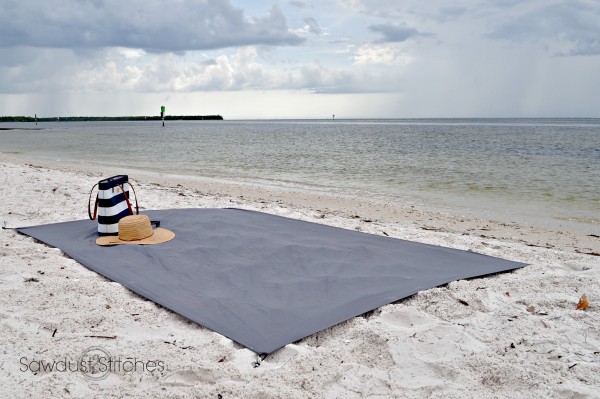 Don't let the stress of the trip or the fear of sand keep you from making memories with your family. Maybe you're a veteran beachgoer and have tried all these tricks, and even come up with a few of your own (mention them in the comments – they might get added to the post!). 
Or, perhaps you're a beach rookie and never would have thought to do these things.
Whatever the case, I am confident that these beach tips will make your day at the beach easier and more enjoyable.
Now get out there. Get some sun. Make some memories.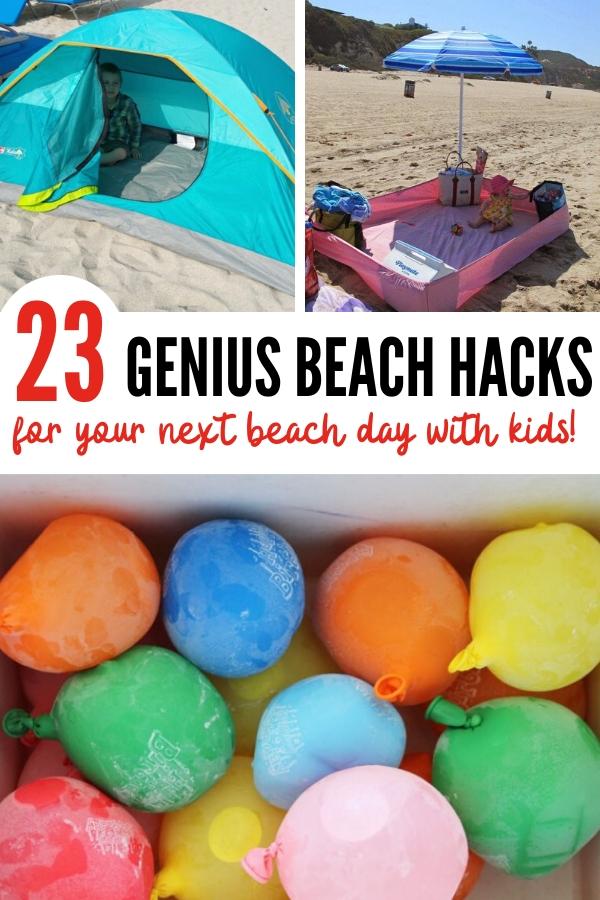 More Summer Tips and Tricks: