Are you stuck in a rut when it comes to school lunches? You won't be after checking out these 100 school lunch ideas for kids that they LOVE to eat.
Wherever and however you do school this year, one thing remains a truth: kids need to eat! These lunch ideas are filled with wholesome, kid-friendly food that won't drive you crazy to make.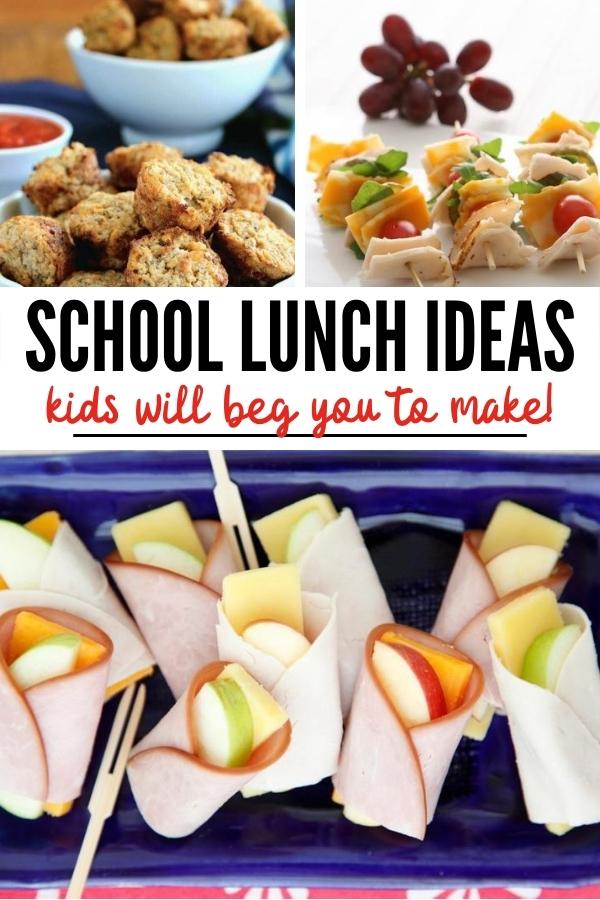 With 100 different lunch ideas, there is plenty of variety here to keep everyone happy and interested in lunch for a very long time!
Bonus: even if your child has food restrictions, you're sure to find several lunch ideas here that they will love!
1. Create a Bento Box Lunch
If your child likes something different every day, they'll absolutely love bento box lunches! These are a great way to get a healthy balanced meal, and also a perfect way to use up any leftovers you might have.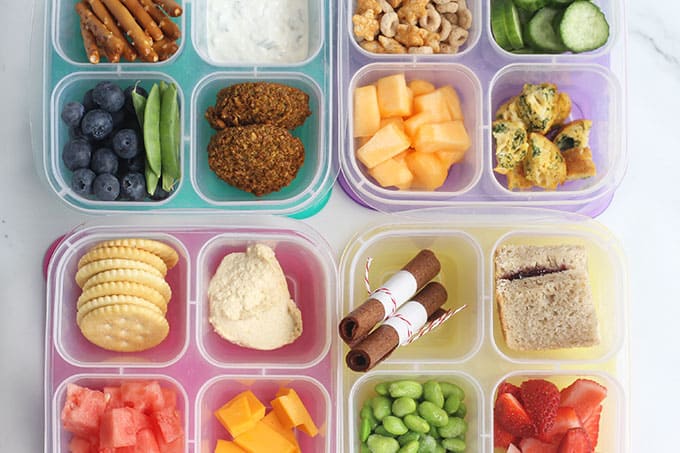 2. Taco Pop-Tarts
Here's a savory twist on a favorite childhood treat: Taco Pop-Tarts. Let's be honest. Anything tastes amazing in Pop Tart form, and they're perfect for the lunchbox!
Here is another Taco Pop-Tarts recipe to try! 
3. Nutella Sushi
 Looking for a somewhat wholesome way to satisfy a sweet tooth? Create Nutella and banana sushi by layering a tortilla with Nutella, adding a banana, and rolling it together. Slice it up and add it to your child's lunch box – it will disappear quickly.
Do you love Nutella as much as we do? Then check out these 20 recipes Nutella addicts will love!
4. Chicken Parmesan Meatballs
On your next meal prep day, make a big batch of chicken parmesan meatballs. Not only will the kids love them for lunch, but they make great lunches for moms and dads, too!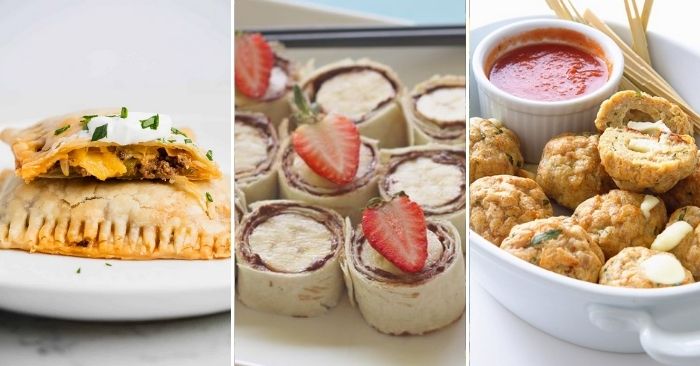 5. Apple and Cheddar Quesadillas
Here's one of my favorite lunch ideas for kids! Pair cheddar with crunchy apples to make apple and cheddar quesadillas. Kids love them cold or warm! Round it out and serve alongside fresh veggies and guacamole.
6. Waffle Taco Bar
A waffle taco bar is something you definitely don't see every day! Use waffles as the taco shell, then include a mix of ground turkey (or beef, beans, etc), cheese, tomatoes, and any other favorite taco toppings. Yum!
7. Dinosaur Lunch
Making food look fun goes a long way towards getting your children to actually eat their food (veggies too!). Jurassic Park fans will love this roaring fun dinosaur bento lunch.
8. Turkey and Cheese Roll
Rolls are perfect for making sandwiches easier for little hands to hold. This turkey and cheese roll served with goldfish crackers, green pepper slices, and fruit is a winner.
9. Polka Dot Pizza Dippers | The Good Stuff
Pizza for lunch? Why not! How much will your kids love these pizza dippers? Press pepperoni into premade biscuit dough and cut into circles and bake. Then, serve them with some marinara sauce on the side.
Here's another way to make them!
10. Upgraded PB&J Lunch
If your little one is a fan of the classic PB&J, they'll absolutely love this peanut butter and jelly bento box! This is a great option to meal prep for the week.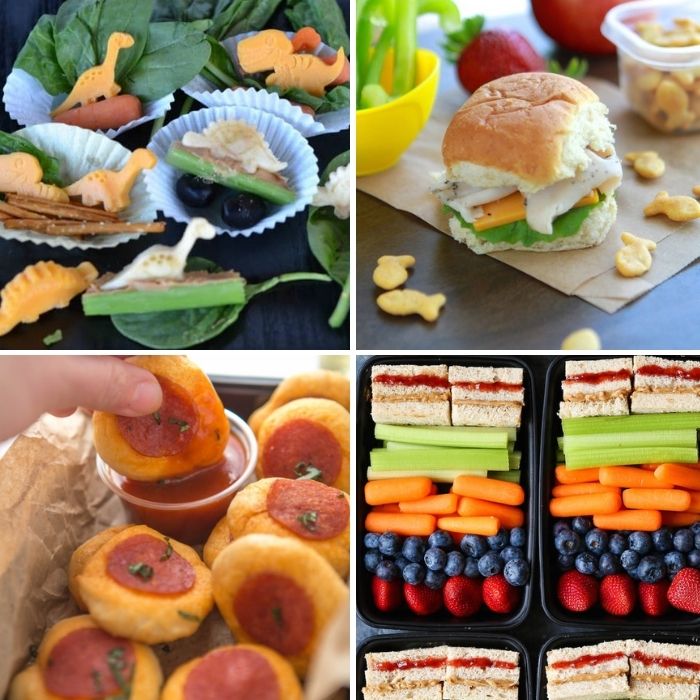 Never wonder what you are going to feed your kids ever again! This lunch ideas checklist is perfect!
BONUS: it has NO sandwiches on it!!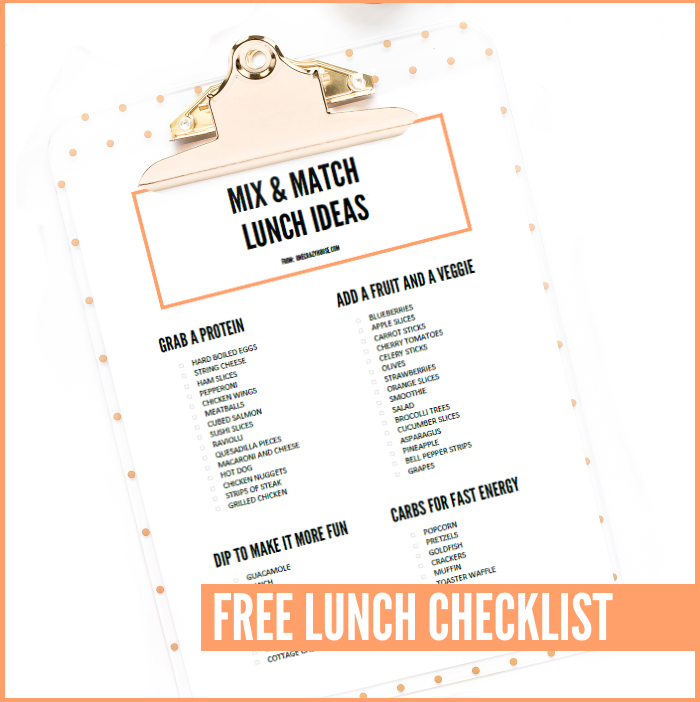 11. Hummus Platter
Fuel your child with some vegetarian protein! Hummus can be served with pita bread squares, and/or veggies like carrots, cucumber, grape tomatoes, and peppers. 
12. Crescent Roll Hot Dogs
Kids will go gaga for crescent roll hot dogs – especially if you pack a tiny serving of ketchup! Round this one out with a side of his or her favorite vegetables, or a small salad. 
13. Grilled Cheese Roll-Ups
Nothing is more comforting than a hot lunch on a chilly day. Kids will love these grilled cheese roll-ups with a thermos full of tomato soup. These are incredibly easy to make too – slice off the crusts, then use a rolling pin to flatten the bread. Sprinkle with cheese, roll them up and fry. Yum!
14. Homemade Spaghettios
Hate the thought of sending canned food to school? No problem! Your kids will love these homemade Spaghettios homemade Spaghettios.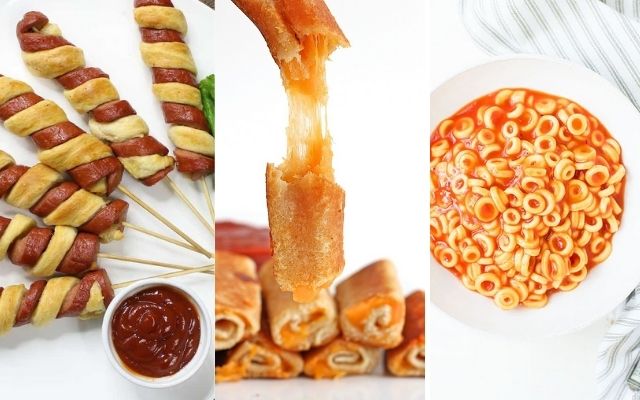 15. Mini Burritos
Cut your standard flour tortilla into fourths and make mini burritos! These are perfect for little hands and filled with high-protein meat, beans, and cheese.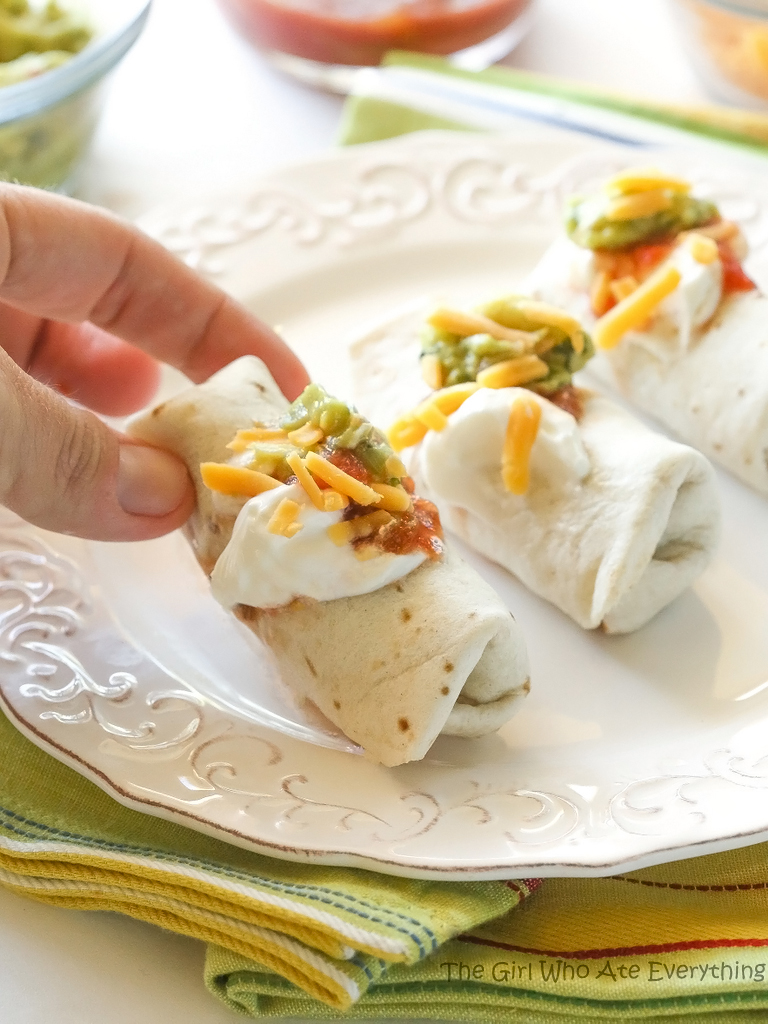 16. Pasta Salad
Looking for an easy cold lunch that has a decent amount of veggies? Look no further than this pasta salad recipe! Use a combination of fresh and frozen veggies, along with cubes of chicken or ham.
17. Ramen Noodle Salad
Ramen noodle salad is a fresh take on your standard cup of noodles. Mixed with edamame and veggies, this will quickly become a school lunch favorite!
18. Zucchini Mac and Cheese
Does your child hate veggies? Sneak them into something he loves, like this mac and cheese recipe with hidden vegetables. Believe it or not, this recipe is filled with zucchini!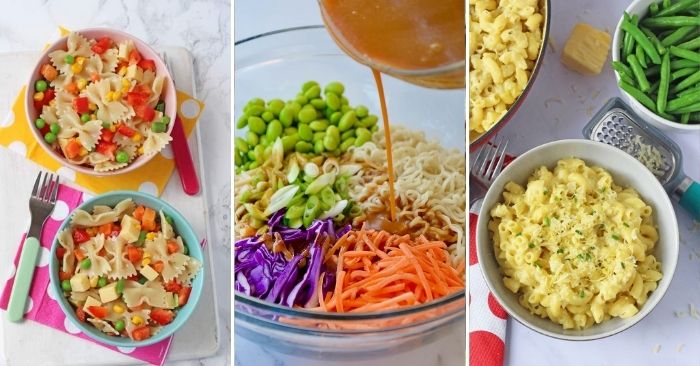 19. Pizza Rolls
Pizza rolls (or pizza pinwheels) pair well with just about any fruits or veggies you want to add to the lunchbox. Make (or buy) a basic pizza dough, roll it flat, and layer with pizza toppings. Then roll it up, slice it into rounds, and bake. 
20. Chicken Noodle Soup
Winter days definitely call for simple chicken noodle soup to warm up.
21. Baked Ravioli 
Make baked ravioli for dinner, and then put some in your kiddo's lunchbox the next day. Two meals, just one prep!
22. Ham and Cheese Pinwheels
On your next meal prep day, make a batch of ham and cheese pinwheels. They're yummy for lunch or a snack.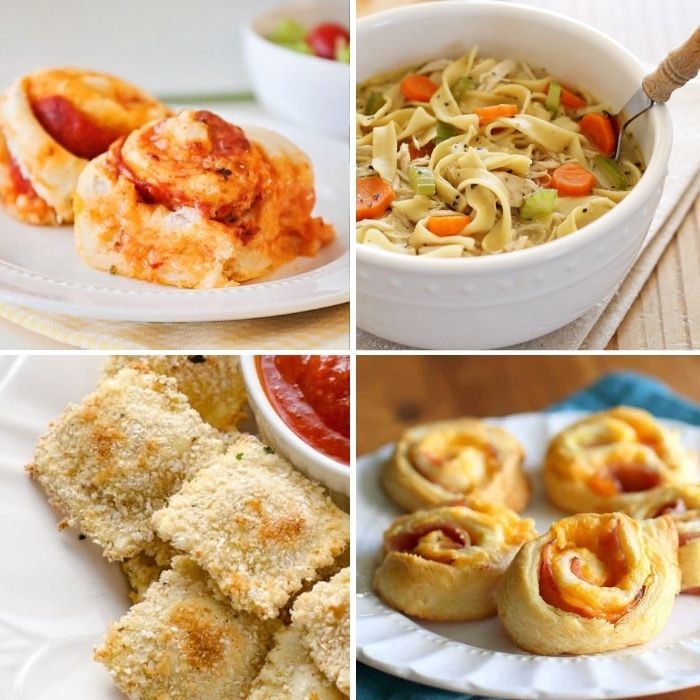 23. Ham and Cheese Sandwich 
There's nothing wrong with a classic ham and cheese sandwich for lunch! Toss it in a lunchbox with a clementine and a bag of chips and you're done!
24. Cottage Cheese
If you can get your little one to eat it, cottage cheese is a healthy lunch option. Pair it with peanut butter crackers, baby carrots, and some fruit.
25. Chicken Sliders
Make a filling chicken slider, and pair it with a salad with ranch dressing, trail mix and a banana for a balanced, filling lunch. Yum!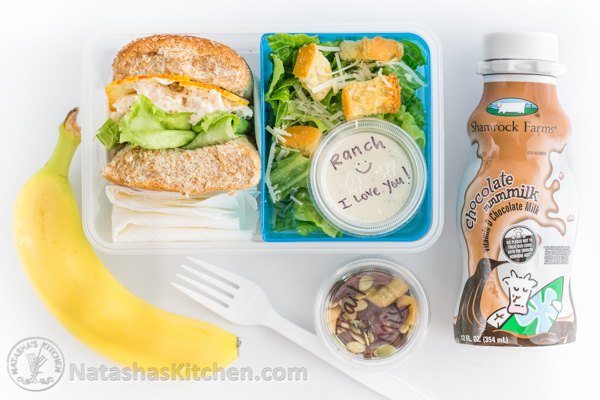 26. Mini Taco Hand Pies
Looking for a taco Tuesday idea? How about some mini taco hand pies to put a smile on your kids' faces at lunchtime?
27. DIY Taco Bar
Or perhaps a build your own taco bar would be more fun! Put all your child's favorite taco toppings into individual containers and let them create their perfect lunch.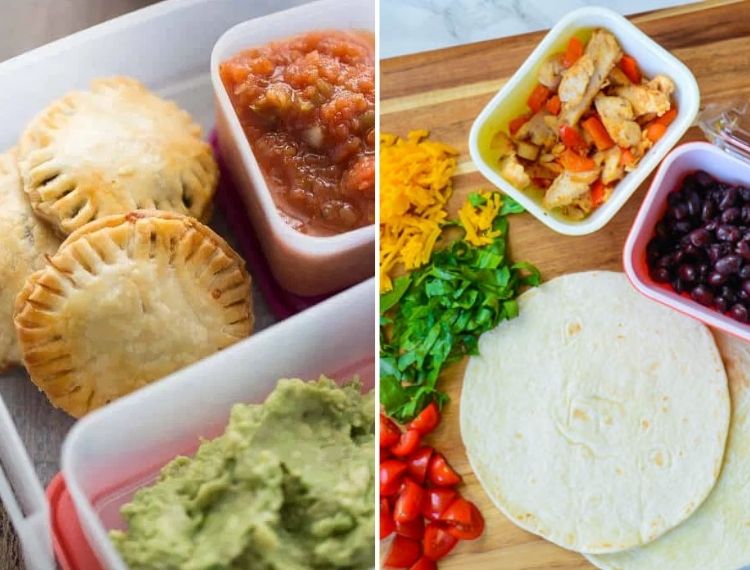 28. Cheese Quesadillas
It's hard to go wrong with a simple cheese quesadilla. You can easily microwave cheese in a tortilla, then serve it with guacamole, salsa, and sour cream.
29. Mac and Cheese Cups
Made in mini muffin tins, these mac and cheese cups are the perfect lunch for any kid!
30. Apple Cheese Wraps
Make yummy bread-free wraps out of deli ham (or turkey), cheese, and apple slices. Delicious combination!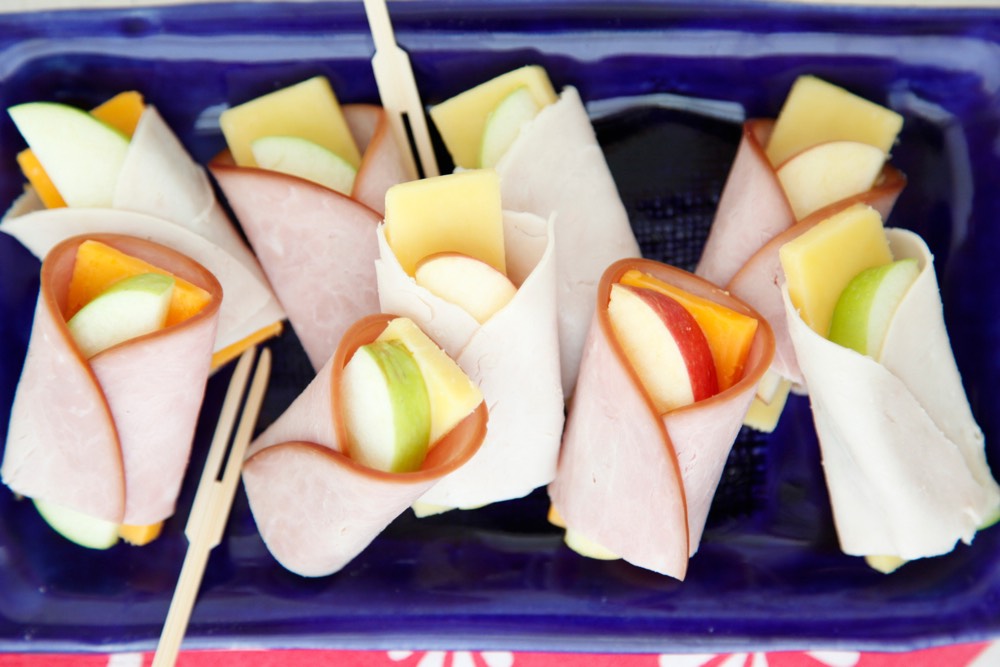 By the way, here's how to keep your apples from turning brown by lunchtime!
34. Meatloaf Muffins
Make meatloaf fun again by baking it into meatloaf cupcakes. A mashed potato "icing" completes the look!
35. Lasagna Cups
These adorable lasagna cups will be the talk of the school! 
36. Pizza Muffins
Want a break from standard pizza? Bake these portable pizza muffins!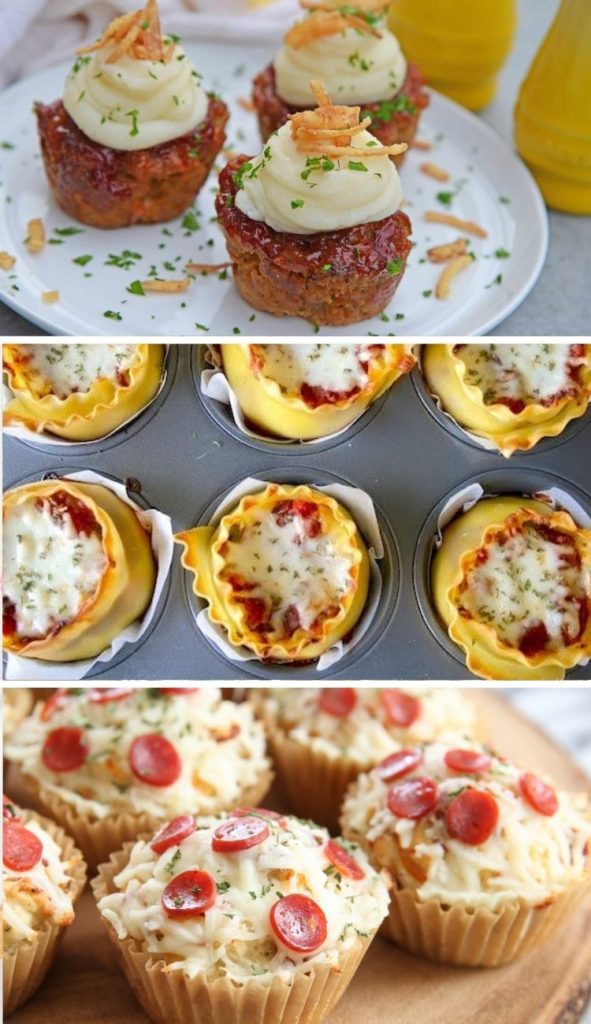 37. Corn Dog Muffins
Make corn dog muffins by following the instructions on the Jiffy Cornbread mix. Then, right before baking, press 1/3 of a hot dog on top and bake as usual.
38. Stir Fry
This is a great make-ahead lunch! This stir fry is filled with fiber and vegetables – just make a big batch and divide it out into individual containers!
39. Lo Mein
This is a simple recipe to make and customize to your child's tastes. Make the noodles and add their favorite protein and veggies for a lo mein they'll love!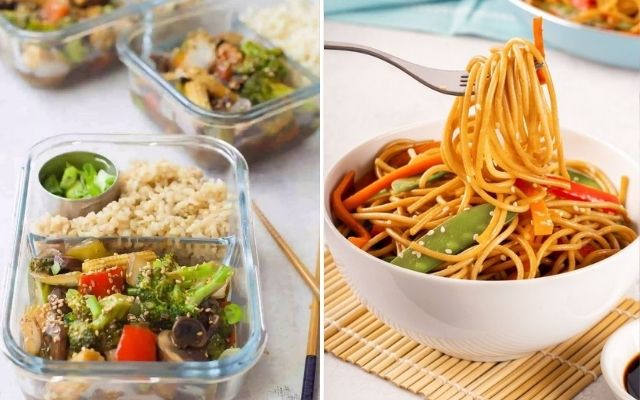 40. Spaghetti Pie Muffins
Spaghetti pie muffins: You don't need a specific recipe… just bake whatever leftover spaghetti you make into muffin tins and add some cheese on top. Yum!
41. Ham and Cheese Pinwheels
Ham and cheese pinwheels are delicious and EASY. Great for school lunches and party appetizers, too.
42. Turkey and Cheddar Roll-Ups
Not a fan of ham? No problem! Turkey and cheddar roll-ups are another great option!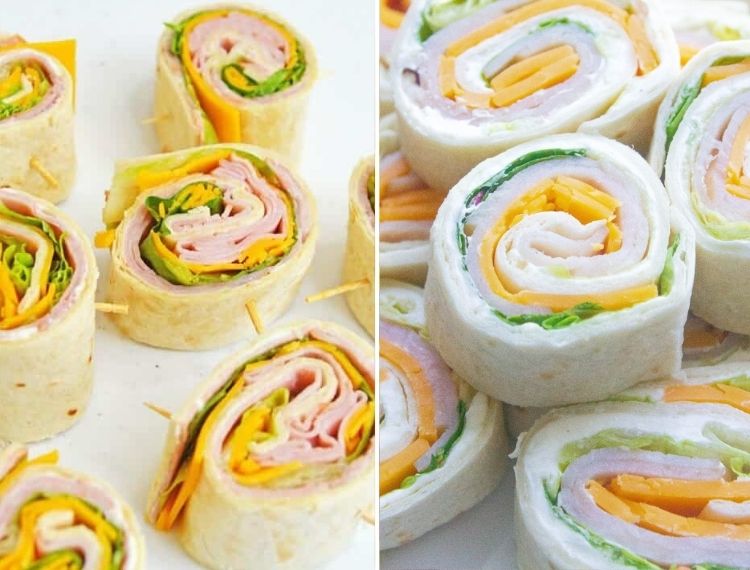 43. Mini Pizzas
Make freezer-ready mini pizzas to throw in your kids' lunchboxes anytime you're in a rush. They're so easy!
44. Avocado Chicken Pita
Avocado chicken salad in a pita pocket is a filling, tasty choice.
45. Ceasar Pita
Or how about a skinny chicken Caesar pita instead?
46. Easy Snackbox
Is your kid a grazer? Try this snack lunchbox style meal.
47. Elevated Bento
This grown-up Bento is a great choice for teenagers.
48. Leftovers
It seems like a simple idea…because it is! Pack up leftovers from last night's dinner for your child's lunch. 
49. Nachos
Yup, nachos sure can be a school food! Pack your student chips in a baggie along with a container of toppings. When they get to school all they need to do is put it together and microwave it!
50. PB&J Sushi
PB&J Sushi will make for a fun lunchtime! Turn a classic into something more visually appealing.
51. Make Lunchables
Here's another easy school lunch idea. Put together some crackers with slices of cheese and meat. Don't forget the Capri Sun (or beverage of your choice!)
52. Sweet Fruit Wraps 
Sweet fruit wraps can be the main course or a tasty little dessert. They're healthy and yummy!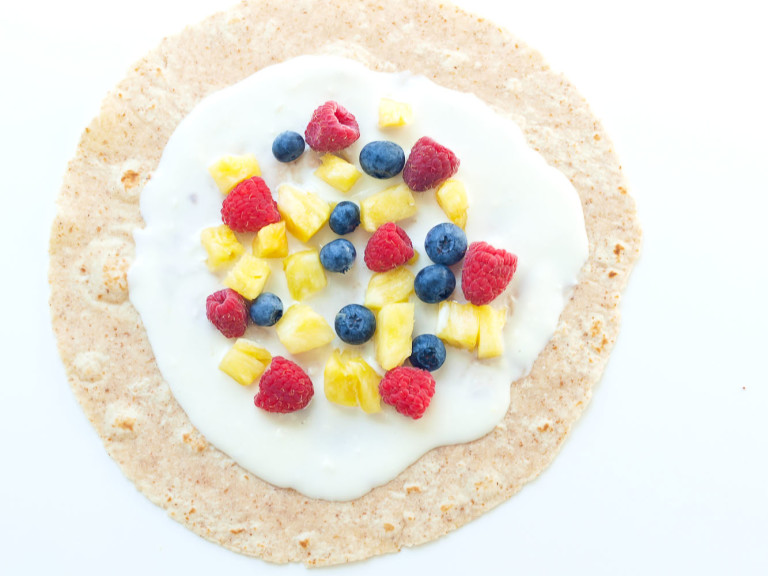 53. Savory Waffle Sticks
These savory waffle sticks are amazing dipped in a yummy marinara sauce!
54. Ham, Cheese & Spinach Muffins
Ham, cheese, and spinach muffins are a lunch you can feel good about. Serve with pretzels or trail mix and fresh fruit.
55. Chicken Quesadillas
You can't go wrong with Chicken Quesadillas, of course.
55. Pizza Grilled Cheese
How have I never thought of this combo before? Two classics combined into yummy goodness that's impossible to resist.
An interesting twist on pizza, and it doesn't get any easier than this!
57. Baked Corn Tortilla Cheese Dogs
Baked corn tortilla cheese dogs are so quick to make, and they're a hit with kids of all ages.
58. Quinoa Pizza Bites
Get lots of pizza flavor in tiny little bites with quinoa pizza bites. Yummy and good for you, too.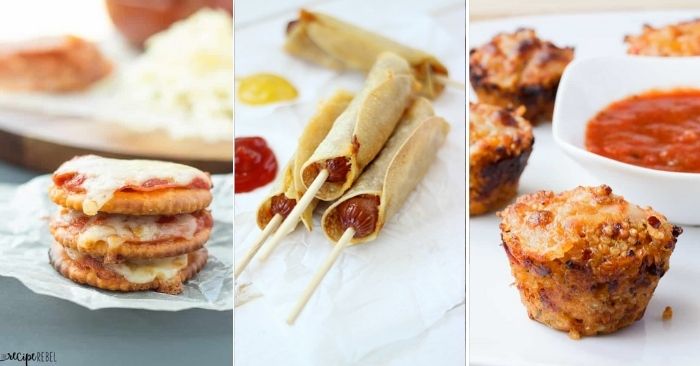 Salad Lunch Ideas for Kids
You may think your child would never eat a salad, but that may be because you haven't found the right one yet. These salads are both veggie-packed and kid-approved. 
59. Broccoli Slaw Salad
Rather than a typical lettuce-based salad, this broccoli slaw salad has extra crunch! You can experiment with toppings too – try bacon bits, raisins, shredded cabbage, and carrots.
60. Strawberry Spinach Salad
This delicious spinach salad has so much flavor thanks to juicy strawberries, tangy feta, and sweet candied pecans.
61. Cobb Salad
This protein-packed salad is a lunchtime staple in our home! We all love a good cobb salad.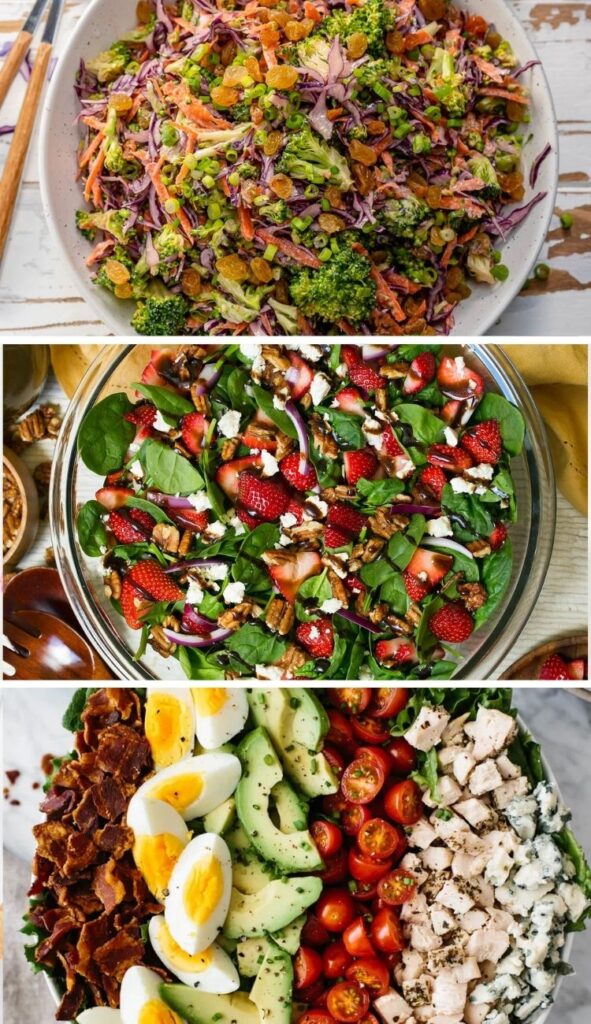 62. Cesar Salad
Need a quick lunch option? Make a bagged Cesar salad and slice some rotisserie chicken onto it. 
63. Potato Salad
This can be a filling lunch when paired with hardboiled eggs or chicken. Choose mustard or mayo-based dressing depending on your child's preferences. 
64. Chickpea Salad
Change it up a bit and make this chickpea salad! There's no lettuce in this one. Simply mix chickpeas, cubed avocados, cherry tomatoes, sliced cucumbers and feta cheese with the dressing of your choice. 
65. Taco Salad
This fiesta chicken taco salad would be a winner with teens. Filling, healthy, and super delicious!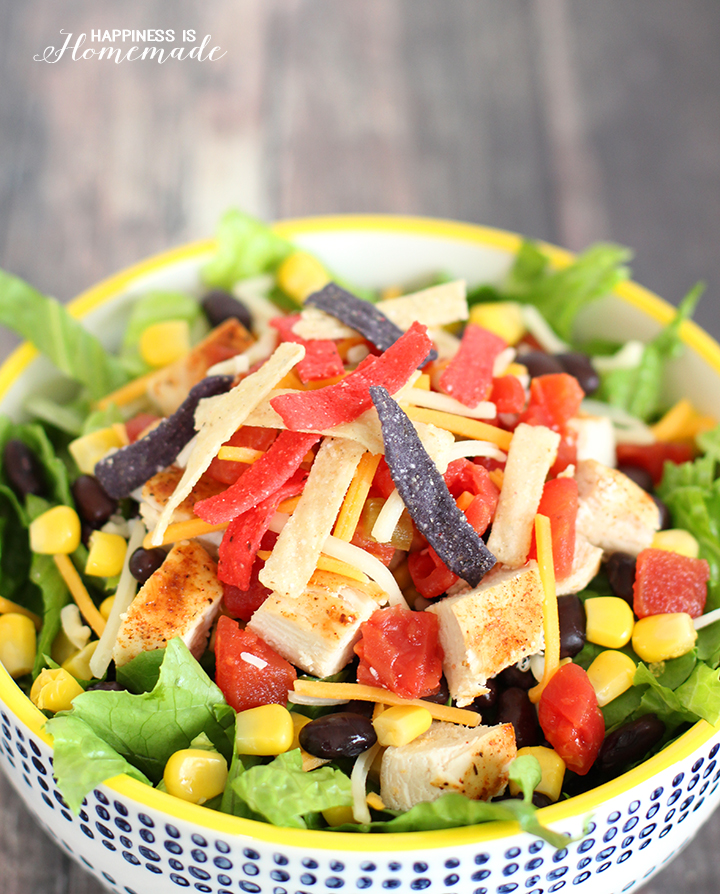 66. Broccoli Bacon Salad
If you have a child who likes sweets, this is one of the best lunch ideas for kids! Mix chopped broccoli with bacon crumbles, diced red onions, and golden raisins in a mayo dressing. This one tastes best when it has been refrigerated for a best, so it's a great make-ahead option!
67. Fruit Salad
Dice and mix your child's favorite fruit into a yummy fruit salad. I pack mine with a squeeze of lemon and a dash of sugar so the fruit doesn't brown. 
Sandwich Lunch Ideas for Kids
Sandwiches are a lunch box staple – and for good reason! They are filling and universally loved by kids! Here are some sandwich lunch ideas for your children to try. 
68. Turkey & Ham Sub Sandwich
If your kids are struggling to finish their usual sandwich, try this sub sandwich with an Italian sub roll in place of sliced bread. Easily customizable to your kid's preference, and extra fun!
69. Grilled Cheese Sandwich
You wouldn't think of grilled cheese as a good option for school lunch, but it totally can be! Here's a tip: Cut up your grilled cheese and pack it into a thermos, and it'll stay warm until lunchtime.  
70. Chicken, Hummus & Veggie Club Sandwich
Filled with thin strips of colorful veggies, creamy hummus, and chicken, this club sandwich is a great way to change it up and offer a rainbow of nutrition to your child's lunchbox. 
71. Ham & Cheese "Taco" Sandwich
Try a simple ham and cheese sandwich with a twist! To make this taco sandwich, just cut your slices of bread into circles, fold them over and add a little shredded lettuce and tomatoes to mimic the look of a taco shell.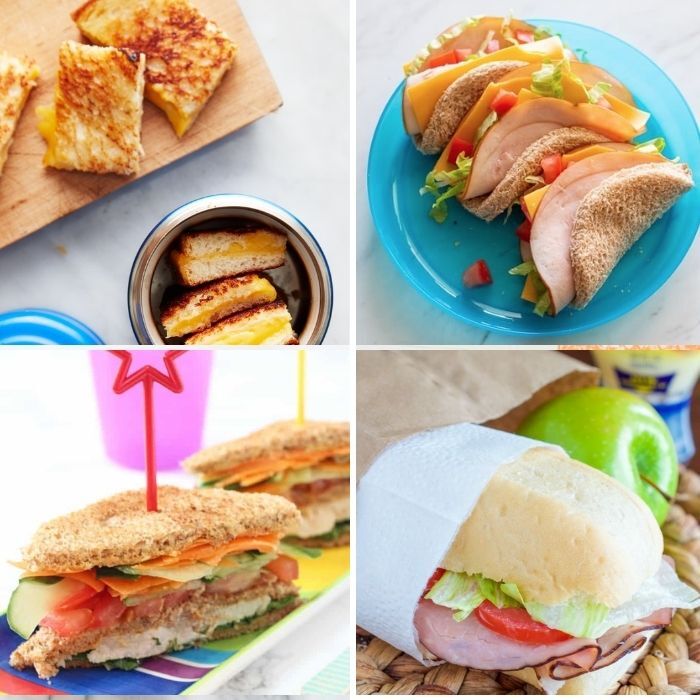 72. Tuna Salad with Sliced Cucumber Sandwich
Add the fresh, crisp crunch of cucumber slices to a creamy tuna salad. The combination is one your kid might just love!
73. Sunbutter and Jelly Sandwich
Perfect for schools that are nut-free, sunbutter is said to be a great alternative for the yummy taste of classic peanut butter spread. 
74. Veggie Sandwich
If your child is one who does eat their veggies, try a veggie sandwich for their lunch! Fill with cucumbers, avocados, tomatoes, anything they like, and add some hummus or pesto as a spread. Delish!
75. Egg Salad Sandwiches
Made with just a handful of ingredients and packs a big protein punch for your kids! Egg salad sandwiches are a simple solution for lunchtime meals.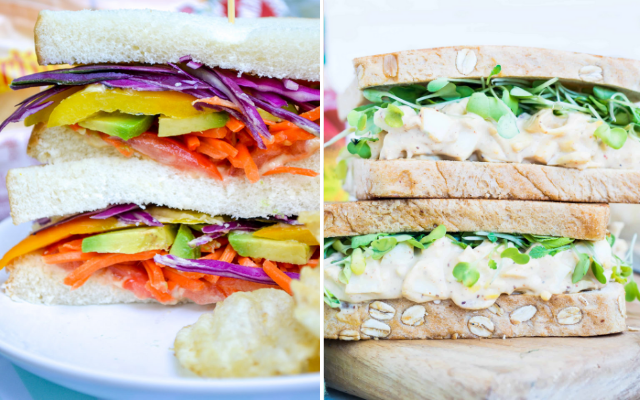 76. Turkey & Apple Sandwich
Add some mayo and a slice of cheese and you've got a deliciously crisp sandwich that is a nice change of pace for your kid's lunchbox. 
77. Bacon Lettuce and Tomato Sandwich
Who said this classic can't also be a favorite for kids? Full of sweet and crisp veggies and salty bacon, you can't go wrong with a BLT. 
78. Pulled Pork Sandwich
Try adding a little barbecue sauce to shredded pork (or chicken) and making a delicious sandwich for your kid's lunch. Great with sliced bread or even a bun!
79. Pepperoni & Cheese Panini
Fulfill the wish of pizza for lunch with a pizza-inspired panini sandwich. You can easily change or add ingredients according to your kid's taste. 
80. Chicken Salad Sandwich
These are great for growing kids because you can add so many veggies to your chicken salad recipe. Throw it on some whole grain bread and your kids (and you) will love it!
Kabob Lunch Ideas for Kids
Lunch on a stick is just a fun way to eat! These are great for older kids – they'll love pulling out their cool kabob lunch in front of their friends. 
81. Veggie Kabobs
You don't have to have meat for a filling lunch. Try these vegetarian kabobs with chunks of mozzarella and hearty bread for a great lunch on a stick!
82. Bagel Kabobs
Who would ever even think of putting a bagel on a stick? Alternate nut butter and jam on pieces of bagel for a fun twist on PB&J with these kabobs. 
83. Caprese On A Stick
Take a classic Italian dish to a fun new level with these caprese kabobs. The drizzle of balsamic glaze is the icing on the cake. 
84. Chef Salad On A Stick
To make these salad kabobs, skewer up big chunks of iceberg lettuce along with all of your favorite elements of a chef salad. Way more exciting than a salad in a bowl!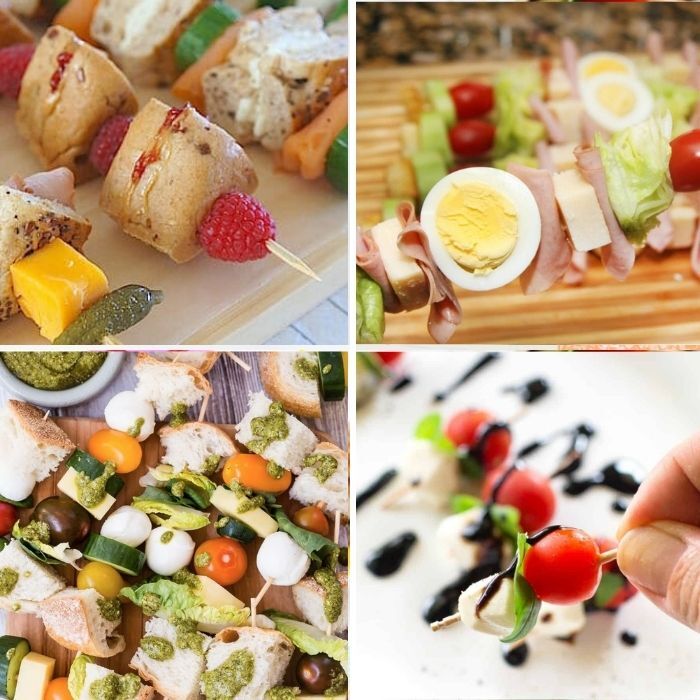 85. Cheeseburger Kabobs 
This take on an American lunchtime classic is exactly like what it sounds like; cheeseburgers on a stick include all of your favorite burger elements (bun included) on a skewer!
86. Fruit & Cheese Kabobs 
Try fruit and cheese on a stick, like cantaloupe, grapes, and mozzarella balls. Add some pieces of ham for a little dash of protein!
87. Antipasto Kabobs
Tortellini, olives, and Italian meats make up this wonderful lunch kabob. Who doesn't love pasta? (Especially when it's on a cute little stick!)
88. BLT Kabobs
Seriously why didn't I think of making a BLT on a stick sooner? Pieces of bacon, lettuce and tomato along with cubes of italian bread go perfect on a skewer!
89. Meatball Sub On A Stick
Breadsticks, mozzarella, marinara sauce and yummy meatballs are definitely a lunch time win in these meatball kabobs!
90. Chicken and Waffle Skewers
Mini waffles and chicken nuggets go great on a stick! Serve with some maple syrup and you've got an instant classic. 
91. Club Sandwich Kabobs
Cubes of white bread, deli turkey, bacon, cheese, lettuce and tomatoes make just as good of a club sandwich when they're on a stick!
Breakfast Lunch Ideas for Kids
Finally, why not serve your child breakfast for lunch? My kids always love when I do this – it makes their lunch extra special!
92. Yogurt Parfait Lunch
Who says parfaits are just for breakfast? This yogurt lunch idea for kids is filled with protein thanks to plain Greek yogurt drizzled with some maple syrup.
93. Breakfast Quesadillas
This ham, egg, and cheese breakfast quesadilla is delicious hot or cold. Serve it alongside your child's favorite fruit.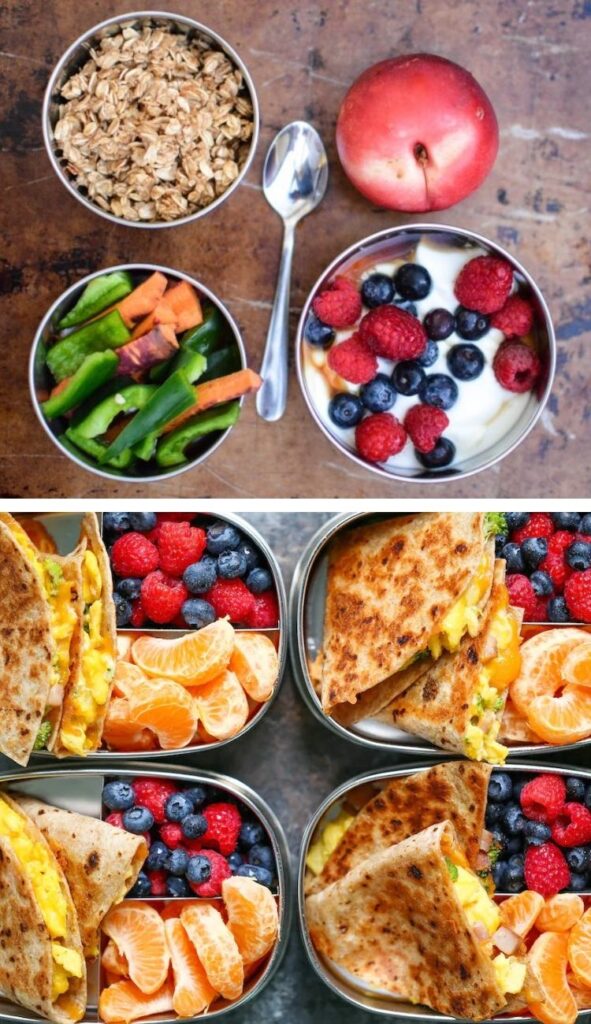 94. Oatmeal 
Oatmeal is a fantastic lunch option if your kid has access to a microwave! Pack your child dry oats along with their favorite oatmeal toppings.
95. Mini Pancake Kabobs | I Heart Naptime
Mini pancake kabobs work for lunch, as well as a snack or breakfast. These will satisfy your kiddo's sweet tooth and keep them full. 

96. Breakfast Sandwich
Grab an English muffin or bread and load it up with eggs, bacon, and mayo. One of the easiest lunch ideas for kids ever!
97. Breakfast Burrito
There are few things my kids love more than breakfast burritos! The possibilities are endless – eggs, black beans, sweet potato, sausage, bacon…you name it! 
98. Cinnamon French Toast Bites
Who wouldn't love cinnamon french toast bites for lunch? I know my kids would!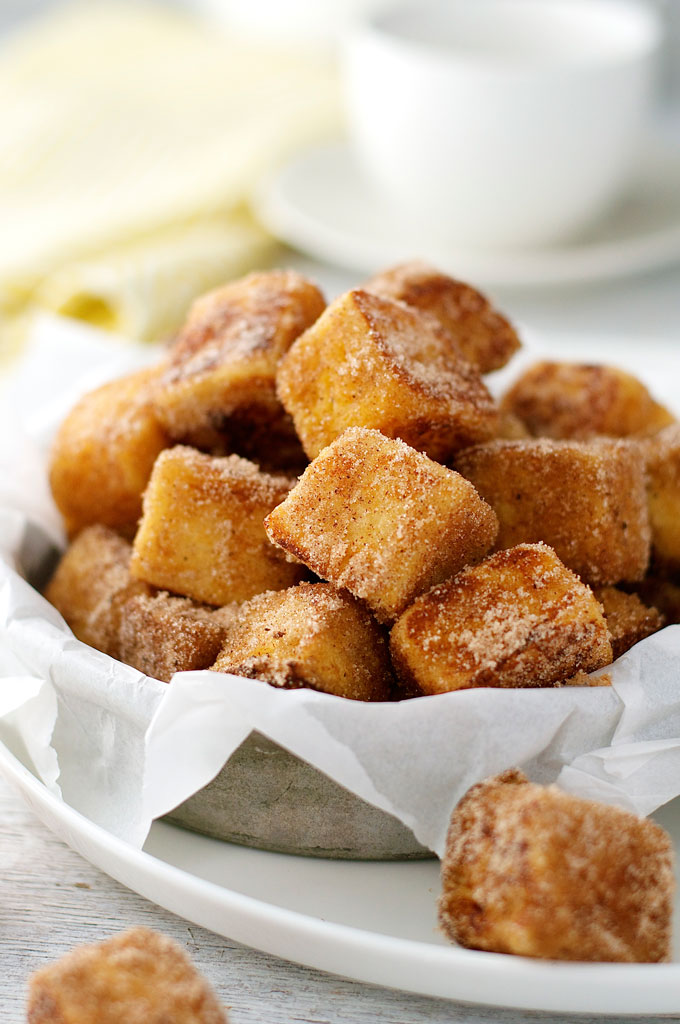 99. French Toast Waffle Sticks
Have a french toast fan in your home? Make them easily portable by turning them into french toast waffle sticks!
100. Deconstructed Parfait
This bento box-style meal is sure to be a favorite! Keeping the fruit and granola separate from the yogurt gives your child the joy of mixing it all up!
101. Mini Pumpkin Pancakes
Make a triple batch of mini-sized pumpkin pancakes and store them in your freezer. Make it a special weekly lunch tradition for your child to bring them to school along with a hardboiled egg or two for protein.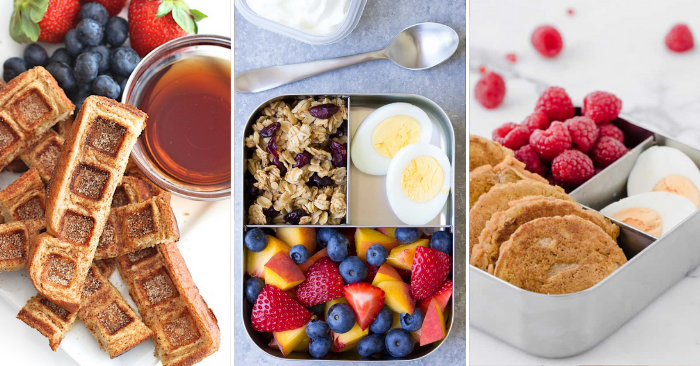 102. Leftover Breakfast for Lunch
Leftover breakfasts make terrific lunches. Cereal, muffins, fruit, hardboiled eggs… anything goes, really!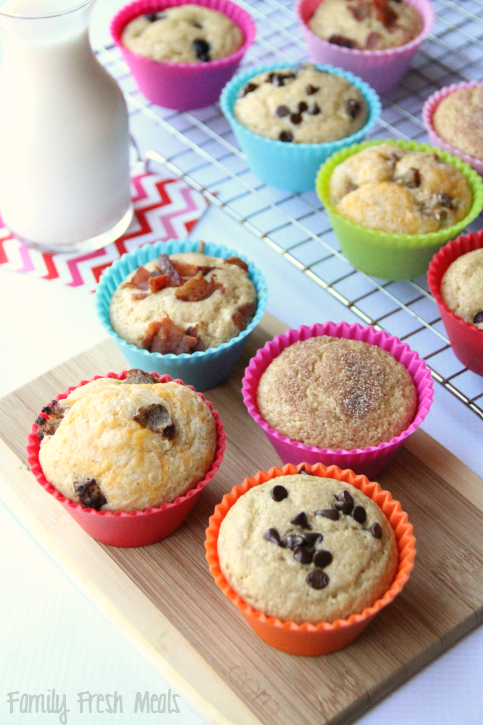 There you go! More than 100 school lunch ideas for kids to inspire you to make lunch more than just another meal. 
Use these easy lunch options to make lunchtime an experience they look forward to every day because they know their lunch is packed with the foods they love. Which ideas will your kids will like best?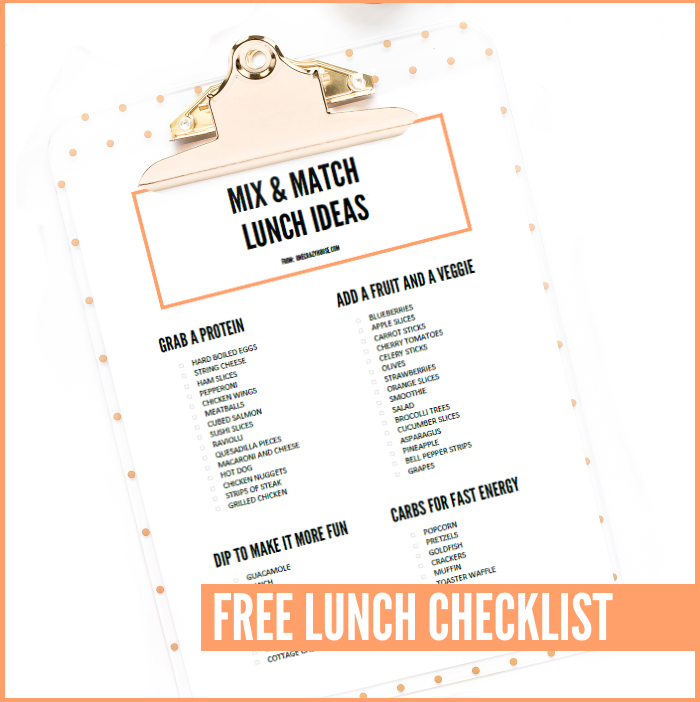 More Kids' Lunch Ideas: