The gang's all here…and mealtime is fast approaching. What to do about feeding all these hungry mouths? Here's a list of meals with tricks to make feeding a crowd easy peasy. Each one brings appeal that will please your guests and you'll shine like a rockstar! (…and you won't spend days in the kitchen either!)
Anytime you can take charge of the upcoming gatherings and figure out a plan that will have you taking control of a situation that might need a bit of help, why not?
When you have a ton of mouths to feed, you need some great recipes quickly that you can easily count on. These recipes are the perfect way to make that happen!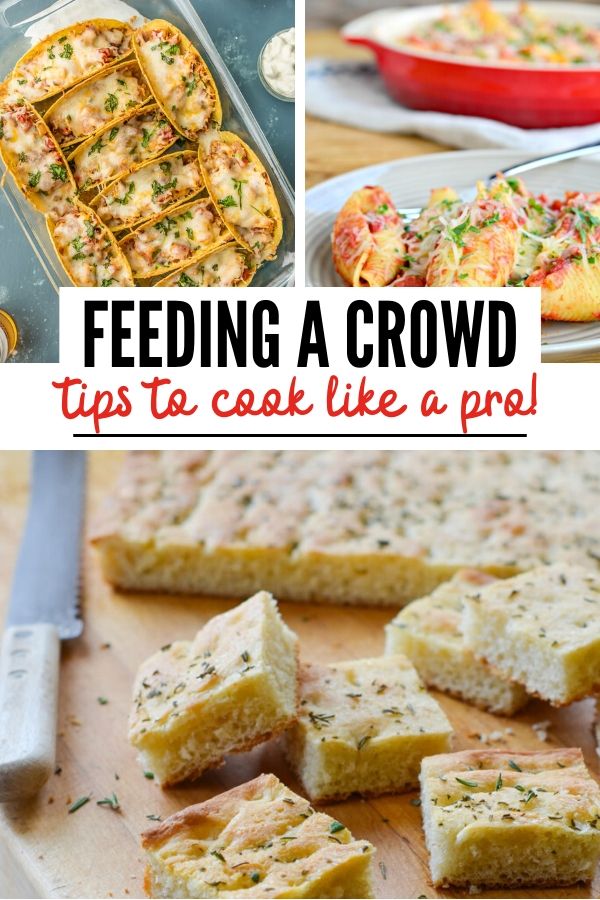 Tricks to Make Feeding a Crowd Easy Peasy
Easy Oven Baked Spicy Chicken Tacos come together in a jiffy. Pair with guacamole, chips and a fruit salad for a colorful and easy meal Mexican style meal.
Craving pasta? Try Homemade Stuffed Shells To Feed A Crowd that can be made well in advance and will get rave reviews at any gathering!
You can put these little gems together in no time with an assembly line in the kitchen the day before and this Ham Buns Recipe tastes absolutely delicious. Put with a zesty Chips-n-Dips bar and you're set for the big game.
Your guests will swear you slaved for hours in the kitchen preparing Crock Pot Chicken Alfredo for a Crowd. (The crockpot part will be our little secret!)  Set it and forget it!
With a little thinking ahead and a bit of easy prep, Baked Potatoes for a Crowd helps you have more than enough spuds on hand for feeding a crowd and allows you to serve them piping hot.
Who can resist this Bourbon Chicken With Caramelized Shallots? No one, that's who! The aroma alone will have the crowd milling around in eager expectation of this delicious feast that comes together in a snap.
What tastes like a pan of lasagna but can be prepared in a fraction of the time? It's Three Cheese Zucchini Stuffed Lasagna Rolls. Easily prepared and easily served. You AND your guests will love it!
Nothing says 'party' quite like Mexican food and few things say it more deliciously than these Sour Cream Enchiladas. They can be made a day or two ahead and served fresh from the oven at dinner time. Ole!
Loaded down with hearty cheeses and a zesty tomato sauce this Million Dollar Casserole recipe never fails to please crowds again and again. Keep the sides easy with a big tossed salad and garlic bread and you'll be done in the kitchen and back to the party in no time!
Bring a big pan of these Baked Ham and Cheese Rollups to the buffet table and your guests will love you forever. Crescent dough, lunch meat, and cheese are rolled together and topped with a zesty glaze…what could be more delicious or simple? 
Casual but deliciously mouth-watering, this recipe for Root Beer Pulled Pork Sandwiches hits a home run every time. Leftovers rewarm beautifully and taste even better the second time around (assuming, of course, there are any leftovers!)
Nothing-and I mean nothing-beats the aroma of bread baking in the oven (except maybe the taste when you get to eat it!). This excellent recipe for  Rosemary Focaccia will not disappoint on either count.
Cheeseburger Party Burgers are miniature only when it comes to size (making them a cinch to put together). When it comes to taste, they pack a big punch
…and don't forget feeding a crowd dessert can be easy too…
Banana Cream Slab Pie easily satisfies a whole gang of dessert lovers. Use prepared pie crusts from the grocery store and it comes together in minutes!
This Pineapple Delight recipe hits the spot after a rich meal. A buttery graham cracker crust is topped with a light & fluffy fruit-filled cream. Change out the pineapple for seasonal fruit to enjoy any time of the year!
So go ahead – invite all your besties at one time and whip up a few of these crowd-pleasers. You'll be the life of the party and a master at feeding a crowd!
All of these recipes are easy, delicious and great for large groups. Just remember to do a little bit of planning ahead so that there aren't any surprises that you have to plan for last minute!
Do you have any tips for feeding guests to share?