Is that waffle iron that you just "had to have" in the back of your pantry closet collecting mountains of dust? I know… it seemed like a great idea when you bought it, right? But one can only have so many waffles in their life. Did you know there are a ton of waffle iron recipes that are not waffles?!
You can make delicious portable pizzas, awesome burgers, or a yummy dessert to feed your family and friends. These easy-to-make waffle iron recipes will not disappoint and they are all so incredibly good, I recommend you try them all at least once!

Irresistible Recipes that are Made on a Waffle Iron
I am so confident in this bold statement, I think that old, dusty waffle iron will find its way to the front of your appliance lineup in no time with these easy and fun recipes that need a waffle iron.
1. Delicious Waffle Iron Ham and Cheese Hashbrowns
You might be struggling to find the time and energy to make a hot breakfast in the morning. How do people have the time for that?! Many of us have been there too, but if you get a little creative and think outside of that normal box, you will quickly realize that the waffle iron is good for so much more than breakfast waffles.
Make these crunchy ham and cheese hashbrowns easily right in your waffle maker. And instead of a greasy, oily mess all over your range that takes way too long to clean up, the waffle iron allows you to use less oil when cooking these making it so much easier to clean up. Just a quick wipe down will do and the taste of these hashbrowns are so much lighter than the pan-fried greasy version.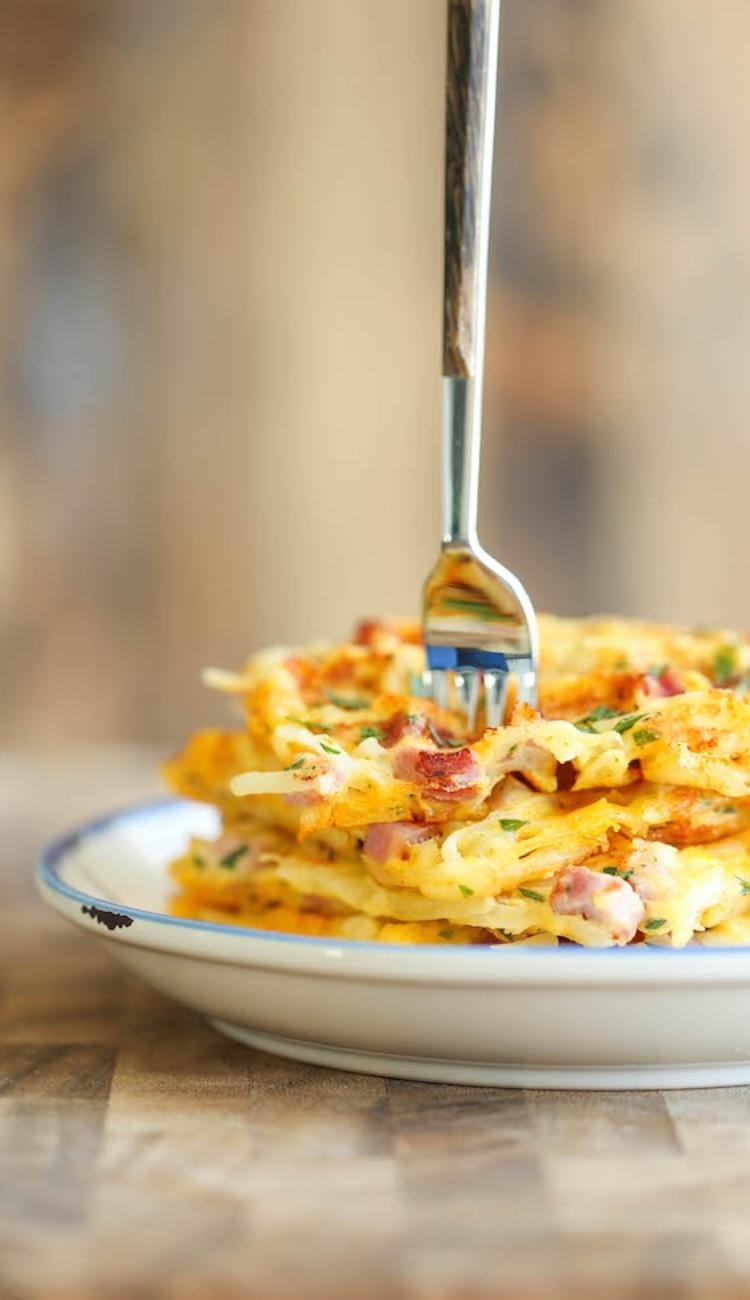 2. Classic Waffle Iron Biscuits and Gravy
Biscuits and gravy are an absolute favorite breakfast. Yes, for many, it's a southern thing. But who doesn't love a good plate of warm biscuits covered with the perfect sausage gravy? You might be thinking who has time to make biscuits from scratch? Waffle Biscuits and Gravy are a great alternative when you don't have the time to roll and cut out made-from-scratch biscuits. Trust me with this one.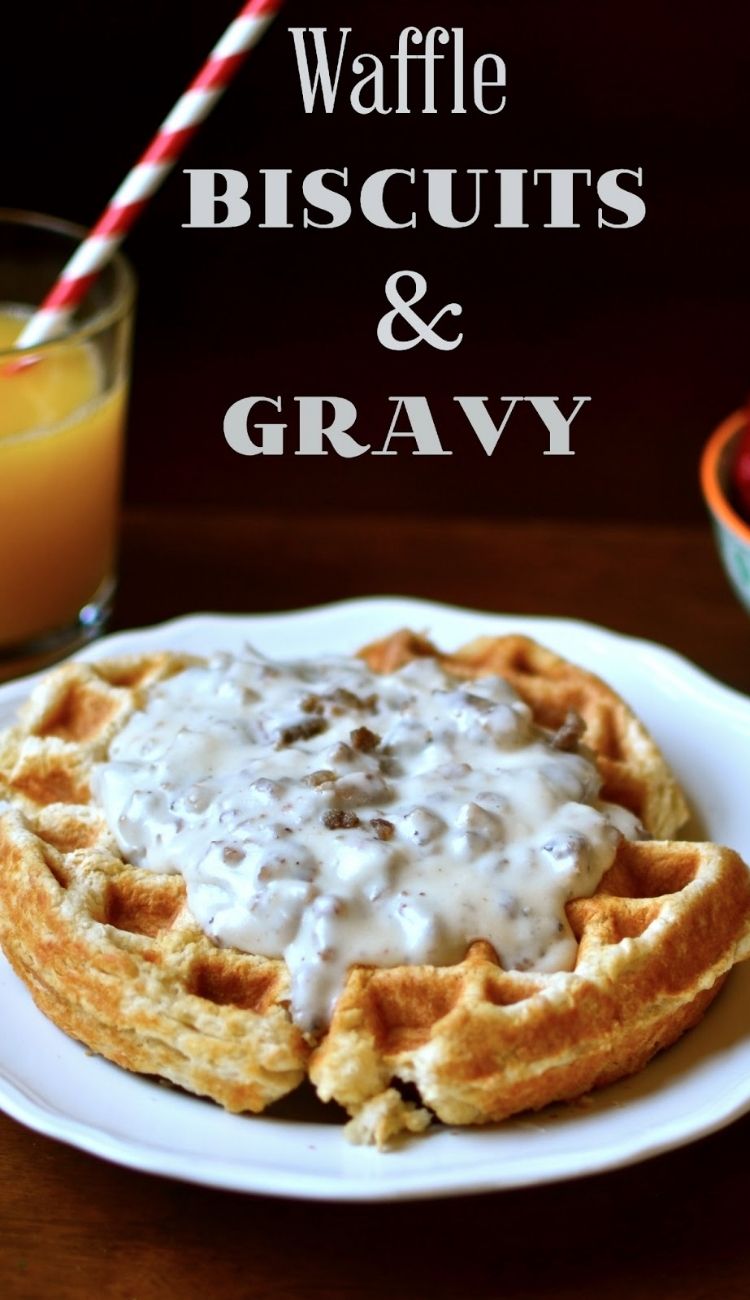 3. An Easy-To-Make Waffle Iron Omelet
Are you one who always seems to mess up the omelet when it's time to fold it over? You have tried and tried to master this skill but still find yourself eating a scrambled egg hash in the end. Instead, try a waffle omelet in your waffle iron! It is the perfect omelet alternative. It is so quick and easy, you may never make a traditional omelet again! It's also the best way to use up all those leftover veggies from the week instead of seeing them tossed in the trash.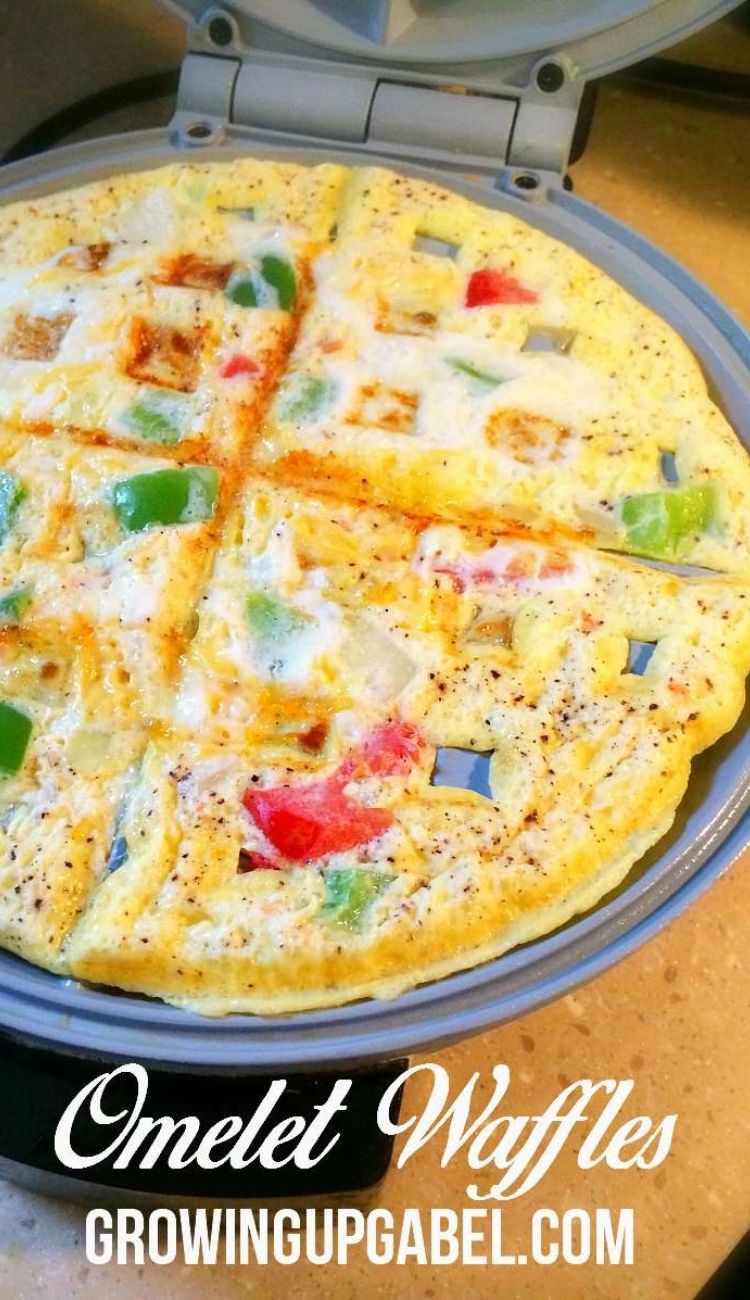 4. Crispy Tator Tot Waffle Iron Hashbrowns
Turn tater tots into hashbrown waffles and pair them with a fried egg or a hefty dollop of ketchup. Use your favorite seasoning or sea salt to add an extra kick. These also make an excellent side dish with a burger as well! This is one recipe that my family asks for often and I am sure yours will be too!
5. Warm Cornbread Waffles with Chili and Fixins'
A big pot of chili can feed a large group of people easily. Why not make your favorite chili recipe, then pour your best cornbread batter into the waffle iron to whip up a batch of these cornbread waffles with chili and fixins'. It is the perfect comfort food! These cornbread waffles freeze well too so make some extra that you can easily store away.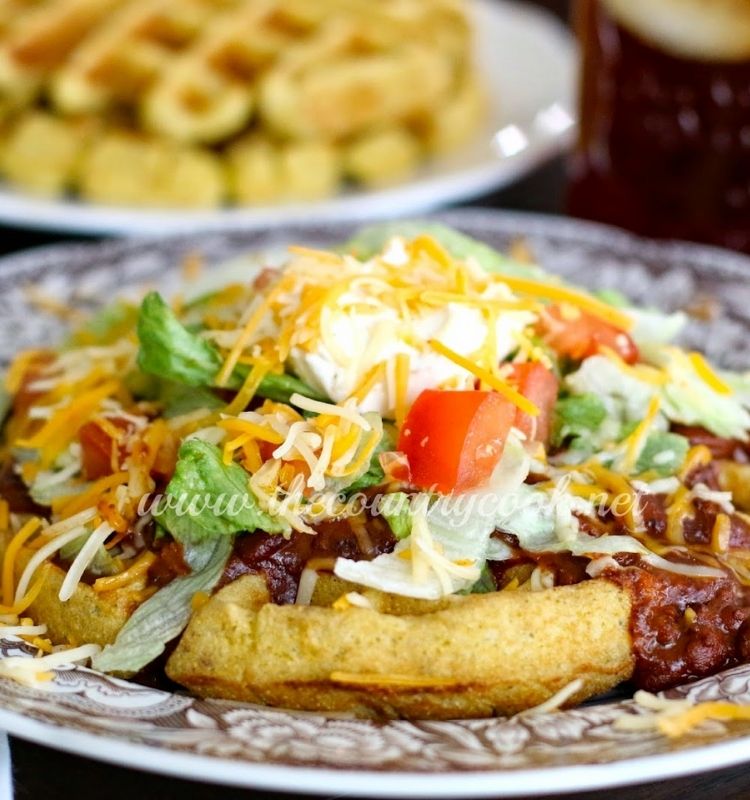 6. Gooey Ham, Egg and Cheese Biscuit Waffle Iron Wafflewiches (say that three times fast)
Warm, pressed sandwiches are always rated high in our household. Crispy bread with warm, gooey goodness inside. I mean… I am making myself hungry just writing this! Why not make all of your favorite sandwiches in waffle form. Our go-to is the Ham, Egg, and Cheese Biscuit Wafflewiches, but any sandwich combination will work here. Get creative and give it a try!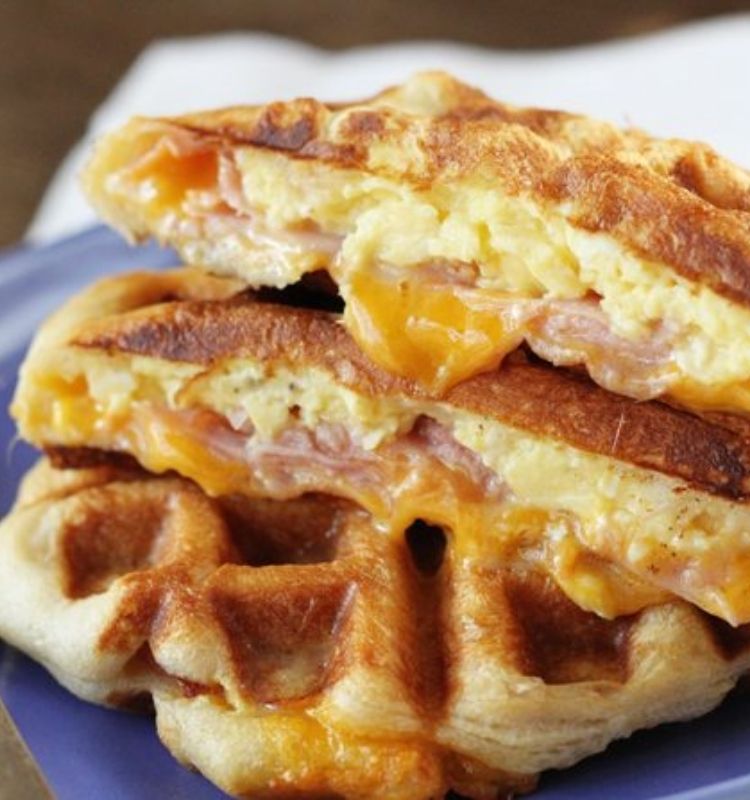 7. Yummy Waffle Iron Quesadillas
We never miss a Taco Tuesday in our house. But sometimes, I have to admit, I hear myself saying, "Tacos? Again?!" If you are looking for something new for your beloved taco night, make quesadillas for two in a matter of minutes with your waffle iron! Just pop tortillas in there, add your favorite toppings, fold in half, and press. Just four easy steps and your mouth-watering quesadillas are ready to enjoy! And just like that, Taco Tuesday just got an upgrade!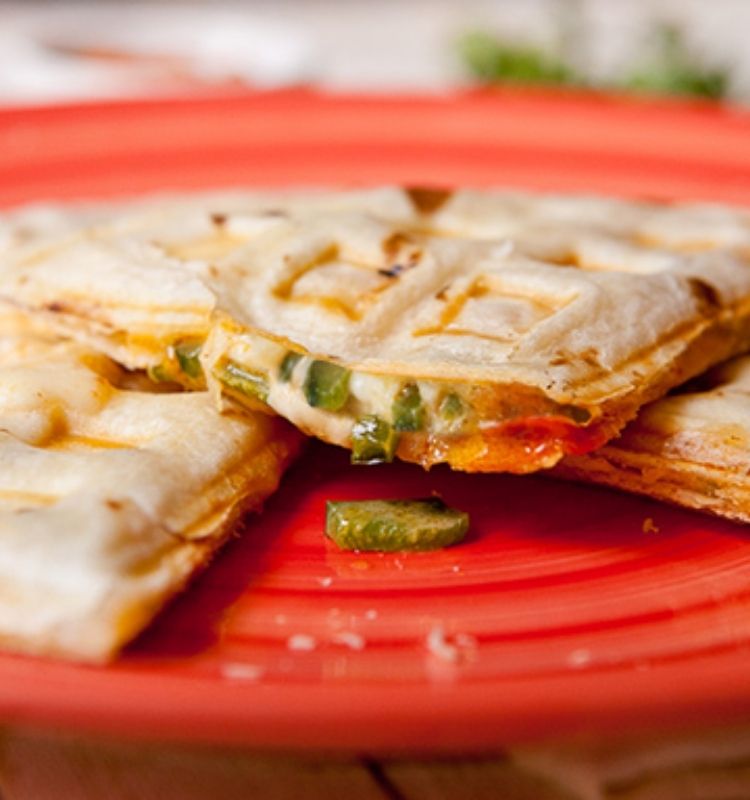 8. Waffle Iron Pizzas For The Kids
Want something fun to make with the kids? You must try these simple Pizza Waffles paired with a side of marinara sauce! They are the perfect lunch or dinner for you and the family and the little ones will love to help with these. You may find them asking for these in their lunchboxes too. Make them ahead and it is an easy, simple lunch to send them off to school with.
9. Healthy Zucchini Parmesan Waffles
For a healthier option with a big dose of veggies, try Zucchini Parmesan Waffles. They are also terrific with marinara sauce but if you feel the urge to try something new, dip these in your favorite ranch dressing. For a little spice, add a few dashes of your preferred hot sauce to your ranch dressing. And don't be fooled by the veggies in this one. Your little ones will love these too!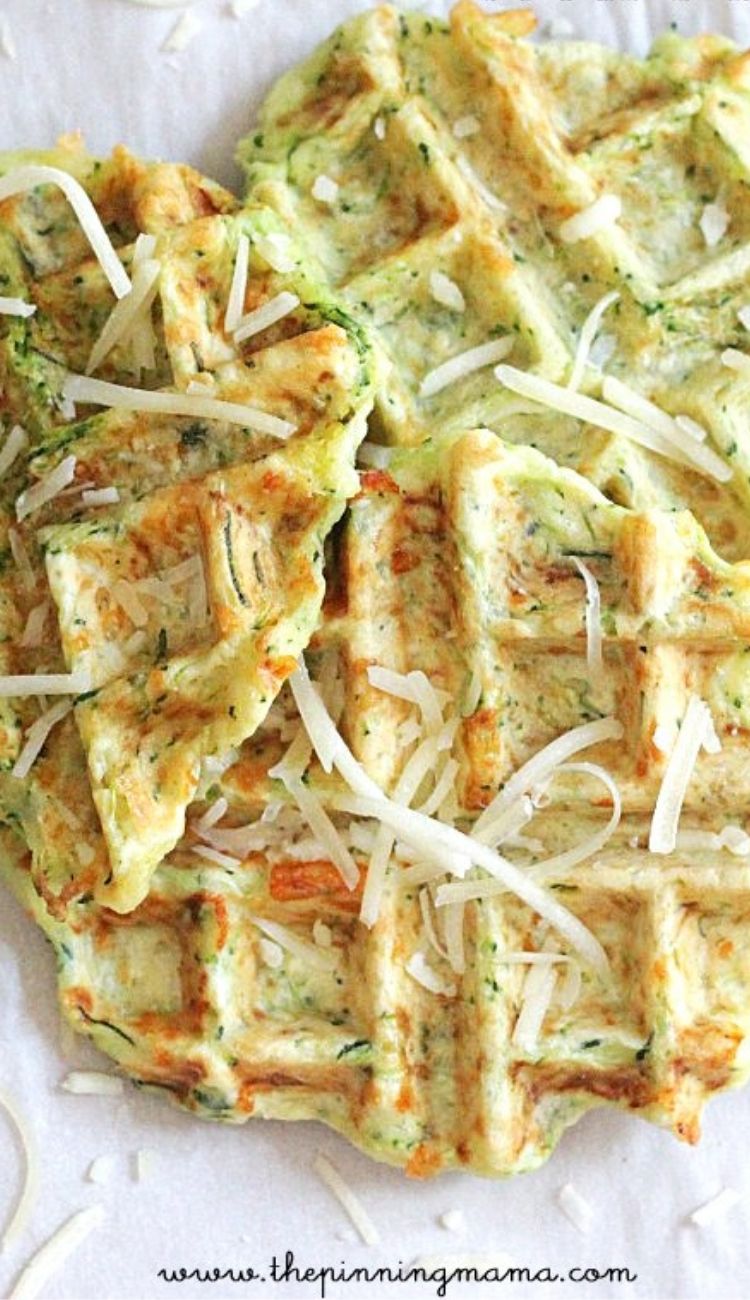 10. Waffle Bun Bacon Cheeseburgers
Burger buns are great but have you tried a waffle bun?! Waffled Bun Bacon Cheeseburgers will be an instant hit with your family and friends. The golden, toasty waffle buns are a nice change of pace from your traditional burger buns… you may never go back! Give it a try at your next BBQ! This unexpected twist will get tons of thumbs up!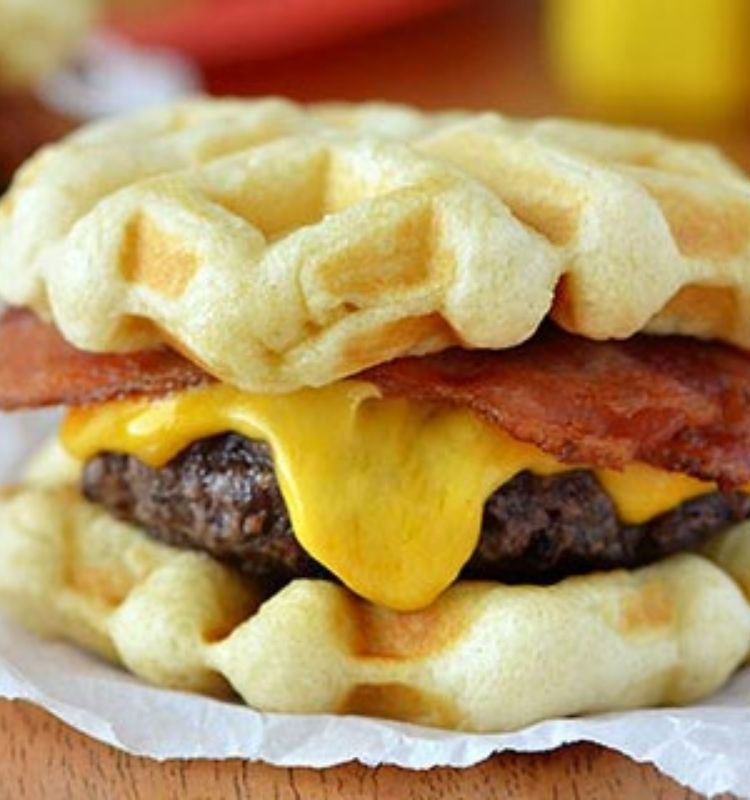 11. Waffle Iron Grilled Cheese Sandwich
We all love a great grilled cheese sandwich with a warm bowl of tomato soup. Am I right on this one? Instead of using your normal stovetop grill pan for this one, pop your cheese sandwich in the waffle iron for a crispy exterior and gooey, cheesy interior. I have tried this version and received rave reviews. I can truly say this is another kid-approved favorite!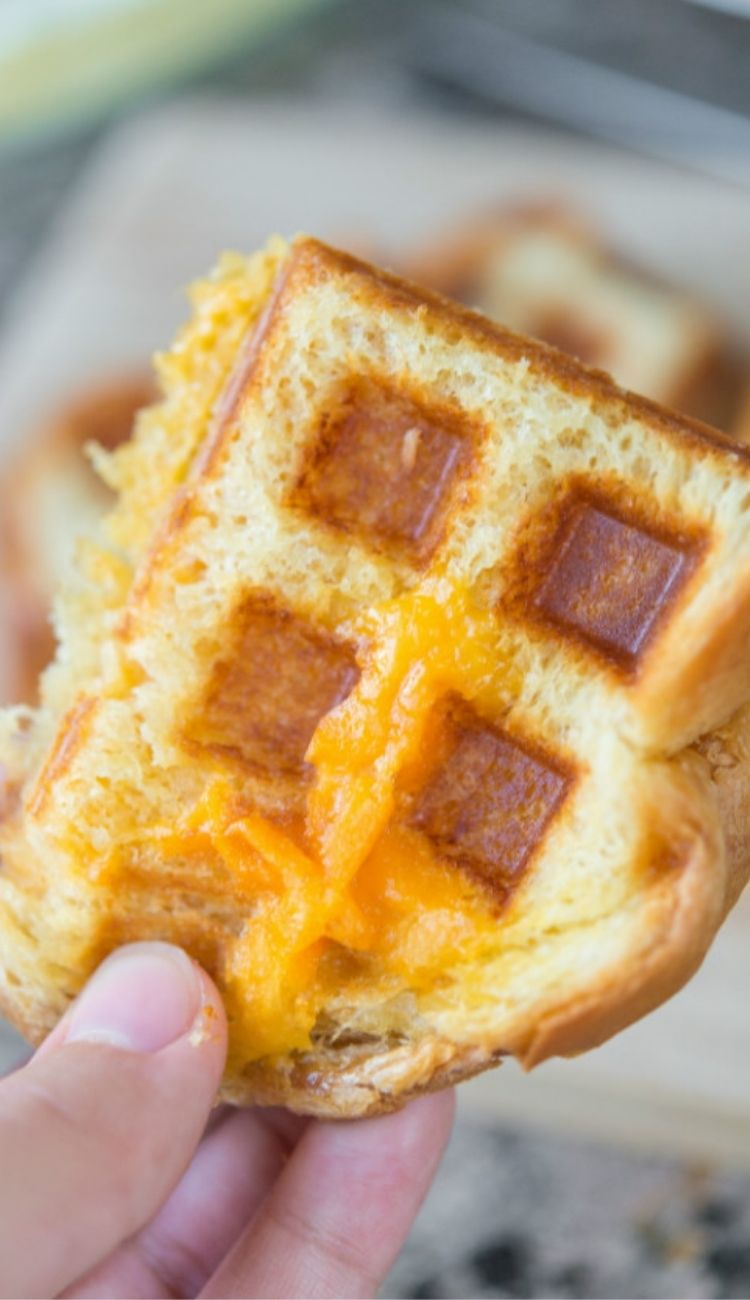 12. Red Velvet Waffle Cookies
Are you a devoted fan of the infamous red velvet cake? Then you must try these Red Velvet Waffle Cookies. Top them with cream cheese icing or sprinkle with a little powdered sugar. You will think you died and went to red velvet cake heaven!  You will need the following ingredients:
box red velvet cake
butter
eggs
flour
cream cheese
milk
powdered sugar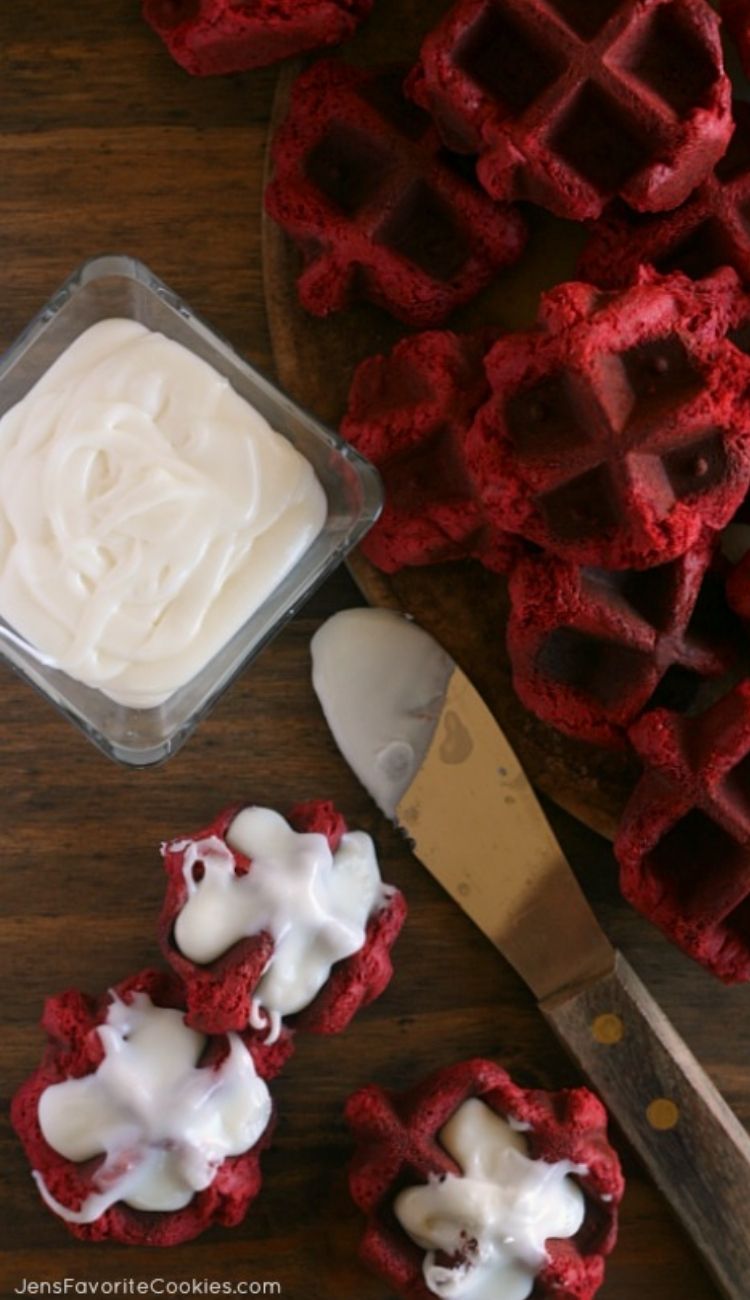 13. 5-Minute Brownie Waffles
Sometimes we just don't have the time to make a dessert. These 5 Minute Brownie Waffles are the perfect dessert option when you are scrambling for more time. Add a thick, whipped cream or a scoop of ice cream on top of these and it will look like you spent an hour on this dessert favorite.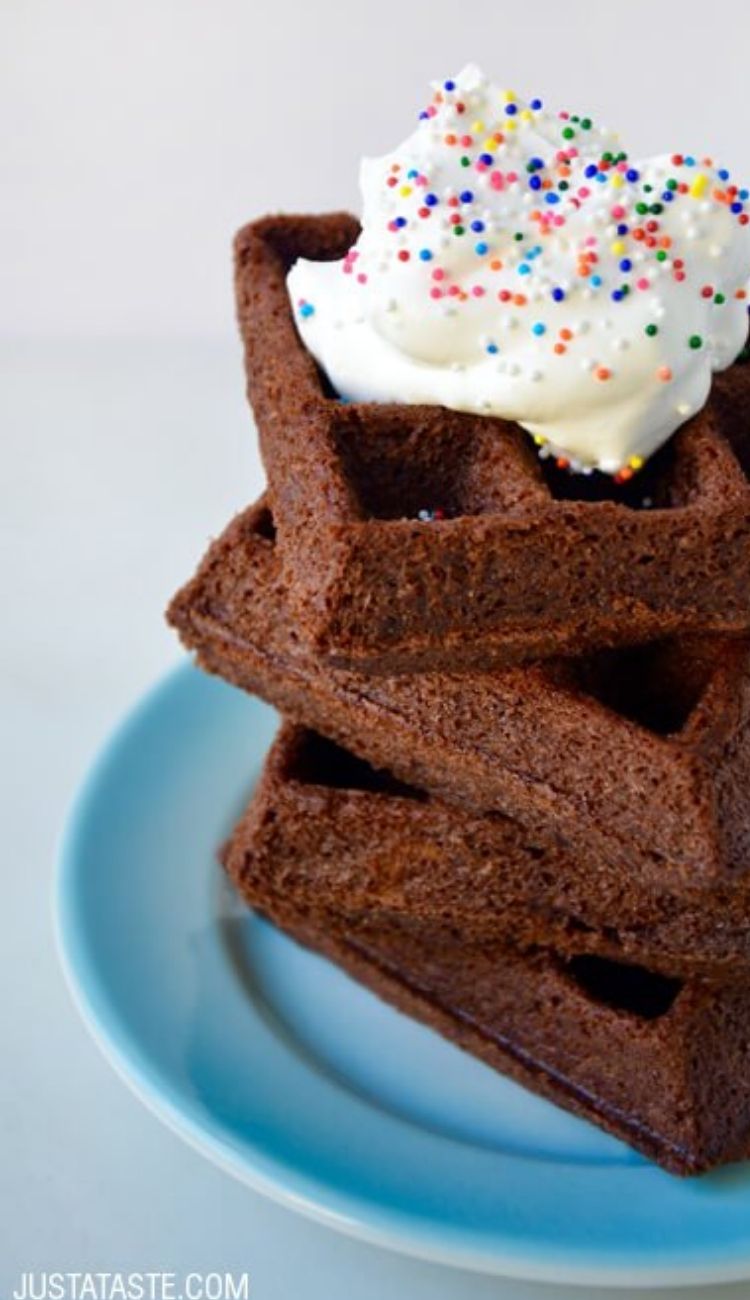 14. Carrot Cake Waffles
Are these Carrot Cake Waffles breakfast or dessert? Who cares! Just get in my belly! We love them slathered in coconut cream frosting, sprinkled with toasted pecans and leftover carrot shavings but any of your favorite toppings will do for this recipe. If you want to eat them as a breakfast item, just pour your favorite syrup over them, and voila! Did we mention these are gluten-free and vegan too? Winner!
15. Doughnut Waffles With Maple Glaze
Doughnut Waffles with Maple Glaze make a yummy dessert but they are also the perfect portable breakfast on the go. These are great to make ahead and wrap them up individually to grab and go on those days we just can't find the time to make a warm breakfast. But at the end of your day, when you need that little bit of sweetness, warm them up in the microwave and enjoy… *sigh*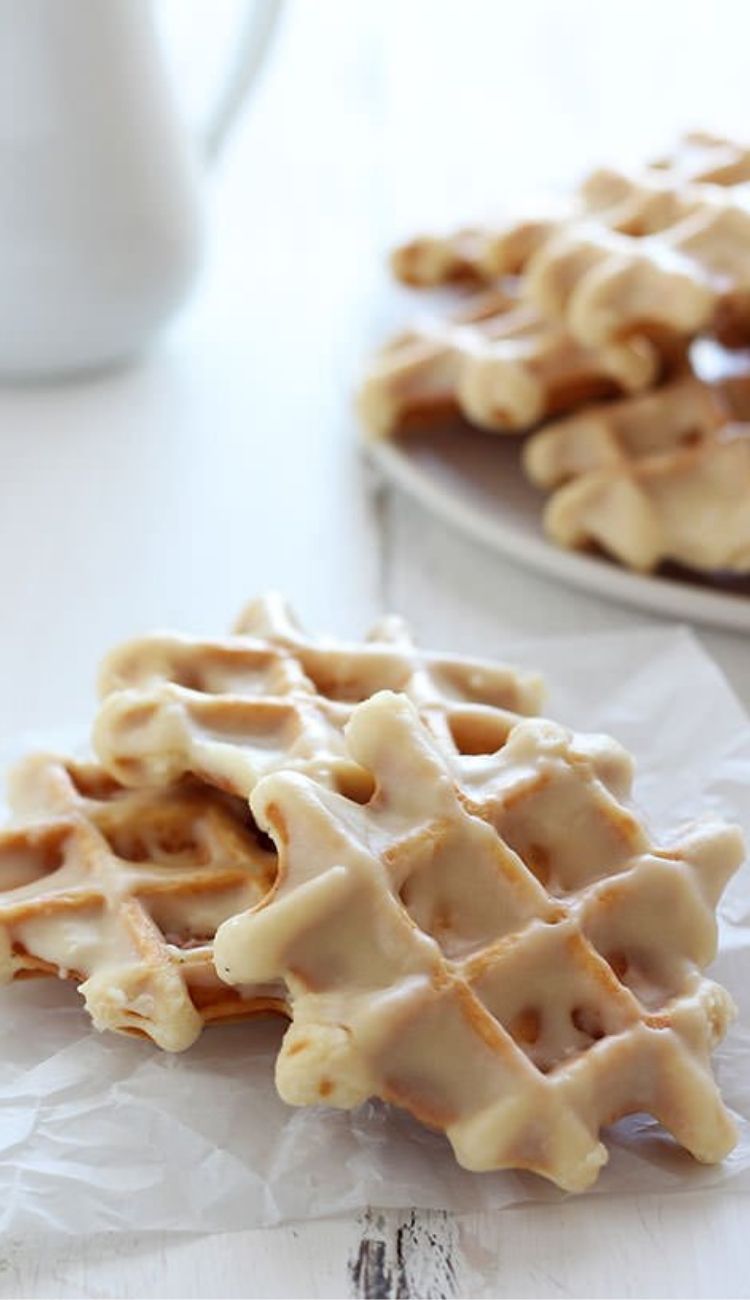 16. Apple Fritter Waffles
Don't these Apple Fritter Waffles look like something you could get at a fair? We thought they were a close competition! Add a little warm apple butter on top with some sprinkled powder sugar and walnuts… an absolute delight!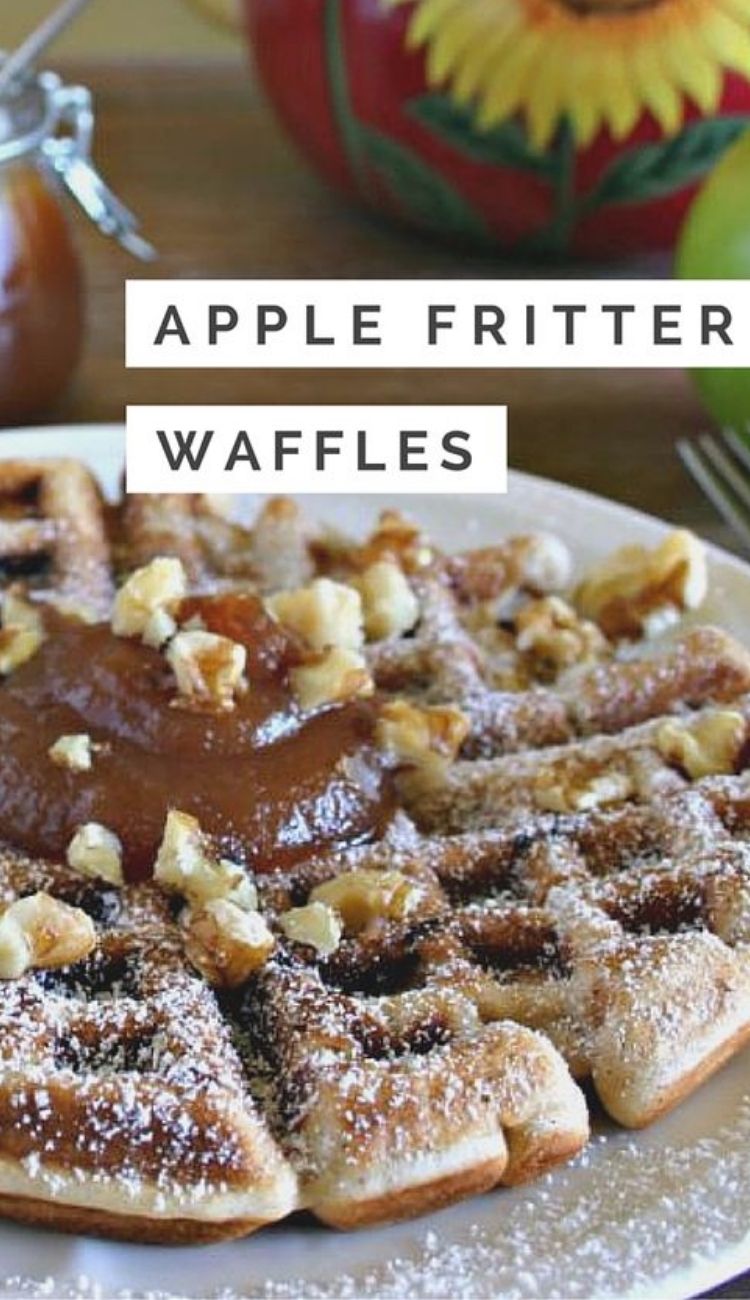 17. Churro Waffles
Enjoy the taste of churros without deep-frying by making Churro Waffles instead. This was an unexpected recipe find that we just had to add to the list. Now you can have churros more often without the guilt.  You will need to pick up from the grocery store or search your pantry for:
water
butter
salt
sugar
cinnamon
flour
eggs
optional, salted caramel sauce (yum!)
Waffle Iron Tips & Hacks
Now, I know you are anxious to try all of these new recipes! But before you do, let us get that old iron ready to use again. Here are some of my tips to get it shining like new.
Clean with a soapy, non-abrasive solution using a sponge or small brush. Your old toothbrush will work well for this!
If the plates are removable, pop them off and throw them in the dishwasher! Be sure to check washing recommendations first, of course, but most are dishwasher friendly.
Make sure to give the outside of your waffle iron a good wipe-down too in order to remove any drips that may have happened with your previous uses.
Plug it in and make sure the temperature is registering. Most waffle irons will have a green light signal indicating when your waffle iron is hot and ready for use. The ideal temperature for your waffle iron is 350 degrees Fahrenheit for most recipes.
Want more cool cooking ideas? We added them here!