Here is one cheesy and flavorful Tex-Mex recipe that your whole family will love. Crock Pot Chicken Enchiladas is a great way to get that juicy and flavorful meat to stuff inside your enchiladas for a perfect weeknight dinner. As a busy mom always on the go, I need as much help as I can in the kitchen to make my meals easy but wholesome. This is my favorite Crock Pot chicken enchilada recipe. I have been using it for years. It uses minimal ingredients and comes out perfect every single time we whip it up. Bon Appetite!
The recipe itself is really very simple – I cook my chicken with taco seasoning and a few bouillon cubes for the day. When I get home I shred the chicken and begin assembling the enchiladas. The tortillas are filled with chicken, green chiles, shredded cheese, and then topped with enchilada sauce and shredded cheese. You simply bake in the oven and before you know it you have a perfect weeknight dinner ready to be devoured! Just grab your favorite toppings like cilantro, sour cream, avocado, diced tomatoes, and you are good to go.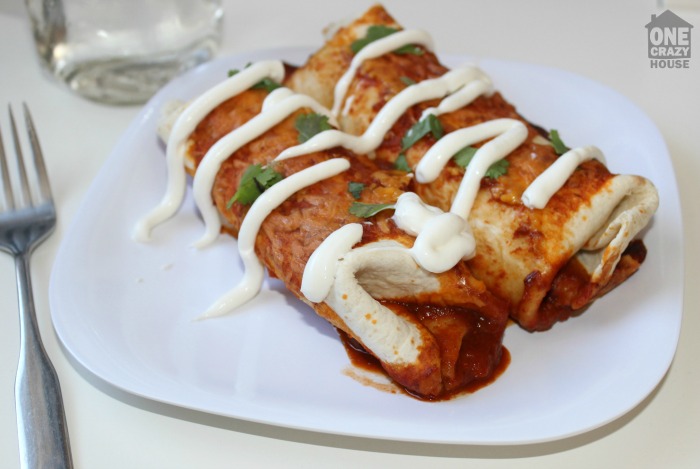 Tex Mex Crock Pot Chicken Enchiladas
I have tried making the entire enchiladas in the Crock Pot to save even more time, but here is my struggle. Cooking the entire enchilada in the Crock Pot gave us soggy tortillas, and our family's favorite part is that little bit of crunch on the edges of the tortillas. I tried a handful of ways and they never turned out with the texture our hearts desired. So cooking the chicken in the Crock Pot through the day really helped save me so much prep time. These can be whipped up in under 15 minutes of prep time and to me, that is a huge plus! I didn't spend an hour prepping and cooking chicken, then assembling, and so on. Pull the chicken out and shred it, and then start wrapping them up and before you know it they are ready for the oven.
The aroma of the chicken cooking all day is enough to make your mouth water, and then once you pop these in the oven you get a whole new delicious aroma filling your entire house! By the time we are ready to eat our tummies are growling and we are ready to devour our dinner. Trust me these Crock Pot chicken enchiladas are a perfect weeknight meal, and they reheat beautifully for the next day's lunch.
Recipe for Crock Pot Chicken Enchiladas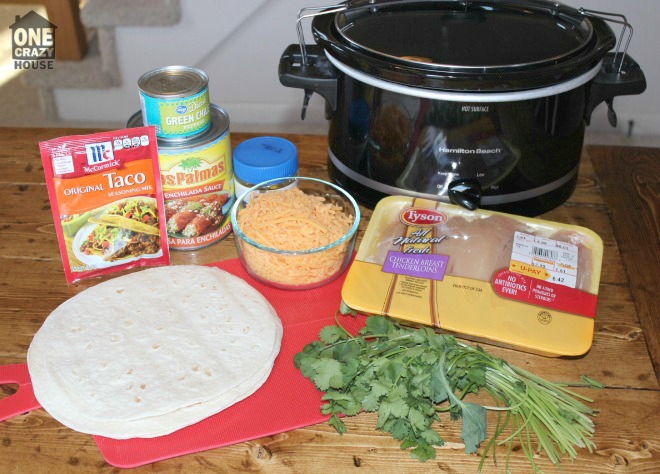 Ingredients
1 Package of Chicken Breast or Tenderloins
1 Package of Taco Seasoning
2 Chicken Boullion Cubes
2 Cups Water
4 oz. Green chiles
1 large can of Enchilada Sauce (Or use homemade)
1 1/2 cups shredded sharp cheese
8-10 flour tortillas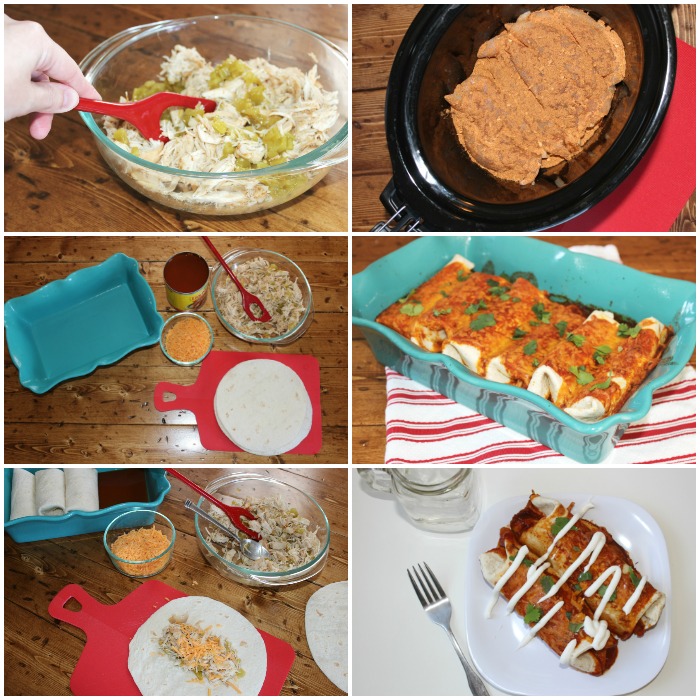 Directions
First, you want to take your chicken and lay it out in the Crock Pot. Then Sprinkle your taco seasoning over the meat, and then add in 2 chicken bouillon cubes, and 2 cups water. Turn on low and cook for 6-8 hours or high for 4-5 hours.
When the chicken is done, scoop out of the mixture, and shred with two forks. It should pull apart very easily.
 Preheat your oven to 350 degrees. In the bottom of a baking dish add a thin layer of enchilada sauce, just enough to cover the entire bottom.
In a bowl take the shredded chicken and mix in the green chiles. Set aside.
Grab a tortilla and add a small scoop of the mixture, I do around 3 tablespoons of meat mixture. Then add just a sprinkle of the cheese, roll up and lay with crease side down in the pan. Repeat till all enchiladas are rolled up.
Pour some enchilada sauce over the top of the tortillas just until it is covered. You don't have to use the entire can. Take the remaining cheese and sprinkle over the top. Cook for 20-30 minutes or until the cheese is melted and a little browned.
Serve with your favorite toppings.