The holiday season is a time of joy, love, and creating beautiful memories with our loved ones. But let's face it, planning for the holidays can often be overwhelming and chaotic. From organizing meals, decorating the house, shopping for gifts, and coordinating family events – the list seems never-ending! But we can help you conquer your holiday planning woes. Introducing the free, printable Holiday Planning Journal – your ultimate tool to master the art of holiday planning and create a stress-free celebration!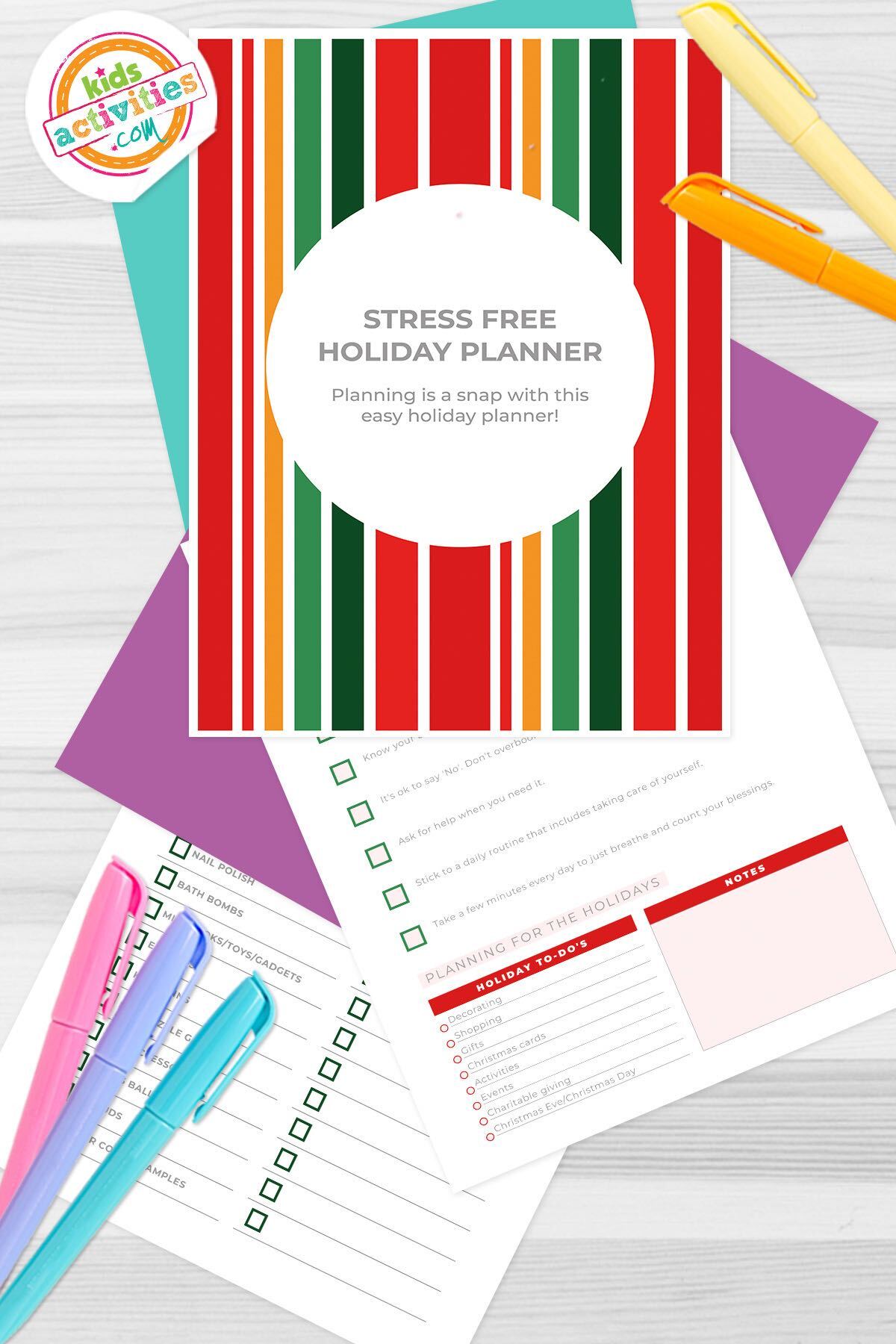 Free Printable Holiday Planning Journal
We all know the importance of planning so let me introduce you to the ultimate tool that will revolutionize your holiday season – your free printable holiday planning journal! This journal will become your best friend during the upcoming weeks, helping you stay organized, focused, and in control. Are you ready to transform your holiday experience?
Download your Holiday Journal Here!
comprehensive guide to Holiday Planning
The Holiday Planning Journal is a comprehensive guide that covers everything from meal planning and gift lists to decorating ideas and holiday activities. With each category neatly laid out, you will be able to tackle every aspect of the holiday season with ease and confidence.
The beauty of this journal is that it allows you to customize it to fit your own unique needs. While it comes pre-filled with ideas and suggestions, you can add or remove sections as necessary. Make it your own, and watch as it transforms your holiday planning process.
How to Use Your Holiday Planning Journal Effectively
Now that you have your holiday journal in hand, let's talk about how to use it effectively. Remember, organization is the key to a stress-free holiday season, so let's dive into some tips and tricks to make the most out of this incredible tool.
1. Set Clear Goals: Start by setting clear goals for yourself and your holiday season. What do you want to achieve? Is it hosting a memorable dinner party or creating handmade gifts for your loved ones? Write these goals down in the journal and break them down into smaller, actionable steps. This will help you stay focused and motivated throughout the planning process.
2. Plan Your Meals: The holiday season is all about delicious food. Use the meal planning section of your journal to map out your menus, create grocery lists, and keep track of recipes. This will ensure that you have everything you need and can avoid any last-minute kitchen disasters. Plus, it will save you time and allow you to enjoy cooking with your family.
3. Master Gift Giving: One of the biggest sources of stress during the holidays is gift-giving. Your holiday planning journal has got you covered. Use the gift list section to jot down ideas for each person on your list. Set a budget, keep track of purchased gifts, and note any wrapping supplies you may need. This will help you stay organized and make sure no one gets left off the list.
4. Create a Decorating Game Plan: There's nothing quite like a beautifully decorated home during the holiday season. Get creative and make a game plan by using the decorating section in your journal. Brainstorm themes, color schemes, and specific areas you want to focus on. Keep an inventory of your decorations and note any new items you need to purchase. With a clear plan in place, you'll be able to transform your home into a winter wonderland with ease.
5. Embrace the Joy of Traditions: Finally, don't forget to leave room for the joy of traditions in your holiday planning journal. Use the activity section to plan family outings, movie marathons, or any special events that have become a cherished part of your holiday season. By incorporating these traditions into your planning, you will create lasting memories and infuse your holiday season with even more love and happiness.
Grab your Holiday Planner for a stress-free holiday!
With the free printable Holiday Planning Journal in your hands, you have the power to make this holiday season truly magical. Imagine being able to savor every moment of the holidays, knowing that all the details are taken care of seamlessly. It's time to eliminate the stress, chaos, and countless to-do lists that come with holiday planning. Embrace this incredible tool and watch as it transforms your holiday season!