No one (and I mean no one) likes to clean the bathroom. While these must have bathroom cleaning hacks for tackling the grime are simple, they honestly don't help in making cleaning it any more fun! It's grimy, it's dirty and it's used multiple times per day by your family members and possibly even others. Just thinking about it gives me the shivers…seriously. BUT, it is the one room in the house that probably needs to be cleaned the most.
If you know that you need a few cleaning tips to help tackle the bathroom grime, don't worry – you aren't alone. In fact, the more bathroom cleaning tips and hacks that you can have, the better, right?!
Video: Bathroom Hacks With Vinegar and Baking Soda
Make cleaning your bathroom easier with these vinegar and baking soda bathroom hacks. I made a short video to show you how well they work!
Here are some super simple bathroom cleaning tips that you can implement with ease!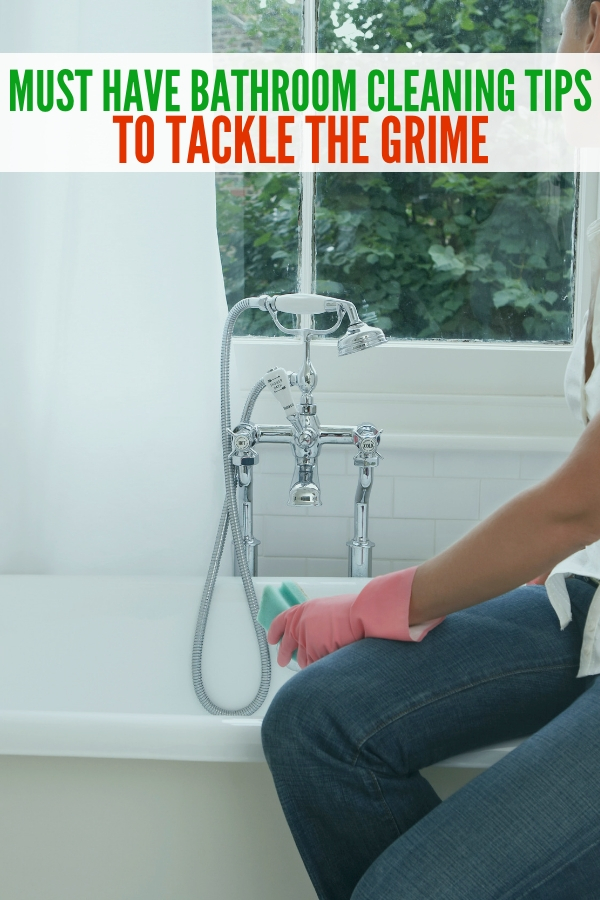 Super Simple Bathroom Cleaning Hacks Anyone Can Do
First and foremost, understand that the bathroom is a small room…and this is actually a good thing! The smaller the room, the less you have to clean!
Now that you have that positive thought to start before cleaning, here are some great cleaning tips!
Always start from right to left when cleaning the bathroom
Why? Because this way, you won't forget anything along the way. If you are anything like me, you may tend to bounce around from item to item instead of focusing and completing one job in its entirety. If you start at the right side of the door and work completely around the room in a circle, you absolutely without a doubt won't miss anything!
Take anything not bolted or screwed down out of the bathroom
Don't let objects stand in your way. If it isn't attached, it needs to be gone from the room. That way, you can spray away and scrub away and clean away all the dirt and grime just hiding and waiting in your bathroom. If you remove everything before you get started, you'll find that you can clean a ton more efficiently and quicker!
Save the toilet, shower, and floor for last
Not only are those the biggest bathroom cleaning pains, but they take the longest as well. Clean every other surface possible first, and save those other larger items for the end. Then, once you clean them, take a step back and admire all your hard work! Your bathroom is certain to be shining sparkly clean once you are done.
Plus, cleaning your floor at the very end is always a good idea because then you can wipe away any footprints that you may have carried in as well!
Last but not least, once you are doing cleaning every inch of the bathroom, shut the door and move on. Shutting the door indicates to your brain and other members of the family that the room is cleaned and ready to be used. This also signals your brain that you completed the room and have moved on to other cleaning projects scattered throughout the house.
What other bathroom cleaning tips do you have? We would love to hear them!