Many common medicines that we use on a regular basis can contain unnatural and potentially harmful ingredients. Improve your health by trying the ideas on this list of natural alternatives to common medications!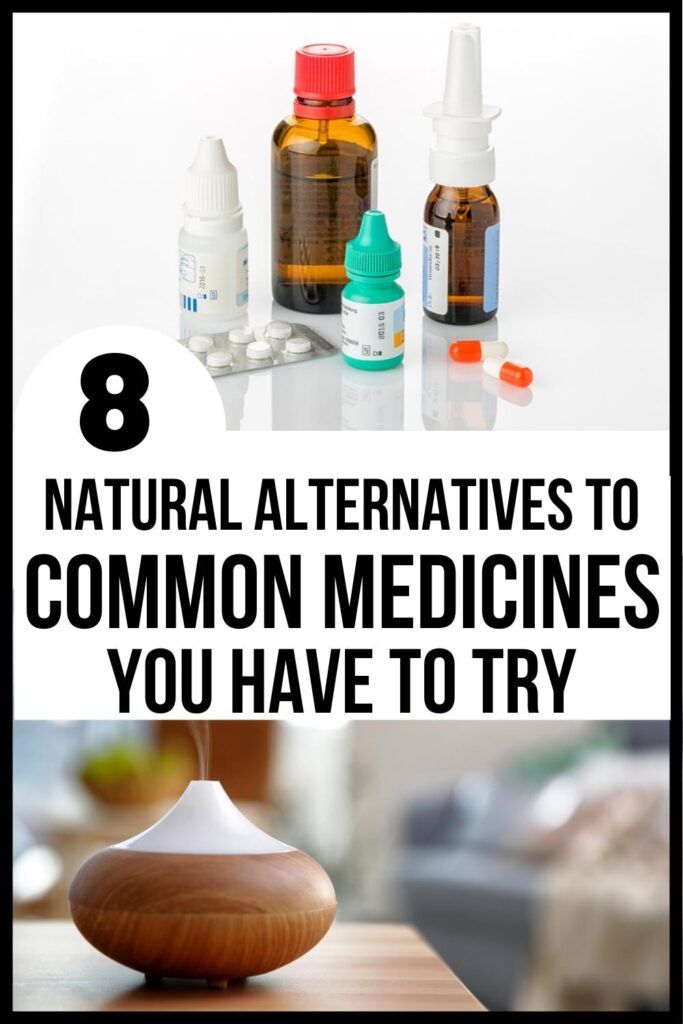 One place in the house that people often overlook for a makeover is the medicine cabinet. There are so many common medications that people use and probably don't actually need to take.
Maybe it's time to find natural alternatives to accomplish the same goal!
In the past, my personal growth list contained goals like eating healthy foods, exercising more and intentional living. Until recently, I neglected to look at improving how I help my family when they don't feel good.
It's time to start striving for a healthier, more natural life when I feel good and when I feel bad.
I started with opening up my medicine cabinet (which is actually a series of baskets on a high shelf in the master bathroom linen closet). I found a sobering assortment of leftovers from past illnesses…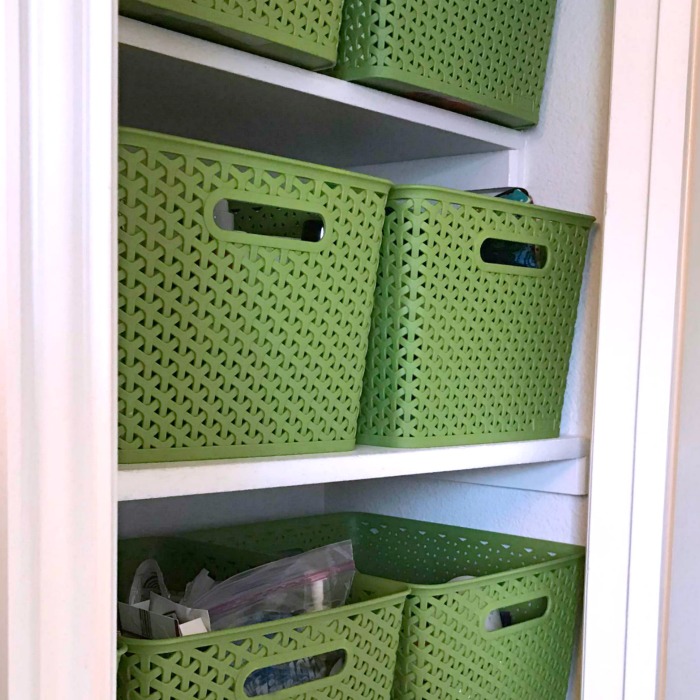 And don't get me started on what the OLDEST date I found attached to a bottle! I'm too embarrassed to even say it.
It was definitely time for a makeover.
Ingredients To Avoid
My goal was to find natural alternatives for common medicines that we reach for when we feel under the weather. I wanted to eliminate ingredients such as:
Petroleum

F

ragrances

M

enthol

H

ydrogenated oils

P

arabens

Sulfates

P

hthalates

A

rtificial colors

M

ineral oils

A

lcohol

"N

atural flavors" (because, in fact, they're NOT natural at all

)
Did you know that both natural and artificial flavors could contain anywhere for 1 to 100 ingredients including synthetic chemicals and GMO-derived ingredients?
Flavors can also include excitotoxins like MSG – no thank you.
In addition, I want it to use organic products whenever possible. The last thing I need when I am sick is to use something that has the potential of residual pesticides. I mean, I already don't feel well!
One Crazy House has partnered with Maty's Healthy Products, and I'm so excited about this! By investigating Maty's products, I have been inspired to make EASY changes to create a healthier home with their products.
Natural Alternatives for Common Medications
Here are 8 simple substitutions for common medicines that I discovered as I researched Maty's Health Products. See for yourself just how easy making healthy changes can be!
Natural Alternatives to Aquaphor
Have you ever noticed how many common items in your medicine cabinet have a "drug facts" label? I hadn't noticed that before. Maybe you're saying to yourself, "think about it; this is your MEDICINE cabinet." I would totally agree if I was talking about actual drugs, but what about products like Aquaphor?
Maty's Baby Ointment doesn't have a drug fact label because it contains whole-food ingredients without using petroleum, hydrogenated oils, or fragrances. When you eliminate unnatural chemicals, there's no need for a drug fact label!
I may not have a baby anymore, but I keep things like baby ointment in my medicine cabinet for those intense rash and skin hydration needs!
Natural Alternative for Vicks VapoRub
Dump the Vicks version for Maty's All Natural Vapor Rub. What I love about the Maty's version is that it doesn't contain petroleum at all!
Petroleum is a chemical that I have been wanting to move away from because it is unnatural and can cause harm.
I also started doing some additional research about menthol. I found out that menthol isn't recommended for use on children under 2 years old.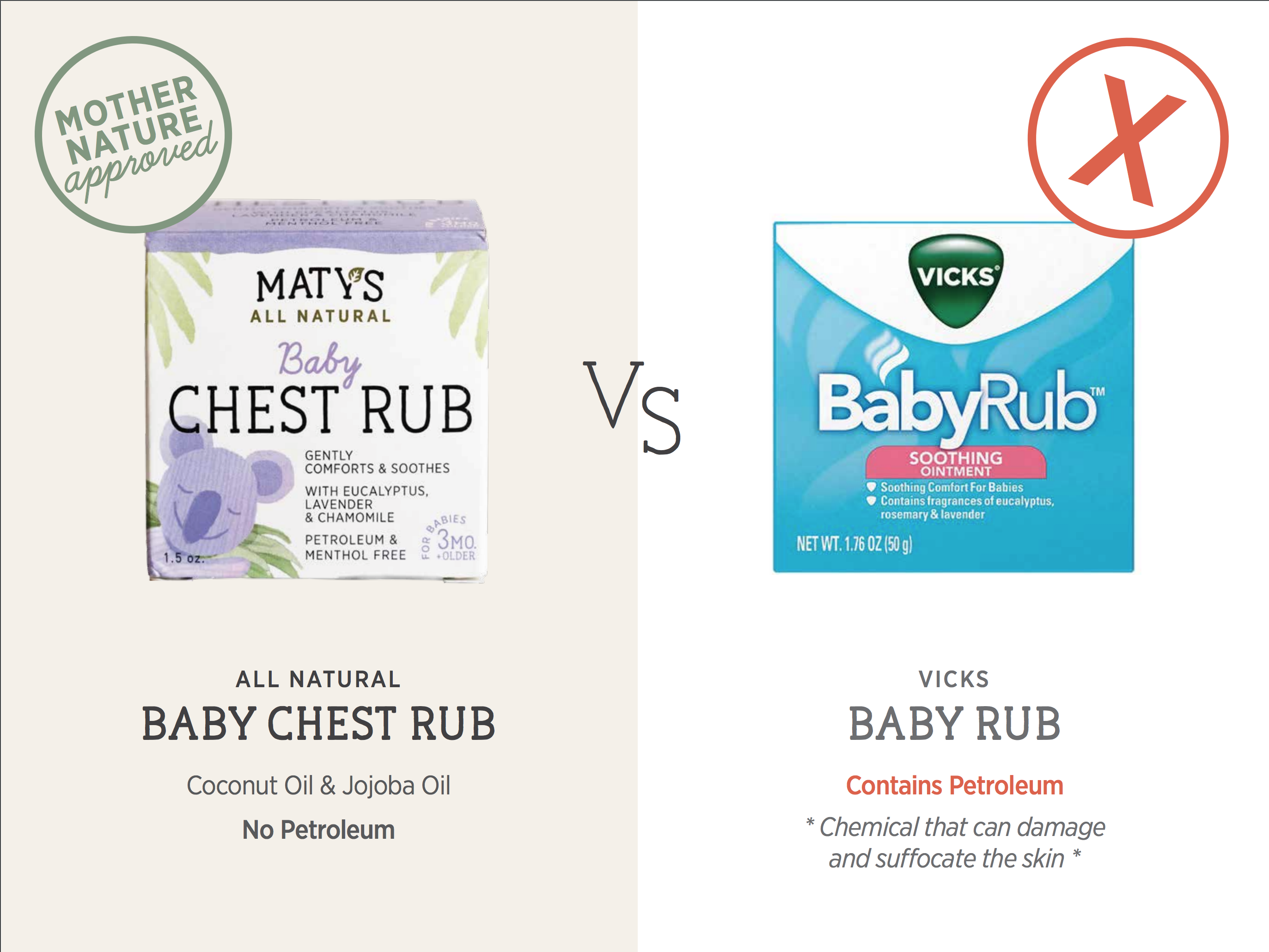 "The ingredients in Vicks can be irritants, causing the body to produce more mucus to protect the airway. Infants and young children have airways that are much narrower than those of adults, so any increase in mucus or inflammation can narrow them more severely." – Dr. Bruce Rubin, Department of Pediatrics at Wake Forest University School of Medicine
Even other options like Zarbee's Baby Chest Rub contain ingredients like hydrogenated castor oil (which is a chemically altered oil), while Maty's uses all-natural oils like coconut and jojoba.
Natural Alternative for Sinex Nasal Mist
I made this change several years ago and have found it to be one of the best things when I am congested. I used to use a decongestant nasal mist like Sinex or Dristan and it worked really well for a few hours to give me relief.
The problem came when I wanted to stop using it. Research shows that rebound nasal congestion is caused by extended use of nasal sprays. When I switched to a saline wash using a Neti Pot, I was surprised at how effective it was and how much less time I felt congested (without the rebound effect when I wanted to stop!).
Natural Alternatives to Robitussin Cough Syrup
Maty's Organic Cough Syrup contains USDA certified ingredients like honey, cinnamon, apple cider vinegar, lemon peel, and more. Also, there are NO artificial preservatives, color additives, sweeteners, corn, soy or wheat.
Traditional cough syrups like Robitussin have a ton of ingredients. I can't pronounce (never a good sign) many of them, and they have side-effects I don't want. The really cool thing is that Maty's Organic Cough Syrup tastes better and can be easily added to hot drinks for an even more feel-better experience!
Natural Alternatives to the Vicks Waterless Vaporizer
When Vicks introduced their waterless vaporizer, I used it and loved it. It's similar to a fragrance plug-in but uses a Vicks scent.
As I started to find more natural alternatives to common medicines and other products that I used frequently, I found an LLP essential oil mixture that soothes without using menthol.
Simply add a few drops of lemon, lavender, and peppermint essential oils into an essential oil diffuser.
Natural Alternative for Gold Bond Foot Powder
Stinky feet are pretty common in a house with three boys. There's no need for Gold Bond foot powder, however, since using an Epsom salt foot soak is just as effective.
Epsom Salt naturally neutralizes odor and it can help soothe feet. You can make a simple foot soak with 1 cup of Epsom Salt for every 15 cups of warm water.
Natural Alternatives to Prilosec
Maty's Acid Indigestion Relief has no side effects or drug interactions. The Prilosec side effects include an increased risk of stroke, heart attack, and kidney disease (I'll pass, thanks!).
Natural Alternatives to Tylenol PM
Every once in a while, I need a little nudge to fall asleep at night. In the past, taking a Tylenol PM has been my solution. Unfortunately, I tend to feel "foggy" and sluggish in the morning.
Sometimes it doesn't even work!
Lately, when I feel a little under the weather, I have a hot drink in the evening and add a little Maty's Organic Nighttime Cough Syrup.
Guess what? I get better sleep with NO grogginess in the morning. The natural ingredients like chamomile and nutmeg calm my system down and promote peaceful sleep.
Most of us take these common medications regularly without even thinking about what we're putting into our bodies. I did that too!
I'm thrilled to find out how easy it is to find effective natural alternatives to these products. I hope you love the Maty's line of products as much as I do.
You can find more about Maty's better alternatives by visiting their website and following them on FB and Twitter: @Matys.
More From One Crazy House: