Home hacks are always helpful but what if what you really need is a plan for your life?! We have a hack for that! The Home Hacks Handbook is a free printable workbook designed to plan your week, plan your meals, plan your chores, plan new habits, and plan your spaces. Who could ask for more? (Seriously, don't ask for more. This is a lot for anyone to manage. But we believe in you and we've got your back!)
Home Hacks to Attack Your Week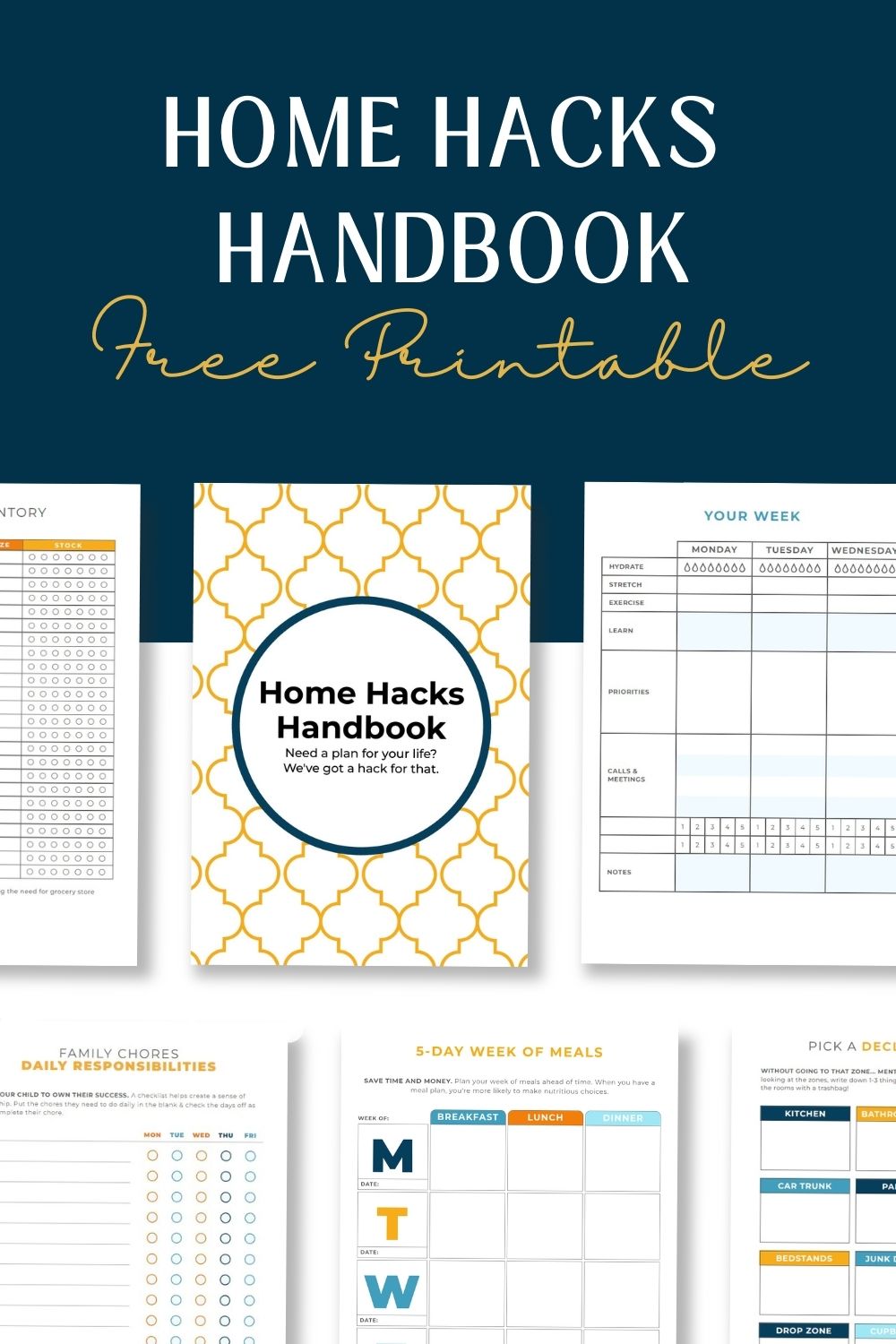 Are you struggling to find the time and motivation to get organized in your home? Do you feel like you are stuck in a constant cycle of chores, to-do lists, and clutter? If so, then the Home Hacks Handbook is here to help. This guide gives you all the tools you need to make your weekly routine easier and faster. Learn how to plan your meals, get your chores done, create new habits, and plan your spaces with this comprehensive handbook.
Having clear plans for the week ahead will set you up for success. The Home Hacks Handbook provides tips and tricks to help you plan your week, meals, chores, habits, and spaces. Whether you're a stay-at-home parent or a working professional, getting organized helps you manage stress.
To start, create a master plan that takes into account your available time and energy. Think about tasks that are important, tasks that need to be done, and tasks that would improve your quality of life. Prioritize which tasks will have the most impact on your life. You can also use this time to build in boundaries and mini rewards.
Home Hacks Handbook is a Guide to Plan Your Life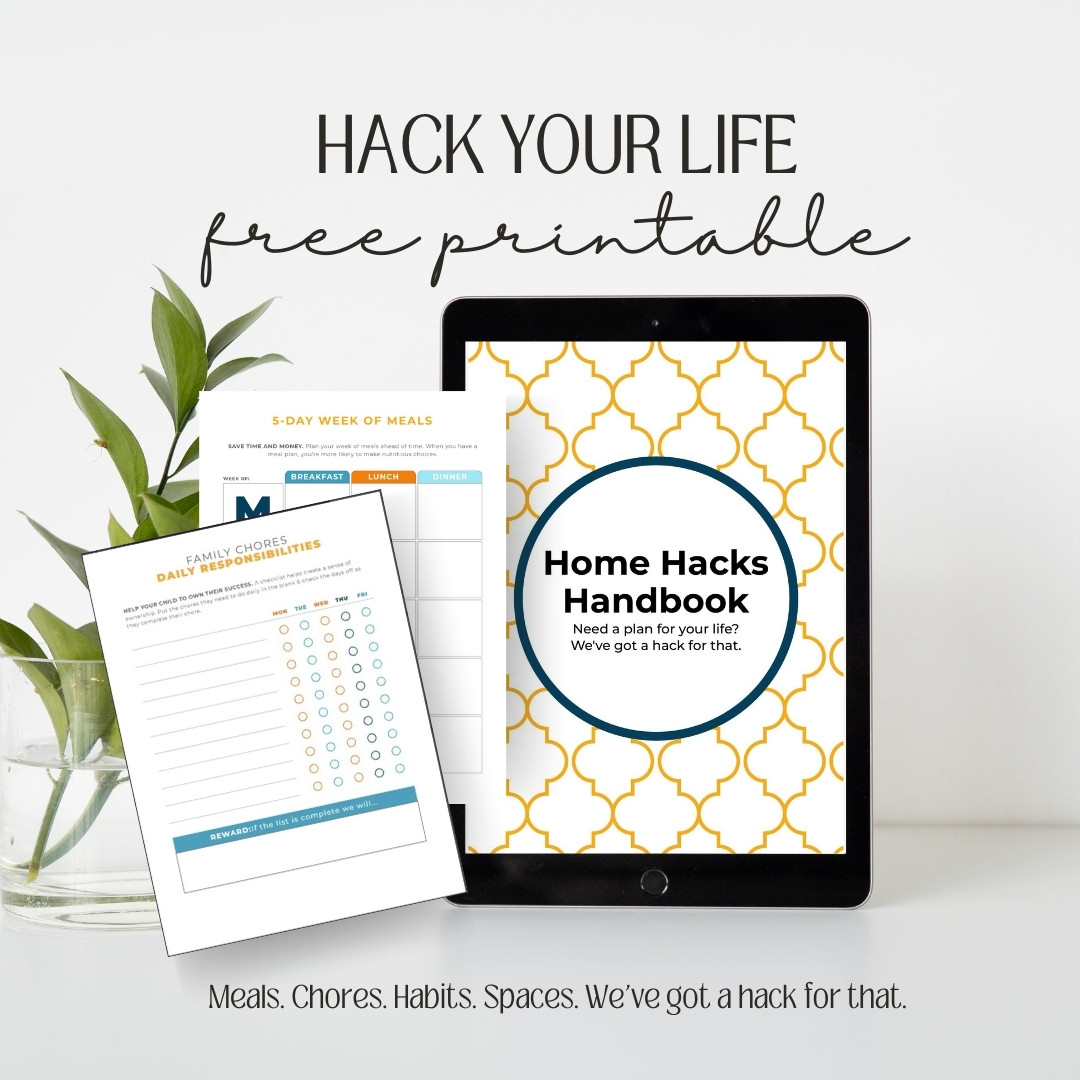 When it comes to planning meals, make sure to double down on dishes like soups and casseroles that can be made in bulk and used throughout the week. This will help save time while providing you with nutritious meals. Keep a grocery list of all of the ingredients you'll need to maximize your time in the kitchen.
Planning your chores is a great way to save time and money. Make a rotating list of weekly tasks to keep your home in good condition. Keep a running list of miscellaneous items as well, such as cleaning supplies and tools. If you're feeling overwhelmed, take a few minutes to make a list of all the things you'd like to get done, and then choose a few that you can tackle in a day. Planning chores for the week also makes sure to share tasks across the family and sets expectations for everyone. No more mom up late washing dishes after everyone else has gone to bed.
It's also important to plan your habits, such as exercising, meditating, and reading. Setting aside time for these activities is essential to staying mentally and physically healthy. Make a list of activities that you want to make part of your routine and allocate time for each.
Finally, plan your space. Declutter the areas that you use most often, such as the kitchen, bedroom, and bathroom. Spend some extra time organizing closets, drawers, and cupboards. Not only will this make everyday tasks easier, but it will also create an environment that feels more organized and uplifting.
Hack Your Goals to Manage Stress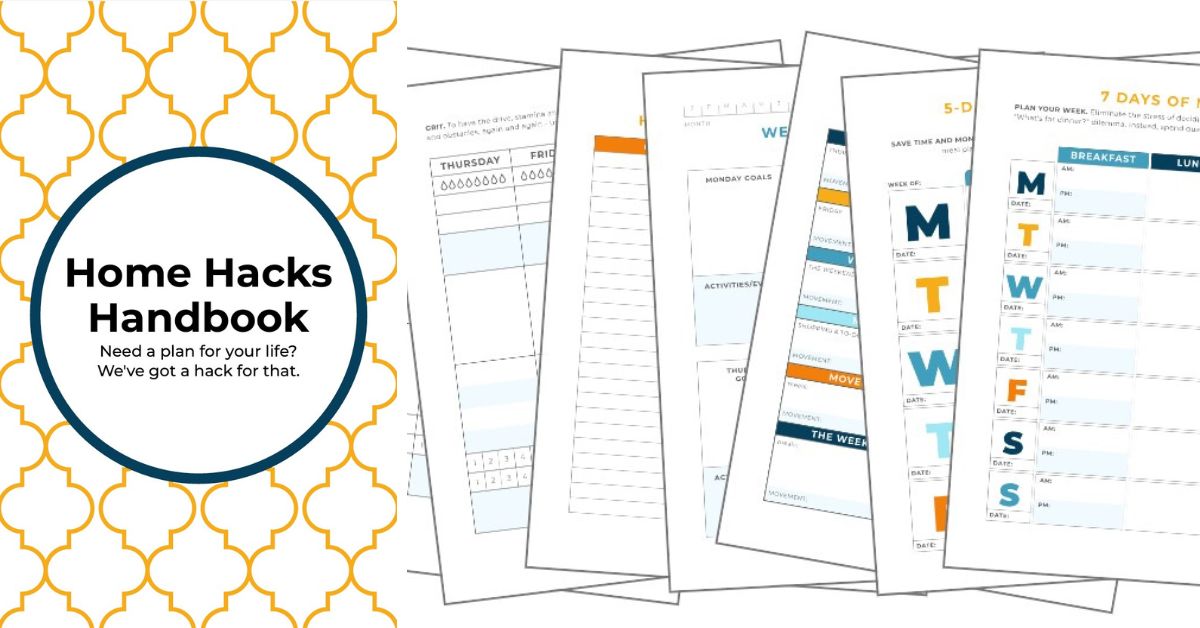 Once you have created your plans, it is time to set goals. Clear goals help direct your focus and energy. It may be helpful to break down big projects into smaller manageable tasks. This will give you a sense of accomplishment when you complete them and prevent the stress of having to do everything at once.
Managing stress is an important part of the planning process. Make sure to leave yourself enough time to rest and relax. Schedule breaks into your day to unwind and re-energize. When you're feeling overwhelmed, take a few deep breaths and remind yourself that it's ok to take a step back.
Finally, stay positive. Don't beat yourself up if things don't go as planned. Remember that even small successes are worth celebrating. Acknowledge your progress and the effort you put into reaching your goals.
Putting Plans Into Action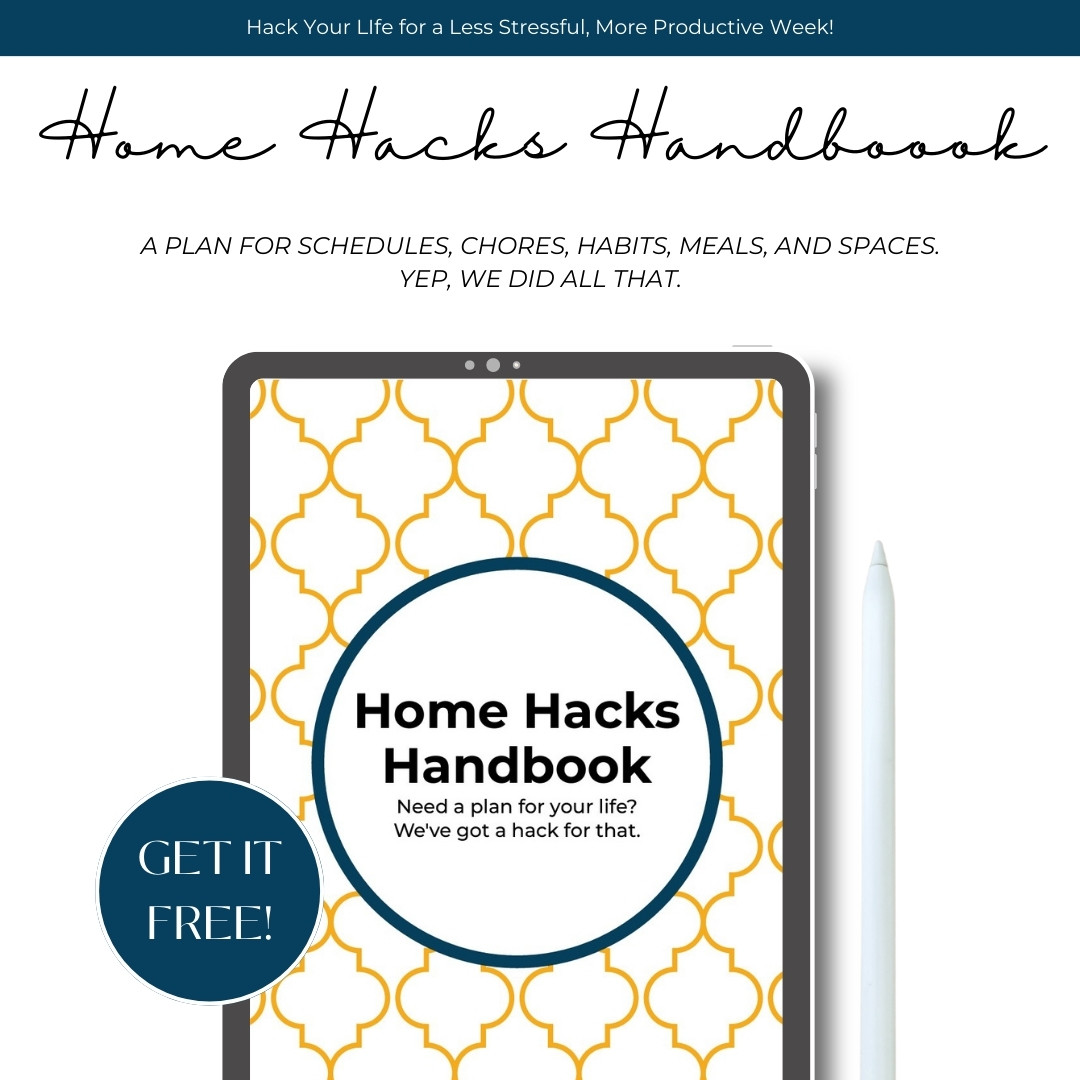 Once you have your plans, goals, and stress-management strategies in place, the biggest hack is to take action based on your plan! Put your plans into action by breaking them down into simple steps. Start with the biggest and most important tasks first. Don't forget to set deadlines for yourself and stick to them.
Make sure to review your plans and goals weekly to ensure that they are relevant. Tweak and adjust your plans and goals as needed.
Lastly, remember to be kind to yourself. Achieving goals takes time, effort and consistency. Don't be too hard on yourself if things don't go as planned. Take a break when needed and reward yourself for small successes.
With the Home Hacks Handbook, you can take control of all the areas of your life!
---
Making Mom Life Easier, One Challenge at a Time
There are lots of ways to be a good mom but one thing is constant –> it is a LOT of work! We just want to make your life a little easier by providing resources for moms that are flexible and helpful. From free daily planners and meal planning to coloring pages and games, if you need help getting organized or keeping your kids busy, we've got your back!