With 15 different ways to make strawberry preserves, you'll know just what to do this spring and summer with your bounty of fresh strawberries. Canning has never been so sweet!
When strawberry season is in full swing, you may be wondering what to do with all those berries you picked from your own garden or bought at the farmers markets. While we definitely think there's no such thing as too many strawberries, it can be hard to eat them all before they spoil. And you may not have much freezer space, either. So, what's a strawberry aficionado to do? Learn how to make strawberry preserves!
While it may seem intimidating learning how to can, that couldn't be further from the truth. And once you nail it with a few of these easy recipes, you'll be ready to tackle more complicated recipes. But preserves? They couldn't be easier.
You'll also want to check out our list of strawberry recipes for more ideas on using your strawberry harvest.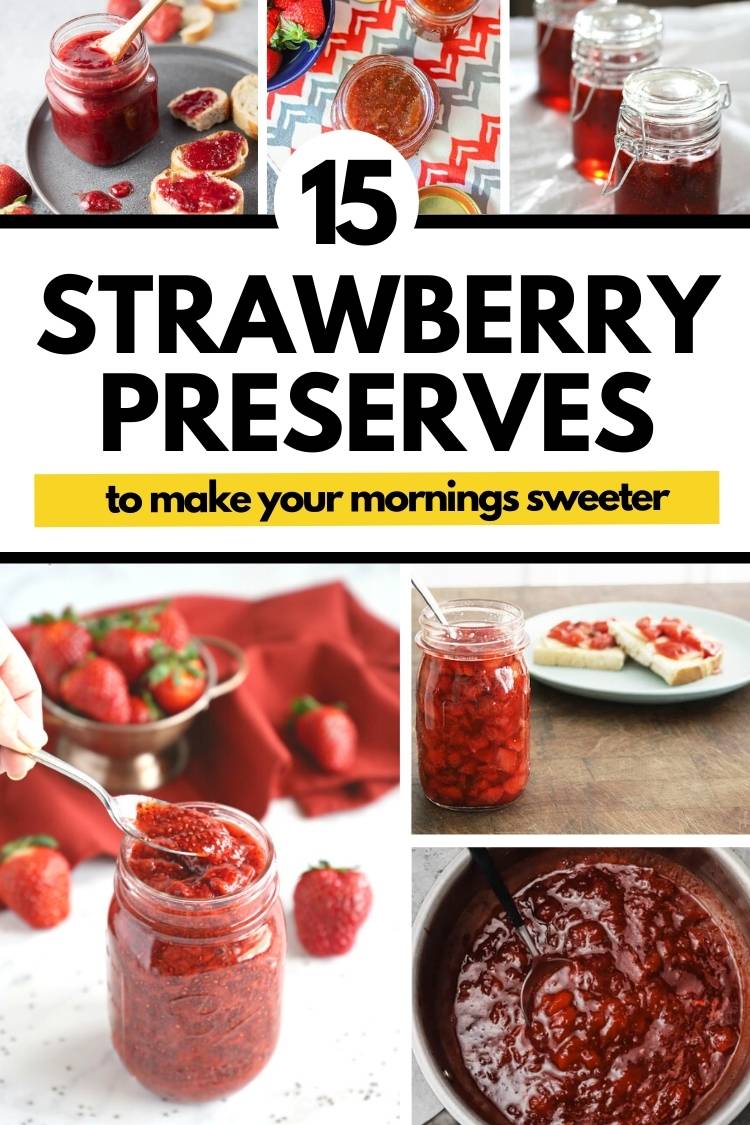 What Are Strawberry Preserves Made Of?
Most recipes for strawberry preserves call for three ingredients: strawberries, sugar, and lemon. Because strawberries have plenty of pectin themselves, pectin isn't always needed. However, if you're going for a lower sugar version, pectin becomes necessary to help the preserves set up. Lemon (or some sort of acid like vinegar) is necessary to get the right pH for safe food storage and to help the preserves set. Lemon juice prevents the growth of bacteria, which is super important when storing foods for long periods.
How Long Do Homemade Strawberry Preserves Last?
If you've canned your strawberry preserves using a water bath, they'll keep in the pantry (or any cool, dry location) for about a year. Some sources say they're good for up to 18 months. Once opened, they'll last in the fridge for up to 8 months.
Freezer jams or preserves last at least a year in the freezer and for about 3-4 weeks in the fridge after thawing and opening.
Are Preserves and Jam the Same Thing?
According to the Pioneer Woman, fruit preserves are similar to jam, but preserves are thicker and have larger chunks of fruit in them. You may also find parts of the rind or pulp in preserves. Jams, on the other hand, contain crushed, chopped, or or pureed fruits.
However, many people use the terms interchangeably, so we've included some strawberry jam recipes here as well.
How to Serve Strawberry Preserves
You can enjoy strawberry jams and preserves so many different ways!
on toast, biscuits, or muffins
over ice cream
spread across waffles or pancakes
in a PB&J sandwich
served over grilled meats for a little sweetness to balance out savory flavors
mixed in with your oatmeal
in jam bars or jelly rolls
in cookies
in cakes
The possibilities are endless!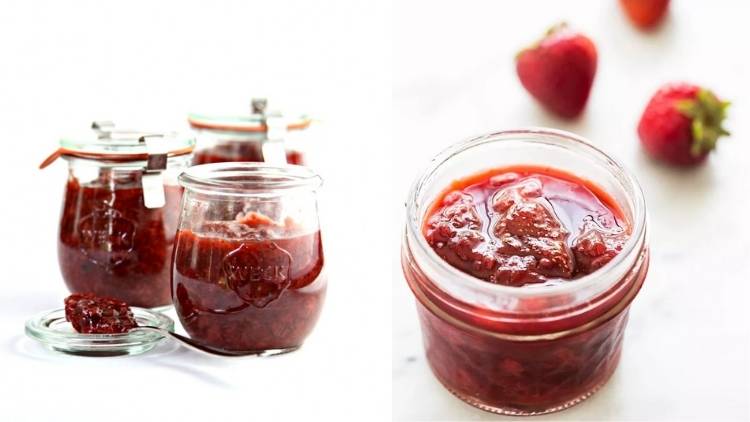 Tools Needed to Make Strawberry Preserves
jars (pint jars or half-pint jars)
candy thermometer (sugar thermometer)
canning funnel
large pot
ladle
tongs
flat lids and screw rings
Easy Homemade Strawberry Preserves Recipes
Easy Strawberry Preserves
If you love making preserves in small batches, this recipe for canned strawberry preserves makes 6 pints and is super easy. You'll need strawberries and sugar in equal measure as well as a food processor or blender if you want more of a puree than large chunks of strawberry. So delicious on a warm piece of toast!
3-Ingredient Strawberry Preserves
Keep things simple with this recipe for strawberry preserves with 3 ingredients from Well Seasoned Studio. Here's exactly what you'll need to get it simmering:
fresh strawberries, halved or quartered
granulated sugar
the juice and zest from one lemon
You don't need any pectin at all!
While it's great to keep this recipe simple, there's nothing wrong with jazzing up the flavor a bit using some vanilla bean, orange juice and zest instead of lemon, or balsamic vinegar for a bit of tanginess to balance out the sweet strawberry flavor.
Once the strawberry mixture comes to a rolling boil and cooks for a while, you'll know it's done when it passes the wrinkle test on a cold plate or the spoon test.
Old Fashioned Strawberry Preserves
Make strawberry preserves the old fashioned way using this recipe from Home in the Finger Lakes. The recipe originally comes from the Blue Ribbon Preserves book, so it's a tested and true version. Make sure your berries are ripe, but not too ripe, which will result in a syrupy mixture instead of a nice set-up jam.
For this recipe, you need small whole strawberries, fresh lemon juice, sugar, butter, and fruit pectin.
Tips are included for processing the jars in a water bath before storage. Remember to leave 1/4 inch of headspace for jams, jellies, and preserves to create a good seal and to prevent oxidation.
How to Make Preserves with Frozen Strawberries
Did you know that you can make preserves from frozen strawberries? It's true! Just follow this recipe by The Salted Pepper to try it out for yourself. You'll need powdered pectin, frozen strawberries, sugar, and water. You can even make a lower-sugar version by substituting half the sugar with a sugar substitute and using low-sugar or no-sugar pectin.
Sugar Free Strawberry Jam
Get your sweet fix without indulging in gobs of sugar. Did you know that most recipes for preserves and jams require sugar in a 1:1 ratio? Whoa! But this no-sugar strawberry jam from Sugar Free Londoner shows you how to ditch that ingredient to make a jam that's low carb and keto-friendly. There's no pectin in this recipe, either. Here's what you'll need to make it:
diced strawberries
water
chia seeds
lemon juice
powdered sweetener, if necessary
The chia seeds help thicken the jam, and the powdered sweetener is only necessary if the strawberries themselves aren't sweet enough. Sometimes that happens. If so, use your favorite powdered sugar substitute, like Swerve or Stevia.
Crock Pot Strawberry Jam
The Crock Pot Ladies have a fabulous recipe for slow cooker strawberry jam that you definitely don't want to miss if you love your Crock Pot as much as we do. Using just four ingredients (strawberries, lemon juice, sugar, and powdered fruit pectin), you can have this jam simmering in no time.
And you can make this a refrigerator jam, freezer jam, or canned jam. The refrigerator version is good for 2 months in the fridge, while the freezer jams and canned jams are good for about a year. Just process in a hot water bath canner to be able to stock this away in your pantry.
Instant Pot Strawberry Jam
Just three ingredients are all you need to make strawberry jam in the Instant Pot following this recipe from Piping Pot Curry. You don't need any pectin—just strawberries, sugar, and lemon juice. This jam is ready from start to finish in about 50 minutes. Although it's a recipe for refrigerator jam, you can always process the jars using the water bath method if you want to store in the pantry instead.
Microwave Strawberry Jam
Yes, you can even learn how to make strawberry jam in the microwave by following the instructions at Simply Recipes. Strawberries, sugar, and lemon juice are, again, the essential ingredients here, but this blogger added orange zest to give the flavors a little boost.
Once the strawberries sit in sugar for a while, you'll cook them for 15 minutes in the microwave on high power. Remember to stir every 5 minutes to keep the mixture from boiling over in the microwave. It's the perfect way to make a really small batch to avoid having a pound or so of strawberries go bad.
Strawberry Rhubarb Preserves
Rhubarb and strawberries are often in season together, so it's no wonder strawberry rhubarb preserves are so popular! This recipe from Bell Alimento includes balsamic vinegar along with the roasted rhubarb and strawberries to kick things up a culinary notch.
Strawberry Fig Preserves
Hilda's Kitchen Blog has a fabulous recipe for strawberry fig preserves. You'll need fresh figs, fresh or frozen strawberries, sugar, lemon zest, lemon juice, cardamom, cinnamon, and liquid pectin. However, you can make it without pectin if you allow more cooking time for the mixture to jell. The recipe makes 5-6 8-oz jars of jam, which is enough to have some for yourself and give one or two away to friends.
Strawberry Rosemary Preserves
The woodsy-earthy flavor or rosemary pairs perfectly with sweet strawberries for this recipe for strawberry rosemary preserves from Food Gal. In addition to the usual ingredients of strawberries, sugar, and lemon, you'll need sprigs of fresh rosemary, finely chopped.
Strawberry Preserves with Vanilla Bean
Who better to make a recipe for strawberry vanilla bean preserves than a blog named Strawberries for Supper? You only need one vanilla bean along with the other preserves ingredients to get that yummy vanilla flavor. You'll scrape all those tiny seeds out of the bean, releasing the flavor to mingle with the berries. Mmm!
Strawberry Serrano Pepper Preserves
Get the perfect balance of sweet and spicy with these strawberry serrano pepper preserves from Please Note. It's absolutely scrumptious when paired with cheese and crackers!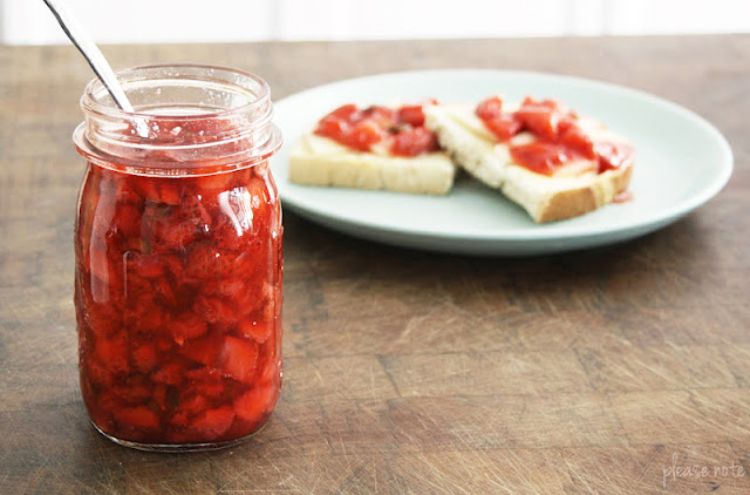 Strawberry and Lemon Thyme Preserves
Thyme is another wonderful herb that pairs beautifully with strawberries. Try some in your next jam by following this recipe for strawberry and lemon thyme preserves from Crumb. If you've never had lemon thyme before, it has a more citrus-y note to it than regular time, so it pairs better with sweet foods.
Strawberry Chia Seed Jam
Go for the healthier version with this yummy strawberry chia jam from The Busy Baker. It's another 3-ingredient jam recipe, but with a twist. Instead of sugar, you'll use honey. And instead of lemon juice and/or pectin, you'll use chia seeds to thicken it up. Give it a whirl if you're trying to cut sugar!
We hope you enjoyed this sweet list of recipes for strawberry preserves. Don't forget to pin it for later!
More Strawberry Recipes: