Smoothies are a favorite breakfast or snack in our house. They're fruity and refreshing, and best of all, they only take minutes to make. This strawberry banana smoothie is kid-friendly and super yummy. Try it yourself!

By the way, smoothies are a great way to use up overripe bananas. Try them in our pineapple banana smoothie. I can't be the only person who regularly has brown-spotted bananas in her fruit bowl, right?
If you're using fresh fruit, I really recommend freezing it first. That way, the flavors aren't diluted by ice, and you end up with a thick smoothie. But if you need to add a little ice, it's okay. Just add a few extra strawberries to compensate.
Ingredients:
1 cup strawberries
1 ripe banana
1/2 cup vanilla yogurt
1/2 cup milk
6-8 cubes of ice (optional)
whipped cream (optional)
sprinkles (optional)
Directions:
1. Add ingredients to blender.
2. Pulse for 1-2 minutes, until mixture is smooth and thick. If your smoothie is too thin, add more frozen fruit or ice.
3. Pour into glasses and serve with whipped cream and sprinkles.
Don't these look amazing? They're perfect on a hot day or any time you're looking for a fruity fix.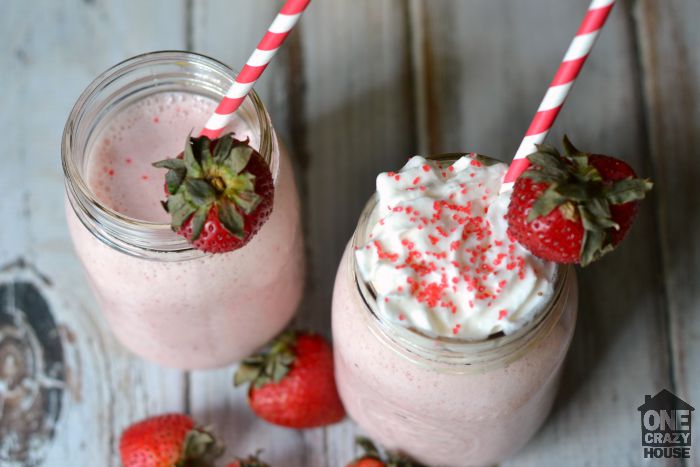 Looking for more delicious smoothie recipes? Try the Banana Blueberry Yogurt Smoothie or the Banana Pineapple Coconut Smoothie below. YUM!