Every kid at some point or another becomes OBSESSED with the idea of being a super hero, or at least in my family they do. If your kiddo dreams of fighting crime and saving the day, these 28 super hero ideas for their bedrooms might be just what you need to turn their plain old bedroom into a super hero's HQ.
Superhero Ideas for Kids' Bedrooms
So, you're looking to change up your little hero's room, eh? Why not start with a fresh coat of paint? This guy has got you covered with a list of hero and villain paint color schemes.
This thrifty momma made her own superhero ideas wall art and it's absolutely amazing!
If DIY isn't exactly your strong suit, then check out this adorable super hero sign you can buy handmade from Etsy!
Avengers assemble on this awesome sheet set. Your little hero will go crazy!
Even the littlest hero can join in on the fun with a super cute custom-made comic printed crib bumper!
Give your little hero a telephone booth changing room just like Superman with this awesome closet door paint job (with PolishTheStars).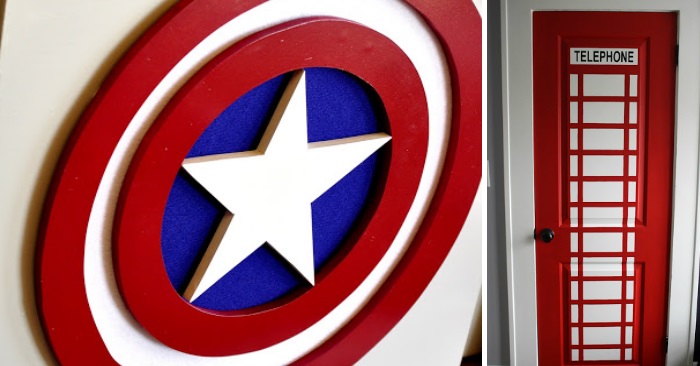 This dad took it to the next level when he built this loft bed complete with a city skyline and super hero slide to quickly answer the call for help.
Create the Gotham City skyline for your little hero's headboard complete with the Bat Signal.
Check out this awesome cityscape that this mom made around her son's room. Simple and VERY fun!
This mom took photos of her sons' Avengers-inspired Legos and turned them into giant posters for under $25!
One of the more fantastic superhero ideas is to make your own mini Batsignal! Yes, it's an actual miniature spotlight.
Thor's 3-D wall art nightlight is a super cool way to bring a little bit of light to your kiddo's dreams.
Refurbish an old lamp with a coat of spray paint and a super fun DIY comic book print lampshade.
For the little one just transitioning into a toddler bed, this DIY Batmobile bed is perfect!
Put some of those old comic pages to good use by creating custom letters for your hero-in-training. If you're a little wary of destroying your comic books, just print off comic sheets from Google.
Glue skyscraper cutouts to the inside of your kiddo's lampshade to reveal a skyline when they turn on the lamp.
I love these vintage super hero hanging wall art! They come all ready to hang and can even be custom ordered for your little one's favorite hero!
Captain America almost looks like he's jumping out of this comic book cover wall decal!
Get these handmade super hero mask tie-backs for your kiddo's curtains. Super cool and very well made.
Take your little one's Super Hero masks and hang them around the room to add an inexpensive flair to their room. (you may want to buy doubles to avoid your kiddo constantly asking you to take them down, though)
I absolutely love what this momma did! She made a custom newspaper print poster for her son with pictures and articles of him as a super hero. Check out how she did it, here.
Make a super cool one-of-a-kind lampshade for your little one using Mod Podge and pages from an old comic book!
Wall decals are a quick way to spruce up any kiddos bedroom and these super hero comic ones are no exception.
These tin super hero signs from Retro Planet come in a set of 5 and instantly add a sense of hero-ism to any bedroom or play space.
Add some super hero logos to cloth bins for a quick and easy hero upgrade to existing furniture!
Create a super cool Spiderman inspired wreath to hang on the door. The coolest part? It's made out of cupcake wrappers!
See how this mom turned her boys plain old bedroom into a modern super hero room that is sure to please any hopeful young hero!
Got an ugly old dresser in your boys' room? Fix it up with a splash of paint, some super hero fabric, and a couple layers of Mod Podge. Your boys will thank you.
For even more kids' bedroom inspiration, take a look at these boys room ideas and these tips for shared bedrooms.