Stuffed animals are the desired, adorable, cuddly favorite toy for so many kids. But, as parents, we often see stuffed animals and think about how much clutter they'll add while taking up tons of space. If you have kids who love their stuffed animals, then you'll love these stuffed animal storage ideas!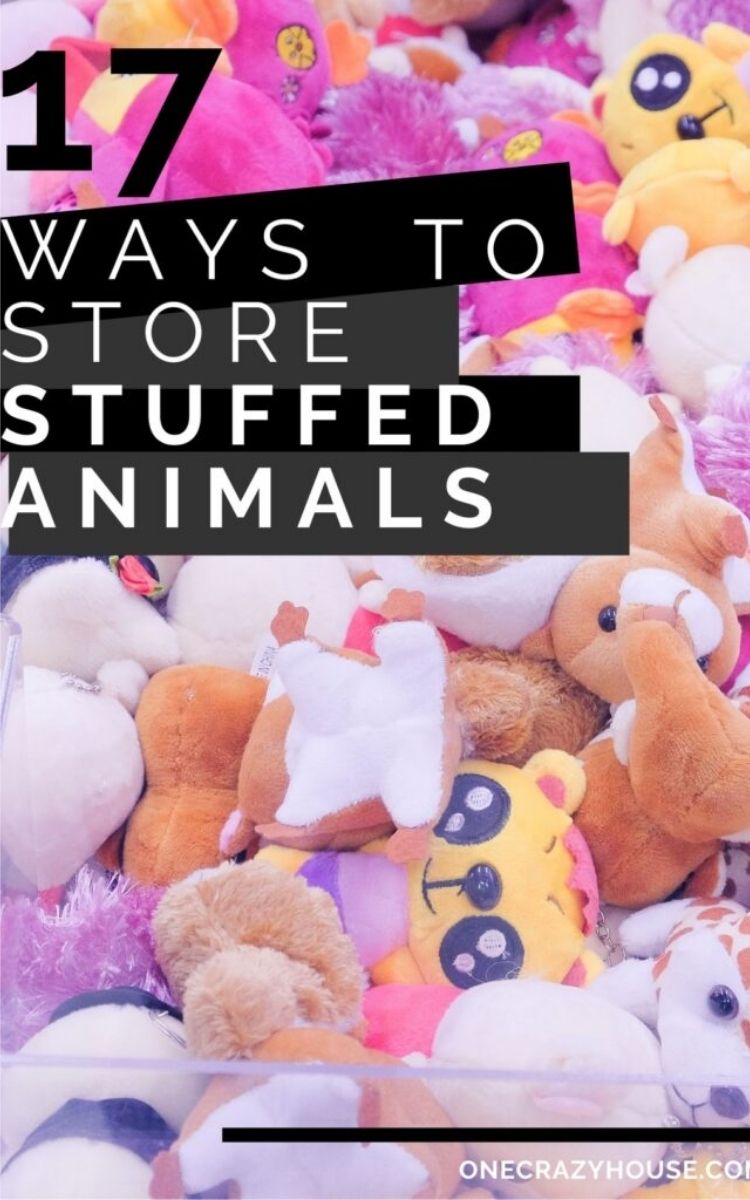 It started so innocently, didn't it? 
Your child wanted the stuffed penguin at the zoo. Then, they wanted one from a carnival, then a theme park, then people realized how much your little one loved animals so they gifted them out of the kindness of their hearts. The next thing you know, your child's bedroom is overrun with the little creatures! And yes, they need taming! 
Now you feel like all you can do is stand there, scratching your head wondering how on earth you're going to contain this stuffed "mini zoo". Luckily this doesn't have to be a permanent state – there's help!
Top Stuffed Animal Storage Ideas for Maximum Organization
Other parents have walked this road before and have shared their favorite stuffed animal storage ideas. We have searched high and low for the most effective and creative stuffed animal storage ideas and created a list showing you the best of the best!
From DIY stuffed animal storage hammock to stuffed animal swings to a net for stuffed animals and more, check out these 17 brilliant ideas for storing those mounds of stuffed animals in cute and practical ways.
1. Stuffed Animal Storage Swing
Your kids will reach that age (if they haven't already) when they don't play with their stuffed animals often but they're still not quite ready to get rid of them. When that happens, this stuffed animal swing is perfect (and adorable!).
Get all those stuffed animals off the floor with this hanging toy storage system! This DIY hanging toy storage fits the ticket to help you get those stuffed animals organized. And the best part is that you can build it in an hour or two.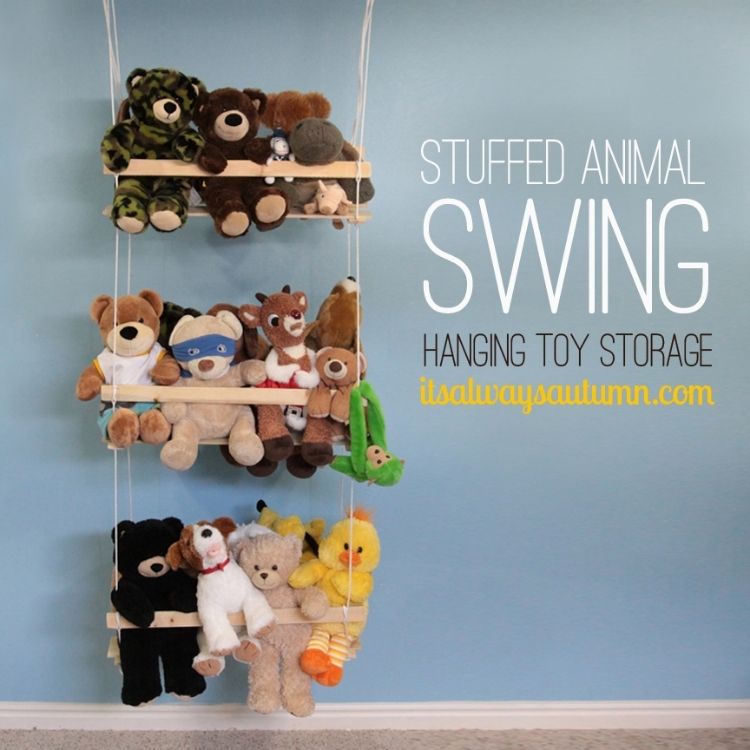 2. Stuffed Animal Storage Chairs
Stuffed animal chairs are a genius way to keep the toys out of the way and make them useful at the same time. I never would have thought of doing this on my own! What kid wouldn't love these?
So. You have a ton of stuffed animals… and they are all over your house… what do you do? Put them in a SAC:
S – Stuffed
A. – Animal
C – Chair.
If sewing isn't your thing, here's a stuffed animal chair from Amazon that looks pretty affordable and has great reviews.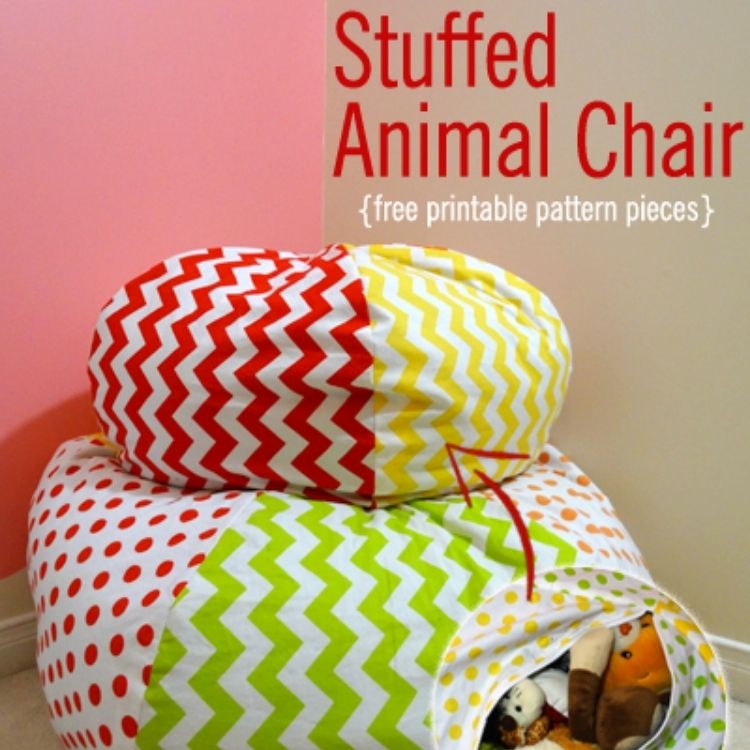 3. Stuffy Storage in Woven Baskets
These woven baskets are so cute! I also love that they are down on the ground so that kiddos can pull them out independently to play and cuddle with as desired. A simple, affordable, and cute way to store stuffed animals is to gather them in wicker baskets.

4. Create this Stuffed Animal Zoo
To keep toys from spreading out, let them go up. I can't believe how cute (and creative) this DIY stuffed animal storage solution is! You can build this Addie's Zoo Stuffed Animal Storage Zoo to inspire hours of imaginative play and have a storage place at the same time! Win-win!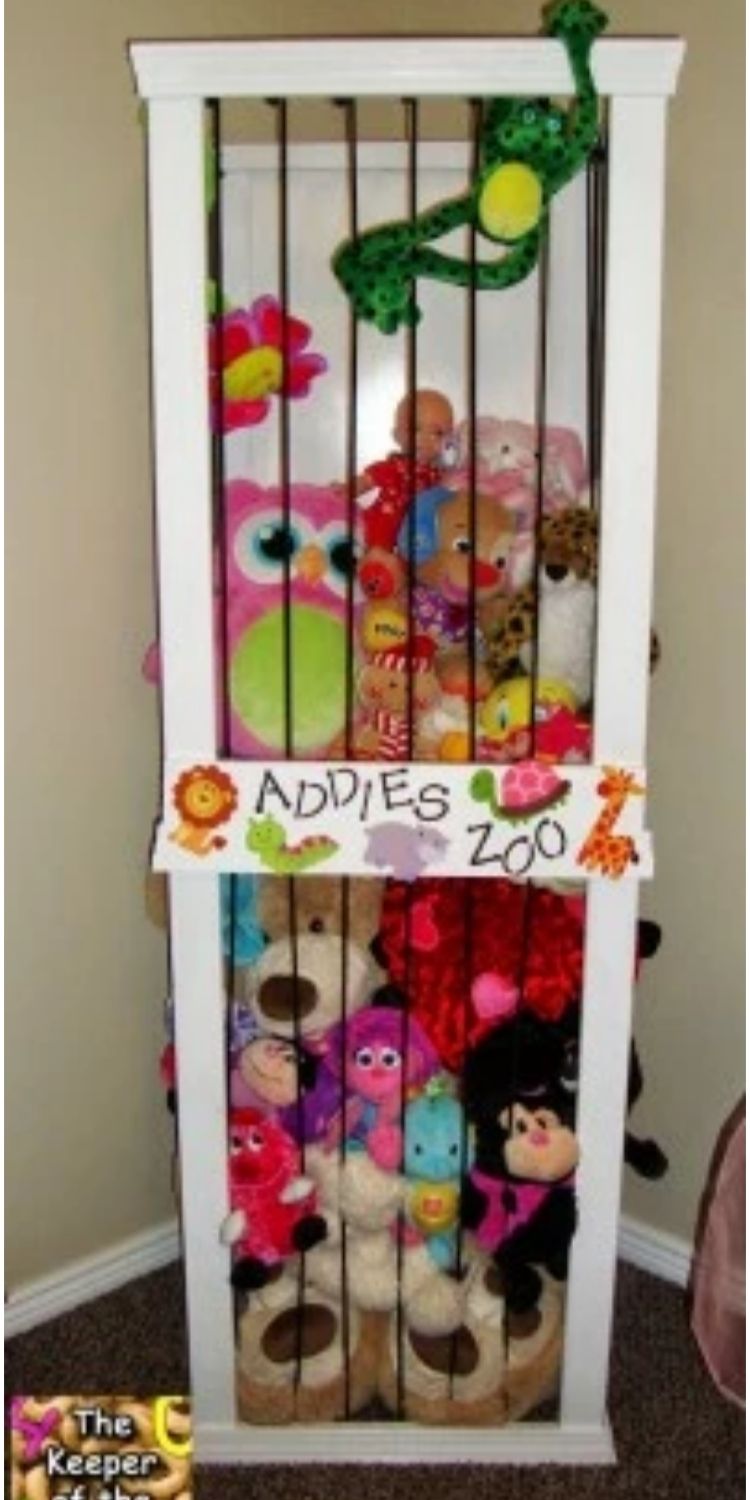 5. Stuffed Animal Storage Toy Corrals
You've heard of co-sleepers for babies, why not a co-sleeper for stuffies? Build one of these toy corrals to attach to the end of your child's bed. It's so practical and keeps those stuffed animals nice and contained, yet still easy to reach when your kiddo needs to cuddle with one.

6. Wall-Mounted Buckets are a perfect Storage Solution
Wall-mounted buckets or baskets are an easy, practical solution to the toy problem and when you decorate them to match your child's room decor, it will be the solution to the stuff animal storage problem! And wouldn't it be cool if you sorted the stuffies into buckets – land animals, water animals, zoo animals, etc?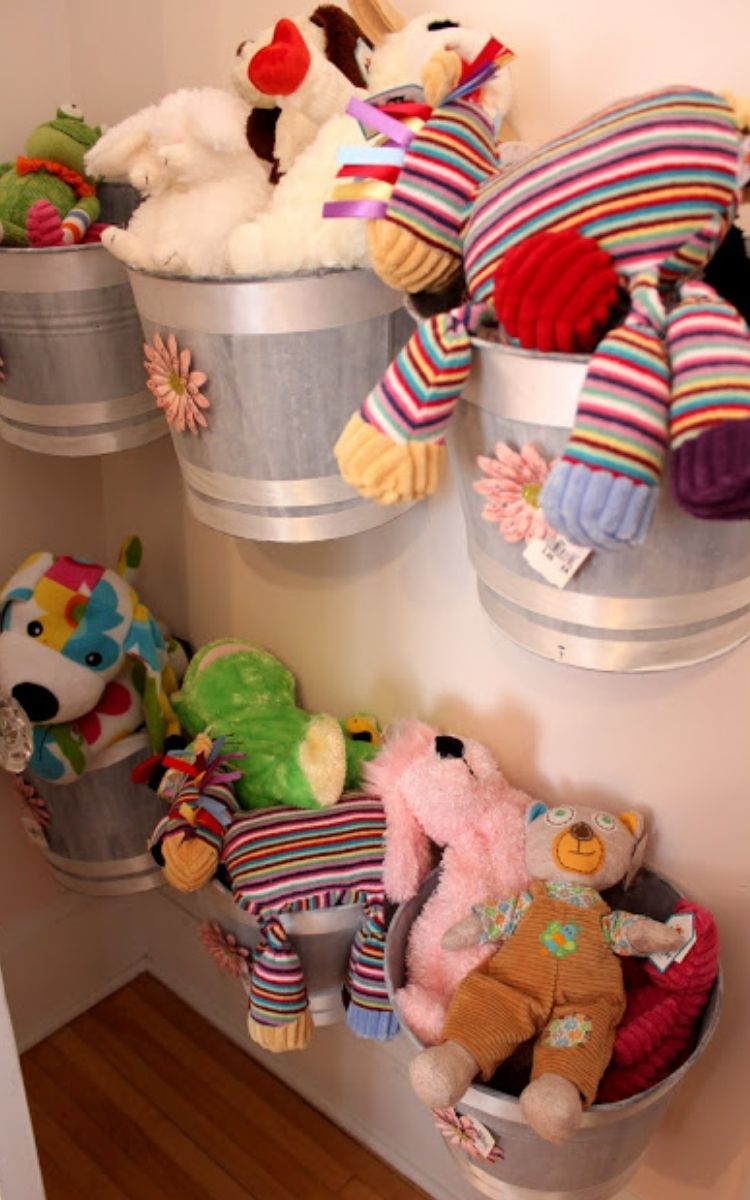 7. Long Shelf for Displaying Stuffed Animals
A long shelf nearly the length of the room way up high is a perfect way to keep and display stuffed animals. This is another terrific solution if your child no longer plays with them but isn't quite ready to part ways. As the collection grows, more animals can join the parade of onlookers, overseeing your child in their dreams. 
If you have an impressive stuffed animal collection, display them with pride on these DIY shelves.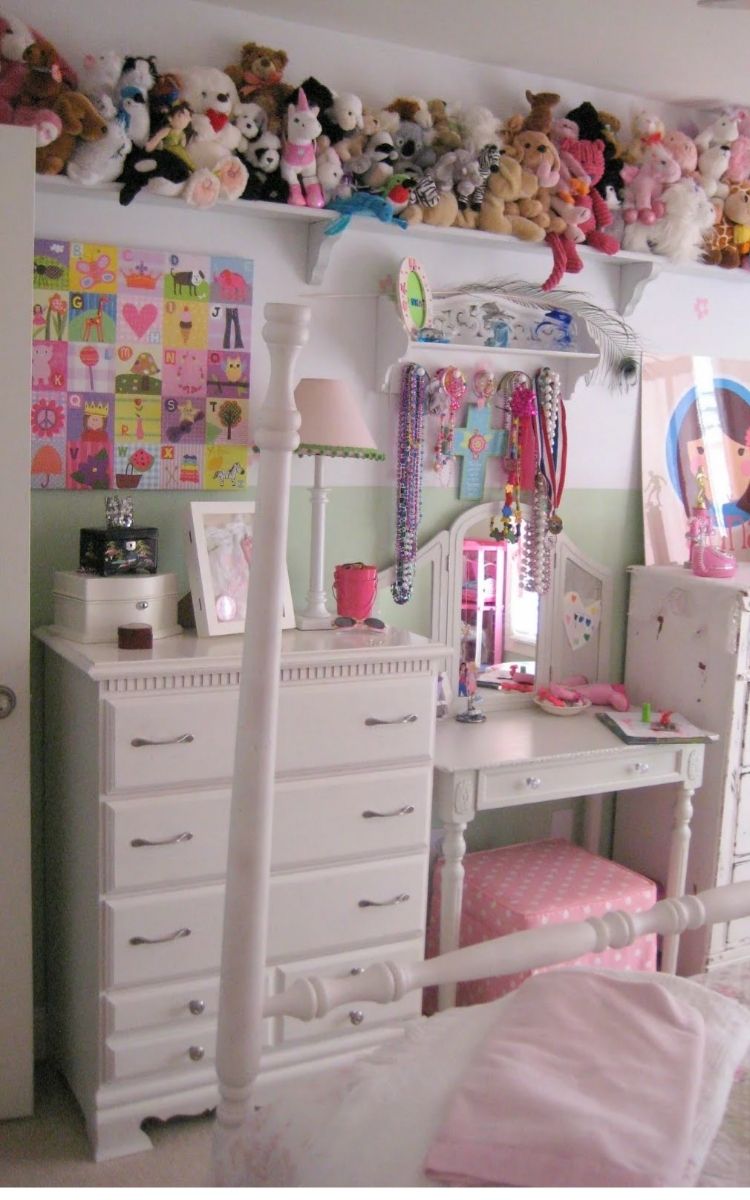 8. Shoe Organizer is a Simple Stuffed Animal Storage Solution
Hang a shoe organizer to store small stuffed animals behind the bedroom door. It's cheap, simple, and the clear pockets make finding that favorite stuffie an easy task.
My daughter LOVES her stuffed animals! Here's a budget-friendly, smart way to store them.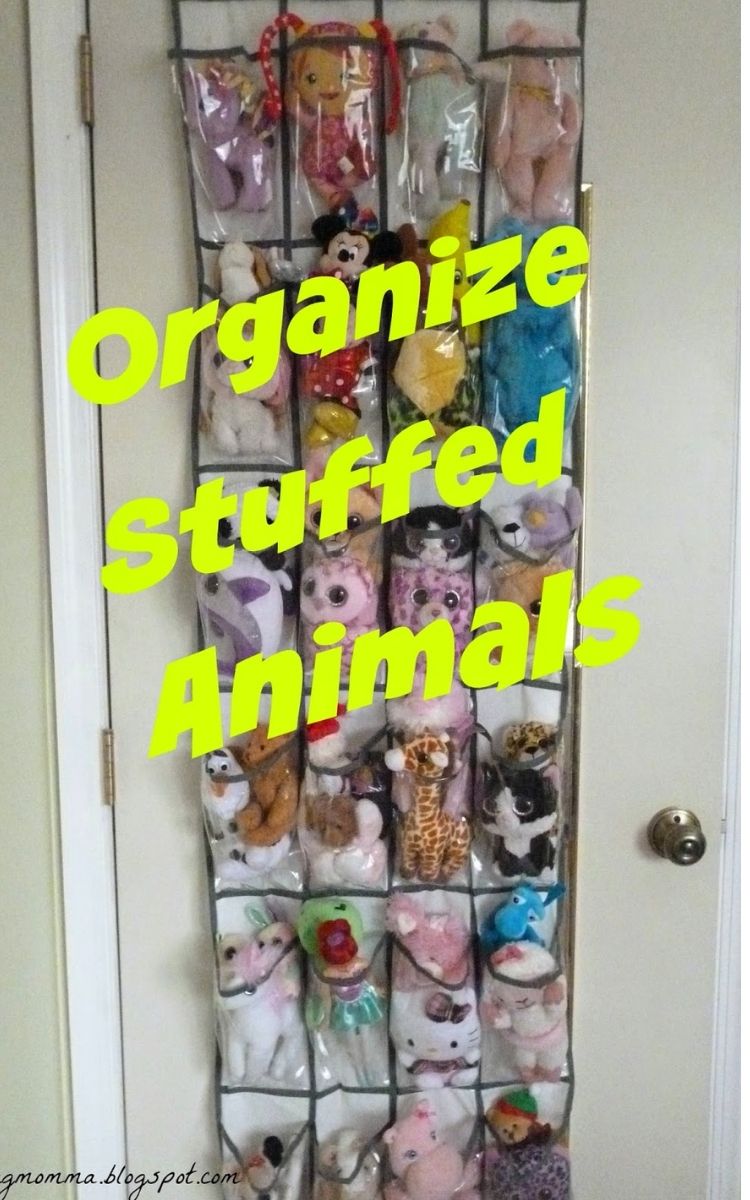 9. DIY Stuffed Animal Storage Net
Make your own stuffed animal net if you're feeling crafty. Even though it's a simple DIY project, if being crafty isn't your thing, you can buy a similar one here.
If your kids love stuffed animals as much as mine, then this might be the tutorial for you. It can be made really quickly as well, so that's a great bonus! 
10. No-Sew Stuffed Animal Storage Hammock
What to make a DIY stuffed animal hammock without sewing? Here's a no-sew project made with tulle, ribbon, and command hooks.
My kiddo started collecting Audubon stuffed birds last year, adding one more thing to her group of things to keep organized or displayed. All you need is a couple of yards of tulle, some ribbon, and an elastic to gather the tulle and to make a bow if desired. This sweet little hammock is a perfect way to display these lovely birds!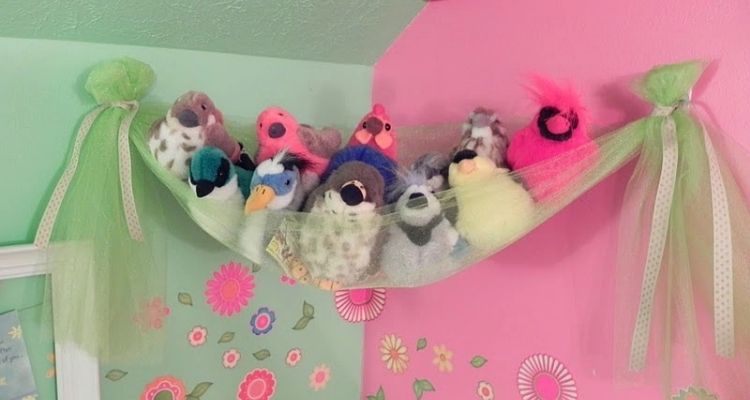 11. Stuffed Animal Farm Storage Solution
Earlier you saw an adorable stuffed animal zoo. Now, here's a stuffed animal farm. I just adore how clever this idea is!
This is our newest stuffed animal storage, we wanted it to be more for a boy so we changed it up to look like a barn. Adding some hinges to the barn door allows the child to tidy up the stuffed animals himself. And the bungee cords can easily be separated for an easy release of one of the animals. Cayden's Farm turned out so cute!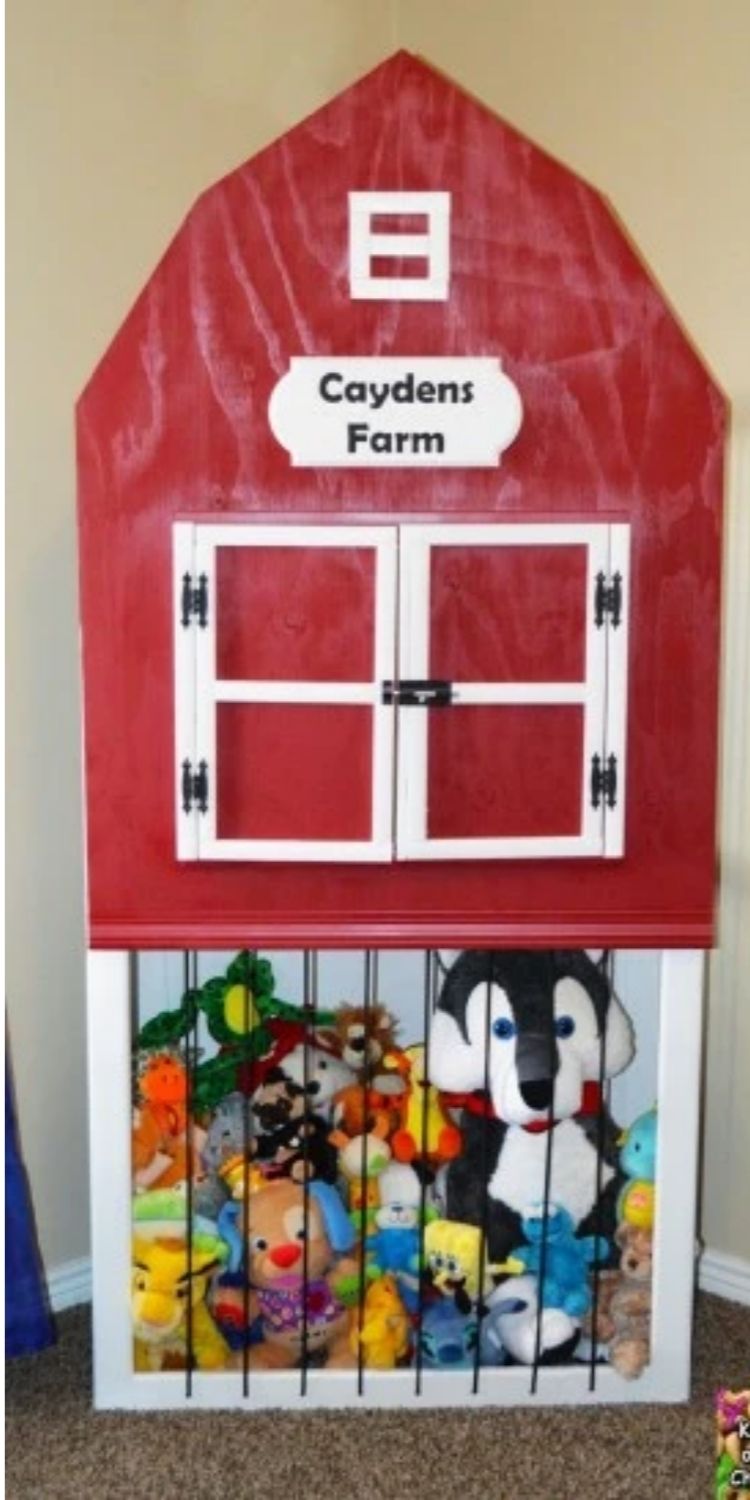 12. Wall Hanging Stuffed AniPlanters
I love this idea as a way to provide hanging storage for stuffed animals and get them organized and off the floor! Plus, they are paintable, so you can easily make them a part of any color scheme.
Does your child love stuffed animals as much as mine does? Here's a smart way to keep them organized!

13. Hanging Basket Storage for Stuffies
For kids with only a handful of stuffed toys, a hanging basket adds a cute touch since you can decorate it any way you want. This Stuffed Animal Toy Storage made out of an old plant hanger will suit your needs.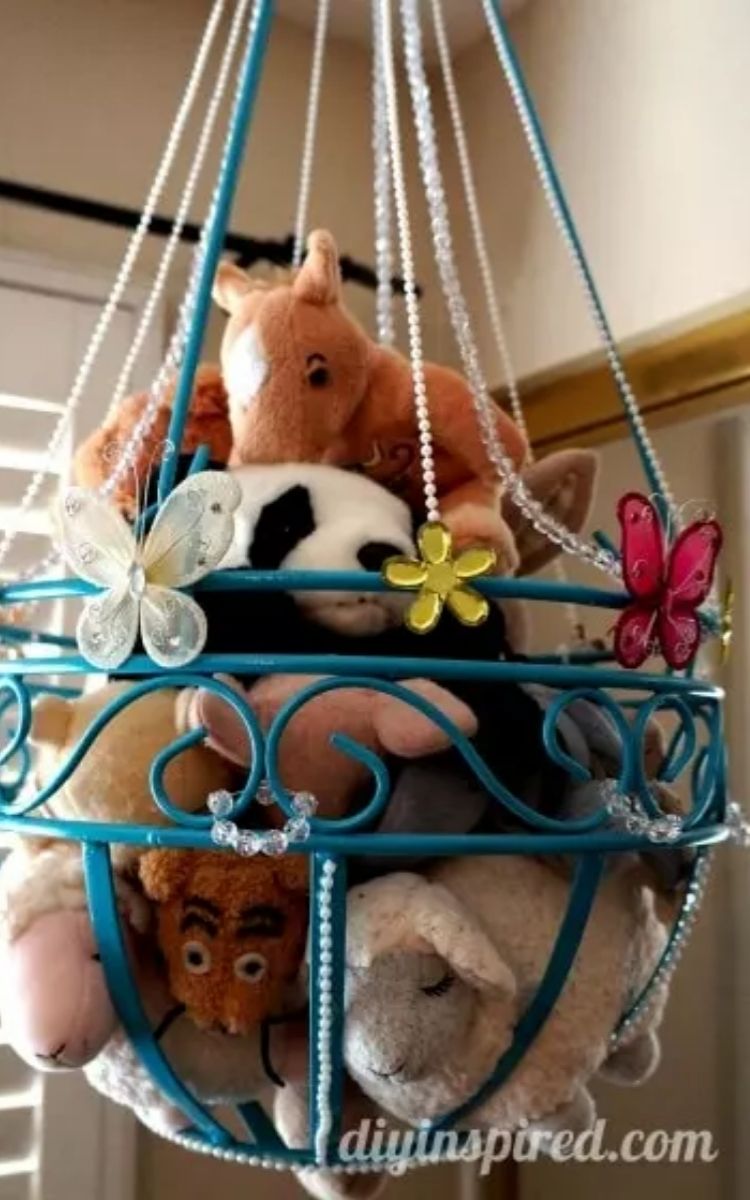 14. Shoe Organizer for Stuffed Animal Storage
Does it get any easier than this? Simply hang up a common shoe organizer which is perfect for getting those unruly stuffed animals off the floor and organized…AND easy to find!
Here's a fast, budget-friendly solution for organizing all your stuffed animals.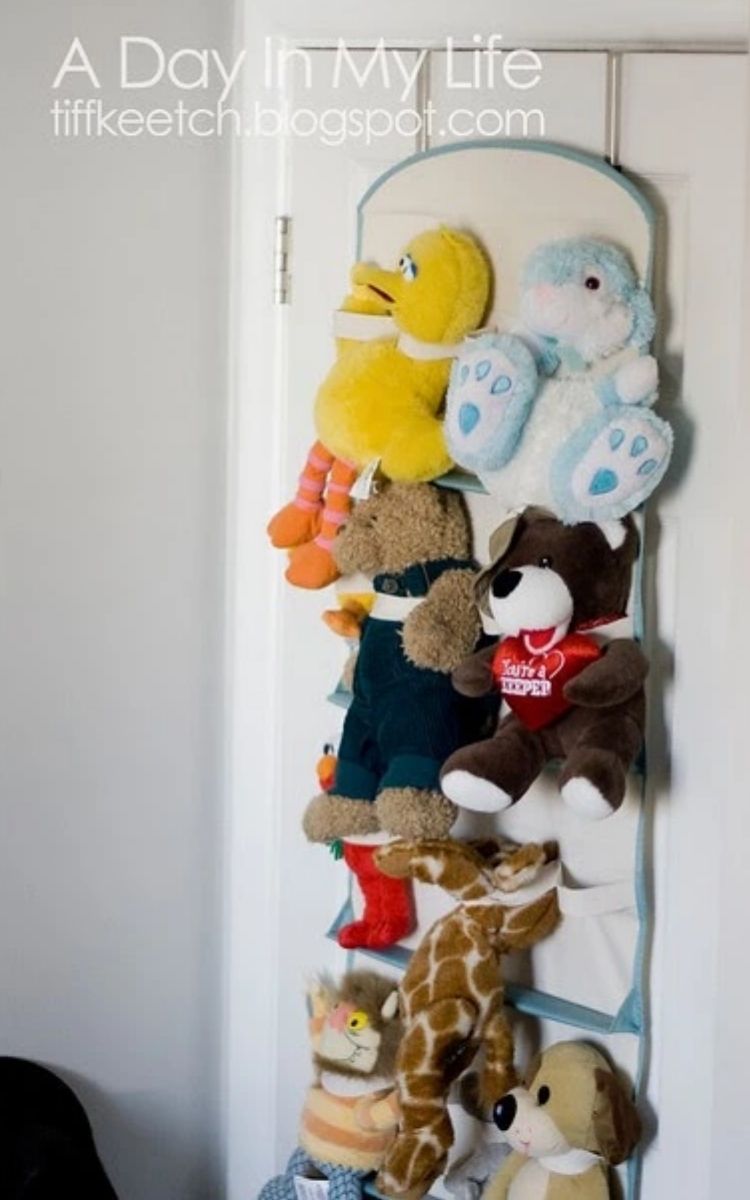 15. Hanging Closet Organizer
The shoe organizer I mentioned above works best for smaller stuffed animals. This hanging closet organizer is genius as a stuffed animal holder because it can either hold lots of small animals, larger animals, or a combination of both!
How do you organize stuffed animals? After researching stuffed animals storage, I came up with my own EASY idea with something I already had in the house.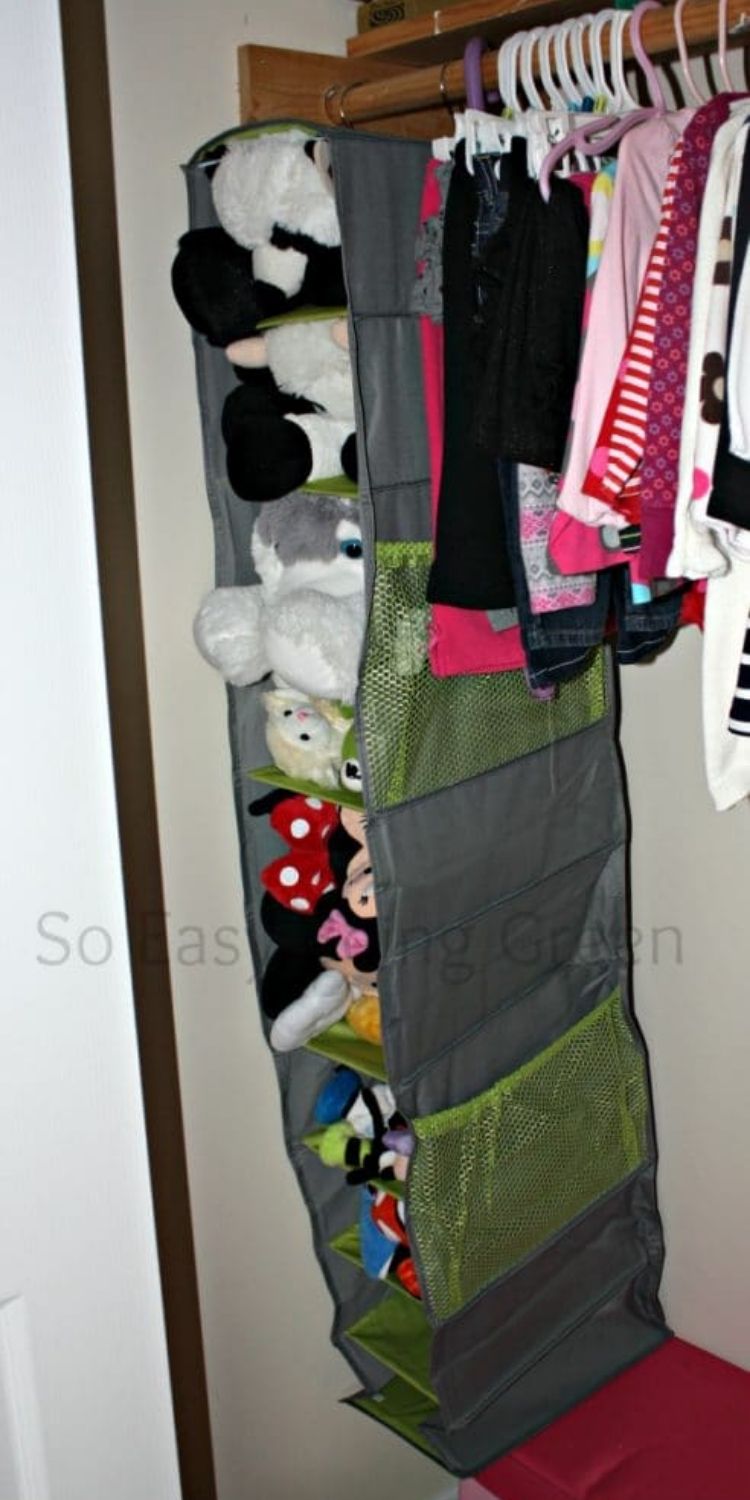 16. Wire Laundry Hamper Stuffed Animal Storage
I'm so glad I ran across this wire hamper trick. We bought some from Walmart several years ago but don't love them for laundry. They'll work much better for storing stuffed animals!
We prudent mamas have discussed toy storage over the years, but this is one of my favorite solutions yet!
17. Stuffed Animal Storage in a Canopy
Isn't this converted canopy a gorgeous option for a girl's room? It looks so wispy and pretty. I also think it is 100% genius to use a bed canopy as toy storage! Of course, you can grab a pile of tulle, hang it from a hook and gather it together to knot it at the bottom and you have the same effect. 
Tie a knot in the bottom of a canopy and make a great home for all of your stuffed animals.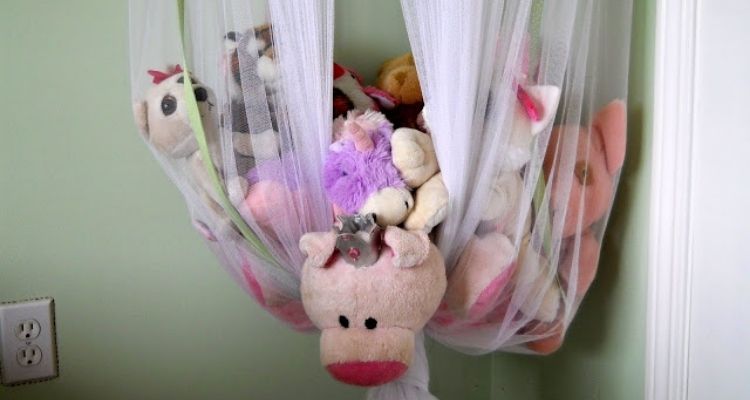 Storage Ideas For Stuffed Animals – Final Thoughts
Now that you have stuffed animals in your life and in your home, you know it won't be long before that little zoo starts taking over the entire house. It's time to contain them immediately.
Whether your child's bed is covered (like my son's), their closet is full, or their room floor is completely cluttered, one of these stuffed animal storage solutions will calm the chaos and help restore some sanity back into your life!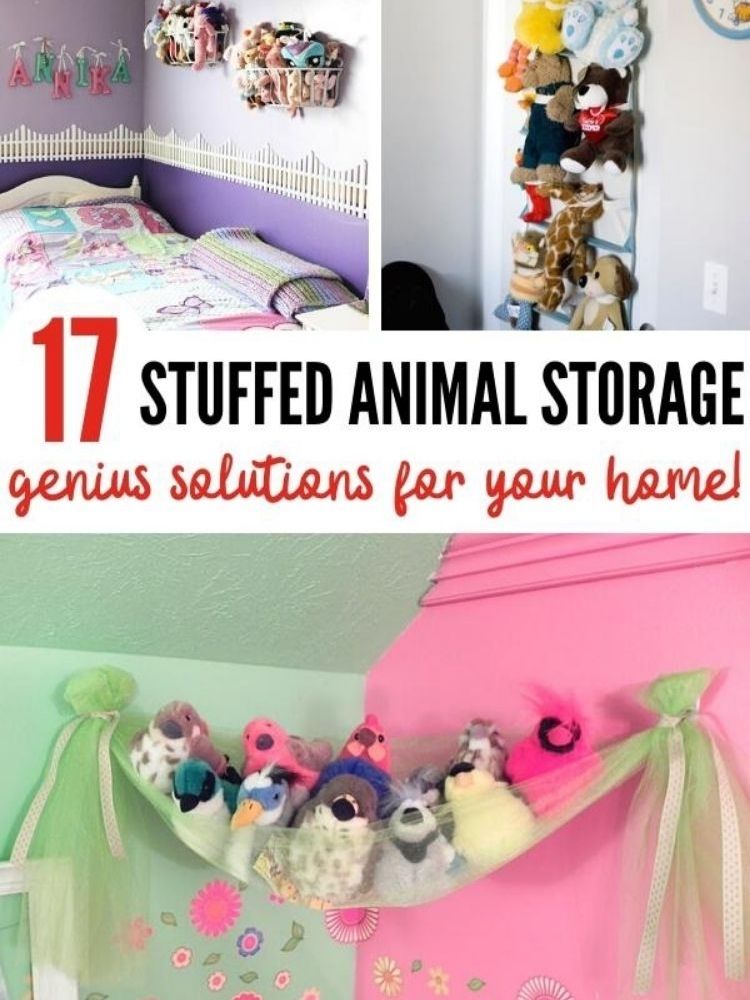 More Helpful Organization Tips: