Now THAT'S cool! Please tell me I am not the only parent who has been desperate to see the end of the hold-my-tot-up-while-they-wash-their-hands-phase? I remember being hugely pregnant, and dreading the hand washing routine until we created this nifty little device – a DIY Sink Extender – just for kids.
*Many thanks to Johnson & Johnson for sponsoring this post. They recently launched Care To Recycle® with Scholastic, helping inspire parents to recycle even in the bathroom. When soap bottles are empty complete the "cycle of care", reuse and then recycle!*
Video: Make a Faucet Extender For Kids
Reuse an empty bottle to make a faucet extender for kids. I made a video to show you how.
How to Make a Sink Extender from a Bottle
All you need is an old shampoo or soap bottle – cut a hole in the bottom. Viola. Now you can turn the water on, assist your child *without* breaking your back! What a great way to repurpose objects that you have in the bathroom. When your child outgrows the need for this sink extension, simply recycle!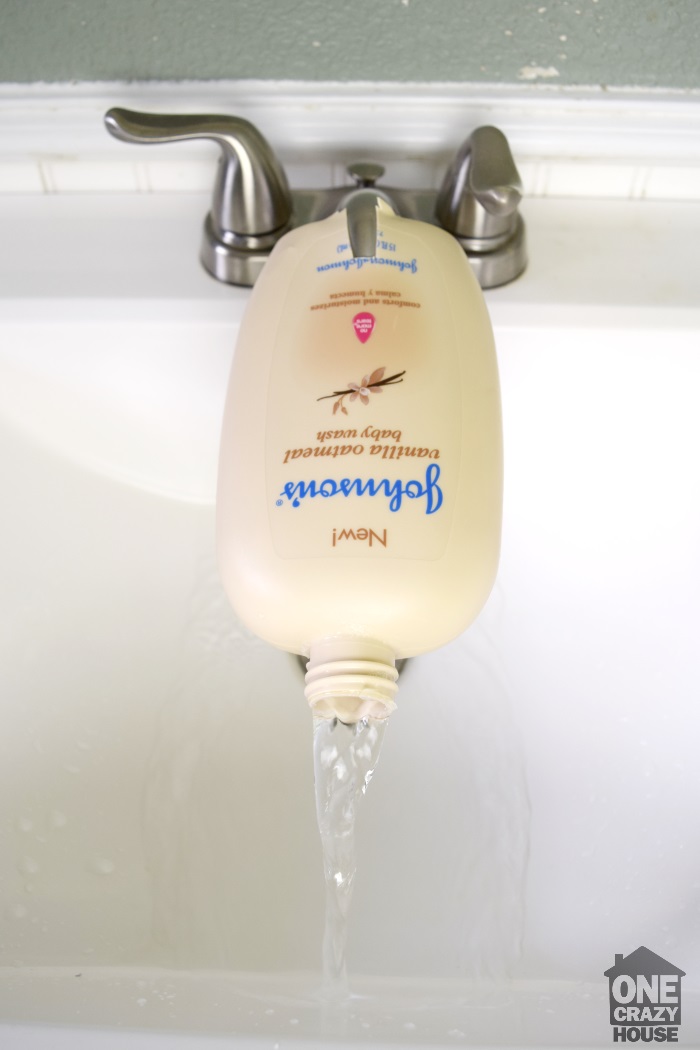 What a great way to teach kids to be more organized, take care of their homes, their bathrooms, all while recycling!
Learn more about how to recycle with your kids! Check out the Scholastic Care To Recycle® website. They have lots of resources for kids in grades 1-3 as well as their parents.
Do your Kids LOVE to Recycle?
In addition to visiting Scholastic and Johnson & Johnson Consumer Inc.'s Care To Recycle® website, your child can join PETE the Duck in his Bathroom Bin Challenge. There are LOTS of prizes for kids from grades 1-3.
To enter, students/kids must:
Write a 150-word essay about why it is important to recycle bathroom products and how they are going to get their family to recycle these items. They are also asked to make a decorative poster showing the ideas in their essay.
The contest, entry form and official rules can be found on the parent microsite scholastic.com/caretorecycle/parents and teacher microsite www.scholastic.com/caretorecycle.
Contest opens October 1, 2015. Entries must be postmarked by October 27, 2015.
Many Thanks!
This is a sponsored conversation written by me on behalf of Johnson & Johnson. The opinions and text are all mine.