Looking for backyard ideas?? Is your backyard the place to be? As the temperatures are warming up there is little I like to do more than sit outside with the kiddos! Let them get out steam at the end of the day.
Here are some backyard projects  – little tricks and changes (and maybe a couple big projects) that can help make your backyard a place where memories are made!
Make Your Backyard Unique with These Backyard Ideas
In a cookie-cutter neighborhood, breaking our yard into zones means that we have different spaces for games…
for backyard gardens… and fairy vacation destinations…
…and most importantly for hanging out with our friends and kiddos! SO many backyard ideas!
Make Memories With Your Kids – Outside!
There is something about playing organized games together. As you play the games you chat! It's building memories and interactions!
Kerplunk – All you need are some plastic balls, some chicken wire, bamboo skewers and a platform of some sort (you can even use a milk crate)!
Lawn Jenga. – My kids LOVE the set that our neighbors have! Made from two by fours, they build their tower and one by one take turns pulling the blocks until it all falls down!
Yard Dominos. – Aren't these just gorgeous! Make a set of dominos from scrap lumber!
Backyard Bowling – Regular bowling just is NOT as much fun! We promise! This gigantic bowling game is a crazy blast!
Tent Cot. – Go camping in your own backyard! I look back on those backyard nights with fondness and am thrilled to pass the tradition on to my own kids! All the fun of camping and mom still gets her own bed! My folks were geniuses!
Pergola of Swings – Check out how this family made a backyard destination with a massive set of swings! I can see many marshmallow roasting nights spent out here!
DIY Back Yard Projects not only add to your yards usability, they also are a great way to bond together ass a family, build memories as you build in your yard.
Make Your Back Yard More Kid Friendly
To make memories with your kids, having a safe space and activities that are made for them is essential! We like to create kid-friendly "zones".
Trampoline – Too often the pad on the outside of the springs falls apart! We put pool noodles over the springs (and then covered them with the pad) for extra protection! It is a blast! The kids definitely LOVE the trampoline!
Kiddie Parking Garage – organize the kiddie toys – without compromising on accessibility! This is a backyard parking garage, made from PVC pipes, shower curtain rings, and a canvas curtain. Genius!!
Trampoline Transformation – The kids think they want a bounce house that we can blow up for events… but we didn't want to keep the hassle of a big bulky bounce house? This is better! It is trampoline tent. Fill it with balloons and your kiddo's party is made! Easy to set up and take down.
Back Yard Dice Game – When I got married I discovered Yahtzee – it is a BIG deal with the in-laws! My kids are already pros at this game (can you be pros at it??). Play a BIG game of Yahtzee using homemade giant dice. It's a great backyard game!
Make Your House the Neighborhood Destination
Do you want your house to be the one where the neighborhood kids come over and hang out? But maybe you don't want all the mess and disaster that a bunch of hanging out tweens brings?? This set is GENIUS!!
Make a backyard movie theater! – The kids can leave all their popcorn outside for the birds to eat the next morning!

DIY Chair Hammock – get to rocking! This is a super easy hammock chair that you can make in under an hour! Grab some fun canvas, rope, and a bar – that tutorial is great!
 Backyard Ideas Your Kids Will Love
Backyard Construction Zone – for the kids! Add tunnels, rocks, dirt and other bits for your kids to move around as they are "working" on the roads.
BIG Bubble Station – Fill a water jug with bubble juice. Add a collection of bubble wands and your kids will be completely sticky – and full of smiles! Hose them off before they come inside!
Trampoline Swing – In the winter those mini-trampolines are great to help your kids burn energy inside. When it is warm out, get your kids outside AND on the trampoline! Make it into a swing.
Covered Sand Lean-To – One of the things I LOVE about a sandbox is how the kids can just go out there and dig, scheme and plan these elaborate home creations – for hours!! The tubes in this sandbox make pouring the sand even more fun!
Create Your Own Pool – All you need is gumption, a lot of pallets and some super sturdy tarps! Can you believe it?! This one only cost $75 to make!!
Just think of all those memories!! The kids can play pool games to their heart's content. The pool is also pretty easy to dismantle if you are moving or if your family's needs change later.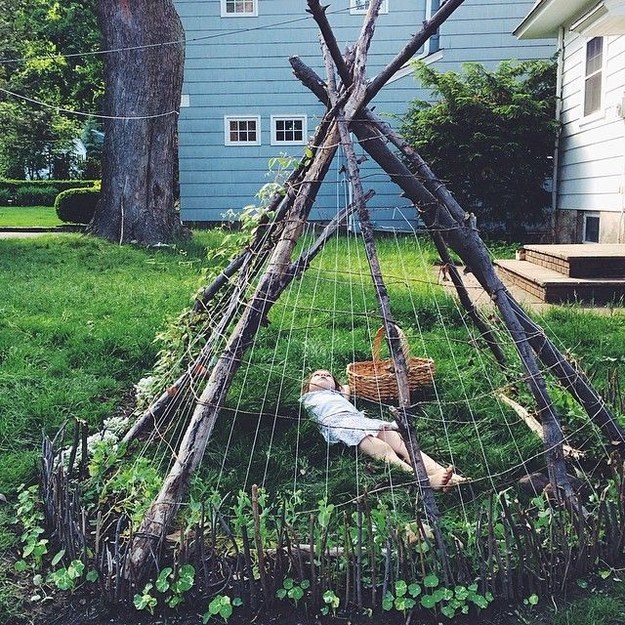 Your Backyard Garden
Create a backyard Tee-Pee! Gardening is a blast, as is imagining all the things the clouds can be! Combine these loves with a tee-pee garden trellis! Your backyard garden just got a whole lot more interesting.
Use a Crib Sheet as a Shade for a Playpen. What a genius backyard idea – bring your tots outside with you while you do yard work or whatever. They stay bug-free and in the shade. Use a bed sheet!
Wonder Wave.   Your kids will go bonkers! This is like riding your very own potato chip around your yard! Trust us, we've tried. It is a blast!
Here are some more tips on how you can make the most of your backyard ideas:
Use an organic – kid-friendly lawn management system.
Consider getting a bug zapper! These will also help keep the backyard more enjoyable for your kids, especially at dusk!
Have zones for all your outdoor supplies. Consider adding a storage bench outside to help contain the various yard items that you need sporadically.
Slow down. Be intentional about your backyard ideas, and try to spend at least an hour outside each day in your backyard!
What memories do you create in your backyard? Share photos of your favorite backyards to our Facebook page or email them to us!! We love to share! theonecrazyhouse@gmail.com