Looking for some super simple fall gardening tips to help prepare for winter? It's time to put that green thumb to good use!
The summer garden is coming to a close, and now it's time to prepare your garden for Fall. These Fall gardening tips will help you to prepare your garden for winter, and how to protect your plants so they bloom in the Spring! 
The key to having a successful garden is to get it prepared and ready for the next planting season. With these simple tips, you can do a little bit more work now in your garden to save so much time later!
Fall Gardening Tips to Prepare for Winter
Fall is the time to clean up your beds, tend to your soil, and protect your plants for the long winter ahead. Prepping in the Fall will help protect your tender plants if you wait too long a hard freeze could kill your plants. So follow these steps!
Remove Dead Plants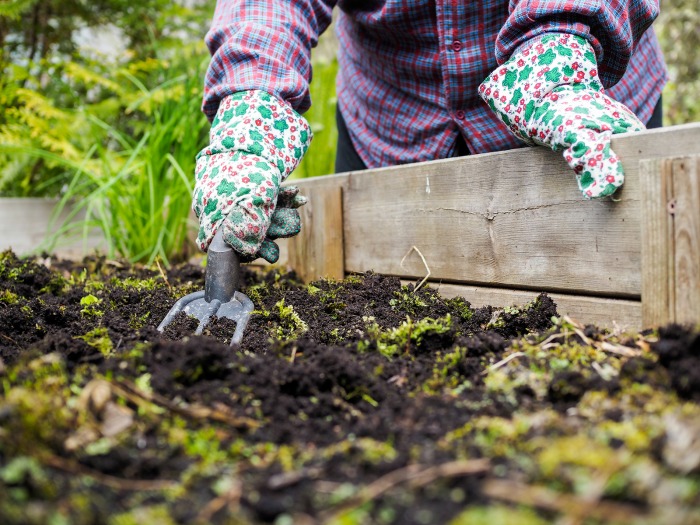 With Fall arriving it is time to get rid of any plants that have wilted and are done blooming or producing. Clean up any plant debris and weeds that you find in your flower beds. Make sure to clean up around the bases and beds of plants, so that everything is nice and cleaned up, and no chance of a fungus to begin growing.
Leaves for Ground Covering
Leaves can act as a ground cover in the winter. So if you do have a lot of extra leaves after you rake the yard, you can put some around your plants. Just make sure they don't touch the stalks of your plant, as your plants need room to breathe. However, don't leave any leaves in perennial beds, as they can cause rot or attract bugs.
Bring in Sensitive Bulbs or Tubers
If you have some sensitive bulbs or tubers now is a great time to dig them up and bring them inside. This is a safe way to keep them alive through the winter if you live in a harsh winter environment.
Dig Up Herbs
If you have a herb garden, now is the time you can dig them up to grow inside. Keep them in a cool but sunny spot, and let the soil dry out before watering. Then clip the leaves whenever you want to cook with them, and they will regrow.
Clean Compost Bin
If you have a compost pile or bin, now is the time to clean it out and start a new batch for the next season. Spread the compost you already have over the base and beds of sensitive plants. This will act as a blanket in the harsh weather. If you don't have a compost pile, that is okay, just skip this step.
Plant Fruit Trees
Depending on where you live, Fall is a great season to plant new fruit trees for the following years. Trees like plums, cherries, peaches, apples, pears and more. Just buy young trees and make sure they are staked to prevent the roots being pulled up from winds or heavy snow.
Put Up Garden Hose
If you have a garden hose, make sure to drain it of water and put it up for the winter. If you don't you risk your hose freezing in the cold winter months and cracking and breaking.
Expand your garden now to let the soil settle
If you're wanting to make a bigger garden for next year, go ahead and start prepping it now in the fall. Till more of the ground and get that soil loosened up so it will be easier to plant in next year.
These maintenance chores will help ensure a beautiful and bountiful garden next season. Just follow these simple fall gardening tips and you will be set all Winter long.
PS – don't forget that it's possible to plant a fall garden if you aren't quite ready to throw in the towel after your summer garden! Plant some pumpkins, squash and even some kale and you can be enjoying fresh veggies long into the fall months!
How cool would it be to carve your own pumpkin right out of your fall garden? If you plan accordingly, that can be a reality!
Do you have any fall gardening tips to share?