Feel like your flowers or houseplants are looking a little "blah"? Jazz them up with some fabulous DIY flower pots and planters. You're sure to get inspired with the gorgeous options that we've found!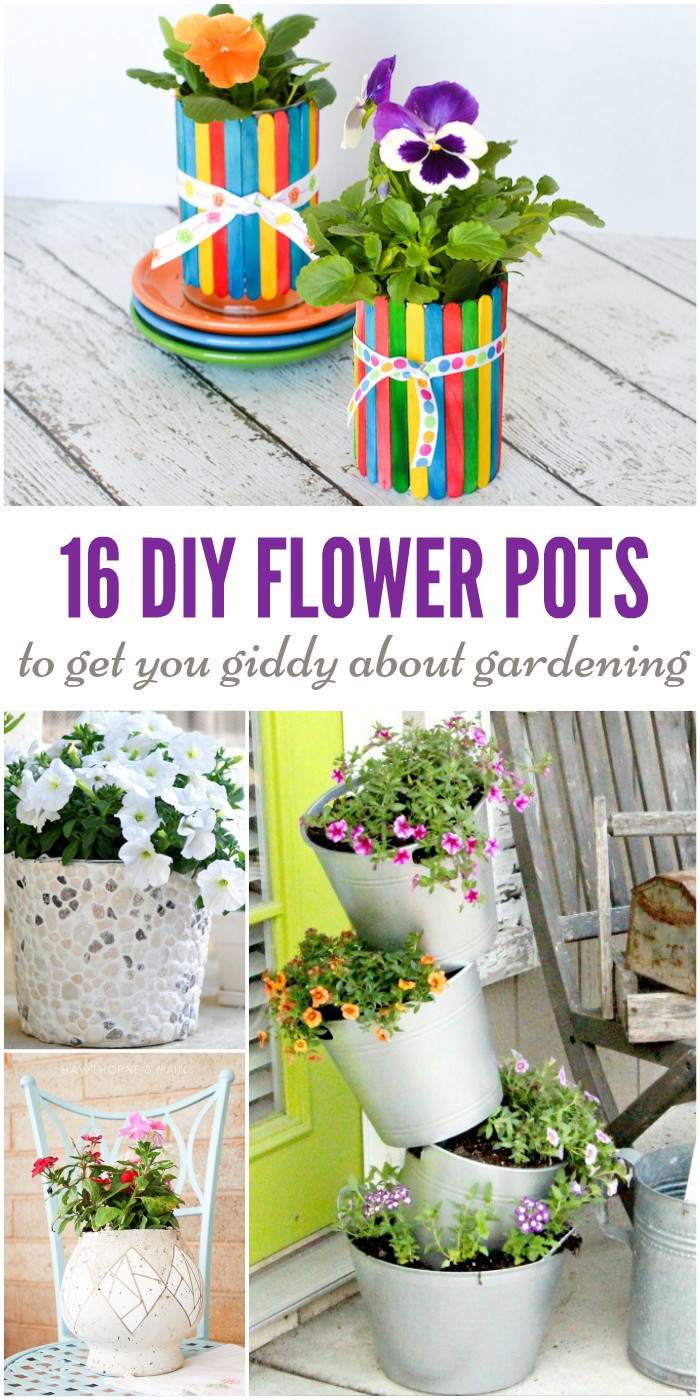 I don't know about you, but I find terra cotta pots to be so boring! And I never find any of the more decorative pots to suit my style either — they're either too ornate or just use a combination of colors or pattern that I don't like. So, I thought, why not try to make one myself? That's why I started my search for some DIY flower pots and I found so many great ideas!
I'm not the best with power tools or complicated DIYs, but I think that even I can pull most of these off. So if I can, I know you can. Hope you find a project that you love! And if you're looking for more gardening tips, don't miss 21 Tricks That Will Change the Way You Garden.
DIY Flower Pots You'll Love Looking At
For a super frugal option, spray paint cans to make gorgeous painted tin can flower pots.
As an alternative to painting the tin cans, surround them with pretty painted craft sticks to make these popsicle stick flower pots. So colorful!
For the girly girl, try turning one of your fabulous heels into a shoe flower pot for your succulents.
These faux galvanized planters are amazing! I would never have guessed that they were made with cheap plastic buckets.
Can you believe this cement planter was made with a fish bowl and glass cylinder? It's absolutely gorgeous!
This crafty blogger used both interior and exterior fabric to create beautiful fabric flower pots for her indoor plants.
Repurpose and paint old containers to create these trendy drip paint planters. Love the bright colors!
Convert a colander into a brightly colored planter for your hanging plants.
These square succulent planters have a clean and modern look thanks to the cement material and simple geometric design.
This fabric twine flower pot is one of my favorites! Make sure you have a secondary pot inside to catch the water.
Paint can flower pots are surprisingly charming when you add a bit of burlap, ribbon and twine to them.
Wrap a detergent container in burlap and sticks to make this rustic twig flower pot. Perfect for gift giving!
Turn an old pair of rain boots into planters. This would be really sweet with your kids' old boots that they've outgrown.
An old tuna can and clothespins were used to create this picket fence flower pot look.
Who knew that a rock-covered bucket could be so beautiful?
For a truly unique piece of outdoor decor, create one of these planter chandeliers. That pink really pops!
Did you like these diy flower pots? If so, you'll enjoy these tips, too!