There are so many creative ways how to plant succulents!
Succulents are still very trendy, and in my opinion, that's a great thing. You see, I have somewhat of a black thumb when it comes to gardening. I can't keep plants alive… well, most of them, that is, except those darling little succulents.
Succulents are cacti, so they can go weeks without being watered. They are low maintenance, so I'm pretty sure growing a variety of succulents would be a breeze for most of us. They are also easy to care for since they don't need direct sunlight to grow. Being drought-tolerant plants, all they need is good drainage of small holes and well draining soil, and great air circulation, and you'll have some healthy succulents that are perfect houseplants. Another great thing about succulents is the variety- there are so many to choose from!
For starters, you can try getting yourself familiar with terms like Plum Petals (aeonium), Elephant's Food (portulacaria afra), haworthia, agaves, sempervivum, and sedum. They're all lovely and it's a thriller to take care of!
Just remember that they don't require too much water and too much moisture! Succulents store water in their bodies, as their native habitats are dry and hot, so excess water is one of their common problems. To always check the health of your succulent, be sure that it only has enough soil and less water. Don't let the root rot!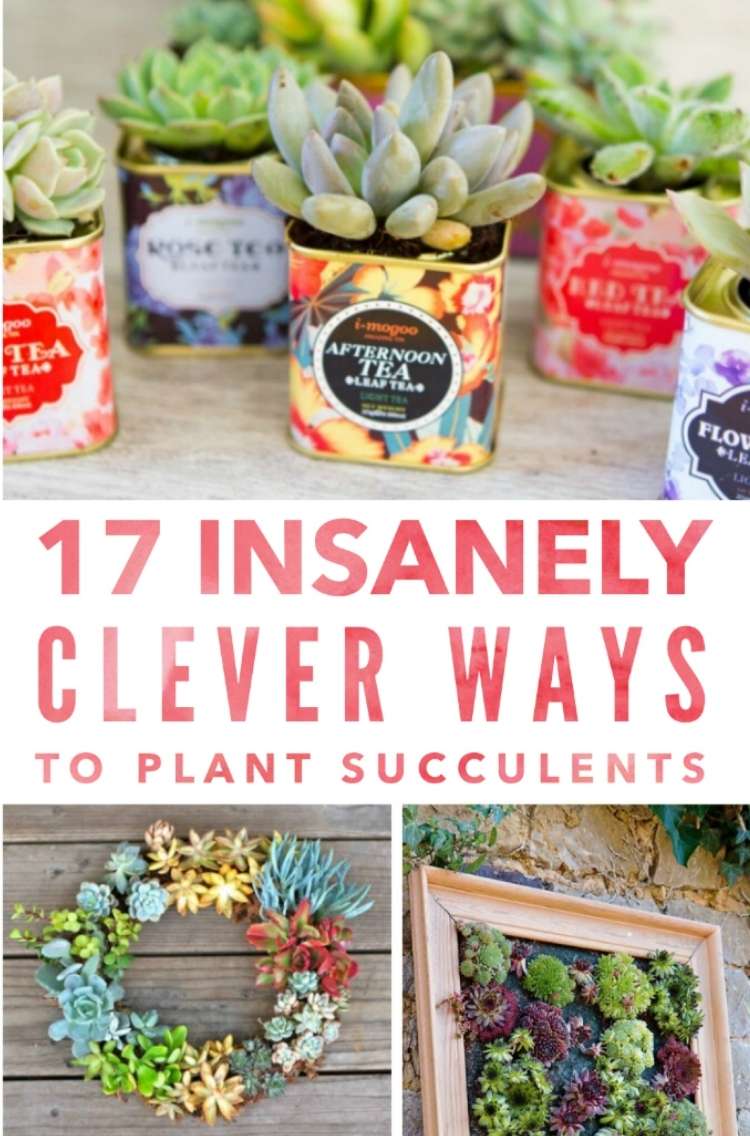 If you're looking for some creative ways to plant succulents, you've come to the right place. As it turns out, you can plant these hardy things just about anywhere! One of my favorite things about succulents is that if one of the little leaves falls off, or you clip it off, you can plant it somewhere and it will grow into its own succulent!
You can get as creative as you like with the way you plant your succulents. The containers you use can be as big or small as you have space for. Here are 17 creative ways you can plant succulents.
Creative Ways How to Plant Succulents
1. Plant Succulents in Terrariums
Succulent terrariums make great gifts! They're a great choice for a wedding or party favors, but you can enjoy them for yourself, too. Small terrariums like the one pictured below are great for wedding or party favors, but your imagination is the only limit as you could also create plant your succulents in large fish tanks to create giant terrariums!
One of the secrets of planting succulents in terrariums is adding activated charcoal to the bottom of your terrarium. This prevents your succulents from molding, rotting, and dying. The right soil mix for the succulent soil is the key!
You can get as creative as you like with the sands that you use to decorate the terrarium. You can either layer the dirt and sand or mix it up, depending on which look you prefer.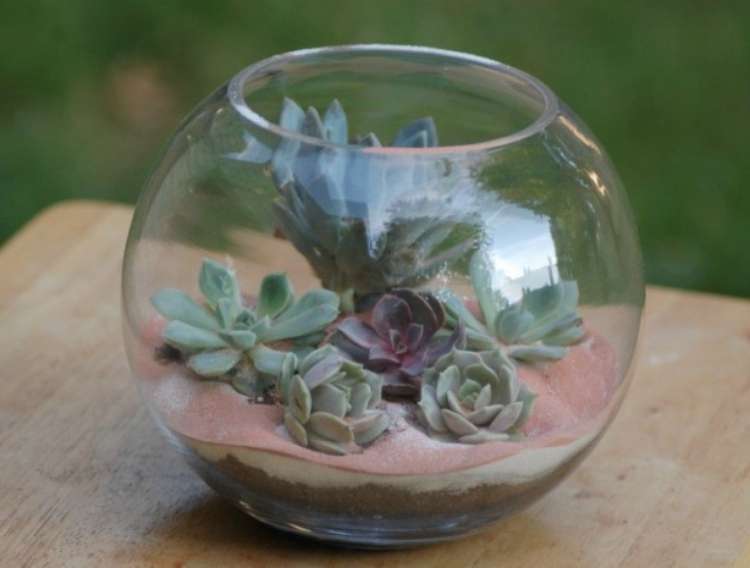 2. Plant and hang a succulent garden
Not a fan of container gardening? Tie this hanging succulent to a tree or your porch beams. Who says you need a pot for hanging plants?
All you need for this is some moss, baker's twine, and clay mixed with your potting soil. To water your hanging succulent, you can either spray it with water (if it is not in a spot where it gets rain) or you can dip the bottom of your moss into a bowl of water for 10 seconds so it can get just enough water for roots time.
This method can be used for plants other than succulents, but they will need to be watered more often. If you hang this somewhere with some shade and where it can get rain, you may not have to do anything other than watching your planted succulent grow!
Inspired by the Japanese gardening method Kokedama, this funky arrangement involves wrapping clay and moss around the root of the plant before wrapping it in string. If you're a budding gardener, this is a great way to start learning about gardening hydroponics (gardening without traditional use of soil) or gardening aeroponics (gardening using air as a growth medium).

-Lauren Weems, Brit + Co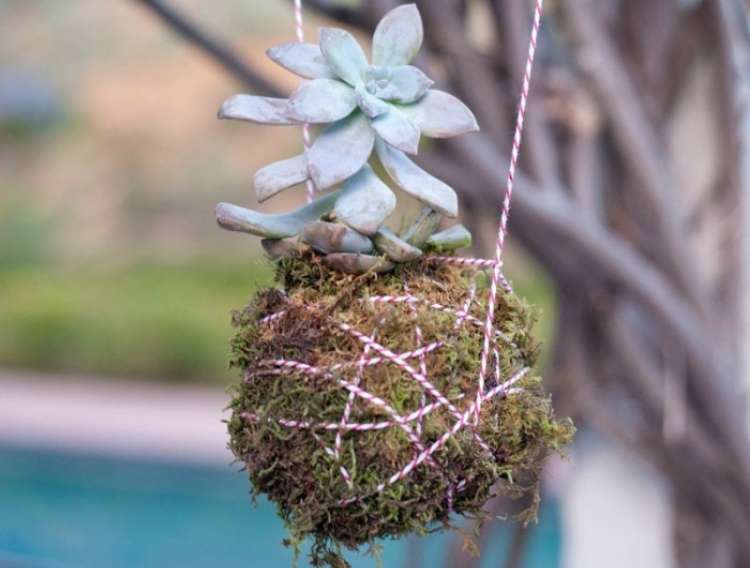 3. Plant succulents in a pumpkin
Plant succulents in a pumpkin. This one's fake, but you can definitely use real ones, too. Just transplant them when the pumpkin begins to rot. Such a cute idea for the fall time!
To plant your succulents in a pumpkin, simply cut off the top, carve out the middle, then add your dirt and succulents. Before you plant your succulent you can also paint your pumpkins. You can also recreate this for other seasons, such as using colorful eggshells for Easter.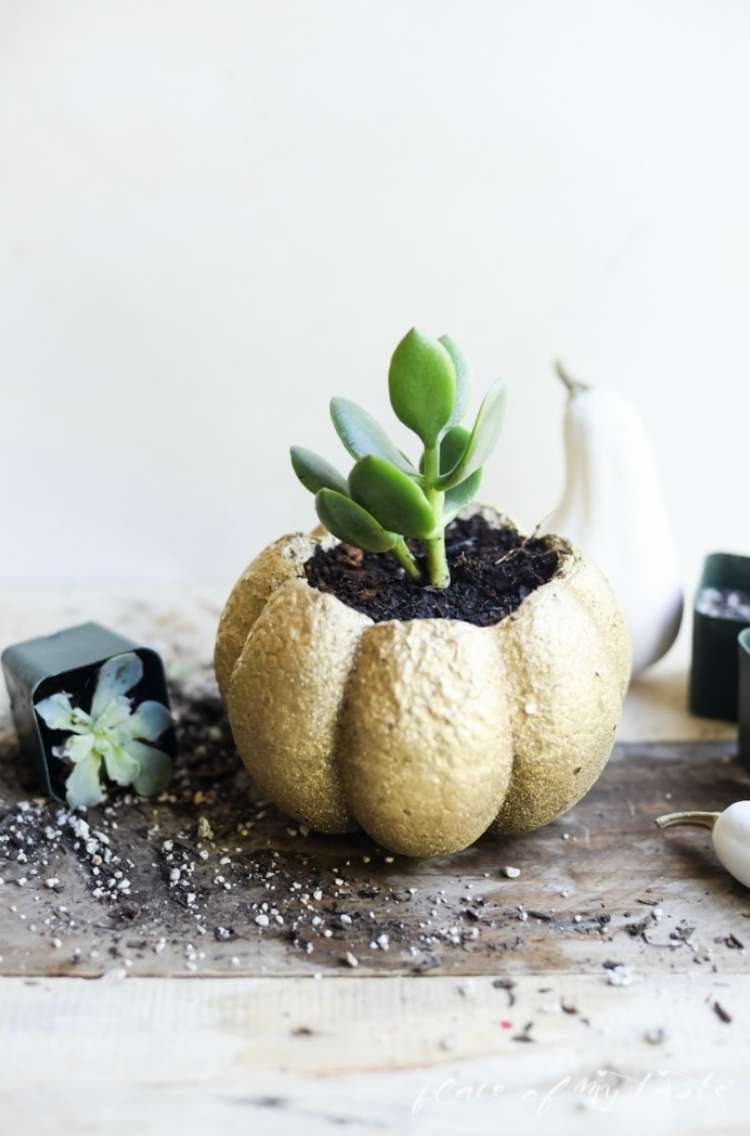 4. Plant succulents in a seashell
Use a large seashell! That'll look great with some beachy decor. You can also use small seashells to plant the succulents individually. If the seashells are small enough, you can glue a magnet to the back of them and put it on your refrigerator!  All you need is:
Succulent cuttings
Sphagnum moss
Floral glue
Greening pins
Floral tape
Floral wire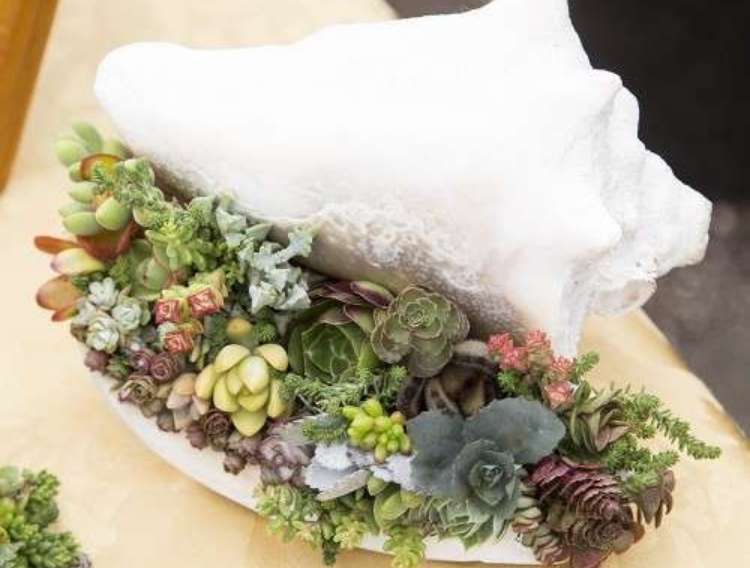 5. Plant succulents in cork planters
These teeny, tiny cork planters are adorable. Magnets have been added to put them on the fridge. They'd make lovely favors or gifts. All you need to plant your succulents in cork planters is a screwdriver, knife, glue gun, and magnet. These succulents make a great gift for any wine or plant lover!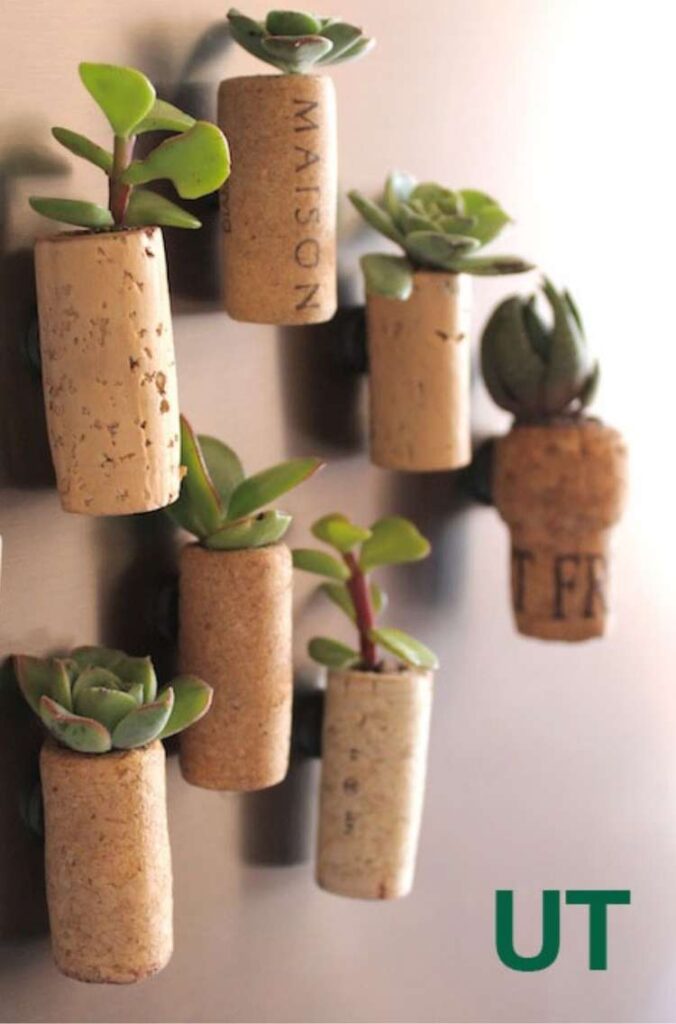 6. Plant succulents in a baking dish
Have a baking dish you're not using? Put your succulents in it! They'll look lovely on your kitchen countertops. This would make an adorable home warming gift, or a cute addition to any garden.  What you will need is:
Several small succulents
Small stones or gravel
Tree bark decoration
Plant labels
Potting soils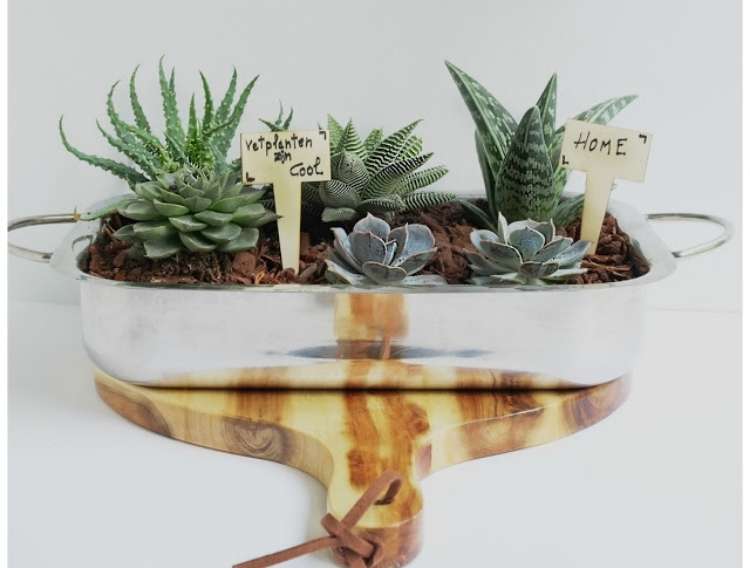 7. Plant succulents in a rotted tree trunk
Rotted trunks add a rustic touch to a porch or patio. What a terrific way to use a tree that would otherwise go to waste! Don't forget to line your tree trunk so the dirt can stay in place when you plant your succulents. If the hole in the tree goes all the way through, stapling chicken wire to the bottom will keep everything contained in case you need to move it.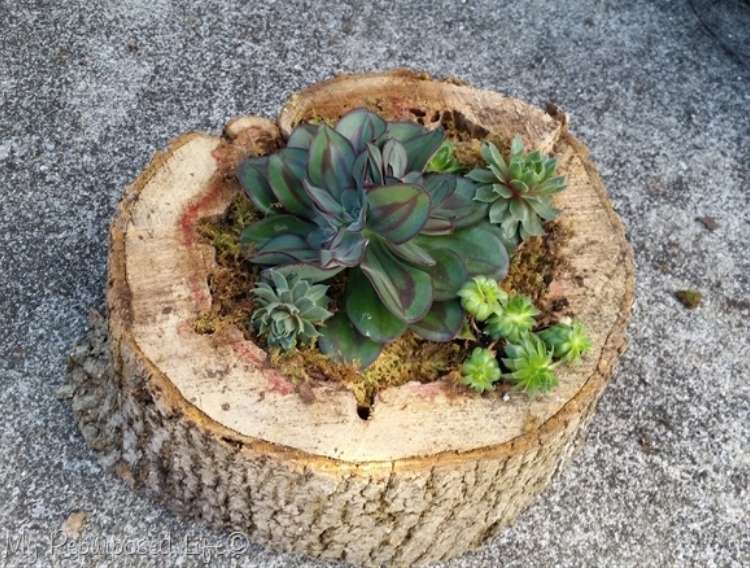 8. Plant succulents in walnut shells
Here's an adorable walnut shell succulent idea that I'll have to try myself. We had a walnut tree in our yard where I grew up, so I have fond memories of those shells! This is a great option to plant succulents if you don't have much space but would still like to have a mini garden. Gluing magnets to the back of the walnut shells would also create some cute fridge magnets for your mini garden or to give away as gifts.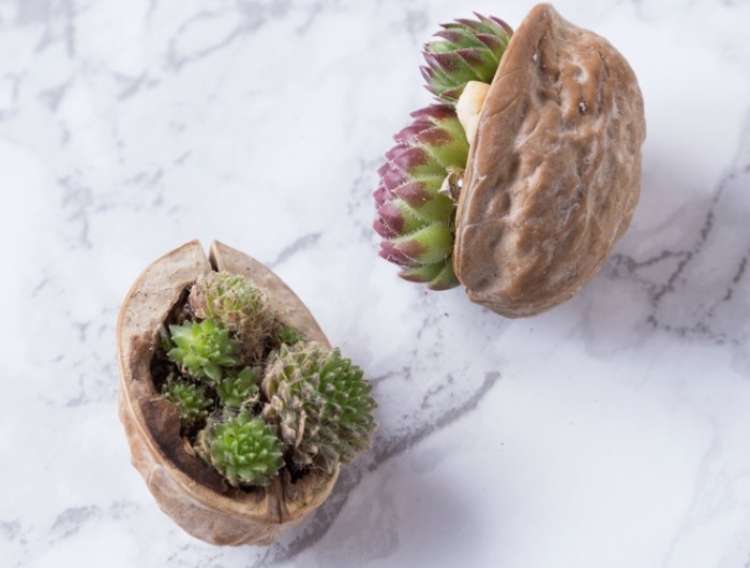 9. Plant succulents in an unused birdbath
An unused birdbath should be adorned with succulents instead. Even old or vintage ones look great with beautiful plants spilling over from them.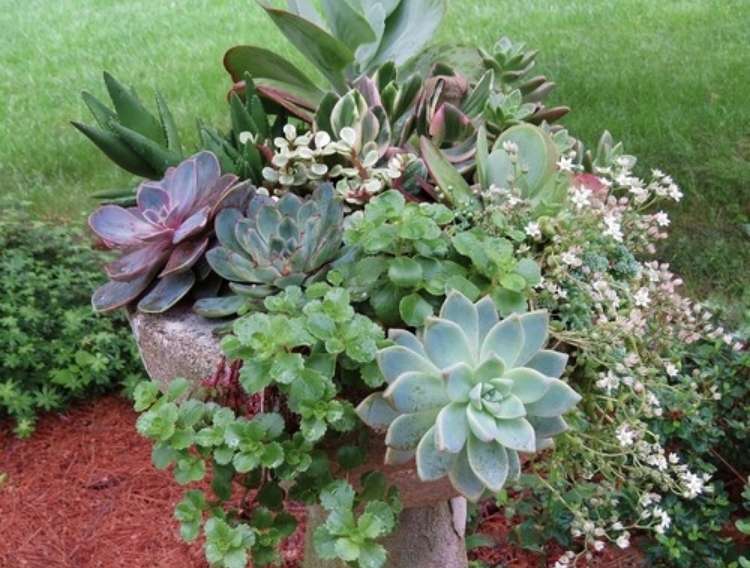 10. Plant succulents in a birdcage
Or add this sweet little birdcage planter to your garden. You can hang the birdcage or sit it on a colorful chair. Charming!
Simply add a piece of cardboard cut to size to the birdcage, topped with some sheet moss, to keep your planted succulents in place. Cover any areas that you don't want spilling out with moss.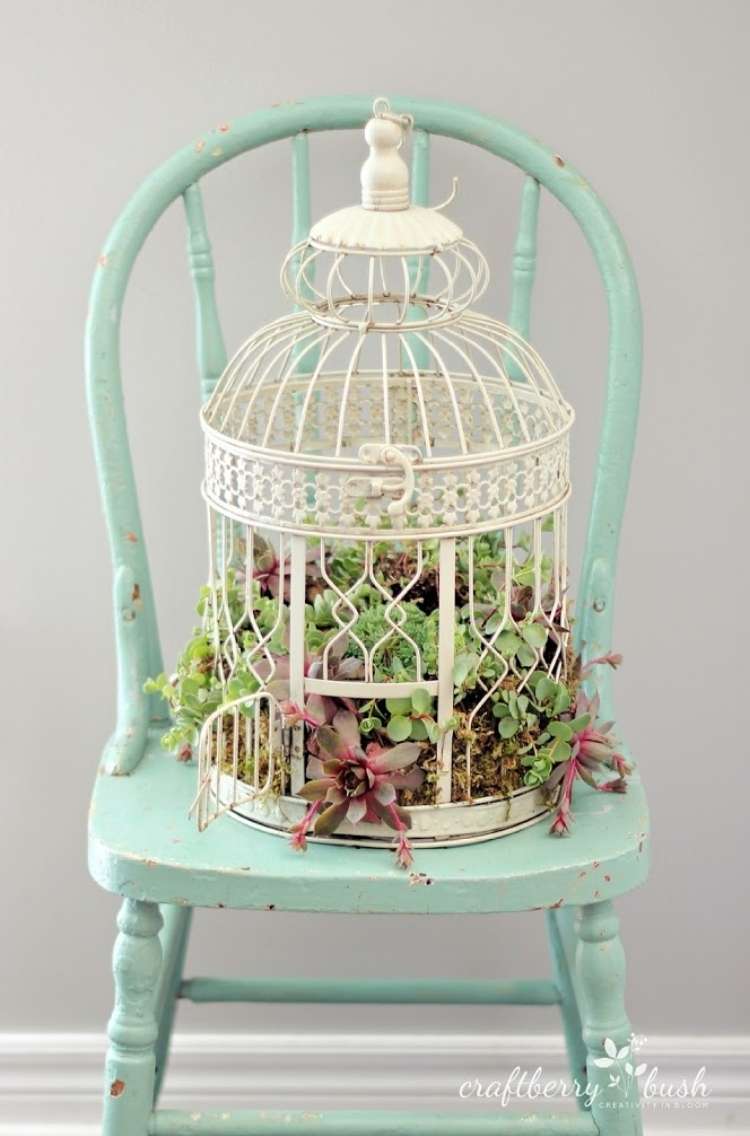 11. Plant succulents in mason jars
Okay, maybe mason jar succulents aren't insanely clever, but they sure are insanely cute! Simply paint over any jars you already have, and add a straw and tag. These planted succulents make great appreciation gifts! Using chalk paint on the glass jars give them a vintage, rustic look.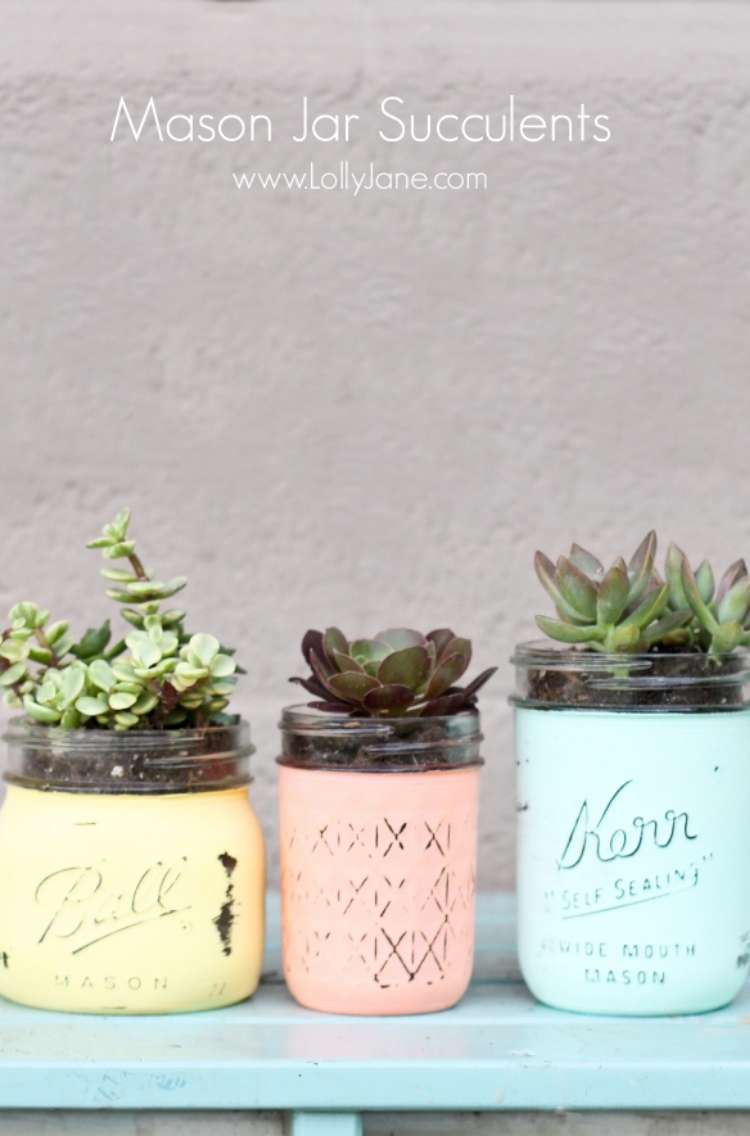 12. Use Driftwood for your Plants
Stuff a hollow piece of driftwood with some succulents. Again, this is an excellent piece to add to nautical or beach decor. It's gorgeous. You can use real or fake succulents, or even a mix of the two to create a beautiful centerpiece. The centerpiece pictures below was created with, believe it or not, a mixture of real and fake succulents. Can you tell them apart? I couldn't!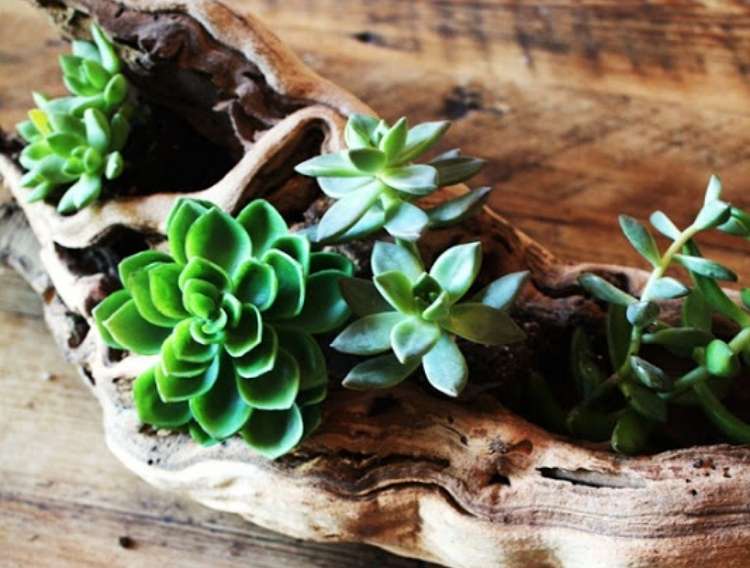 13. Plant succulents as a living wreath
A living wreath is a stunning way to plant and display succulents. I had no idea you could do this!
All you need is a wreath frame, sphagnum moss, and floral wire to create this unique and inspiring wreath. For a really cost-effective way to plant your succulent wreath, start with clippings from your current succulents. You get the added benefit of getting to watch your wreath grow all year!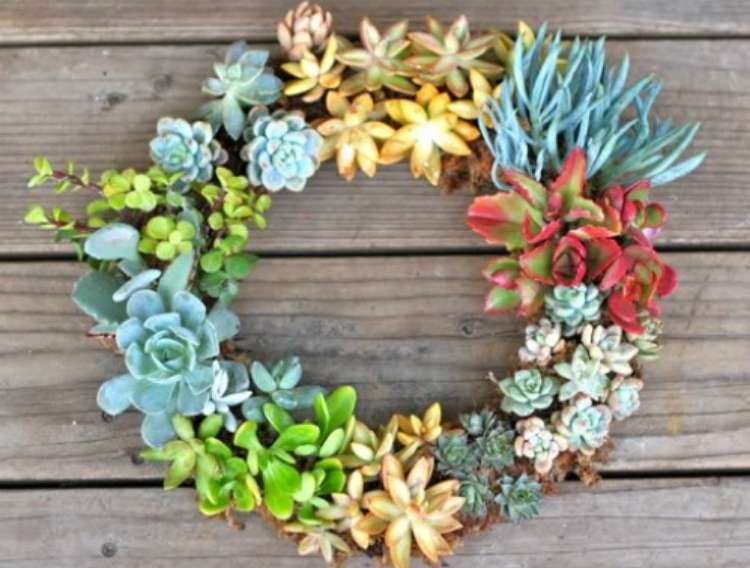 14. Plant succulents as a vertical garden
I just adore the vertical gardening options you have with succulents. This succulent wall planter is stunning. Keep in mind that the larger your frame is, the heavier it is going to be, so plan accordingly. You will need to make a wooden base, and you will need some weed barrier or greenhouse shading material, as well as a drill and some sphagnum moss to bring this together.
Another great way to use this idea is to create a collection of smaller frames. Each frame can feature a unique succulent, or they can each be an artistic mix of succulents.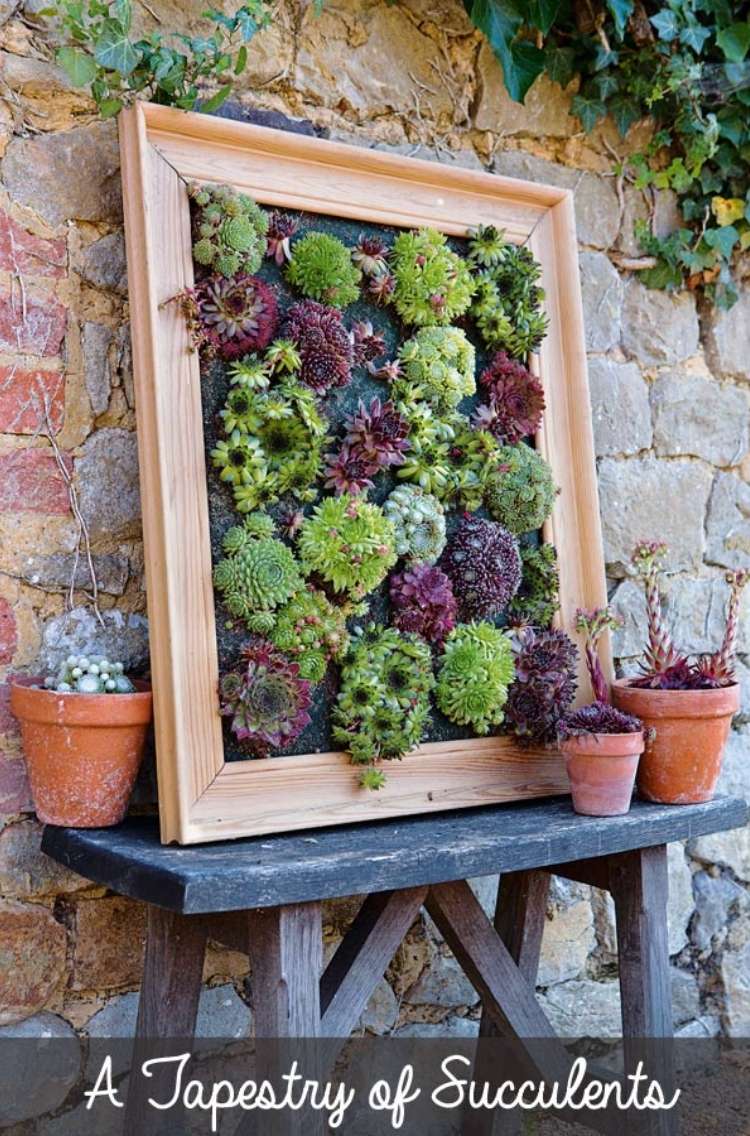 15. Plant succulents in a vintage suitcase
Plant succulents in a vintage suitcase. This one is a cement block cast from a vintage woven suitcase, but an old leather or metal suitcase would look fabulous, too.
A nice basket could work well as a way to plant succulents, too.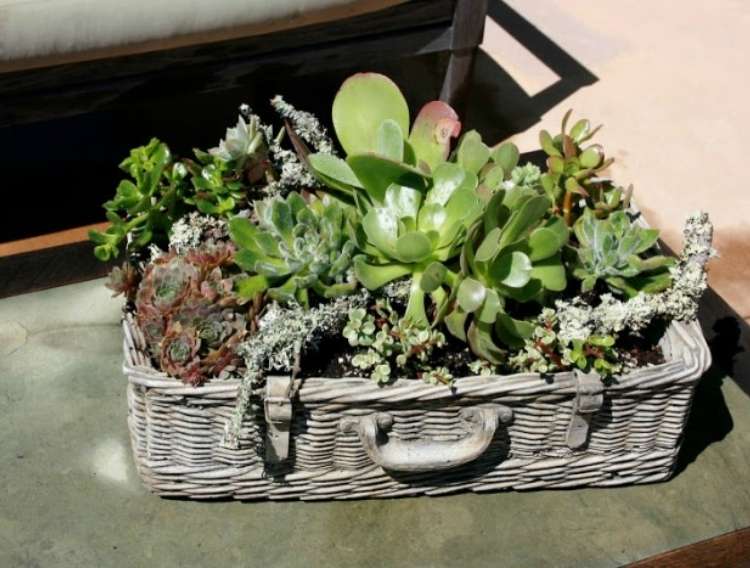 16. Use Vintage Tins As Planters
Yup!  Vintage tins look amazing with succulents. You don't even have to add a hole for drainage unless you plant something that requires more water, like herbs. The cute style of these vintage tins is just too cute to keep hidden in your cupboards, so recycle away!
17. Plant succulents on wall mounted letter
Wouldn't this wall-mounted letter look spectacular on your porch or door? Once you have the letter frame built, the planting takes no time at all. There are so many creative ways to plant succulents!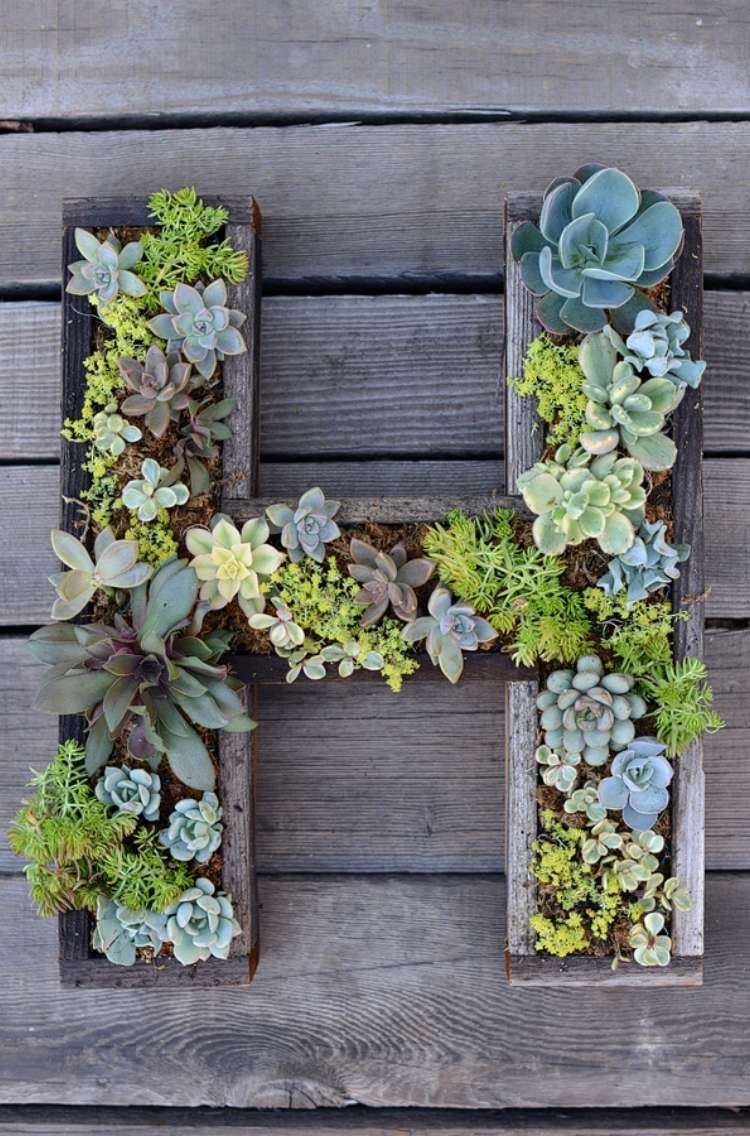 More Gardening Tips and Tricks: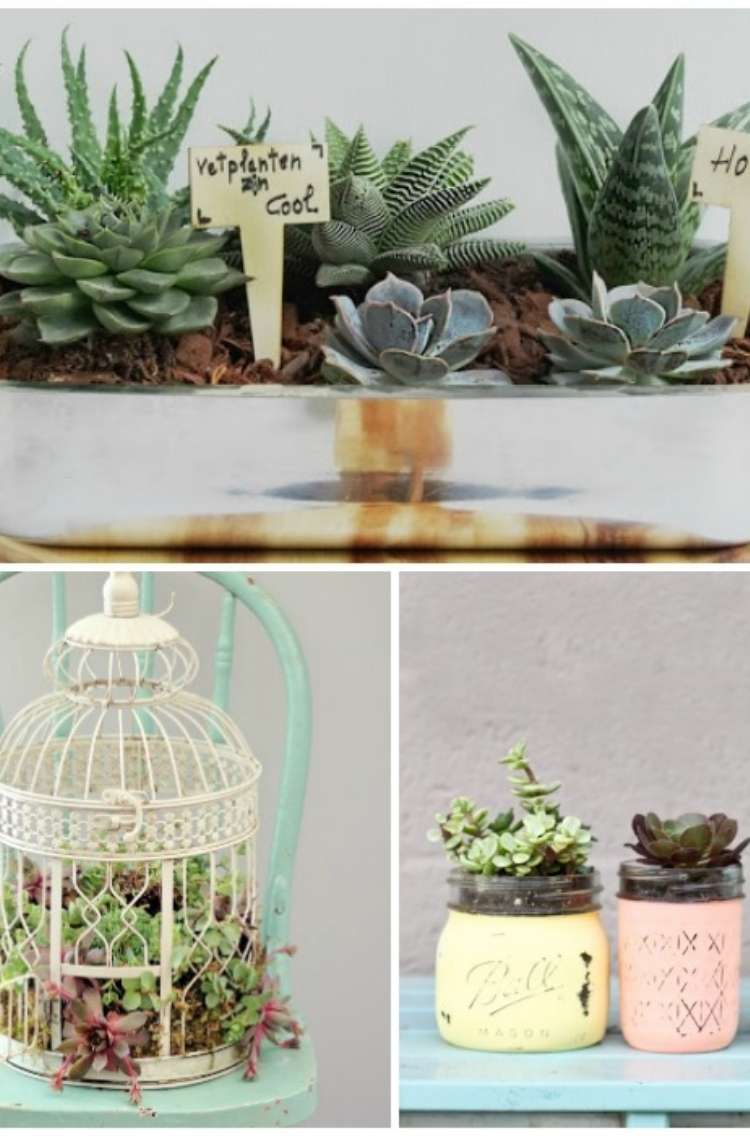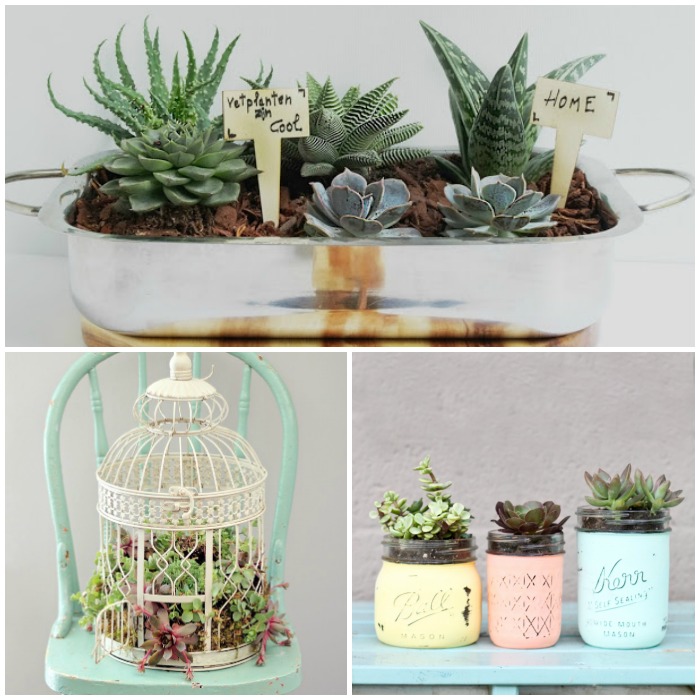 Which creative succulent planting idea is your favorite?