Nothing says comfort food like a pasta dinner. From one pot pasta recipes to meatless meal ideas and everything in between, we've found the easiest and tastiest recipes around. So grab a box of your favorite pasta, scour these recipes, and come up with a fabulous idea for dinner tonight.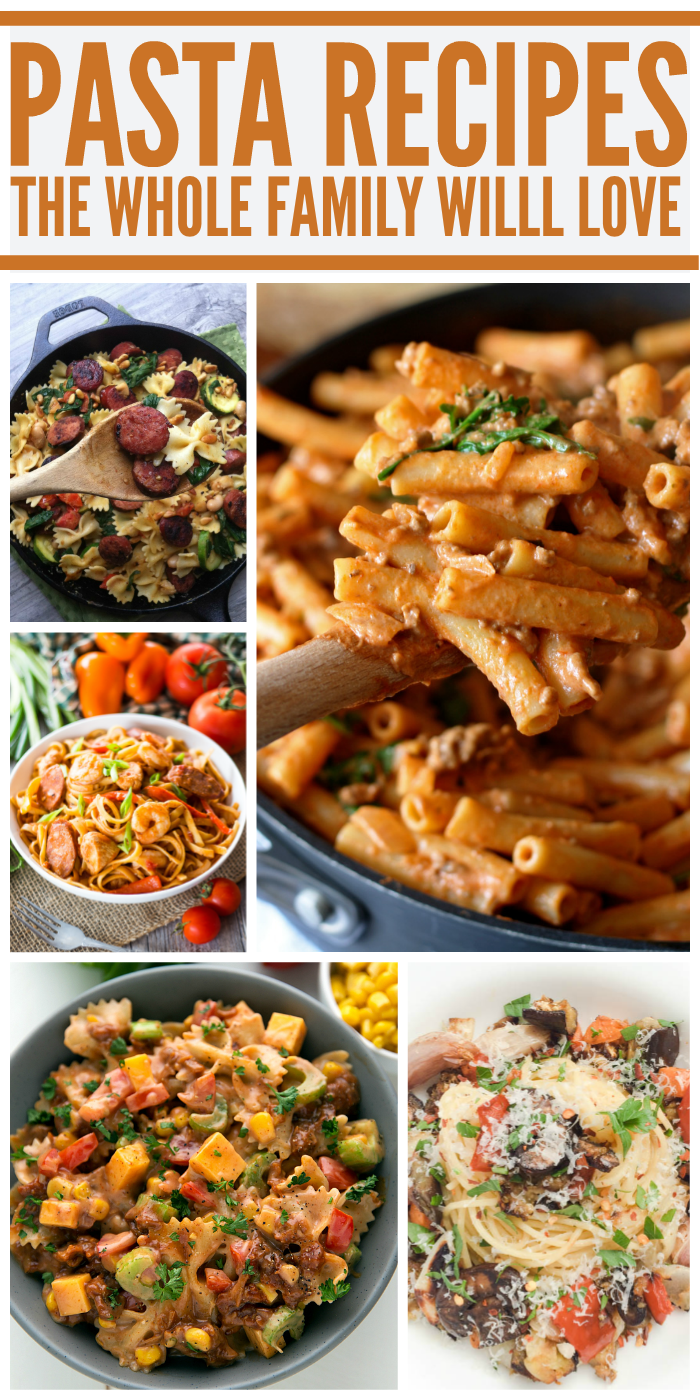 You can pull together a pulled pork BBQ Pasta Salad in just 30 minutes on a busy weeknight.
Garlic Roasted Vegetable Pasta is a delicious and easy meatless meal that even the kids will enjoy.
This Cheesy Tomato Pasta Skillet is a tasty dish that takes only 30 minutes to prepare from start to finish.
Smoked Sausage, White Bean and Spinach Pasta is a beautiful dish for fall, and it's sprinkled with yummy toasted pine nuts for some extra crunch.
If your family likes dinner with a kick, this One Pot Spicy Cajun Pasta will do the trick!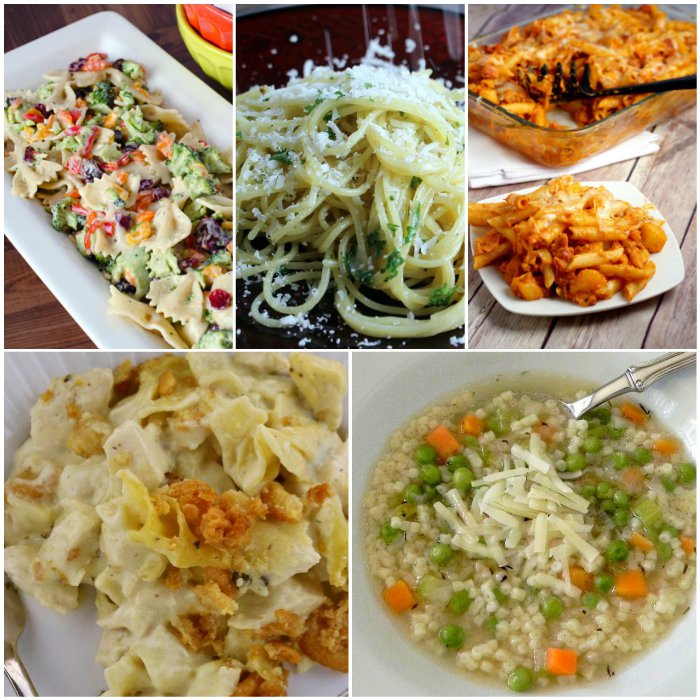 Easy Pasta Recipes
Chicken Noodle Casserole is a heartier, more filling version of your favorite chicken noodle soup. The leftovers are super tasty, too.
For another meatless meal idea, try this crunchy, colorful Broccoli Pasta Salad. Doesn't it look amazing?
You can't get much simpler than Garlic Spaghetti. It's topped with butter, garlic and Parmesan cheese. Yum! Even picky eaters will love it.
Acini Di Pepe Soup is a frugal and fabulous meal idea that's perfect for a chilly fall or winter day.
If you love Hawaiian pizza, you have to try this Hawaiian Pizza Pasta Bake with ham, bacon, pineapple and lots of cheesy goodness.
Family-Friendly Pasta Meals
Easy Penne Pasta with Zucchini is a healthy and hearty meatless dish.
Mmm… the flavors of buffalo chicken in a yummy Buffalo Chicken Pasta Salad. What could be better?
Although this Creamy Chipotle Pasta Salad is technically a side, I could eat a huge bowl of it all by myself. Add some chicken, and you've got a filling meal with a bit of a kick.
Kids will love the fun shapes in this 3 Cheese Wagon Wheel Pasta Bake.
Spicy Chicken Pasta isn't so spicy that the kids can't enjoy it, and the Cojita cheese adds a bit of tang to the dish.
Delicious Pasta Dishes
Of course, you can't talk about pasta without a Creamy and Cheesy Lasagna.
Make Caprese Noodles in just 15 minutes. It's wonderful as a standalone dish, but it makes a perfect base for creativity, too.
Here's another easy pasta recipe with a kick: One Skillet Spicy Jalapeno Parmesan Pasta. It would be a good dish for your teenagers to try to make!
Aiming for a healthy meal? This Easy Turkey Broccoli Pasta Dinner uses ground turkey instead of ground beef, and it has a healthy dose of green veggies.
Creamy Carrot and Brie Pasta is a terrific way to sneak in some veggies without the toddlers noticing, and grownups will appreciate using a cheese other than cheddar, mozzarella or American.
Quick Pasta Dinners
Healthy Taco Pasta is a more nutritious version of the childhood favorite Hamburger Helper.
How about a pasta recipe for the slow cooker? Pasta e Fagioli is just what you're looking for.
Add some nutritious kale to make this Cheese Kale One Pot Pasta meal.
Who wouldn't love Chicken and Cheese Stuffed Shells?
Creamy Ham Pasta with Peas is a great way to use up that leftover ham during the holidays. It's very kid-friendly, too!