Are you looking for some unique party food ideas (that are perfectly portable) for your next party? We've got you covered! These party foods are sure to please and will make folks think you spent months planning. Adults and kids alike are sure to love these irresistible party hack ideas!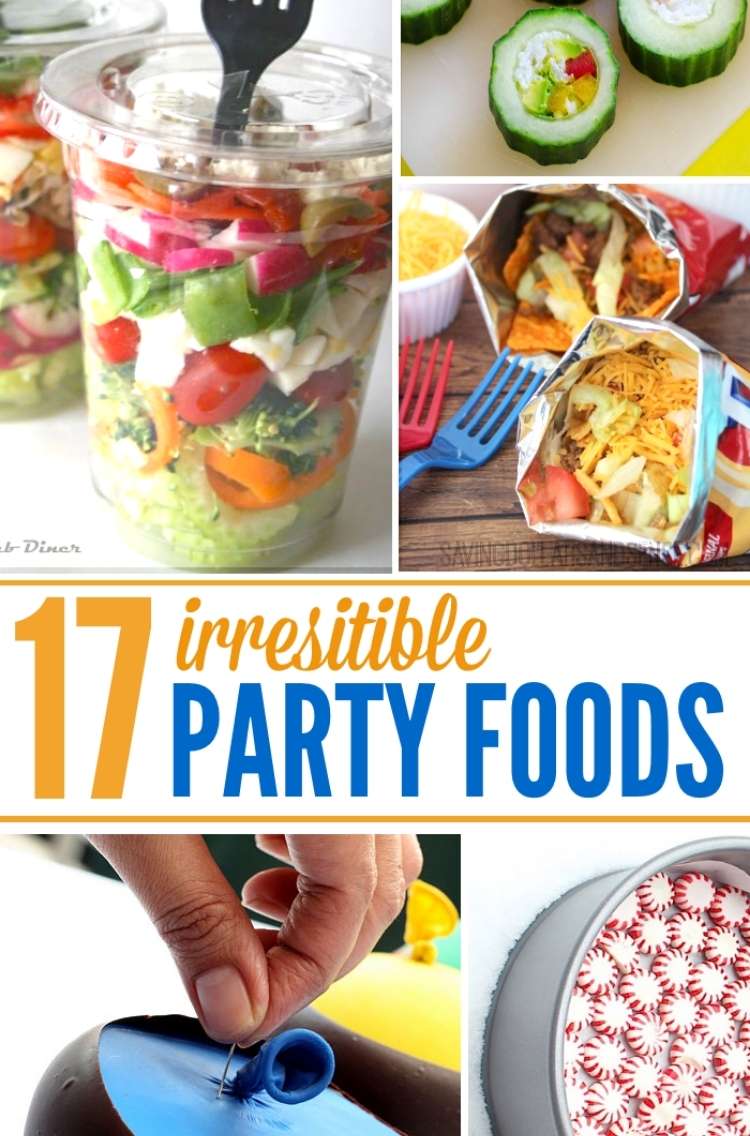 …AND they are (for the most part) super easy to pull off!! Anyone can make these look great–so no Pinterest fails here! If you have an outdoor kitchen, be sure to check out our collection of sides on the grill–all the best grilling BBQ recipes!
Easy and Best Party Foods and Ideas
Making party food can be stressful, and limit how much fun you have at your party–but it doesn't have to be that way!
Whether you're looking for birthday party food ideas, easy appetizer recipes, or finger foods, you can make the prep a breeze with these fun party food ideas. The fact that these recipes are actually doable helps, and won't take away from your big event!
1. Party Food Ideas: DIY Choco-Tacos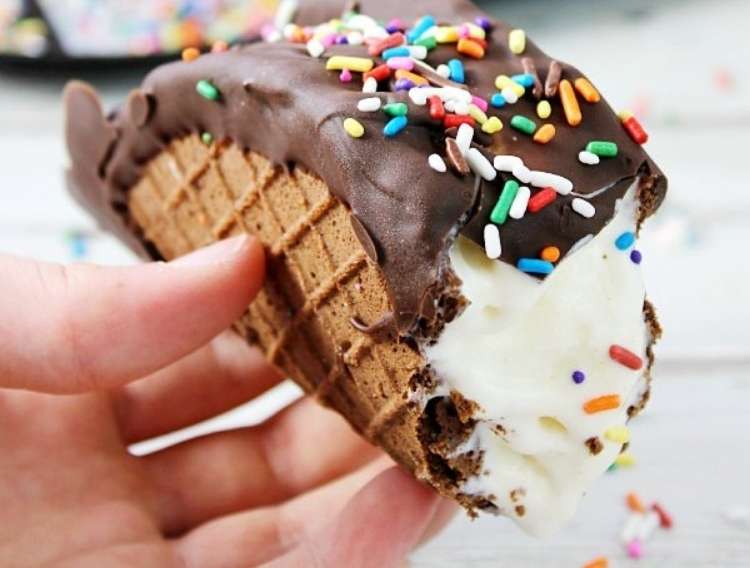 Choco-Tacos, anyone? Calling all 90's kids… I know you were probably devastated when they stopped making this treat! The good news is that you can easily whip up a batch of your own! Who doesn't love a Choco-Taco?! Your guests will definitely be impressed.
Although it may look complicated, let me assure you that they're not! If you don't have a sugar cone waffle maker, you can make these on a griddle, or in a skillet (like pancakes!). You will need to flip them once, after about 30-45 seconds, and let them cook an additional 30-45 seconds.

If you don't have a taco mold, you can easily drape wax paper over books (set up like tents) and drape your waffle cones over the books to help shape them.

-LoveBakesGoodCakes.com
2. A Healthy and Tasty Party Food Idea- Watermelon on a Stick!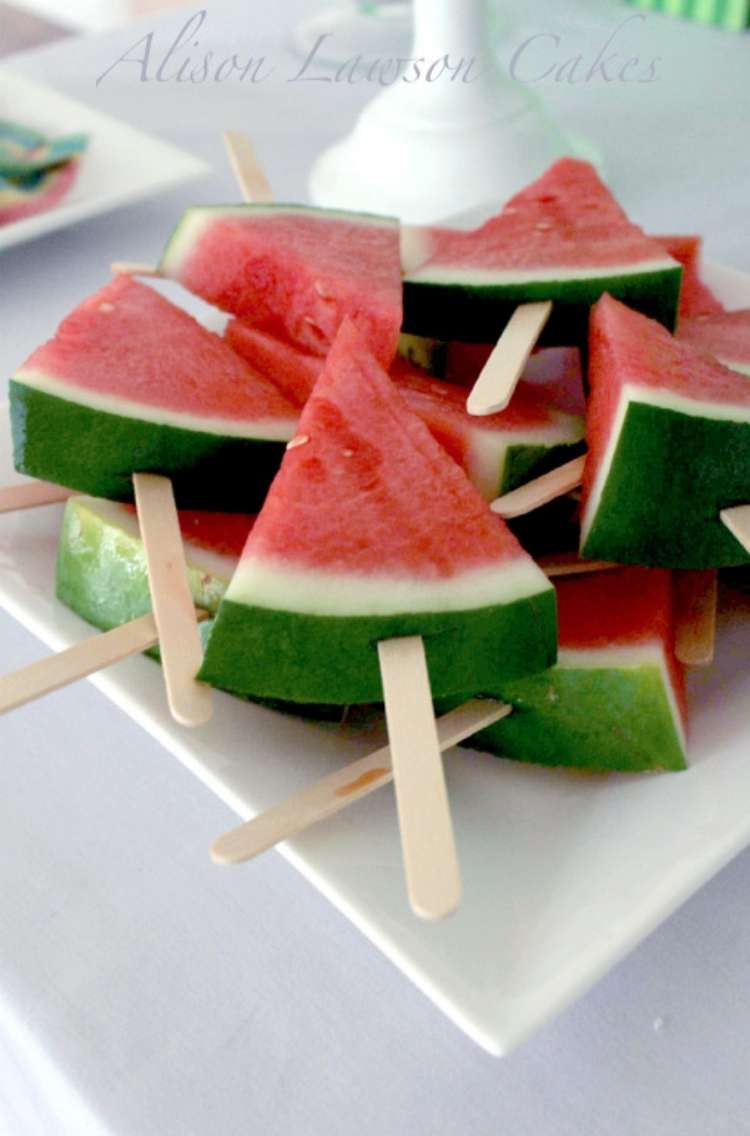 Regular Watermelon = good. Watermelon on a stick = great!
Your kids will get a kick out of these "healthy popsicles". All you need are popsicle sticks, and ripe and juicy watermelon. Such a classic, fruity treat!
3. Party Food Ideas: Frozen Fruit Picks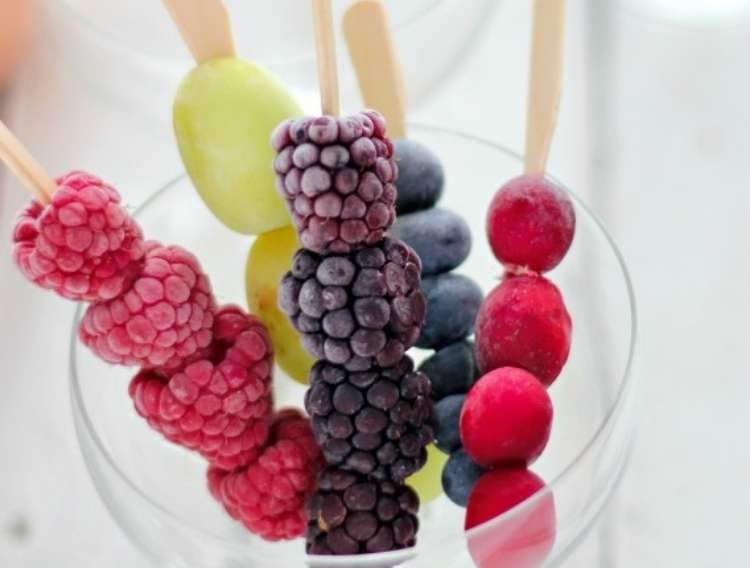 Frozen Fruit Picks are a great addition to your favorite beverages!
Simply put your chosen fruit on a pick, and freeze. Then, drop into your favorite beverage before serving.
Perfect for cocktails or kids' fruit punch. Did I mention how pretty they are? Say "bye" to the usual sliders, crackers, cream bites, or cheeseballs. This is a healthier option that tastes SO good!
4. Party Food Ideas: Pull Up Bread
If you're looking for other options, aside from puff pastry, mini cheesecakes, pretzel bites, and other pastries, here's a yummy choice you can make, without the added sugars.
Grab a loaf of fresh bread and cut into it. Season with garlic, butter, and cheese, and bake covered with foil. This is a very easy and unforgettable appetizer for a party or a quick snack to be enjoyed anytime!
5. More Easy Party Appetizer Ideas: Salad in a Cup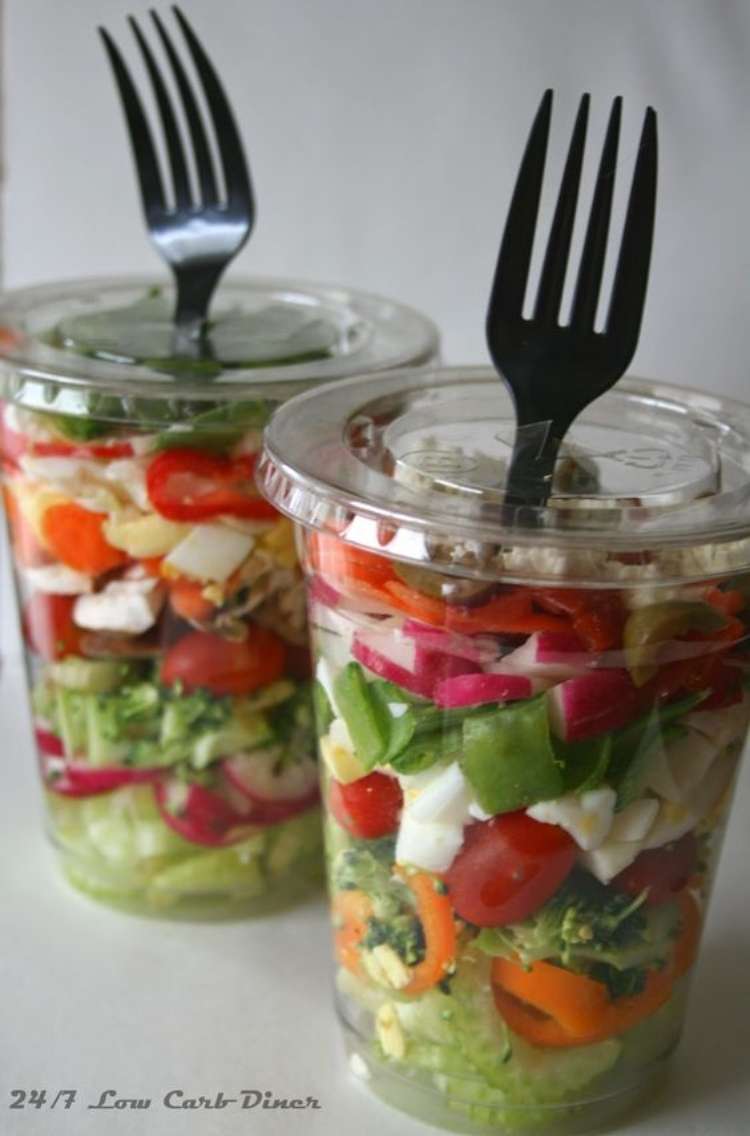 We are in love with Salad in a Cup! Put your salad in a plastic cup with a lid for a perfectly portioned and portable salad. Then, place the fork where the straw goes, and BAM! Now, you're ready to take your salad anywhere. Add in your favorite spinach artichoke dip, sour cream, or any sauce of your liking!
This is great customizable party food and is also great for a picnic. The clear plastic cups provide an adorable presentation, but you can use any plastic cups that you have available. This can be made as healthy or hearty and you wish, depending on the veggies and dressings you choose. It's recommended that the dressing be served on the side, and that you leave a bit of room at the top of the cup to allow shaking to disperse the dressing.
6. Balloon Filled Treats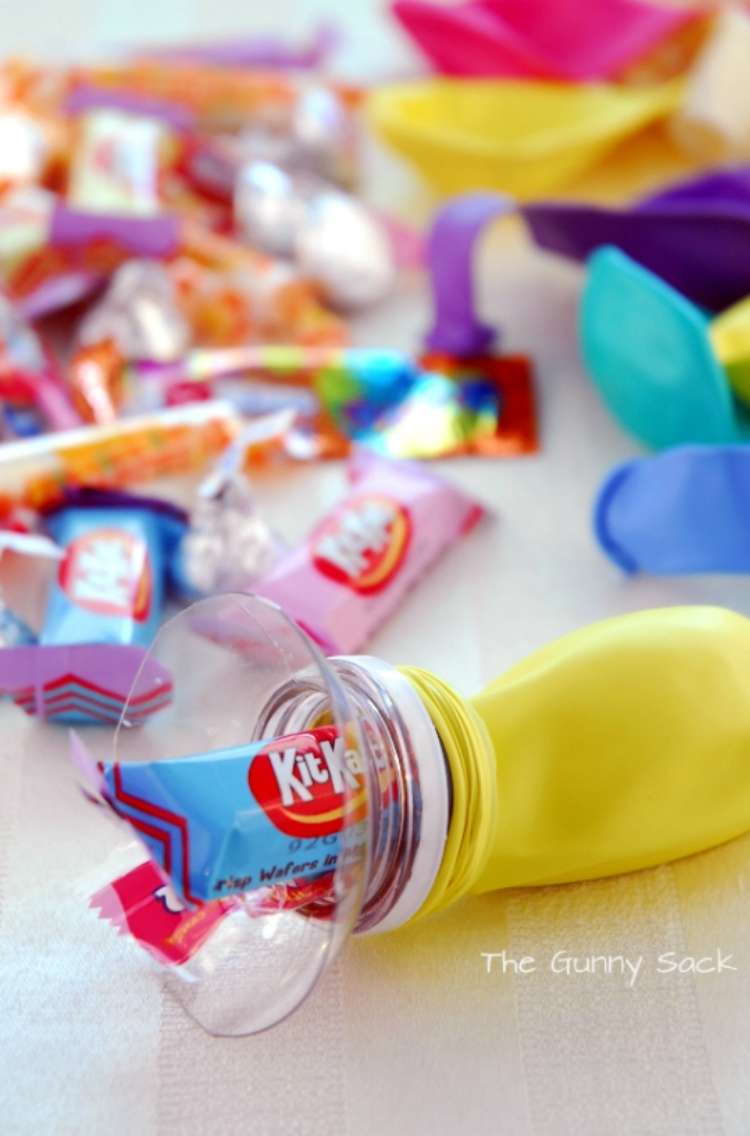 Simply cut the top off of a plastic bottle, and use it as a funnel to add treats to make Treat Filled Balloons.
If you find large balloons, use those! Customize these for any occasion with the color of the balloons. For example, you can use red for Valentine's day. These also make great gifts for Easter baskets!
7. Party Food Ideas: Banana Pops
They say meatballs, sausage rolls, and mozzarella sticks are out of style. Get healthy with Banana Pops! Check out this amazing video for Banana Skewer Pops! They are sure to be your new favorite snack, and they are easy for kids to make, too!
First, you cut up your banana. Then, layer the banana slices with marshmallows on a stick. Finally, dip in melted chocolate, and sprinkle with your favorite toppings–like sprinkles or shredded coconut. Tada!
8. Chocolate Dipped Fruit Cones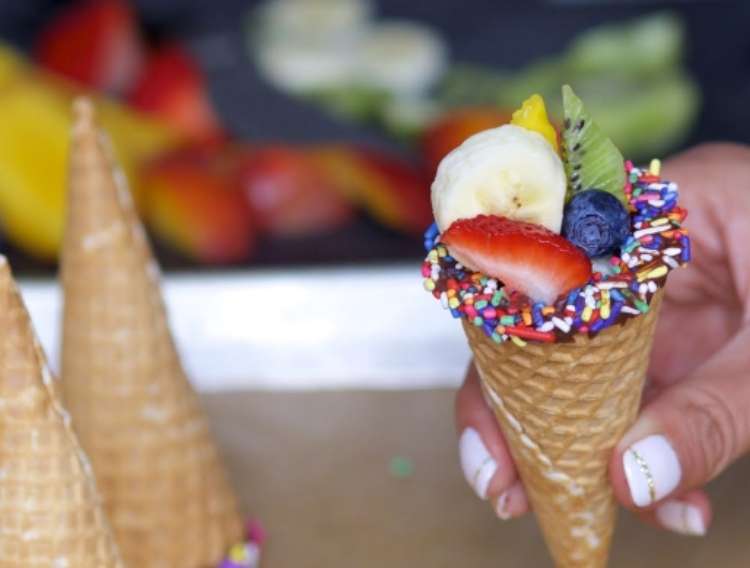 Fruit cones are so pretty, portable, and a great way to get your kids to eat their fruit! These chocolate-dipped fruit cones are sure to be a hit with adults and kids, alike! You can replace chocolate with honey for a healthier version. Plus, they are SO fancy-looking!
Simply melt chocolate chips, dip the opening of the cones in the melted chocolate, and then cover with your selected topping such as sprinkles. Then, stuff the cones with your favorite fruit!
9. Party Food Ideas: DIY Chocolate Bowls
Chocolate bowls are a simple way to serve dessert, and look so pretty filled with fresh fruit or ice cream. I mean… who doesn't want a bowl made out of chocolate?!
10. Party Food Ideas: Mess-Free Cooler with Frozen Balloons!
Fill balloons with water, and freeze, for a mess-free cooler option for your next party. No more dunking hands into ice-cold water!
11. Party Food Idea: Tetris Cookies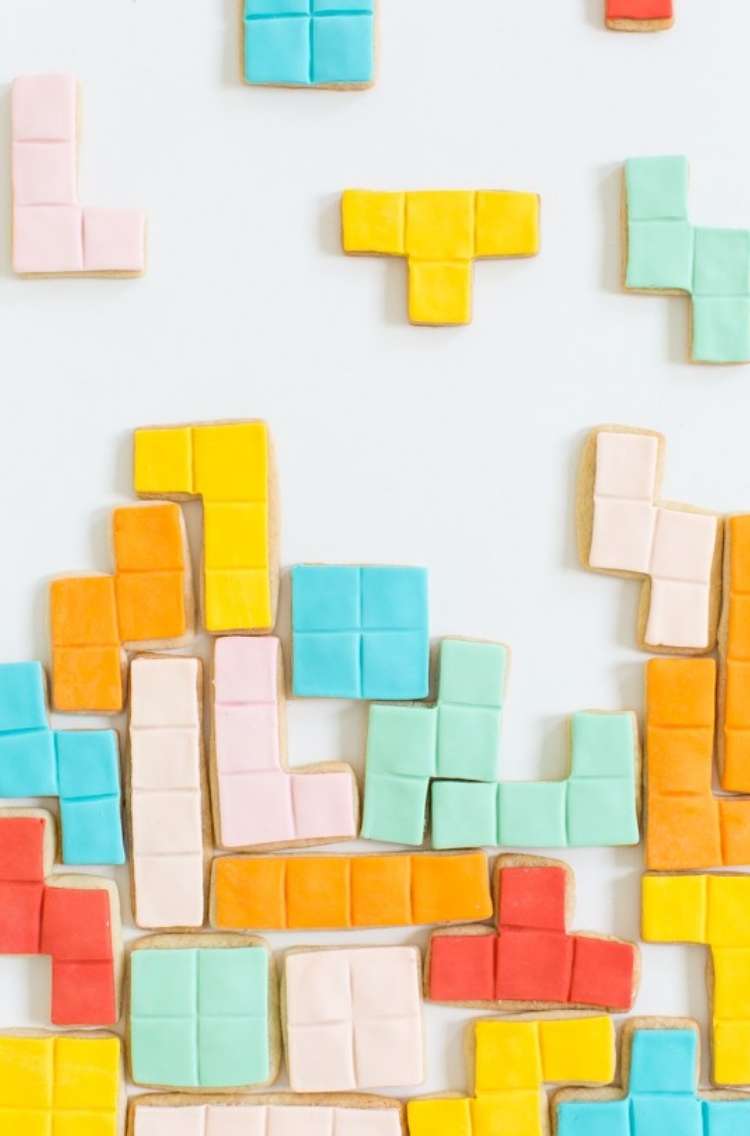 Tetris Cookies… Need we say more? These cookies would be awesome for gamer in the family! Be sure to display them on a big tray, with each cookie fitting together, just like the game!
These are homemade sugar cookies with your chosen frosting, like fondant or royal icing. The cookies pictured were made with fondant, and the indentations were made with a toothpick. Don't forget to chill your cookie dough before putting it in the oven to help hold its shape!
12. Party Food Ideas: Serve Dessert on Candy Plates!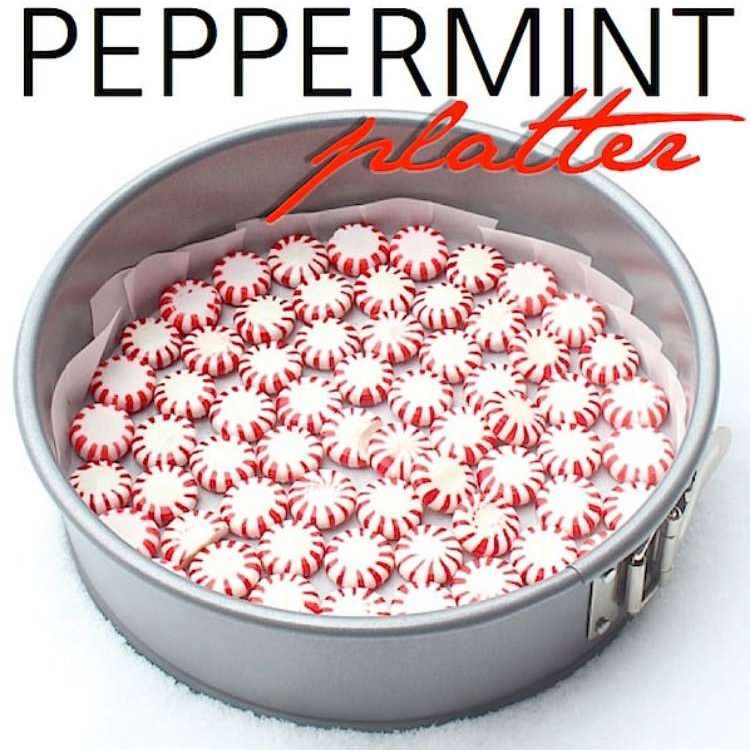 Candy Plates are a fun and festive way to serve desserts! They are easier to make than you might think, too. Make them out of peppermint candies, or even Jolly Ranchers!
This one is super simple. Just preheat your oven to 350 degrees, line a springform pan with parchment paper, and then neatly arrange your favorite candy. Bake it for about 5 minutes in your preheated oven, but watch it carefully! Sugar will change colors if it's heated too much, so keep this in mind if you are using peppermint candies.
Very carefully remove it from your oven and let it cool before removing the springform pan, and then you are ready to serve a fantastic dessert!
13. Party Food Ideas: Cucumber Sushi Roll Appetizer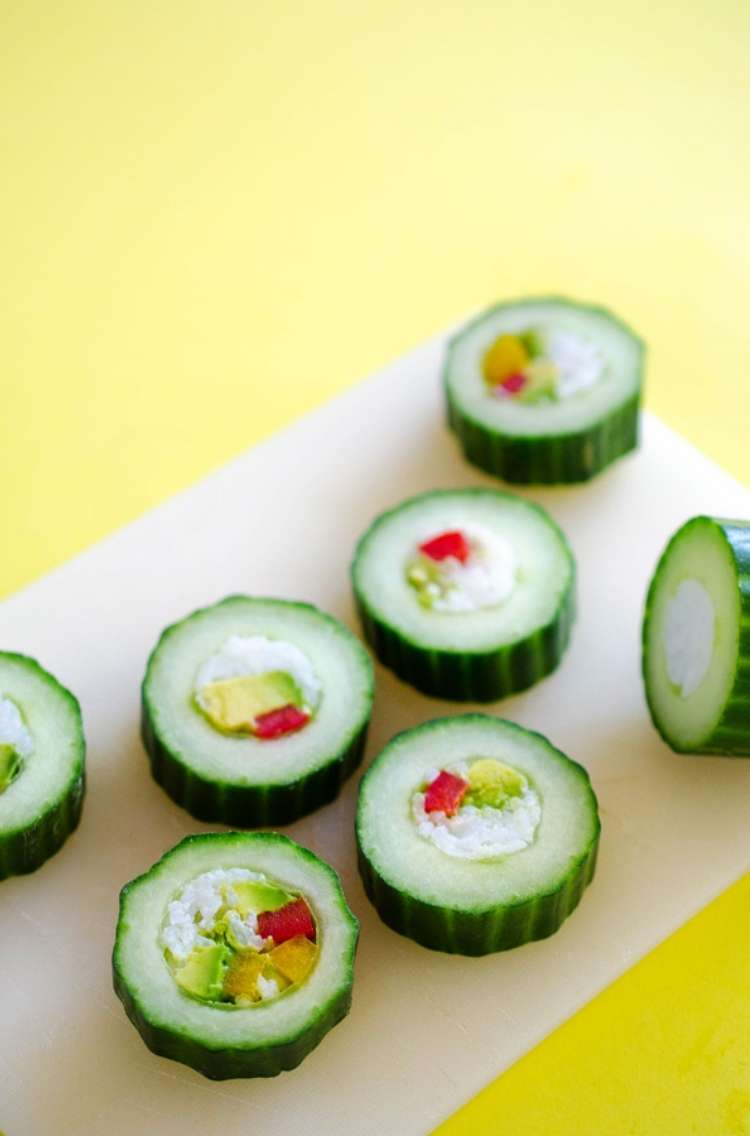 Cucumber Sushi Rolls  are a perfect snack on a hot summer day. What a fun way to eat your veggies!
First, cut the cucumbers in half, and then use a small spoon to remove all of the seeds in the middle. Then, stuff with cooked and cooled rice and your chosen ingredients. The ones pictured are made with avocado and bell peppers. You can add potatoes, cauliflower, pickles, bacon, shrimp, eggs, cream cheese, or onion.
The possibilities are endless! These vegetarian sushi rolls can also be made with tofu–or get creative with your veggie selection!
14. Party Food Idea for Dessert: Cupcake in a Cone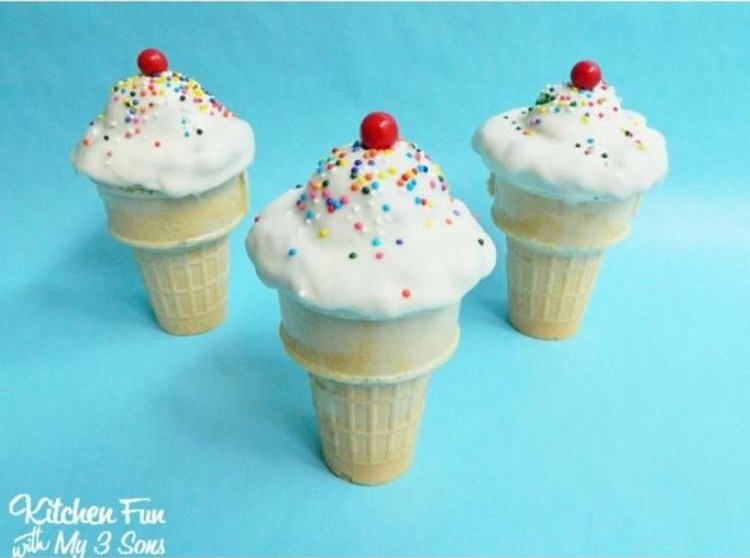 Cupcakes in a cone are always a hit! So adorable, and portable! Your kids will get a kick out of tricking their friends with their "ice cream" cupcakes!
These cones are made with a cake pop recipe! Mix your cake with frosting, and then use an ice cream scoop to stuff the cones. The melted-looking topping is White CandiQuick.
15. DIY Ice Cream Pops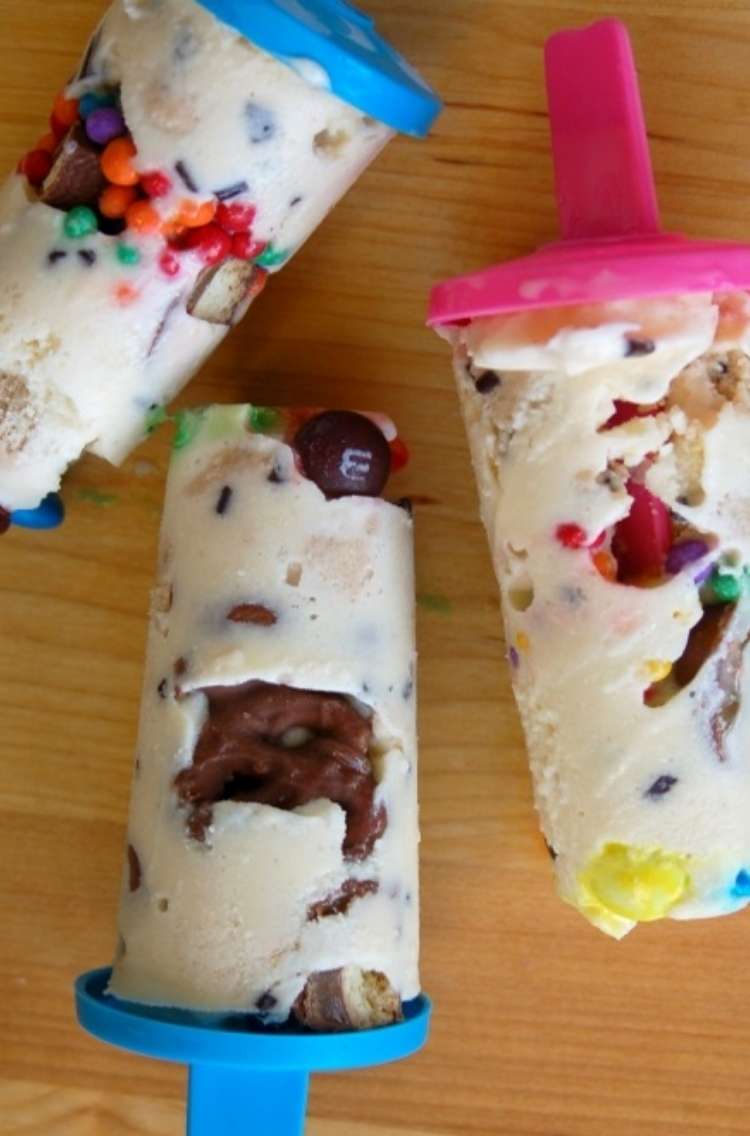 Ice cream-pops are a summer party MUST!
Fill your popsicle molds with a layer of ice cream, and then add a layer of your favorite candies. Alternate candy and ice cream until the mold is full. This is a great activity to do with your kids. They can get as creative as they want!
16. Tips to Make Hosting a Party Easy: Walking Tacos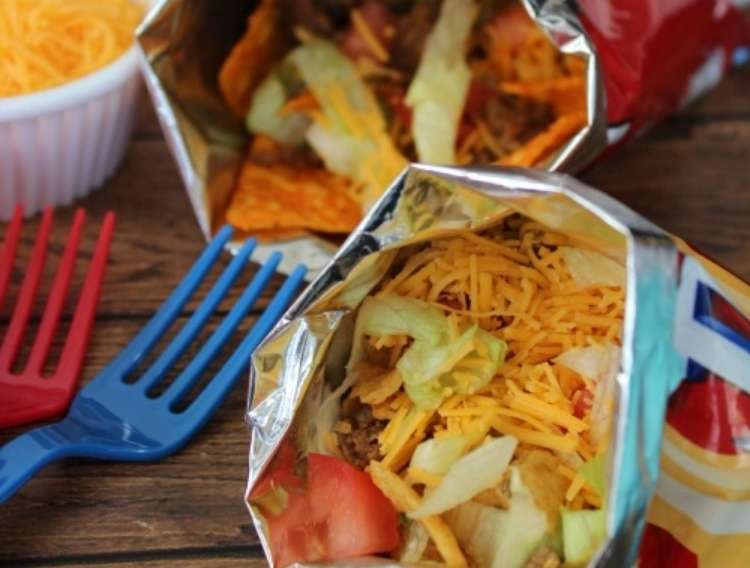 Taco sack (aka Walking Tacos) is a simple and tasty party food that is always a hit!
Crush up your favorite chips, and add taco fixings like ground beef, cheese, lettuce, and tomatoes. Throw in a plastic fork, and you have a neat tacos dish that you can eat on the go.
We like to use mini bags of Doritos or Fritos!
17. Party Ideas: DIY Cooler from a Raft!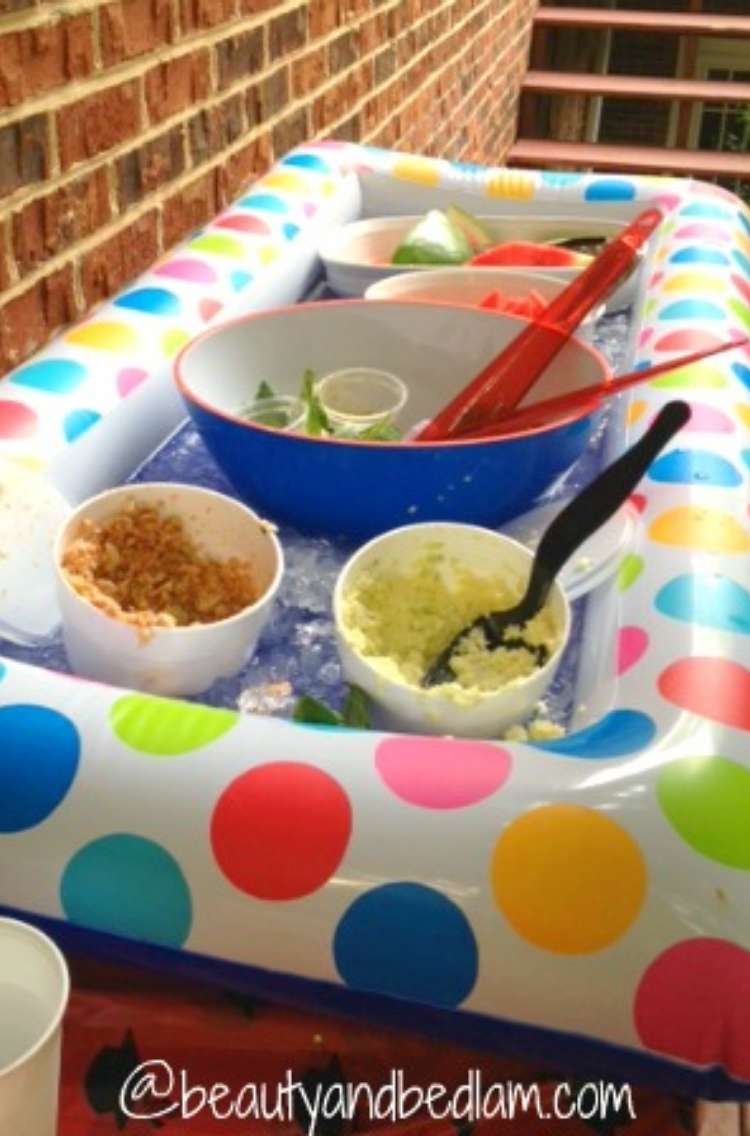 Pool Raft Coolers are the BEST way to reuse that old baby pool your kids outgrew! This makes the perfect salad bar on a hot summer day! Just add ice. It also fits the decor theme of a summer party!
18. DIY Party Ice Cream Sandwich Pops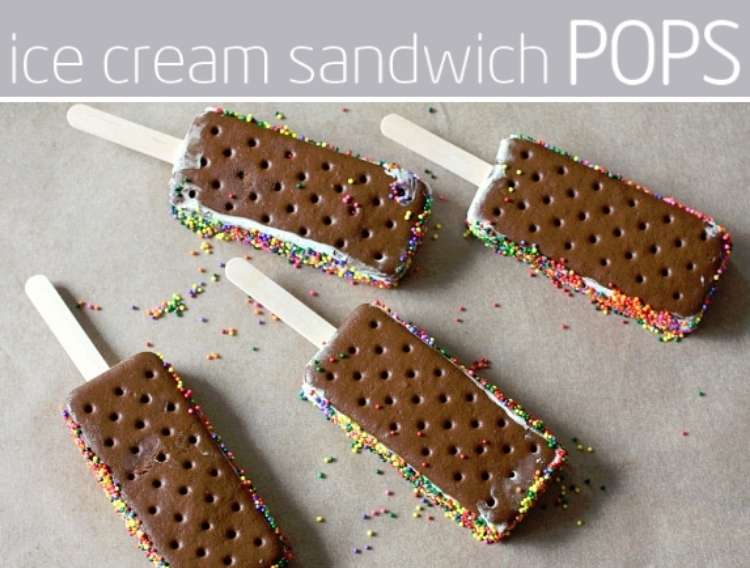 Ice Cream Sandwich Pops are the easiest party dessert you can make!
Buy a box of ice cream sandwiches, coat the exposed ice cream with sprinkles, and then put a stick in the bottom. These are quick to make, and oh, so adorable!
BONUS… Pom-Pom Balloons!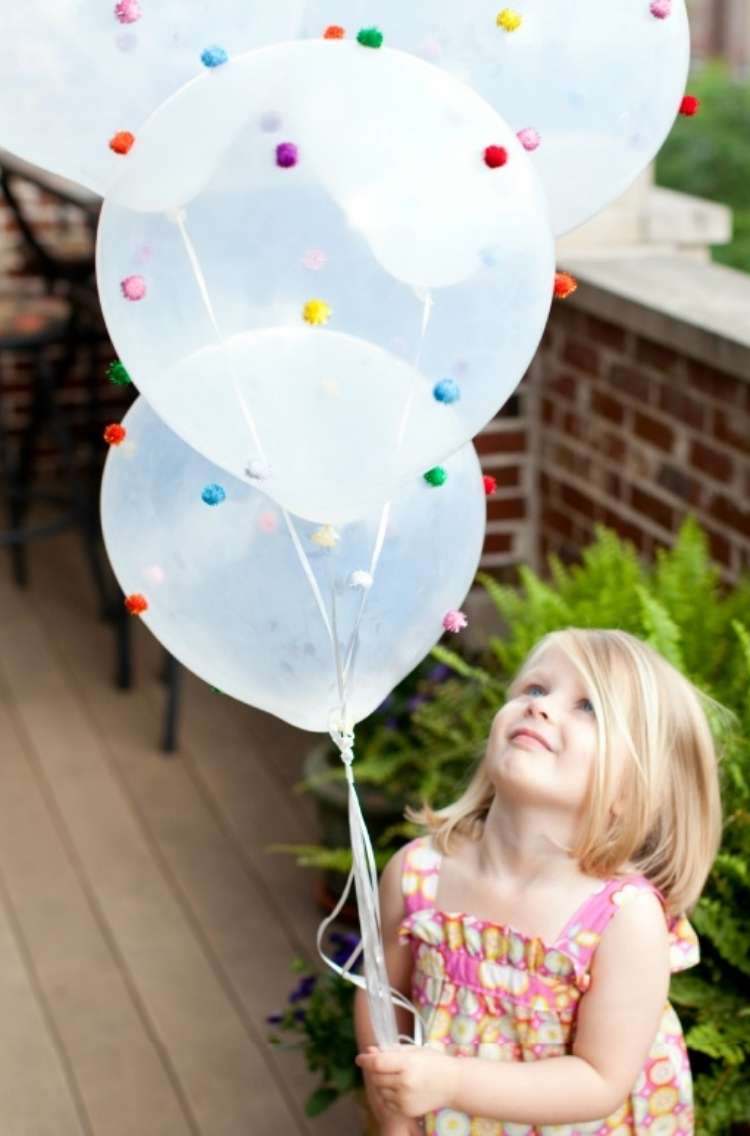 Pom-Pom balloons are a colorful way to liven up party decor! Add pom-poms to balloons with double-sided tape for a little extra magic!
Your party is sure to be a success with these kid-tested and approved snacks and food ideas!!
We chose most of these snack ideas for their simplicity– they are a perfect way to add a more personal touch to your next party. Plan your party by working smarter, and not harder, and you will have more time and energy to actually enjoy your gathering!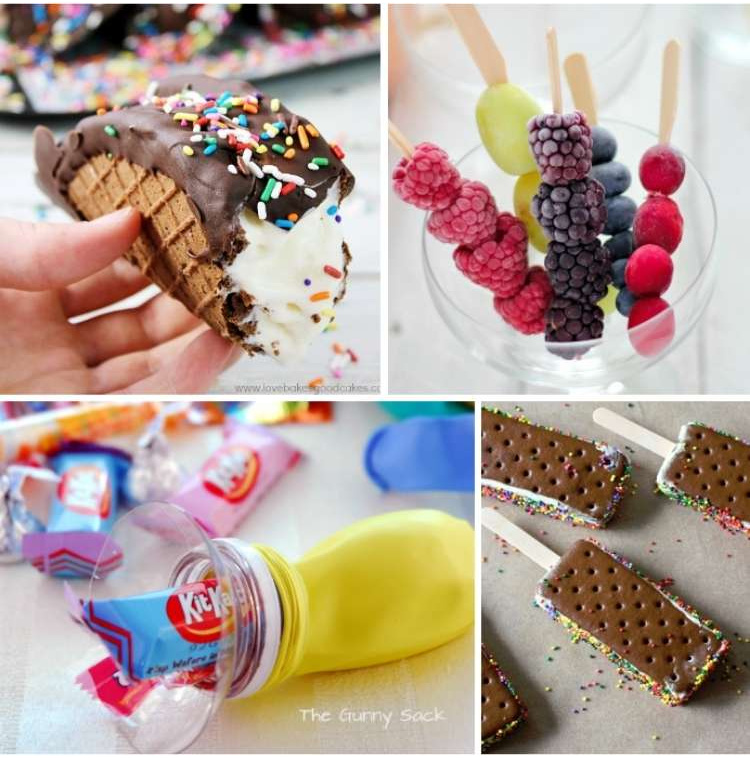 What other party tricks and ideas do you have?
If you are a blogger or just someone with a great idea, hop over to our Facebook community! Leave a photo with your idea, your link, and a description of your tip! We regularly feature posts and ideas that are shared inside our Facebook community!
If you loved these irresistible party food ideas, be sure to check out our other amazing party hacks to make your next party a breeze!
Which of these party foods and recipes is your favorite?