By now you probably either own an Instant Pot or it is on your wishlist. The Instant Pot has taken the world by storm and has everyone raving about it! You can cook wholesome and nutritious meals for your family in such a short time. The other amazing thing about the Instant Pot is the all-in-one-pot. Steam, saute, cook rice, use as a slow cooker, and the list goes on. Here are some quick and easy Instant Pot chicken dinners to add to your recipe binder. Whip these recipes up any day of the week!
Cooking with chicken is always a hit in our home. I love when I head to the store and find chicken marked down or even better a buy one get one free sale. I buy a ton and then individually wrap and seal the chicken up and toss in the freezer. Then I just grab what I need for the recipe and I am ready to go.
Must Try Instant Pot Chicken Dinners The Whole Family Will Enjoy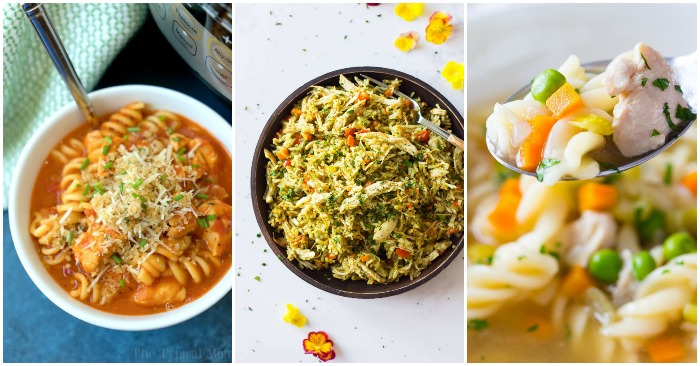 Looking for a pasta dish? Try this Chicken Parmesan Casserole. Minimal ingredients required and within 30 minutes you can have dinner ready and on the table.
Serve up this hearty Quick and Easy Chicken and Rice dish. You can tweak it to fit your taste buds, just adjust the time a bit if you use brown rice. One flavorful and savory dish!
Warm up on a cold winter day with this Instant Pot Chicken Noodle Soup. Peas, carrots, celery, noodles, big chunks of chicken, for a perfect bowl of homemade soup.
Looking for a Whole Chicken Recipe for your Instant Pot? Look no further, here is the perfect recipe. Serve up with your favorite side dishes for a wholesome dinner.
Tikka Masala is a flavorful Indian dish. This creamy masala packs some heat and pairs beautifully with basmati rice or even some naan bread. Either way, your family will thank you.
Whip up this Creamy Salsa Chicken on a busy night. A Mexican inspired dish that you can add your favorite toppings too like lettuce, fresh diced tomatoes, avocado, shredded cheese and more.
Add a little spice to your dish, the Buffalo Chicken Pasta is a quick dish to cook up. Spaghetti noodles with a creamy sauce that is topped with flavorful chicken. Bon appetite.
Even More Delicious Instant Pot Chicken Dinners to Savor
Another great soup is this Chicken Kale Soup. A very healthy and comforting soup that can really give you a boost after a long hard day at work.
The 21 Day Fix Burrito Bowl is another great dinner dish. Chicken and rice with some Mexican inspired spices, and then top to your liking! I am a sour cream, cheese, and avocado type of person for toppings.
I am a lover of Orange Chicken, and kids enjoy it as well. You can have this dish ready to be on the table in 20 minutes, talk about fast!
Here is a savory and sweet dish, the Hawaiian Chicken! You get the sweet from the pineapple that creates a sweet sauce and the savory from the chicken. Great to serve on a bed of rice.
If you are a fan of ordering chicken curry at restaurants, try your hand at home. Here is a simple Chicken Curry Instant Pot recipe that you and your family might really enjoy.
Skip Chinese takeout, and make your own! Here is a finger-licking Honey Sesame Chicken recipe. It gives you that authentic Chinese taste without having to leave your home.
Firecracker Chicken has a mild kick, rich sauce, and tender and moist pieces of chicken paired with sauteed vegetables and you can serve over rice. Add a bit more spice with a sprinkle of crushed red pepper.
This Cheesy Ranch Chicken will melt in your mouth it is so good. This is a kid-approved recipe! Lots of cheese, flavor, and more. You can serve over mashed potatoes, rice, or even with fresh vegetables.
Still learning about your Instant Pot? Check out these IP chicken recipes for beginners.
Do you have any favorite Instant Pot chicken dinners you would like to share?