With a new school year about a month away, it's time to load up on sticky notes. Last year we got into a study slump with my 9-year-old. We decided to try something different by turning sticky notes into a study game.
Turn Sticky Notes Into a Study Game!
Providing optional ways to study will help you find a method that works best for your own child. For my daughter this 3-step process allowed her to learn throughout the process. So, in step one, she wrote out all the vocabulary words on yellow sticky notes and then the definitions on pink ones. 
During the next step, we read all the definitions as we stuck them on the closet door in a random order. This way her yellow sticky notes with all the vocabulary words weren't in the same order as the definitions.
Let the games begin! The first couple rounds of the study game were not timed, although we did throw in some fun game show host imitations while we read through the definitions again. She covered each of the definitions with the corresponding vocabulary words.
Finally, we did two more rounds that were timed. By this point, it was more to add another level of challenge, so we played a "Minute to Win It" style of gameplay.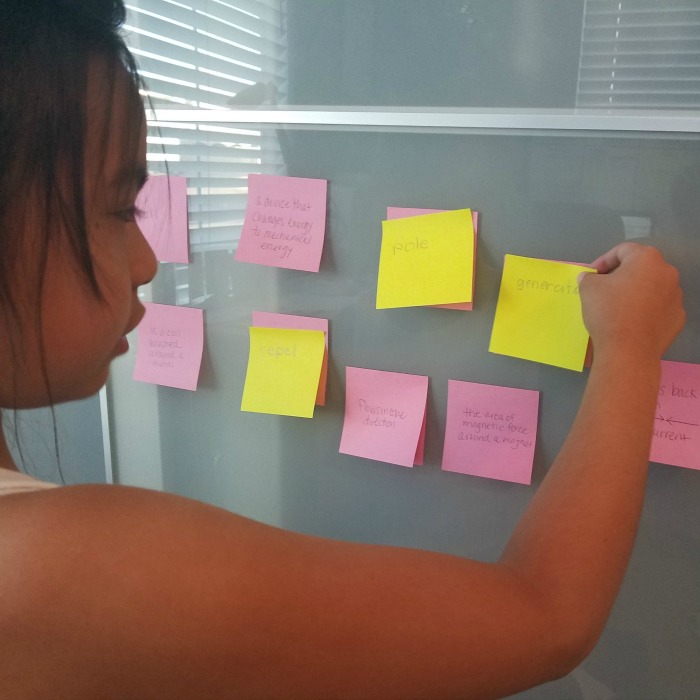 Needless to say, she actually enjoyed this study game. Looks like we will be grabbing more sticky notes for the upcoming school year. Well, I have to admit I just love sticky notes in general, check out the sticky notes earlier. So, I might be grabbing them for both of us.