Do you lose your bookmarks and find yourself reluctantly dog-earing pages in your books so you don't lose your place? I did too until I came up with this ultra-easy DIY bookmark idea. Instead of bending pages in your books, make DIY bookmarks instead! 
Have you ever sat down and thought about all the things you can do with sticky notes? The possibilities are nearly endless – just like the number of ways you can use duct tape. Here on One Crazy House, we're going gaga for sticky notes and sharing with you ideas of how you can use those little square sticky pieces of paper.
Today it's all about making corner DIY bookmarks with sticky notes. You're a book lover, you need them right? I can't tell you how often I've had a bookmark and somehow misplaced it. Don't ask.
One day I was looking for my trusty bookmark and instead found my pile of sticky notes. The wheels began turning as I worked on a solution for my page-saving problem.
I found it! DIY bookmarks were the perfect solution! You can find DIY bookmark ideas all over the place on the internet, but very few are as easy as these DIY corner bookmarks.
Since I'm constantly losing my bookmarks (even nice ones that friends give me), I figured it was time to learn how to make one so that I can replace them anytime I need to.
Related Post: Turn Sticky Notes into a Study Game!
The Versatility of Sticky Notes
I love sticky notes! Seriously, they're a genius invention. What did we ever do before we had sticky notes? They are so versatile you could probably find a billion uses for them. Okay…maybe not quite that many, but I'm probably not too far off.
Whether you use them to keep yourself organized, leave yourself a message, or mark destinations on a map – no matter what you need, there's a way to use sticky notes to accomplish it.
Simple Corner DIY Bookmarks Tutorial
With only 2 supplies needed for this project, I guarantee it's super-duper simple! All you need are sticky notes and washi tape.
Any craft I share with you has to be super simple because I'm really not a crafty person. I've also done a couple of DIY journals, one of them used the same washi tape that I used for this project. That one was a blast!
To stretch my crafting muscles a bit, I came up with this idea for a corner DIY bookmark project.
Supplies Needed to Make a Sticky Note Corner Bookmark
Since you only need 2 supplies, it doesn't get any easier than this (okay, maybe 3 supplies if you include the scissors). This entire project will take you less than 2 minutes, and I bet with practice you could do it in under a minute.
Personalize it any way that you want with different colors of sticky notes and a variety of Washi tape patterns.
Square sticky note

Washi Tape
Step One
Fold a single sticky note into a triangle. Not too complicated, right?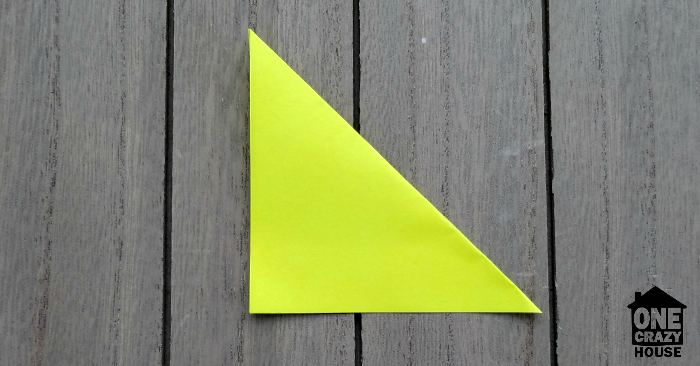 Step Two
Repeat step one. No, really, fold your triangle into a smaller triangle.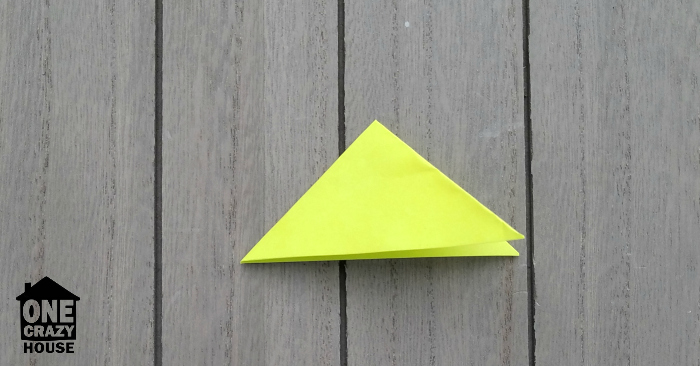 Step Three
Use the washi tape to seal the outer edges.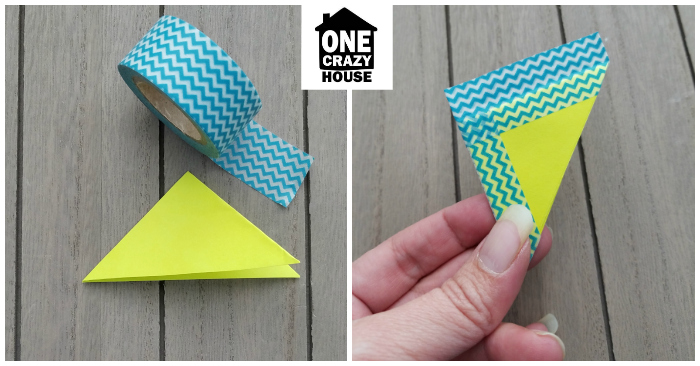 Now, find a great book to read and never "dog ear" another page again!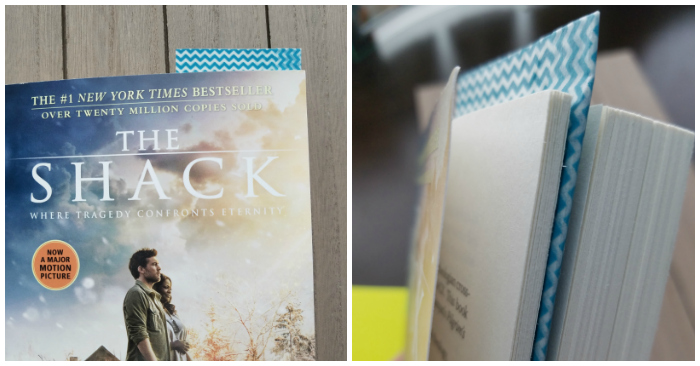 Final Thoughts About Projects with Sticky Notes
This easy DIY bookmark project was super quick, right? You even ended up with something helpful that you can use in your everyday life. 
Whether you consider yourself to be crafty or not, wasn't that fun? With just a little effort, you can find all kinds of crafts and projects to make out of sticky notes. 
Have a little fun with the kids and get them busy coming up with ideas of things to make! You'll create memories together and have something to show for your time too.
And you might just finally use up that pile of sticky notes you've had for 5 years and have an excuse to buy a few more.
Want to share your thoughts about a tip we have? Offer an idea for a future post? Email us!  theonecrazyhouse@gmail.com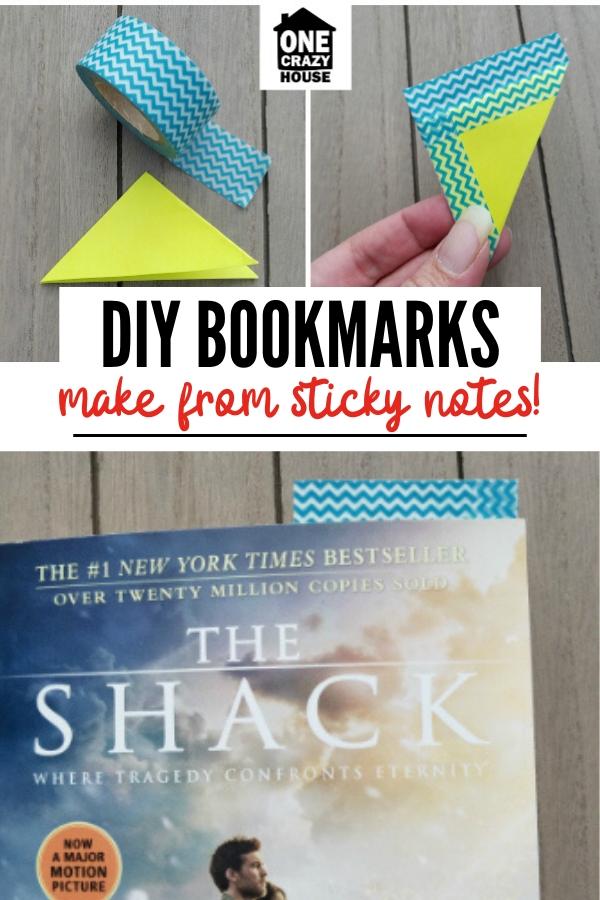 More From One Crazy House: