Tin foil packet dinners were initially popular with the outdoors & camping community, but know they have grown in popularity. They are a very easy and convenient way to cook on an open fire. But, did you know you can cook them at home in the oven or your grill, for a quick and easy dinner for you and your family? Below you'll find some delicious tin foil packet dinners to whip up for a no-fuss weeknight meal.
 Quick and Easy Tin Foil Packet Dinners
Tin foil packet dinners are so simple. Prep the food, pile it in on a piece of tin foil, seal it up, and bake. Unwrap and serve it up, then watch your family go crazy for the delicious flavors! I don't always have a ton of time to prep meals and stand over the stove. Consequently, having tin foil packet dinners on the menu helps free up some time for me in the evenings! With a little prep, you then toss in the oven and don't mess with it until the timer goes off. If you are curious to try, then check out these tin foil packet dinners we've curated for you.
STEAK & BEEF TIN FOIL POUCHES
I might need to try this Jalapeño Cilantro Lime Steak Foil Packets from Sandy Toes & Popsicles. It has a delicious flavor that carries a little kick. Add in some fresh cut veggies, and then you have a complete meal ready in no time flat.
This Hobo Roast recipe from Bev Cooks takes us back a few decades and it's sooo worthwhile!
Lemon Herb Steak is a true winner. Add in some fresh asparagus and the steak and asparagus come out and taste like perfection, no one will know it took so little time to make. [Sandy Toes & Popsicles]
I love garlic! This Butter Garlic Herb Steak Foil Packet recipe from The Recipe Critic sounds perfect.
Honestly, I never would have thought of making a sandwich in a foil pouch, but Chelsea's Messy Apron has the most amazing looking French Dip Sandwich.
SEAFOOD TIN FOIL POUCHES
This Low Country Boil Foil Packet is so yummy if you like seafood and that cajun style. You have shrimp, sausage, corn, potatoes and more, with a spicy and tangy cajun seasoning that will hit the spot. [4 Sons R Us]
The Baked Lemon Cod with Asparagus in Foil is a great option for seafood lovers. It has that lemon tang that brings out the flavors of the cod, and the asparagus pairs wonderfully. [Blackberry Babe]
It Is A Keeper's Spicy Lemon Fish Foil Dinners is a quick dinner to create. This does have a little kick to it, but you can also go less or leave out the spice if you can't take the heat.
This Foil Pack Salmon with Grilled Pineapple Salsa sounds and looks DIVINE! The combination of flavors creates a perfect balance of salty and sweet. [Fit Foodie Finds]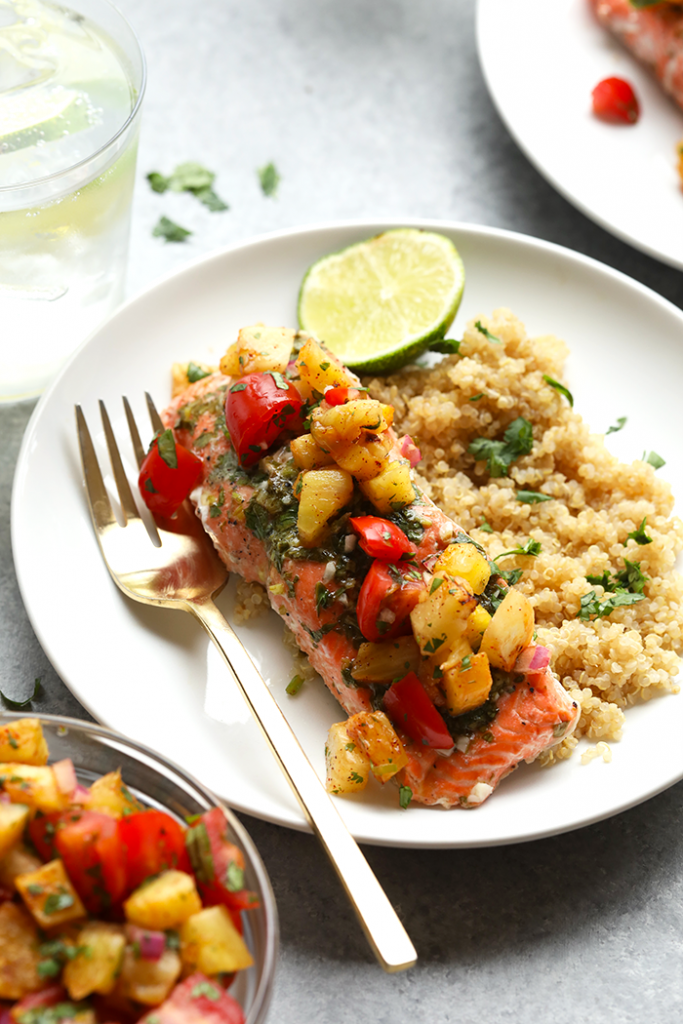 Choose the veggies you love or have on hand, pair with some shrimp and you can create this Shrimp and Veggie Foil Pack Dinner in a hurry. [Call Me PMC]
This Salmon Foil Packets with Summer Vegetables allows you to make salmon that is moist and jam-packed full of flavor. It is easy to over-cook fish, and the foil packet helps lock in that moisture. [Spaceships and Laser Beams]
Chicken & Turkey Tin Foil Pouches
Salsa Chicken is a great dinner idea for when you crave a little Mexican spice. Top with your favorite cheese and add a dollop of sour cream or avocado and dinner is served. [From Val's Kitchen]
Serve up fajitas in a quick and easy way, and still get that fajita flavor you love in these Chicken Fajita Foil Packets. [Growing Up Gabel]
Foil Packet Pineapple Coconut Chicken is a sweet and savory chicken that has the added sweetness from the pineapple and coconut. [Melanie Makes]
Serve up this Foil Packet Grilled Southwest Chicken Dinner with a bed of rice for a perfect meal this winter. Hearty and filling, tasty flavors that leave you satisfied. [Stockpiling Moms]
Soak up some delicious Mediterranean flavors with this Garlicky Chicken Packets with Olive and Sun-Dried Tomatoes dinner. [Lori's Culinary Creations]
Grilled Balsamic Chicken this recipe is cooked on the grill, but you can easily convert it to cook in your oven. Balsamic and chicken really pair nicely, and this tin foil packet also has hearty vegetables. [Spaceships and Laser Beams]
Diced veggies, and topped with ranch dressing are included in this Spicy Ranch Chicken Grilled Foil Packets. [The Dinner Mom]
Here is a wonderful dinner option, Turkey Burger Hobo Packets, they are a turkey burger with diced potatoes that offer that comfort food taste. [Hot Eats and Cool Reads]
Did you find a favorite? If we don't have it listed, please share new ideas in the comments below!