Lunchtime blues got you down? That all changes with these 10 delicious and balanced lunch box ideas for kids in daycare or preschool. Each will add spice and variety to lunchtime with no sliced bread required!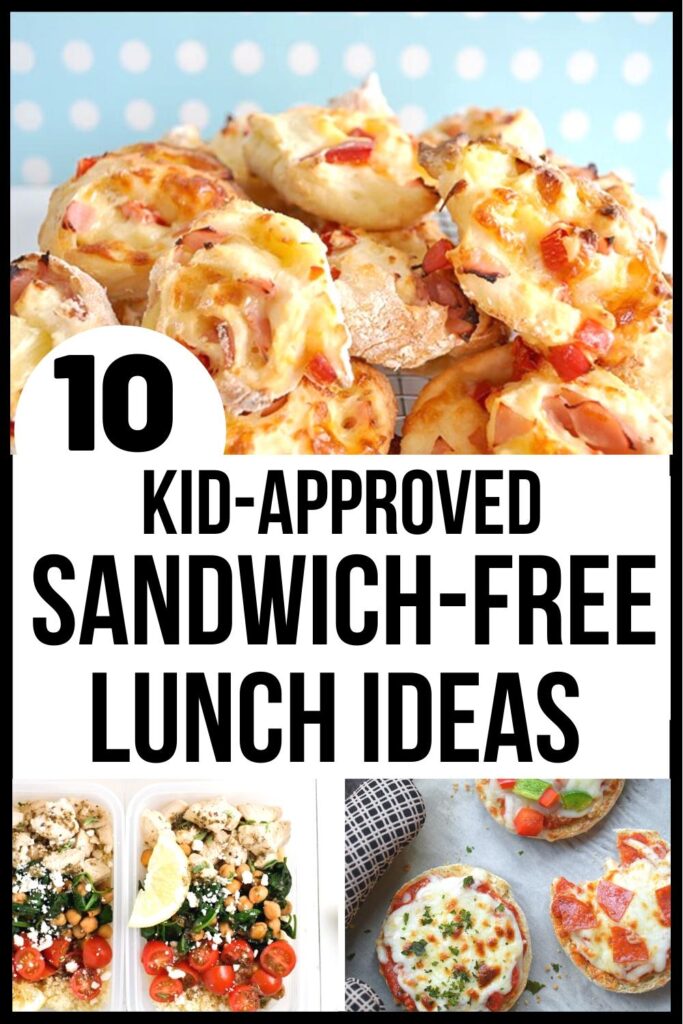 When I was in school, I never had the option to bring my lunch because we always ate school lunches. I was lucky: our school had pretty decent meals and there were only a few days here and there that I didn't like. On those days, I just made an extra trip to the salad bar. 
I remember how I always envied those who got to bring their lunches. I just thought it seemed fun.
Maybe it's because of my experience as a kid watching other kids eat delicious homemade lunches, but I knew I wanted to send lunches to school with my kids. 
Come Up With A Creative Menu Plan For Lunches
The only problem is that, like many moms, after about 3 weeks of school, I'm out of creative ideas and just start making sandwiches. I do it because they're easy. And then, after about another 2 weeks, I wonder why my kids don't eat their lunch.
I don't want my kids coming home from school having only taken one bite out of their lunches.
Plus, in the summertime and during breaks, my kids definitely get tired of eating the same thing over and over. Admittedly, it's far too easy for me to grab slices of bread and lather on the typical peanut butter & jam.
Through some trial and error (and talking with my kids) I finally realized that I needed to create variety with their lunches. If you find your child isn't eating lunch, try changing it up and see if that helps!
Lunch Box Ideas That Ditch The Typical Sandwich
When it comes to kid lunches, they crave variety. A good old sandwich and chips might be the norm, but let's face it, having the same thing day after day is boring for both mom and kids. There IS more to life than sandwiches (and making lunch can still be easy). ?
Unless your kid will only eat 2 things (been there, done that!), it's not likely that sandwiches every day for lunch will remain appealing for long. Avoid sandwich burnout and keep lunchtime interesting with some winning alternatives!
With these delicious kid lunch ideas, you won't be packing the same kid lunch ideas day in and day out. From lunch bowls to quiches to mini pizzas and much more, kids lunches will never be the same (but will always be scarfed down)! 
If you are looking for sandwich-free lunch ideas for kids, check out these amazing ideas. You can use classic healthy lunch boxes or bento box style lunch containers to create a beautiful-looking lunch that will appeal to your child's taste buds. 
Tip: Bento box lunch containers sound complicated or more time-consuming, but they aren't!
Related Post: Bento Lunches Your Kids Will Love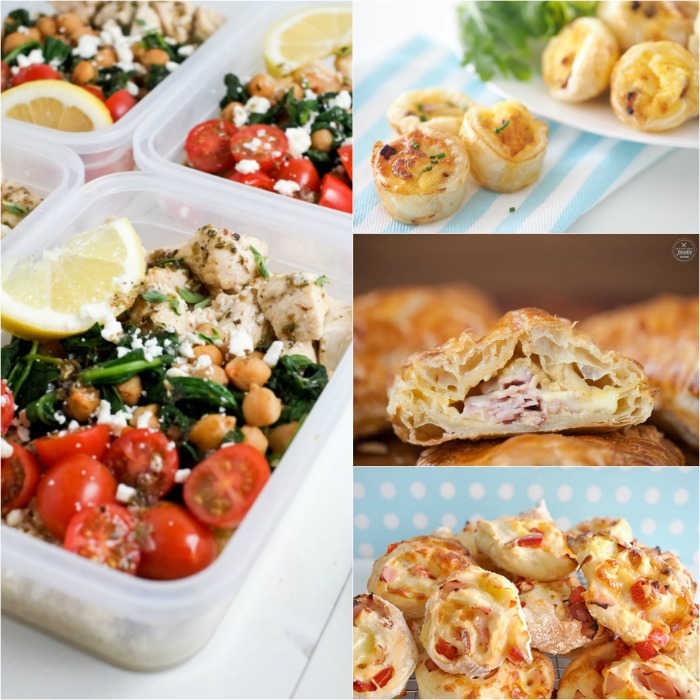 10 Kid-Approved Sandwich-Free Kid Lunch Ideas
Check out these mouthwatering lunches that your kids are sure to love! If you try making each one of these ideas, you already have 2 weeks of lunches planned out. That's what I call #winning.
Create a fun experience for your kid with this chicken or turkey taco bento box. Bento boxes allow a really nice visual experience as your child eats their meal.
Many parents notice how kids devour their food quicker when it looks fun.
Greek chicken, cherry tomatoes or grape tomatoes, edamame snap peas, quinoa and vegetables is a really healthy lunch quinoa salad option for your kid. This is a great lunch idea for older kids! It helps fuel their body and gives them the energy to make it through the second part of the day.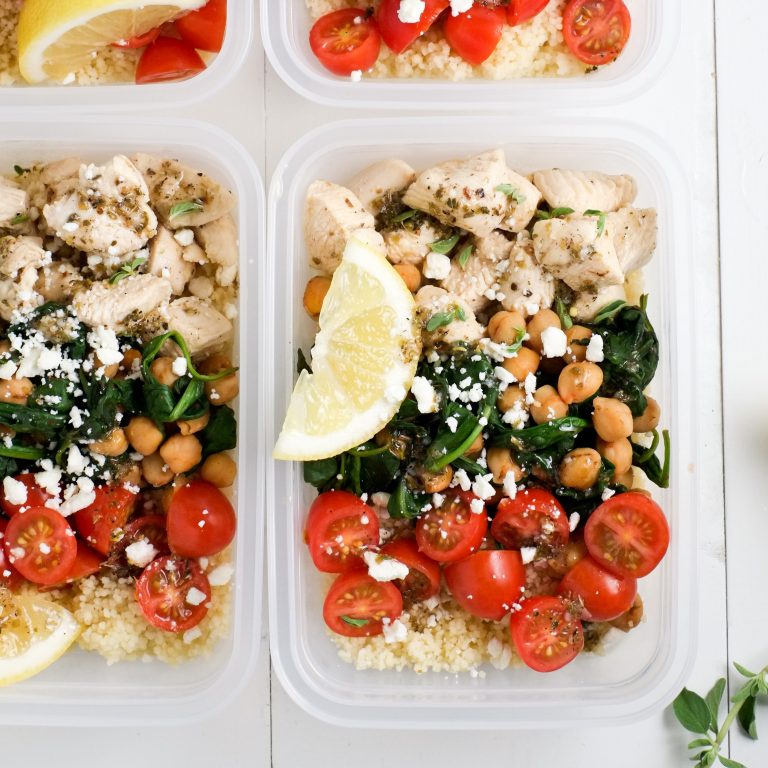 Cheesy sausage tarts are a different way to provide protein for your kid's lunch. They offer a flaky crust, cheese, and a little smoked sausage.
Easy ham and cheese pockets are always a great option. You use puff pastry as the shell and inside you have hearty ham and shredded cheese. As an alternative, you may use egg or tuna too!
A classic food combination that pretty much every kid loves!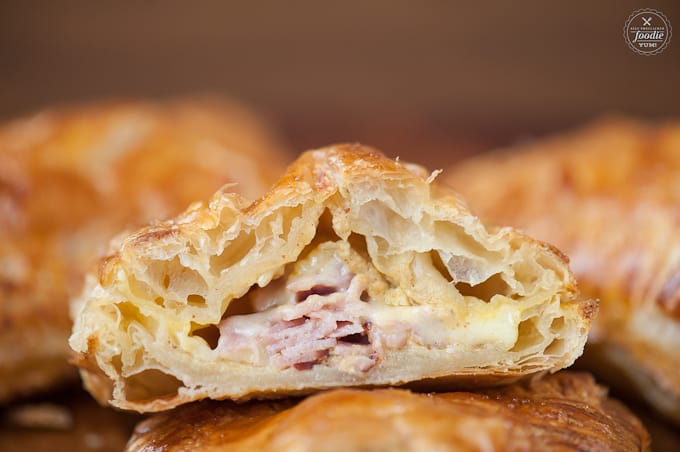 Pizza Muffins
| Starships and Laser Beams
Cheesy goodness, pepperoni or salami, and a garlicky crust are what your kiddo will find in these pepperoni rolls. Best of all, you can take a shortcut and use canned crescent rolls to make it even easier to make them.
Add a side of marinara or pasta salad, and lunch is served.
Make-ahead fajita bowls are great for the whole family – even you! All you need are chicken, bell peppers, onion, spices and tortilla or tortilla chips. 
You can serve on a bed of quinoa for added protein or even brown rice. Make these the night before, pack in the lunch containers and just grab in the morning on your way out the door.
The beauty of these English muffin pizzas is you can add your favorite toppings to them. Whether your child loves having just a few veggies, plain cheese or cream cheese, or devours meat, fix these to order, and they will turn out beautifully each time.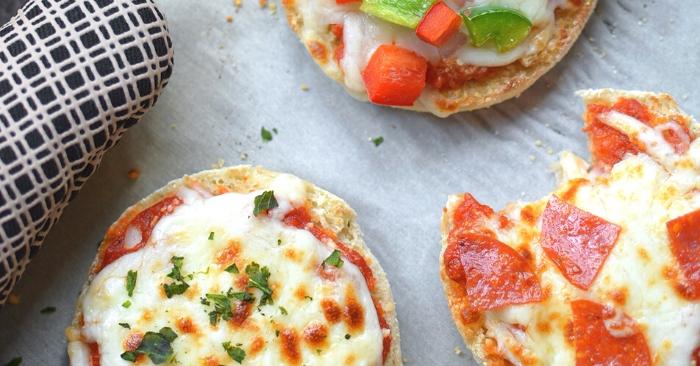 Cheese and bacon mini quiches are great for serving cold for lunches. Pair with some crisp veggies (e.g. carrots, cucumbers and celery), crackers, or fruit (blueberries, raspberries, strawberries, banana, kiwi, watermelon, melon and apple slices). Yum!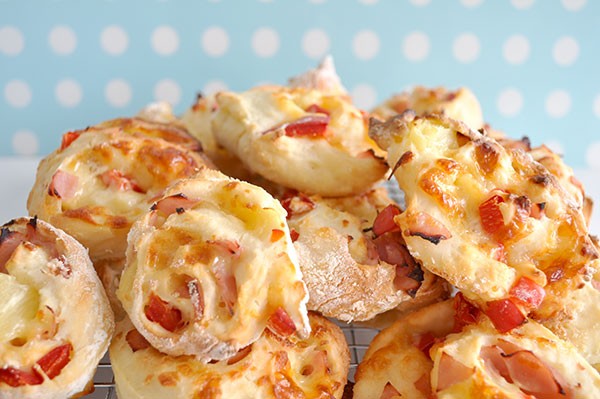 BLT Paleo salad is a great option as well. Kids can eat it like a salad, wrap or roll-ups. Either way, it is a great healthy lunch option.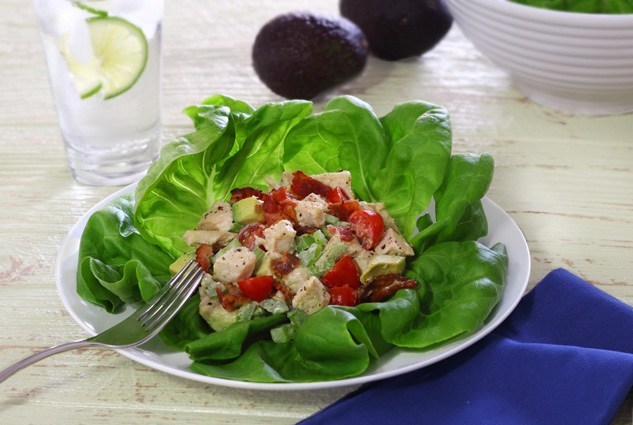 Sweet and savory, these cheese quesadillas are beyond delicious.
Made with healthy ingredients, kids (and adults, alike) will gobble them up and then ask for seconds.
There you go! With these 10 lunch ideas for kids, your kiddo will love lunchtime again (and you'll love the lunch box that comes home empty)!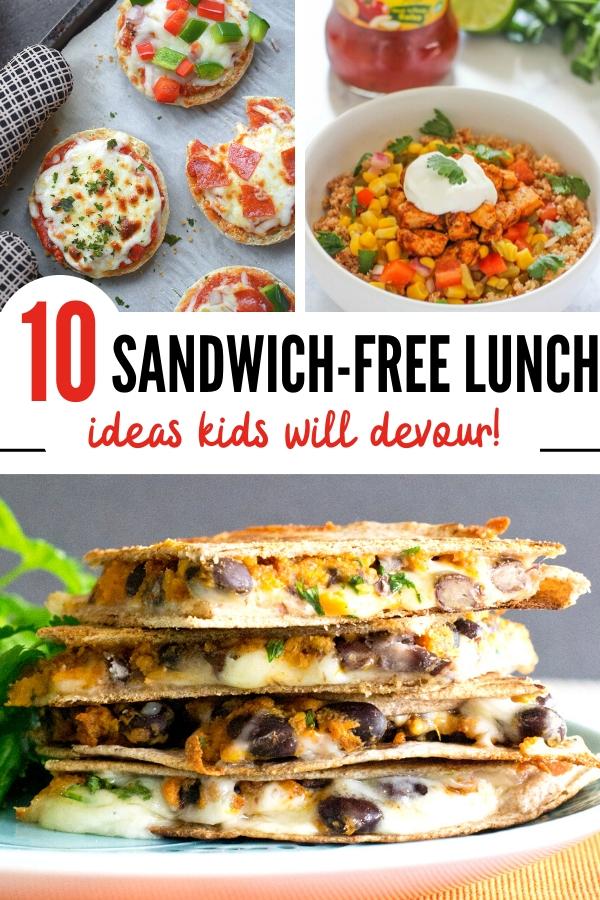 More From One Crazy House:
What is your go-to lunch for your child?