Do you guys get crazy cravings for chocolates or is it just me? And immediately when I satisfy the craving my sugar levels spike to the ceiling. I get so excited you'd think I am a kid. Nothing satisfies quite like a chewy, gooey, chocolatey candy bar when the craving for something sweet hits. But the good thing is you don't have to head to the store to get your chocolate fix. You can easily make your favorite homemade candy bars at home. It may be hard to believe, but these homemade candy bar recipes are even better than the real thing. They are also budget-friendly and time-saving. Try them and see them for yourself!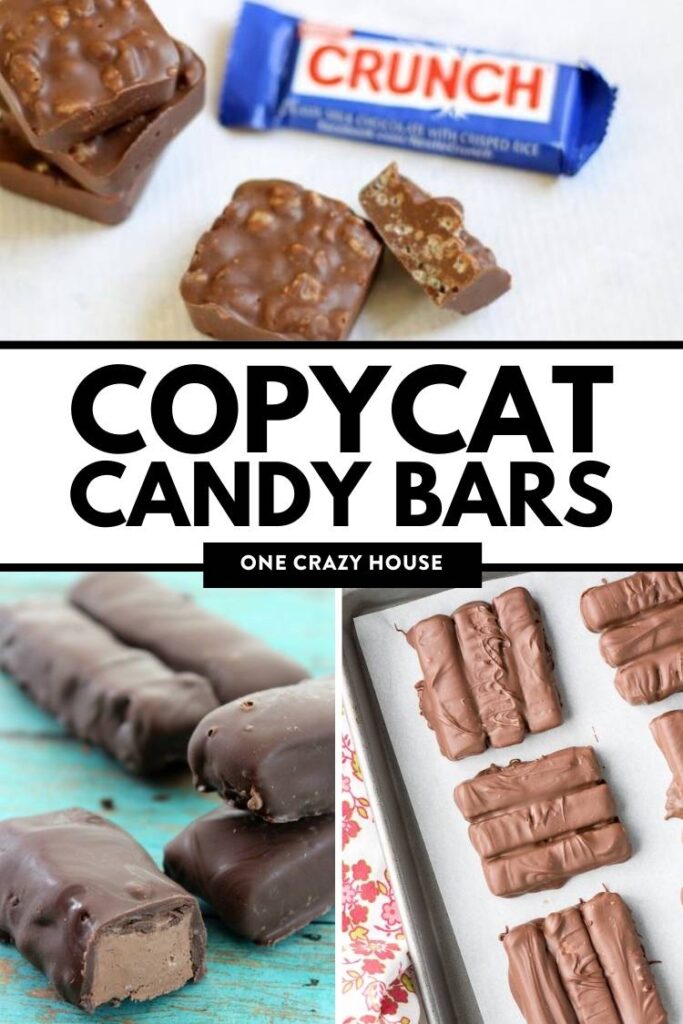 Easy Homemade Candy Bar Recipes That Are Better than the Original
1. Three Musketeers Candy Bar
Three Musketeers has always been my favorite candy bar (and my grandma's, too!). Did you know that originally the candy bar was packaged as three mini candy bars? The flavors were, chocolate, vanilla, and, strawberry but later on in years, they just made one larger candy bar with the chocolate flavor which was the favorite out of the three.
Even with all the different flavors that have been made with time, this chocolate mixture still remains to be the most commonly made and eaten. This copycat version looks even better than the kind you buy in the store. You can't go wrong with lots of marshmallow creme and chocolate!
2. Copycat Almond Joys
Growing up, I loved almonds and any meal that had them outrightly became my favorite. Almond chocolates topped the list of my favorite chocolate brands. They still do. Knowing that I can make and microwave my own almond candy bars is an exhilarating idea. With three ingredients I get to enjoy my almond joy. Chocolate, coconut, and almonds come together in a beautiful way to make these Copycat Almond Joys.
3. Coconut Cream Bars
Guys with a sweet tooth you'll definitely love these make-at-home candy bars. The coconut cream bars taste just like Mounds. Seriously! They are so good you won't want to be done with them. Using just three ingredients you'll end up with something that is so delectable and more to this, it's gluten-free.
Interestingly, in the process of making the bars, you get to dip the coconut-creamy-dreamy bars in melted chocolate and, end up with a heavenly experience. The chocolate part gives me goosebumps. I am always anticipating having the first bite and feel the amazing taste of it.
4. Homemade Twix Bars
Have you ever heard of healthy twix? Never in my life! I mean how can twix be sweet and yet healthy! I am equally surprised like you. When you take a bite out of these Homemade Twix Bars, you won't believe they're gluten-free, paleo and vegan. Amazingly satisfying! The ingredients for this copycat candy bar recipe are simple and achieve great results. You'll be wowed for sure!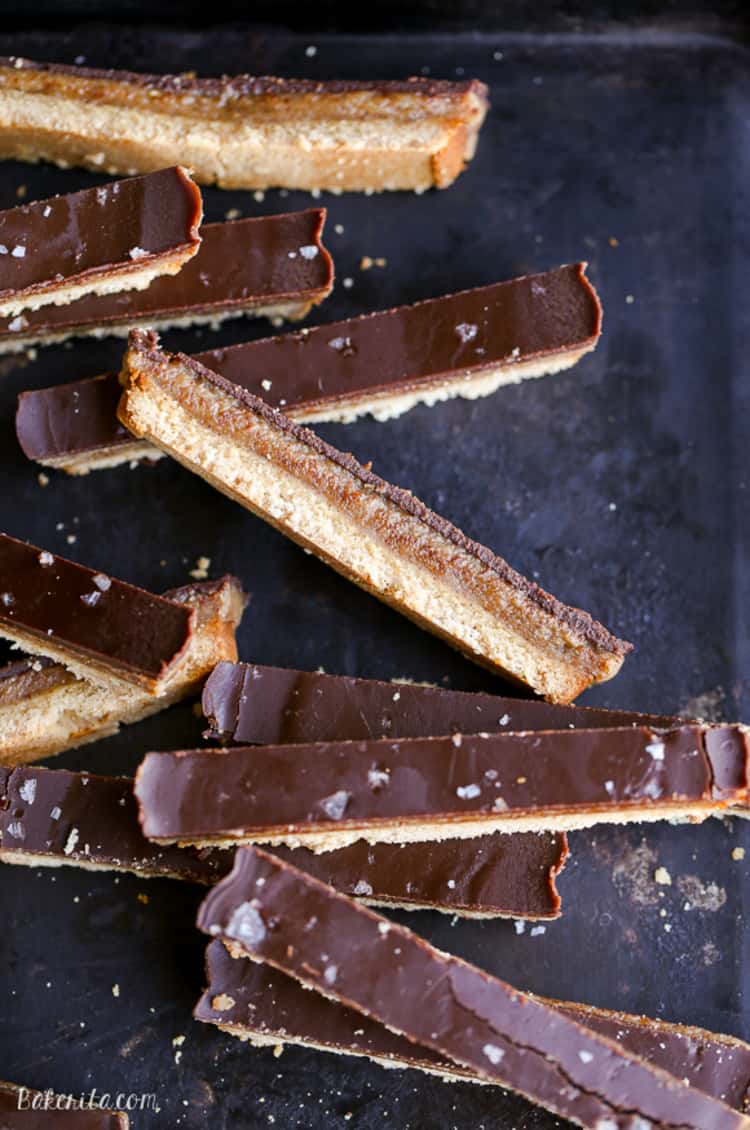 5. Twix Copycat Bars
If you want some ooey, gooey Twix copycat bars, enough to feed a crowd, try this recipe! With a buttery cookie base, a layer of decadent smooth caramel, and a rich chocolate ganache, your homemade bars will come together in about an hour or less. Within a short time, you get to enjoy your sweet candy bars. The three layers are so well topped on each other giving you a maximum taste of each ingredient used.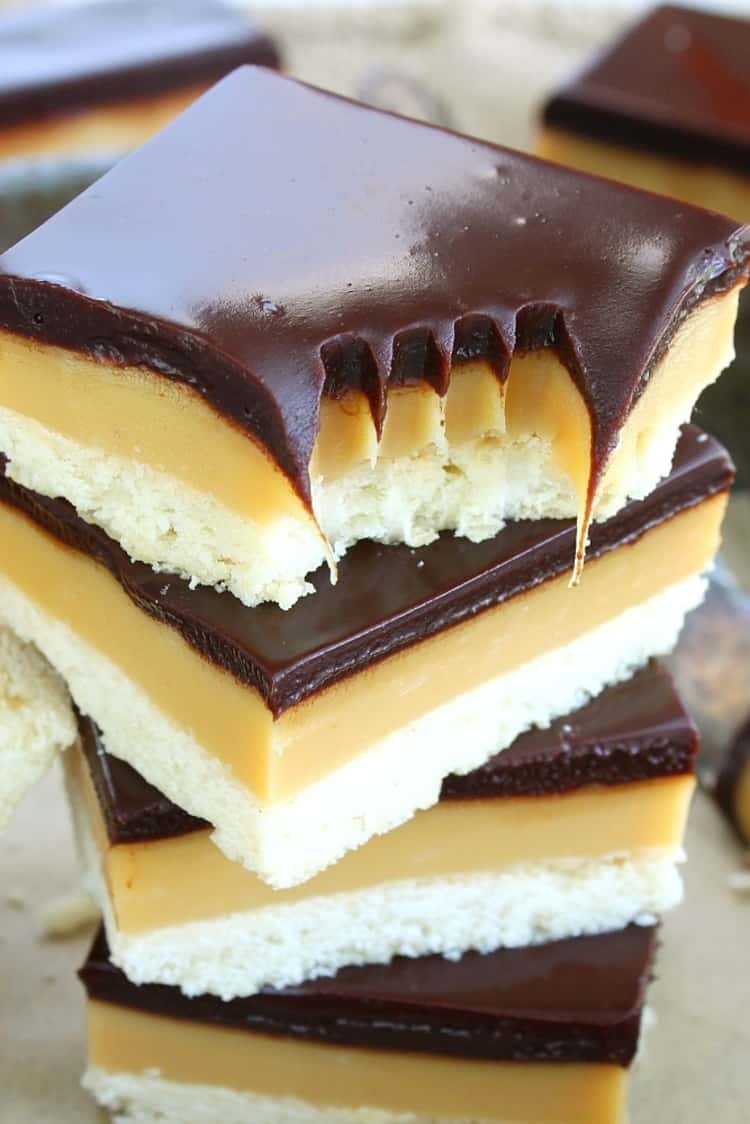 6. Homemade Milky Ways
Whoever came up with this must be a genius. Who knew you could prepare Homemade Milky Ways in just 20 minutes with five simple ingredients you already have in your kitchen! Try this candy copycat recipe and be sure to have your kids fighting to have the first bite! Coz they'll be falling in love with this.
And to think you only need smooth chocolate, creamy, chewy nougat, and soft gooey caramel to come up with the candy bars, all so easy to find, it gets more interestingly exciting to prepare.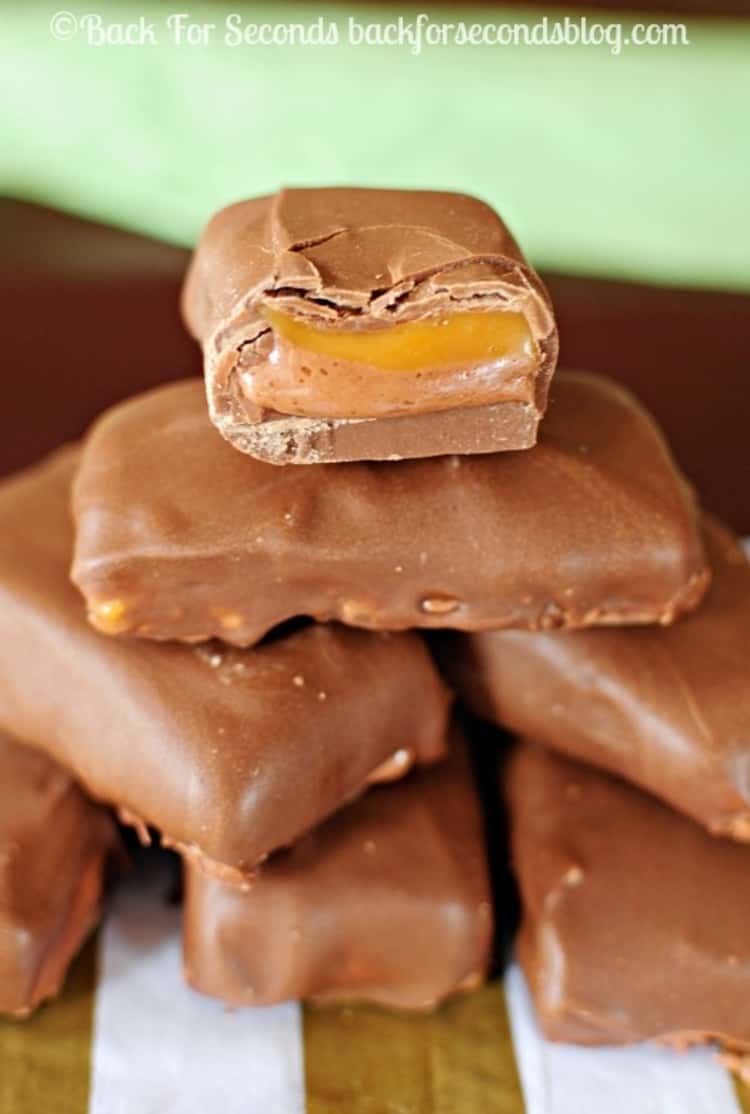 7. Polar Bear Paws
Polar Bear Paws are the perfect gift-giving candy, but you'll want to keep these all to yourself! Filled with salty roasted peanuts and soft buttery caramel, all coated in sweet white chocolate, these candy bars are just the right holiday treats. Actually, it could be a giveaway when meeting family and friends at parties. You can absolutely try them now that summer is here with us and add a little joy to it. The nuts look so yummy and crunchy. Imagine just having a bite of the entire bar!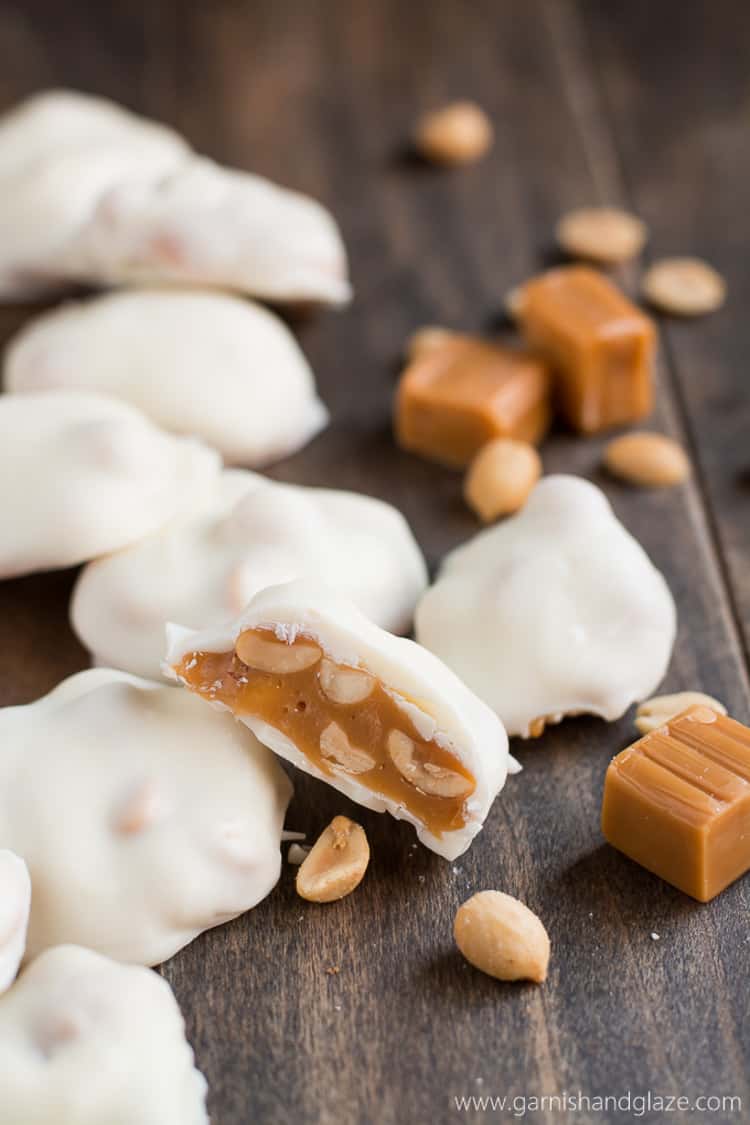 8. Chunky Candy Bar
If you've never had a Chunky Bar, you're in for a treat. They're salty, crunchy, and sweet all in one. These homemade Chunky Bars are delicious and the recipe is super easy to crack! All you'll need is a chocolate bar mold; which is easily found at your local craft store, some raisins, and chopped peanuts. A super delish recipe to get you and your kids or family all the more excited.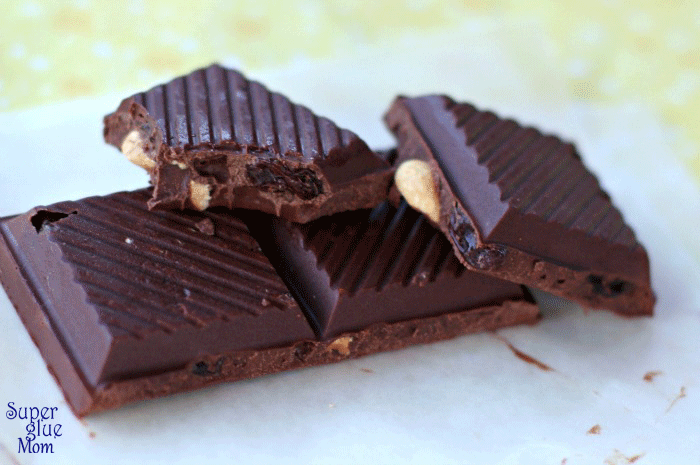 9. Homemade Crunch Bars
Homemade Crunch Bars are one of the easiest candy bars to recreate at home. You can't go wrong with this recipe. If you are a huge fan of melting chocolate chips and adding stuff to them then you are going to love the entire process of these homemade crunch candy bars. They are super easy to make and save you the time of going to look for some in the mall or store. Plus with the addition of stuff, you can add whatever you love and end up with a really tasty crunch bar (my love for raisins will be much felt here).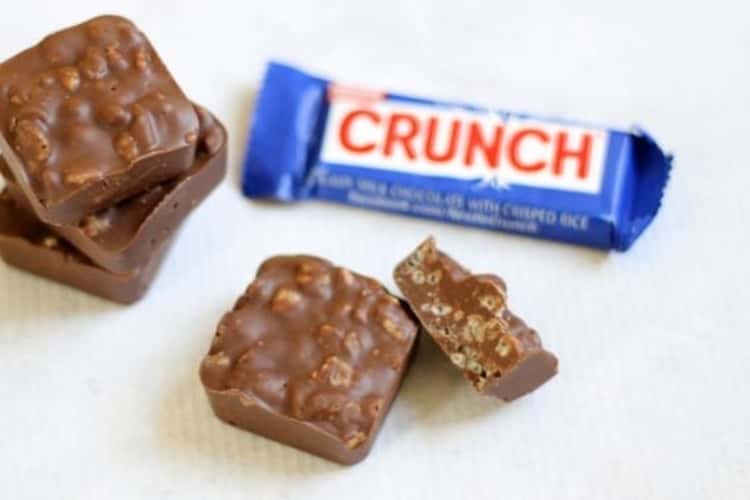 10. Rolo Candy Mini Bites
If you're a fan of Rolo candies, you'll love how they're incorporated into the recipe for these Take 5 Mini Bites. Delish! The caramel and chocolate combo is the one thing you can't be disappointed in. The taste is so much wowing you will regret not having tried the copycat recipe before. With easy-to-find ingredients; chocolate, caramel, and cream or milk, you'll make your bites within minutes. They are super easy to make and delectable to have. And the crunchiness is it for me!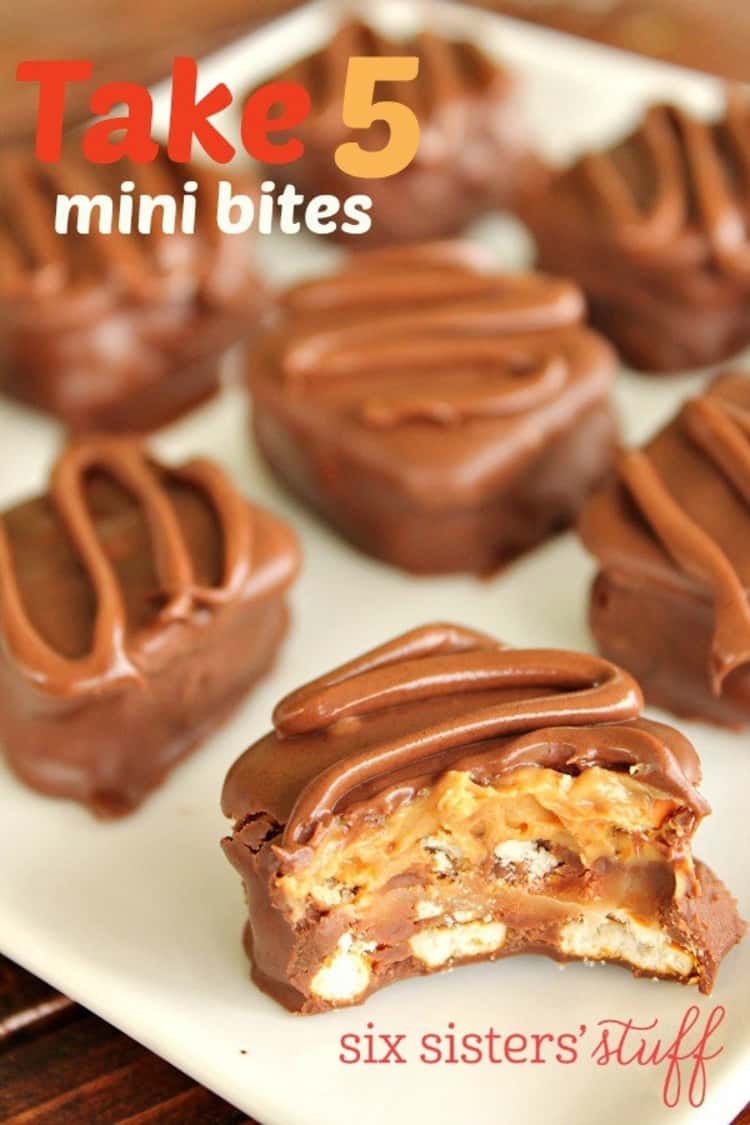 11. Butterfinger Candy Bars
Did you know that you could use candy corn to recreate Butterfinger Bars? That's a great way to use up leftover candy around Halloween. With candy corn, peanut butter, and chocolate you get to have your homemade Butterfingers. That's simply it! Three simple, easy ingredients for you to get a heavenly taste of your own homemade butterfingers. And your leftover candy corns get a purpose you never thought they could. Super creative.
12. Reese's Peanut Cups Candy Bars
You can't forget Reese's Peanut Cups. They're super popular and super yummy. You can easily have these bars whenever you have a crazy craving at the comfort of your home coz it just takes about 10 minutes to have them ready.  And in no time your cravings get satisfied. Once ready not a single soul can resist that smooth, creamy peanut butter layer topped with rich, luscious chocolate. The taste is something to die for. No kidding.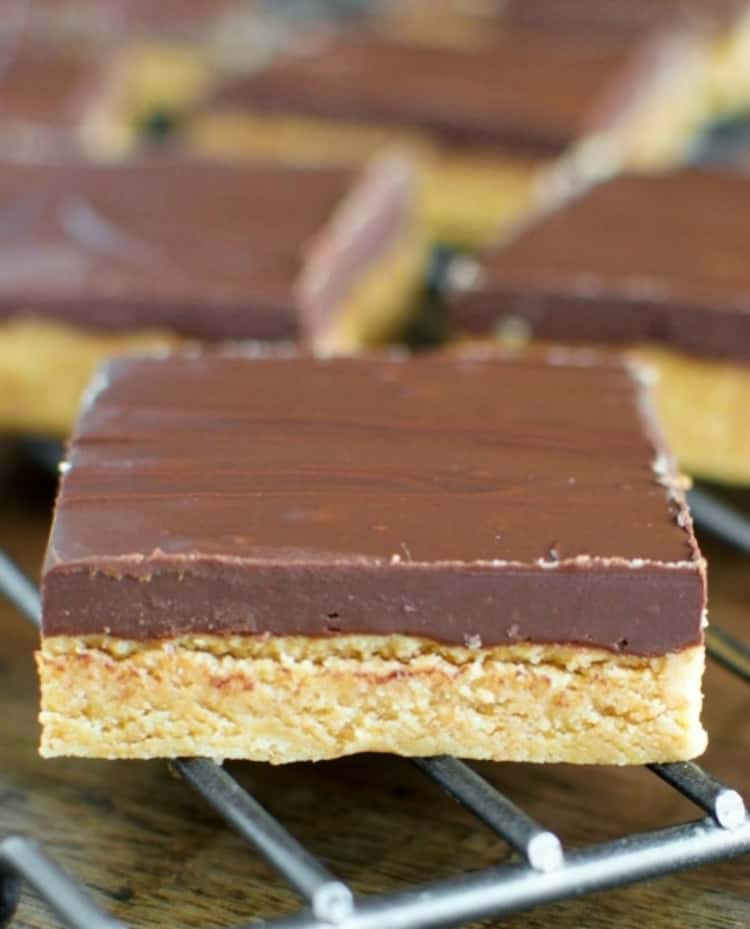 13. Kit Kat Copycat Candy Bars
Copycat Kit Kat Bars are another sweet treat option if your home is gluten-free. They are simply delicious wafer cookies coated or dipped in chocolate. You can have them gluten-free or not. It's all up to you. Look at all the chocolate dripping! Mamamia! Your kids will love these bars and nug you to always make them for them. But it's worth the nug. I promise.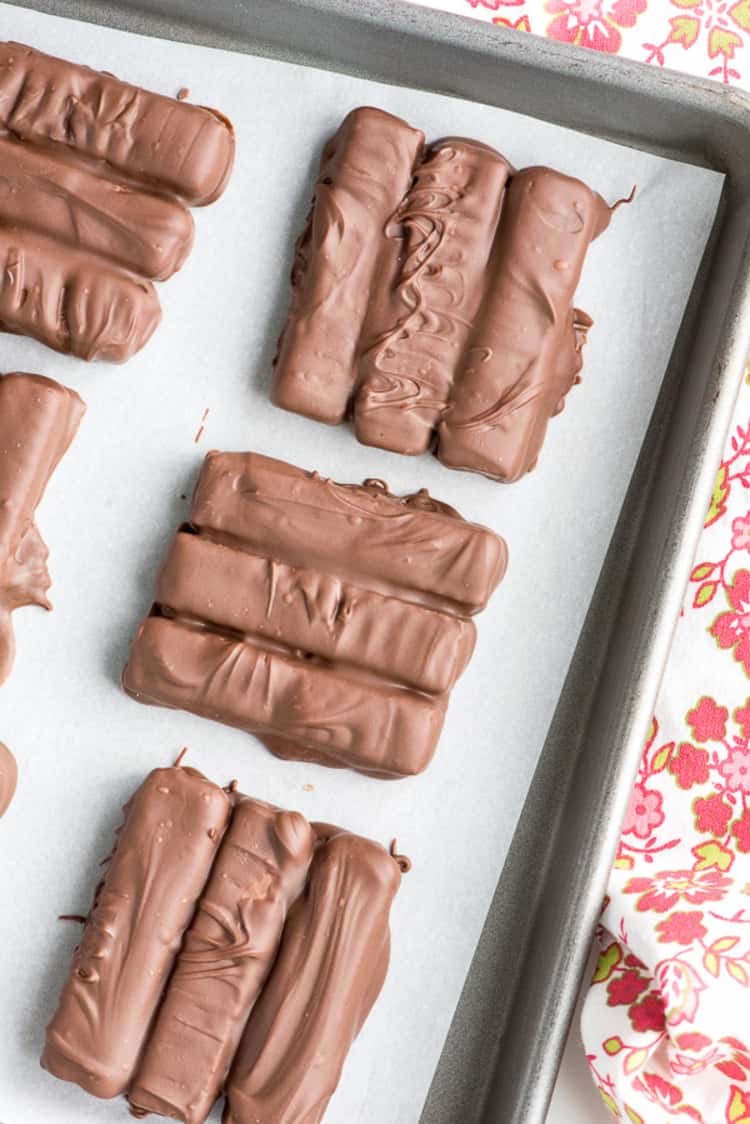 14. Homemade Snickers
Homemade Snickers are even better than the original and surprisingly, they only take 30 minutes to make from start to finish. And the results are mouth-watering. You will laugh at yourself for not being able to have enough of them. They look so nice and every bite creates a craving for the next one.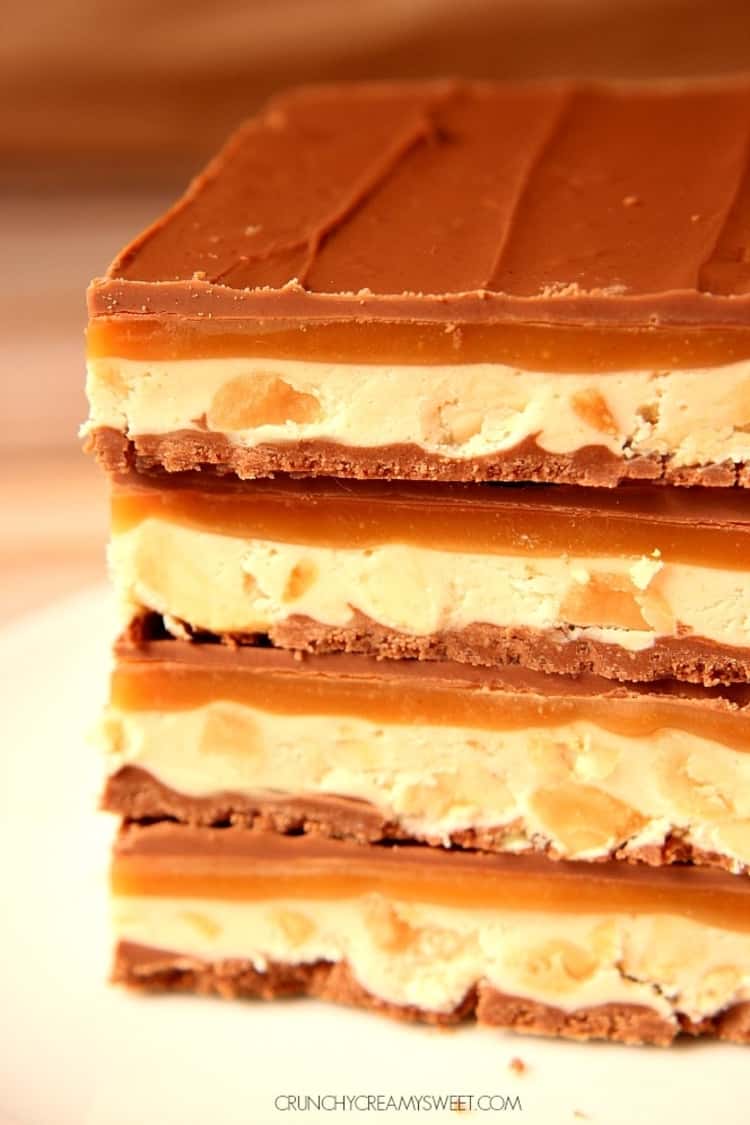 Being a sweet tooth person is enjoyable if you can get to have your favorite bites and candies conveniently. With the list of copycat candy bars we got lined up for you, you can get to save much time and money to get your favorite candies all from the comfort of your home. Try them out and let us know how the experience is for you in our comments section.
Don't snicker, but giving someone a candy bar is a simple and affordable way to show your appreciation.
Did you love the copycat candy bars we listed down for you? You will also love these homemade recipes that you can hack:
Which of these yummy homemade candy bar recipes will you try out today? Let us know in the comments!