Somehow we blinked and the holiday season crept up on us again. Maybe after a certain age, time just seems to move so much faster. With the gift list growing, it's nice to think handmade gifts are still special and thoughtful. I'm no Martha, though, so I had to look for easy DIY gift ideas to make. If some of you feel the same way, here are 18 ideas to get you inspired.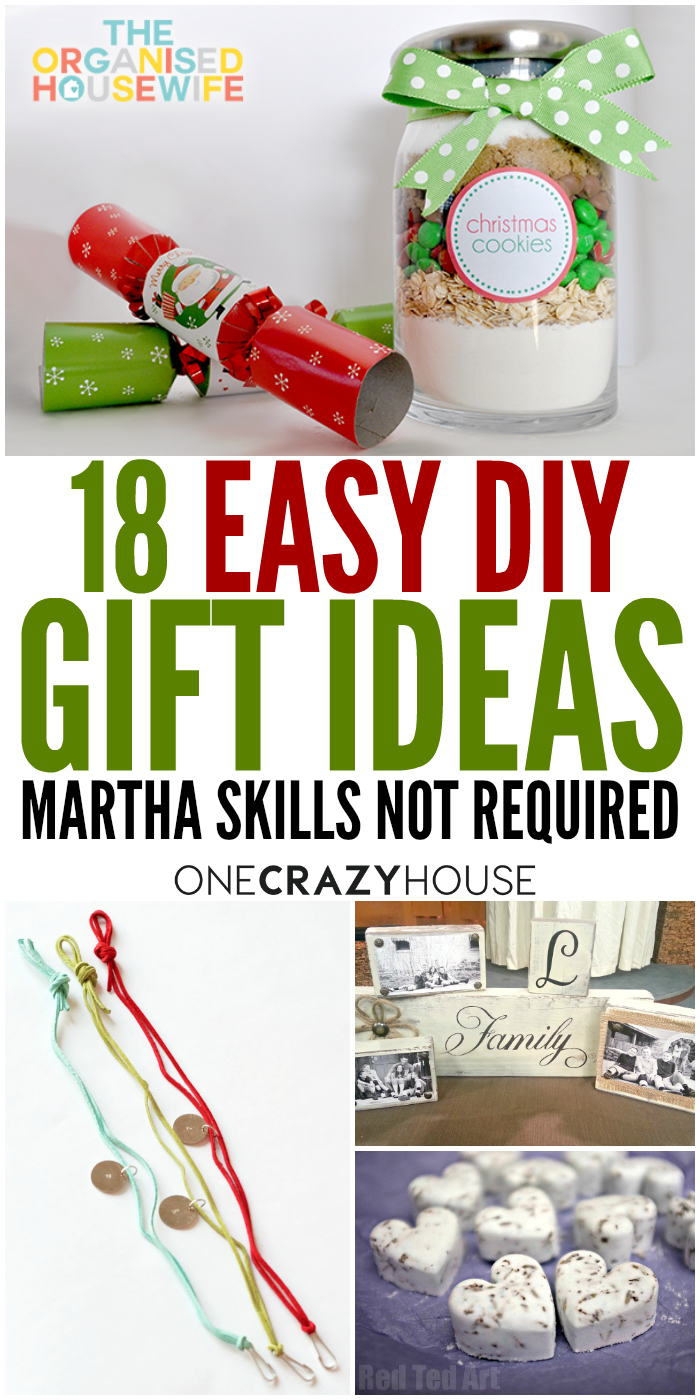 18 Easy DIY Gift Ideas
From pampering to edibles these homemade gift ideas look more difficult than they really are. Of course, this is awesome for us because our gifts will look like spent hours and hours on them. I hope you find a few favorites like I have.
DIY Gifts that Pamper
I love the idea of homemade shaving cream! This Rosemary Mint recipe from Food for My Family looks perfect for men and women to stay moisturized well after shaving.
Coffee and pampering, SOLD! Gimme Some Oven's DIY Coffee Scrub combines two of my favorite things in my no-kids zone. Okay, the mythical no-kids zone may not exist, but I can pretend.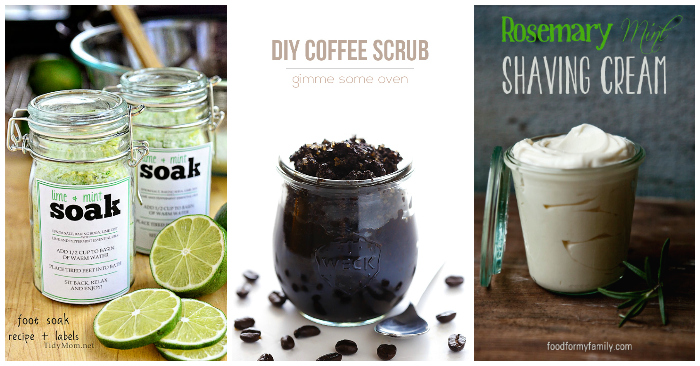 Get a good post work day soak in, with this Mint Milk Bath Recipe from Julie Blanner. Sounds so much better than that time I didn't ask anyone how to use the essential oils I bought. How as I supposed to know you don't pour peppermint oil in your bath water. Yes, OUCH!!
I worked in retail for a good 8 years and my feet would be so sore by the end of the day. This DIY Lime Mint Foot Soak would be the perfect gift for your friends that still suffer from achy feet.
Finally, let's round off this section with an easy DIY gift that the kids can make! This bath bombs recipe from Red Ted Art, would be a great gift for all the teachers in their lives.
Yummy DIY Gift Ideas
These yummy easy DIY gift ideas are perfect for co-workers, teachers, and family! I have a couple favorites myself.
So funny story really, my husband tried to make pumpkin pie one year. He figured all you need to do was pour the can of pumpkin into a pre-made pie crust, bake and voila, you'd have pumpkin pie. Well, I'm sure most of you know it's not that simple. This Pumpkin Pie Spice Mix, from The Yummy Life, would've been perfect for him.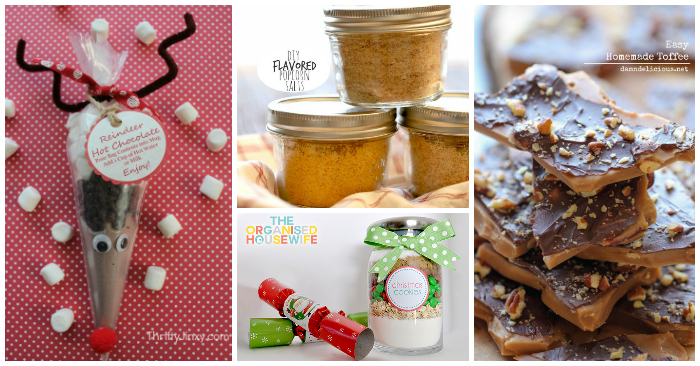 Ari's Menu has a cute Gluten-Free Brownie Mix Jar gift idea that would be awesome for teacher gifts.
I love toffee! This Easy Homemade Toffee by Damn Delicious perfect gift for those sweet tooths in your life. It's pictured above and looks so yummy.
Do you have any movie lovers on your gift list? Make a gift basket out of these DIY Flavored Popcorn Salts from The Cookie Rookie. Add a RedBox gift card or a DVD to make a fun gift basket.
Instead of sending the kiddos off with the traditional candy canes for class gifts, make these cute Reindeer Hot Chocolate kits from Thrifty Jinxy.
Lastly, but definitely not least…this cute Christmas Cookie Gift Jar, from The Organised Housewife. It's so festive and colorful!
Unique Gift Ideas
These unique gift ideas are ideal for that personal touch, maybe the photo blocks for grandma or the beautiful tray for a sister?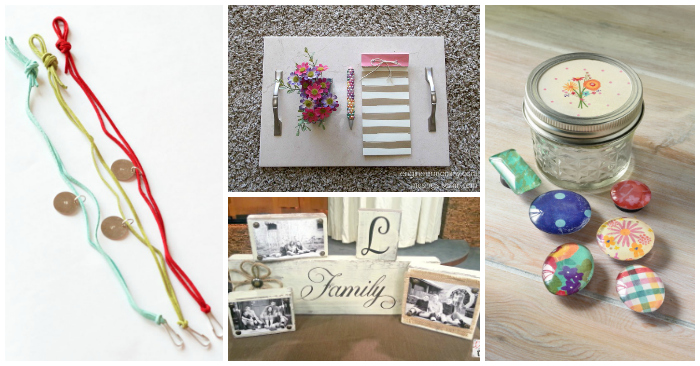 The photo blocks in the collage above are BEAUTIFUL and classic. Read the whole tutorial over at Diva of DIY.
If you have a teenager, these Stamped Friendship Bracelets from I Heart Naptime, would be the perfect gift to work on together.
Do you have a Kate Spade fan in your life? These cute KS Inspired Key Fobs, by Lil' Luna, would be a great gift. I just think they are cute in pretty in general, though.
Living Well Mom has a simple tutorial for a beautiful DIY Ceramic tray. I love how elegant it looks!
So I would personally love receiving these Handmade Magnets by Mod Podge Rocks, because they would look amazing on my office board.
You could even use puffy paints for these personalized umbrellas, from A Mom's Take, and it would work just as great.
Finally, I know you wish this list could keep going, but we are down to our final idea. But, SURPRISE, you'll find a number of great ideas in 21 Cork Craft Ideas You'll Actually Use.
So, did you find a few favorites? Make sure you share your own Easy DIY Gift Ideas in the comments, we'd love to hear them!