When it comes to our favorite DIY projects, wine cork crafts rank way up there for us!
Picture it: it's the end of the day. Maybe it's been really stressful or maybe it's been a really good day. Either way, you can't wait to break into that bottle of wine calling to you from the refrigerator. When the glorious moment finally arrives, you pour your glass.
But have you ever stopped and looked at the wine cork sitting there on the counter (or in your hand) and realized that this seemingly insignificant object has enormous potential?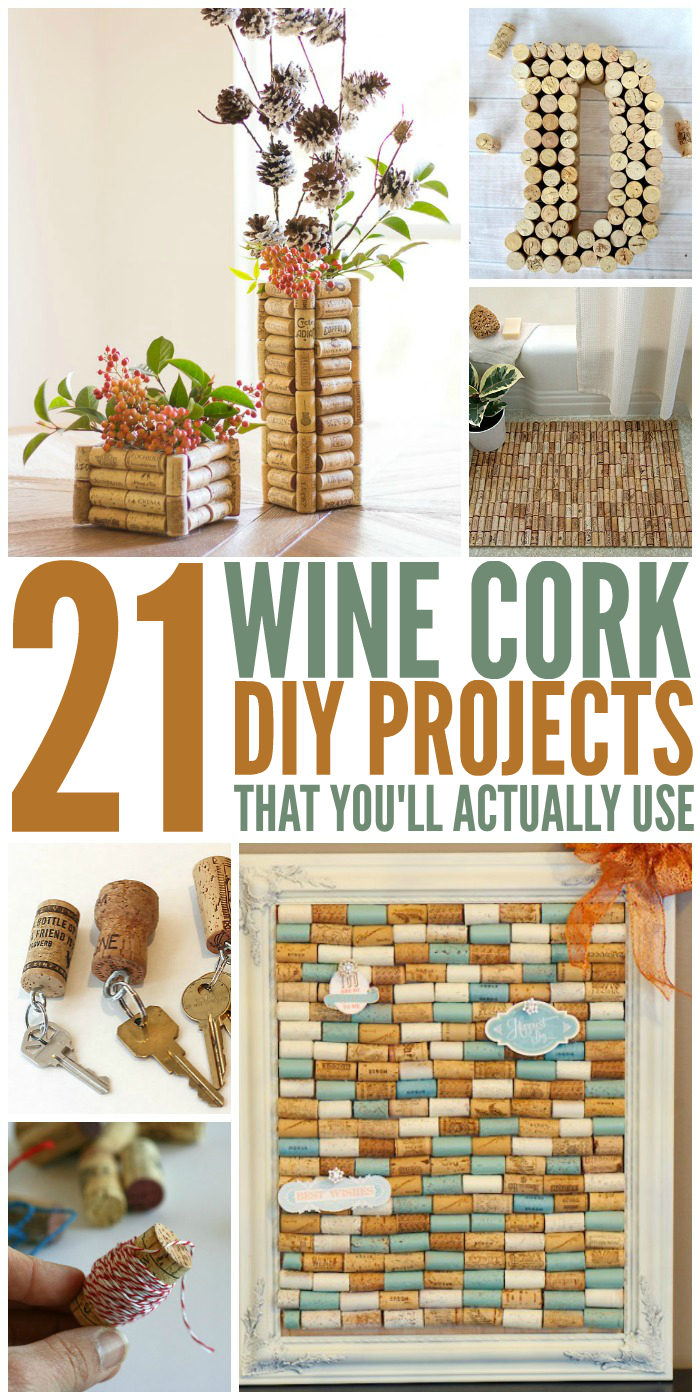 On its own it's nothing but a simple cork. But add several other corks, and you have nearly endless crafting projects at your fingertips! These aren't just your average crafting projects, they are some of the prettiest, and most useful DIY wine cork projects on the web. Don't believe me? Prepare to have your mind blown!
Easy & Creative Wine Cork Crafts
From artsy to practical, we've gathered some amazing wine cork crafts. I love the colors in the wine cork bulletin board, it actually might be my own favorite. It may take me a bit to collect enough corks, though!
But if you already have a whole jar full of corks (that you have no idea what to do with) take a look at these 21 DIY cork ideas and make your next dinner party or birthday gift as unforgettable and unique as you!
1. Wine Cork Coasters for Your Wine Glasses
Make wine cork coasters to set your wine glasses on, and protect your furniture with sustainable style. It's just the right thing to do! This design is both artistic and functional. Your guests will rave about these at your next dinner party and marvel at how creative you are! For this cork drink coaster craft you will need: wine corks, a box cutter, sand paper, and a hot glue gun.
Couple these with the DIY wine charms idea (coming up!), and you've got yourself a winning formula.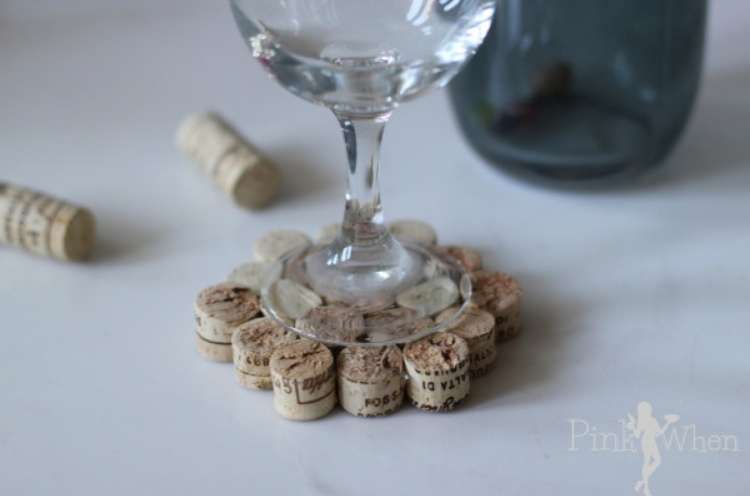 2. A Wine Cork Bulletin Board Would Make a Great Gift!
A wine cork bulletin board is exactly what mom wants! She will never forget her to-do list, and she will never forget you!
The beauty of this gift is that you can customize it by painting the corks your favorite color, so it doesn't have to be white and blue, it can be black and orange and really stand out as a great decoration in your home.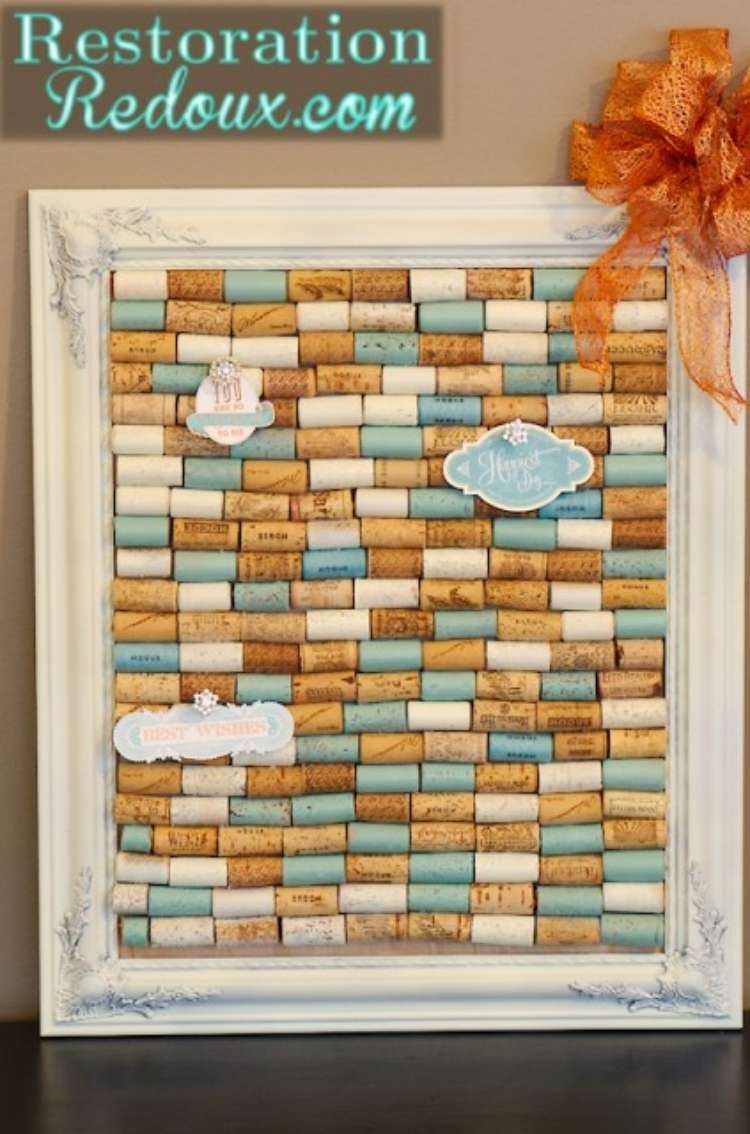 3. A Chalkboard and Wine Cork Place Cards for Your Next Big Event!
Make chalkboard and wine cork place cards. You can reuse them again and again when hosting dinners–and how cute is this for a bridal shower?!
Wine lovers will really appreciate you thinking of them when you show off their names on corks from wines from all around the world!
You can buy the tiny chalkboards at any craft store. Stand them up with simple wooden sticks, dowels, or even popsicle sticks.
4. A Wine Cork Jewelry Organizer (to Combine Your Two Favorite Things!)
It can be difficult to keep jewelry organized! Some people keep theirs in bags, and the necklaces get all tangled up, making it impossible to actually enjoy the act of putting them on.
No more tears! Put wine corks inside a frame, add hooks, and you've got yourself a cool jewelry organizer! The two loves of your life combined–and the small metal hook installation is a breeze in the cork.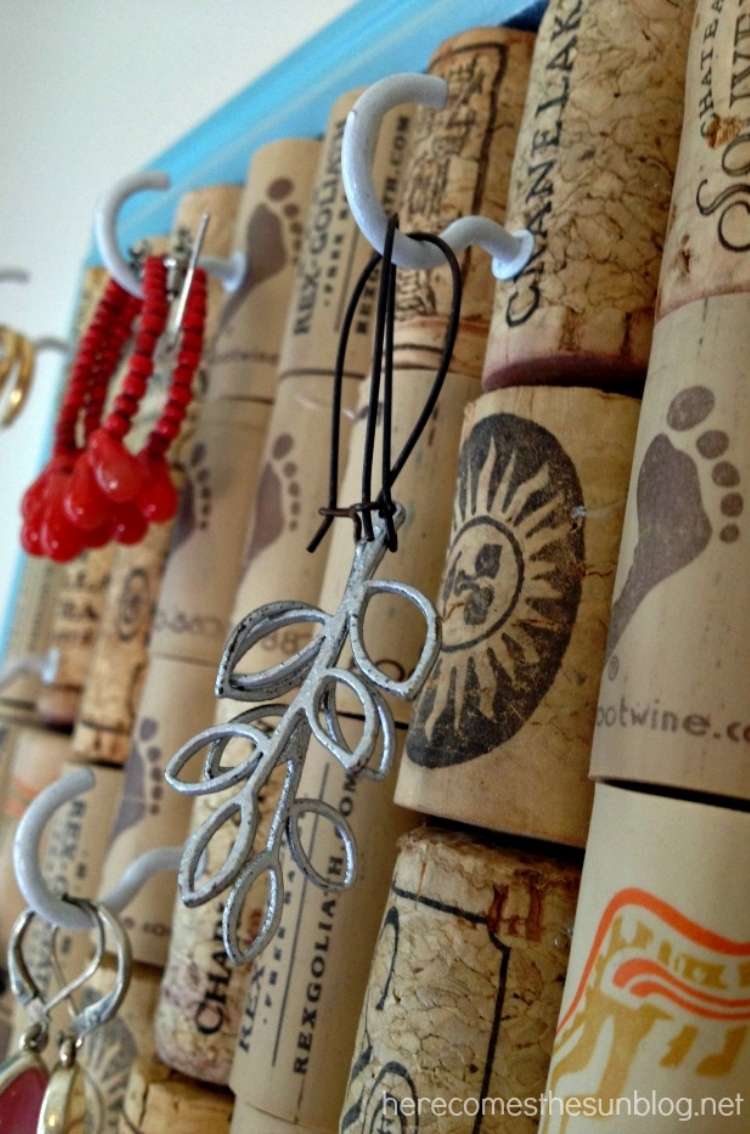 5. Make a Wine Cork Tray and Impress Your Fancy Dinner Party Guests
Make a wine cork tray to use at parties and get-togethers, and you'll be the talk of the town. Your friends will ask for more DIY ideas to bring their love for wine into their daily lives, and then you can dazzle them with all your DIY wine cork craft knowledge!
Remember that you can cut the corks in any shape, so they don't have to fit into the tray exactly right. The best tool for the job would be a hacksaw, but if you have a sharp serrated knife, you will be all set! Be careful and practice safety measures!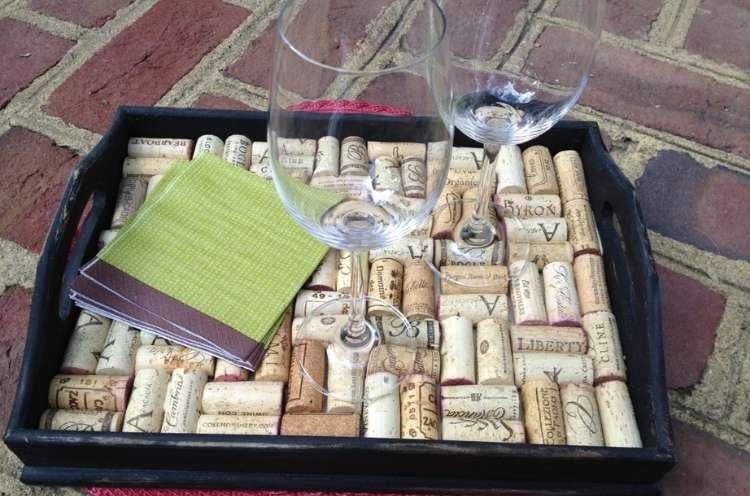 6. A Wine Cork Trivet That Your Pots and pans Can Cool On
This wine cork trivet is an absolute necessity in the kitchen! Plus, it reminds you every day that it's 5 o'clock somewhere! A wine glass while making dinner is the perfect way to end a perfect day!
You should probably make more than one. You can use one for the meat, another for the mashed potatoes, and get dinner on the table without making a mess!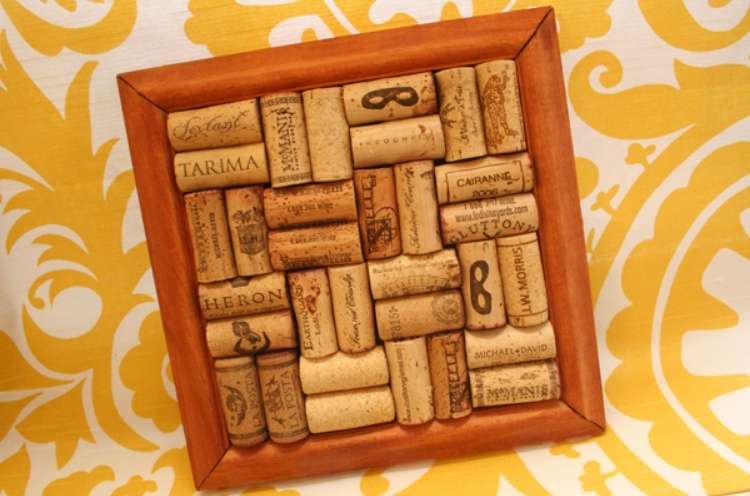 7. Use Wine Corks as Vase Filler
When you use wine corks as a vase filler you give your plants an excellent way to stay upright and stable.
You are saving the environment by recycling your corks, and adding a splash of love and great memories of wine to your home.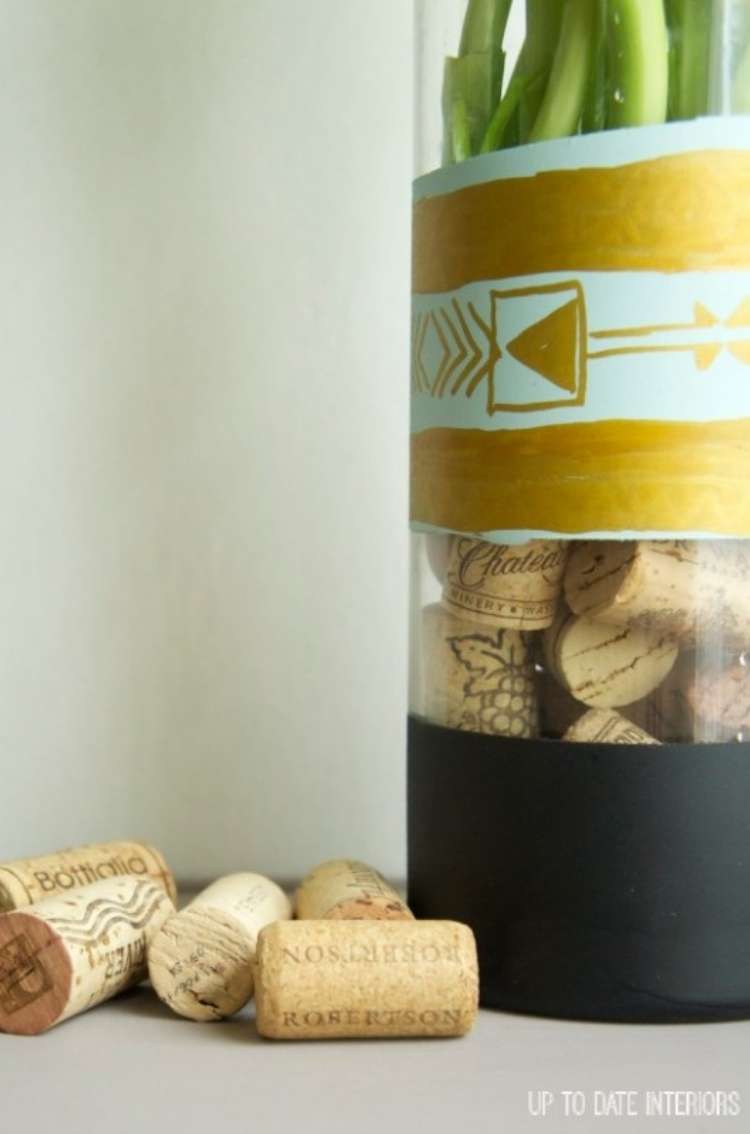 8. Wine Cork Coat Hooks Will Class Up the Place!
Make your own coat hooks! Put one in your bedroom for your robe, one in the bathroom for your towel, and one by your front door for your actual coat! You can even have a bunch of them together for your hats!
Remember to use corks that have a round top, and that have the insignia of your favorite winery!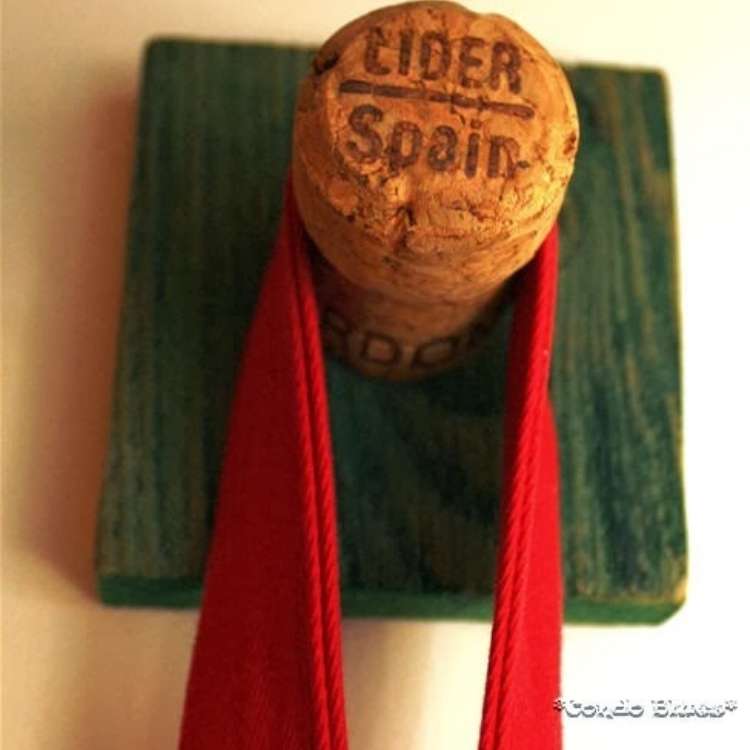 9. Create a Wine Cork Monogram for your Wine Bestie!
Add some flair to your décor with a wine cork monogram. Do you have a friend or family member whose name is worthy of immortalizing in wine corks? You got your answer right here, and they will thank you for being so thoughtful!
The cool thing is that this craft is much easier than you might expect! You only need three craft supplies:
Wood Letter of Your Choice
Craft Glue
Corks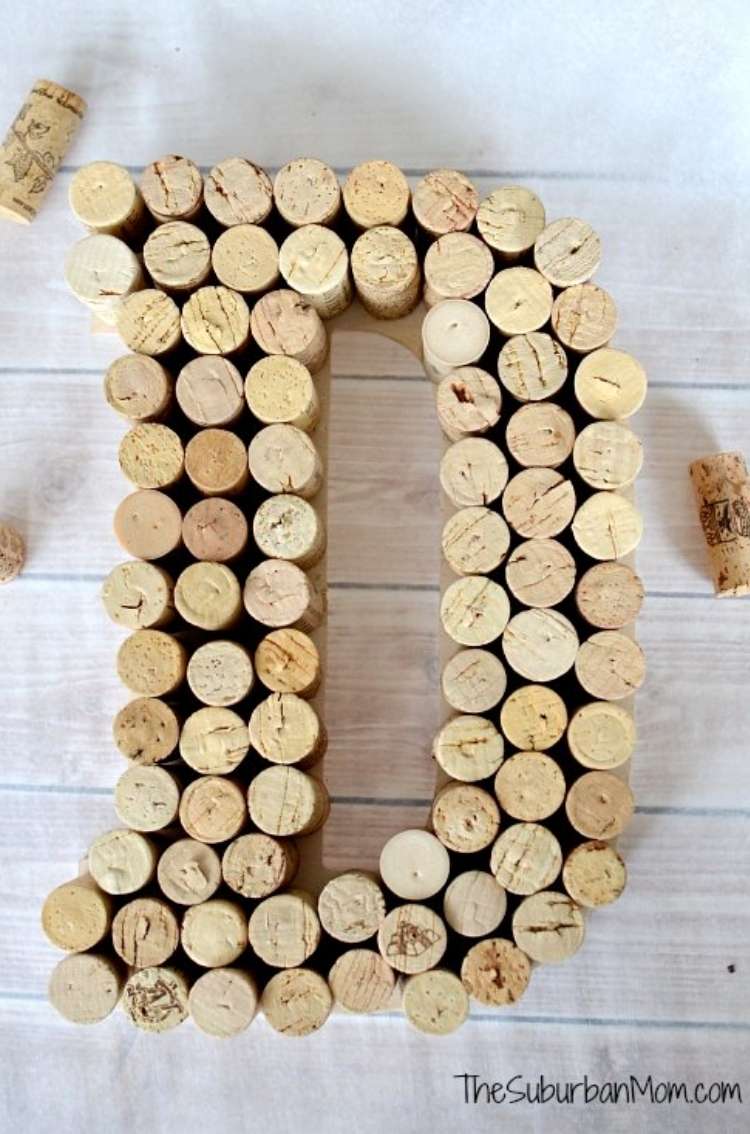 10. Give Your Kitchen a New Look with a Wine Cork Backsplash!
Get the kitchen you always wanted with a wine cork backsplash. This beautiful decoration goes right with your personality and will tie your kitchen decor together in the most unique way!
This is a little larger craft…in fact, this is DIY backsplash territory!  You will need A LOT of corks, a scroll saw, plywood, a utility knife, a stud finder, plastic outlet extenders, finishing nails, clear sealant, clear caulk, and contact cement.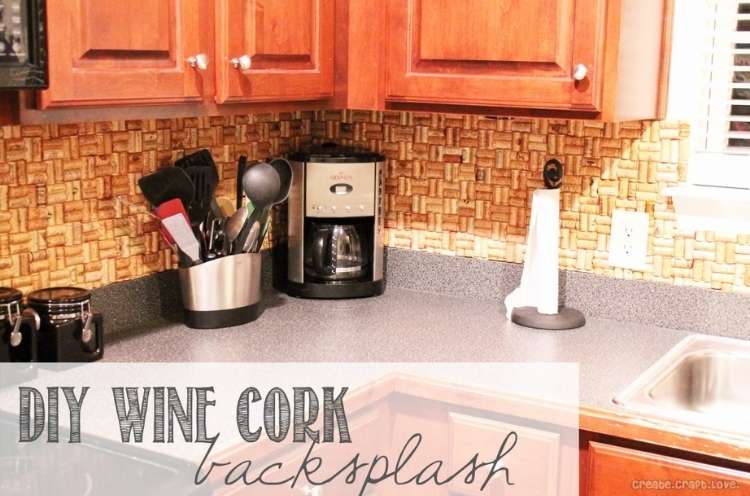 11. This Wine Cork Bath Mat Will Feel Great Beneath Your Feet!
If you have hundreds of wine corks saved, try your hand at this wine cork bath mat. Tired of your old bath mat? It's time to give your bathroom a well-deserved upgrade. This bath mat took 175 corks to make, plus shelf liner, and hot glue.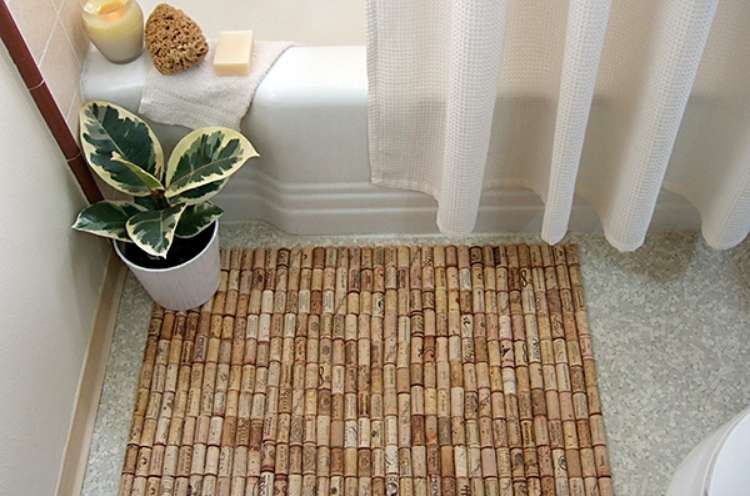 13. Wine Cork Knobs Will Give Your Drawers a Rustic Look
Looking for a way to upgrade your furniture? Here's an amazing way to upgrade the look of any dresser by adding wine corks knobs to your drawers.
What a smart and easy craft that looks like a unicorn boutique find!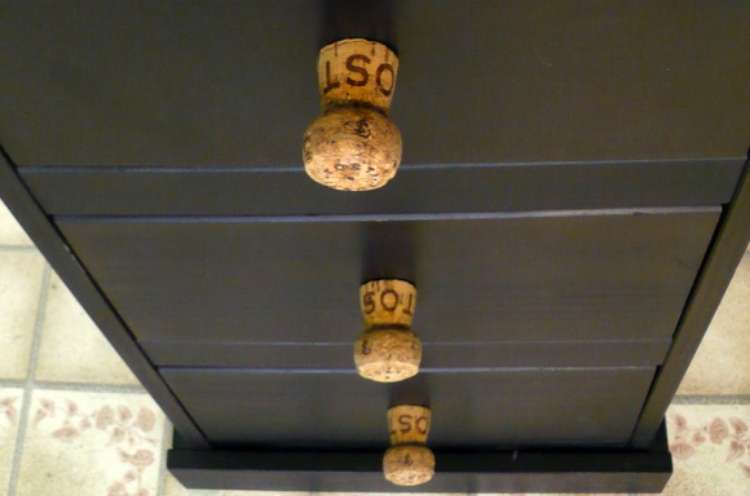 14. Bring Wine to Your Yard with Wine Cork Garden Markers
Looking for a practical way to use corks? Wine cork garden markers will come in handy this spring! Paint over them, write what you are planting, and stick them to the ground with popsicle sticks! This idea is a DIY dream!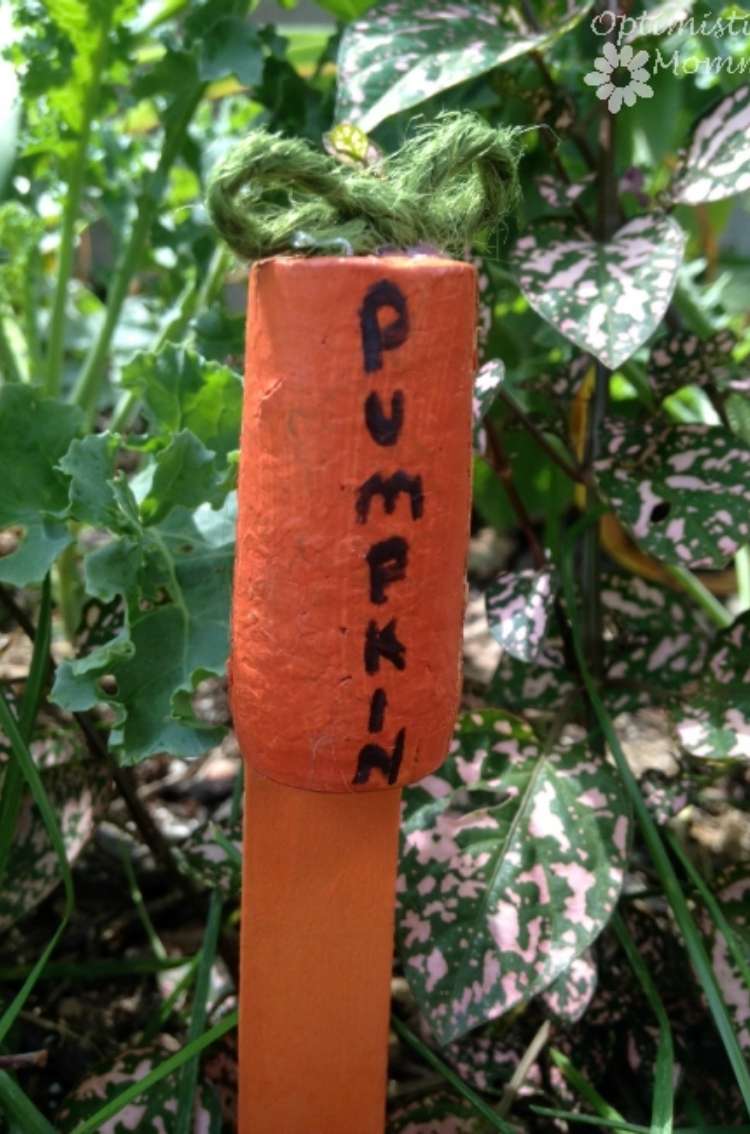 15. Make Bungee Cord Ties to Tidy Your Cables and Wires
Got a mess of cords around your computer and electronics at home? No problem! These bungee cord ties (made with wine corks) will keep your work area safe and clean. You can buy elastic bungee cords in any hardware store, or you can use elastic bands!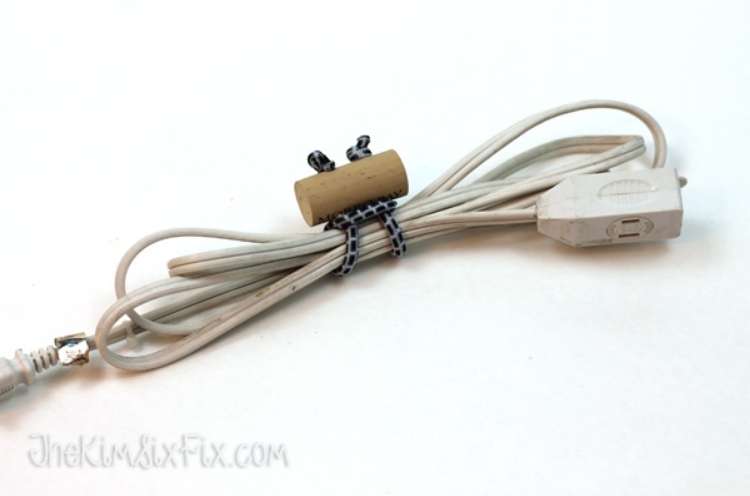 16. Wine Cork Keychains Are Lovely and Practical
Need an extra keychain or two? Wine cork keychainsare great for taking to the pool, because if you accidentally drop them in the water, they'll float. You just need to secure a simple eyehook.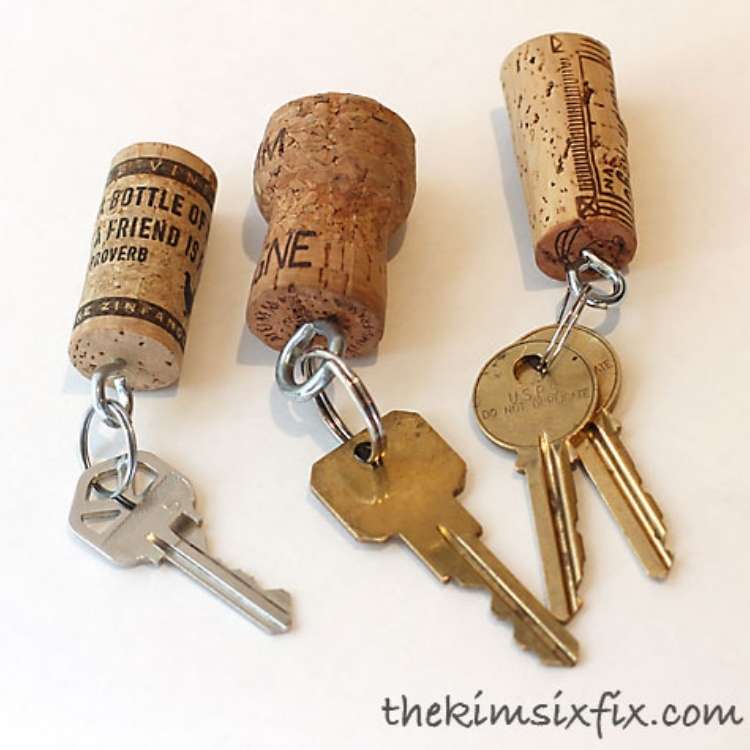 17. Knitters and Flossers Love Wine Cork Spools
Use them as spools to store smaller segments of twine, yarn, or floss. There is no other solution that is simpler or more practical than this for your wine corks! Plus, how adorable will your sewing kit be?!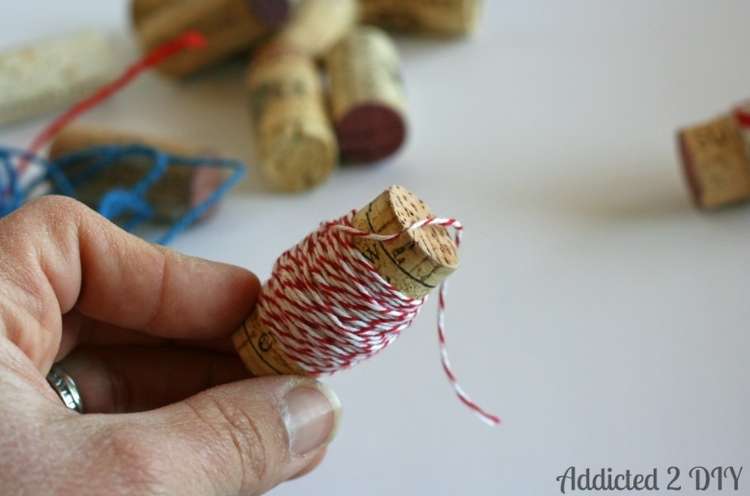 18. Make Your Own Wine Cork Stamps
If you do a lot of crafting, you can easily make your own cork stamps from wine corks using an X-Acto knife to carve the design. The DIY paint stamps pictured below are: lines, plaid, triangular, lines, stars, flowers, and "x"s.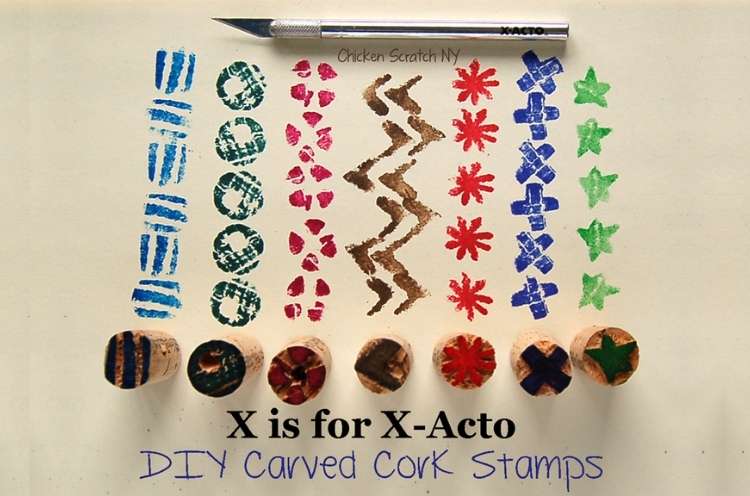 19. Wine Charms Are the Best DIY Gift Idea!
Recycle corks to make wine charms. They'll add a beautiful touch when you are gifting wine. Couple them with seashells, and they are the perfect accessory for your summer barbecue!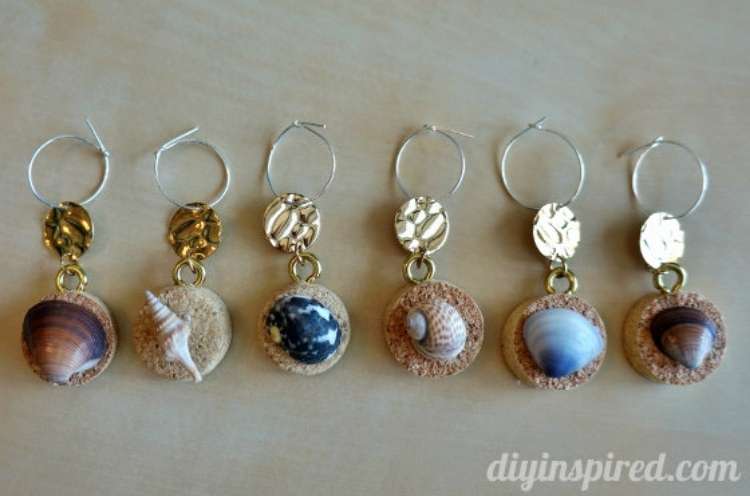 20. Create a Wine Cork Vase for Your Flowers
Or you can make a wine cork vase, instead!
Wine corks are very versatile and practical. They can be beautifu,l and remind you of those good times you had, surrounded by family and friends.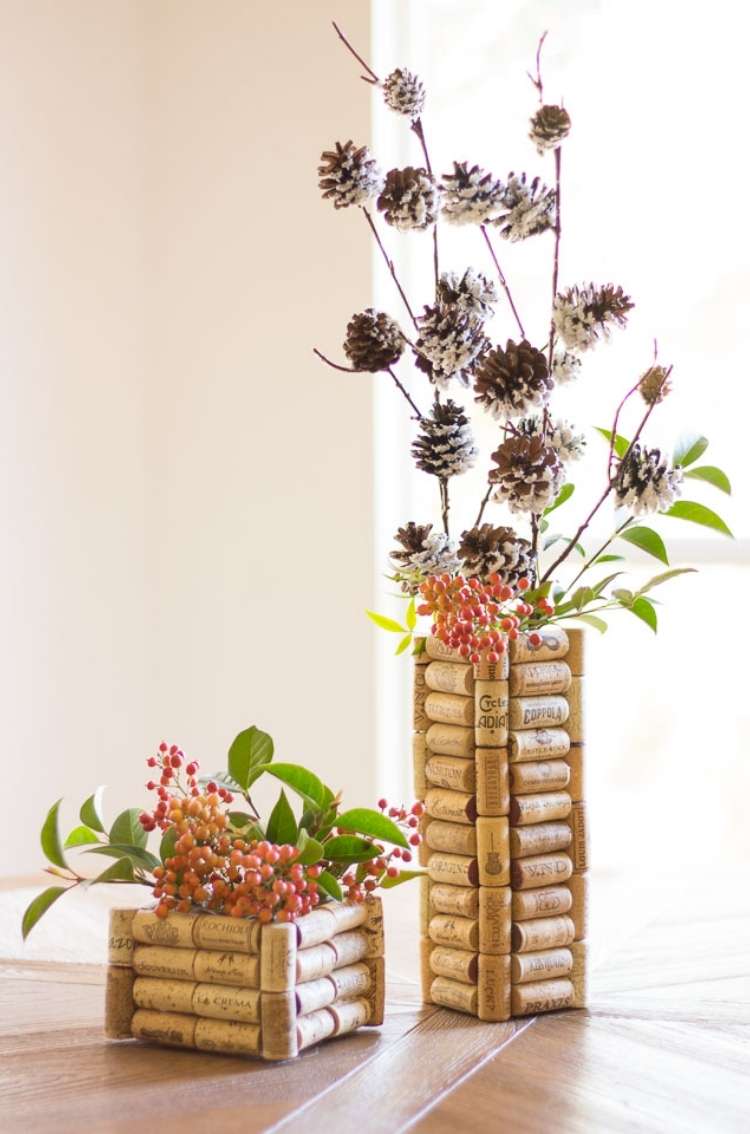 21. Create a Tic-Tac-Toe Game Set with Leftover Wine Corks
Did you ever think you could make a tic tac toe game for the kiddos? These are so cute, and your kids will love them! Here are even more wine cork crafts for kids.
If you are looking for more ideas for kids, check out these Batman Crafts for the whole family!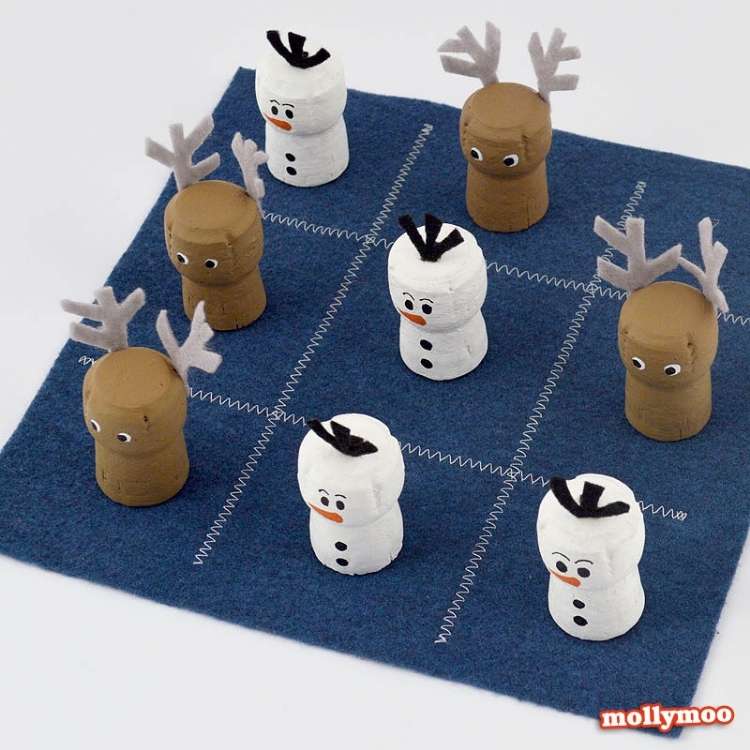 22. BONUS Idea! Make Wine Cork Earrings and Show Them Off at Your Next Event
Make these wine cork earrings to give as gifts, or keep them for yourself. You can get creative with yarn, metallic pieces, and thread. How cute would this be to give as a gift during a girl's wine-tasting trip?!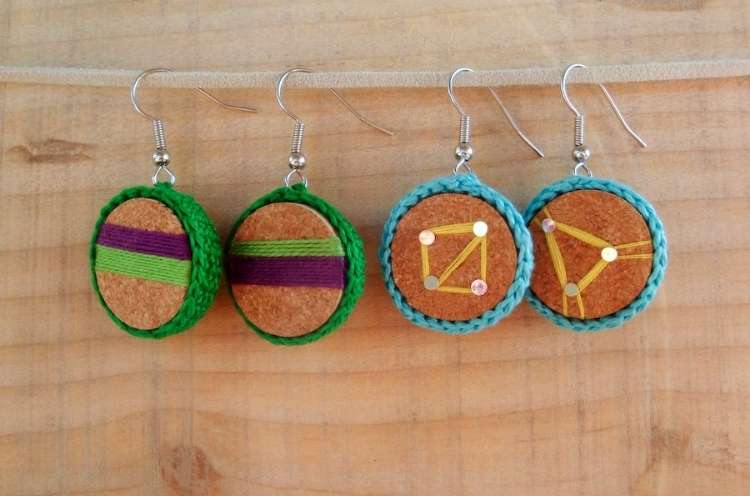 Which of These DIY Wine Cork Craft Ideas Is Your Favorite?
Are you kicking yourself for throwing out your wine corks? It's okay. Who would've thought that they were good for more than stopping wine? But now you know, and can start saving up your wine corks for a useful and pretty DIY project!
What will you make first?!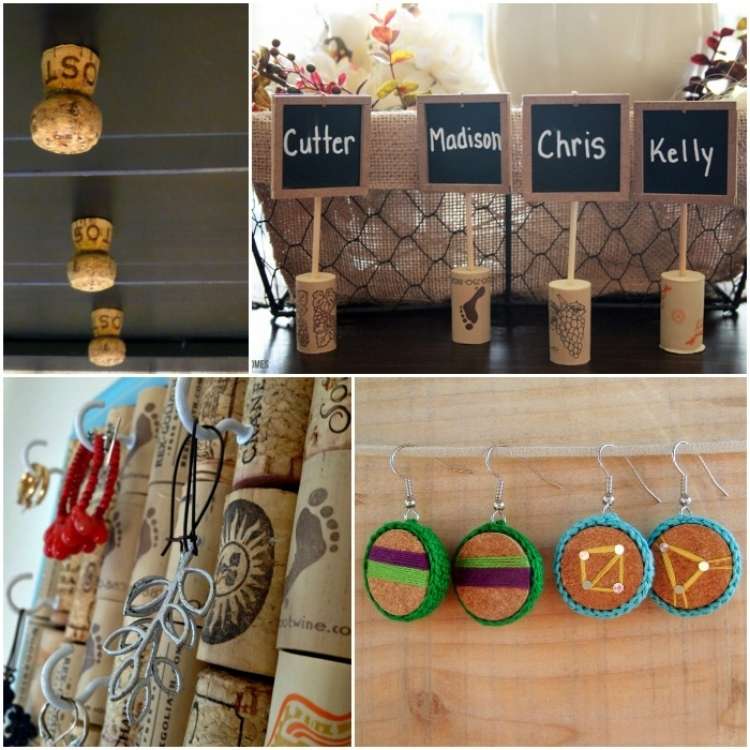 More DIY Wine Cork Ideas
Check out these DIY wine cork ideas next!