Eggnog is that deliciously rich and creamy drink that you can get from the store only around the holidays. But, with these unbelievably good homemade eggnog recipes, you can have a glass anytime you want!
The fact that eggnog is available only for a month or two out of the year is what makes it feel so special. So, if you're anything like us, you want to drink as much of the stuff as you can (within reason, of course!) before the holidays are over.
If you're searching for a recipe for eggnog to help you enjoy this delicious holiday drink without having to go to the store, you can't go wrong with today's ideas.
These 15 amazing eggnog recipes will practically guarantee you won't get bored with your favorite holiday drink. They're thick, creamy, and full of festive flavor.
Enjoy!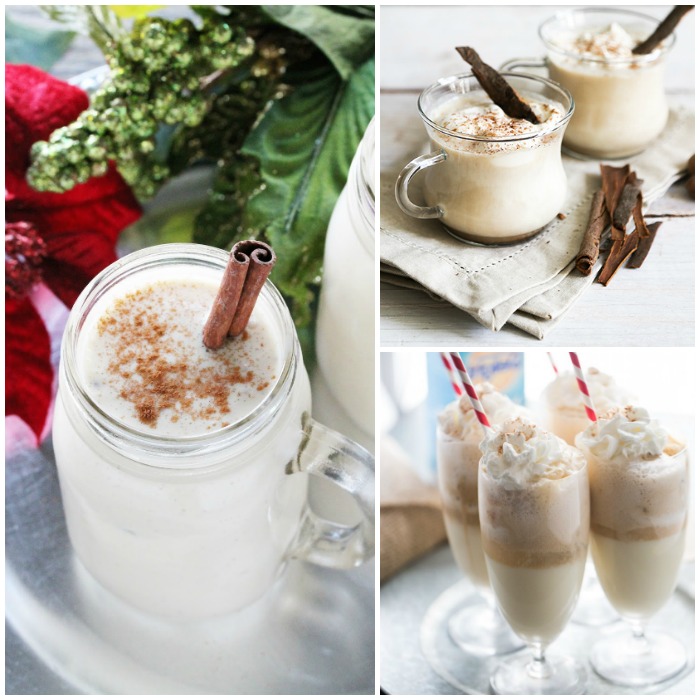 Eggnog Recipes To Put You In The Holiday Spirit
From classic eggnog to orange spice, maple bourbon and everything in between, we've got a variety of eggnog recipes that will not only satisfy your tastebuds but also keep you coming back for more.
Boozy Pumpkin Nog Shake
If you're craving a shake this season, try this eggnog recipe on for size. It's thick, creamy, boozy, and oh-so pumpkin-y (is that a word?), so it will definitely hit the spot.
Add Some Peppermint To Your Eggnog
If you love peppermint, this one's for you. Just add peppermint ice cream and candy canes to your favorite nog to make this Peppermint Egg Nog Punch. Great party drink!
Candy Cane Bourbon Nog
Or, try this Candy Cane Bourbon Nog, which uses white chocolate liqueur and candy canes to create that extra Christmas-y flavor. If you've never stirred a cocktail with a candy cane before, you are seriously missing out!
Puerto Rican Eggnog
Coquito has a sweet coconut flavor with hints of cinnamon and vanilla to make an absolutely delicious holiday drink. Cheers to the holiday season!
A Creamier Version of Coquito
If you prefer your eggnog to be a bit creamier, here's a variation of Puerto Rican Eggnog that uses egg yolks to make the drink a little creamier and richer. You'll love this delicious twist on old fashioned eggnog.
Kahlua Eggnog
Traditionally, rum is the alcohol of choice to add to eggnog. Change things up by adding a splash of coffee liqueur to your favorite eggnog to make a Kahlua Eggnog Cocktail everyone will rave about.
Eggnog Shooters
Use any homemade eggnog recipe or your favorite store-bought version and add whipped cream.
To style the glasses, dip the rims in vanilla extract followed by edible glitter. Sprinkle a little more edible glitter on top, and you're good to go. So festive!
Ultimate Nutella Eggnog
Okay, guys, you know we love Nutella. Who could pass up a Nutella Eggnog recipe, not us! Combining homemade eggnog with Nutella is pure magic.
Homemade Eggnog Lassi
Add yogurt and cardamom to your favorite nog for a fun Indian twist. Don't forget to drizzle caramel sauce all over the cup – on the inside, of course!
Maple Bourbon Eggnog
Here's a delicious twist on America's favorite holiday drink.
A hint of maple extract takes this Maple Bourbon Eggnog from good to stunning. If you're searching for a terrific eggnog recipe with alcohol, this is it!
Gingerbread Eggnog
This Gingerbread Eggnog is delightful because it brings together two of my favorite holiday season flavors into one unbelievably good drink. It tastes like a spiked gingerbread cookie. Yum!
Orange Spice Eggnog
My second favorite on the list is probably this Orange Spice Eggnog, which uses orange liqueur, orange zest, and warm spices to create the perfect holiday drink. Prepare to be wowed!
Eggnog Ice Cream Floats
Eggnog Ice Cream Floats won't warm you up, but they sure are fun to drink! The cinnamon ice cream and ginger ale really add a special flavor and make it great for all ages to enjoy.
Vanilla Mint Nog Cocktail
The buttery flavor of the amaretto liqueur blend with the vanilla and mint to make an ultra-tasty Vanilla Mint Eggnog twist on traditional eggnog.
Old-Fashioned Non-Alcoholic Eggnog
And, finally, if you don't drink alcohol or just want to make a classic, kid-friendly version, this old-fashioned non-alcoholic easy eggnog recipe is the perfect solution.
You'll still get to enjoy the season's most popular drink just without the booze – and it tastes way better than anything you buy in the store!
Final Thoughts: Eggnog Recipes
Wow! With this list of delicious homemade eggnog recipes, you can skip the special dairy section at the store and just grab the very basic ingredients you need to create incredible eggnog that will blow you away.
No matter which eggnog recipe(s) you try, you're sure to the best eggnog recipe right here.
More Delicious Drink Inspiration From One Crazy House
Pin for Later: