Putting away the Christmas decorations can be a real hassle – only made worse by finding broken ornaments or the glitter has chipped off when you pull them back out from the tray the following year. This year, stop the cycle with these clever Christmas tree and ornament storage ideas!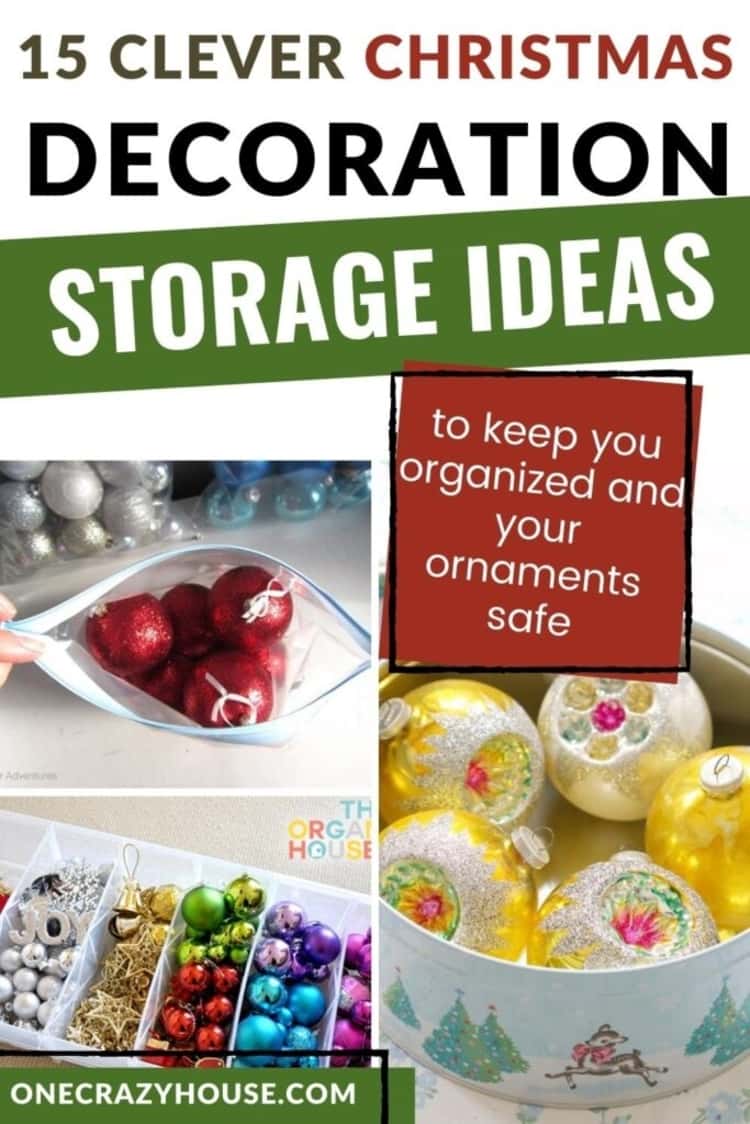 Do you find a few more broken ornaments every time you dig them out for the Christmas season?
Don't you just hate it when you find some of the glitters on your ornaments have chipped off or some dirt stuck in and you just can't re-use them?
It's so disappointing, especially when you have heirloom ornaments and keepsakes from your kids that mean so much to you. I recently pulled out one of my favorite ornaments from the garage only to find crucial pieces of it broken.
That's why I'm so glad that other people have figured out lots of clever Christmas ornament storage ideas so that when those ornaments get put away this year in storage containers, you'll know they're well-protected until next Christmas.
Christmas Ornament Storage Ideas To Protect Your Keepsakes
Use these ornament storage ideas to not only protect your treasure but also to keep you organized from one year to the next!
1. DIY Christmas Ornament Storage Box
Make your own Christmas ornament storage box on the cheap! Glue plastic solo cups to cardboard, fill them with ornaments and stack them inside the box.
Cut the cardboard into two or three pieces that can fit inside your plastic bin and make floors. Use your glue gun to arrange as many of the plastic solo cups onto each cardboard piece, fit them into two or three layers that can go into your bin, and have a Christmas ornaments organizer. What a hack!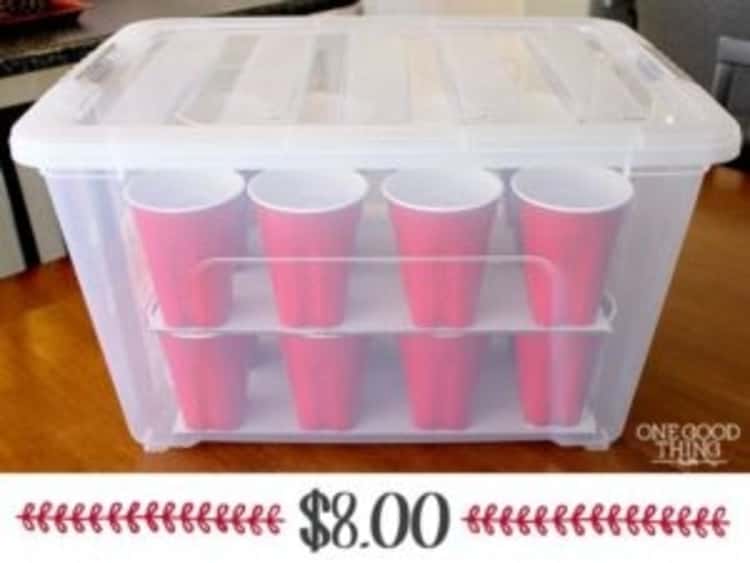 2. Plastic Bottles for Storing Beads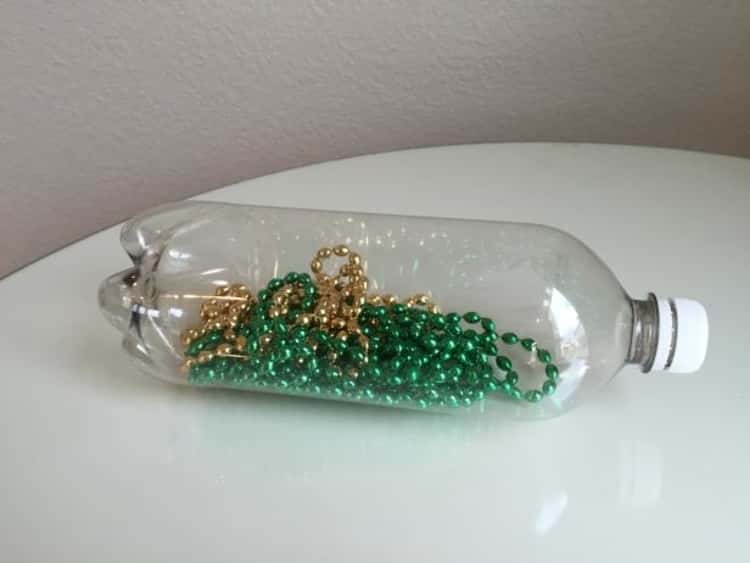 Store beaded garland in plastic soda or water bottles. Don't worry; they won't get stuck, and they'll slide right out when you need them. Easy access! Just be careful not to stuff too many beads inside one bottle, you need to leave some space to be able to shake the beads out next Christmas.
Curtail beaded garland tangles with everyday plastic water or soda bottle. You might think the beads would get stuck, but they easily slide out when you tip the bottle over. Got kids? This storage solution doubles as a festive noisemaker.
3. Use Tissue Paper and Cardboard
If you have a large collection of Christmas ornaments then keep them intact by wrapping ornaments in tissue paper, then storing them in shallow plastic containers. Use cardboard to divide the bin into smaller individual compartments. More heavy-duty and adjustable compartments. Easy organizing at the end of the holiday season!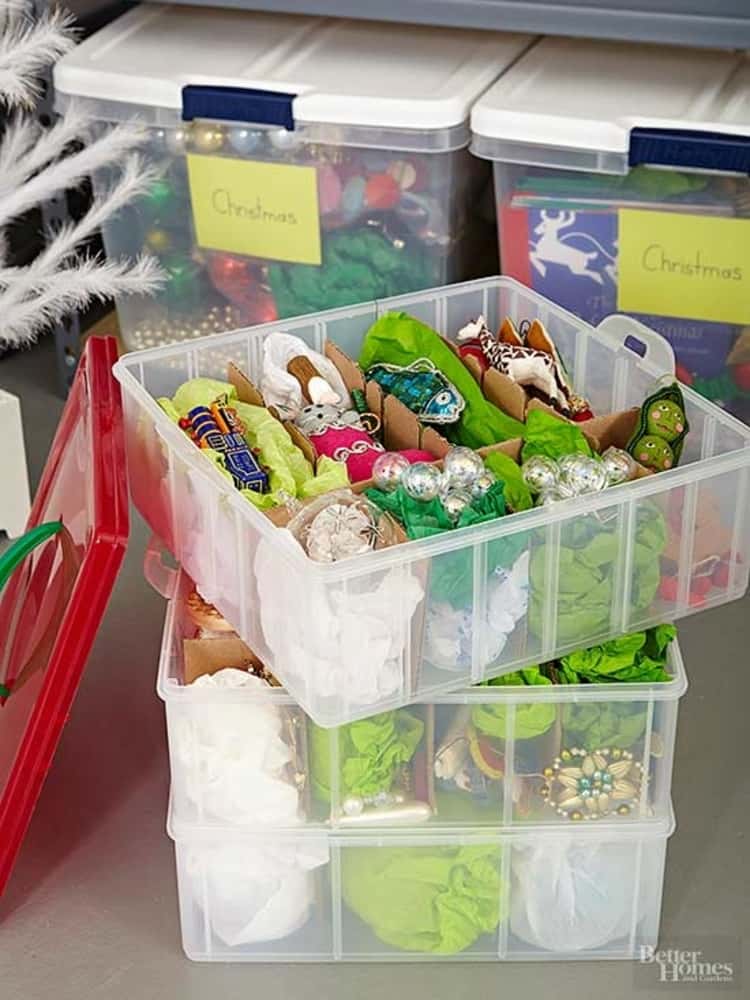 Use tissue paper, cardboard pieces, or felt scraps to protect ornaments from thumps and bumps.
Bonus Tip: Keep small ornaments in clean, empty egg cartons lined with tissue paper.
4. Use Holiday Tins For Christmas Ornament Storage Container
Keep your favorite ornaments, family heirlooms, and precious keepsakes in holiday tins. Well, they're not just for pine needles too. They're so pretty, and you probably get several goodies during the holiday season! Usually, after I'm done with the biscuits, cookies and chocolates that come in the holiday tins, I just can't bear to throw the tins away. Unfortunately, there isn't much use for these tins and I end up just dumping them in the attic.
Holiday tins are usually too pretty to throw away but most of the time we can't find a good use for them, so they wind up empty in the storage area collecting dust and rust. Well, this solution makes good use of the tins.
5. Reuse Drink Holders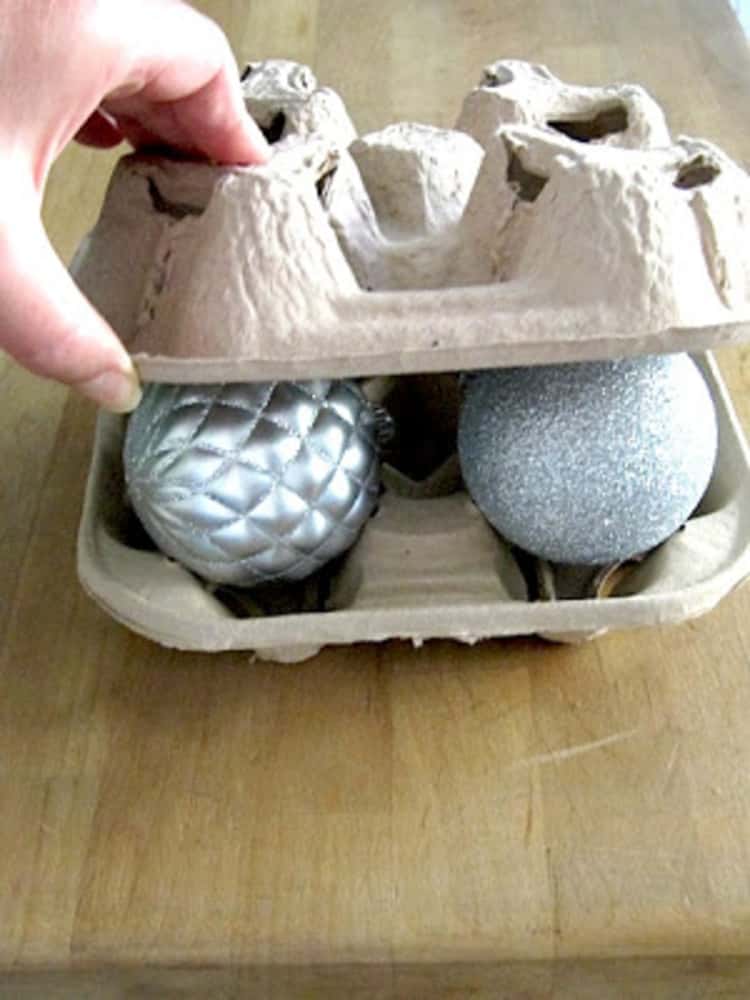 Save your fast food drink holders when you go through the drive-thru! This is brilliant – and cheap! Christmas ornament storage idea because the holders are the perfect size for most of your ornaments.
If you have smaller ornaments, wrap them in tissue paper and double up them before storing them.
Some of us do not buy as much fast food as we would need to have enough boxes for this storage idea, however, you can also buy them pretty cheap in party or restaurant supply stores even though that defeats the recycling aspect of this tip!!
6. Plastic Apple Containers Make Perfect Christmas Ornament Storage Space
I love seeing ways that people come up with reusing items!
Along the train of thought of using drink carriers, you can use plastic apple cartons to store delicate Christmas ornaments. Store the delicate tree decor where the fruit once went to protect items from bumps and bruises. (You can also use wine boxes or egg cartons.)
For the especially delicate ornaments, remember to line the bases of the box with tissue paper for extra protection.
7. Use Egg Cartons for Christmas Ornament Storage
Store Small Ornaments in Egg Cartons from Gifts That Say Wow.
After a couple of great ideas for larger ornaments, it's time to store those smaller ornaments. They will fit nicely inside egg cartons! I especially like this idea as you will not need to line the carton with tissue paper the carton is soft enough on its own.
Here's another way to do it with egg cartons!
8. Coffee Filters as Cushions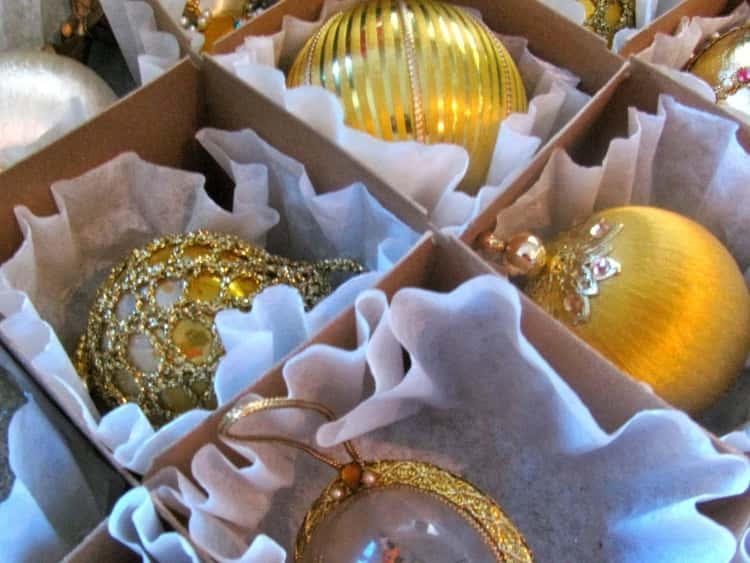 Ok, you may not have tissue paper around the house, but I bet you use some coffee filters! Use coffee filters to cushion ornaments when needed. With coffee filters, you already have the perfectly sized lining for your ornaments and you only have to worry about arranging the ornaments inside the filters. With tissue paper, you first must worry about cutting it into good sizes.
You won't want to miss these other ways to use coffee filters, either!
9. DIY Cardboard Dividers
If you break or lose the dividers that come with your ornament storage bin, you can easily DIY a new one with cardboard.
Or, create your own cardboard dividers, and put them in an ordinary plastic bin for a DIY ornament storage solution that will keep those treasures safe. Make sure to use acid-free cardboard. Divided segments will ensure that each ornament is nestled in its own storage cocoon, that it won't bump against its neighbors, and that it won't shift around to disastrous results inside a container. Make sure to wrap those ornaments with glitter in tissue, and use Ziploc bags.
10. Keep Fragile Ornaments from Chipping or Cracking
Protect Fragile Ornaments with Dye-Free Archival Tissue Paper from Pursuing Vintage and Hello Glow.
Fragile ornaments that are old or are covered with glitter are at risk of chipping when they're pulled out of the box or rattled against other ornaments. Protect them with archival tissue paper free of dyes. Be generous with the amount of paper you use to wrap these rare ornaments to improve the chances of you finding them unscathed next year.
11. DIY Hanging Ornament Storage
Create hanging ornament storage by cutting holes for two 3/4″ rods into a firm plastic tote. Make sure to have rods long enough to go through the bin with overhangs on both sides. You can store your tree skirt underneath the rods! Use the rods as hanging bars and your ornaments will last the year in there without damage.
12. Under Bed Shoe Storage Bins to the Rescue
Underbed storage boxes allow you to store your decorations out of sight for the year but saved you the trouble of fetching them from a storage unit or the attic. Just remember to check on them if you need to move the bed sometime during the year and they will be just okay hiding under there.
Underbed shoe boxes are great for storing Christmas ornaments, they come with six compartments which you can rearrange to have bigger but fewer compartments depending on how you want to arrange your decorations.
Get similar storage boxes here!
13. Organize By Color
If you decorate several trees in your home – or you like changing up your color scheme each year, organizing your decorations and or a Christmas tree storage by color can be so helpful. Get as many boxes as you have colors and store your ornaments by color in each box. Remember to watch out for the fragile pieces and use tissue paper to wrap them.
I like that after I have settled on a Christmas theme, I go, pick the boxes that match the theme, and leave the rest in their safe storage. No need to carry out all the ornaments and then have to bring those you do not use back.
14. Use Bags To Organize by Color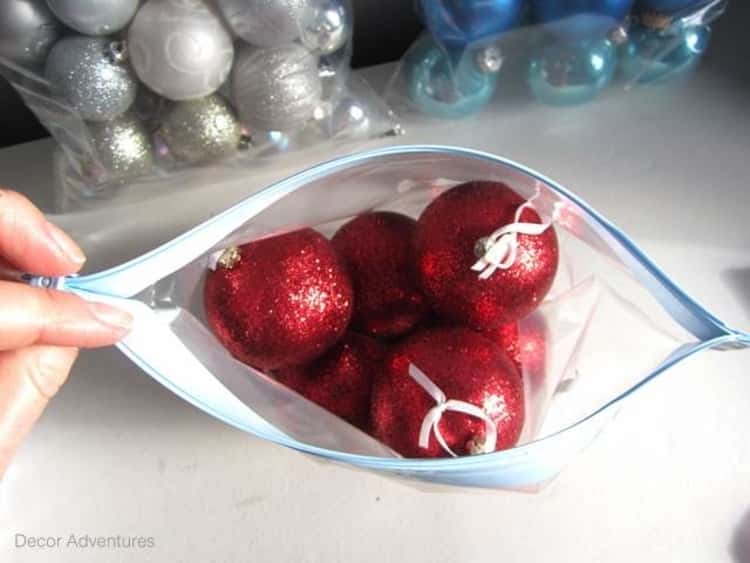 If you don't have room for plastic bins, you can also use baggies as an ornament storage bag to organize ornaments by color. Those clear Ziploc baggies are the best as you won't have to label each color. You can see the colors of the ornaments inside. Do not forget some tissue paper for the fragile ones.
15. Forget DIY Solutions – Purchase a Box
Last, but not least, if you don't want to use any DIY ornament storage ideas, then you can definitely buy a storage box or bin that has carrying handles, labels, built-in dividers, and is acid-free. The gift and toy shop near you should have some good choices of unique designs, colors, sizes and so on that will leave you just spoilt for choice.
Choose from:
If storing all your beautiful Christmas ornaments has you feeling stressed, then use these clever ornament storage ideas to make the job of cleaning up Christmas decorations quick and easy this year!
Plus, you'll stay organized and your ornaments won't get damaged while they wait to come back out.
More Christmas Inspiration from One Crazy House: