Jewelry is too pretty to stay hidden in a box. Let your Bling make a statement even when it is not being worn. Consider some of these ideas to organize your jewelry to both add style to your bedroom/bath and help you see and pick matching accessories more easily!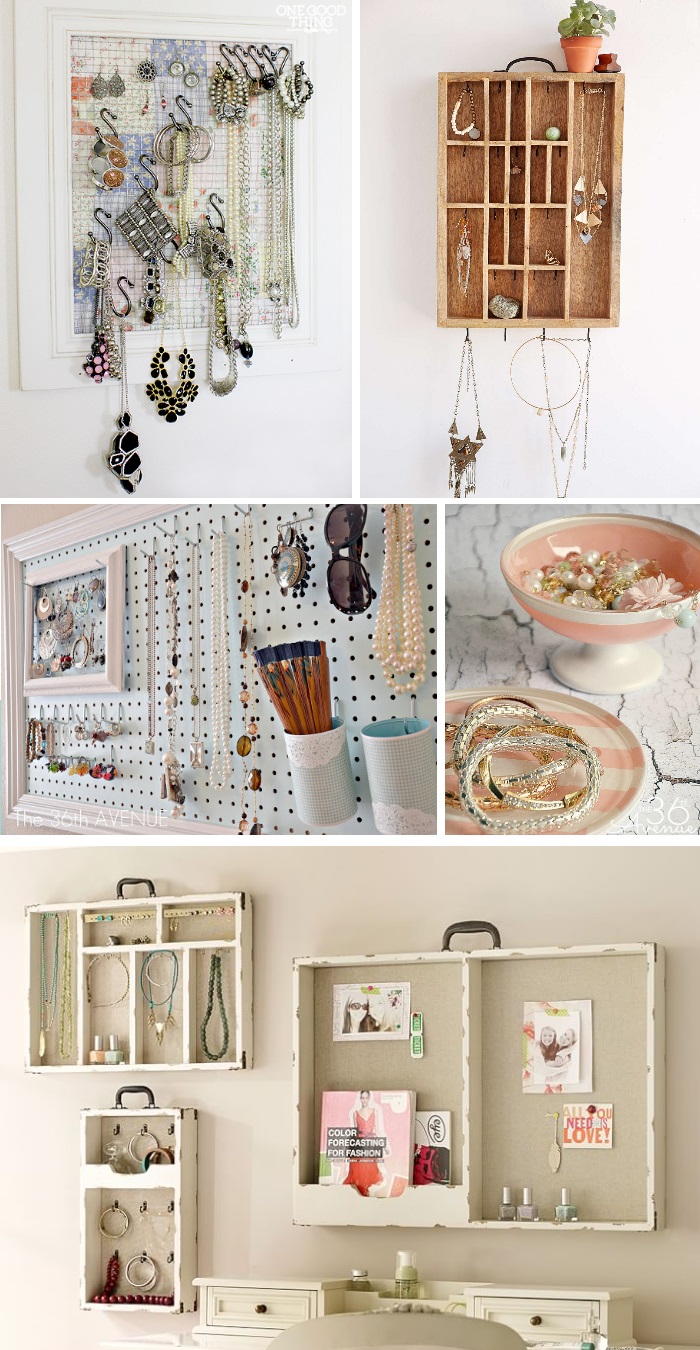 Ways to Organize Jewelry
Transform an old frame into a jewelry holder. All you need is some chicken wire, pretty fabric for a backing and some hooks. I love the finished product.
Drawer organizers make terrific wall mounted jewelry displays. Check out this oversized version, Locust Letter Press Jewelry Organizer, via Urban Outfitters.
DIY Jewelry Organization Tutorial. Use Peg board and a bit of sweat to create this classy organizer. It has different sections for various types of jewelry that you collect – even her spanish sunglasses are featured.
DIY Jewelry Jars.  Spray paint some fun and "plain" dishes into a statement piece. Store your jewelry in color coordinating jars.
You can also make window boxes. These from the Pottery Barn have handles screwed into the top – making them into suitcases!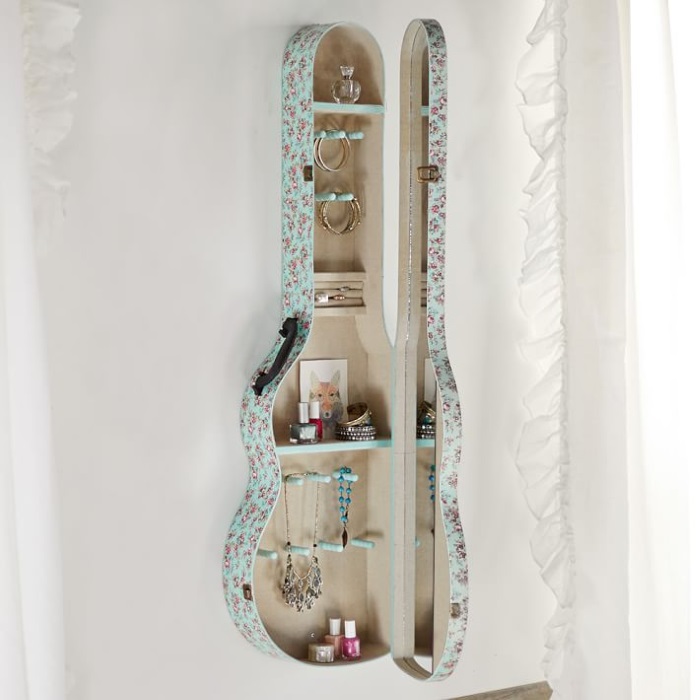 Does your tween love music? Have a spare guitar case? Repurpose it into a jewelry and makeup station like this one. It is a Guitar Case Organizer, via Pottery Barn Teen.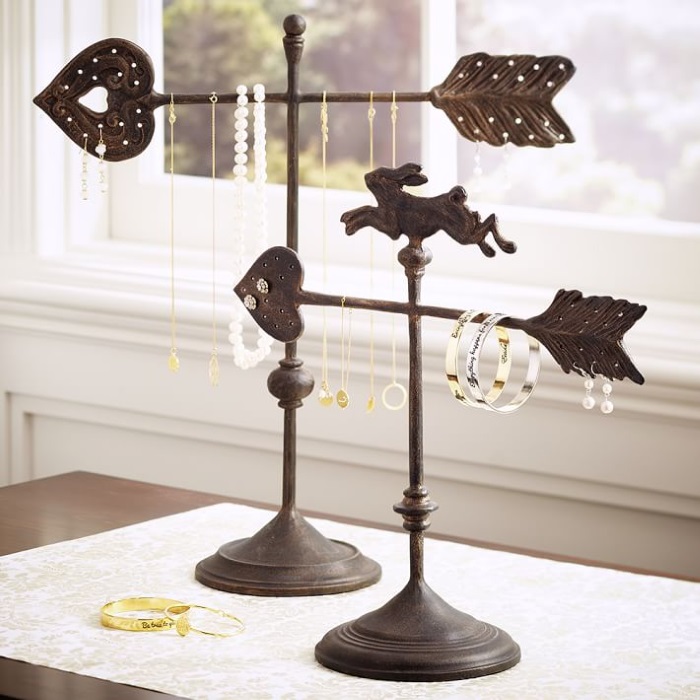 A trip to the antique store is a gold mine of decor ideas! You can repurpose weather wanes to become a jewelry holder (get it at Pottery Barn) – you can even transform an old rake!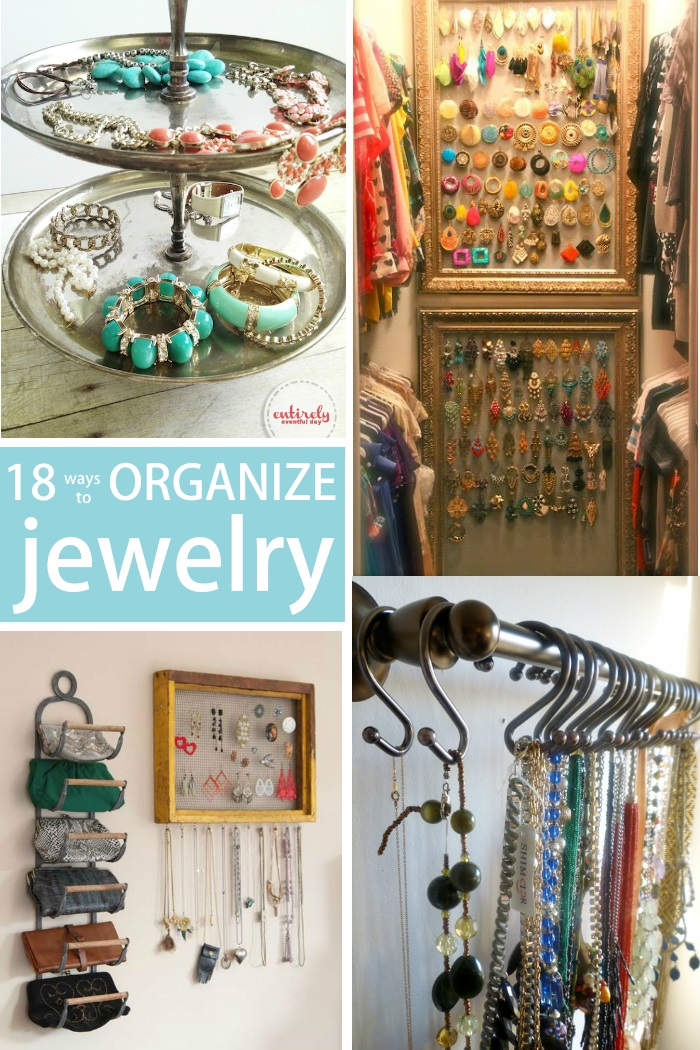 Jewelry Organization Ideas
Loving this tiered dessert tray turned jewelry organizer. Saves space and looks beautiful!
Put all that wall space to good use by showing off all your earrings in a huge wooden frame.
This savvy chick used a vintage sieve and a wine rack to organize her jewelry and clutches!
Repurpose the bathroom towel bar with hooks to hold all your necklaces and even bracelets. Gorgeous!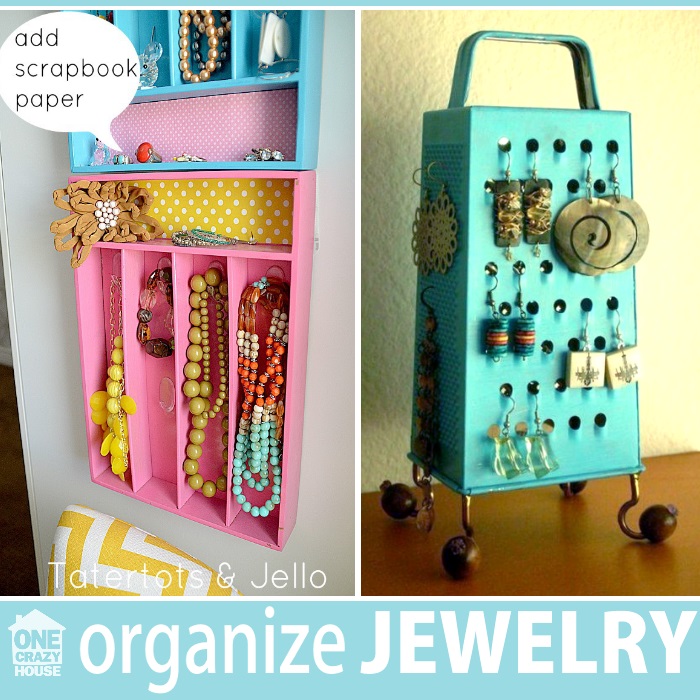 DIY Jewelry Organization with a color POP. This project needs several identical wood silverware drawers. Paint them, add scrapbook paper and command hooks and you have a one-of-a-kind statement for your wall!
You can repurpose an old cheese grater into a DIY earring stand. This one is super cheery!
Looking for fun jewelry for your tween to enjoy? Check out these DIY Jewelry Projects for Kids.