As a new mom and new parent, I can remember feeling like I didn't know much about motherhood. Who really does? Nothing – truly nothing – can prepare you for what life will be like as a parent. I'd have given almost anything in exchange for some helpful new mom baby hacks from experienced moms. 
There are so many things that you don't think about before you have kids – like how to prevent tripping over your toddler's toys in the middle of the night when they have a nightmare. 
Or how to keep your baby boy from peeing on you when you change his diaper. I promise that never crossed my mind before having kids!
Like many parents, once my first baby was born, I found myself wondering "how can I make life easier with my newborn?" Over time, I learned more as a parent and grew in confidence – learning a few baby hacks for parenting along the way helped too!
A hack is when you discover something that makes your life significantly easier. Discovering brilliant baby hacks is life-saving for new moms. It's that moment of going from "how do I do this?" to "I've got this." From swaddling to pumping and breastfeeding to tummy time to bath time, to cleaning poop stains, this list will come very handy if you're a first-time mom!
I'm so excited to share some of these sanity-saving baby hacks with you because they will make your mom life so much easier.
Here we go because: 
The first year of parenthood is the longest, shortest year ever – Unknown
New Mom Baby Hacks to Save Space 
Babies come with more stuff than you think they will. Help find space to store everything with these hacks.
1. Space-Saving Baby Hacks For The Diaper Bag  
Are you interested in saving space in your diaper bag (who am I kidding – every mom is!), mommy? Give this hack a try! You can see from the picture that everything is rolled up into a sock. This is a super easy hack to keep extra outfits and baby bottles in the diaper bag in a neat pack. And don't all mommas know babies need all the extra clothes, blankets and onesie we can carry! 
Oh, and this baby hack helps you keep complete outfits together, even the baby's socks! So no more emptying baby's diaper bag to find a complete outfit every time you need to change baby. And trust me, it will be MANY times each day. 
Also, check out these baby stroller hacks to make traveling with your baby easier. 
2. Even Your Dresser Could Do With This Baby Hack!   
Baby clothes and pajamas seriously take up a ton of room in those nursery drawers. I know you're probably thinking that I'm crazy because the clothes are so itty bitty, but trust me, you'll need it because there are SO MANY of them (if you don't want to do basket loads of laundry every day). So here's one of the amazing new mom hacks for you!
I've learned that when you roll up the baby clothes, it saves a ton of room. Look at the before and after pictures. It's astonishing how much room you can save! And you can clearly see how many more of baby's clean clothes you still have.
Give this a try, I bet you have lots more room in your dresser than you did before. Also, check out these amazing baby tips that every new mom must know!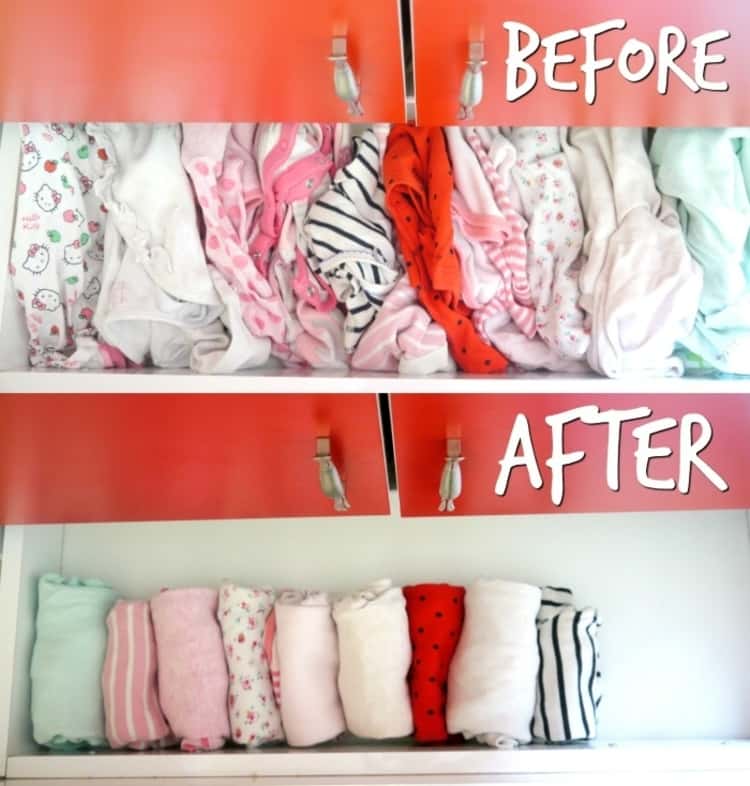 Best Cleaning & Organization Baby Hacks
Babies get messy for way too many reasons than we could start talking about right now. These hacks and tricks will save your sanity by staying organized and helping to make the cleanup a little faster.
3. Best Of Baby Hacks – Always Have Plastic Bags in Your Diaper Bag!  
Hands down, if there's one of the best baby hacks that I'd ever want you to never forget, it's this one. Because that's the first time you change a diaper poop blowout in your car or at a mom's group even when you're away from the changing station, you'll be SUPER grateful for these plastic bags. Stash those dirty diapers away in an instant! 
Video: Diaper Hacks
Diaper changing times need not be the most alarming time for you and your baby because there are some pretty incredible diaper hacks that will make life so much easier! Check out this video I just made for diaper hacks.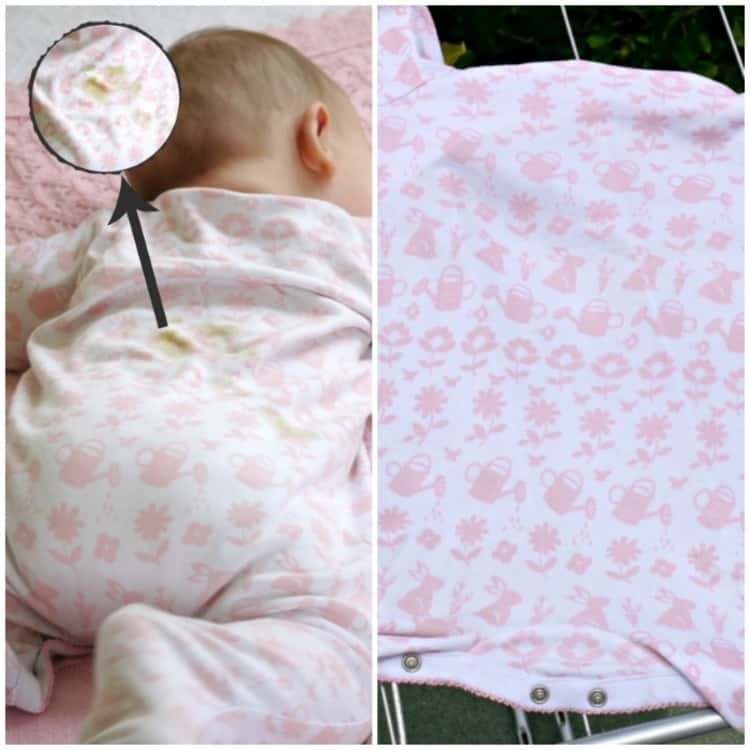 4. Use a Mesh Bag Especially For Baby's Socks 
I learned this one the hard way. Babies go through piles and piles of socks. But they're so tiny that they can literally get sucked into the insides of the washing machine only to clog it up (in which case you're shelling out $ for a repairman to take apart your machine and pull out those socks for you). 
This mesh laundry bag baby hack keeps all the baby's socks contained in one easy-to-find place. And perhaps we can now partially solve the mystery of missing baby's socks partners. Shall we? 
5. Nifty Baby Hacks For Clean Pacifiers  
Oh, those pacifiers! They are lifesavers, and at the same time nearly impossible to keep clean. And as a mom who's been there, dirty pacifiers are the last thing you need for your baby. If you are lucky enough to have a pacifier that came in a carry case, go ahead and use it! 
If you don't have one of those gems, make your own carrying case. It's as easy as making a reusable silicone bag (like a Ziplock) or even a sauce container with a lid from a restaurant. Do whatever it takes and you need to have clean pacifiers with you ALWAYS. 
6. Smartest Baby Hack: Have Multiple Diaper Changing Stations In The House
Did you know that newborns get 10-12 diaper changes a day? And who really wants to go upstairs to the baby's room every time you need to change a diaper? Not me for sure. 
If you live in a home with multiple stories, keep a small bin with diaper changing supplies in it (a changing pad, diapers, wet wipe, etc) on each floor so you don't need to go up and down the stairs every time. Having these changing table set ups will save you so much energy.  As a new mom, you need all the energy you can get, and wasting it going up and down the stairs to change baby isn't good for you or your baby. 
7. Clever Baby Hack To Keep Bibs Handy
Bibs? These are other baby clothing flaps that I never seem to find when I need them. Thanks to this baby hack, I always have some within easy reach. 
Use a command hook on the back of the high chair to store your bibs and have them handy anytime you need them.
8. Save Your Arms With This Baby Hack – Use a Pool Noodle
Think of this one as a having-your-back newborn hack. Use a pool noodle when you're carrying the baby's car seat to make life easier. 
The most comfortable way for a newborn baby to be carried is in a car seat but from experience, carrying them can get heavy quickly. Having a pool noddle helps take off some of the pressure from your hand or arm so you can carry it for longer with more comfort. Clever baby carrier hack!
Newborn Hacks For Sleep
Sleep – so precious and in such short supply! Help your newborn sleep with these hacks and with some lullabies.
9. Genius Baby Hack For Sleeping Babies Who Want To Be Held
At some point, every parent will have that one child that doesn't like to be left alone. I certainly had one and boy, wasn't it some experience! 
This weighted glove is pure genius. And it's so easy to make – just fill it with rice.  I think it's smart, safe, and a great way to save your sanity. This baby hack will help you get a little rest, or at least get something done while your baby is sleeping.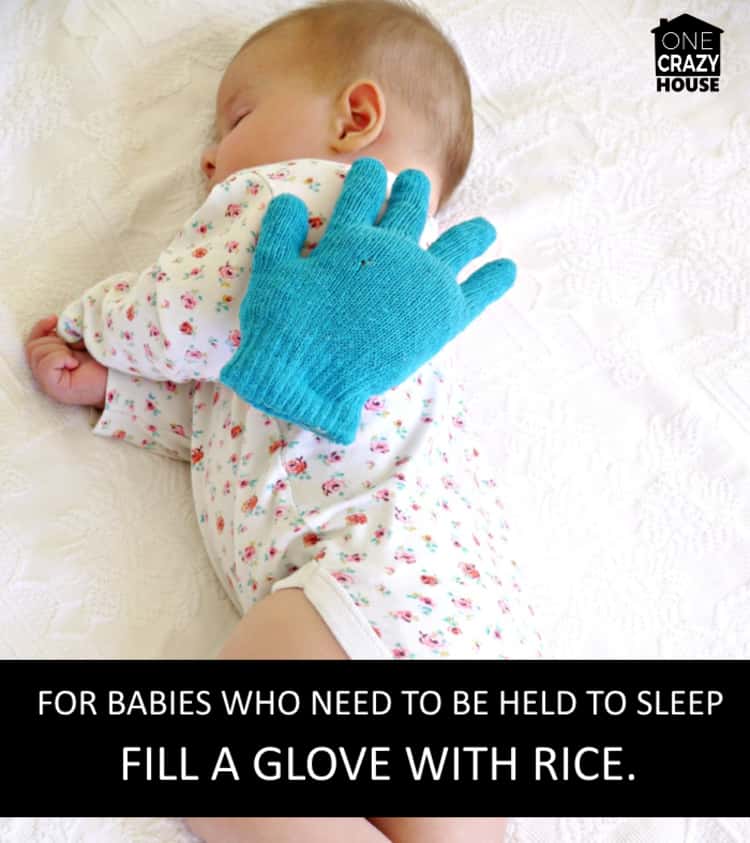 10. Light Your Way With Practical Baby Hack – Get Under The Bed Light
I can't tell you how many times I've tripped in the dark trying to find something in the room or get to the baby. This under-the-bed-light is such a clever baby hack. I wish I'd have thought about that when I had my first baby! 
You could do this in any of your children's rooms. It will give them a little nightlight and you will be able to see if you really need to go in there.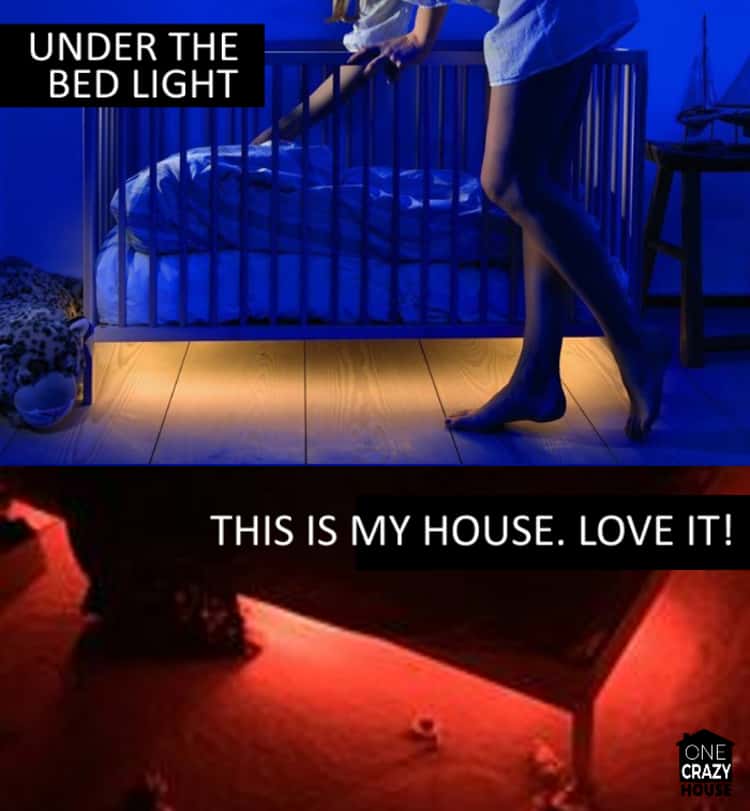 11. Get You And Baby Lots Of Rest With White Noise Machine Baby Hack 
At first, your baby will sleep unpredictably (but a lot during the day). There will be times when you finally get them asleep only to have the doorbell ring or a door close loudly – something that startles your baby awake. This is torture for moms! 
I highly recommend using a white noise machine, a fan, or a humidifier (or anything else that makes a consistent noise like a hum) to help drown out those unwanted sounds that might startle your baby awake. We used a fan (and still do).
These baby hacks will help save your sanity when your children are small. Give some of these a try and let me know if they work for you. 
I'd also love to hear about baby hacks that you have used in your own home. Please share them in the comments.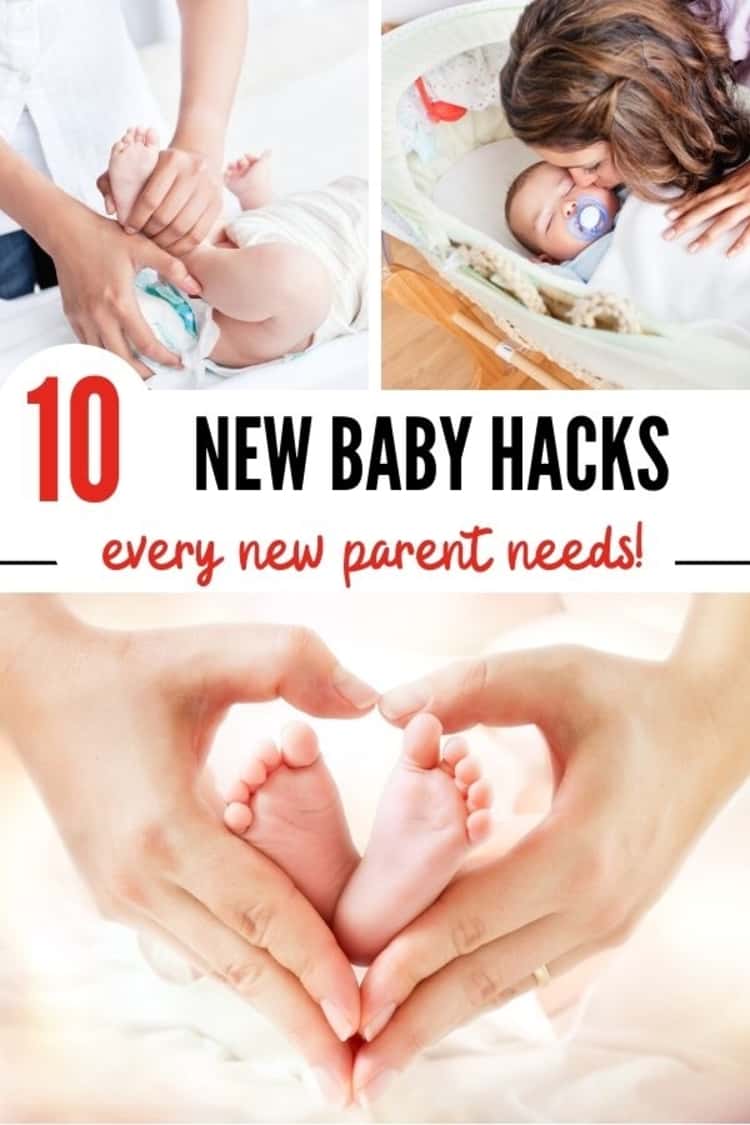 More Baby Tips and Tricks from One Crazy House
What are the top 3 baby hacks that are mind-blowing for you?