How can you bring a bunch of belly laughs to your neighborhood this year's trick or treat? With one of these – Hilarious Halloween Pet Costumes! I remember the first time my daughter, who was three at the time, understood the irony, it was with a hot in a hot dog Halloween costumes, she giggled for weeks!! Anytime she sees a neighbor walking his dog later she would shriek here comes hot dog and just laugh to herself!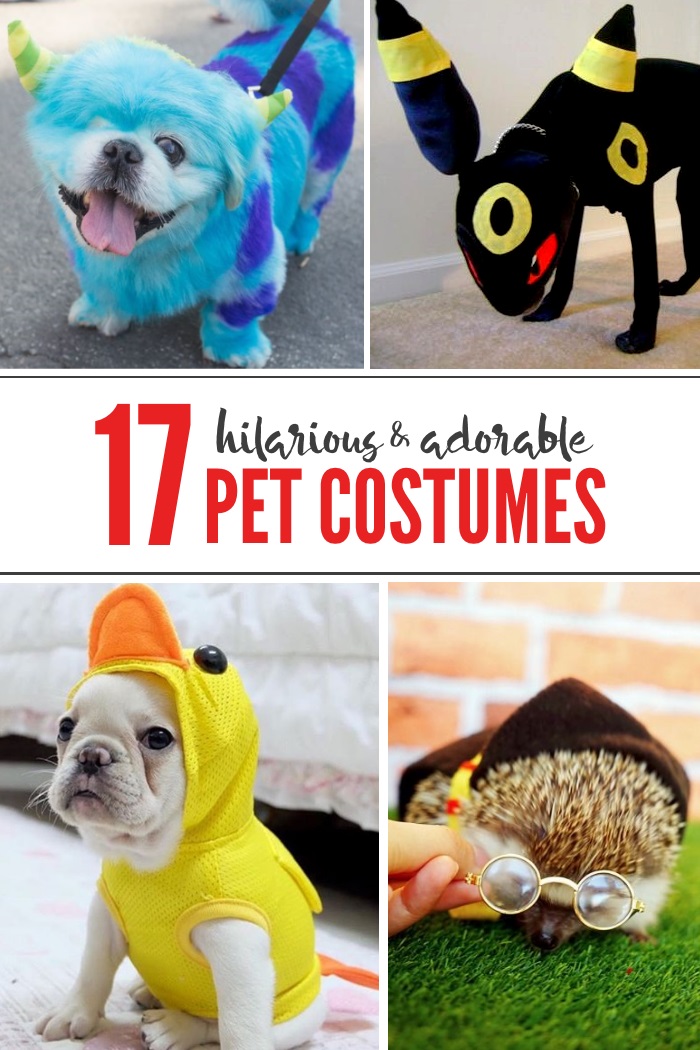 If only to relive those moments with her, and to see other toddlers, kids and preschoolers get plenty belly laughs, adorable costumes for pets are worth every penny spent! Below are some of costume ideas (some easy DIY ones) that are sure to bring a smile when you go trick or treat!
Hilarious Halloween Pet Costume(s)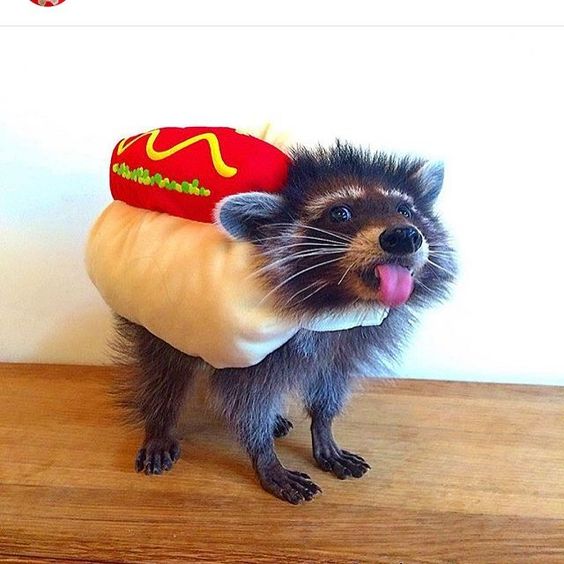 Hot dog pet costume – This is hilarious! Perfect for Fido, or even a pet raccoon! While designed as a costume for a stuffed bear, this hotdog also doubles up as a pet costume for your small pets.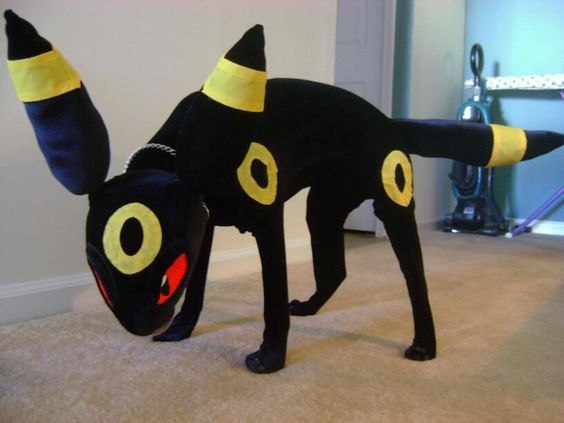 Pokemon Costume for Pets – Check out this dog's awesome Umbreon costume! She's such a good sport. Her owner even put her in a classic Umbreon pose and she stood still! Looking for more pokemon pet costumes (<< Click the link).
There's Classic Darth Vader again! It looks too perfect on a black pug – he is just ready to meet his father for some trick or treating! You can get a pet Darth Vader Costume in a variety of sizes – something for every small dog and furry friend!
Thor to the Rescue! Check out how some scraps of felt and craft foam were used in this avengers pet costume and transform a bearded dragon into the all-powerful Thor!
Easy Pet Costumes
Pet Lion Costumes. Bring out the lion in your kitty with this Cat Lion Mane Wig.  It blends easily into most cat fur making it look almost real!
Miss Piggy Costume, for the piggy (or even the small cat) in your life!! Use a pet "dress" along with a small pet blond wig to pull off this costume!
Your Pet can become Yoda!! We are huge Star Wars fans, and this is one of our favorite costumes (not our pet though).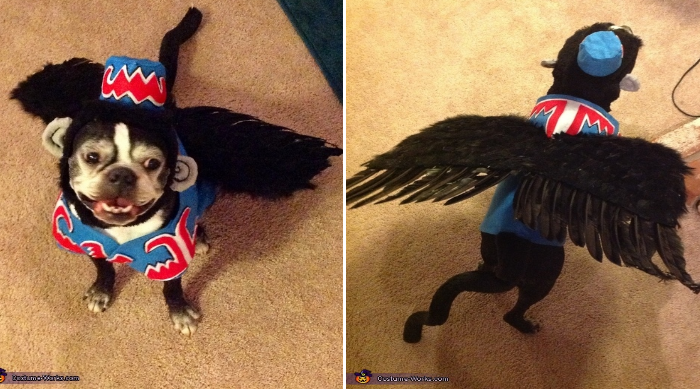 Check out how this puppy-mom used felt, glue and feathers to create a hilarious flying monkey pet costume.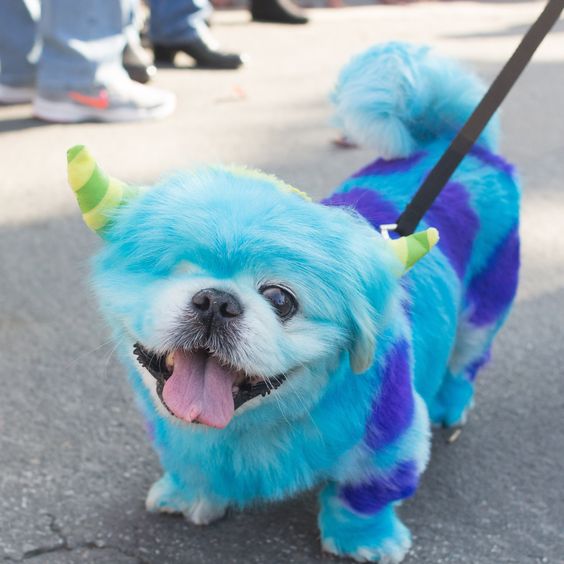 Monster Pet Costume – All you need is liquid chalk! Now isn't this the cutest pet costume you have seen?? These Monster Pet Costume are pet-safe and cover even the darkest fur colors.
Walking Teddy Bear Costume. Doesn't this pup look adorable? The costume is super simple to pull off
Painted Pet Costume Ideas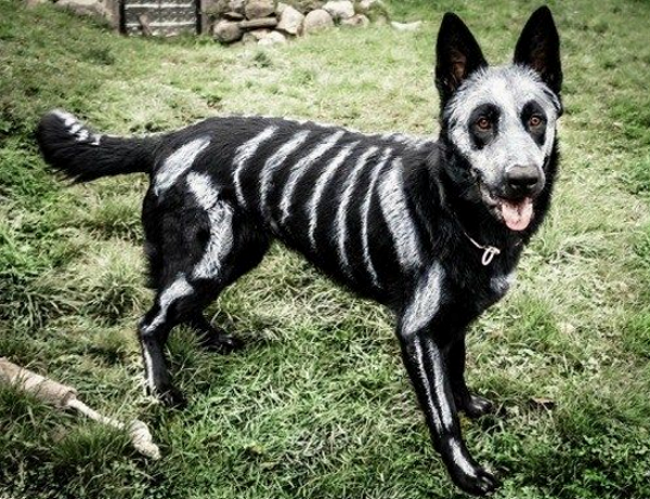 Pet Skeleton DIY Costume Idea.  This is especially cool if you have large dog breeds with dark fur lake canines. Use white glow in the dark body paint (it is non-toxic and long lasting, pet-safe) and use it to create the "bones" of your pet.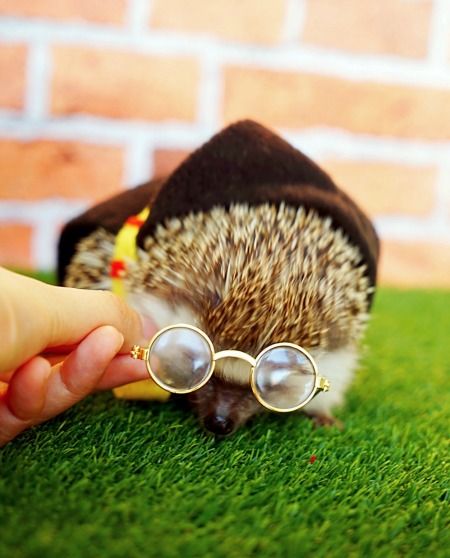 Harry Potter Costume Idea.  All you need is a piece of fuzzy brown fabric, a tiny scarf (aka slip of fabric) AND a pair of doll eyeglasses!  SO cute!
Pet Beanie Baby Costume.  Remember when Beanie Babies were the craze? Bring the 90's back this Halloween and wrap your pet up as a Beanie Baby. All you need is a red bow and a TY card!
Simple Slinky Pet Costume.  Too often we make halloween costumes complicated! I love how this costume is, easy to pull off, cheap and just adorable! Get your pet into your slinky! Get a rainbow slinky here – it fits pets and small dog breeds up to 7 inches in diameter. 
Easy Costumes and Outfit Ideas for Pets
Little Red Riding Hood Costume. Come on! Is this not the cutest! Little girl and her wolf! I bet you have all the items you need for this costume idea too – or you can get them at your local dollar store. Shower cap, reading glasses accessory and a brightly colored T shirt are all you need!
Bambi Pet Costume. Boy, I wish my dog had the coloring to be able to pull off these SUPER easy pet costume ideas… all you need is white body paint!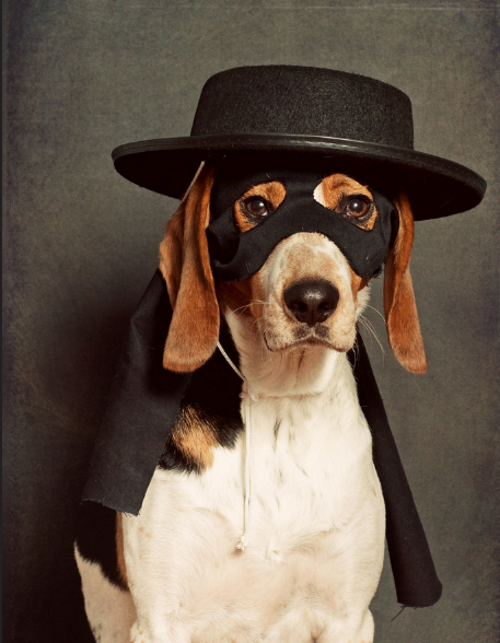 Masked Pet Costume.  Is this Zorro? Or a Magician?? This pet costume is easy to put together. All you need is a small children's mask, a small hat, and some black fabric or a bandana for a cape.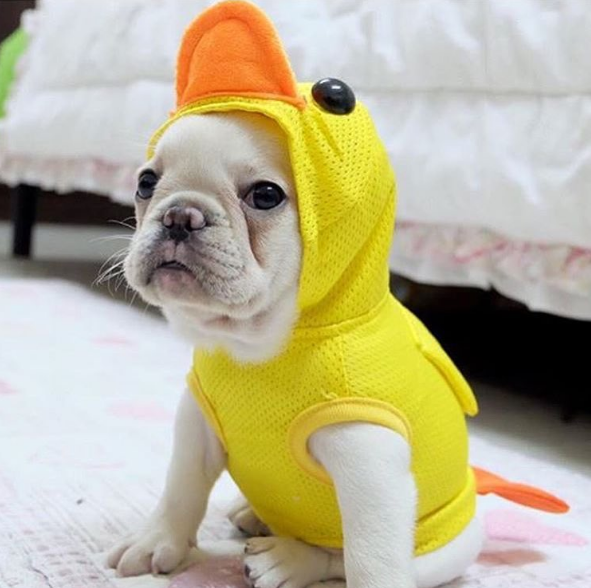 Help your dog channel his inner duck face with this funny dog costume. Can't you see your tween taking selfies with this adorable face?? Get your duck costume here.
Check out the best pet costumes you can try on for your pets this Halloween.
Which Halloween Pet Costume is your favorite?
More Halloween Fun For The Whole Family