Homemade burgers are a summer staple that everybody adores. Perfect for any occasion, whether you're having a simple family barbecue, or friends over for a girls' night, these mouth-watering patties are sure to be a crowd-pleaser. While everybody has a favorite burger recipe to run to, even the best dishes can become stale and repetitive if overused.
With These Amazing Burger Recipes, You'll Never Have Boring Burgers Again!
Easily customizable to match any flavor palette or mood, burgers are an awesome way to enjoy a savory home-cooked meal.

Top Burger Recipes The Whole Family Will Love
Every burger on this list uses crazy good rubs, toppings, or sauces, and combines powerful flavors to make each one a unique experience that you'll just have to try. With this list of the best burger recipes, you'll never have a boring burger again!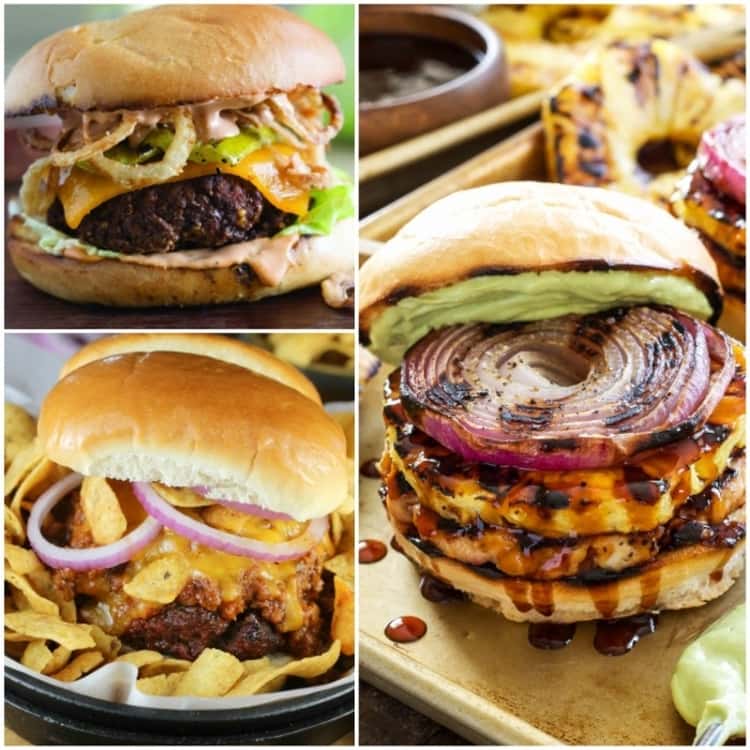 1. Teriyaki Turkey Burger – A Burger Recipe Bursting With Flavor
Covered in the lightly sweet, savory goodness of a homemade teriyaki sauce, this turkey burger pulls on grilled red onion and pineapple to really push this meal over the top. The avocado spread with lime and honey helps bring the flavor together even better!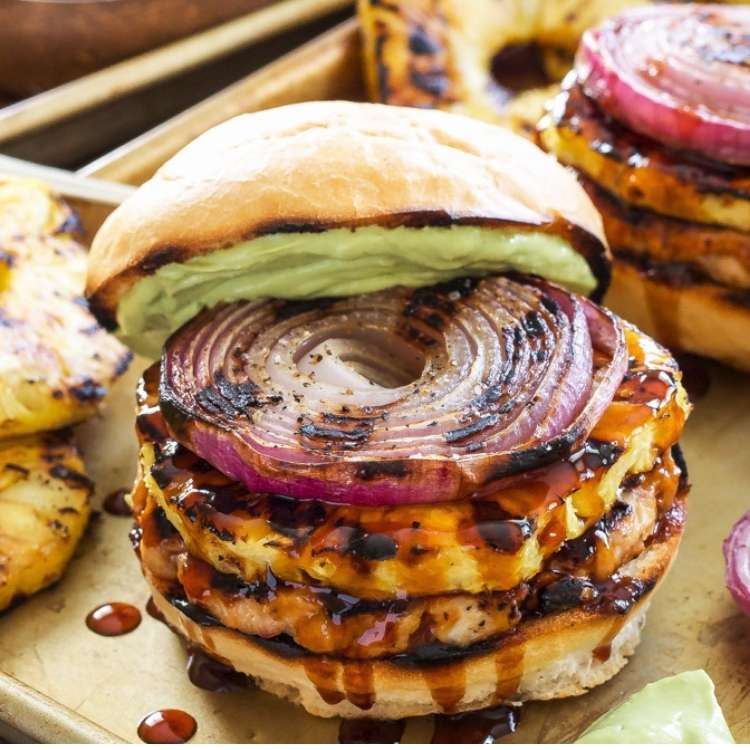 2. Cowboy Burger – The Bold Yet Familiar One
This cowboy burger will be the star of the show at your next backyard barbecue. With a tangy BBQ mayonnaise, crispy crunchy onion straws, and a well-seasoned patty this burger combines a lot of what makes a traditional burger so enjoyable, while still going in bold new directions.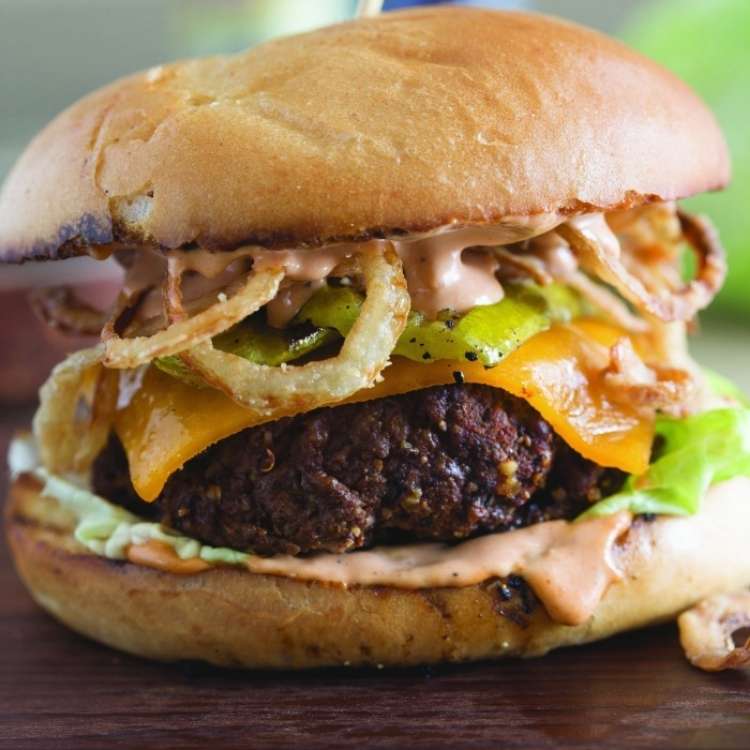 3. One Killer Burger Sauce To Kill Your Days of Boring Burgers!
One big thing that can change a burger's taste entirely is an amazing sauce. This sauce combines many ingredients that you should already have in your pantry, making it affordable AND flavorful. With this sauce, you'll never have dry, stale burgers again! It might even pair well with another recipe on this list. You never know until you try.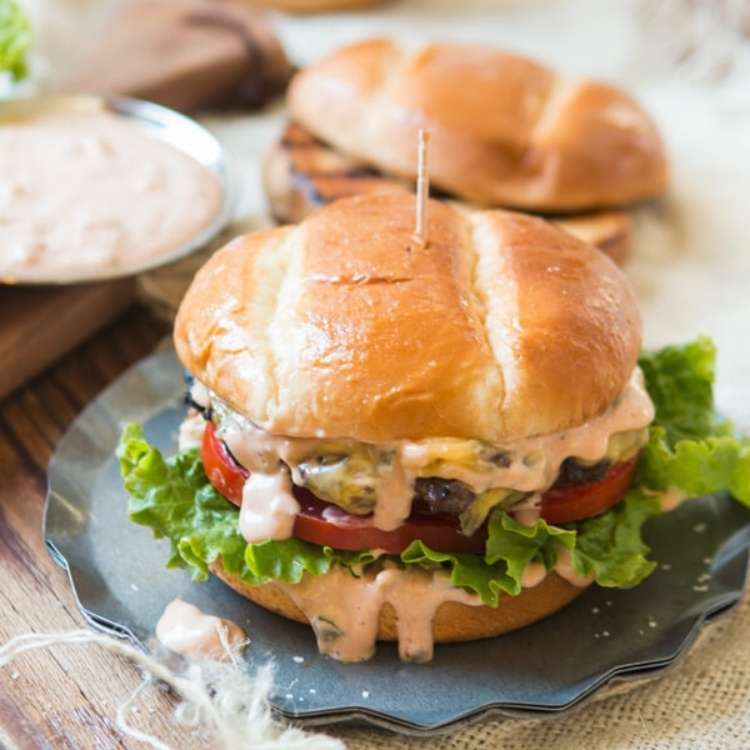 4. Going For a Healthier Burger Recipe? This Chicken Fajita Burger Might Be All You Need
This is a great burger idea! With all your favorite fajita flavors in one deliciously big burger, this chicken fajita burger is super flavorful. With the strong spiciness of a properly prepared fajita and the light flavor of lime-infused chipotle mayonnaise, this grilled red pepper topped burger is sure to stand out.
And, because it's made from chicken rather than ground beef, it's healthier than your average burger too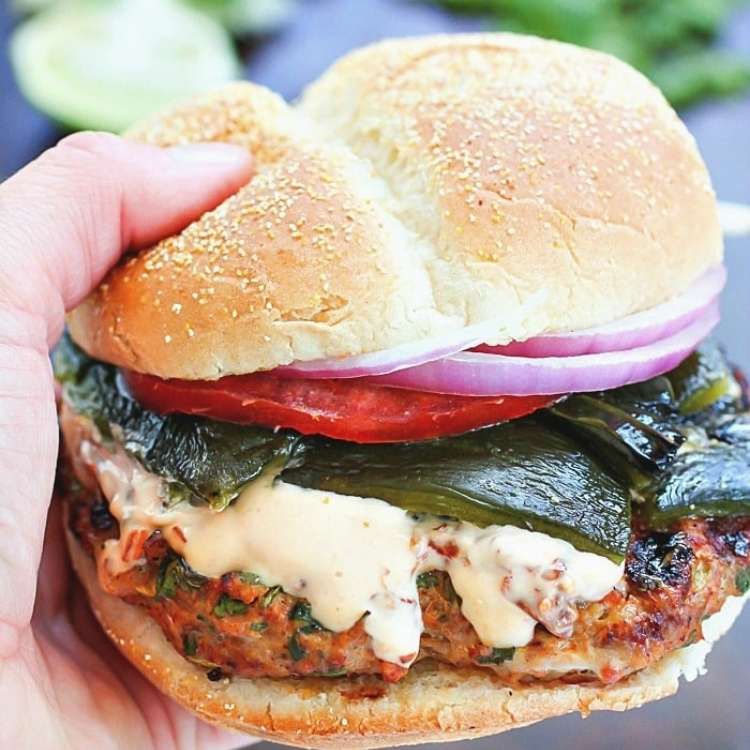 5. This French Onion Stuffed Burger Is Sure To Lift Your Spirits
Caramelized onions and gooey cheese are surely taking center stage with this onion-stuffed burger. Stuffed with caramelized onions and topped with Gruyere cheese, this burger combines classic french flavors with a uniquely American twist that will surely leave you with a smile.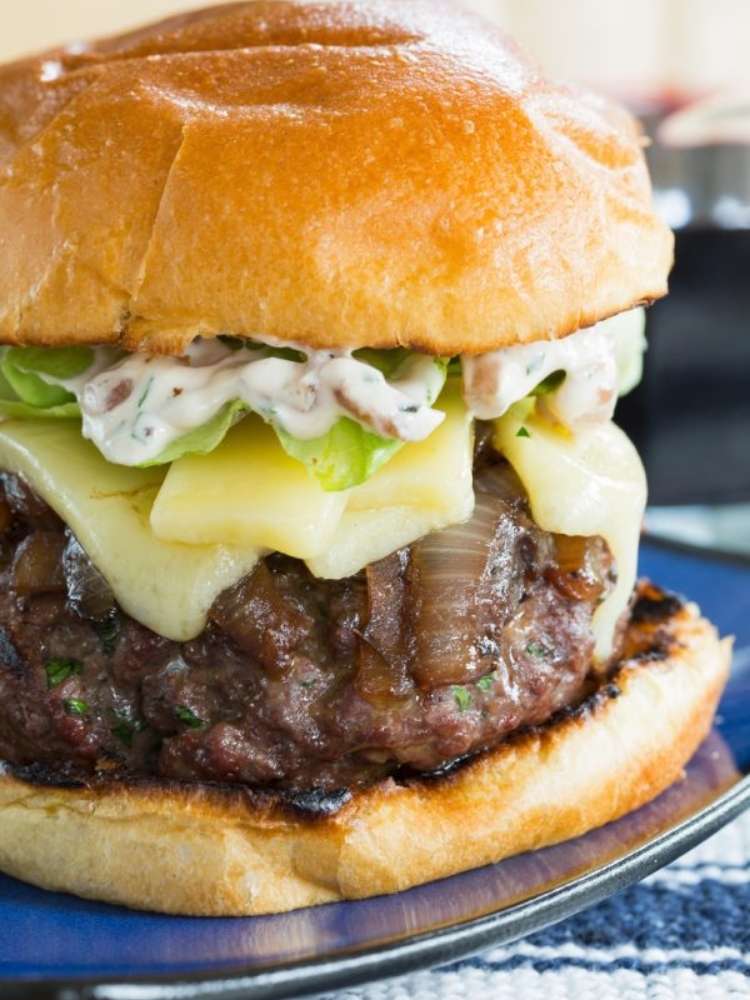 6. Chipotle Burgers with Creamy Avocado Sauce
Packed to the brim with traditional Mexican spices and grilled to perfection, this recipe demands attention from anyone who tries it. With the spicy bold taste of chipotles and jalapenos combined with the herbal smoothness of avocado and cilantro, these chipotle burgers will leave you begging for more.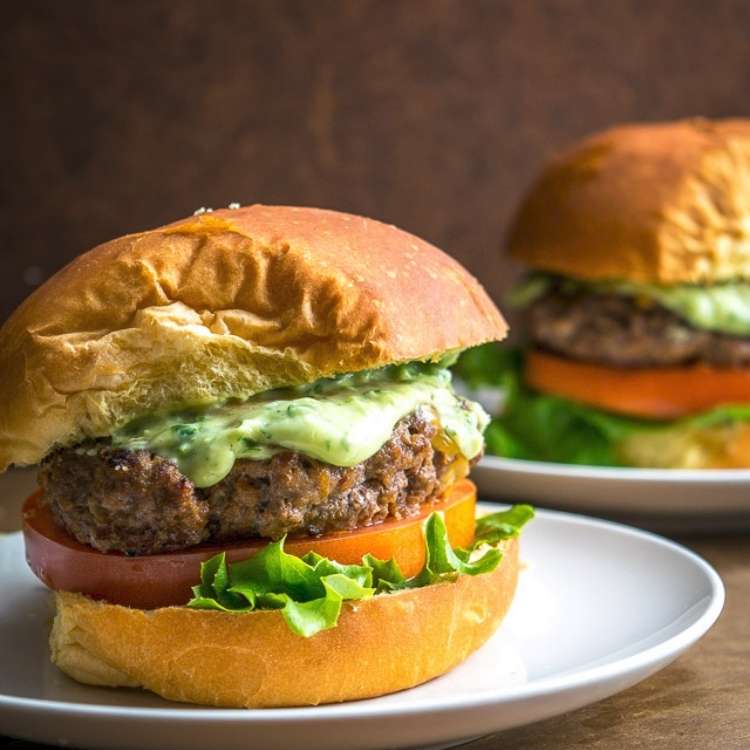 7. Nothing Like Apple Cheddar Turkey Burgers To Bring Dry Turkey To Life!
If there's one thing that's easy to do, it's to make a dry, boring turkey burger. With a low amount of fat, there's not a lot of juice naturally in turkey meat. Well, that's not a problem for this juicy Apple Cheddar Turkey Burger!
Topped with sliced apple, cheddar cheese, and a creamy, savory maple Dijon mustard to balance the sweetness, this burger has the perfect combination of flavors for any occasion.
Looking for more awesome turkey burger recipes? Check out these 15 Ground Turkey Recipes to Get Out of the Dinner Rut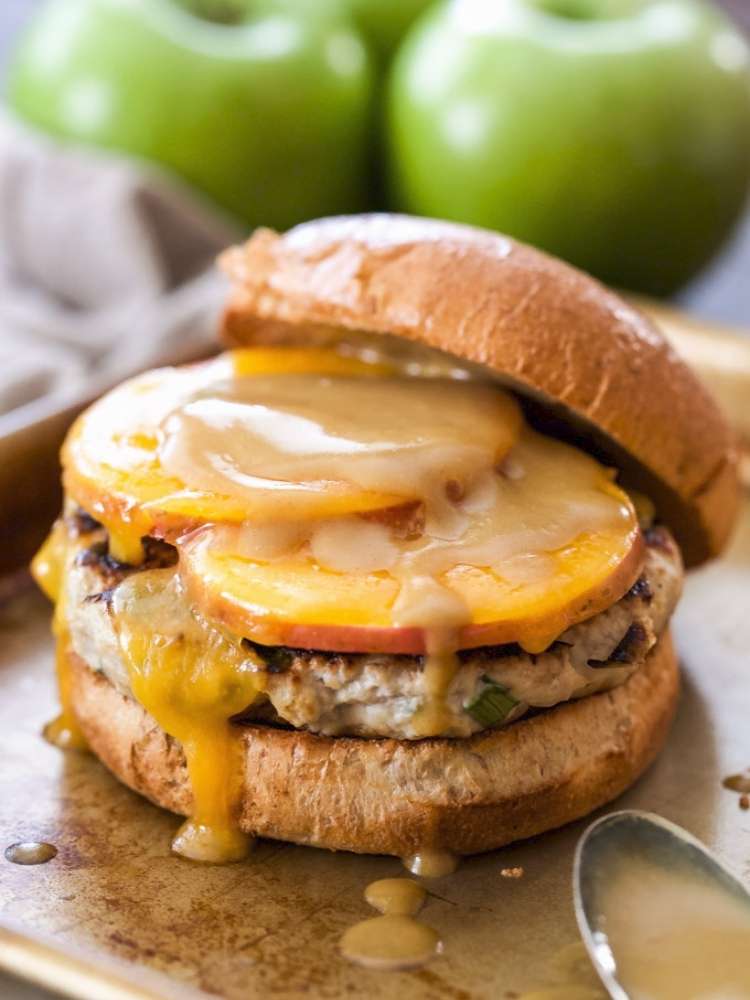 8. Coffee-Rubbed Burgers with Dr. Pepper BBQ Sauce
This recipe has one of the most unique flavor palettes I've ever seen. Combining the distinct bitterness of a coffee rub, topped with the sweet, tangy array of flavors in a Dr. Pepper barbecue sauce is a tricky balancing act that this burger manages to pull off seamlessly. Served with a side of thick-cut fries, this could make for the perfect meal to break the monotony of standard burgers.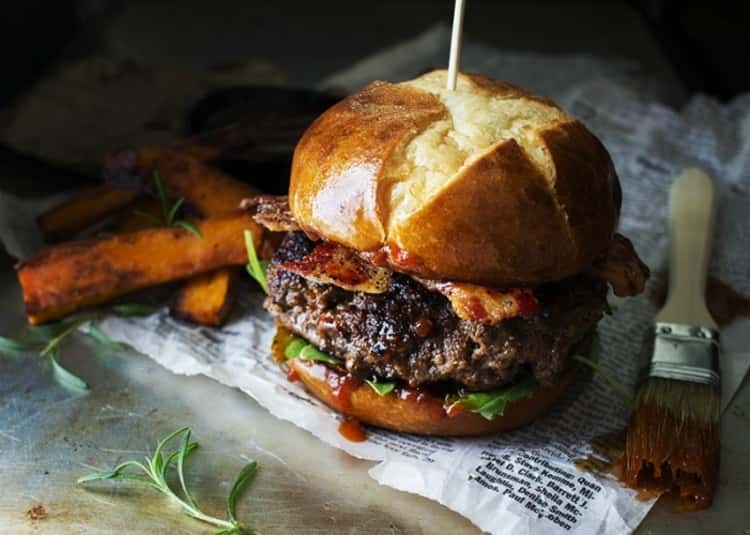 9. Caramelized Onion and Bacon Whiskey Sauce Burger
This unique sauce is the star of the show for this burger recipe. The sweetness of the fried onions combines perfectly with the savory flavors of bacon and whiskey to make this recipe stand on its own. You may need a knife and a fork to eat this monster-sized burger, but when it tastes this good, who cares if it gets messy?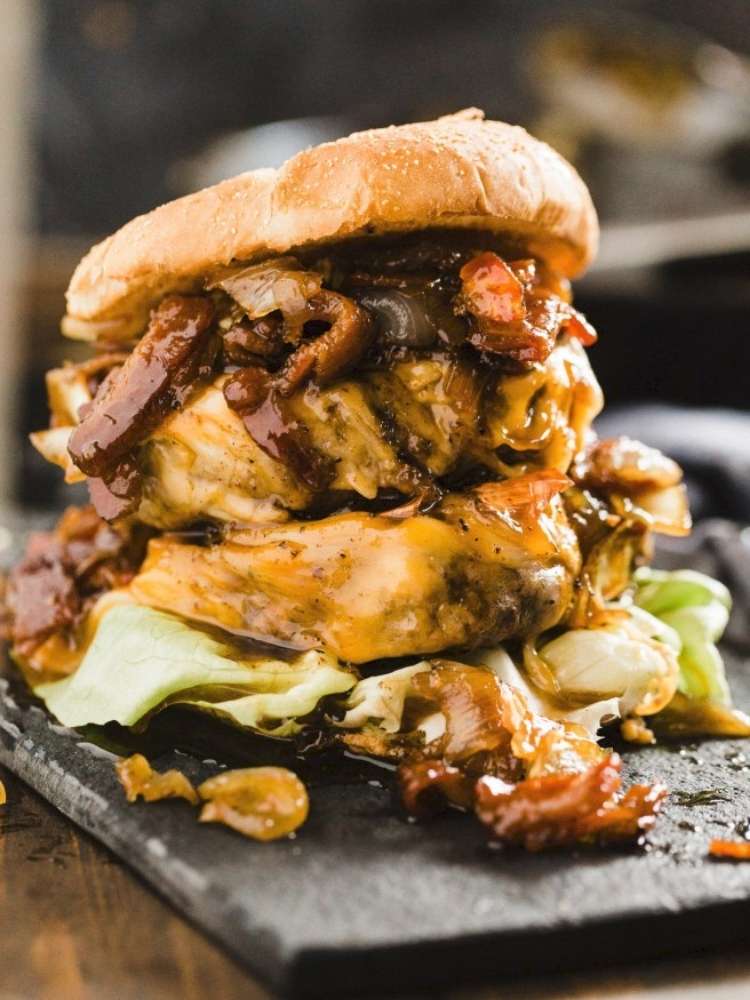 10. Paleo Bacon Garlic Avocado Burger
If you eat paleo, this is one of the best burger recipes!
Topped with bacon, avocado, and red onions, this burger has a lot of flavors packed into each and every bite. Adding in the freshness of the ranch and basil, this juicy burger is a perfect balance of flavor.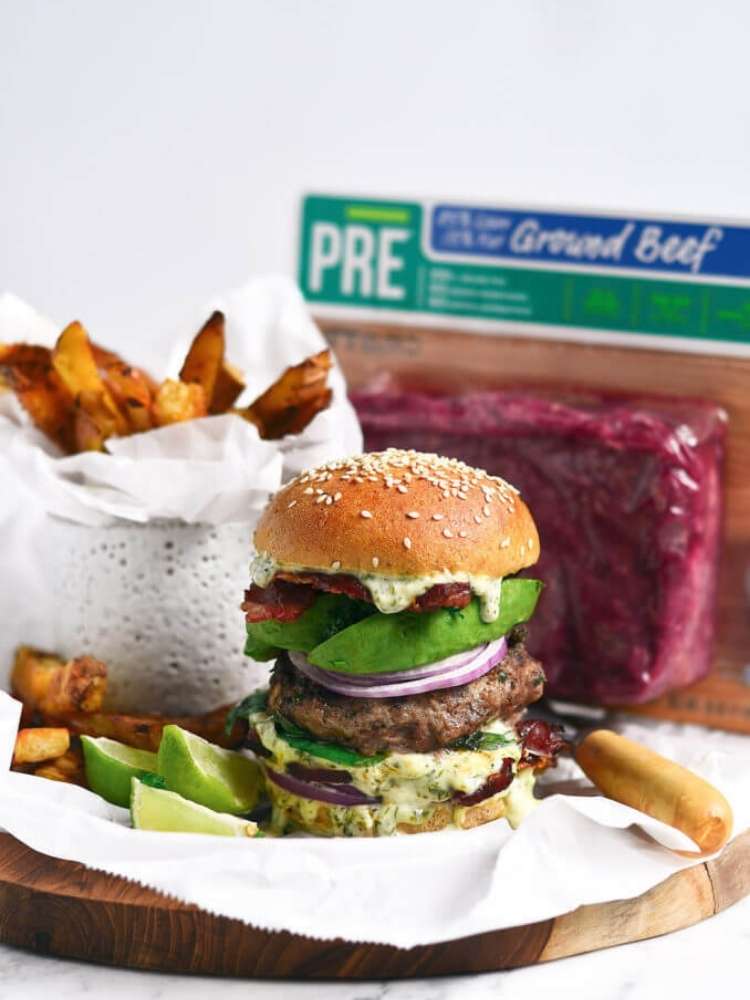 11. Copy Cat Big Mac – Bringing McDonald's Closer Home
McDonald's is one of those cravings that a lot of us get, but none of us should have. Going out to eat too often is expensive, especially if you've got a sizable family.
Instead, try making your own Copy Cat Big Mac right at home! This recipe perfectly mimics the classic Big Mac we've all come to know and love, with fresher ingredients. As a bonus, it's even cheaper and healthier than running out to grab food from the drive-thru!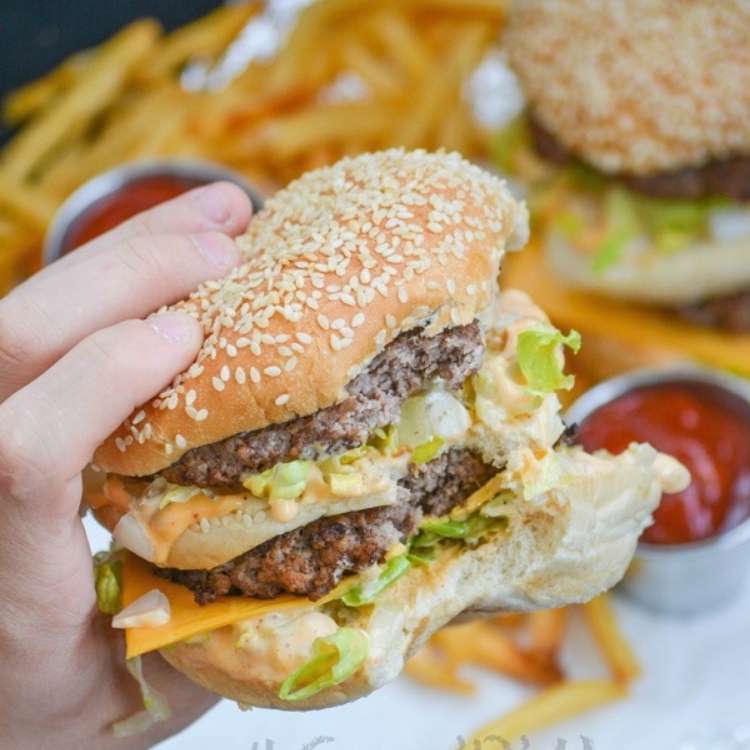 12. Taco Burger – America and Mexico Never Looked So Good Together!
If you're in love with Mexican food, this taco burger includes all of the great flavors into a savory burger. Topped with onion, tomato, cilantro, cheese, lettuce, and sour cream, this burger hits many of the great notes that you've come to expect and love from a classic Mexican dish. Try adding in some of your other favorite toppings to make this one all your own!
You can find your way across this country using burger joints the way a navigator uses stars.

~ Charles Kuralt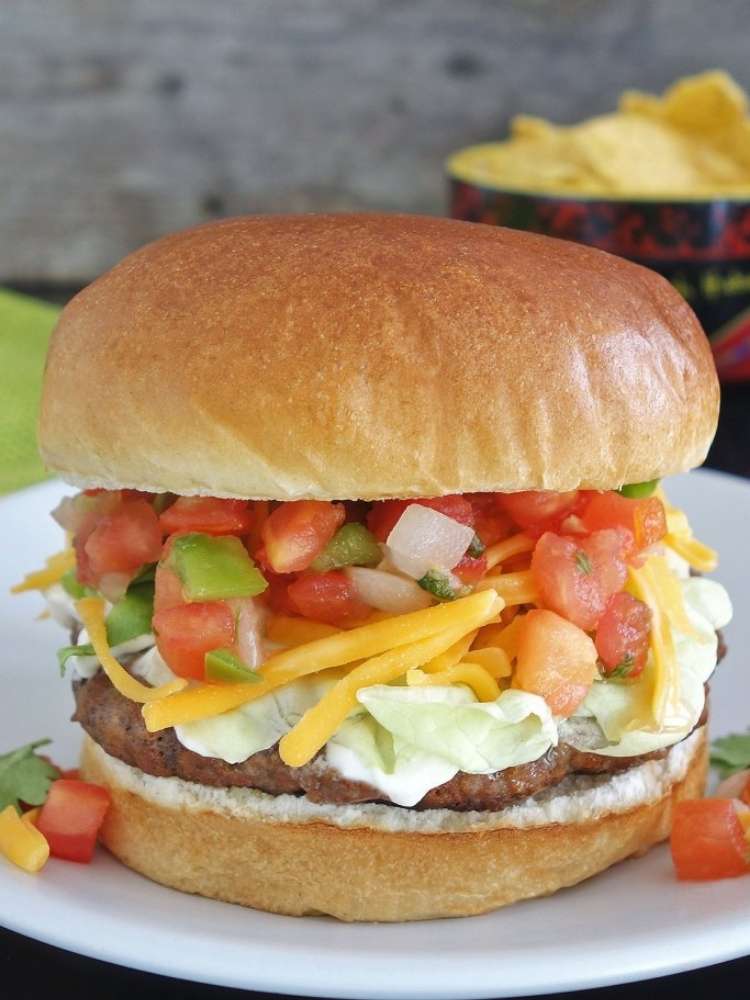 13. Mexican Chorizo Garlic Shrimp Burger
Although there's a long list of ingredients for this recipe, these Mexican Chorizo Garlic Shrimp Burgers are so easy to put together, that you'll wonder if you made them correctly. (Don't worry, you did!)
Combining the rich bold flavors of chorizo, shrimp, and garlic with a spicy, citrus-infused paprika mayo will leave you and your family stunned.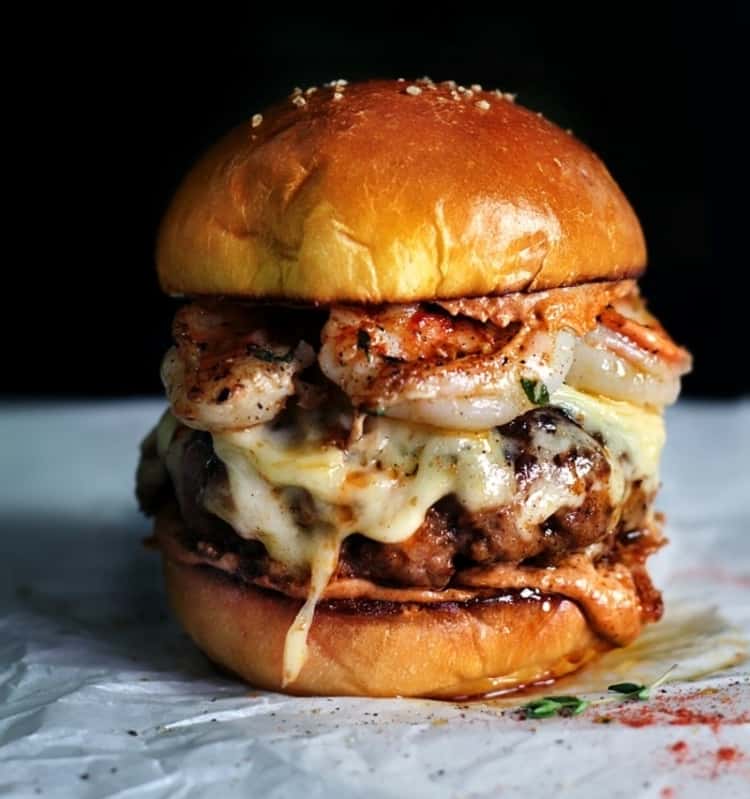 14. Barbecue Frito Chili Pie Burger. Yum!
This Barbecue Frito Chili Pie Burger is something to try the next time you really feel like indulging.
With the spicy sweetness of fresh red onions, and the salty crispness of Frito's brought together with the Dr. Pepper barbecue sauce, this filling burger combines many flavors and textures for a unique experience.
This is another burger with the Dr. Pepper barbecue sauce on it, so make sure to make a big batch so you can use it again and again!
15. Nothing Speaks the Caribbean Like Jamaican Burgers with Spicy Pineapple Sauce
This Jamaican Burger with Spicy Pineapple Sauce is absolutely mind-blowing. Utilizing the strong spiciness of jerk-seasoned meat, and topping it off with a pineapple sauce, mangoes, and red bell peppers, this burger isn't afraid to push boundaries and try something new.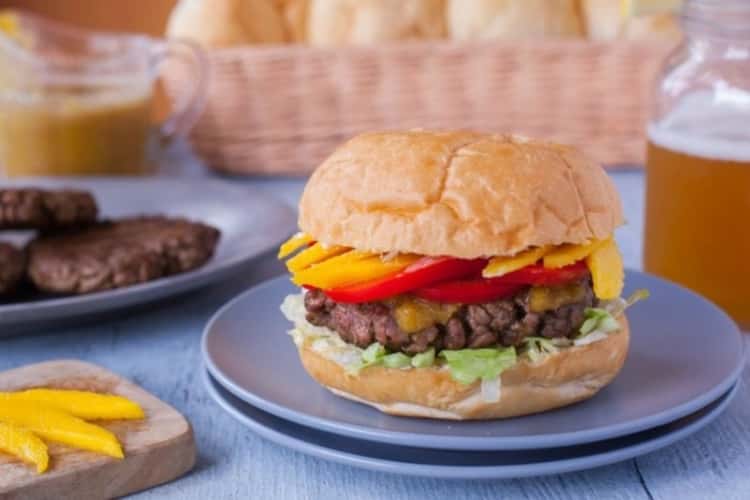 16. Asian Burgers with Sriracha Mayo
Mix up your usual burger routine with this spicy, crunchy burger recipe. With soy sauce, oyster sauce, and ground ginger combined into the meat before cooking, and topped with tongue-tingling spicy sriracha mayo and Cole-slaw, this burger has an excellent mix of flavors and textures.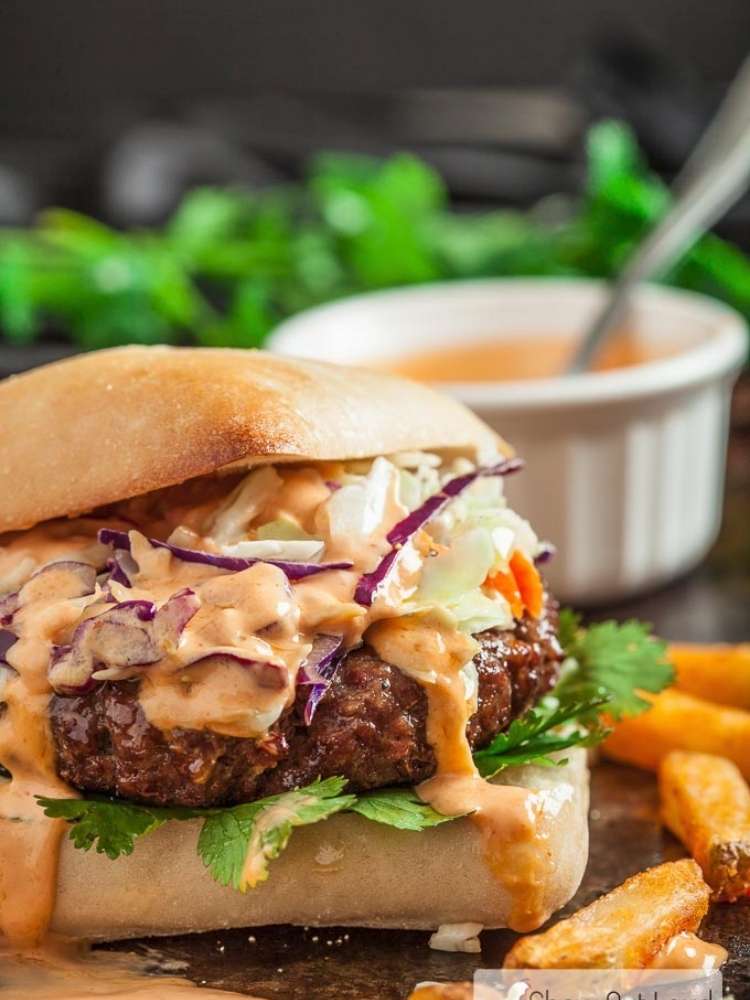 17. Guinness Burger with Irish Cheddar and Bacon
You don't have to wait until St. Patrick's day to enjoy this Guinness Burger with Irish Cheddar and Bacon, it's delicious any time of the year! The Guinness helps the meat to be even more savory and juicy, and the thick slices of cheddar cheese topped with bacon make this anything but boring.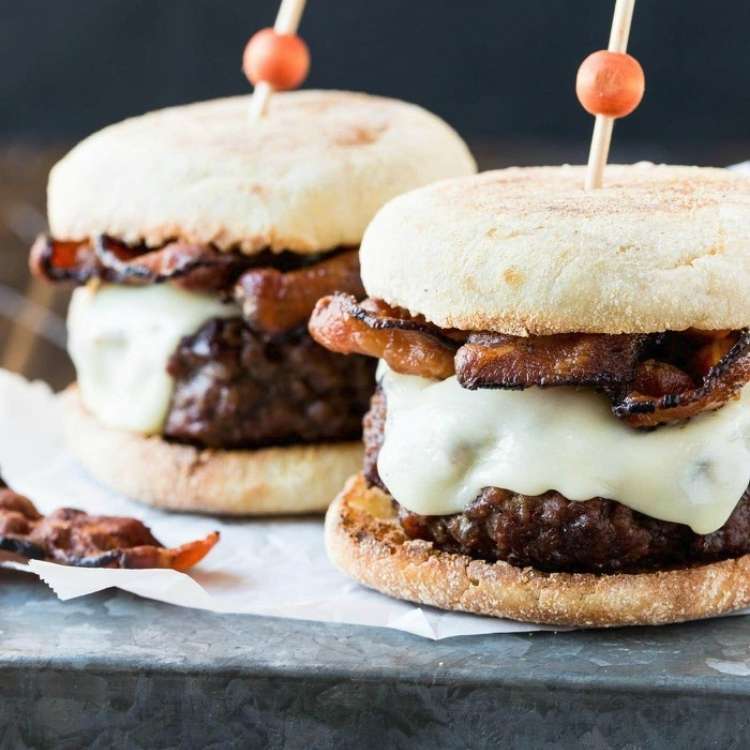 18. Mushroom Burger with Provolone, Caramelized Onions, and Aioli
You simply can't beat this classic burger. The savory taste of provolone and mushrooms, with the subtle sweetness of the grilled onion, has been done countless times, and to great success. This burger goes one step above and beyond and adds in a garlic aioli to really pull every flavor together bite after bite.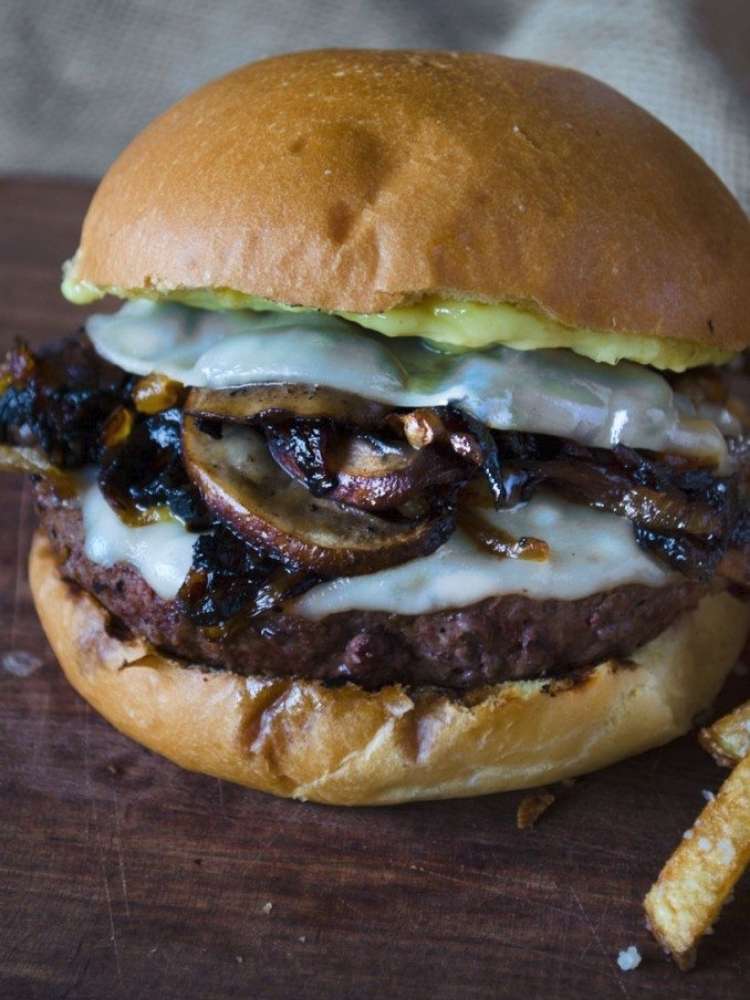 .
19. Queso Burgers – Classic Cheeseburger With A Twist!
A roundup of burger recipes just wouldn't be complete without a beefy Queso Burger. Topped with an easy gooey, runny Velveeta sauce mixed with Rotel, it's like a queso explosion in your mouth!
Combining the strong savory flavors of grilled ground beef with cheese has been done for almost a hundred years, and it never fails to impress, and neither will this interesting twist on a classic cheeseburger. This recipe is a serious contender for the best on this list.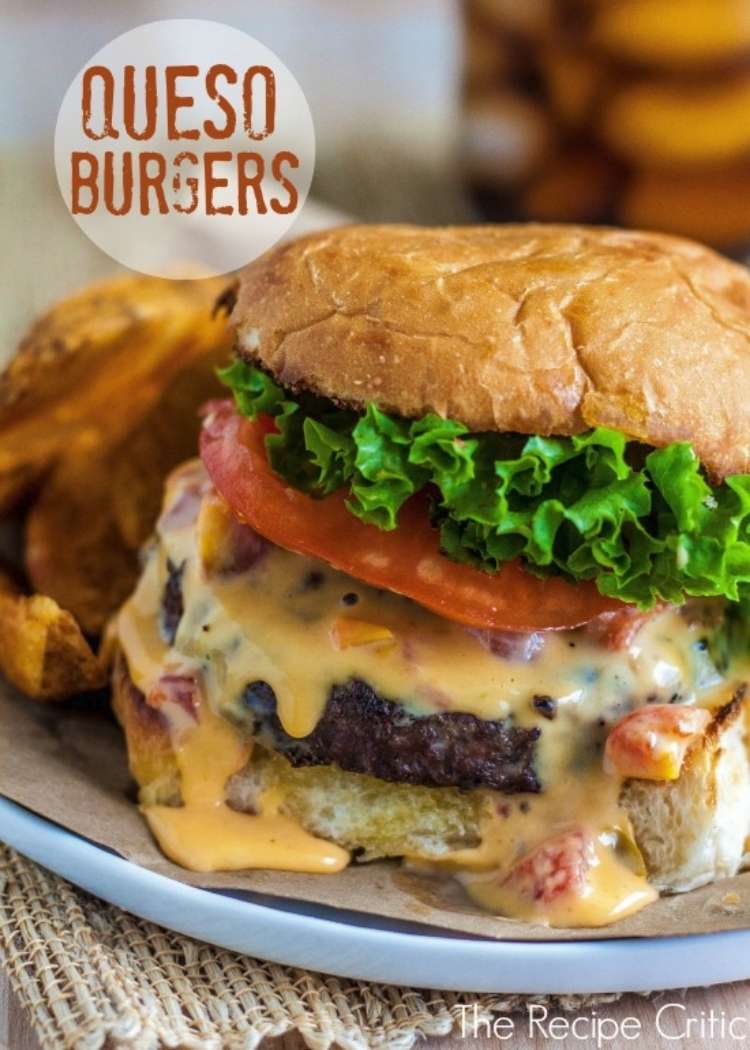 Want to Add More Unique Flavors to Your Burger? Try these ideas:
Cook over wood
Cook over charcoal
Butter your burger bun
Try something other than beef for your patty, like turkey or pork
Make One of These Your Next Go-To Burger Recipe
There ya go! 19 homemade burgers that will seriously knock your socks (or flip flops) off. Each and every burger on this list packs a serious flavor that will make your taste buds dance and leave you begging for more.
There are so many unique combinations of flavors on this list that you'll no doubt find a new favorite to go to. You could even try tweaking each of these recipes to match your specific flavor palette, meaning there are seemingly endless possibilities for what you can do with these!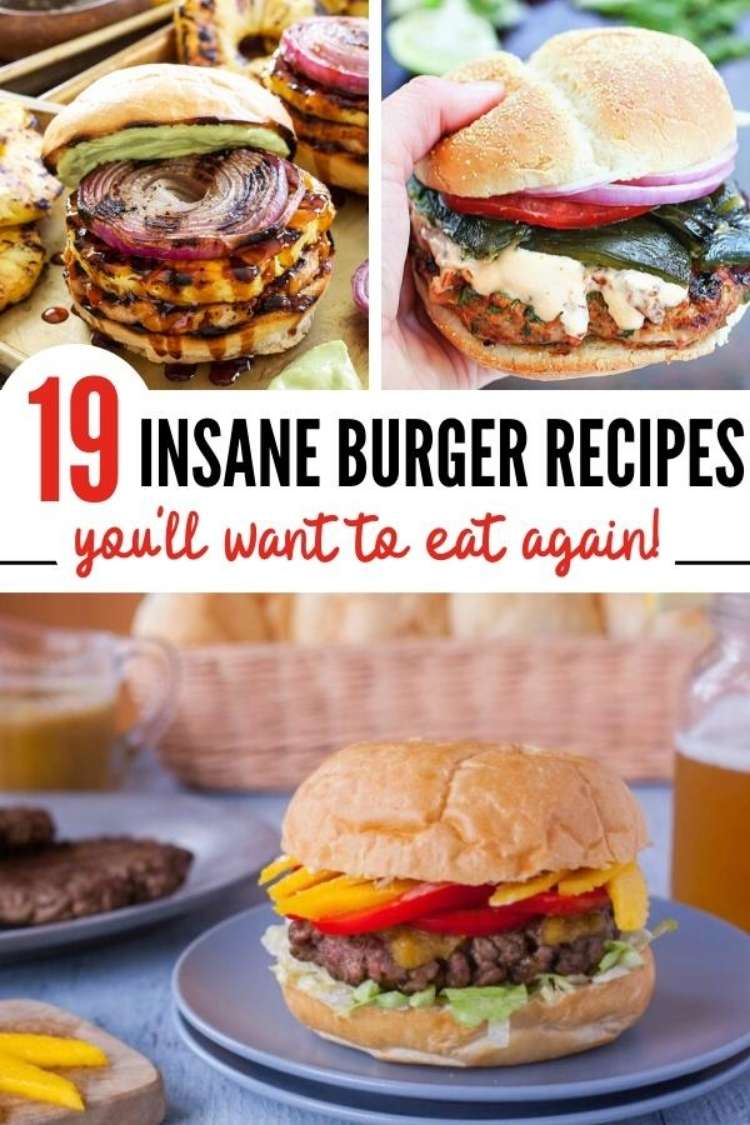 Love These Burger Recipes? Check out These Other Fantastic Meal Ideas: