We love cupcakes. They're delicious, they're portable, and they're the perfect size for little kid hands. But if you're tired of the same old cupcake recipe, have we got a trick for you. Take this basic batter and change it up to make 10 different (and amazing) flavors. One cake batter, 10 ways. You can't beat that!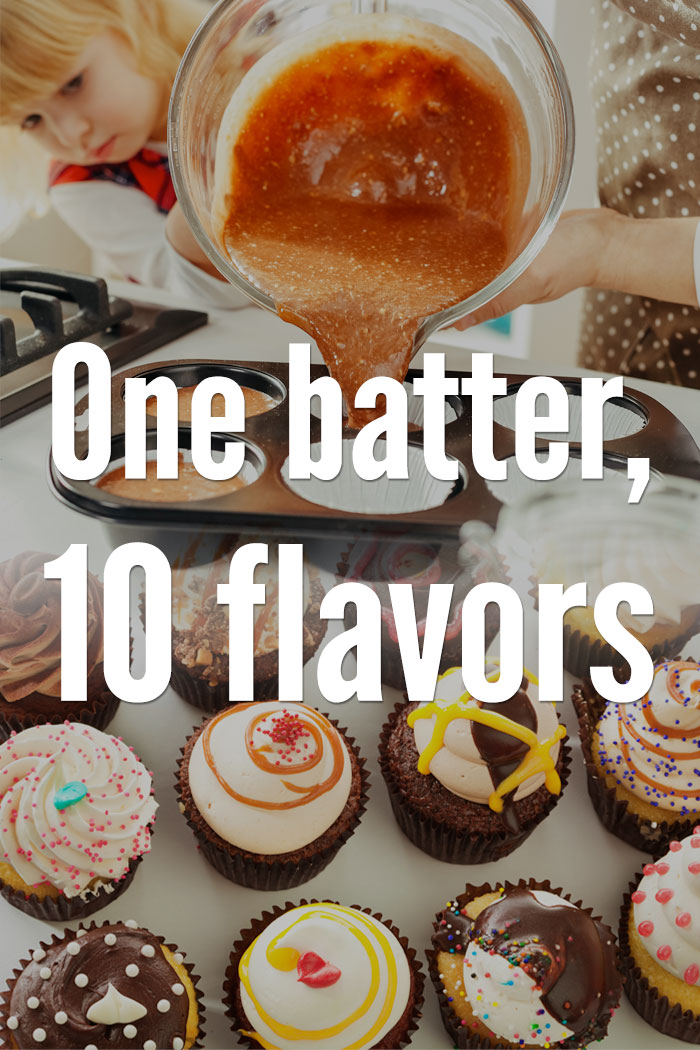 Video: Orange Cupcakes
Light, citrusy, and oh-so-good, these cupcakes are perfect for any time of the year. Check out this short video!
One Cake Batter, 10 Ways
Sometimes the box mix just won't do, and with this easy to make batter– you'll wonder why you haven't always been making your cupcakes from scratch!
Here's the basic batter recipe to start with.
For the Cupcakes:
3 ounces bittersweet chocolate, finely chopped
⅓ cup Dutch-processed cocoa powder
¾ cup hot coffee
¾ cup bread flour
¾ cup granulated sugar
½ teaspoon salt
½ teaspoon baking soda
6 tablespoons vegetable oil
2 eggs
2 teaspoons white vinegar
1 teaspoon vanilla extract
For full baking instructions, go here.
One of the easiest ways to change up a basic cupcake recipe is with the fillings.
Here are some fun variations to try.
Marshmallow Goodness: Stick a marshmallow in the center of your batter before baking.
Peanut Butter Lovers: Add a Reese's Peanut Butter cup to the center and top with peanut butter frosting.
Easy Peanut Butter Frosting
Ingredients:
1 stick (1/2 cup) butter, room temperature
1 cup smooth peanut butter (do not use all-natural here)
3 1/2- 4 cups powdered sugar
1/4 cup milk (I used non-fat), plus an additional 1-2 tbsp if needed
1 tsp vanilla extract
1/8 tsp salt
*add the powdered sugar to your mixer last and mix to the right consistency. If it's too thick, add additional milk. Yum!
Peanut Butter-Banana Cupcake: Use the same frosting and garnish with bananas! These are popular in our house! We've got some banana lovers.
If you want to get really fancy, add this filling to your cupcakes after you bake:
 Banana Cream Custard Filling:
1 ½ bananas, sliced
½ cup milk
1 ½ cup heavy cream
¼ cup corn starch
½ cup +2 tablespoon sugar
1 tablespoon vanilla
¼ teaspoon kosher salt
*Simply core out the center of your cupcake and add a spoonful of the custard and then frost with the Easy Peanut Butter Frosting.
Chocolate Strawberry Cupcakes: Strawberry Frosting. Take this to the next level by adding a strawberry dipped in chocolate on top.
Simply Delicious Strawberry Frosting
1 pkg. (1.2 oz) of freeze-dried strawberries, I get mine from Trader Joe's
1 C. unsalted butter, softened
3 tsp. lemon juice, or milk
1 1/2 tsp. vanilla extract
3-4 C. powdered sugar
*Directions here.
Cream Cheese Frosting: Who doesn't love Cream Cheese Frosting? Garnish with a favorite fruit, or decorate with sprinkles. I like the simplicity of a single raspberry.
Vanilla Cream Cheese Frosting
 ½ cup (1 stick/8 Tablespoons) unsalted butter (set at room temp about 10 minutes, but should still be cool)
8 oz. cream cheese (directly from fridge)
 1 teaspoon pure vanilla extract
4 cups powdered confectioners sugar
 1 to 4 Tablespoons heavy cream, heavy whipping cream (or milk- although I do like the richness that cream adds)
Whipped Nutella Frosting: Nutella. I don't think I need to say more.
1 cup heavy cream
2-3 tablespoons powdered sugar
1 teaspoon vanilla
2 tablespoons nutella
*Directions here.
Traditional Buttercream Frosting: Classic.
1 cup butter, softened
4½ to 5 cups powdered sugar
1 teaspoons vanilla
5 Tablespoons heavy cream or milk, I prefer heavy cream
¼ teaspoon salt
Looking for more great cake ideas? Check out this post: 15 Original Birthday Cake Ideas or these Soccer Cupcakes for your soccer fans!