While kids can be overwhelmed with joy and excitement when they first hear the news of a camping trip planned, there are times when the entire experience can become boring for kids. It is no doubt that any trip, be it a camping or hiking trip, is always filled with family bonding experiences and a lot of fun and new things to experience and try. That's why camping games for kids are invented!
But kids tend to adapt easily, and the 'are we there yet?' is eventually changed to 'when are we going home?' What is the solution, then? How to keep kids engaged while you are on a camping trip? The solution is simple.
Pull out some camping games to have a blast! In this article, we have come up with a lot of addictively fun camping games for your kids and the whole family that they are sure to love for inspiration.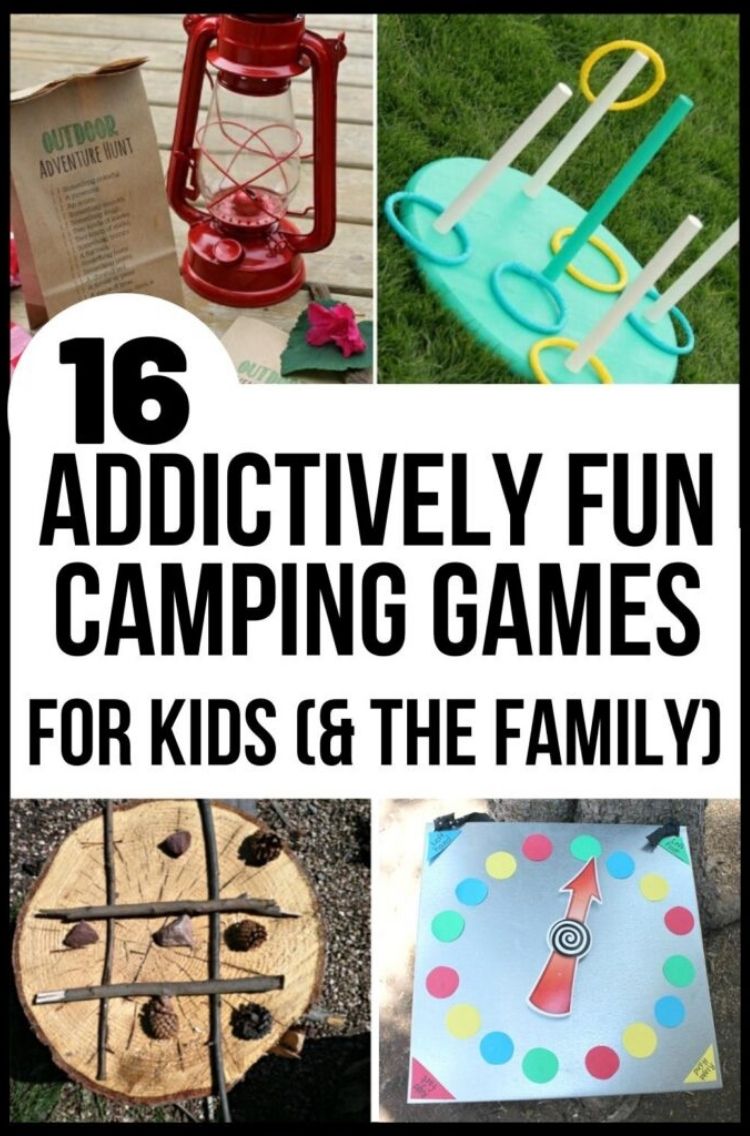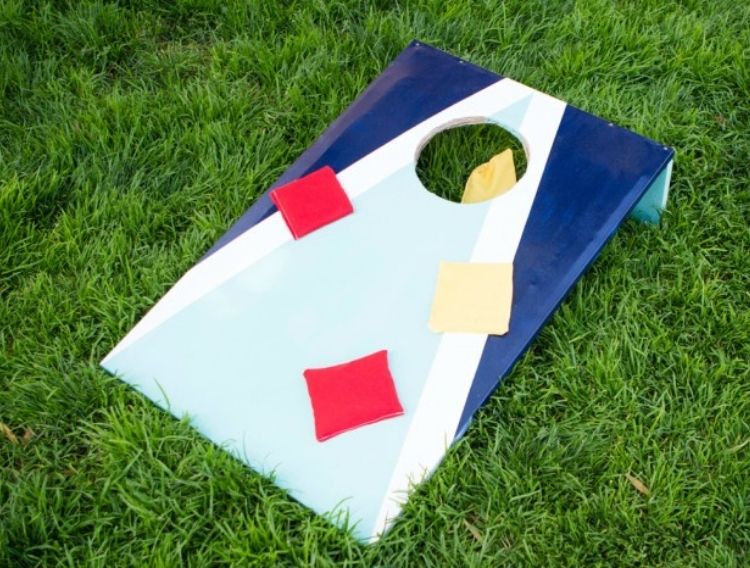 2. Family Camping Activity & Game Guide
Never just look at each other and wonder what to do!!  The Ultimate Camping Bundle includes not only ALL the checklists you could need to make sure you don't forget the important necessities, but also a GIANT pack of memory-making activities for your kids to enjoy while you are camping… and the best thing is it's on sale for a limited time for only $7!! Be sure to grab it now for your family camping trips!
3. Flashlight camping games
More camping activity ideas are coming in. Flashlight game is yet another game that you can play in the evening or at night because the flashlights come out when the sun goes down! Since there has always been some chemistry between kids and flashlights, flashlight tag is one of the most popular camping games that keep kids occupied for hours. Not only will it make your kids enjoy the game, but it will also spread some laughter in the air for hours. Such a fun camping activity!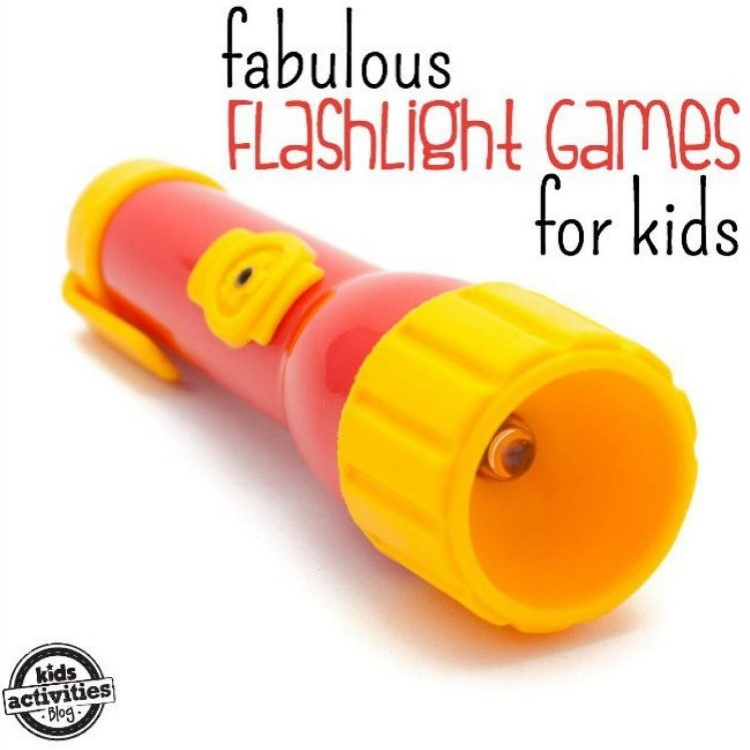 5.

Giant Jenga

This game is only suitable for you and your kids when you have some extra room left in your backpack as the giant Jenga game is a little inconvenient to pack up. But if you decide to take it with you on your camping trip, I assure you that you and your kids alike are going to have a blast playing the Giant Jenga game. It is an excellent time-killer and equally fun and addictive. I remember on my camping trip, my kids and I spend 4 hours straight playing this game, and we had so much fun playing this great activity!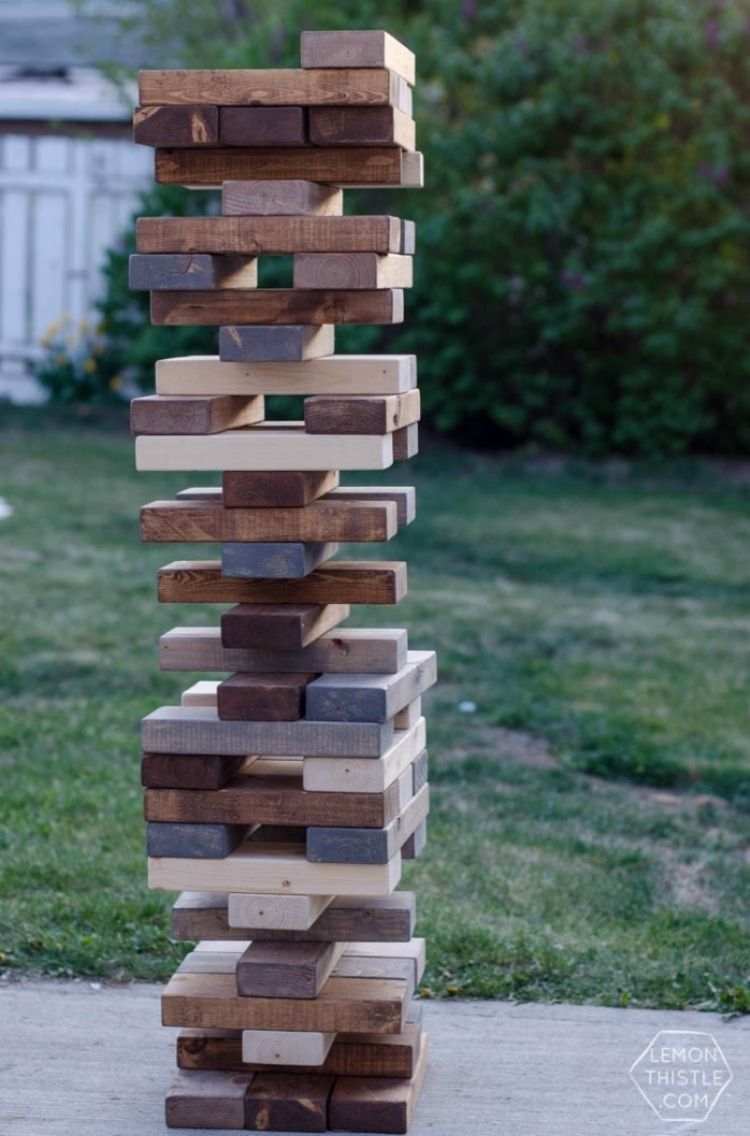 5. Fantastic Camping Games:

Yard Yahtzee

Are you on for some lawn games? Yet another campsite game that can keep your kids busy for hours. All you need to do is to use wooden blocks to create giant Yahtzee dice. The dice are extremely easy to make, and they assure your kids hours of fun. They are literally known for killing kid's boredom. If you want to have some kid-free time with your partner, Yahtzee makes a perfect addictively fun camping game that kids can play and enjoy without parents having to play too.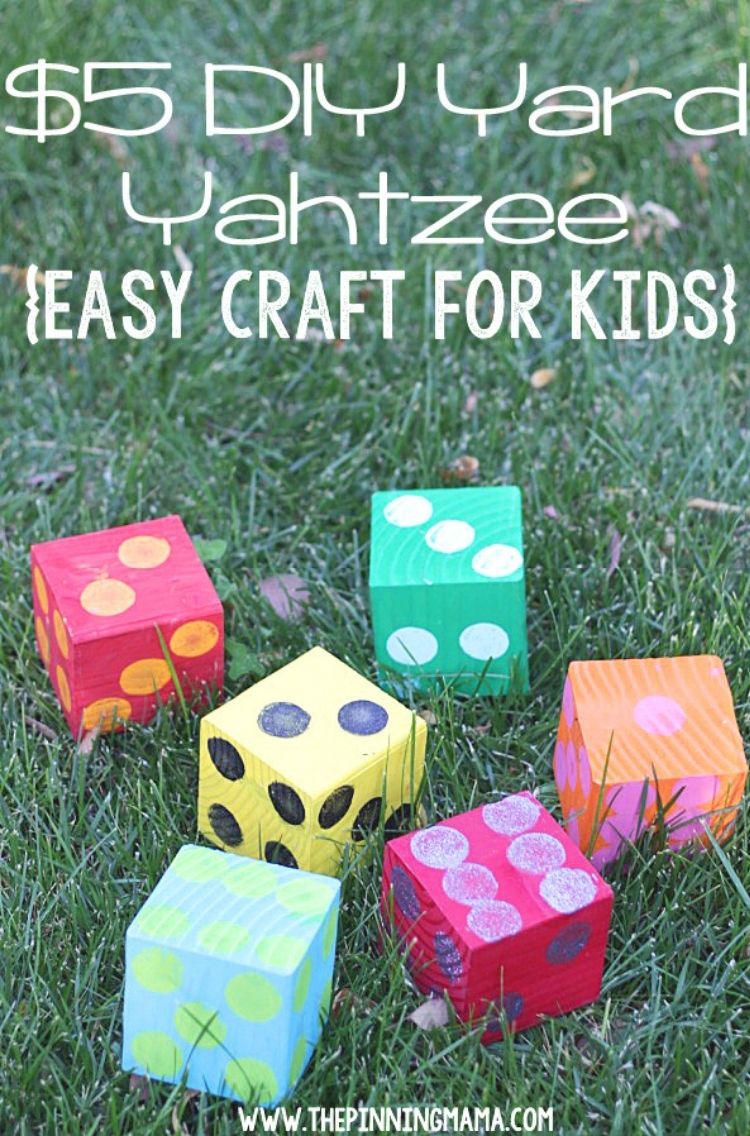 6.

Outdoor twister

For this game, all you are going to pack with you on the camping trip is a circle stencil and a can of spray paint. You can pull this game out anywhere and anytime by painting circles on the grass. The outdoor twister not only transfer wells to the campsites, but it also helps your kids to have a terrific camping fun experience. Play it all you want, even until night-time.

Bonus: Don't forget that the magnetic spinner board is equally fun but snazzy!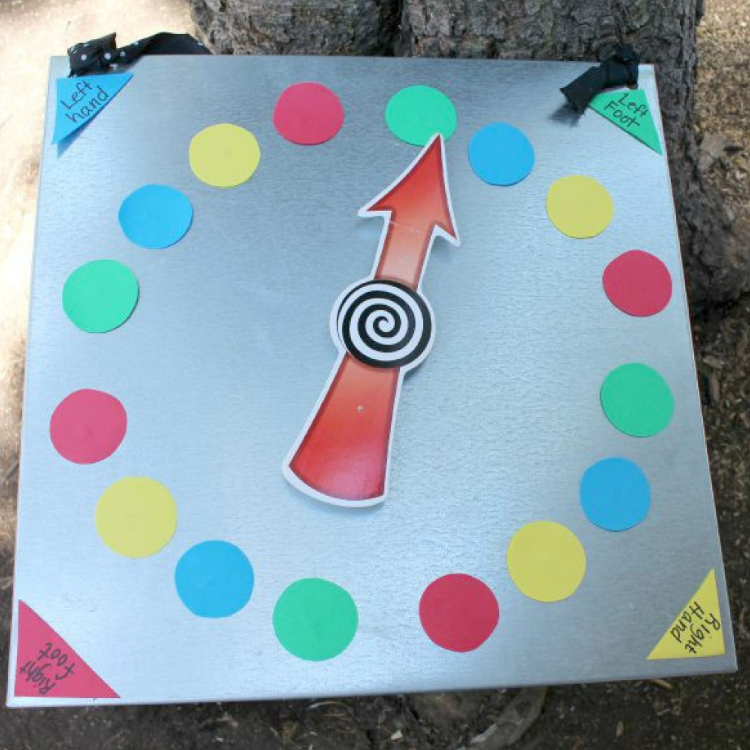 7. Perfect Camping Game Ideas –

DIY Ring toss game

This game is a sure way of having a lot of fun and creating a lot of great memories. The classic DIY dark ring toss game can be made from scratch and are super fun and easy to make. You are just going to need some dowels, a wooden round, and some rope rings that are wrapped in duct tape for making them stiff. This game always makes sure that my kids and I have a lot of frugal fun and is convenient and safe for a camping trip.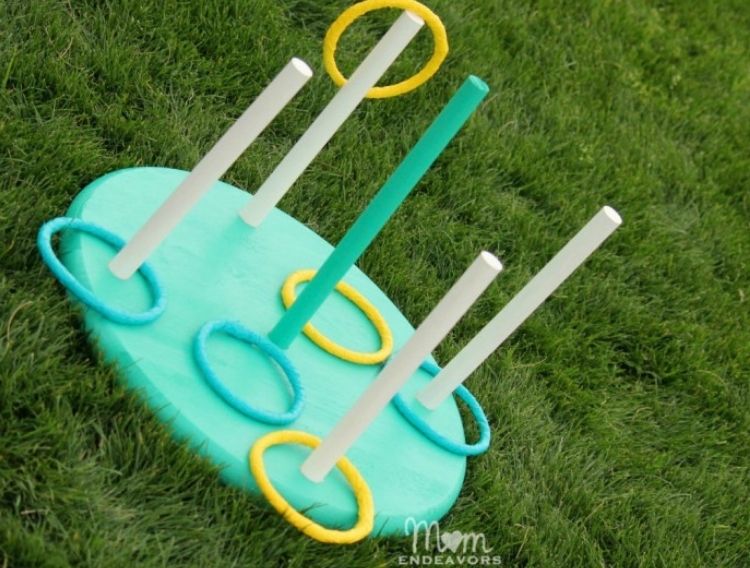 8.

Frisbee Golf – Camping Games That Keep Kids Busy For Hours

Frisbee Golf is a very fun and easy game to set up. But you are going to need some laundry baskets for this one as they are going to be holes. In this game, you move from one to the next, trying your best to throw the frisbee inside the laundry basket as they are the goals.

If you are wondering what good can come from taking laundry baskets on a camping trip, let me assure you that the baskets can easily stack inside each other and can also hold a lot of your kid's supplies such as foodstuff and toys. So don't worry about taking some baskets along with your other camping gear. Let's get ready for some camping Olympics!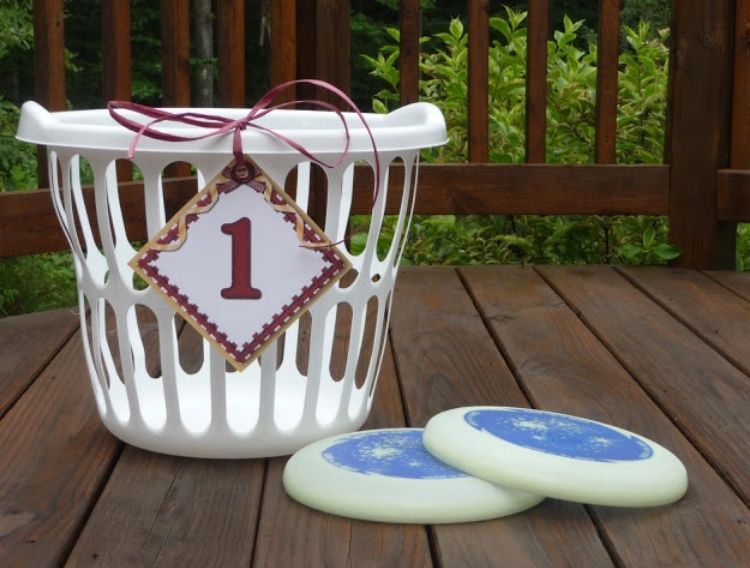 9.

Water balloon toss

Wondering how to cool down your kids on a hot summer day? Here's a twist to your regular water balloon fight. Simply pack some water balloons for a water balloon toss. Everyone picks a partner and lines up across from them.  Start close and work your way backwards with each toss of the water balloon!  And who knows, you might even make some unforgettable memories that you will cherish forever!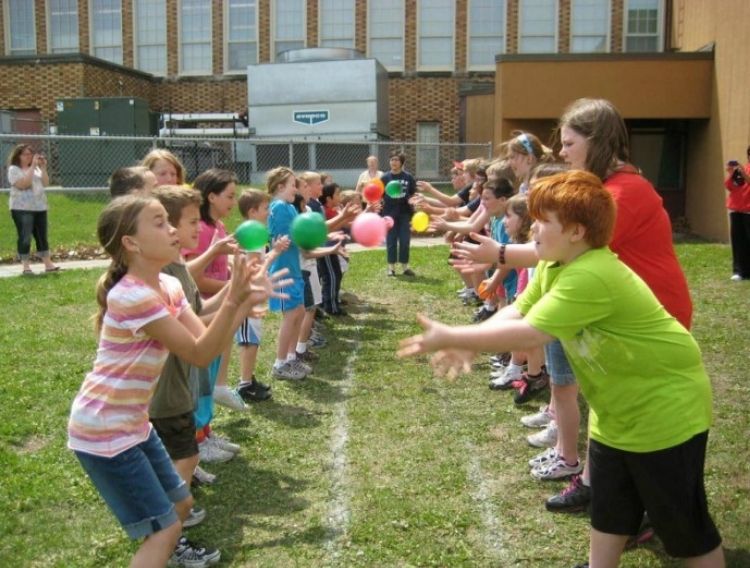 10. Favorite Camping Games: Outdoor scavenger hunt
The thing that I love the most about outdoor nature scavenger hunt is that it provides the kid an opportunity to explore the nature and the environment. For additional fun, provide little bags for collecting items for your kids to make the game a lot easier.  This is like a little game of hide and go seek!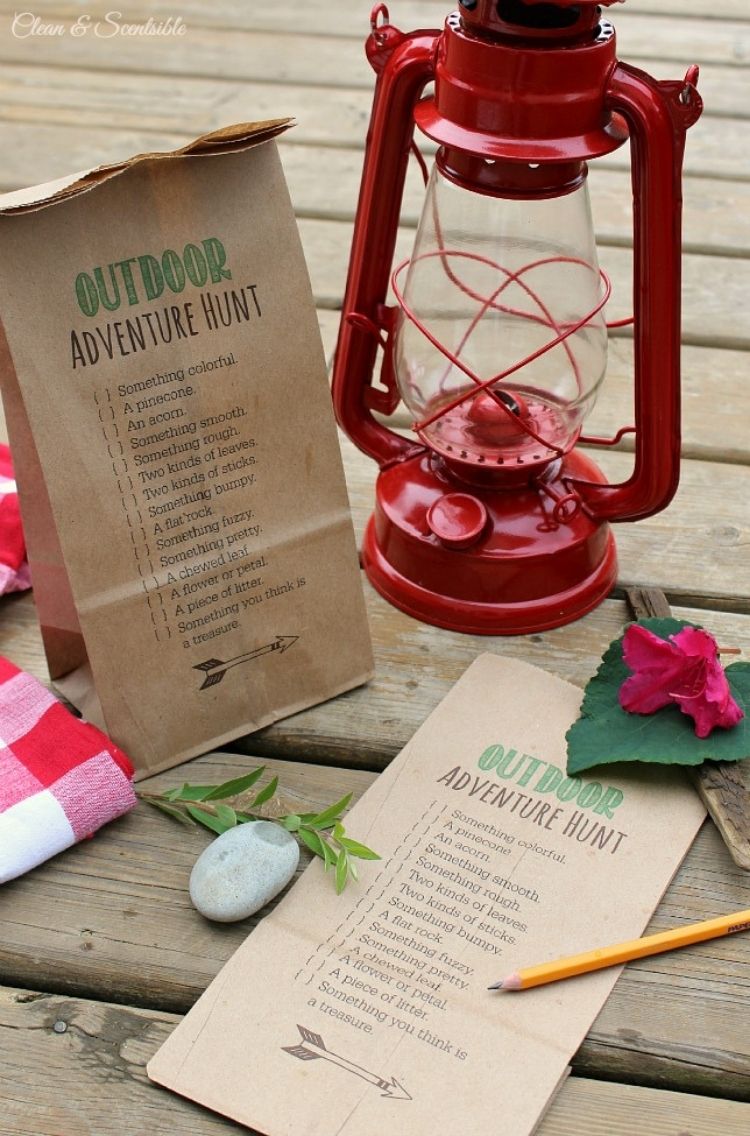 11. Camping Tic-Tac-Toe
Tic-Tac-Toe is such a perfect game to convert all your kid's energy into using his tiny little brain and is such a fun game that keeps kids occupied for hours. Use giant rocks, sticks, and pine cones to play a game of Camping Tic Tac Toe.  This traditional game gets a camping makeover when you are using found objects in nature.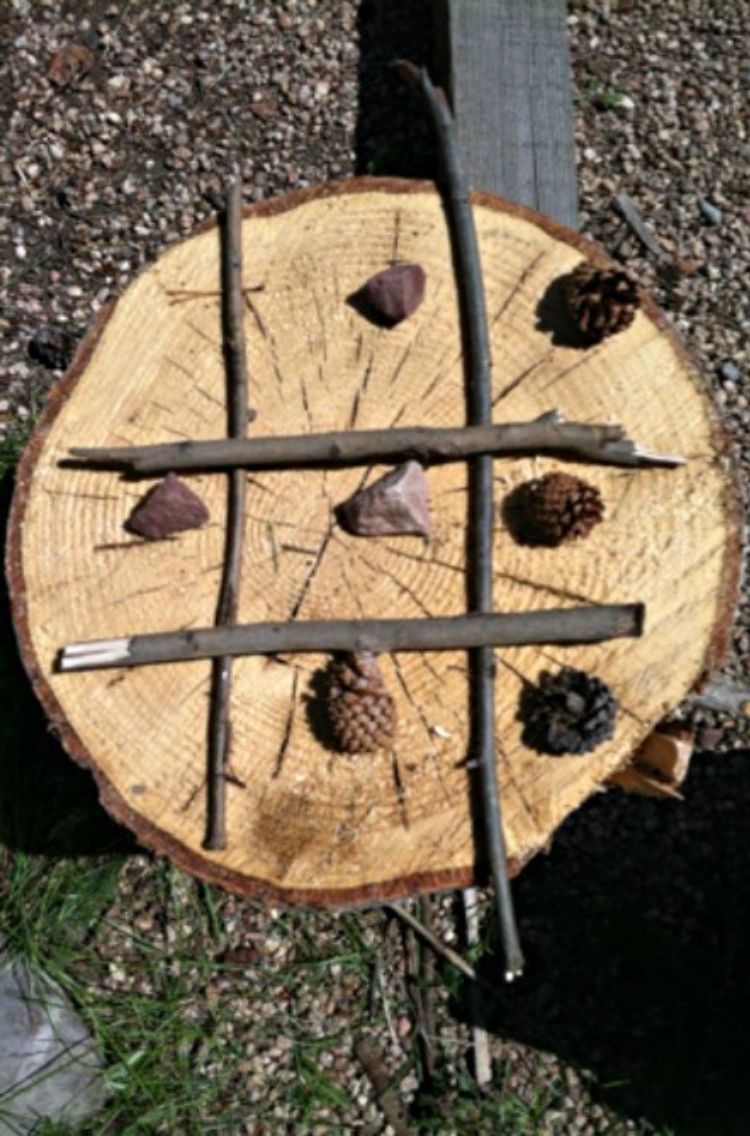 12. Camping Games Even For The Younger Ones – Large Bowl Bean Bag Toss
This game reminds me of the Bozo the Clown show. It's so much fun and keeps kids all glued to the game. You just have to set up big bowls or pails for a bean bag toss, and you are good to go!  You likely have everything you need already around the house to take with you on the big camping trip.  No need to go get more supplies!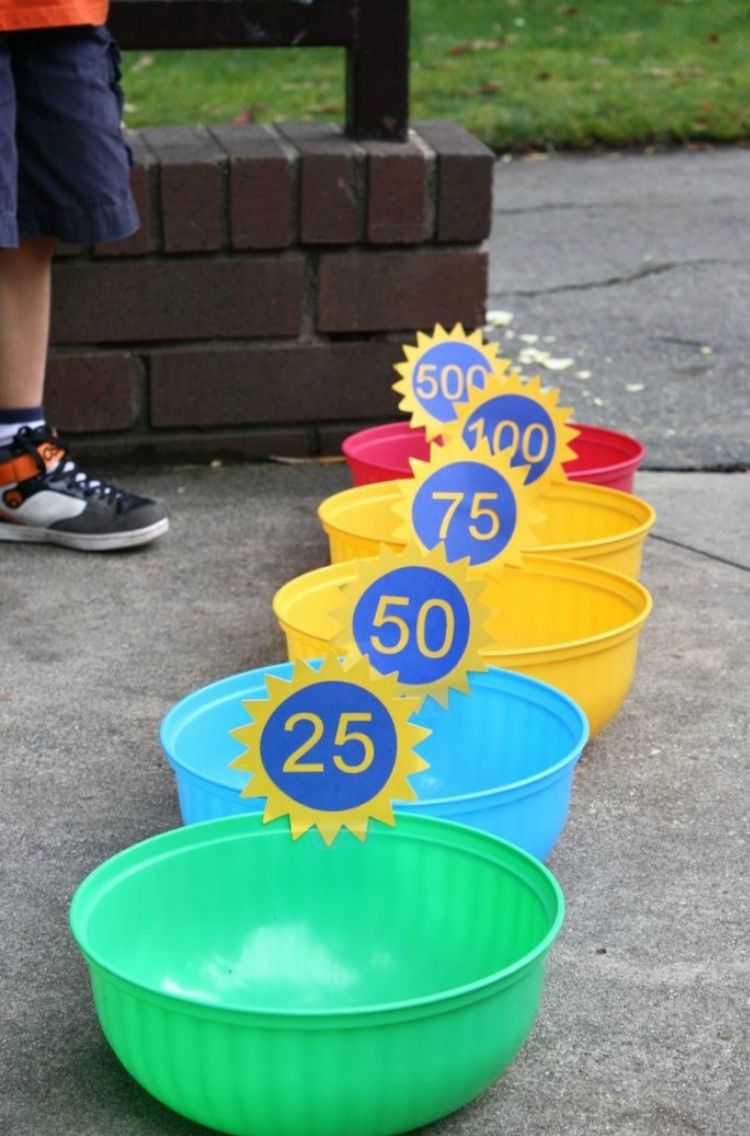 13. Squirt Gun Water Races
For this game, you just have to string some red Solo cups. The first one to race the cup across the line with a water gun will be the winner. Believe me or not, but squirt gun races are a hoot!  I keep thinking about how fun this would be.  It is like you took your own DIY carnival with you to the campground!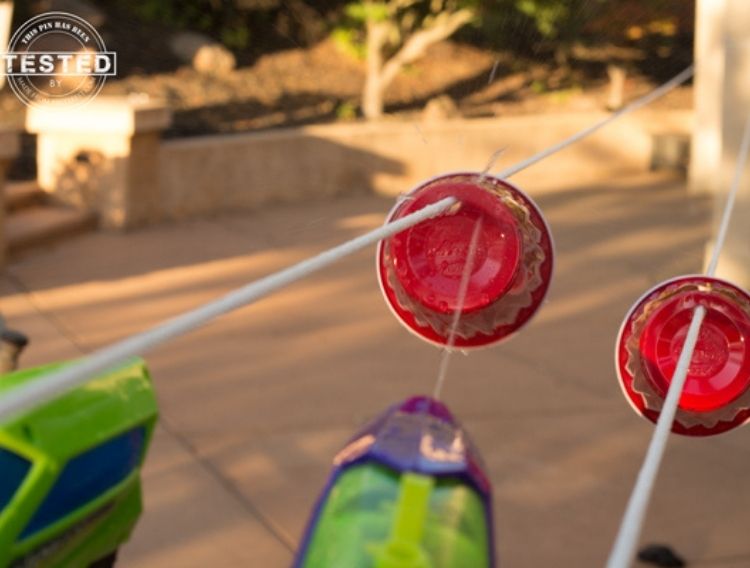 14. Marshmallow launcher
For this game, again divide into teams. Blast each other with a marshmallow war! Use plastic cups and balloons to create fun marshmallow launchers. Enjoy your hearts out!  And by the way, when you get pelted with a marshmallow, it doesn't leave a sting or mark!  Good, safe fun.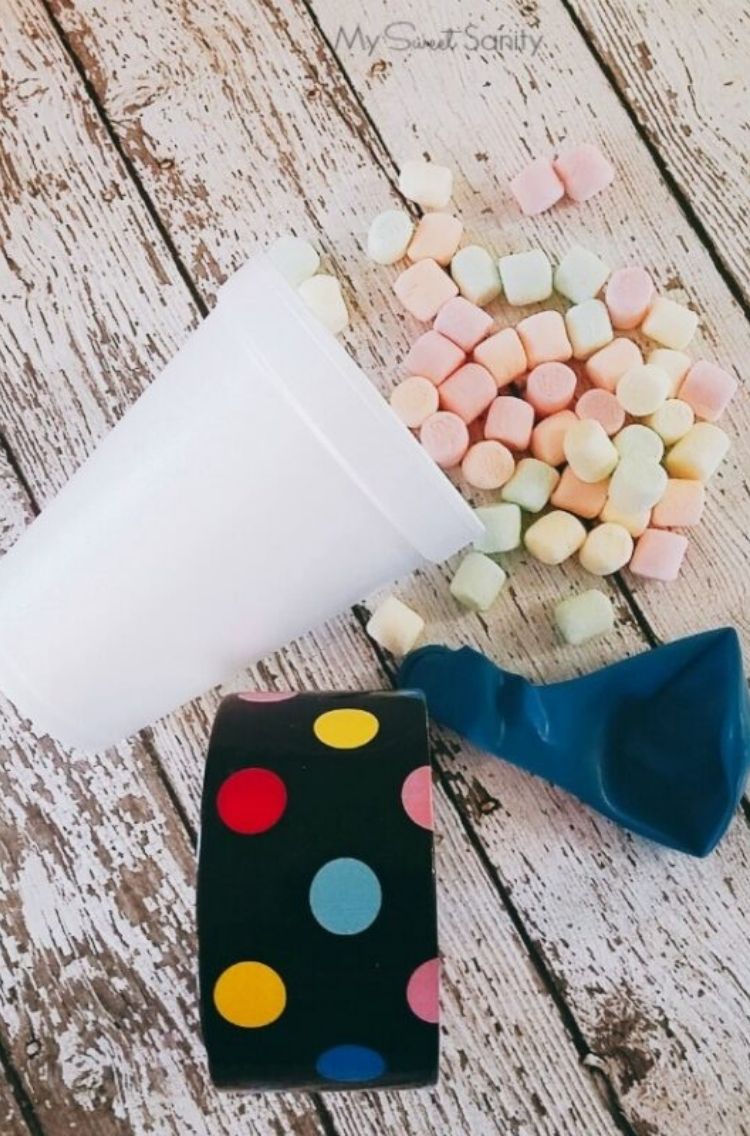 15. Glow in the dark bowling – Fun Games For Camping
Glow in the dark bowling will make you popular and cool among your kids. All you need to do is to add some glow sticks to bottles of water. Next, set the bottles like bowling pins, and use a ball to knock them down.  This is going to be so cool to create a bowling alley next to your campfire!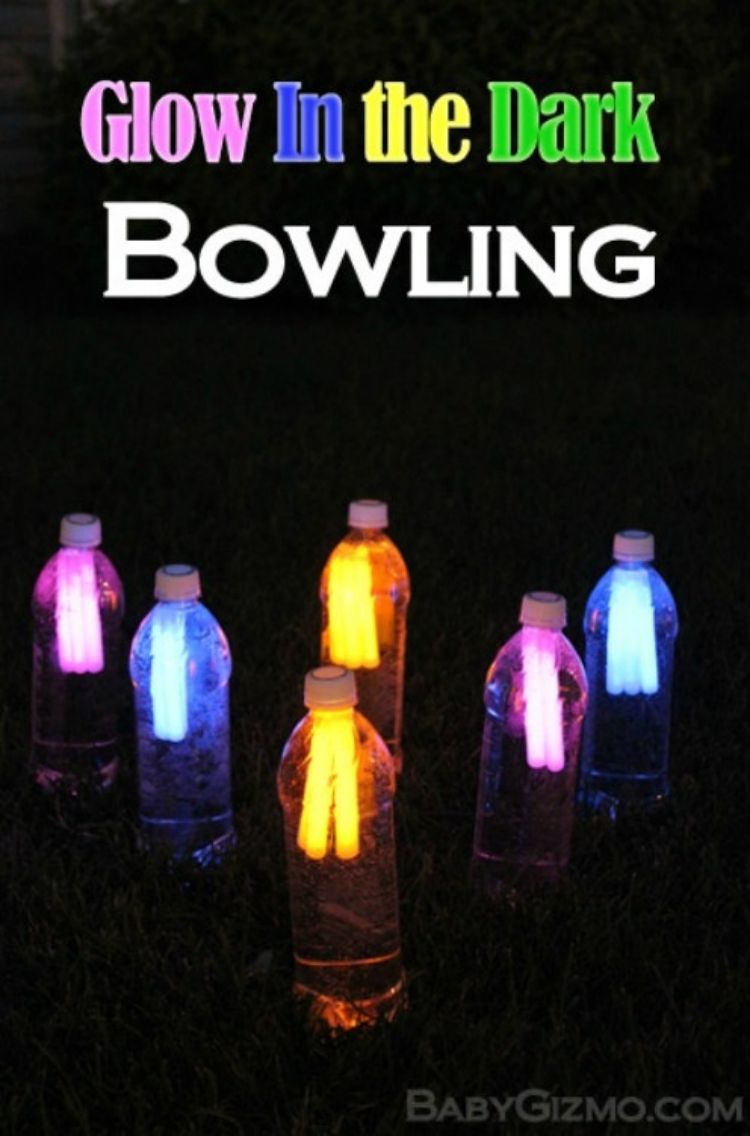 There you go! If you're hitting the road for some camping fun, don't forget to take some of these camping games for kids with you to keep the kiddos occupied and having a blast.
"Camping: The art of getting closer to nature while getting farther away from the nearest cold beverage, hot shower, and flush toilet."

Anonymous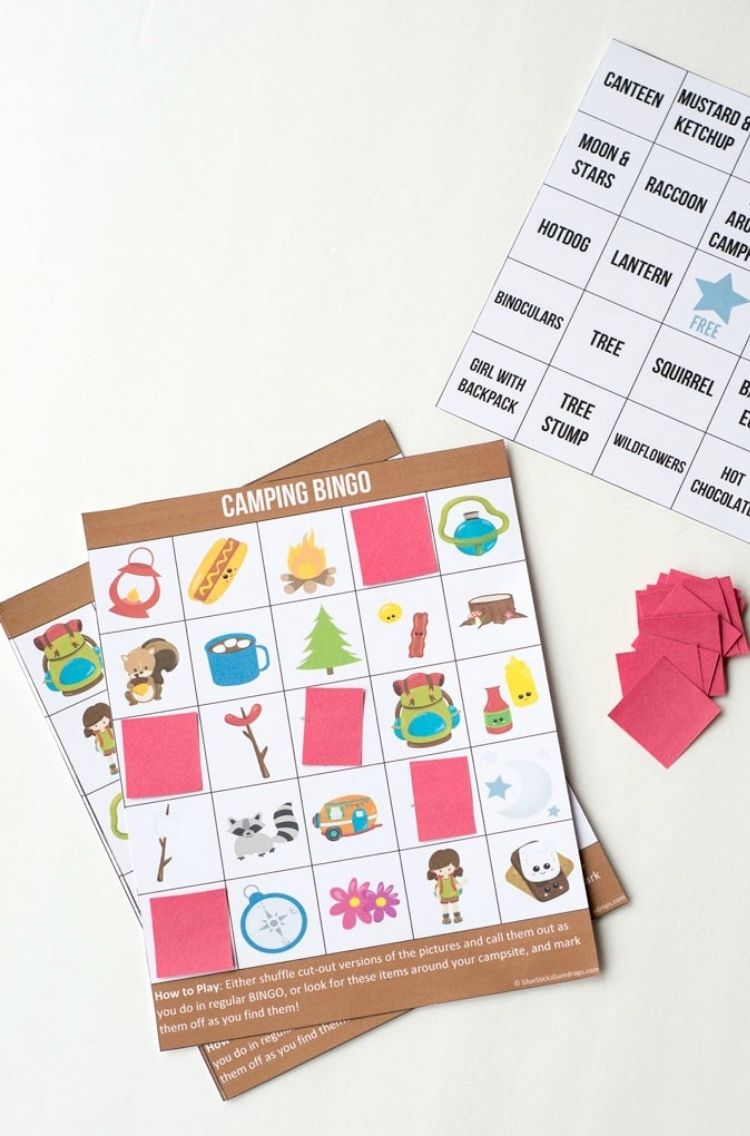 Did you like these camping game ideas for kids? Check out more camping hacks from One Crazy House:
Which fun camping games for kids are you trying out?