I am a kitchen gadget hog – really. In my hunt for things that make life easier I have found a couple gadgets that have truly helped take the work out of cooking. My Kitchen Aid Mixer is one of those things!!
Here are my favorite – 20 Amazing Kitchen Aid Mixer Attachments – that will help you make the most of your mixer. And some of them you don't even need to pay for!
One of the best gifts my hubby has ever given me was my kitchen aid mixer! Not only does it make delicious food it is just really pretty!! They have so many fun colors! Plus here is a list of 20 amazing kitchen aid mixer attachments that will take your mixing skills to the next level!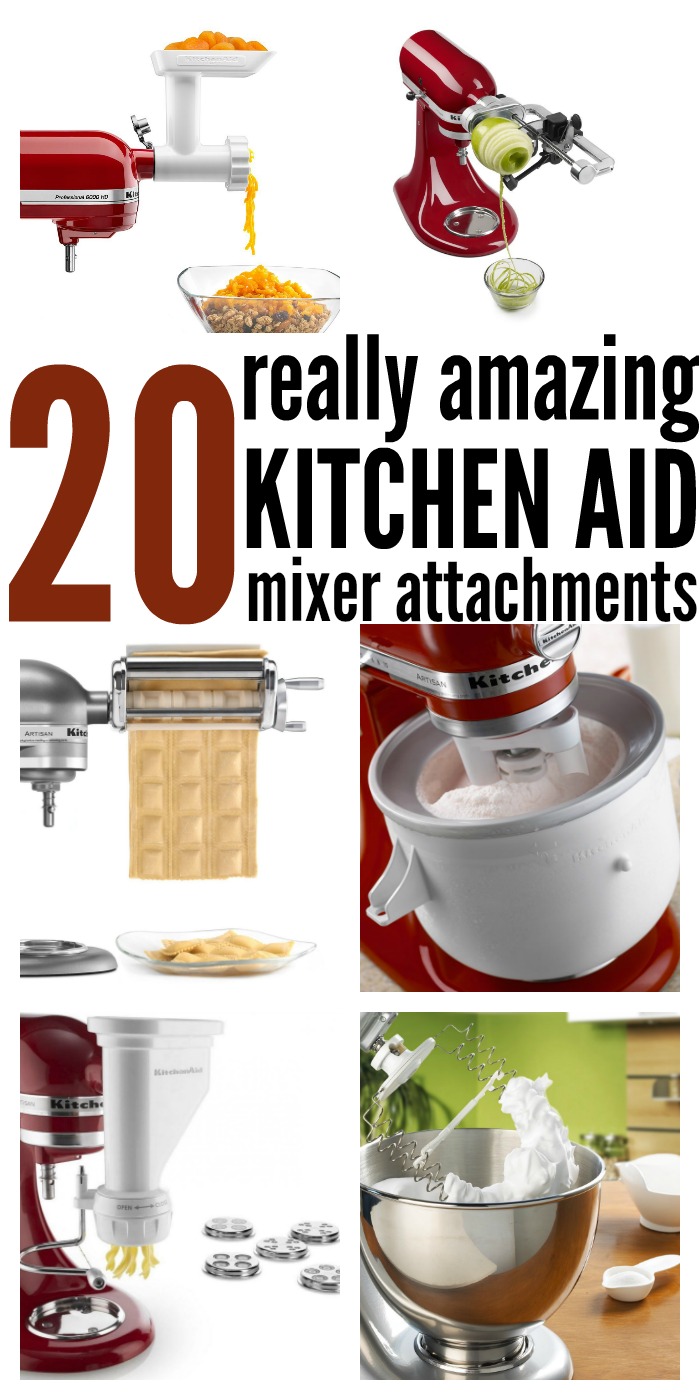 20 Amazing Kitchen Aid Mixer Attachments
The Paper Plate.  No Really. We LOVE easy kitchen hacks – No need to pay for fancy attachments. A paper plate is a GENIUS way to control spills and splatters. Just put poke your attachment through the plate before you turn it on – the plate is the perfect lid!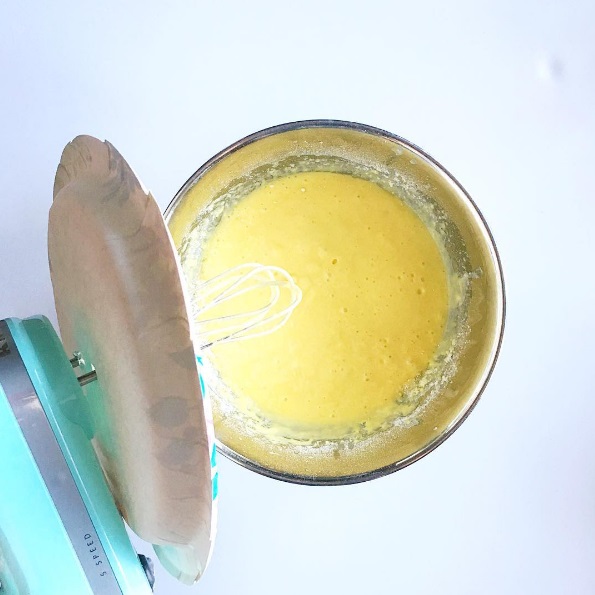 Food Grinder – You need the grinder first before you can add several other attachments. Get this one first and then add on to do all sorts of fun things like making sausages and cookies. Plus this makes food the perfect texture for making your own baby food!
Meat Grinder Plates – Add these plates to the grinder to make different kinds of ground meat.
Spiralizer – A spiralizer is all the rage! Make zucchini pasta or apple funnel cakes…so many delicious options!
Ice Cream Maker – Does this one even need an explanation? You can make ice cream with your kitchen aid…so yeah you should totally do that!
Pasta Roller – If you are into fresh pasta then this attachment is definitely something you are going to want! Flatten the dough and then grab another one of the pasta attachments to make varying different types of pasta.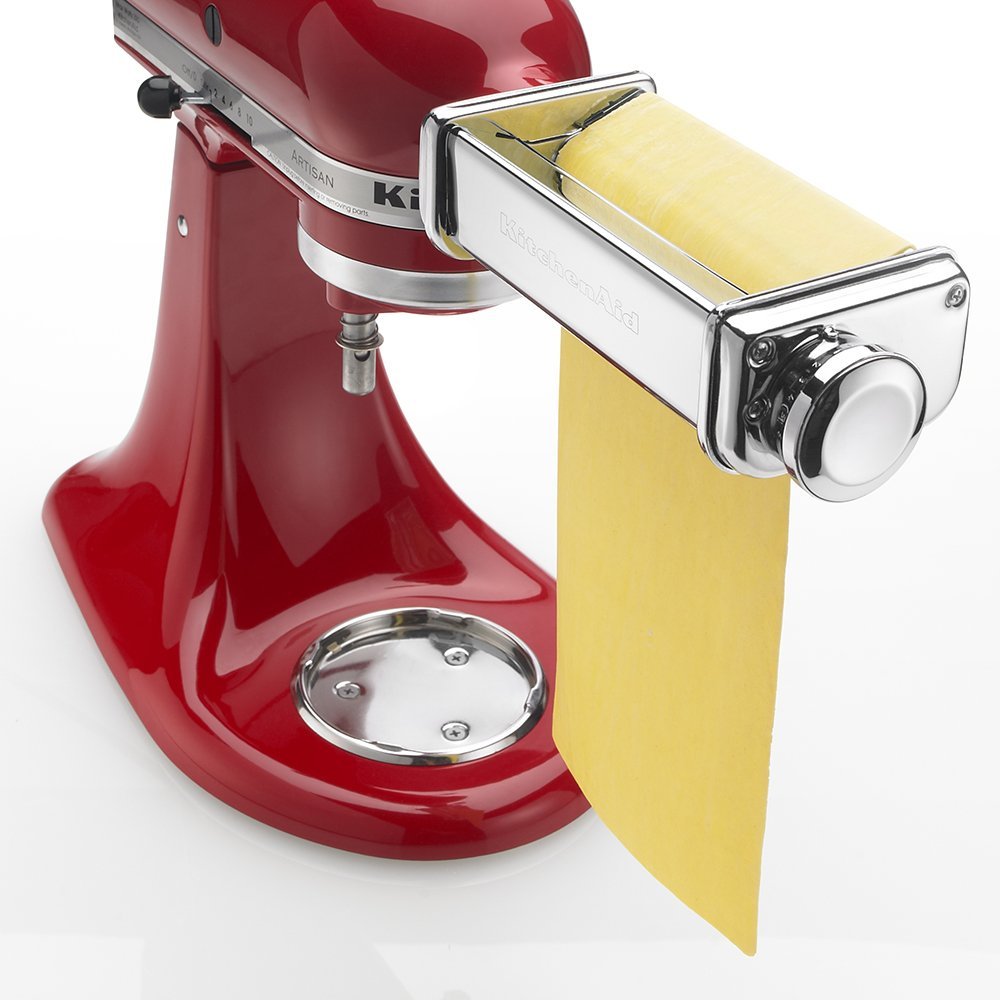 Citrus Juicer – A quick and easy way to make juice, this is perfect for your fresh citrus juice in the morning! And can you say mimosas…I can!
Ravioli Maker – I LOVE ravioli, this is such an awesome and easy way to make ravioli! Your friends will definitely think you are some sort of pasta master when you make these bad boys!
Pasta Press – Another pasta attachment allowing you to make lots of different kinds of pasta!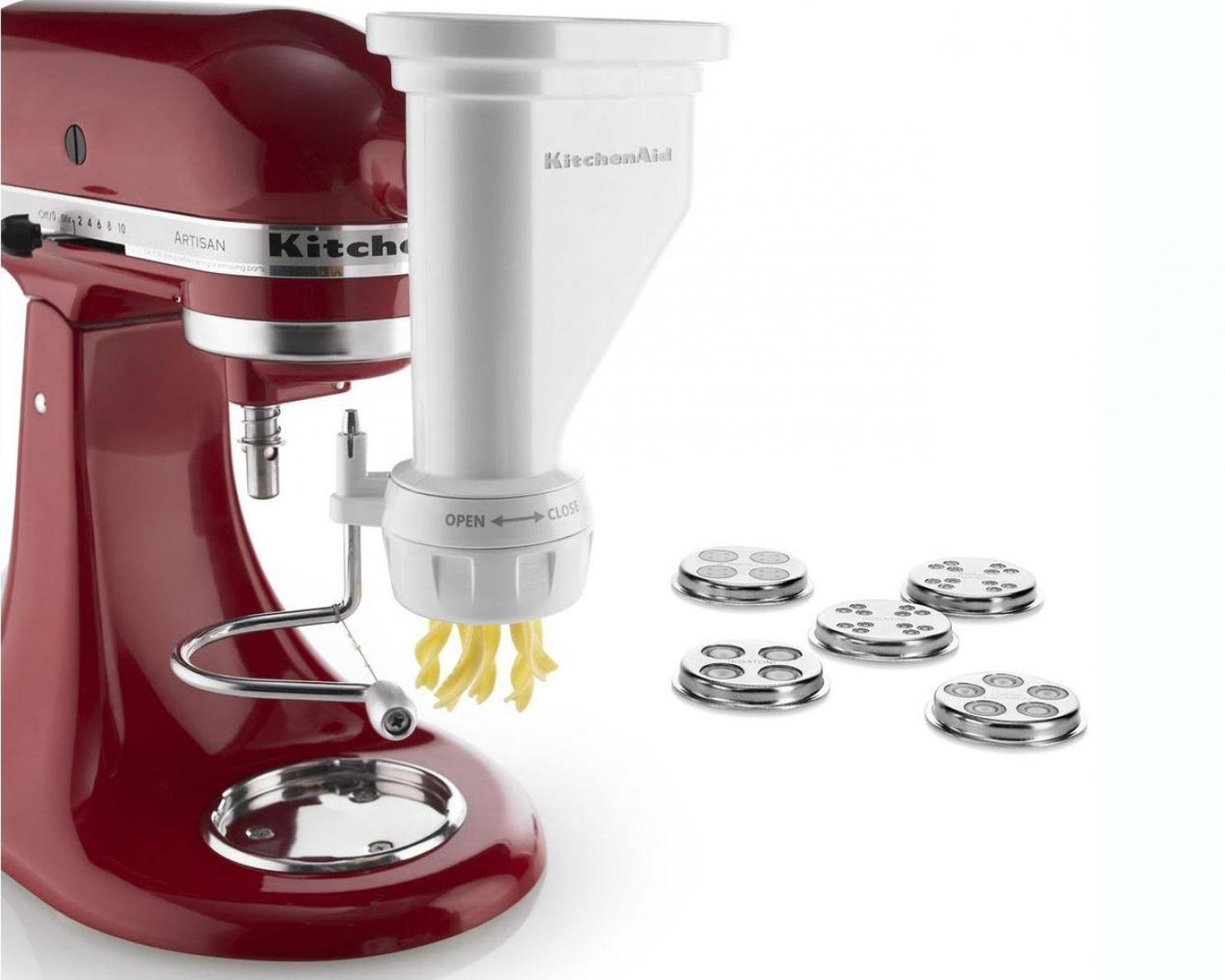 Sausage Stuffer – After you grind the meat this sausage stuffer is perfect for making your own homemade sausages…yum!
Kitchen Mixer Attachment Ideas
Cookie Press – Combine this cookie press with the grinder to make lots of fun cookie shapes.
Frosted Bowl and Edge Beater – This edge beater is great for getting all food mixed on the sides of the bowl.
Whisk A Bowl – Whip cream is my favorite thing to make with my mixer. I cannot even eat store bought anymore I love fresh whip cream so much! This attachment makes quick work of beating.
Water Jacket – Add ice to keep the ingredients in the bowl cool or hot water to keep them warm.
Heated Mixing Bowl – Need to keep something hot while you mix…this handy attachment is for you!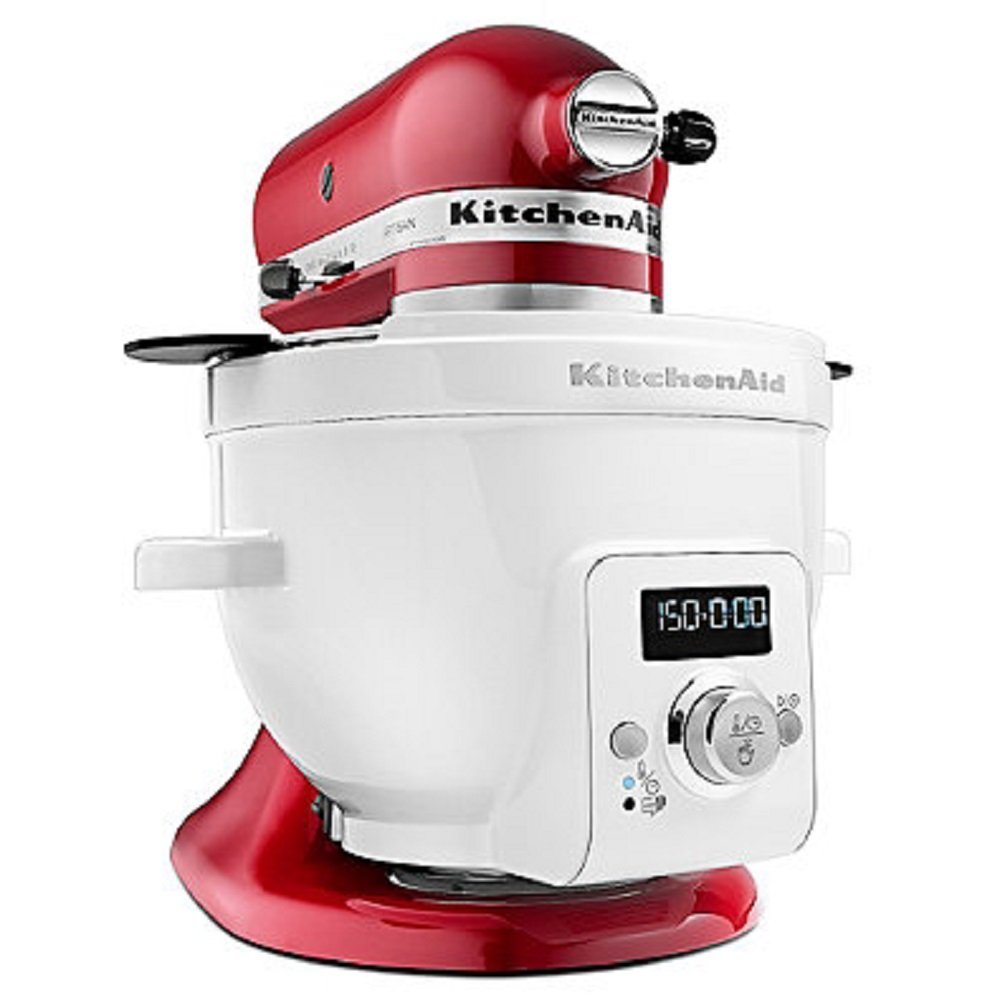 Kitchen Mixer Tools
Slicer/Shredder – Make quick work of shredding cheese and countless other items with this shredder. This also comes with a slicing attachment.
Glass Bowl with Measurement Markings – Measuring and mixing is made easy with this glass bowl that has the measurements right on the side.
Juicer and Sauce Attachment – You don't need a fancy juicer, just grab this juicing attachment to make delicious fresh squeezed juices.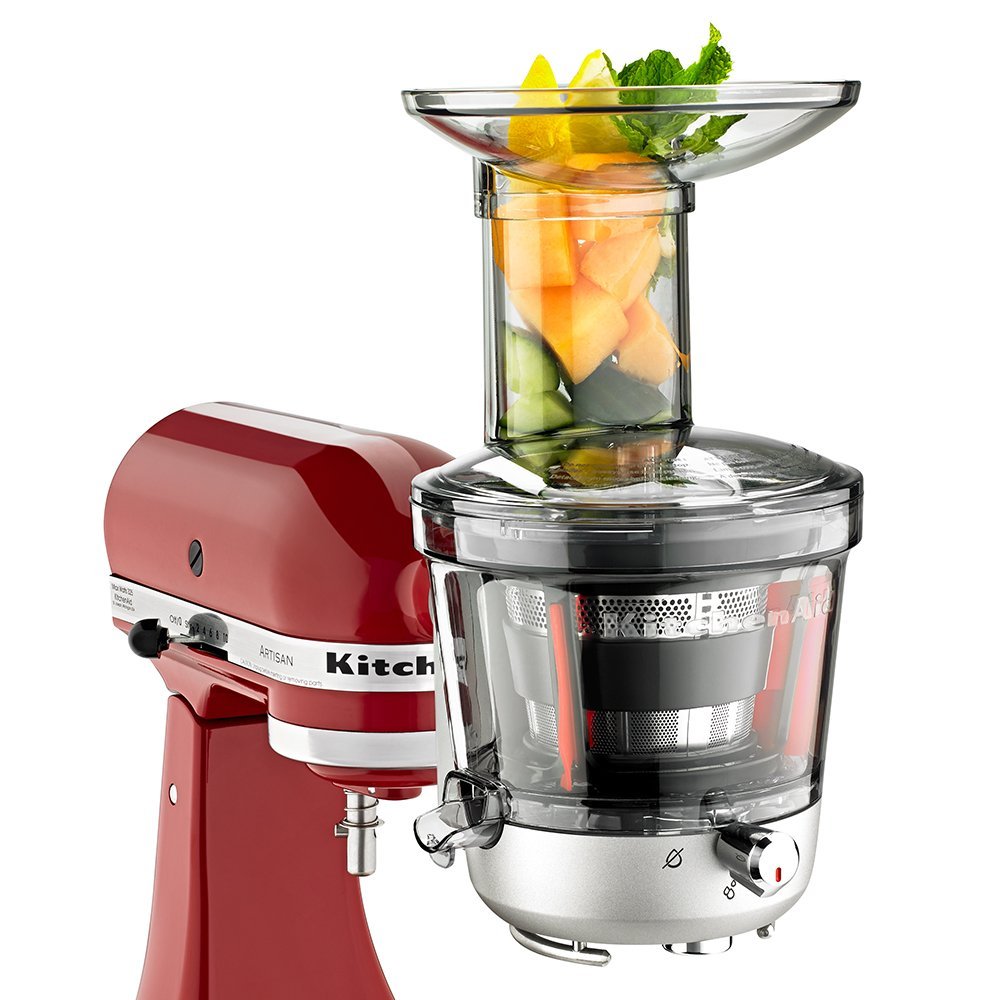 Grain Mill – Nothing is better than fresh right? Grind your own grain fresh at home.
Pasta Excellence Set – You will be a pasta aficionado with this pasta set. Combined with the other pasta attachments you will be able to make pretty much any pasta known to man!