Want your kids to eat more fruit for better nutrition? Sometimes it's all in the presentation. If yours is lacking, you're in luck. We've rounded up 18 totally cute, totally tasty ways to serve fruit to kids. And the good news is that most of these fruit ideas don't take long to make (perfect for us lazy parents). With just a few minutes and a few ingredients, you can create a fun and healthy snack that your kids will be excited to eat.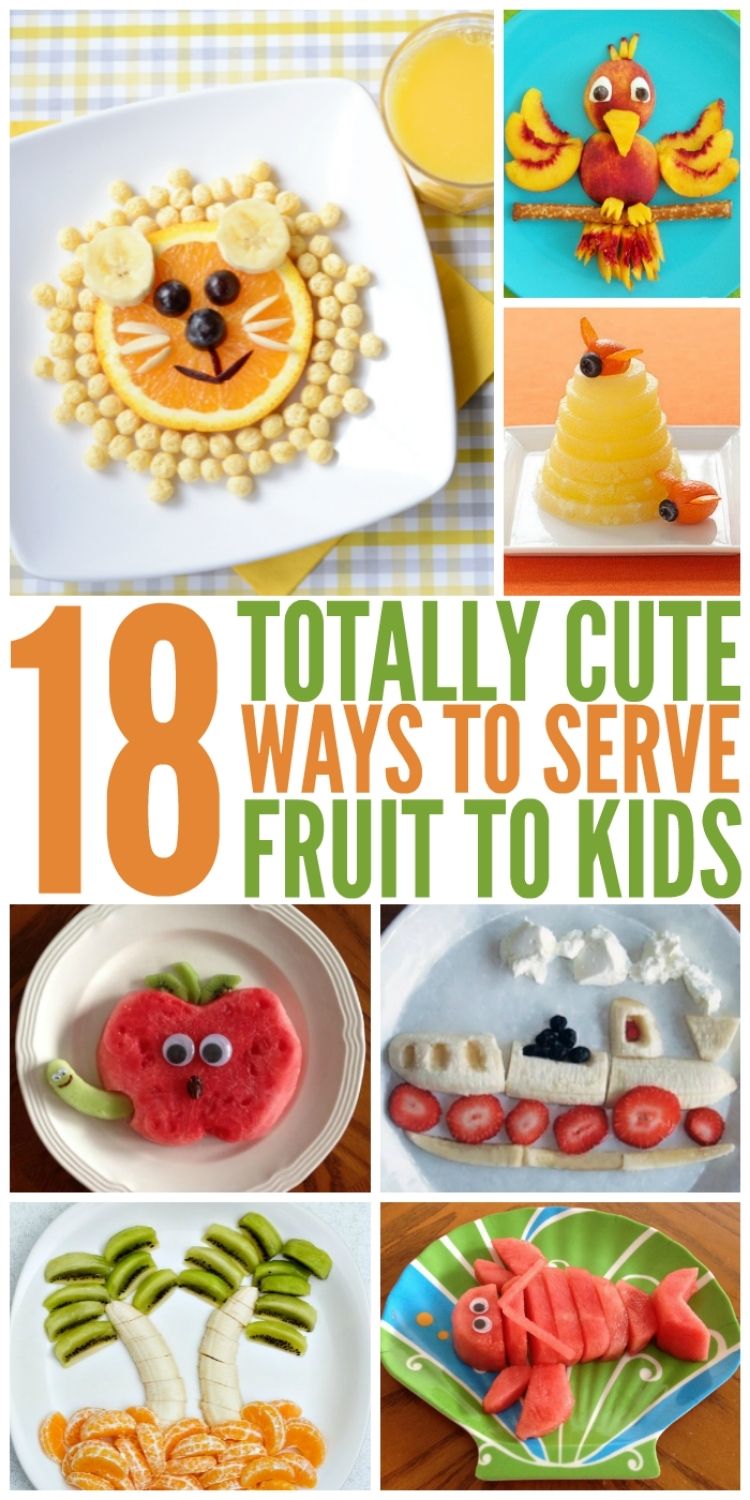 Fun Fruit Ideas to Serve for Kids
1. Friendly Fruit Butterfly
Catch your picky kid's attention when you make a fruity butterfly out of grapes and mandarin orange slices. Mix it up and create different colored butterflies with different colored grapes and other fruit slices. For your artistic folks, it would be fun to elaborate on the wings by adding kiwi or berries accents. This one's so easy that even I can do it!
2. Serve a Cute Fruit Apple
Watermelon, honeydew melon, and kiwi fruit come together to make this cute worm in the apple snack. The googly eyes are a nice touch, but you may want to leave them off for the kiddos who aren't old enough to realize that they're not edible. Perhaps a little chocolate chip eye would work. Isn't this duo super cute?!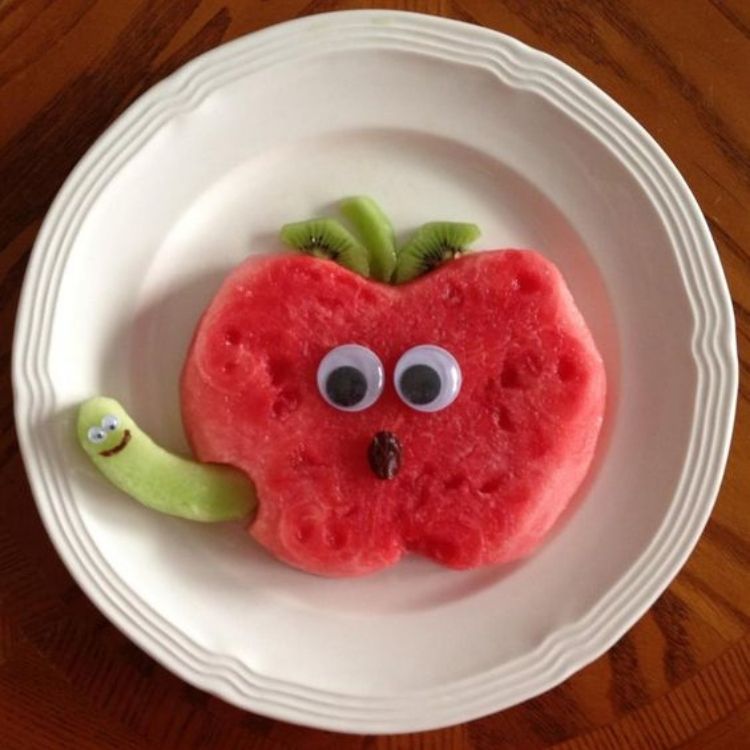 3. Fun Fruit Lion
Roar! If you're going to be king of the jungle, you have to start with a healthy breakfast of mandarin oranges, grapes, and Kix cereal. If your kiddo doesn't like Kix, you could always switch it out for a different cereal they love.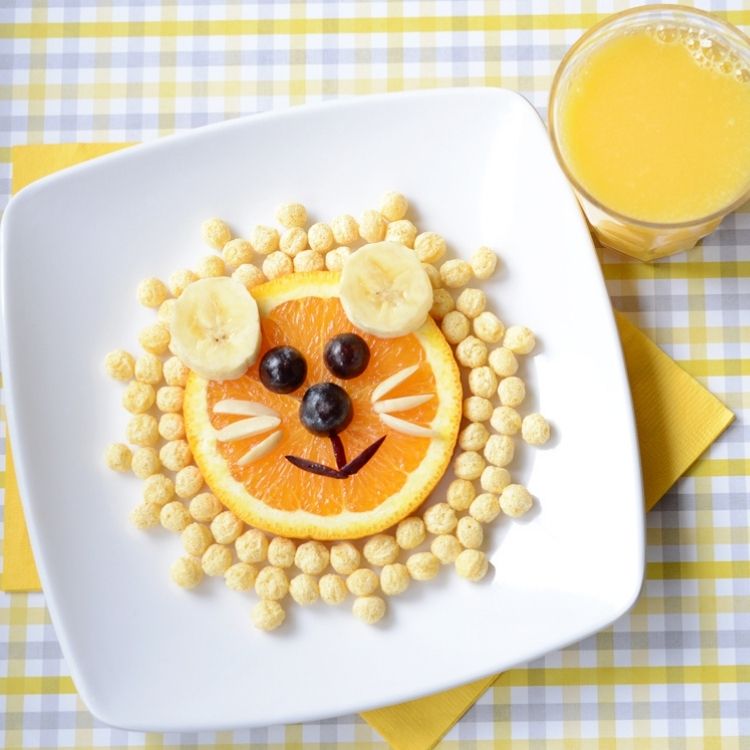 4. Flower Fruit Power Kids Love to Munch
Having a hard day? Your kids may need a little flower power. Make watermelon flowers to brighten your kid's day! Psst, they are watermelon, so you're also boosting your little one's mood by hydrating them. This would also be a great one for spring when all the flowers are in bloom. You may be able to make fruit-Flower look-a-likes of what you have grown about you.
5. Little Fruit Lobster Lunch
"Life is like eating a watermelon, you know you're going to get some seeds; just spit them out and take another bite." —Jeff Steinmann
Here's another watermelon snack that's perfect for summer (or a beach vacation)… a watermelon lobster!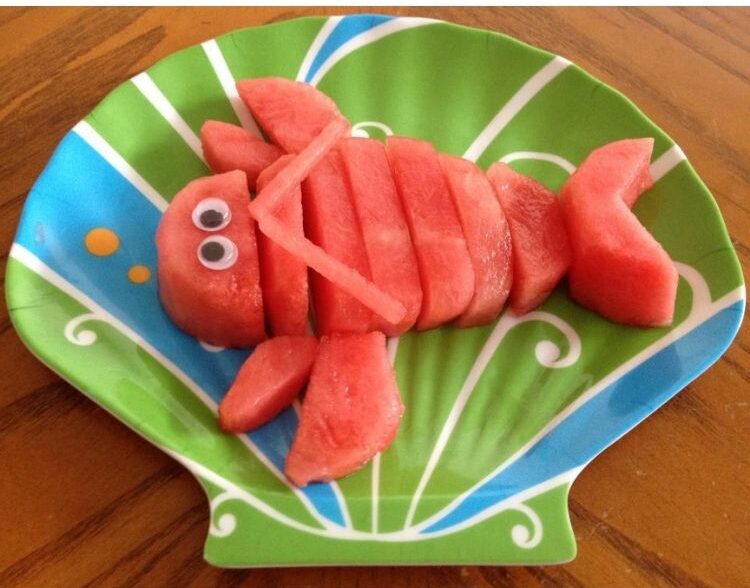 6. Best Ways to Serve Fruit to Kids- When It's Something New
These caterpillar fruit snacks use a wonderful variety of fruits for a colorful and healthy snack. They are a great idea if you want to get your kiddo to try something new. Simply slice it up and stick it among the other fruits like blueberries they are more familiar with. A side of peanut butter or whipped cream would go great with this little critter, in case they need a little motivation to try the new fruit. CUTE!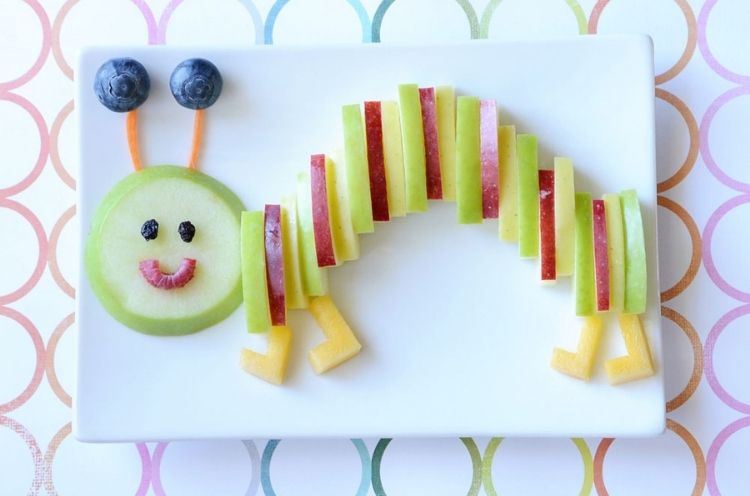 7. Eat a Favorite Fruit Owl
Hoo hoo, can resist this adorable owl snack? Every little detail in this little treat makes the appearance of this snack even more wonderful. From the little olive feathers to the kiwi, grape, and green bean tree branch he is sitting on, what a fun way to eat fruit!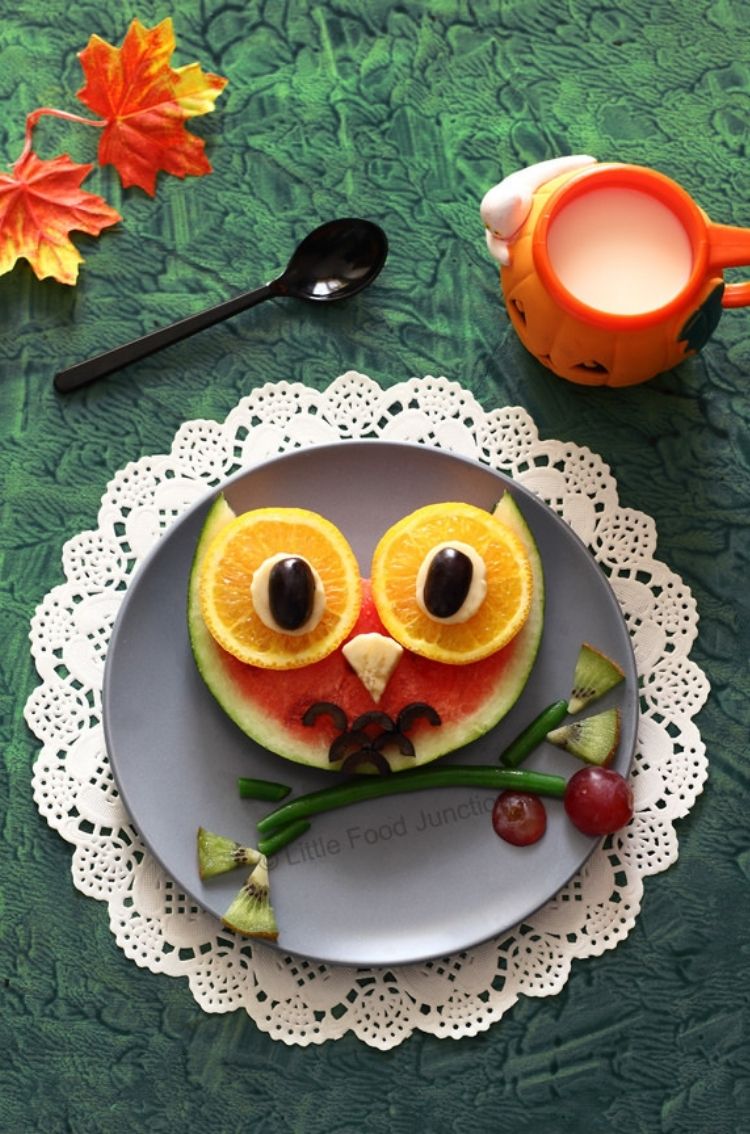 8. Healthy Darling Dolphin Fruit Snack
Okay, these banana dolphins are seriously adorable. Who thinks of this stuff? If you have an ocean lover at your table, they are sure this one is right up. You could easily mix this one up with different fruits like cherries (or maybe even a veggie such as peas) the dolphins are eating. Dice up a dish of random bite-size fruit choices and stick them next to your little one's plate. They will have loads of fun feeding their happy little banana dolphins. Pst.. you could even throw in some Goldfish crackers for a good chuckle.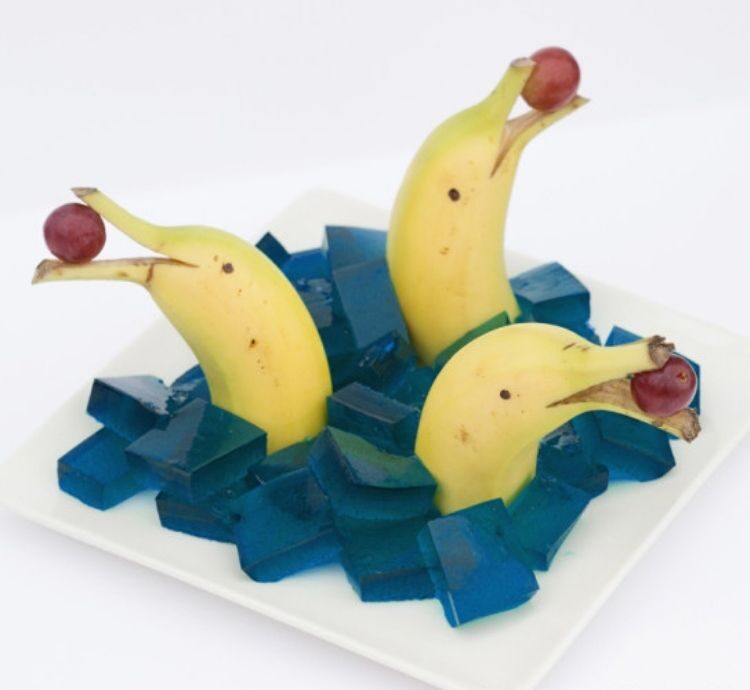 9. Best Ways to Serve Fruit to Your Kids- When it's Boring
The standard fruits we eat a lot of, like apples, oranges, pears, avocado, raspberries, cranberries, mango and any other fruit you eat regularly in your home, can get boring after a while. A great way to mix up the fun and get your kids excited to eat them again is by dressing them up a bit into fun little animals. How about a snappy little crab apple (or apple crab, in this case)? You can spread a thin layer of peanut butter (for beach sand) across the plate before placing him on top!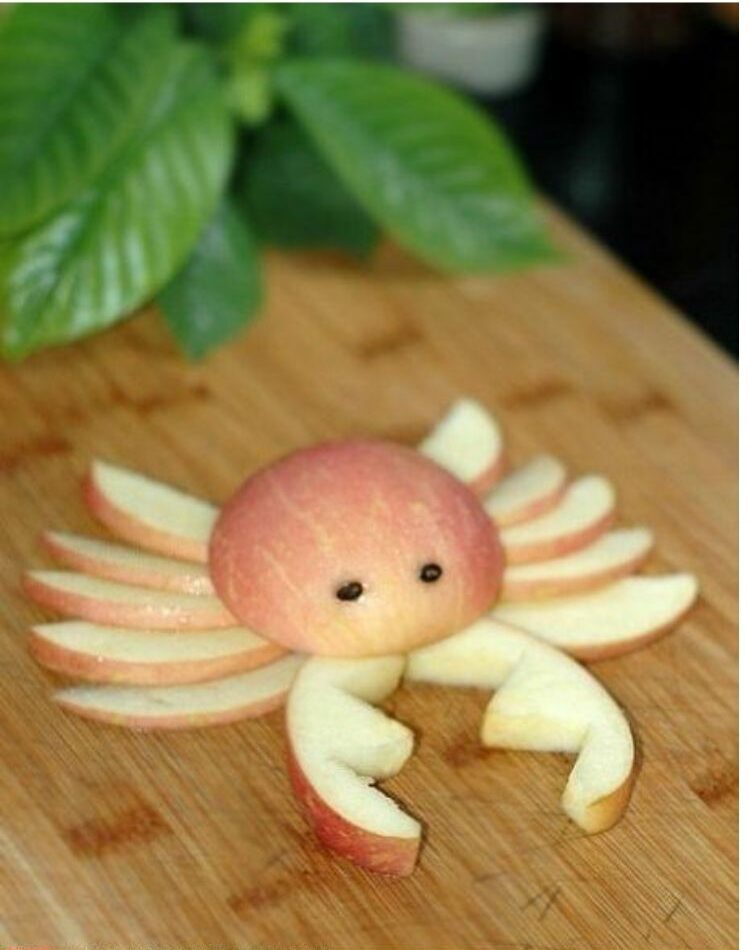 10. Taste the Tropics in Every Bite of this Fruit Idea
Halos are delicious and pair perfectly with bananas, kiwi fruit, and apples to create these tropical-themed snacks. your little one is sure to have fun picking off each palm leaf and flower peddles on this plate. If your kids don't like kiwi (it can be an acquired taste) try replacing the palm frowns with pears or peaches!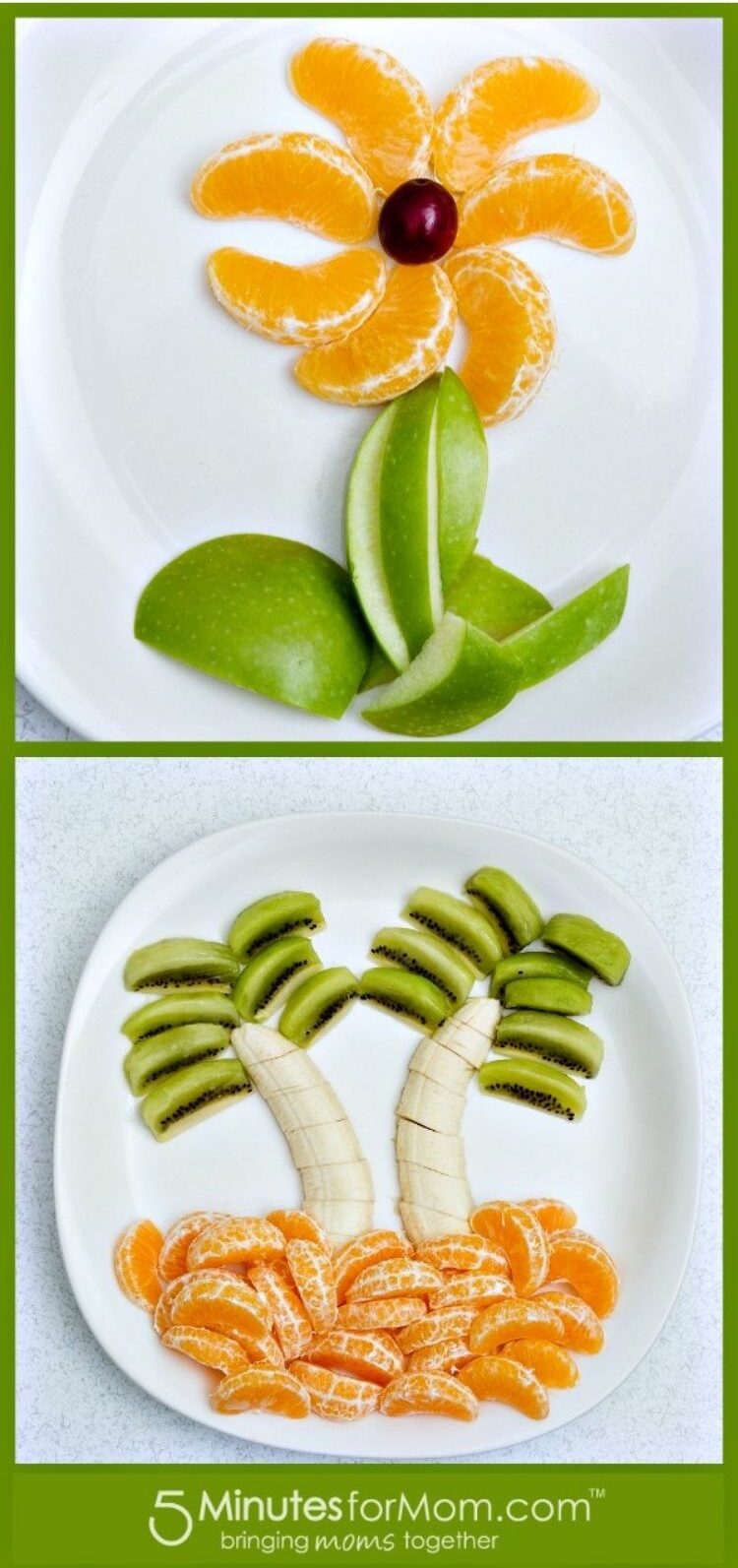 11. Fun Ways to Eat Fruit Kabobs
Pinwheel skewers make these fruit kabobs extra fun! What kid doesn't play with their food already, right?! You could mix in some raisins with all these yummy fruits and pair it with a side of yogurt for dipping. When they are all finished they will have a fun little pinwheel to play with. FUN!
12. Serve a Beach Ball of Fruit
Okay, so it may not be the healthiest option on the list, but this beach ball fruit pizza served on sugar cookie dough sure looks delicious! If you want to cut out the sugar, this option can easily be placed on a large serving platter with a middle dipping option of yogurt, peanut butter, or light whip cream– fruit salad! If you're not afraid of a little sugar, pull out the Nutella or chocolate dip! This is a great way to feed teenagers when you have them and their friends all eating you out of food.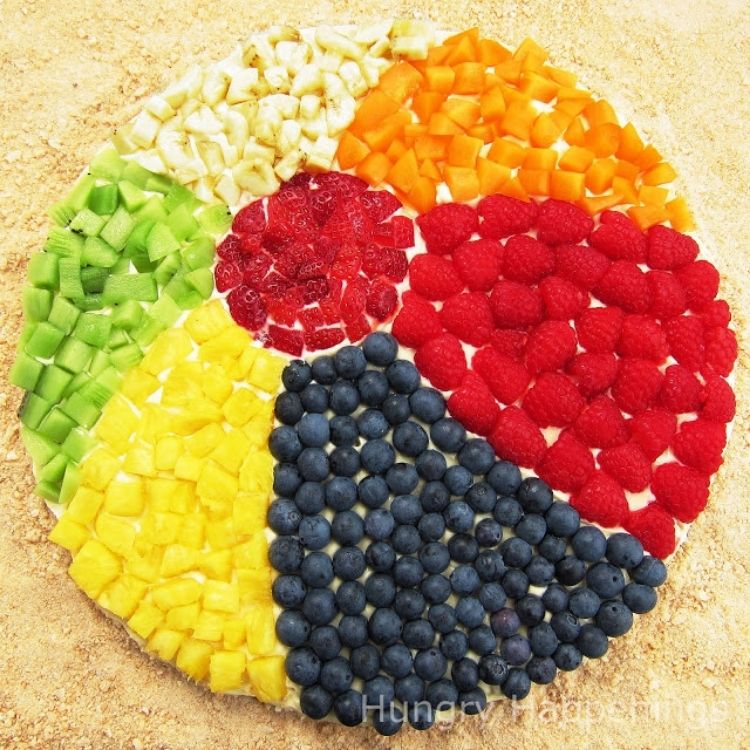 13. Fruit Choo Chews
Your kiddos will choo-choo choose this train snack over and over again. You can't go wrong with strawberries, bananas, and a bit of whipped cream. A fun activity you can incorporate into this snack (if you are up for it) is readying The Little Engine Who Could for your kiddo while they eat. Your little one could rotate the plate uphill and downhill each time in the story the engine chugs along.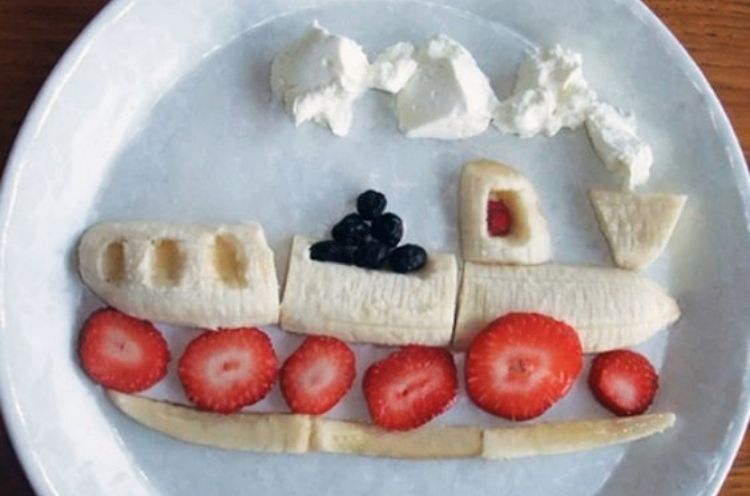 14. Serve Up Fruit Parrot Snacks
This peachy parrot will be a big hit! It's almost too stinky cute to eat. If you have a few extra minutes to get your child's snack ready, this is a fun way to put in your time. I can already imagine this little fellow on top of a pancake during a weekend breakfast, can't you?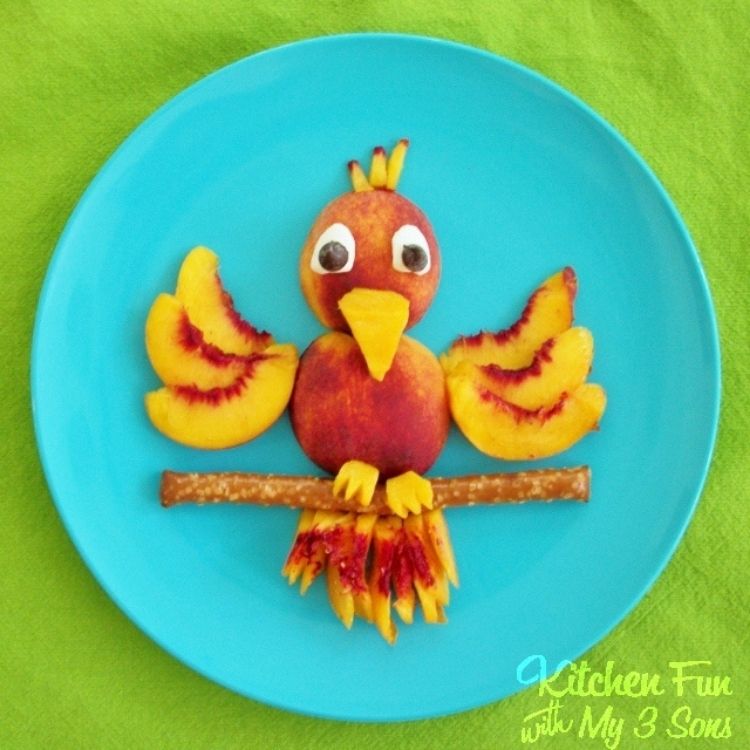 15. Best Ways to Serve Fruit to Kids – On a Stick!
Any fruit on a stick is bound to go over with joyful enthusiasm for kids. Any way to get kids to make less of a mess with anything is always a hit with moms. Make watermelon heart pops for a no-mess way to eat watermelon. This is great for little hands that drop things easily and even better for parties. Make a tray and watch how fast they go. Get more watermelon hacks here!
16. Bee Creative with a Fun Fruit Bee Hive
Stack pineapple rings and turn kumquats or another small fruit into busy little bees around the beehive. Grapes or strawberries would work well too if your kiddo is not a fan of kumquats. You could even drizzle a few drops of honey down the sides for a more realistic look. Bee-utiful!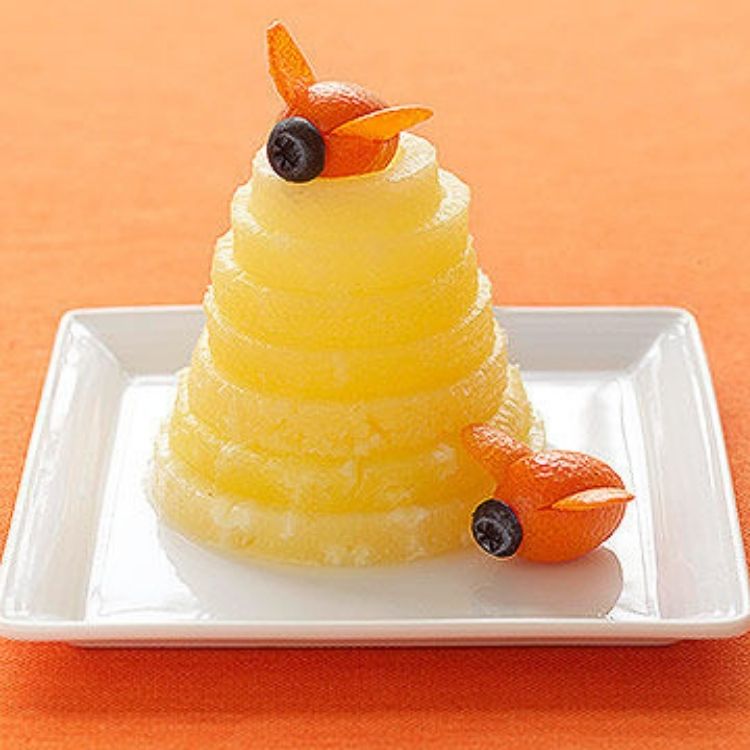 17. Race to the Table for these Cute Fruit Cars
Rev up your engines for these cute race car fruit snacks. They may be simple, but man are they going to be fun and great for side dishes. The hardest part will be getting your little guys to pit their cars long enough to eat them. If you really want them to remember and enjoy this one, put a line of whip cream and a line of crumbled cookies onto their plate (not too much, we want to stay healthy after all). This way when they drive their little apples (I mean cars) around their plates it will be like racing around a dirt track. Vroom!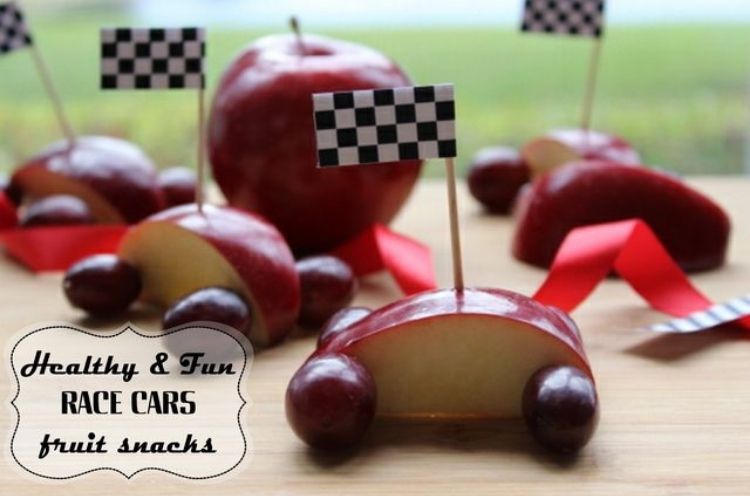 18. Friendly Little Fruit Forest Bear Bites
Banana bears would make an adorable classroom snack. They would be a great activity to go along with a bear story or lesson. Supply them with portions and the kids could follow verbal instructions to build their own little bears. These would also make a great choice instead of cupcakes and cookies if your child needs to bring a snack to share. Lots of parents would appreciate the healthier option at parties, too!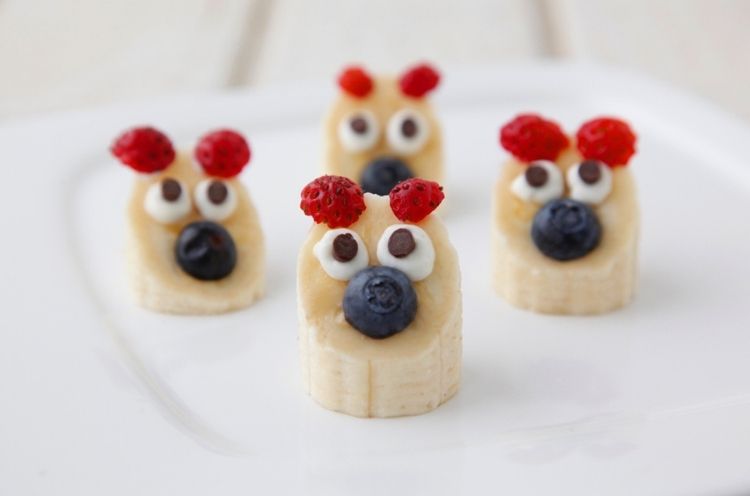 How much fun are your kids going to have to eat these great ideas? They may have a whole new outlook on fruit altogether. Shhh, we don't need to remind them these are healthy for them. In fact, we'll keep it our little secret, just like these other great ideas to get your picky eater munching down all those fruits and veggies they didn't know they liked.
More Sneaky Ways to Serve Fruit to Kids
What fruit idea are you going to serve your kids today?