Time to try these delicious Copycat Cheesecake factory recipes.
When you think of the Cheesecake Factory, you probably envision mile-high cheesecakes with your favorite fillings and toppings. Yum. But that's not all you'll find. They also serve amazing appetizers and tasty main dishes that you should definitely try. If a night out isn't in your budget, though, you can always make a couple of copycat Cheesecake Factory recipes at home. If you have been to the cheesecake factory you know that they have a huge menu with a myriad of options. From the delectable bread to crispy and creamy appetizers, to better than the restaurant pasta recipes, here are a few of our favorites!
Amazingly Delicious Copycat Cheesecake Factory Recipes
1. Copycat Cheesecake factory Avocado Egg Rolls with Chipotle Ranch Dipping Sauce
Avocado Egg Rolls with Chipotle Ranch Dipping Sauce is a wonderful way to start your meal. They're terrific appetizers when you're hosting a game day party, too. All you need for these egg rolls is avocados, onions, tomatoes, cilantro, and some oil for frying. The sauce is made of mayo, sour cream, dry ranch seasoning, garlic, chipotles in adobo, and some more cilantro. Roll them like burritos, fry, and then cut them in half diagonally to achieve the cute pointy look.
Add some shredded deli chicken to make this a quick and delicious main meal. Whether you serve these as an appetizer or a main meal, they will be a hit!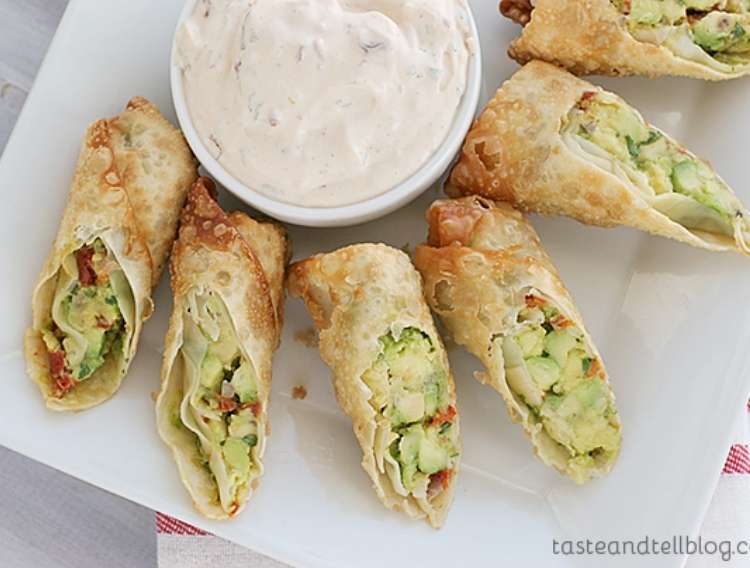 2. Cheesecake Factory inspired Reese's Butterfinger Cheesecake Bars
These amazing-looking Reese's Butterfinger Cheesecake Bars are a dead ringer for the famous Adam's Peanut Butter Cup Fudge Ripple Cheesecake. Just look at them.
This amazing treat consists of just some cheesecake stuffed with Reese's cups and Butterfinger, topped off with some chocolate ganache and peanut butter frosting. What are you still doing here? Go make these already!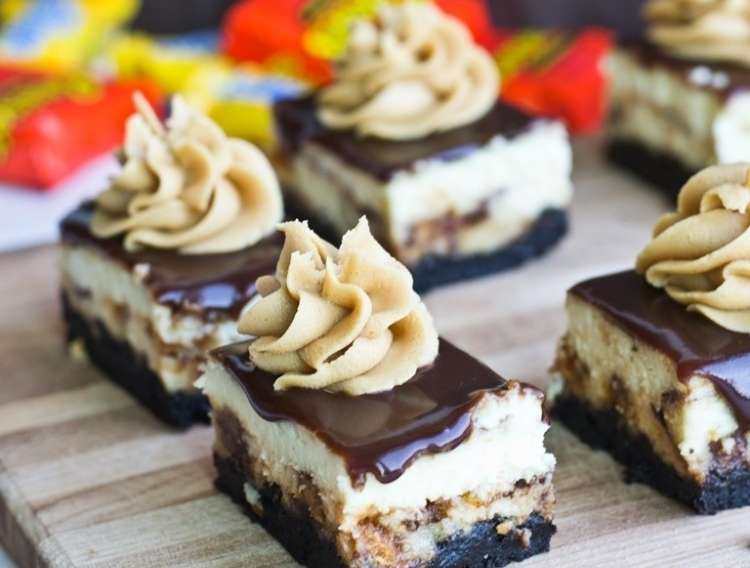 3. Copycat Cheesecake Factory Sweet Corn Tamale Cakes
For a savory dish, try the Sweet Corn Tamale Cakes. They're perfect for a summer BBQ with friends. These tamale cakes can be served as an app or as the main dish. The tamale cakes are made with sweet corn, harina pan, flour, butter, sugar, and salt and are topped with salsa verde, pico de gallo, southwestern sauce, and garnishes.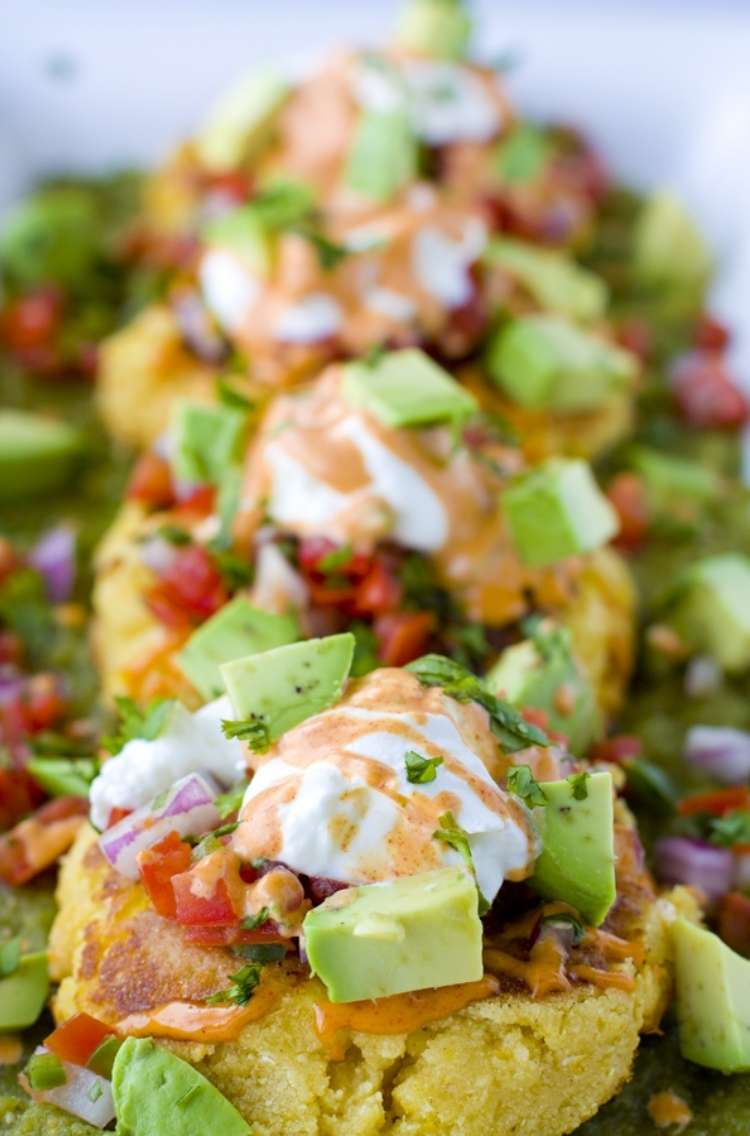 4. Copycat Cheesecake Factory Pumpkin Cheesecake
When fall comes around, nothing beats a big slice of this smooth, creamy Pumpkin Cheesecake Copycat. The best part about this recipe? It's a no-bake dessert! Heck yeah! Whip up some cream cheese, white and brown sugars, pumpkin puree, vanilla, a dash of pumpkin pie spice, and heavy cream, and throw it all into a chilled graham cracker crust, then chill. Now you can enjoy this delicious and creamy pumpkin dessert any time of the year!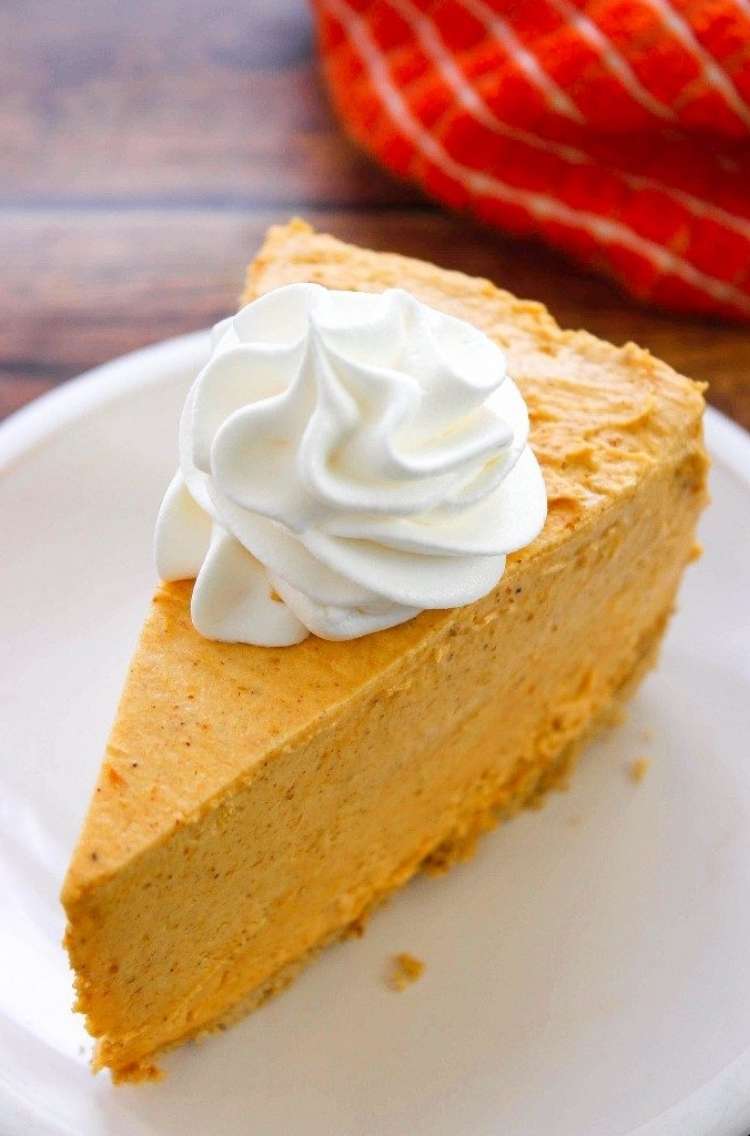 5. Cheesecake Factory Copycat Recipe Pineapple Upside Down Cheesecake
This Pineapple Upside Down Cheesecake tastes just like the restaurant version. This would be a wonderful dessert to take to a potluck. Sadly, I don't think there'd be any leftovers.
This recipe does take some planning since you will want to have time to let it cool down. You can let the cake cool down in the fridge overnight. However, for the best-looking presentation, you will want to make and cool it the day of your event. There are several steps to this recipe but it is fairly simple to put together.
For the pineapple cheesecake, you will need cream cheese, sugar, milk, eggs, sour cream, vanilla, flour, and pineapple juice.
The pineapple upside-down cake topping is made from butter, sugar, pineapple rings, and cherries.
The pineapple cake is made from flour, baking powder and soda, salt, butter, white and brown sugar, eggs, sour cream, milk pineapple juice, and vanilla.
Once everything is done and cooled you assemble and then take a bite out of this slice of heaven.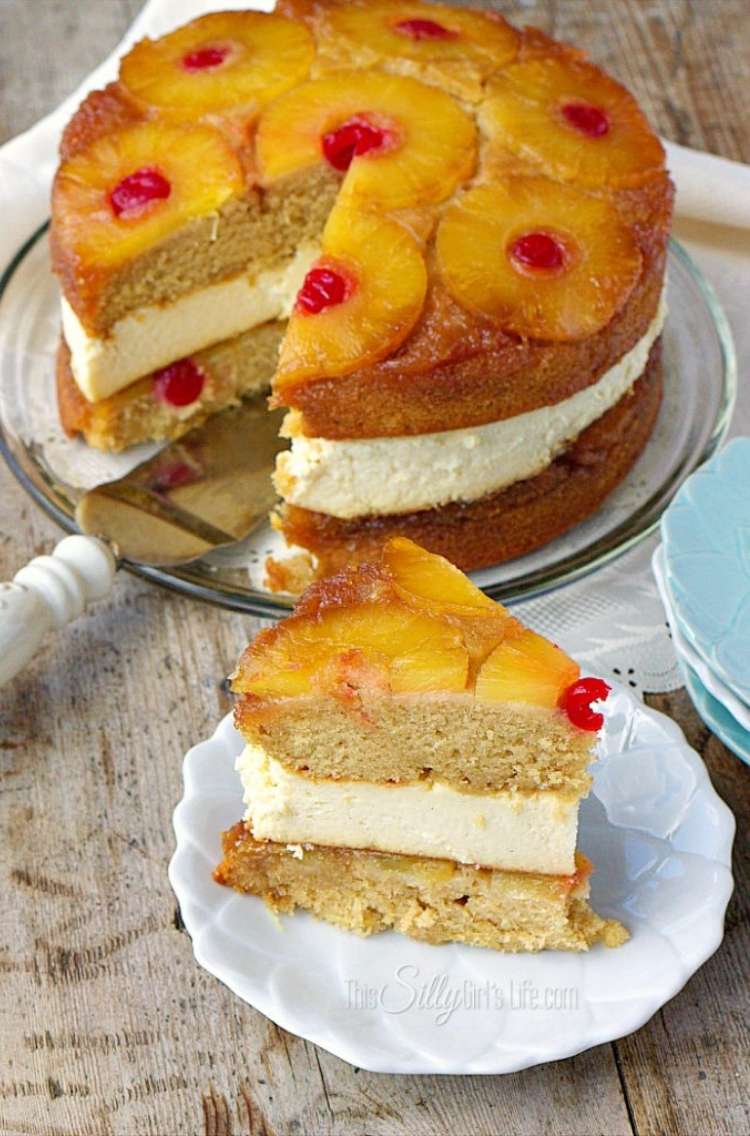 6. Cheesecake Factory Copycat Red Velvet Cheesecake
For another cake/cheesecake combo, you absolutely have to try the Red Velvet Cheesecake copycat recipe. Make it for Valentine's Day or any romantic date night with your honey.
Red Velvet cake is made by combining traditional cake ingredients such as flour, eggs, and vanilla. Also, it calls for cocoa powder, vinegar, and buttermilk. The additional ingredients turn the batter a dark red color that is oftentimes enhanced by adding red food coloring. A regular cake uses similar ingredients but does not usually include buttermilk and vinegar.

-FoodFolksandFun.net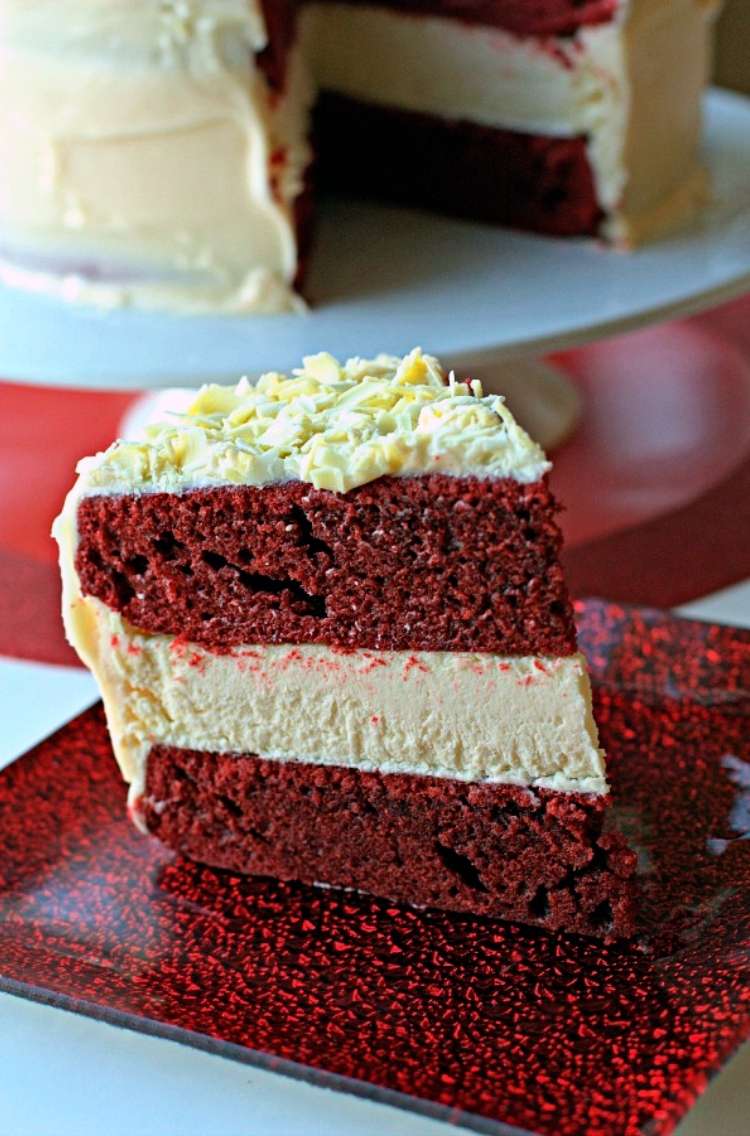 7. Cheesecake Factory Inspired Vegetarian Recipe
When you need a vegetarian dish on the menu (or just a nice side dish), Evelyn's Favorite Pasta is definitely the way to go. We are not sure who Evelyn is, but we can definitely agree that this is our favorite pasta!
A combination of garlic, Chinese eggplant, broccoli, colored peppers, tomatoes artichoke hearts, kalamata olives, and pine nuts served over penne pasta and basil pesto. Need I say more?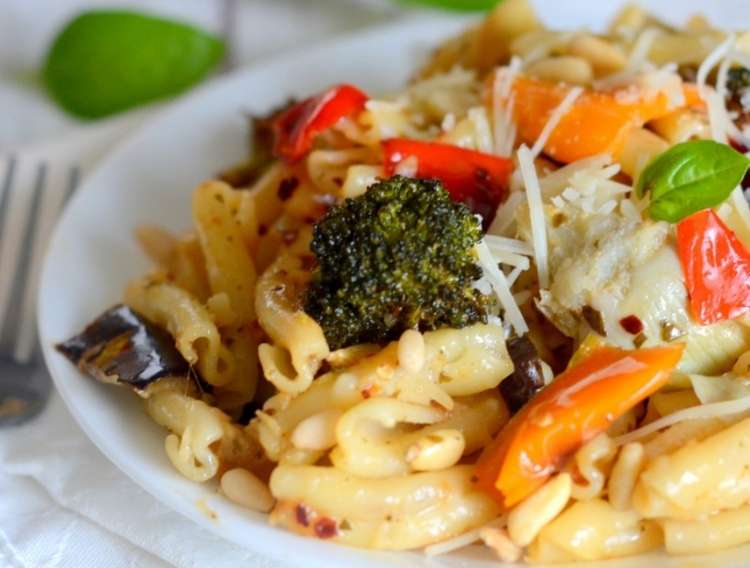 8. Cheesecake Factory knock-off Vanilla Bean Cheesecake
Sometimes simple flavors appeal more to my palate than stronger flavors. If that's the case for you, try the Vanilla Bean Cheesecake knock-off. Delicious, but not overpowering. This cake consists of 4 layers:
Crust
Cheesecake filling
Mousse
Vanilla Bean Cream
All you have to do is mix some graham crackers, butter, sugar, and vanilla for the crust, sugar cornstarch, cream cheese sour cream, vanilla for the cheesecake, whipped cream, powdered sugar, vanilla, cream cheese, and melted white chocolate for the mousse and some whipping cream, powdered sugar, and vanilla for the vanilla bean cream.
Layer everything and voila! Cheesecake Factory (knock-off!) Vanilla Bean Cheesecake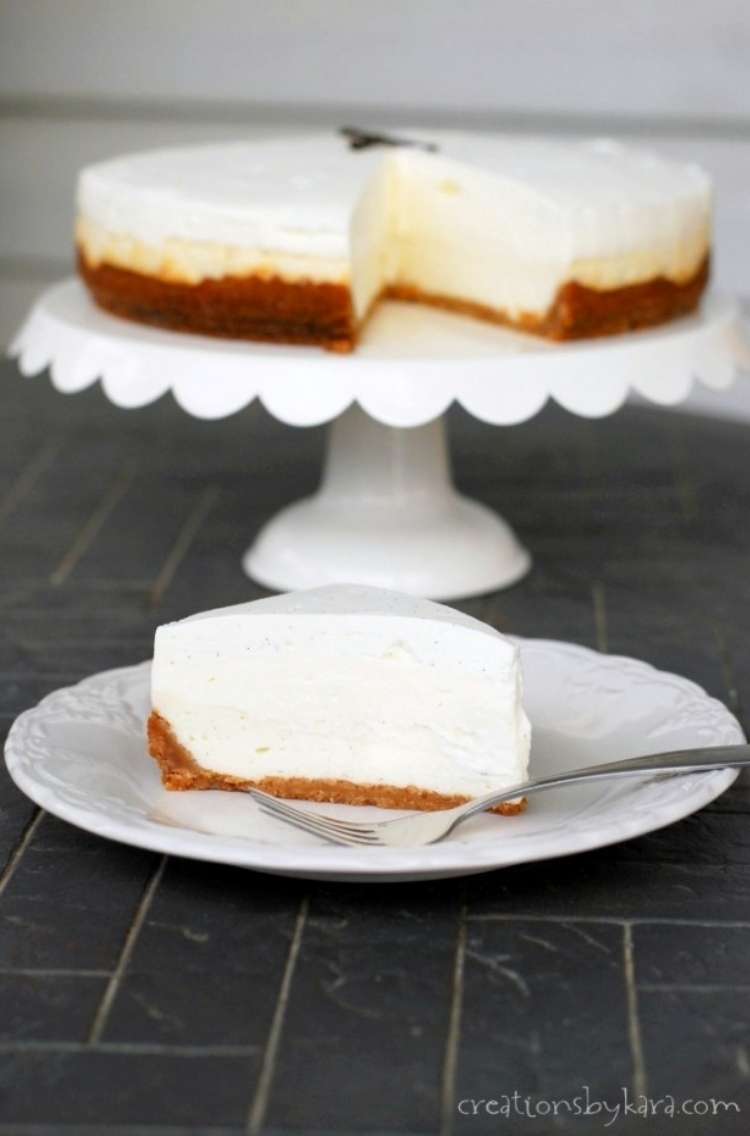 9. Cheesecake Factory Inspired Deep-fried Macaroni and Cheeseballs
Here's a recipe even the kids will love: Deep-Fried Macaroni and Cheese Balls. Serve with a marinara sauce for a delicious appetizer or savory snack.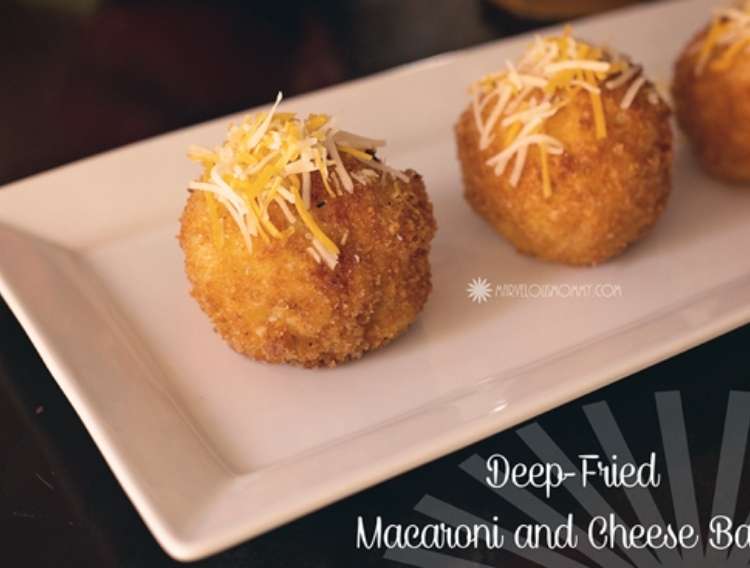 10. Heavenly Cheesecake Factory Coconut Cream Cheesecake Copycat
You can never have too much coconut. This Coconut Cream Cheesecake is on a chocolate macaroon crust and topped with coconut cream custard.
The filling is made with fresh coconut, cream cheese, coconut liqueur, cream of coconut all nicely settled in a chocolate macaroon crust… Good. heavens.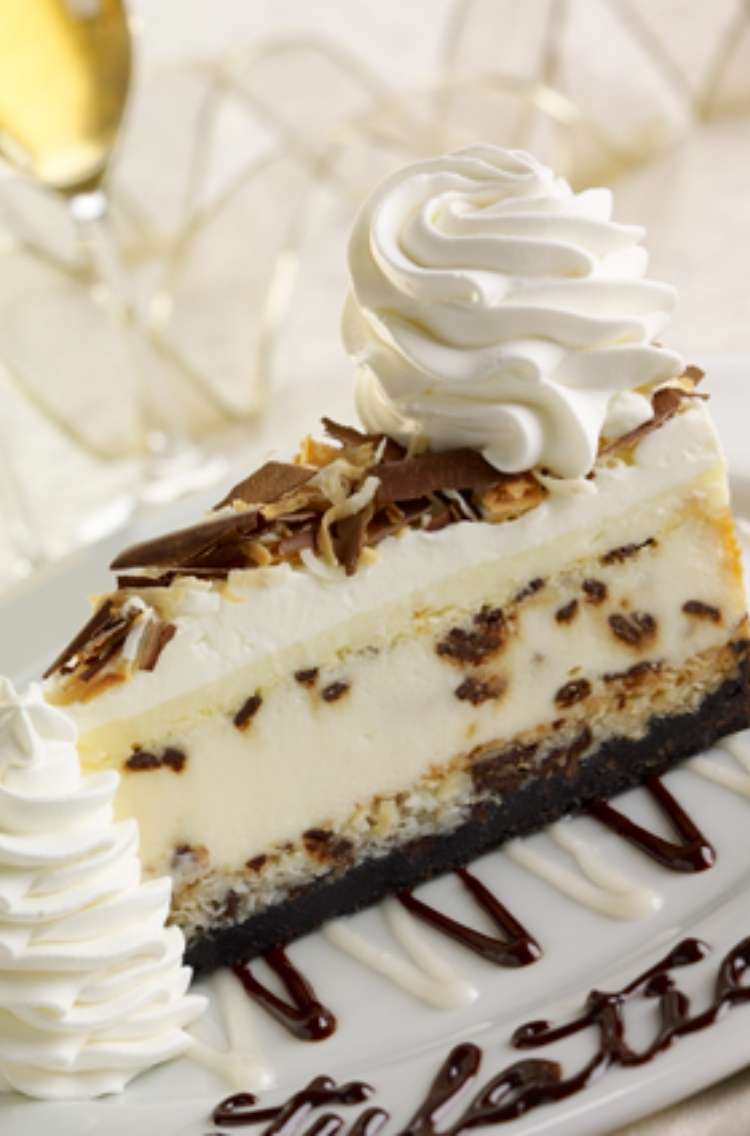 11. Cheesecake Factory Copycat Hot Fudge Brownie Cheesecake
Does the Cheesecake Factory still make the Hot Fudge Brownie Cheesecake? If not, they should. Brownies are my absolute favorite dessert… Pair it with cheesecake, and I'm in love.
Just a few ingredients to put together this amazing decadent dessert: your favorite brownie mix, cream cheese, sour cream, sugar, vanilla, eggs, whipped cream, and toasted almonds, topped with hot fudge.
I'm ready for dessert!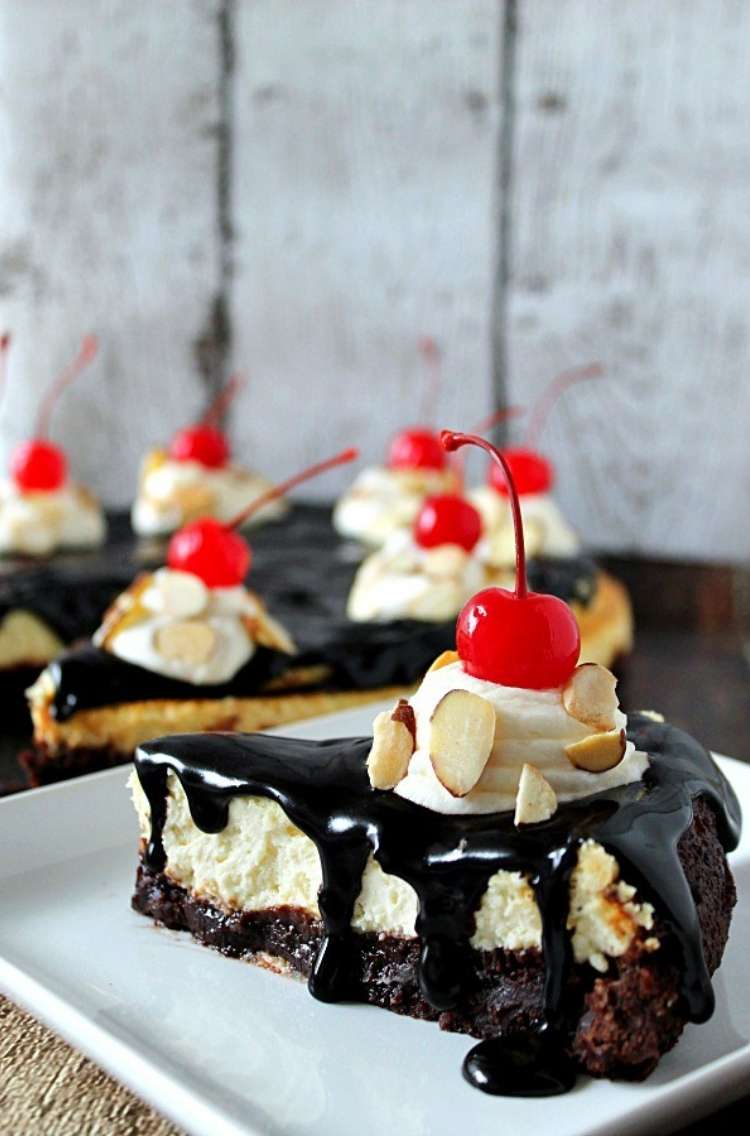 12. Cheesecake Factory Inspired Spicy Chicken Chipotle Cream Sauce Pasta
Spicy Chicken Chipotle Cream Sauce Pasta is spicy and creamy with crunchy veggies and out-of-this-world chicken (or just leave the chicken out for a vegetarian option). The best part- You can whip this together in only 15 minutes. What's not to love? You can even prepare a big batch of sauce to have ready-to-make healthy and quick weekday dinners!
The chipotle cream sauce is made from chipotle in adobo, salt, olive oil, tomato paste, black pepper, lime, and garlic.
To make this even quicker, use deli chicken instead of cooking it. Talk about a quick dinner!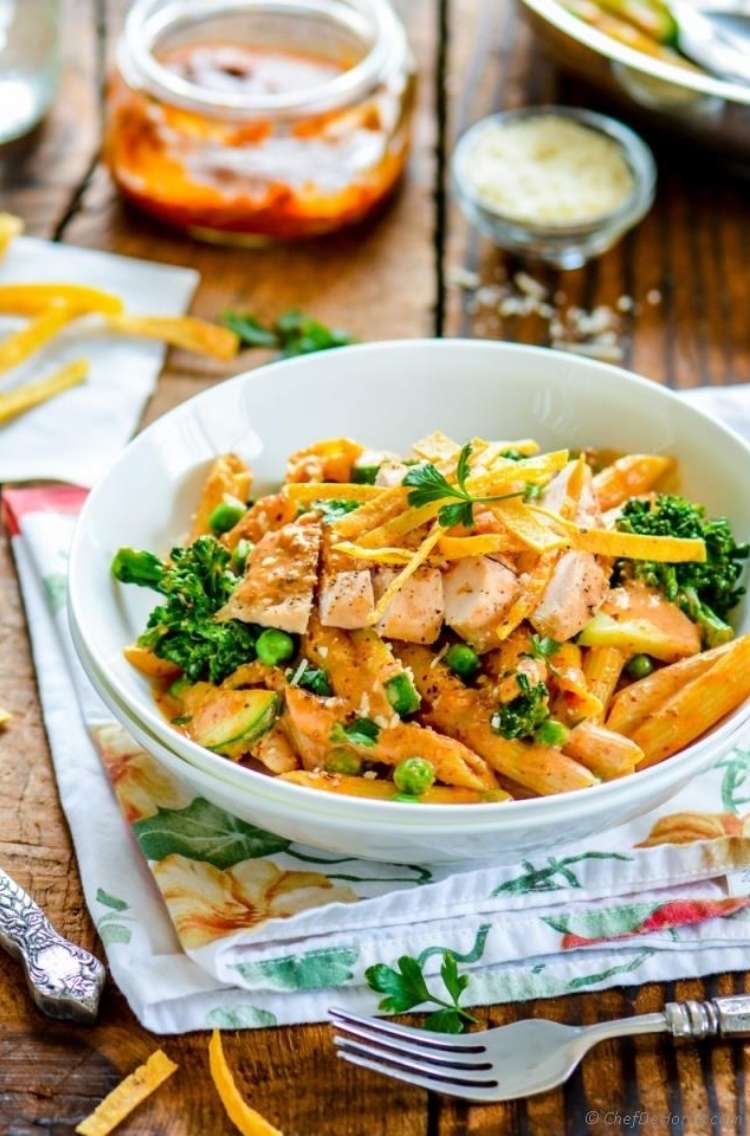 13. Cheesecake Factory Copycat Key Lime Cheesecake
How about a refreshing slice of Key Lime Cheesecake to tempt your taste buds? Tangy, creamy, and delicious, this dessert will make you feel absolutely tropical. And don't fret that it doesn't look green since that green look is only achieved with artificial colors. The creamy cheesecake is absolutely perfect with the tangy key lime and crunchy crust. Ready to get tropical?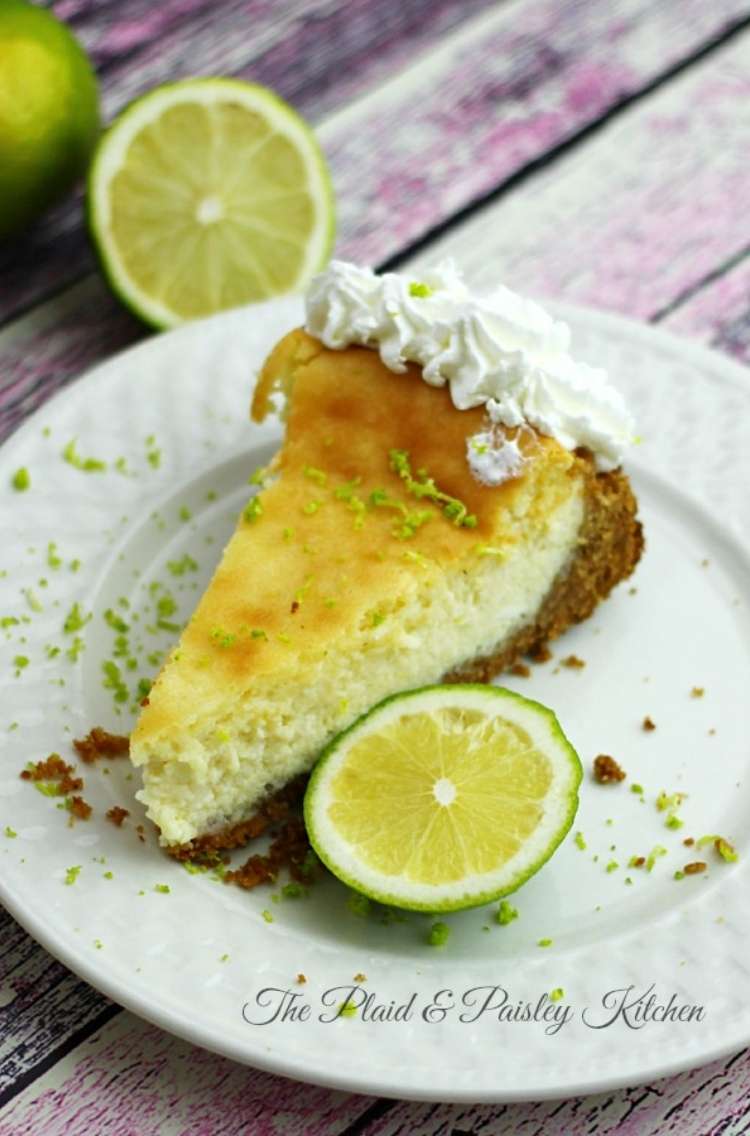 14. "Better than the Cheesecake Factory" Chicken Madeira
Looking for something a little healthier? Try this better-than-the-restaurant version of Chicken Madeira. The mushrooms and sauce look positively dreamy. This dish is quick and simple enough for a healthy weekday dinner, but decadent enough for a weekend get-together.
After browning the chicken, set it aside and cook up mushrooms, Madeira wine, garlic, broth, cornstarch, butter, and black pepper. Add the chicken back in, then sprinkle with cheese, bake and voila! A fancy impressive dinner. And did we mention healthy, too? Make this hearty by matching with mashed potatoes, or keep it lite with some green beans. And don't worry, the alcohol with evaporate out, so this is a kid-friendly recipe.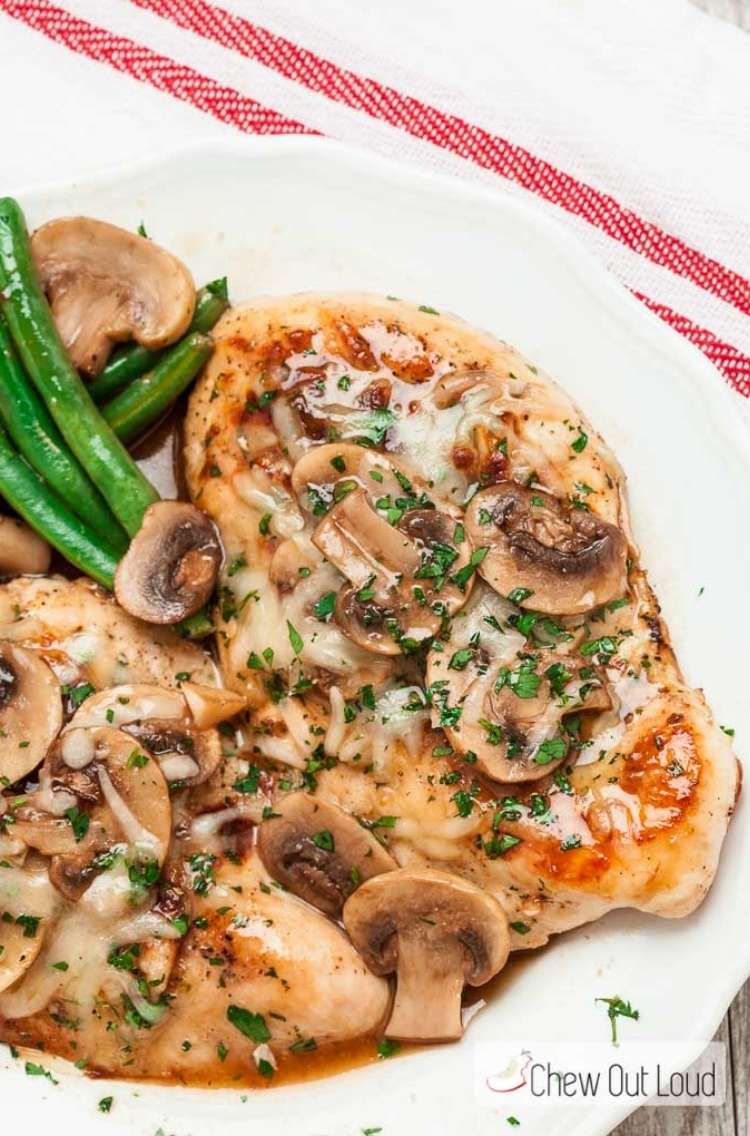 15. Cheesecake Factory copycat Honey Wheat Brown Bread
What is it about fresh, hot restaurant bread that's so perfect? Make it at home with this copycat for their Honey Wheat Brown Bread. Cause there is nothing better than fresh restaurant bread right?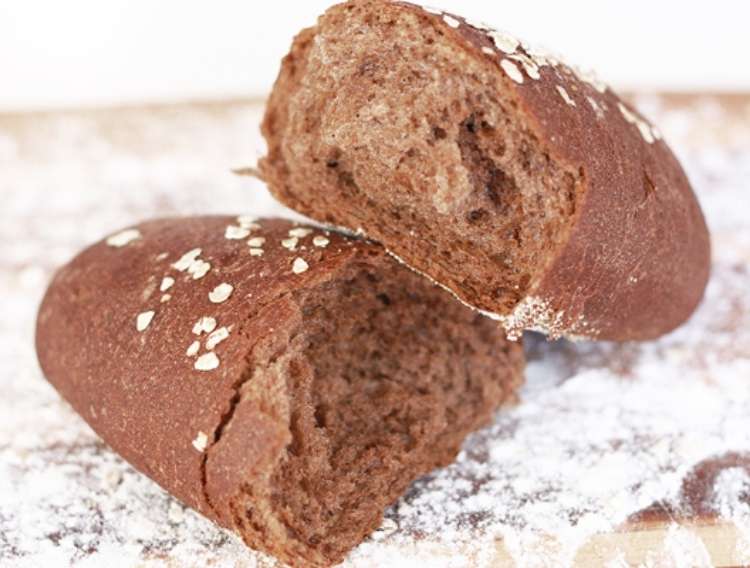 Can't get enough Cheesecake Factory Copycat Recipes?
No worries, we've got you covered! Check out these other…
Favorite restaurant copycat recipes: