When you think of the Cheesecake Factory, you probably envision mile high cheesecakes with your favorite fillings and toppings. Yum. But that's not all you'll find. They also serve amazing appetizers and tasty main dishes that you should definitely try. If a night out isn't in your budget, though, you can always make a couple of copycat Cheesecake Factory recipes at home. Here are our favorites!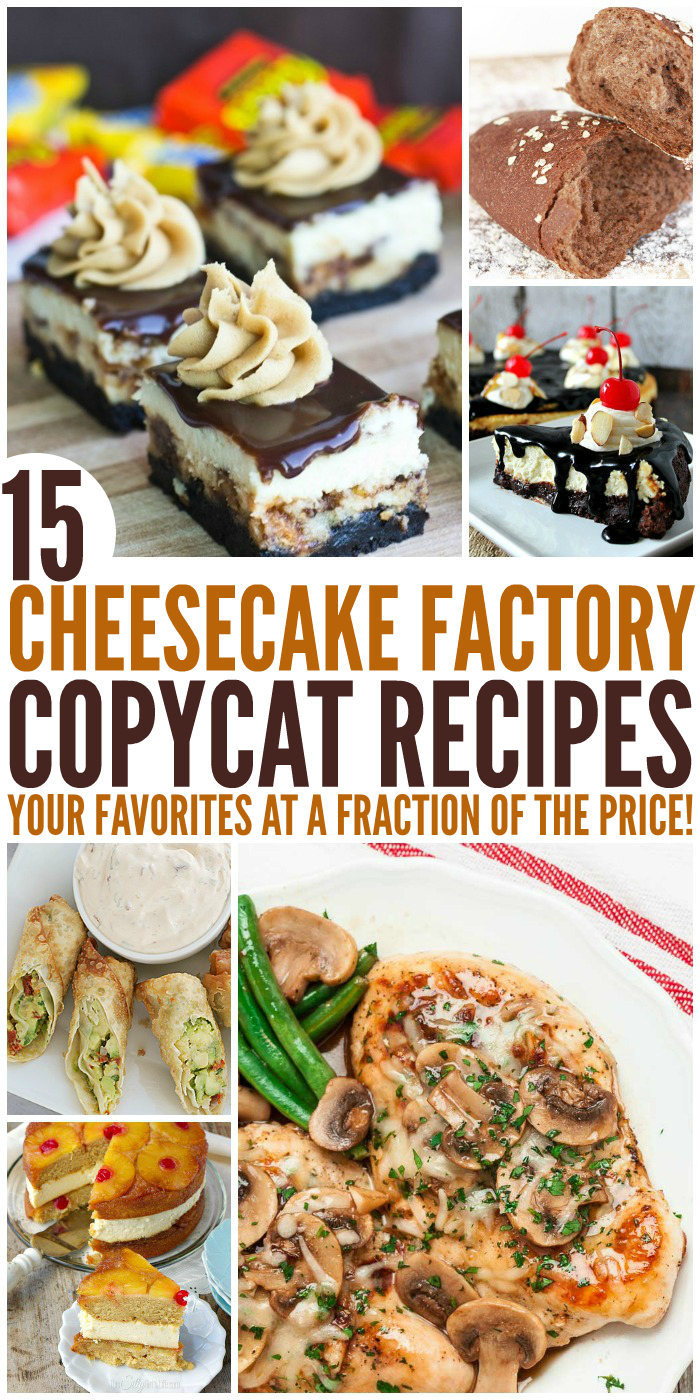 Amazingly Delicious Copycat Cheesecake Factory Recipes
Avocado Egg Rolls with Chipotle Ranch Dipping Sauce are a wonderful way to start your meal. They're terrific appetizers when you're hosting a game day party, too.
These amazing looking Reese's Butterfinger Cheesecake Bars are a dead ringer for the famous Adam's Peanut Butter Cup Fudge Ripple Cheesecake. Just look at them…
For a savory dish, try the Sweet Corn Tamale Cakes. They're perfect for a summer BBQ with friends.
When fall comes around, nothing beats a big slice of this smooth, creamy Pumpkin Cheesecake Copycat.
This Pineapple Upside Down Cheesecake tastes just like the restaurant version. This would be a wonderful dessert to take to a potluck. Sadly, I don't think there'd be any leftovers.
For another cake/cheesecake combo, you absolutely have to try the Red Velvet Cheesecake copycat recipe. Make it for Valentine's Day or any romantic date night with your honey.
When you need a vegetarian dish on the menu (or just a nice side dish), Evelyn's Favorite Pasta is definitely the way to go.
Sometimes simple flavors appeal more to my palate than stronger flavors. If that's the case for you, try the Vanilla Bean Cheesecake knock-off. Delicious, but not overpowering.
Here's a recipe even the kids will love: Deep-Fried Macaroni and Cheese Balls. Serve with marinara sauce for a delicious appetizer or savory snack.
You can never have too much coconut. This Coconut Cream Cheesecake is on a chocolate macaroon crust and topped with coconut cream custard. Good. heavens.
Does the Cheesecake Factory still make the Hot Fudge Brownie Cheesecake? If not, they should. Brownies are my absolute favorite dessert… Pair it with cheesecake, and I'm in love.
Spicy Chicken Chipotle Cream Sauce Pasta is spicy and creamy with crunchy veggies and out-of-this-world chicken. What's not to love?
How about a refreshing slice of Key Lime Cheesecake to tempt your taste buds? It looks delightful.
Looking for something a little healthier? Try this better-than-the-restaurant-version of Chicken Madeira. The mushrooms and sauce look positively dreamy.
What is it about fresh, hot restaurant bread that's so perfect? Make it at home with this copycat for their Honey Wheat Brown Bread.
FREE – Kitchen Cheat Sheet Magnet
Looking for a shortcut? Something to make cooking easier??
We LOVE having a kitchen cheat sheet handy – it is a fridge magnet and is perfect for those days when you can't find the tablespoon or need to remember what to use if you run out of oil or whatever! Genius! And it's FREE!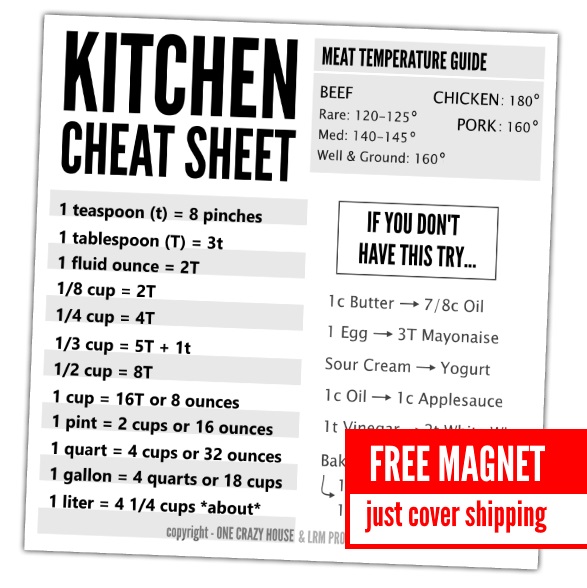 Keep Reading
Are you a fan of copycat recipes? Check out our Copycat Panera Recipes and Olive Garden Copycats as well!