The refrigerator is a space that can make or break your kitchen organization. With just a little bit of time and effort, try to up your organization game with these awesome fridge organization tips and hacks!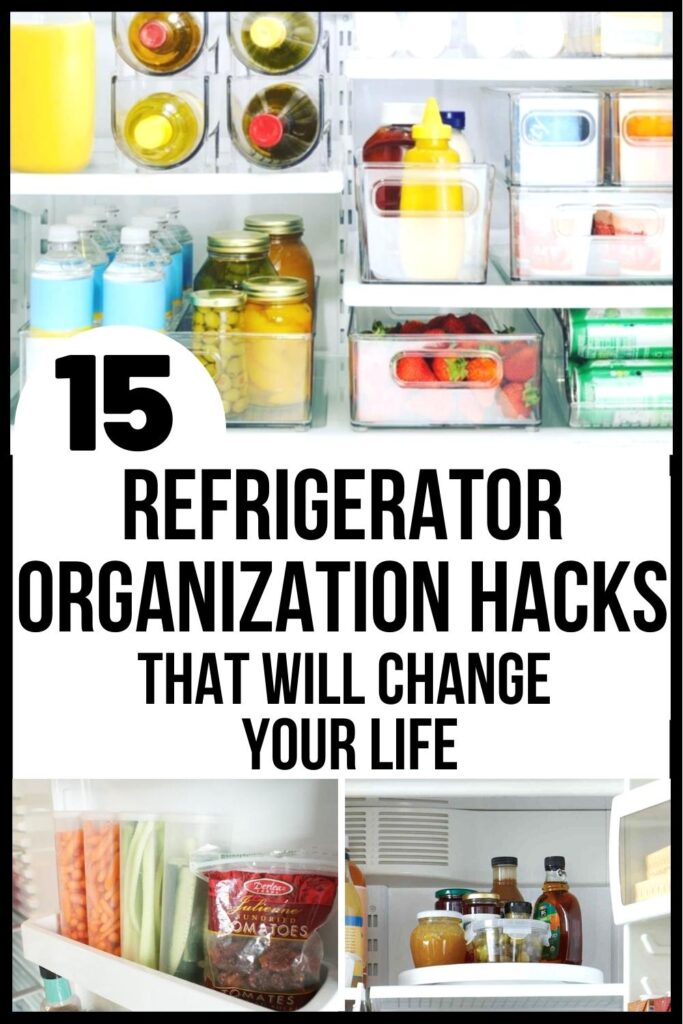 What do you use most in your kitchen? Your refrigerator, of course!
If the kitchen is the heart of the home, the fridge is the command center. It holds a lot of the snacks, leftovers, and food you use to prepare meals.
Because family members are constantly in and out of the kitchen (and the fridge!), your kitchen command center can quickly become your kitchen black hole. Instead of being filled with fresh, filling foods that are easy to find, it gets to a point where it's filled with spoiled and expired foods, spills, and mystery items.
When you reach that point, it's time to decide how to organize the fridge. In addition to organizing your refrigerator, use these hacks that we've rounded up to help you stay organized even more.
15 Fridge Organization Hacks That Will Change Your Life
Kitchen hacks make life so much easier, don't they? Organizing your fridge goes a long way in saving time and money, too.
But, we've gone a step further and found even more refrigerator organization hacks that will totally change the way you use your refrigerator.
Wondering how to organize a refrigerator when you have bottles of condiments? Simple. Place an egg carton bottom in one of your door shelves to hold your condiments in place upside down.
Bonus: you'll never have to shake, shake, shake to get ketchup to the top of the bottle again!
Learn these amazing pill bottle uses, and turn old pill bottles into beautiful crafts!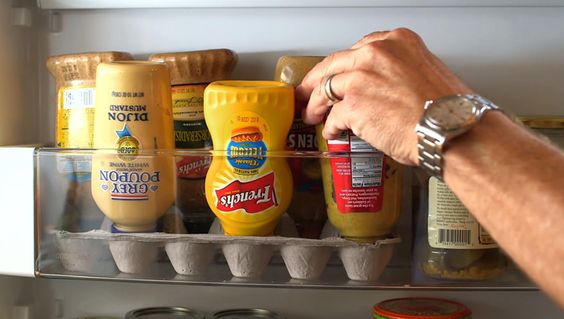 Kids using more cups than you can keep up with? Try this trick: fridge magnet cups! They can put them on the fridge between uses so they always know where their cups are.
Related Post: 15 Ways to Use Magnets to Change How Your Organize
This idea is so versatile that you don't just have to use it for your fridge, but look how useful it is in the refrigerator! Utilize that vertical space in your fridge with magnetic plastic containers.
Put a box near the front of the fridge for foods that need to be consumed ASAP. It's a genius idea for how to organize a fridge that also helps eliminate food waste!
Mama, save yourself some time. Create a snack zone in the fridge with kid-friendly snacks and drinks that the kids can fetch themselves.
How easy is that?
Add these special absorbent liners to your fridge to avoid sticky messes on your shelves that are a total pain to clean up. Not only do they save time but they look super cute too!
Related Post: How to Clean Your Fridge in 30 Minute or Less
Or, for an even cheaper option, use Glad Press & Seal wrap to cover your refrigerator shelves. When it gets icky, throw it out. Easy peasy…and no scrubbing.
Save your door shelves for more important things. Condiments should be on a Lazy Susan in the fridge to keep everything organized and make everything easier to find. You don't even have to go out and buy one- you can make your own Lazy Susan.
You'll love it!
Related Post: 15 Ways to Get Organized with a Lazy Susan
See what's in your freezer at a glance by using bins to keep things contained.
Why did I never think of this?
Did you know that you can write on the fridge with a dry erase marker? Use it to keep track of your shopping list, snap a pic of it before you leave for the store, and you're good to go!
If that idea doesn't appeal to you, maybe you'd like to chalkboard paint your fridge? Honestly… I dig it. It's really cute.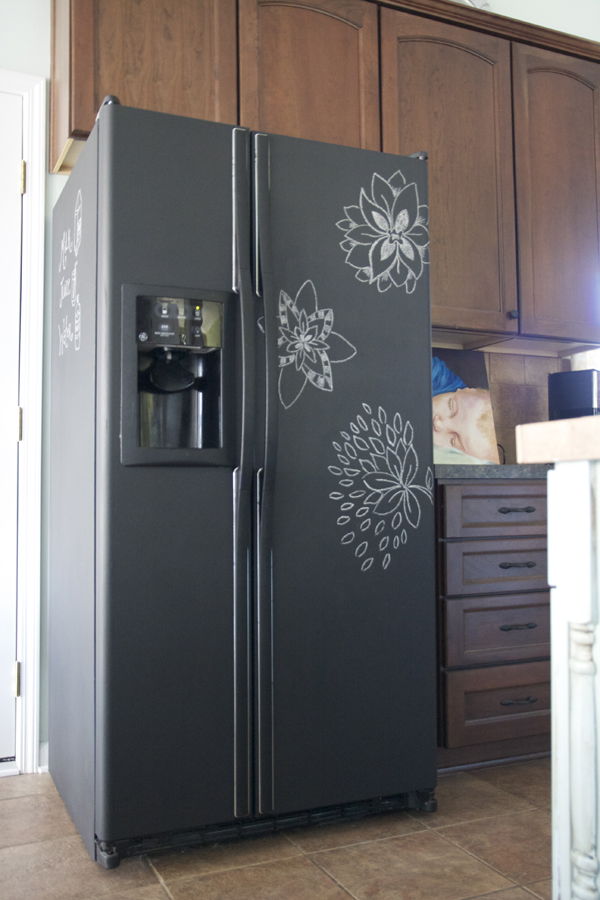 Get rid of your Tupperware. Mason jars will keep food fresher longer, are microwave save (remove the lid first), and they don't stain.
Related Post: 15 Mason Jar Meals to Eat on the Go
Like to wash and cut your veggies all at once? Store them in Crystal Light containers in the door — a perfect fit and you utilize vertical storage!
Group Like Items Together (One of the best DIY organization hacks)| The Inspired Home
If you really want to maximize your refrigerator organization and ditch lost and expired foods, store like items together. Fruit with fruit, vegetables with vegetables, condiments with condiments…you get the idea.
Securely suspend bottles and small jars from the top of your fridge using bottleLoft strips (strips with strong magnets). Smart!
You can buy them off Amazon!
What did you think of these tips? Which one will you use first?
Once you get decluttered and organized, go even a step further by using these fridge organization hacks and tips. Not only will they help you stay organized, but they'll help make your life easier.
We all want that, right?
More Hacks and Tips From One Crazy House:
If you liked our fridge organization hacks, check out these additional posts for getting the most out of your kitchen!