Have some old tires creating clutter in your garage? Do something with them! We've found 16 super cool tire hacks and DIY projects that can turn those old pieces of rubber into something useful and FUN. You'll never look at old tires the same way again!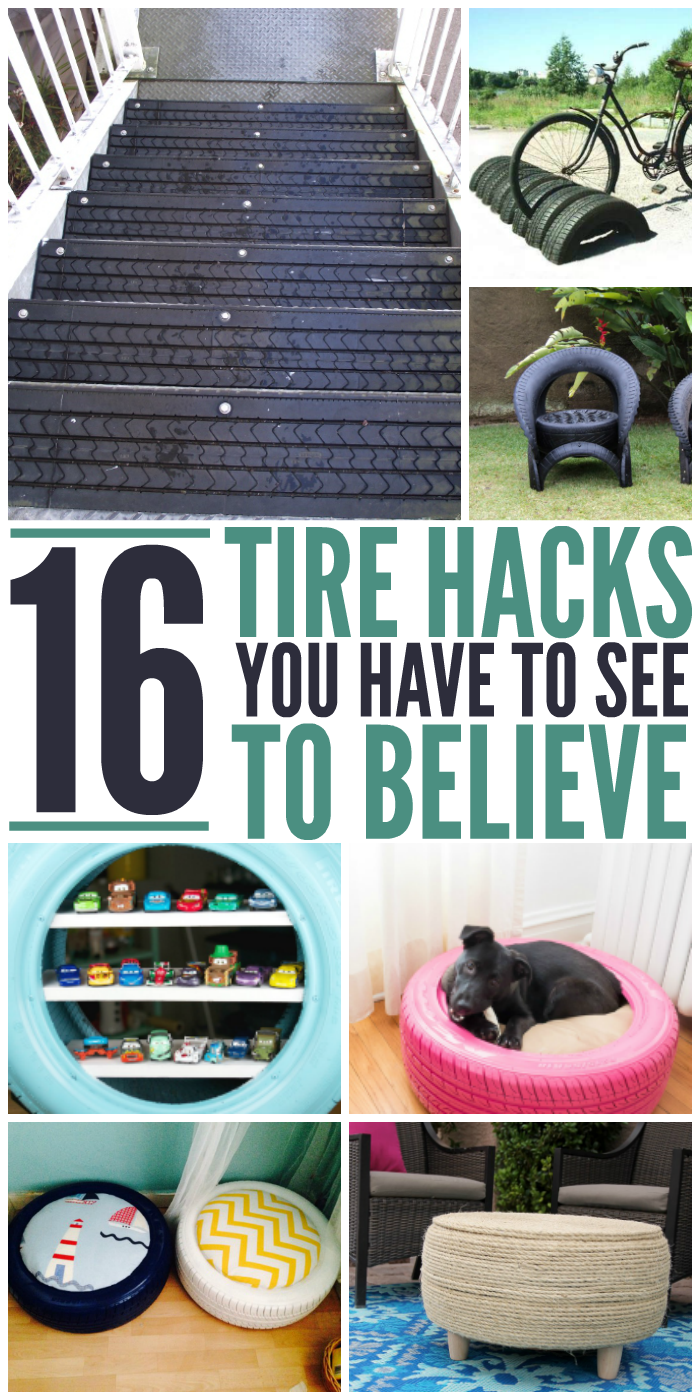 Tire Hacks for the Home and Garden
Add something fun to the backyard for the kids – a tire sandbox! This works best if you can get your hands on a large tire (such as a tractor tire).
via I Heart Naptime
Make your outdoor steps skid-proof by applying old tires to the surface of the steps.
via Nyssa.com
Use rope, MDF and an old tire to recreate this gorgeous rope ottoman for your living room or outdoor space.
via Handimania
Here's a similar tire coffee table. Try making the top removable for handy hidden storage!
via Persia Lou
Make a tire totter for your little ones to enjoy. I always enjoyed these things as a kid!
via My Fix It Up Life
Create tire seats for your kids' rooms or their playrooms. They're cheap and really cute!
via Grillo Designs
And these tire chairs for the garden are just plain impressive!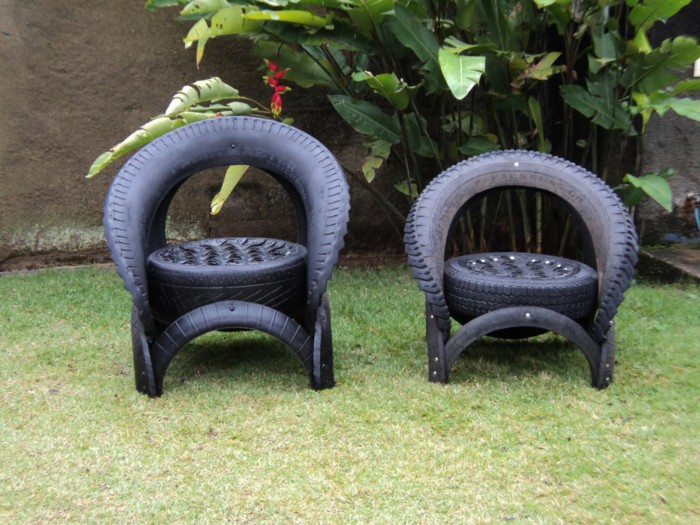 via Fresh Design Pedia
Make an easy tire bed for your dog. This is perfect for chewers who destroy other beds quickly.
via Practically Functional
Hang some flowers in a tire on the side of your storage building. This is certainly a different take on the traditional tire planter!
via Recaptured Charm
Or make these diy tire planters to sit in your yard or on your porch. Lovely!
via Pink HSC
Add a tire ladder to your child's swing set. Fun!
via Exploring Domesticity
No childhood (or adulthood!) is complete without a tire swing on a sturdy tree branch.
via RUstic Chic
Make a shelf for toy cars. This will look great in a car-themed bedroom! (See more toy car storage ideas.)
via Spaceships and Laser Beams
Would you believe that these little ponds are made out of recycled tires?
via Handimania
Build a bike stand out of tires cut in half. That's smart!
via Recyclart
Create an eye-catching garden decoration. This tire frog is adorable!
via Cool DIY Ideas