Have some old tires creating clutter in your garage? Do something with them! We've found 16 super cool DIY tire projects and hacks you have to see to believe and DIY projects that can turn those old pieces of rubber into something useful and FUN. You'll never look at old tires the same way again!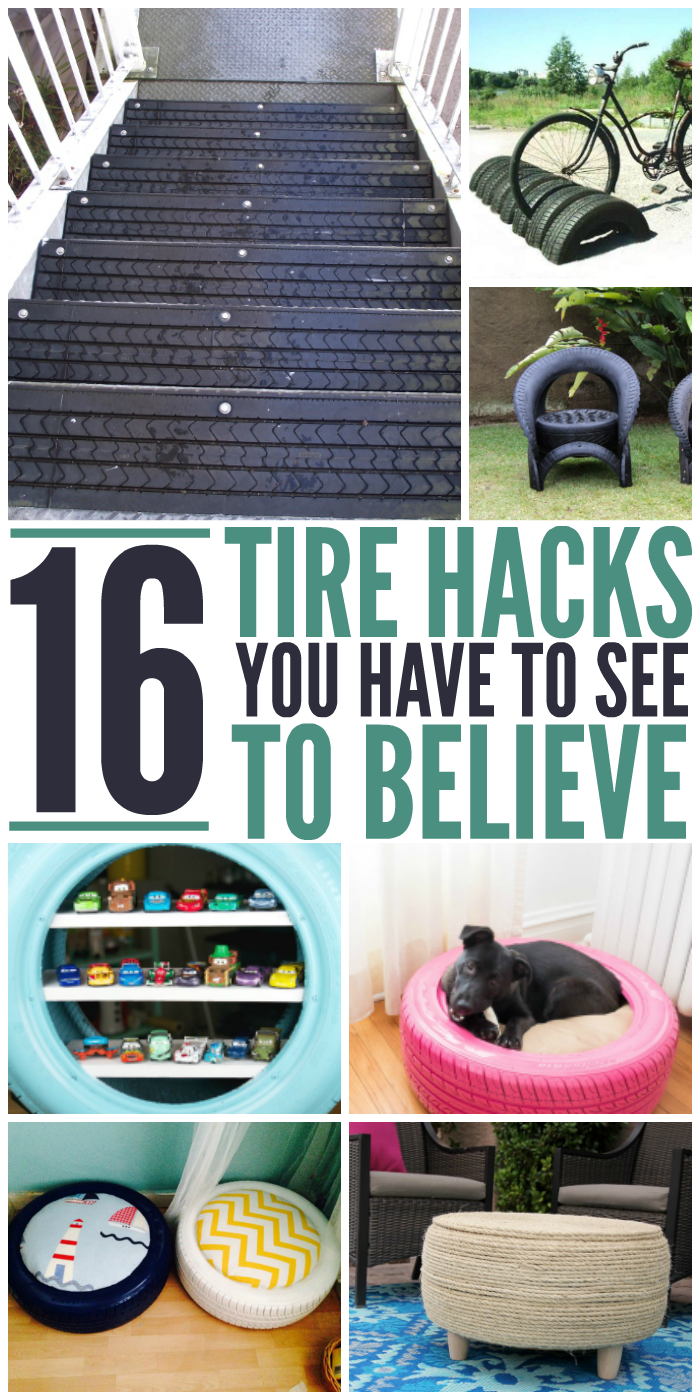 DIY Tire Projects and Hacks for the Home and Garden
1. Tire sandbox hack for your garden
Add something fun to the backyard for the kids – a tire sandbox! This works best if you can get your hands on a large tire (such as a tractor tire). It's easy to make, just set the tire at your ideal location, coat it in some joyful colors, fill in the sand and toys, and you are good to go. This awesome dad even had his children imprint their little hands on the sandbox, what fun!!
Here's another way to make it!
via I Heart Naptime
2. Outdoor steps tire hack you won't believe
An injury brought about when you are on the stairs can be quite serious. With this tire climber hack, you can reduce the worry and be sure-footed even when it rains. What's more, your tire rubber steps will look unique, durable, and be the envy of any visitors. Use this recycled tire hack to make your outdoor steps skid-proof by applying old tires to the surface of the steps. Just look for appropriately sized tires and cut them to size. Rivet, bolt, or glue your new stair covers to the structural stairs and voila!!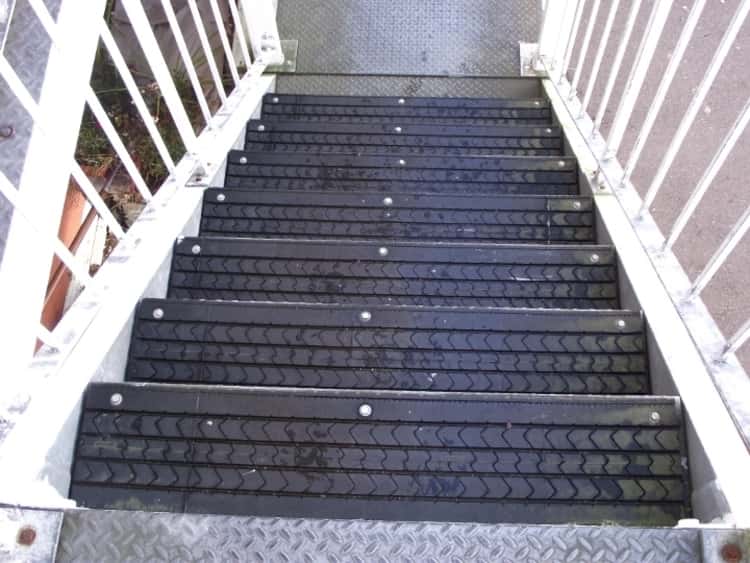 via Nyssa.com
3. Need some extra storage in the house or outside? This tire hack is just for you
Repurpose old tires by turning them into an indoor or outdoor décor. Use rope, MDF, and an appropriately sized old tire to recreate this gorgeous rope ottoman for your living room or outdoor space. Take the MDF and seal off both sides of the tire with a door on one side, wrap the rope tight round and round the entire creation and you have made your own tire ottoman. Such a lovely tire craft!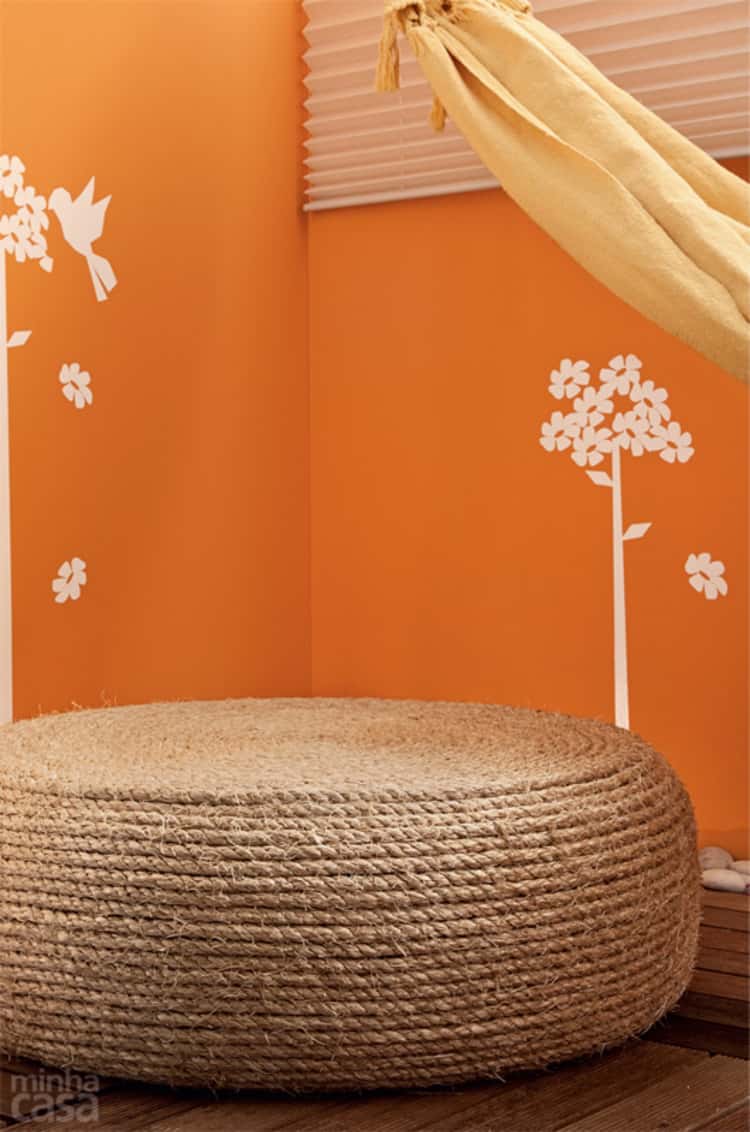 via Handimania
4. More of that tire wrapped in rope hack to make a coffee table
Give the old tire a new life. Here's another of our tire hacks, similar to the rope ottoman only this time we'll make a coffee tire table. Take our suggestion for an ottoman described in step three only this time, you are making a coffee table so just add some legs to bring it to height. Try making the top removable for handy hidden storage!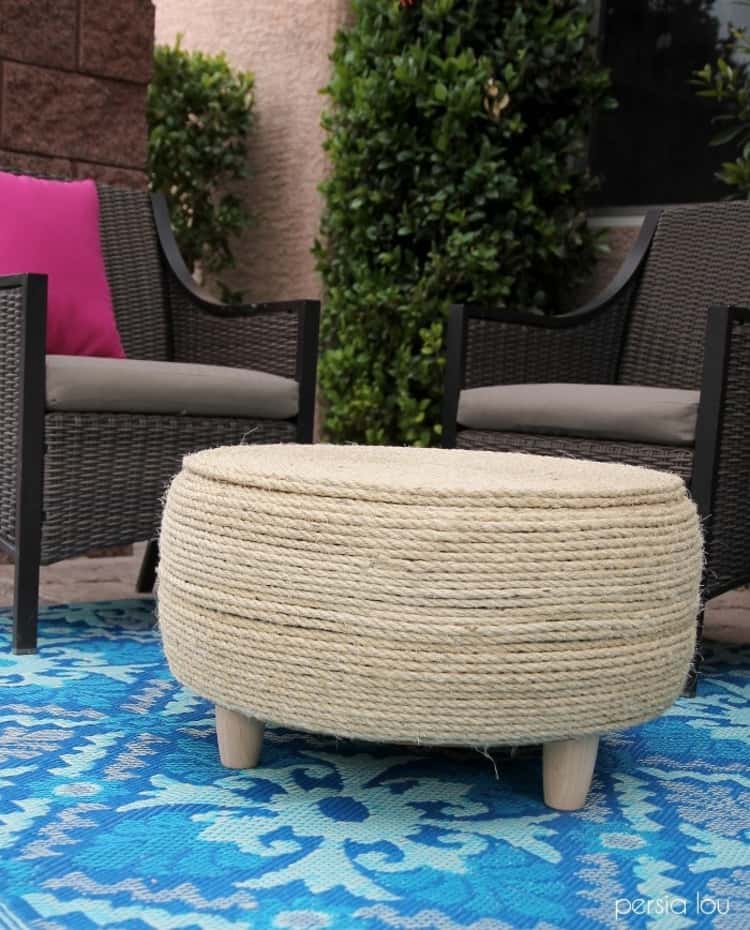 via Persia Lou
5. Tire rocker for your backyard
Tired of your old tire swing? Give it a swist! Grab some spray paint and turn it into this awesome inspiration. You can have your own playground in the backyard starting with one of these amazing tire hacks. We are going to reuse an old tire by cutting it in half, place a board long the top, mount some hand grapples, stiffen the tire a bit so it does not buckle under the weight of your children and you have made a tire totter for your little ones to enjoy. I always enjoyed these things as a kid!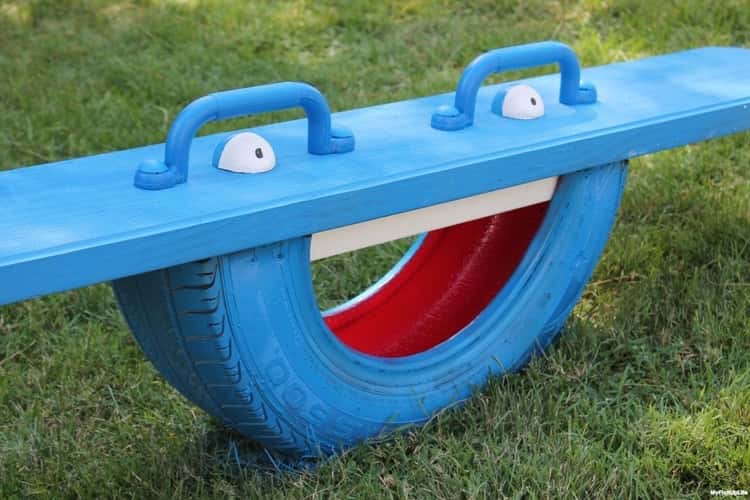 via My Fix It Up Life
6. Amazing tire seats
This is one of the easier hacks, make some cushioning on the inside of the tire, glue the cushioning in and you have a seat. Use this hack to create tire seats for your kids' rooms or their playrooms. They're cheap and really cute, just make sure the color theme of the fabric and overall paintwork matches your decor.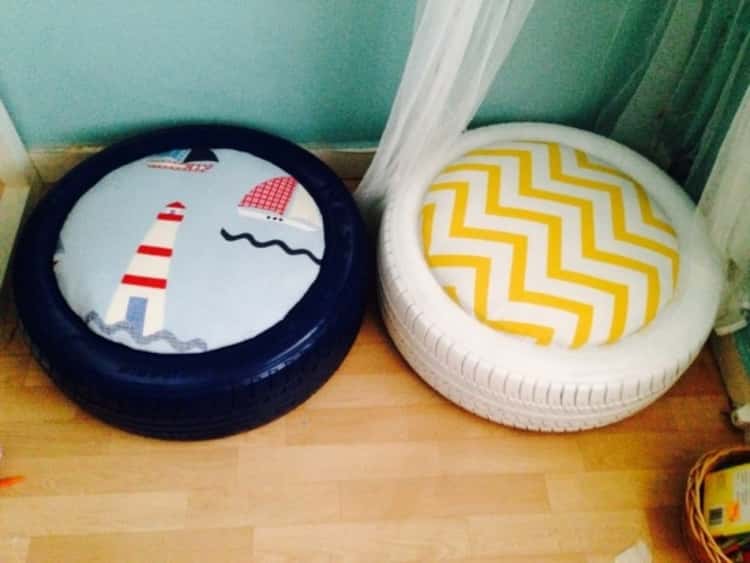 via Grillo Designs
7. How about some chairs for your garden
Are you feeling like a pro? Do you want to recycle some old tires and put them to good use? We have just the project for you. If you get this right, you will have some weatherproof, destruction-proof chairs that will be used by your great-grandchildren long after you are gone. All you need is a couple of tires, a saw, and some hammers to make these tire stools for the garden that are just plain impressive! That curve formed naturally by the tire that forms the backrest will hold you snugly as you read your novel over a bottle of beer surrounded by your plants and flowers.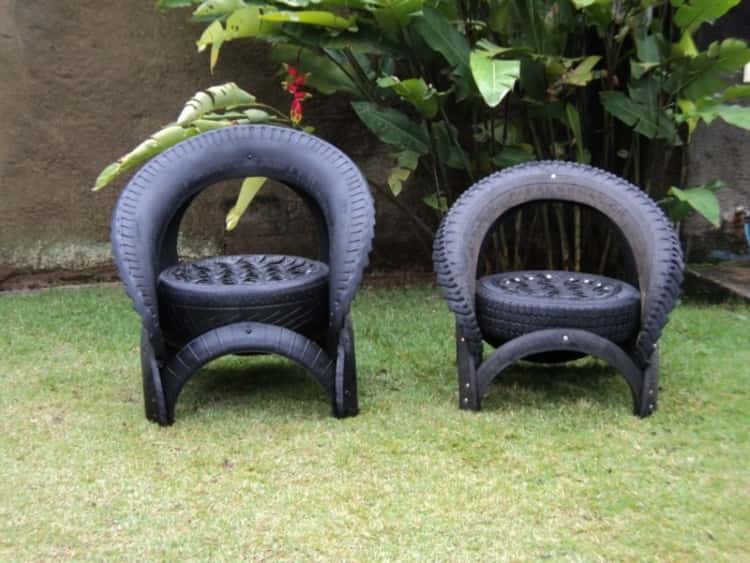 via Fresh Design Pedia
8. Dog bed tire hacks
Almost similar to the tire seats we have above, however, with this one, use a little less filling to give your dog a bit of a nest inside the tire rather than on the tire. This bed is easily portable whether you want to take it to another room or throw it in your trunk for that road trip. Your dog will also have a hard time chewing this bed into destruction.
Make an easy tire bed for your dog. This is perfect for chewers who destroy other beds quickly.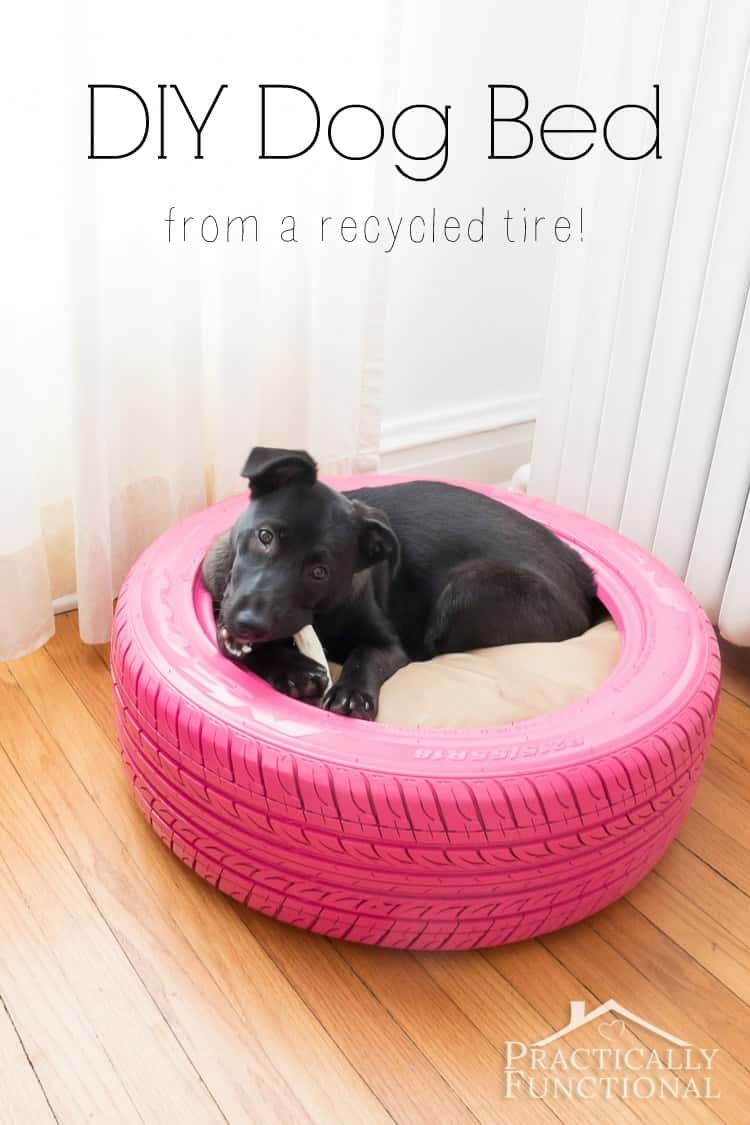 via Practically Functional
9. Floating tire garden hack
Does your dog get into your garden and mess up that precious lily you have planted? Do you have a large plain wall that could do with a bit of character? We have just the thing for you: diy tire flower planters! Hang a tire against the wall, add in some potting soil and plant your flowers or kitchen plants in it. The dog will only be able to look longingly at your garden but it is out of reach.
Hang some flowers in a tire on the side of your storage building. This hanging tire planter certainly a different take on the traditional ones!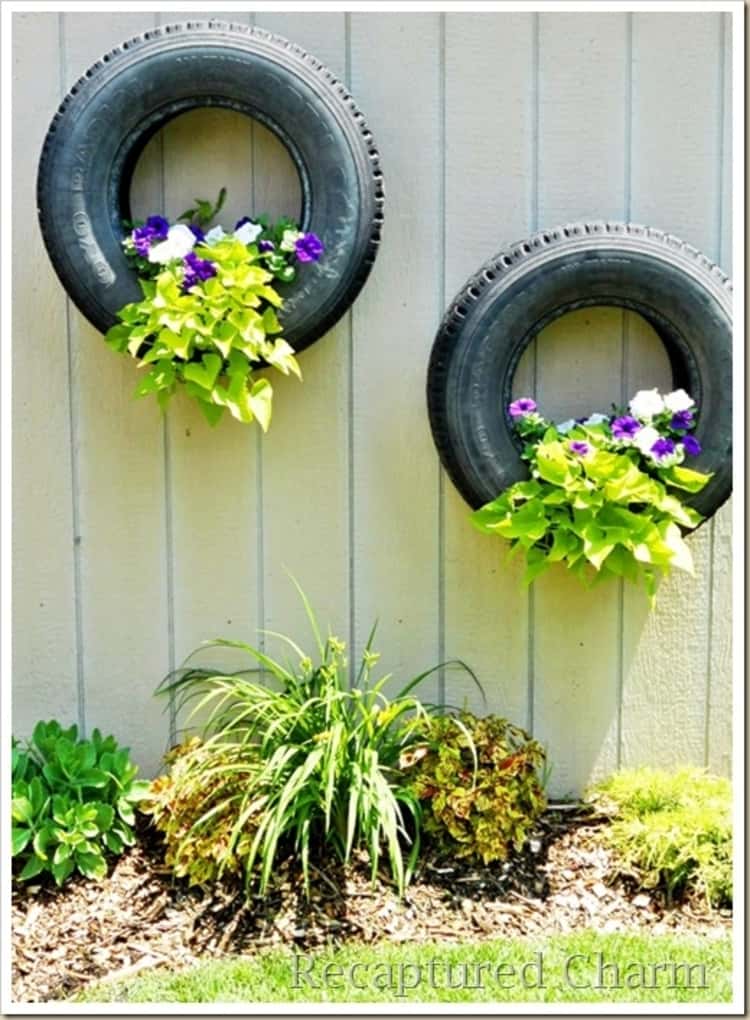 via Recaptured Charm
10.  DIY tire hacks to make planters
These have been used for a while and are common practice, it would still be negligent of us to not remind you of them. Many designs are available, you just need to put in some of your creative juices to have a unique twist to your tire planter.
Tire planters come in many different types and styles, including;
stand-alone tire planter
Scattered tires
Cascading group of tire planters
Lying down
Upright
Cut into sculptured flower pots
Or make these DIY tire planters to sit in your yard or on your porch. Lovely!
Try making them this way, too!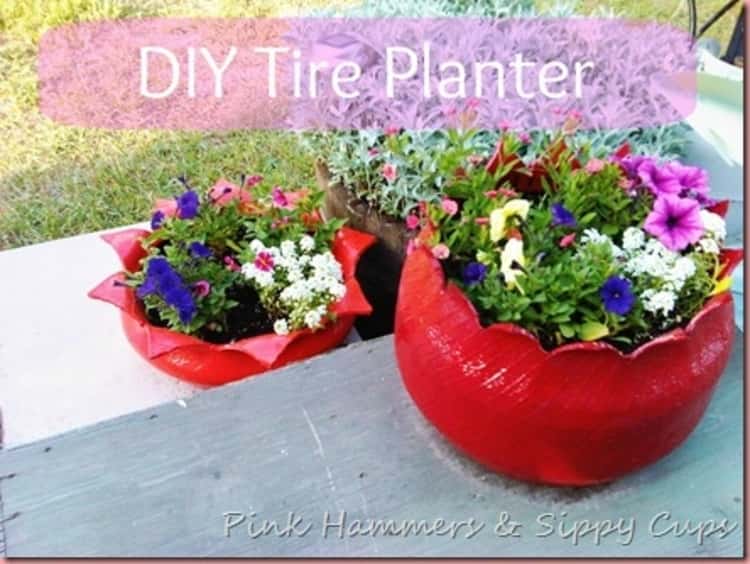 via Pink HSC
11. Tire hacks to build an alternative ladder for your backyard swing set
Give your children a fun alternative to the ladder they use for the slide or any other elevated playing equipment. Just build a ramp and stick tires onto it to be used as ladders. It's easy and very safe. Plus the children will have fun using means other than the traditional ladder provided with the equipment.
Add a tire ladder to your child's swing set. Fun!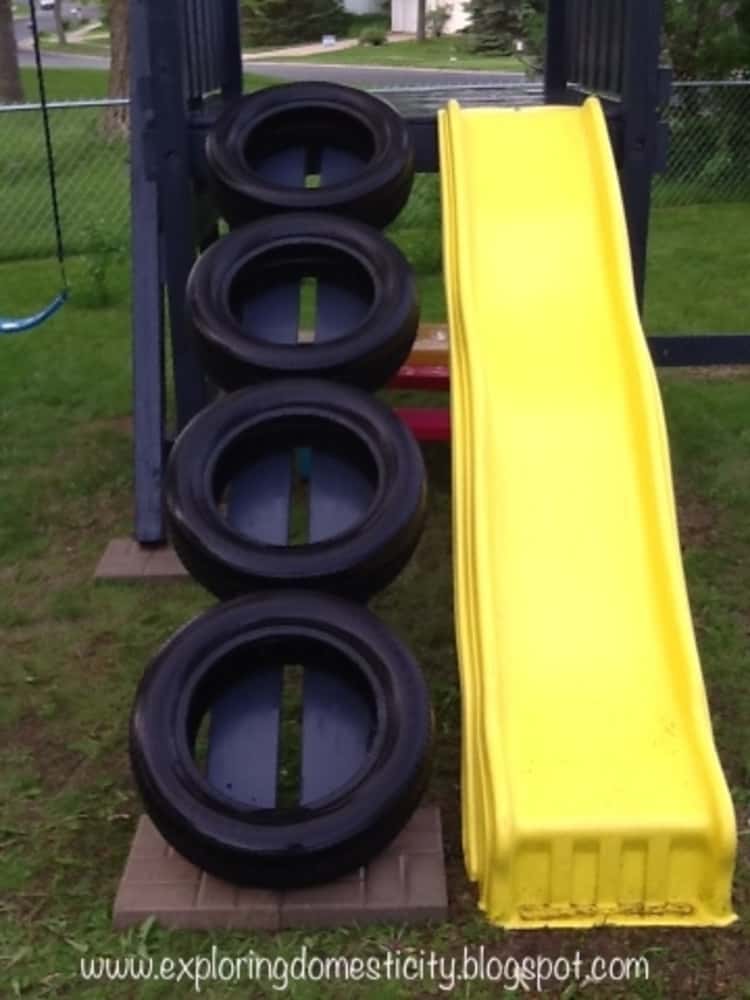 via Exploring Domesticity
12. DIY Tire swing
Another common use for the occasional old tire is the swing. You just need a low-hanging study branch of a tree and a strong piece of rope. Creates a good hanging spot for your children and even yourself in the shade of that tree you love in the garden.
No childhood (or adulthood!) is complete without a tire swing on a sturdy tree branch.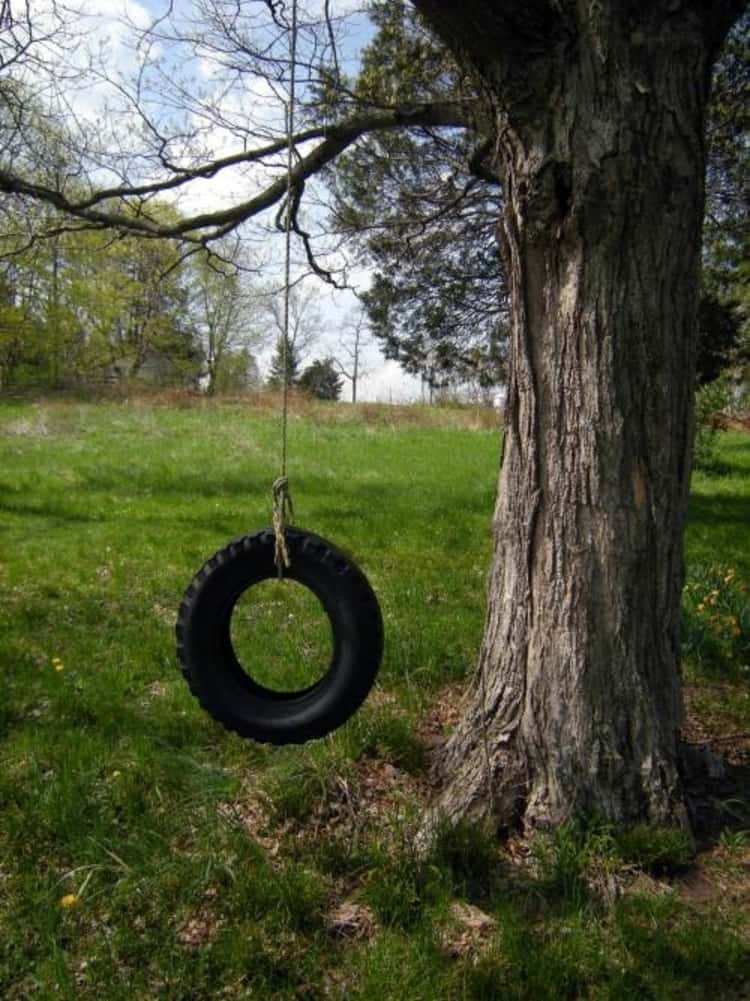 via RUstic Chic
13. Tire hacks to make shelves for those toy cars
Looking to make fun shelves for small items but you would rather not drill them into a wall, a tire comes ready-made with the frame, you just need to mount the shelves inside it, and you are sorted. Screw board pieces on the inside of your tire to make shelves. This new set is portable and unlike traditional timber pieces, has a higher affinity for those vibrant colors you want to paint on.
Make a shelf for toy cars it will look great in a car-themed bedroom! For more toy car storage ideas, have a look at these suggestions, you'll be sure to find something you like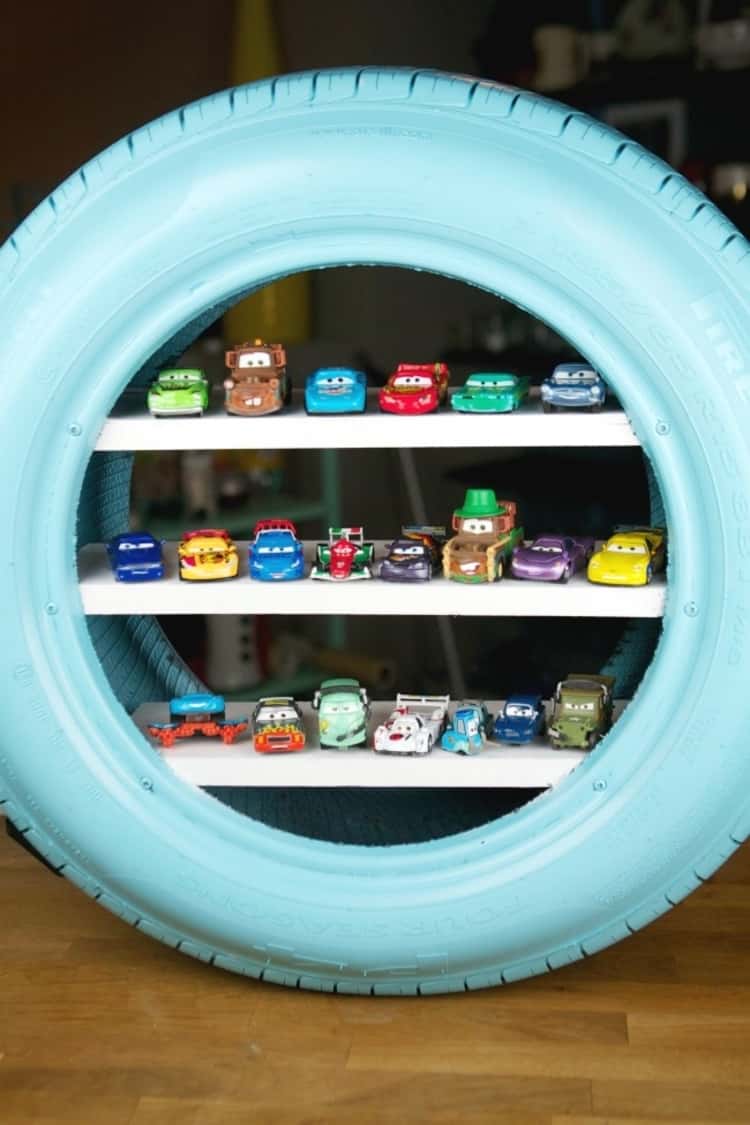 via Spaceships and Laser Beams
14. Garden water ponds made of tires
You have a couple of ducks in your backyard and you need to make them a pond. Maybe you want to keep some cosmetic fish or you just like having a pond in your garden. Dig a tire-sized hole in the ground, waterproof the base using cement, fill in some water and you have a garden pond. Do not forget to add a drain plug near the base of your pool.
Would you believe that these little ponds are made out of recycled tires? Don't they look like professionally done pools? The fish who live here must be the envy of all other fish.
via Handimania
15. Tire hack for a unique bike stand
How about an eco-friendly bike stand for your eco-friendly bikers. Take some old tires that are of equal size, bury half of the standing tires in the ground spacing them just enough to fit a bicycle wheel. No welding or expensive materials needed for this stand.
Build a bike stand out of tires cut in half, save resources and time doing it! You will not need any equipment to build it, just a shovel and a measuring tool.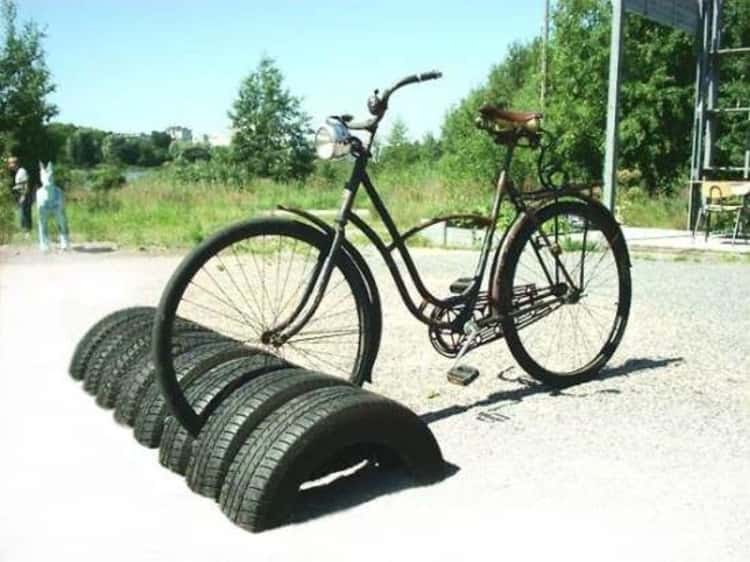 via Recyclart
16. Used tire hacks as garden decorations
Use your creative self to come up with a brilliant decoration for your garden. Use different sized tires and arrange them to form garden sculptures that will help your plants stand out. Do not be afraid to add in some screaming colors that complement your flours.
Create an eye-catching garden decoration like this tire frog that is just adorable!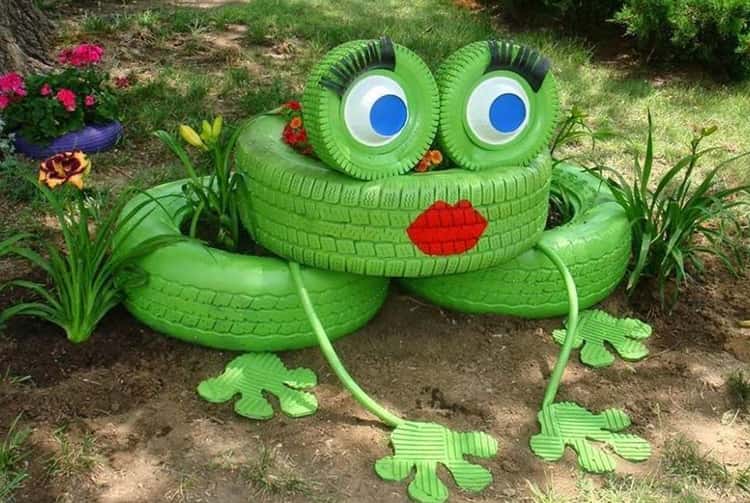 via Cool DIY Ideas
If these 16 tire hacks for your home and garden piqued your interest, you'll love these other DIY hacks for your home and garden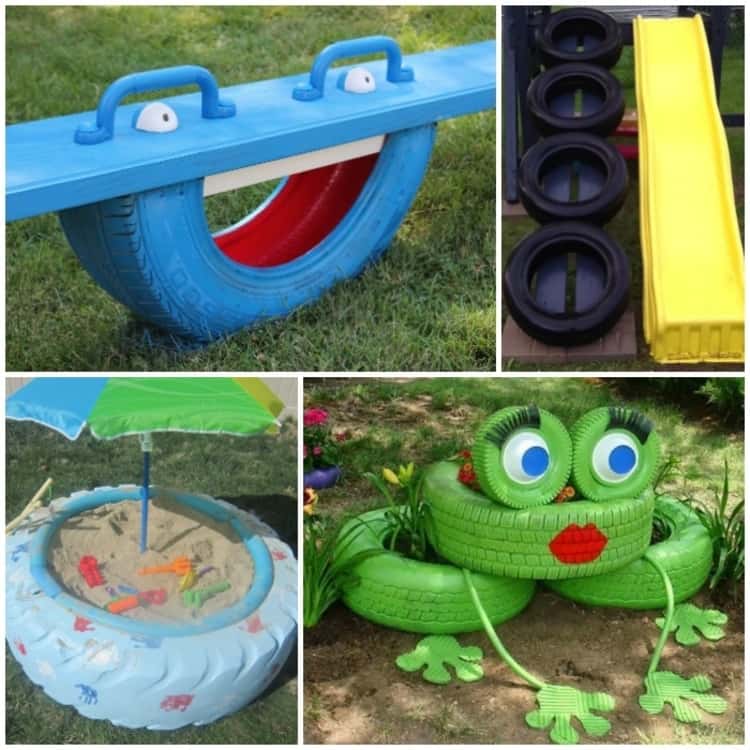 Which awesome DIY tire craft are you making for your home?