Looking for some hilarious back to school photo ideas to kick off the new year? Check out some of these photo ideas below to celebrate with laughter(and excitement) this school year!
For some parents, back to school season is a difficult time. For others… not so much.
Okay, we all miss our kids, but there's something to be said for having a little time to ourselves. You know… time to go to the bathroom without being asked 20 questions through the door?
Classic back to school pictures are normally cute and sweet but I personally wanted to try something different. This year, try something new by taking funny back to school pictures!
If you're not quite sure what I mean, here are 13 hilarious back to school photo ideas to try this school year.
On a serious note (for just a moment), don't miss our 100+ School Lunch Ideas. Your kids will never be bored with lunch again!
Funny Back to School Photo Ideas
From parents celebrating to kids showing off their true despair, these back to school photo ideas made me laugh out loud!
I know they'll make you laugh too – and inspire your own funny crazy photos.
Don't want to go to school? Too bad! Dad's not having it! Love this picture of Dad pushing his kids into the vehicle.
Mom Can't Contain Her Excitement
Mom is jumping for joy that it's time for the kids to go back to school. We don't blame her, but we're sure that she misses them (a little)!
Or, how about one of Dad jumping for joy? His excitement is contagious!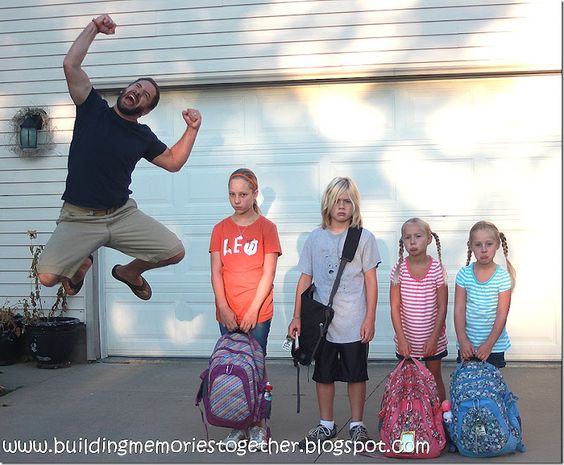 Summer just. can't. be. over. Not yet! This kid hasn't even made it past the door.
In this crazy back to school photo, Dad will pry him off eventually. I just know it.
You know those fun surveys you can do with your kids at the start of each school year? Sometimes they turn up hilarious answers.
She says she wants to learn nothing.
Ain't no party like a back to school party… for the parents, anyway!
Pop the bubbly, y'all. It's time to celebrate.
Signs Can Add Humor | Banana Pancakes Blog/Adventures of Bradysitting
Okay, I'll admit that I was a total wreck on my son's first day of preschool. This "Stop crying, mom" sign would have been totally appropriate!
Plus, the sign takes an adorable picture and adds humor – just what I needed to dry up those tears.
Is your kid really dreading going back to school? Perhaps this back to school mugshot suits him or her to a tee.
This is one of those photo ideas that you'll look back on and smile for years to come!
A picture is worth a thousand words, right? It definitely is in this case. Capture the feelings of the moment.
When your kid just isn't feeling it, snap a picture of the utter despair. She'll think it's funny in a few years… hopefully.
High five! Summer vacation is finally over. Bring on those mimosas!
The second day of school isn't nearly as fun as the first day!
That magic wears off quickly in the early morning hours when all you want to do is stay in your nice, cozy bed.
Bye, Felicia! Looks like this Kindergartner doesn't find it nearly as funny as we parents do. This photo makes me smile from ear to ear.
Crazy Photos Are Just One Option
If your creativity isn't up to the task of coming up with hilarious photos, you can take a different approach.
How can you announce to the world that it's back to school time without having such crazy photos? While fun photos are awesome, here are a few other great ways that you can have back to school photo fun without going all out.
Group Hugs All Around
Maybe your crew is actually a little sad about going back to school. Take this time to get picture proof that everyone does love each other.
Group hug it out (like the Tanners in Full House) and snap that picture for evidence later.
Have Them Stand Next to a Ruler to Measure Height
While they might seem short to you, they're kind of a big deal.
Get their first day of school photos taken as proof of just how big they really were at the start of the year compared to the end of the year. You'll be amazed at the difference!
Peace Out, Mom
Maybe your kids are excited, maybe they aren't…but having them throw you the deuces as they're getting on the bus just might be one of the most simple (and cutest) back to school photo ideas, ever.
No tears, just peace and love. See ya at 3, Mom!
Chalk it out
Save the money on buying something and instead head out to your driveway and use sidewalk chalk to write the grade that they're going into. Then, have your child pose and get your picture taken. Easy as that!
Final Thoughts on Back to School Pictures
These are just a few simple back to school photo ideas that anyone can do! Go for adorable and sweet…or go for crazy and funny.
Either way is a great memory. But the funny, crazy photos will tell a story and bring a smile to your face for years to come.
Now with the kids back at school, go enjoy drinking your coffee before it gets cold!
Share your fun back to school photo ideas!
More From One Crazy House: