You know those days when you just have no time to cook? Well, not no time at all, but time is so limited, and getting takeout sounds oh, so easy. Kiss those days goodbye because these sheet pan dinners are going to change the way you do weeknight meals.
Most of them can be cooked in 30 minutes or less, and are loaded with veggies and protein so they are super healthy for you and your family. The best part: they are super tasty and affordable so there's really no excuse to order yet another pizza. Let's dive in!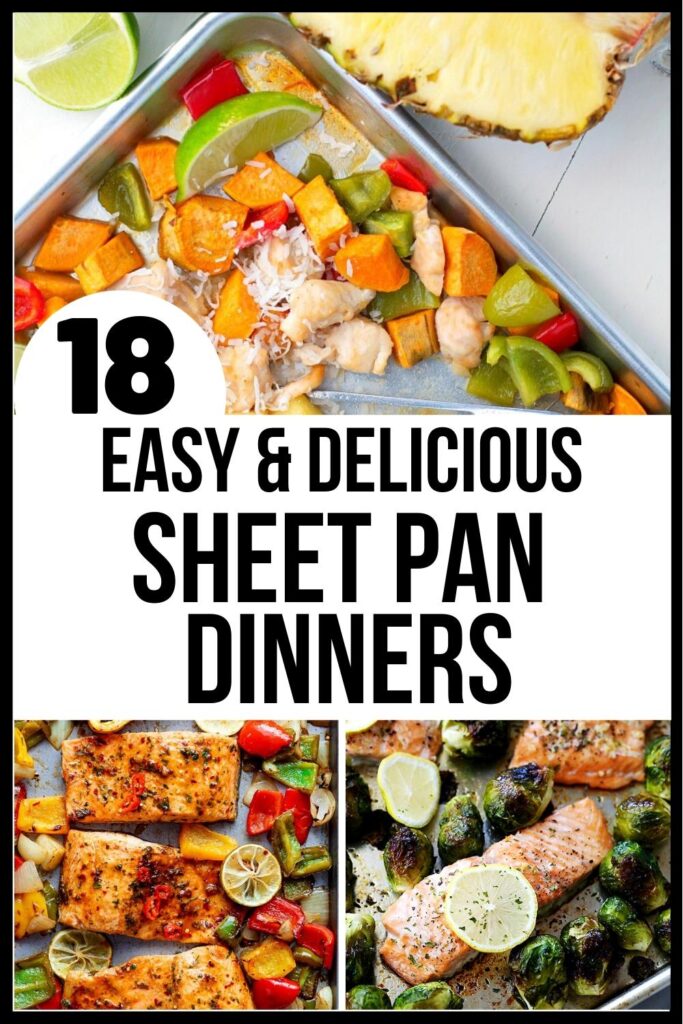 Easy Sheet Pan Dinners for Busy Nights
When sheet pan meals first stormed into popularity, they usually consisted of some kind of chicken with a variety of vegetables. Healthy, fast, filling…and bland. The recipes on this list are anything but bland. You'll find sheet pan salmon, sheet pan nachos, and other one-pan dinners that the entire family will love to eat.
Pro Tip: The best way to save time when cooking dinner is to meal prep (chop up your veggies, etc) ahead of time. With sheet pan dinners, if you chop your veggies ahead of time, all you need to do is put your seasoned protein and veggies on the pan and bake.
Related Post: Healthy Meal Prep Help
When you need to feed a crowd fast, you can't beat these sheet pan fajitas. Nom, nom, nom…I don't know about you, but in my house, any Mexican dish disappears faster than I can make it! These fajitas are ready in just 25 minutes.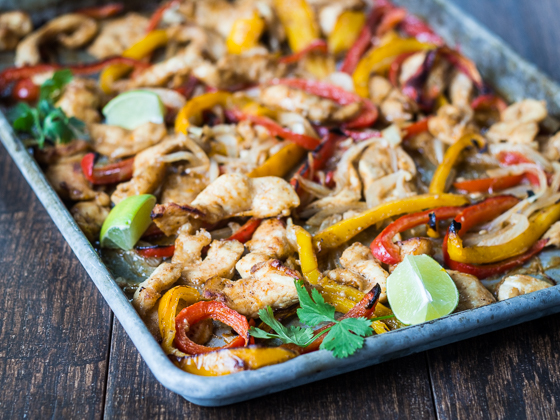 This recipe for baked chicken with butternut squash and parmesan asparagus is fool-proof. The chicken comes out so tender, and the veggies are cooked to perfection. That doesn't even cover the medley of flavors that will make your taste buds dance.
The flavors in this bratwurst and roasted vegetables one-pan dish are amazing. If you don't care for bratwurst. substitute your favorite sausage or even some pork chops a tender dinner bursting with flavor.
One pan chicken with potatoes and green beans is a classic comfort food dish that's made even easier in a single pan for simple clean-up. What's not to love about hearty meals that don't require you to stand at the sink for half an hour afterward?
Ranch pork chops with roasted potatoes: just season your meat and potatoes, set it, and forget it! Does your family love meat and potatoes? They will LOVE this sheet pan meal version.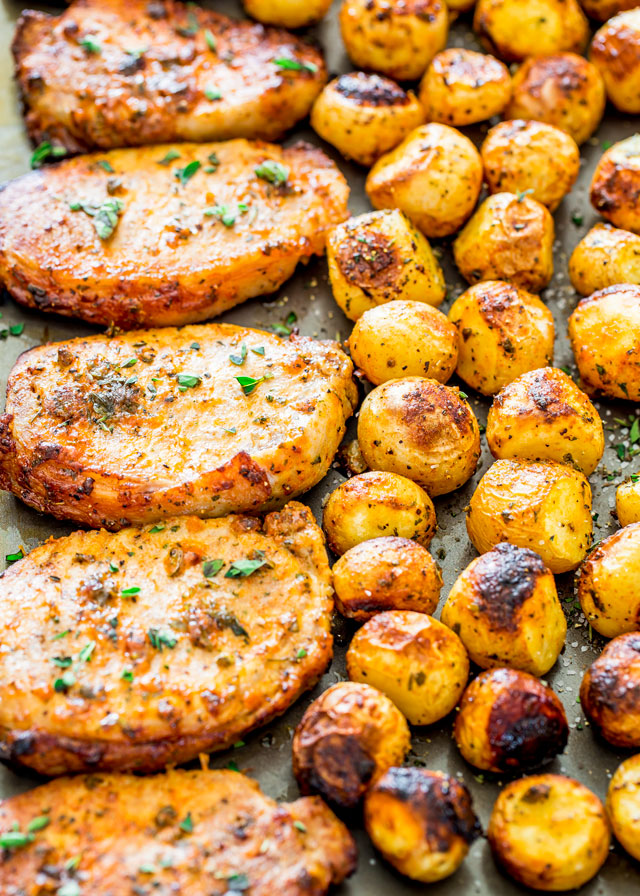 Hawaiian chicken in a sheet pan? Gosh, yes! You can serve it over rice, but it's also delicious in warm tortillas or lettuce cups. It's almost too pretty to eat…not really.
Pesto is one of my family's favorite sauces. My kids may often find chicken boring, but not when there's pesto involved! With 15 minutes and a sheet pan, you can prepare this delicious sheet pan meal.
I don't know about you, but I can never get too much garlic. That's why I love this garlicky roasted salmon with brussels sprouts.
And for another twist on seafood, try Chili Lime Salmon. Coating…baking…eating…does it get any easier than this? This dish looks amazing, right?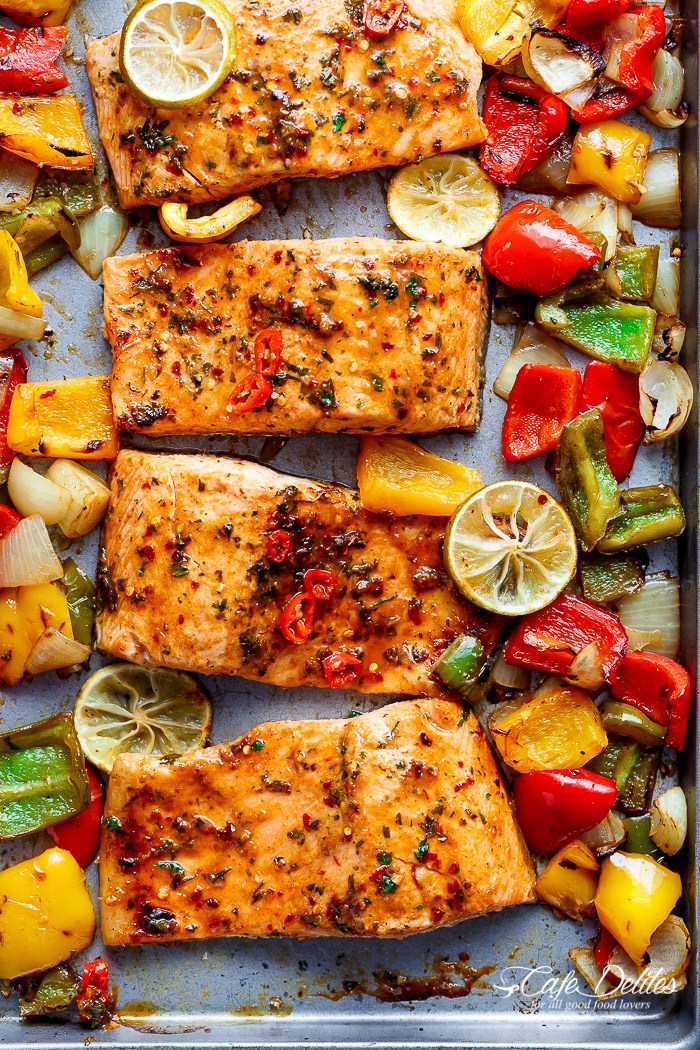 Sheet pan lemon chicken with potatoes and onions will be one of your go-to meals for busy weeknights. Don't you just want to run and make a pan of it right now?
Sheet pan chicken and black bean nachos will be a total winner on game day… or any day, really. Feed a family or feed a crowd – it's a crowd-pleaser. There's never a bad time to eat nachos!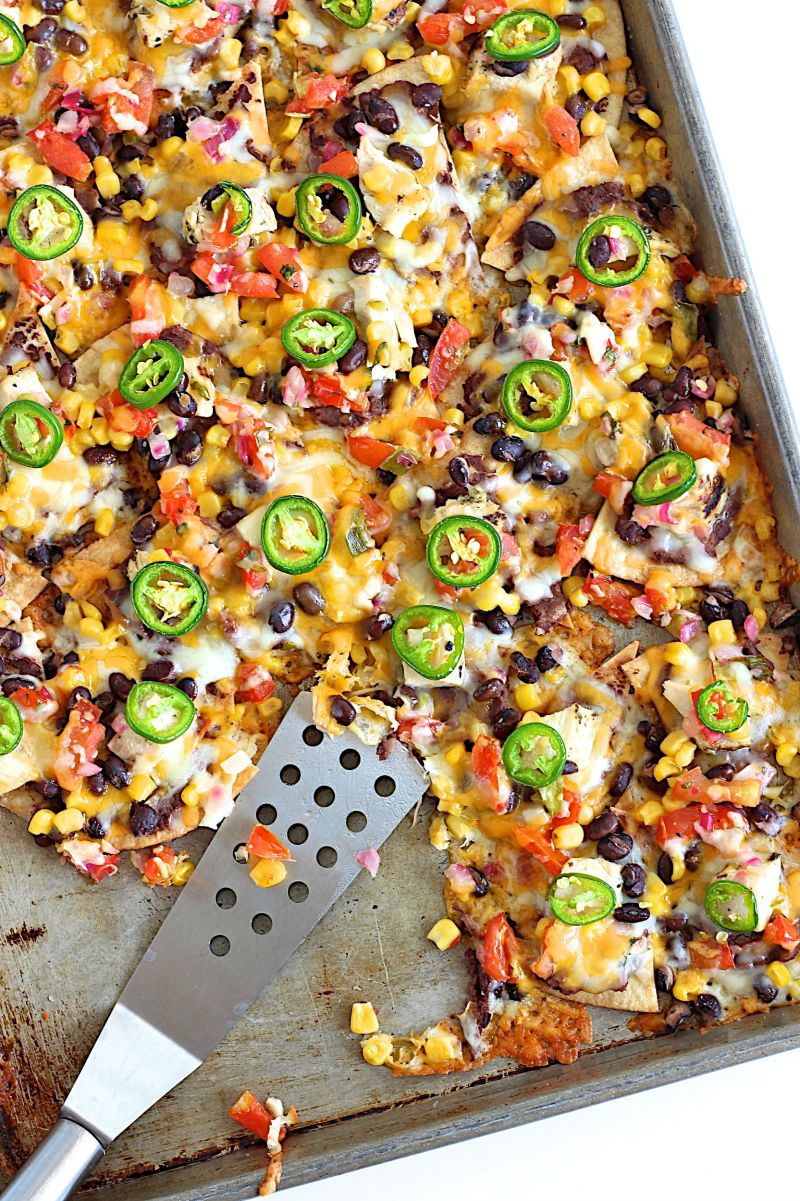 Or try tequila lime sheet pan chicken nachos for a different change of pace. A perfect Tex-Mex dish to tingle your tastebuds.
Balsamic shrimp and summer veggies is a great way to use up some of the surplus veggies from your garden or any spare vegetables that you have in your fridge.
If you love the flavor of balsamic vinegar, this balsamic-glazed chicken and veggies recipe packs a serious punch in the flavor department. I feel confident that you'll be adding this one to the rotation.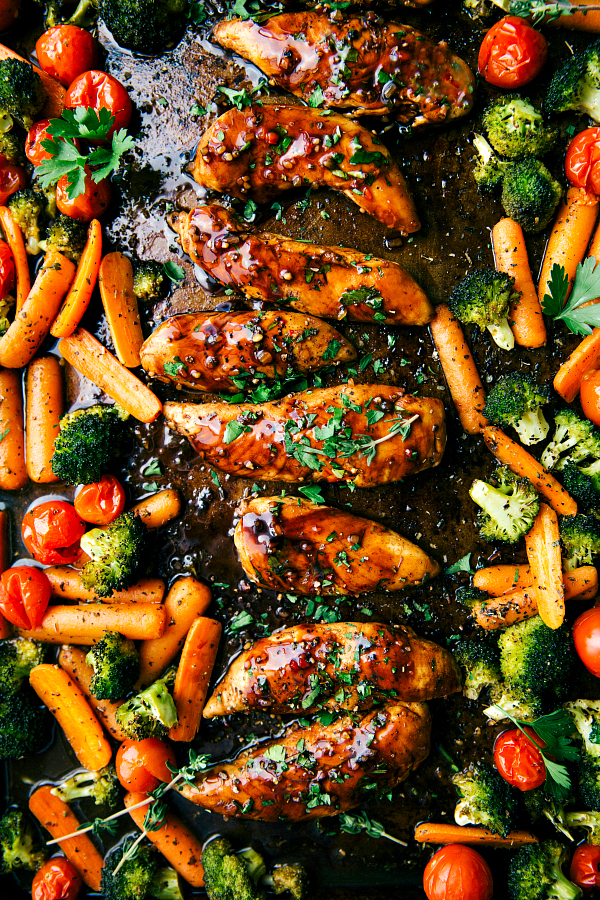 This one-pan autumn chicken dinner is comfort food at its finest… sweet potatoes, brussels sprouts, apples, and shallots with delicious chicken and hickory smoked bacon.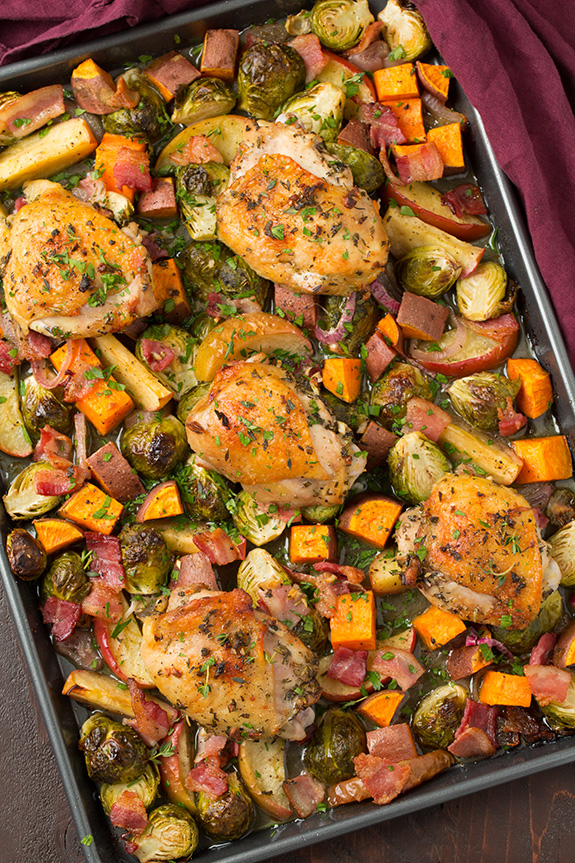 Are you crazy for pierogies? Me, too! You have to try this kielbasa and pierogies sheet pan meal ASAP. This ultra-efficient dinner is ready in just 30 minutes.
Add some Mediterranean flair to your menu with Greek Chicken and early potatoes in lemon, garlic, oregano, and olive oil. It's light, tasty, and filling.
Nothing screams a hearty home-cooked meal quite like Salisbury steak and potatoes, am I right? Plus, if you line the sheet pan with aluminum foil, you don't even have to wash your pan! No mess, no fuss dinner.
Hungry yet? Sheet pan dinners are my favorite because everything cooks together – quickly! I can't wait to try some of these dinners. Which one do you want to try first?
More Easy Meal Help For Your Family: