You know those days when you just have no time to cook? Well, not no time at all, but time is so limited, and getting takeout sounds oh, so easy. Kiss those days goodbye because these sheet pan dinners are going to change the way you do weeknight meals. 
Most of them can be cooked in 30 minutes or less, and are loaded with veggies and protein so they are super healthy for you and your family. The best part: they are super tasty and affordable so there's really no excuse to order yet another pizza. Let's dive in!
Easy Sheet Pan Dinners for Busy Nights
When sheet pan meals first stormed into popularity, they usually consisted of some kind of chicken with a variety of vegetables. Healthy, fast, filling…and bland. The recipes on this list are anything but bland. You'll find sheet pan salmon, sheet pan nachos, and other one-pan dinners that the entire family will love to eat.
Pro Tip: The best way to save time when cooking dinner is to meal prep (chop up your veggies, etc) ahead of time. With sheet pan dinners, if you chop your veggies ahead of time, all you need to do is put your seasoned protein and veggies on the pan and bake.
Related Post: Healthy Meal Prep Help
1. Sheet Pan Fajitas
When you need to feed a crowd fast, you can't beat these sheet pan fajitas. Nom, nom, nom…I don't know about you, but in my house, any Mexican dish disappears faster than I can make it! These fajitas tasty, flavorful, ready in just 25 minutes, and an easy way to sneak in a few veggies for the kids. They're perfect for a quick meal during a busy week.  Fajita meat, red and yellow bell peppers, onions cilantro and a slice of lime!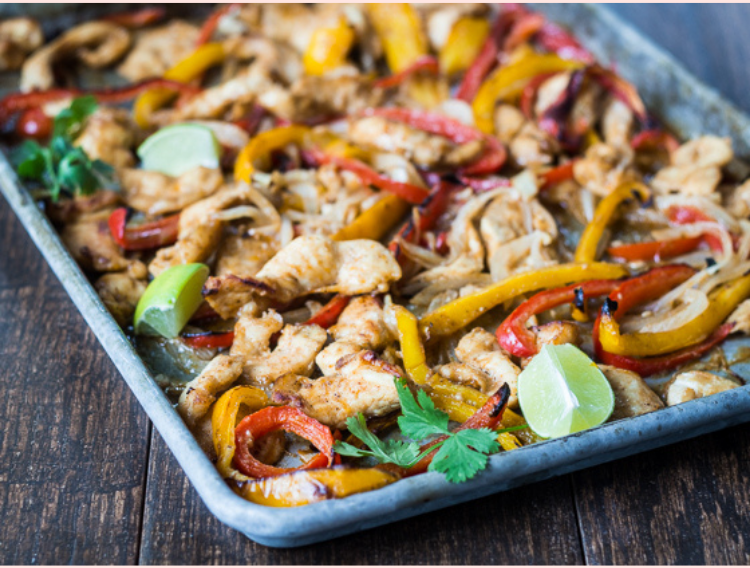 2. Sheet Pan Chicken with Butternut Squash and Asparagus
This recipe for baked chicken with butternut squash and parmesan asparagus is fool-proof. If you're looking for a healthy sheet pan recipe that is also delicious, this meal is for you. The chicken comes out so tender, and the veggies are cooked to perfection. That doesn't even cover the medley of flavors that will make your taste buds dance.  Chicken, sweet potatoes (or butternut squash) and parmesan crusted asparagus…need I say more?
3. Bratwurst and Roasted Vegetables
Bratwurst and roasted vegetables are a great combination for the best sausage sheet pan dinner. The flavors in this one-pan dish are amazing. If you don't care for bratwurst. substitute your favorite sausage or even some pork chops for A tender dinner bursting with flavor.
4. One Pan Rosemary Chicken With Potatoes and Green Beans
One-pan chicken with potatoes and green beans is a classic comfort food dish that's made even easier in a single pan for simple clean-up. What's not to love about hearty meals that don't require you to stand at the sink for half an hour afterward? I can smell the rosemary from here.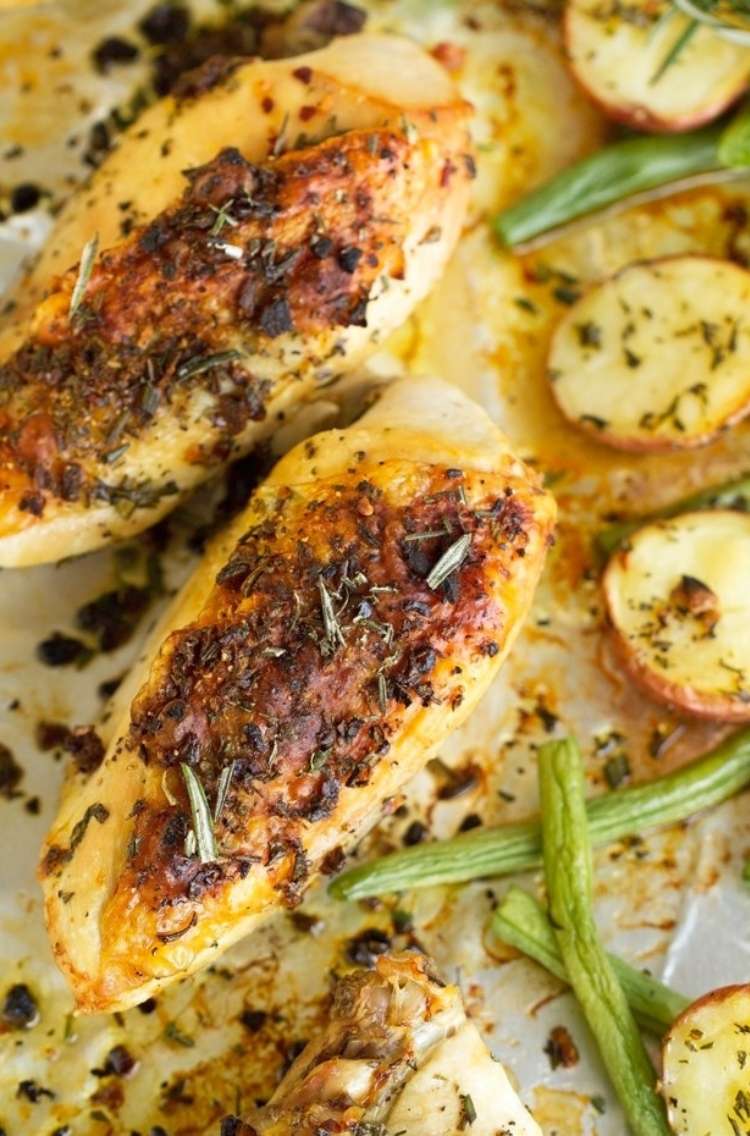 5. Ranch Pork Chops and Potatoes
Delicious sheet pan meal: just season your meat and potatoes, set it, and forget it! Does your family love meat and potatoes? They will LOVE this sheet pan meal version with the ultimate one-pan ranch pork chops.  All you need is:
Olive oil

Ranch seasoning

Paprika, dry oregano and pepper

Pork

Potatoes

Parsley

6. Hawaiian Chicken and Sweet Potatoes
Sweet and savory is the theme of this delicious Hawaiian chicken meal in a sheet pan. Gosh, yes! You can serve it over rice, but it's also versatile. It is yummy in warm tortillas or lettuce cups.  Grab the ingredients: boneless chicken, cubed pineapple, red and green bell peppers, sweet potato, sesame oil, canola oil, coconut palm sugar (or brown sugar), shredded coconut and lime juice. It's almost too pretty to eat…not really.
7. Sheet Pan Pesto Chicken Thighs and Vegetables
Pesto is one of my family's favorite sauces. My kids may often find chicken boring, but not when there's pesto involved! With 15 minutes and these ingredients –  chicken thighs, wings or drumsticks, red potatoes, carrots, salt and pepper, olive oil, balsamic vinegar, basil pest and cloves –  and a sheet pan, you can prepare this delicious sheet pan meal.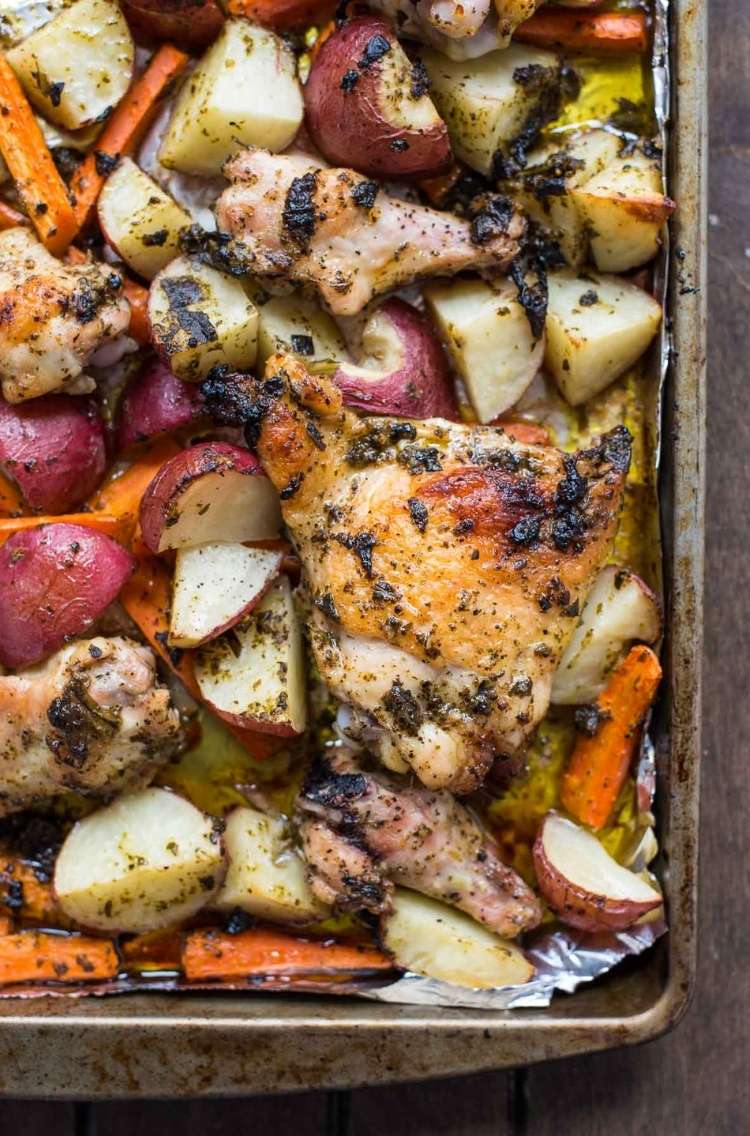 8. Garlic Roasted Salmon and Brussels Sprouts
I don't know about you, but I can never get too much garlic.  That's why I love this garlicky roasted salmon with brussels sprouts. It's paired with tangy lemons nutrient-dense vegetables for a tasty, easy, and healthy one-pan meal.  You will need these ingredients:
brussels sprouts
olive oil
salt and pepper
salmon fillet
garlic cloves
dried oregano
9. Chili Lime Salmon
And for another twist on seafood, try Chili Lime Salmon. Coating…baking…eating…does it get any easier than this? This dish requires lime juice, parsley, olive oil, garlic, red chili flakes, cumin, salt, honey, salmon fillets, red bell pepper, green bell pepper, and an onion. This one dish meal tastes even better than it looks! If you love tang, and spice, you'll love this combo.
10. Sheet Pan Lemon Chicken
Sheet pan lemon chicken with potatoes and onions will be one of your go-to meals for busy weeknights. If you need a 10-minute dinner idea, this is for you. Prep, plate and pop it in the oven. It's as easy as that.  Don't you just want to run and make a pan of it right now?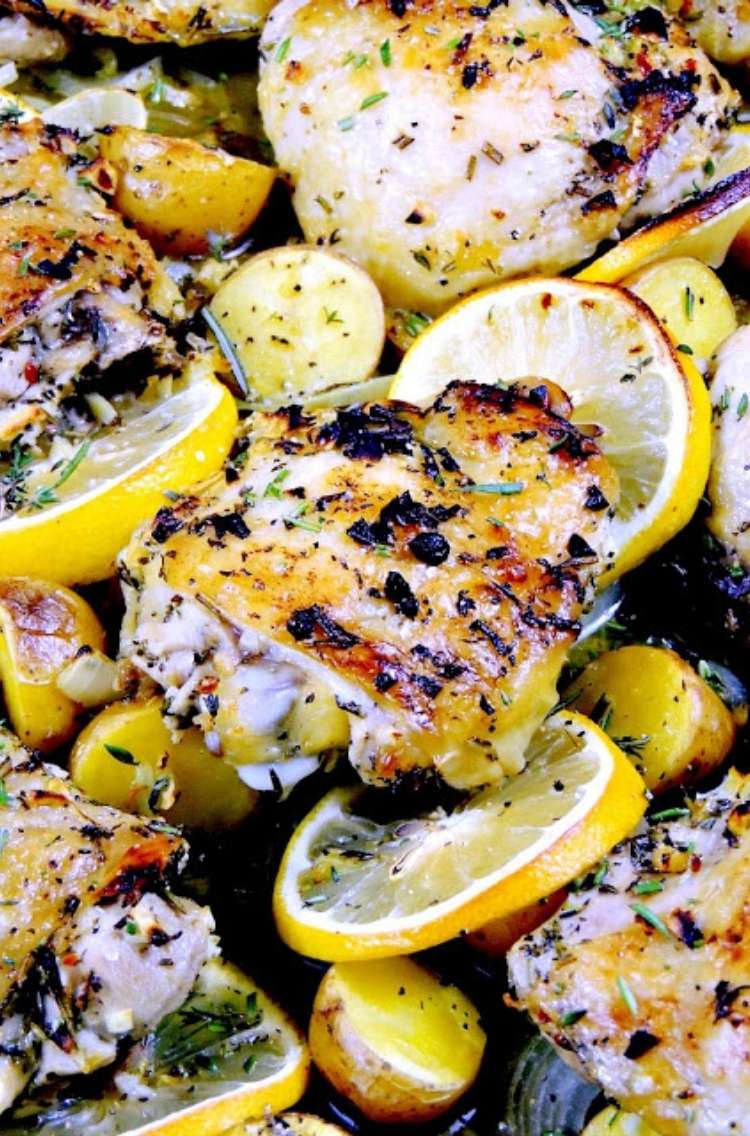 Sheet pan tequila lime sheet pan chicken nachos will be a total winner on game day… or any day, really. Feed a family or feed a crowd – it's a crowd-pleaser. There's never a bad time to eat nachos!  Grab these ingredients and let's pull out a fresh sheet pan:
tortilla chips
black bens
monterey jack cheese
cheddar cheese
refried black beans
mexi-corn
pico de gallo
cooked chicken
jalapenos
guacamole, sour cream, salsa and hot sauce for serving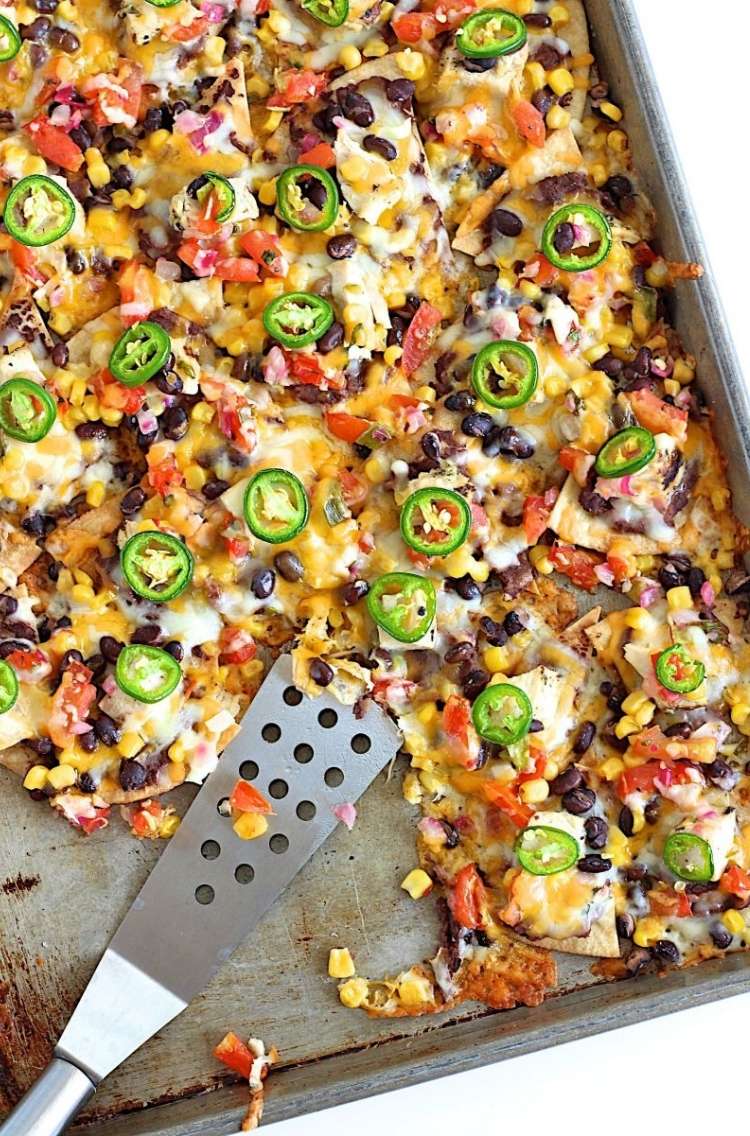 Again, Mexican food is my jam! The flavors. The cheese. The salsa. The lime. Okay, all of it! If you're a lover of Mexican food like me, these Tequila Lime based Chicken Nachos will be your new favorite mid-week treat.  Or try tequila lime sheet pan chicken nachos for a different change of pace. A perfect Tex-Mex dish to tingle your tastebuds. Either way, you're in for a pleasant surprise.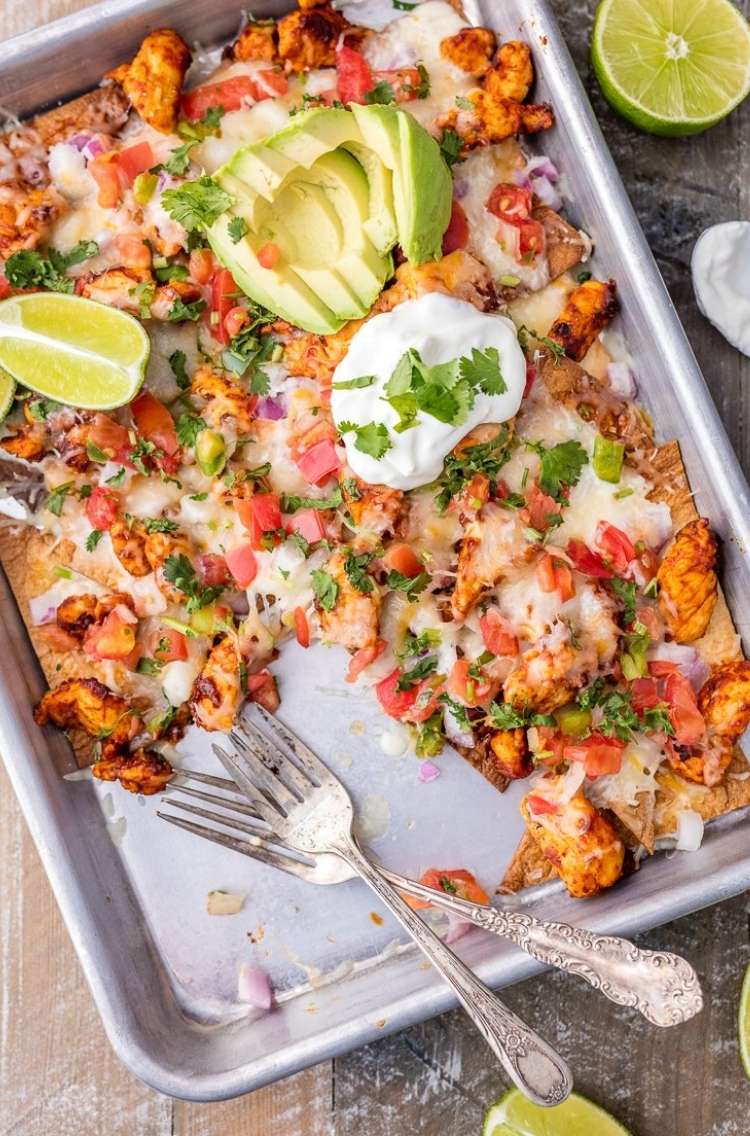 13. Balsamic Shrimp and Summer Vegetables
It's the end of spring and your vegetable sprouts are about to turn. Have no fear, I have the perfect solution to your problem.  Balsamic shrimp and summer veggies are a great way to use up some of the surplus veggies from your garden or any spare vegetables that you have in your fridge. No more waste. Amazing taste. One-pan meal. What more can you ask for?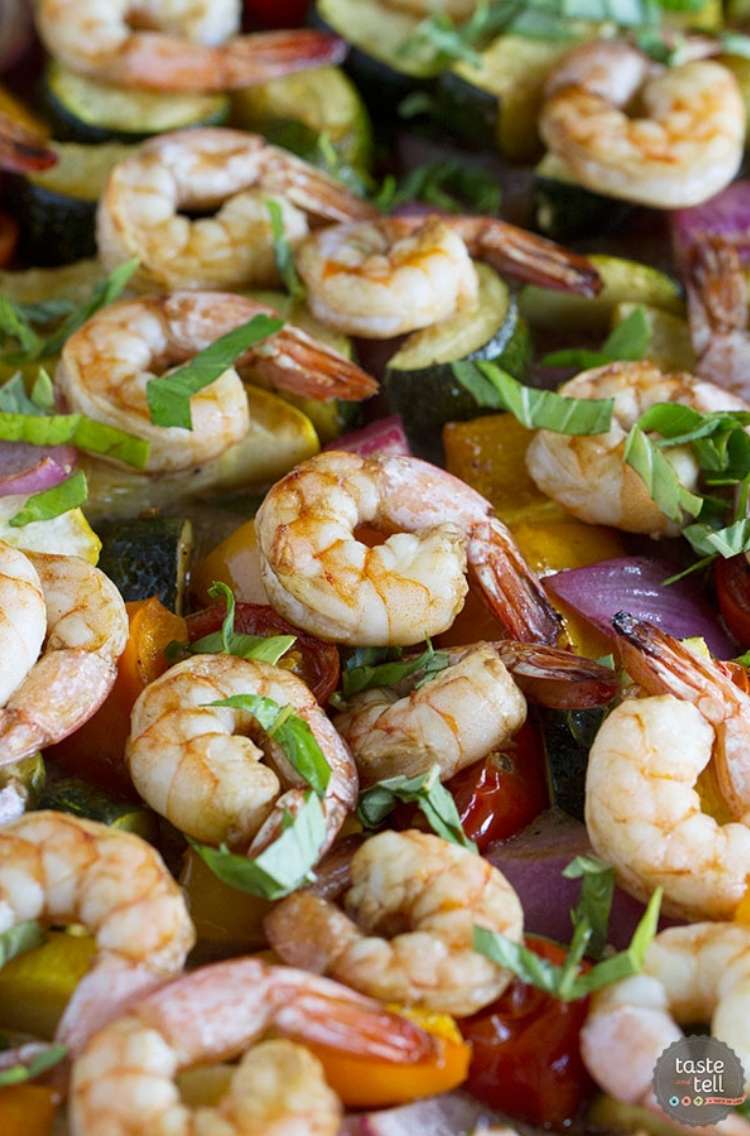 14. Balsamic Chicken and Vegetables
If you love the flavor of balsamic vinegar, this balsamic-glazed chicken and veggies recipe balsamic-glazed chicken and veggies recipe packs a serious punch in the flavor department. The Balsamic adds the perfect zing to the light and earthy vegetables and serves as a great marinade for the juicy chicken. I feel confident that you'll be adding this one to the rotation and all you need is: balsamic vinegar, Italian dressing, chicken tenders, broccoli, baby carrots, cherry tomatoes, Italian seasoning, olive oil, garlic powder, fresh parsley, salt and pepper.
15. Autumn Chicken Sheet Pan Dinner
This one-pan autumn chicken dinner is comfort food at its finest. Filled with sweet potatoes, brussels sprouts, apples, and shallots with delicious chicken and hickory smoked bacon this sheet pan meal is filling and flavorful.
16. Kielbasa and Pierogies
Are you crazy for pierogies? Me, too! You have to try this kielbasa and pierogies sheet pan meal ASAP. This ultra-efficient dinner is ready in just 30 minutes. The other good news is that most of the hard work is done for you. Both the sausages and the pierogies take little to no prep.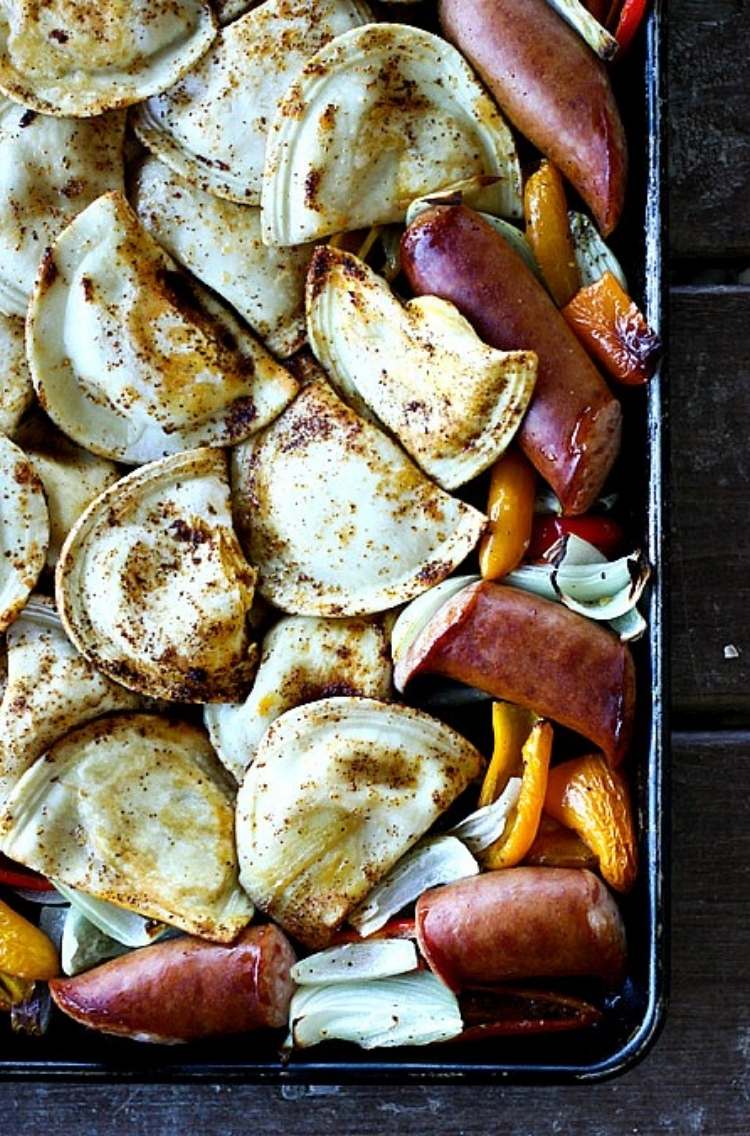 17. Greek Chicken Sheet Pan Dinner
Add some Mediterranean flair to your menu with greek chicken and potatoes in lemon, garlic, oregano, and olive oil. It's light, tasty, and filling. Did I forget to say delicious? You'll love this mouth-watering meal.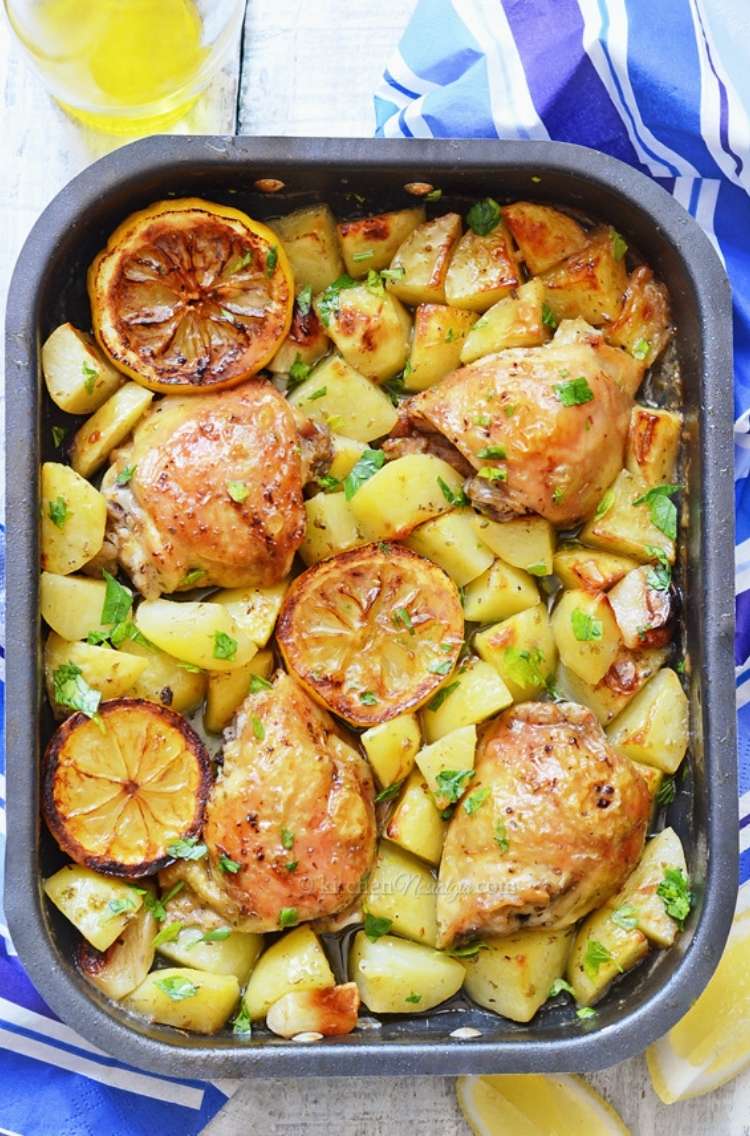 18. Sheet Pan Salisbury Steak and Potatoes
Nothing screams a hearty home-cooked meal quite like kielbasa and pierogies sheet pan meal, am I right?
Plus, if you line the sheet pan with aluminum foil, you don't even have to wash your pan! No mess, no fuss dinner for a busy weeknight meal.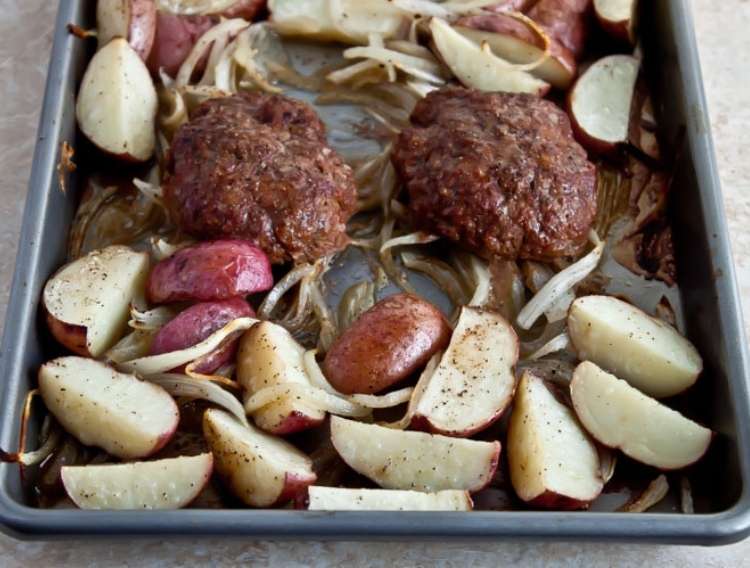 Chicken Sheet Pan Dinners:
These delicious sheet pan dinners consist of a variety of options. Here are all of the easy chicken sheet pan dinners in case you're specifically craving chicken tonight.
Sheet Pan Fajitas
Sheet Pan Chicken with Butternut Squash and Asparagus
One Pan Rosemary Chicken With Potatoes and Green Beans
Hawaiian Chicken and Sweet Potatoes
Sheet Pan Pesto Chicken Thighs and Vegetables
Sheet Pan Lemon Chicken
Chicken and Black Bean Nachos
Tequila Lime Baked Chicken Nachos
Balsamic Chicken and Vegetables
Autumn Chicken Sheet Pan Dinner
Greek Chicken Sheet Pan Dinner
Pork Sheet Pan Dinners: from our list
Maybe your taste buds are screaming for pork or perhaps that what you took out of the fridge tonight. Here is a list of all of the tasty pork sheet pan dinners from this post.
Bratwurst and Roasted Vegetables
Ranch Pork Chops and Potatoes
Kielbasa and Pierogies
Seafood Sheet Pan Dinners: from our list
If you're a seafood lover, this list is for you. Easy Salmon and shrimp sheet pan dinners for a delicious dinner on a busy night. These meals can be prepped and placed on a baking sheet in under 10 minutes. So, if you're looking for quick meals this is the place for you.
Garlic Roasted Salmon and Brussels Sprouts
Chili Lime Salmon
Balsamic Shrimp and Summer Vegetables
Beef Sheet Pan Dinners: from our list
I still remember Salisbury steak microwave dinners as a kid. If you're looking to up your Salisbury steak game, here's the beef sheet pan dish to start with. It's simple and satisfying.
Sheet Pan Salisbury Steak and Potatoes
Hungry yet? Sheet pan dinners are my favorite because everything cooks together – quickly! I can't wait to try some of these dinners. Which one do you want to try first?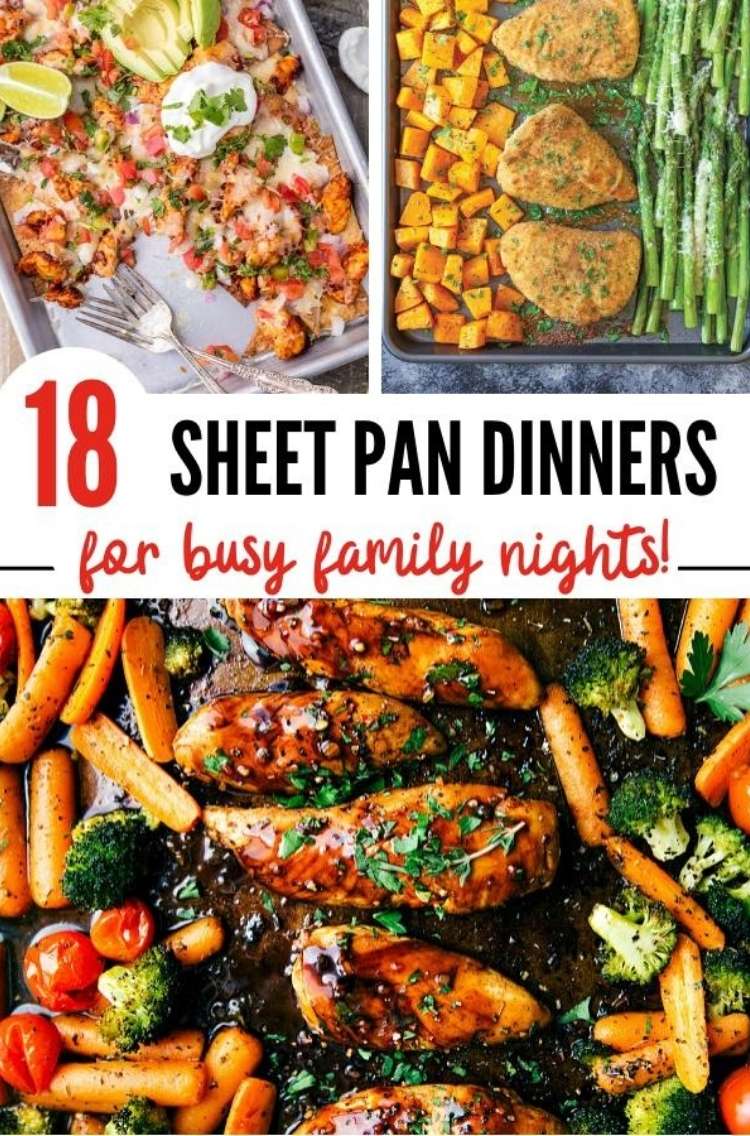 More Easy Meal Help For Your Family: