Easy braided hairstyles for those of us who love braids, but fumble with complicated hairstyles? In case you didn't know, you're not alone! Some braids look like they require a few extra pairs of hands to execute. But you don't have to be a professional stylist or grow extra limbs to pull off these super easy braided hairstyles. Whether you want an updo or a messy-but-still-pulled-together in the nape of the neck look, we've got you covered.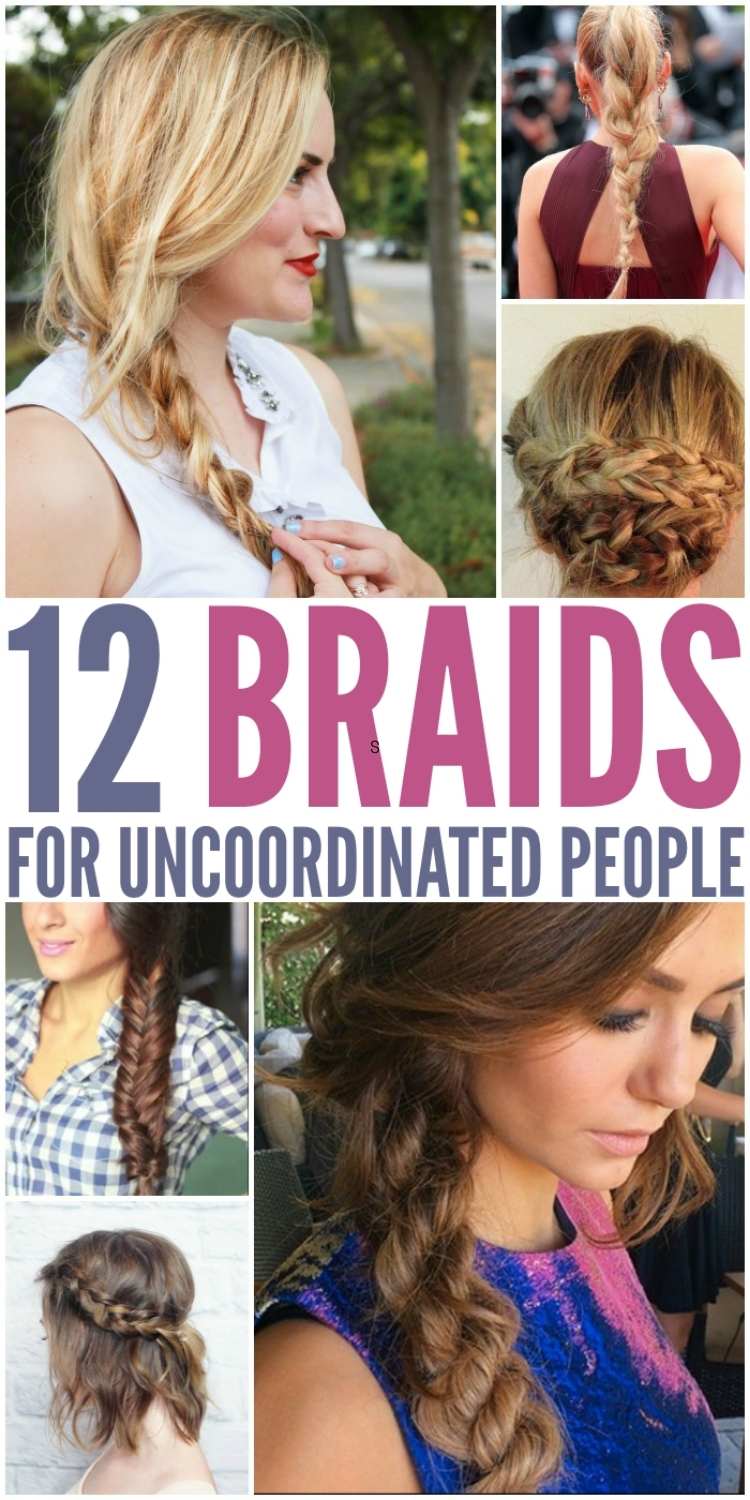 Quick & Easy Braided Hairstyles
1. Braided Topsy Tail
Don't we all love a cute, easy hairstyle? When you're in a hurried style your hair with this Braided Topsy Tail Do. It's beyond adorable and looks like a lot of effort, though it takes very little work. No special braiding skills are required for the braided topsy tail. It's just a basic braid tucked into an inside-out ponytail. Plus, a few rubber bands. That's It. So cute and beginners friendly!
Here's a video of another way to do it!
2. Fishtail braid
Normally, a fishtail braid can take 15 minutes or more. Fishtail braids are a huge pain for people with long hair. However, this fishtail braid is a godsend. Another minimal effort, high gain hairstyle. You can do this chunky everyday fishtail braid in about five minutes! This fishtail braid idea for long hair with a regular three-strand braid is one you're sure to love. With long hair, quick and easy is always the goal and this braided hairstyle delivers.
3. Easy Side Braid Idea
Anyone can do an easy side braid! Yes! You too! Just pull all your hair to one side, be it on the right or left side, and braid it straight down. It looks great even if it's messy. It's a super simple, easy braid hack that works even if you can't quite braid.
Steps to making a braid for easy braid ideas
Detangle hair
Divide into 3 even sections
cross right side over the middle
cross left over the middle
continue crossing right and left until you have desired braid
4. Simple Curly Side Braid
You'll need to know how to do a french braid for this cute and easy braid idea. Though, it's a simple task otherwise. If you know how to braid, you can easily pull off this lovely curly side braid by angling the braid diagonally across your head. No worries about getting your braid straight! It doesn't get much easier than this easy braid idea.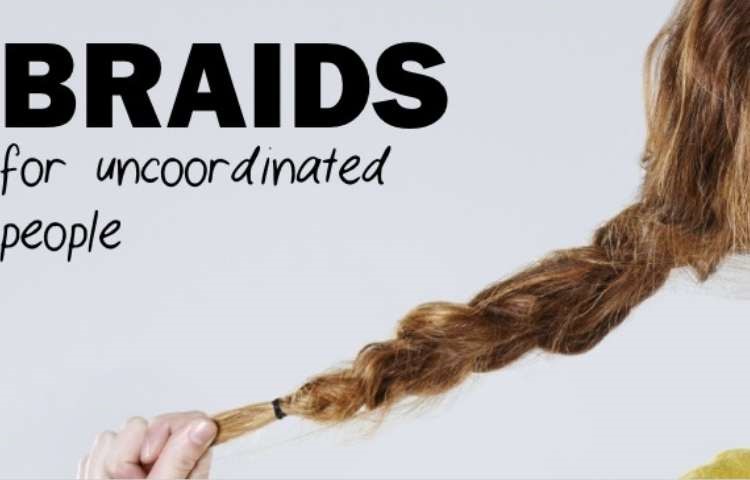 Easy Braid Ideas
Our days have never been fuller. When you have a day  (week) packed with work, kids, meetings, and special events getting out the door in a timely manner seem impossible. But, it's not. Braids are great protective styles for wishy-washy weather. They look intentional with little to no effort. And, they can last for a few days if you need them too! You don't even have to be good at braiding because these styles are super easy and accident-proof.
5. Easy Ponytail Braid
All of the grace in the world couldn't make this easy braid idea any easier. You don't need a tutorial for a high ponytail braid. Simply pull your hair into a high ponytail, and waterfall braid it all the way down. A little messiness makes it look even better. Perfect, easy ponytail braid for a busy day. Sophisticated as you need, and trouble-free. Doesn't get much better than this easy versatile hairstyle?
6. Easy Braid Ideas: Relaxed French braid
You'll love this french braid hack if you're looking for a low-fuss braid. Try the relaxed French braid. You'll only pull in four large medium sections from each side. Make it as loose or tight as you want it. If you have a light grip, that's ok too. A fab style for straight or wavy hair. Literally, women everywhere can try this hairstyle and It'll look amazing. A trouble-free braid for any day of the week!
And, it's a great style for elegant events like a wedding and a casual day around town. There's something really polished about this intentionally messy braid.
7. Crown Braid
For short hair, try a messy crown braid. It uses a Dutch braid (inside-out French braid) technique. It's easier than it sounds… just place each small section of hair under the others rather than over. Even if you can't do a french braid, you can make a pretty crown from basic braids on both sides. Crowns are my favorite braided styles for every hair length really. Pin a ribbon on the side to style!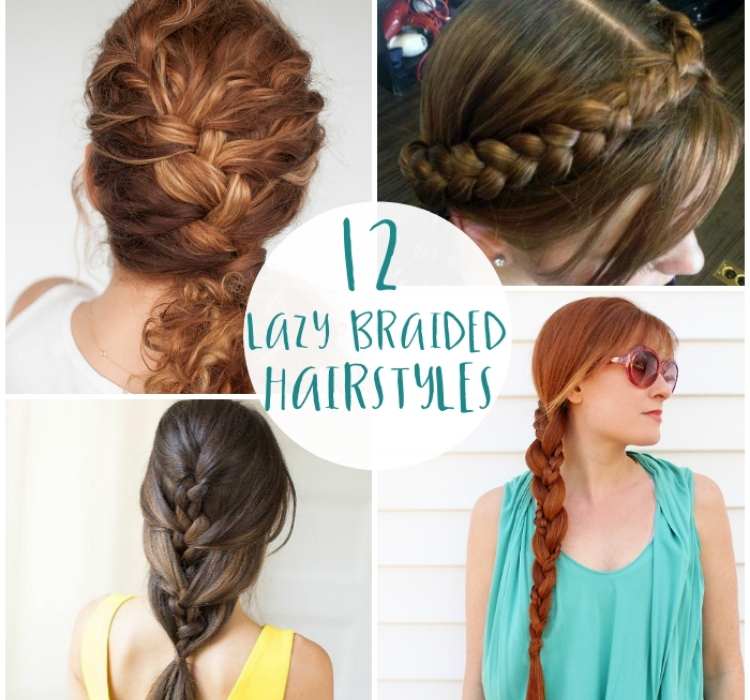 Super Easy Braid Styles
8. Mermaid Braid
As far as easy braid ideas, this mermaid braid locks take the cake. When you're in a pinch for time, or if you're simply not a good braider, this style has your back. Pin two flattened, stretched-out Dutch braids together to create a lovely mermaid tail hang braid. That's It. Too easy, I know!
Little girls love this style too. As your daughters grow up they no longer want to do less and less with you. Here's a mom hack I'm sure that you can entice them with- promises of matching mermaid braids. They may not care for the matching, but they'll be on board at the mention of Mermaid. You get a special mommy moment. They get cute mermaid tail brails.
9. Twisted Easy Braid Ideas
We love this twisted braid! Twist each section of hair clockwise, and then braid them in the opposite direction. Ridiculously easy is an understatement. If you blunder your braids, this is the perfect camouflage. Because it's not really a braid, It's a twist. And, no one will ever know.
Here's a video showing you how to do a twisted braid!
Simple Braided Hairstyles for Black Hair:
10. Easy Braid Ideas: Double Braid
Dress up a basic braid with a double braid style. A basic cornrow is all this style calls for. Well, two basic cornrows. One on the left and one on the right. Divide hair into three sections, braid one of them, then work the braid in with the other two sections. It's ridiculously simple!
Check out this helpful double braid video tutorial!
11. Braided Updo
Genius ponytail hair hack! Not only simple but quick. Here's an easy braided updo! Divide your hair into four sections, and twist them together for a pretty updo for work or a night out. No need to fuss with your hair on a hot day either. Use this updo braid hairstyle that fits every need. It works day to night, hot to cold, and even more. I'm certain this becomes your favorite go-to hairstyle for every occasion.
12. Milkmaid Braid
For another updo, try the easy milkmaid braid. Sometimes quick and easy outweighs flashy. It's nothing fancy, but it's neat and gets the job done. Just create two low pigtail braids, and wrap them around the crown of your head. Secure with a few bobby pins.
Here's an easy milkmaid braid tutorial!
Bonus:
Easy Braid Ideas for Little Girls
While braids are perfect styles for easy intentional hairdos, they're also cool. Styles that school-aged kids and busy moms will love. These simple styles are genius hacks for picture days. You know, when you send your girls to school clean and polished and they bring home expensive, professional photos of a wild child. Or, during those big family holidays when you already feel judged by everyone and you just need cute, clean, well-mannered children to help you avoid more criticism. Well, these braided hairstyles will help you combat some of the crazy. You'll look like you have it all together, and so will your kids. These cute braids keep your girls hair in place and still look great after hours of play. Plus, they're cool!
13. Easy Braid Ideas: Elsa
Does your daughter love Frozen? If so, she'll love this easy and stylish Elsa braid! This is a simple over-the-shoulder cornrow. Sure, Elsa didn't invent it but she sure made this inverted, side braid popular.  Little girls love this style and the smile it puts on their face will make you love it too. Once you start doing this braid on your little girl you'll probably never stop. Don't say that I didn't warn you.
14. Braided Buns
Braided buns are easier than you think, and they're cute hairstyles for kiddos in dance or other sports to keep the hair totally out of the way. Also great for dirty hair because let's face it, sometimes we just don't have time. Whatever the occasion, braided buns are to the rescue. They can even do them themselves. And, they can do them fast. Braided buns are just that simple.
Did You Like These Easy Braid Ideas? We Have More Hair Hack Ideas Just For You: