Love braids, but fumble with complicated hairstyles? You're not alone! Some braids look like they require an extra set of hands to execute. But you don't have to be a stylist or grow extra limbs to pull off these super easy braid ideas. Whether you want an updo or a messy-but-still-pulled together look, we've got you covered.

Quick & Easy Braids
No special braiding skills are required for the braided topsy tail. It's just a basic braid tucked into an inside-out ponytail. So cute!
Normally, a fishtail braid can take 15 minutes or more if you have long, thick hair. But you can do this chunky everyday fishtail braid in about five minutes!
Anyone can do an easy side braid! Just pull all your hair to one side, and braid it straight down. It looks great even if it's messy.
If you know how to do a French braid, you can easily pull off this lovely curly side braid by angling the French braid diagonally across your head. No worries about getting your braid straight!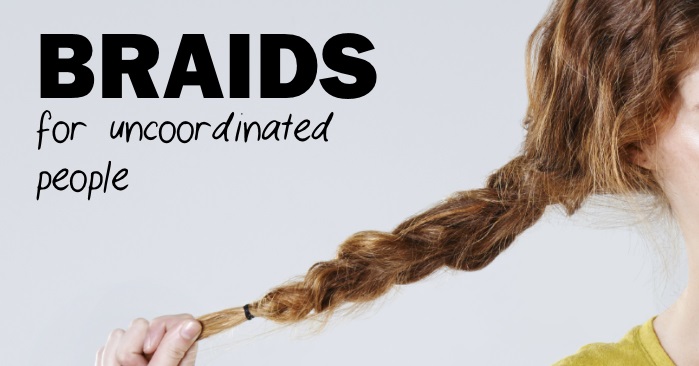 Easy Braid Ideas
You don't need a tutorial a high ponytail braid. Simply pull your hair into a high ponytail, and braid it all the way down. A little messiness makes it look even better.
For a low-fuss braid, try the relaxed French braid. You'll only pull in four large sections from each side. Easy!
For short hair, try a messy braided crown. It uses a Dutch braid (inside-out French braid) technique. It's easier than it sounds… just place each section under the others rather than over. Even if you can't do a french braid, you can make a pretty crown from basic braids on both sides.
Super Simple Braided Hairstyles
Pin two flattened, stretched out Dutch braids together to create a lovely mermaid tail braid.
We love this twisted braid! Twist each section of hair clockwise, and then braid them in the opposite direction.
Dress up a basic braid with a double braid style. Divide hair into three sections, braid one of them, and then work the braid in with the other two sections.
Here's an easy braided updo! Divide your hair into four sections, and twist them togethr for a pretty updo for work or a night out.
For another updo, try the easy milkmaid braid. It's nothing fancy… Create two low pigtail braids, and wrap them around the crown of your head. Secure with a few bobby pins.
Simple Braids for Little Girls
Does your daughter love Frozen? If so, she'll love this easy and stylish Elsa braid!
Braided buns are easier than you think, and they're perfect for kiddos who in dance or other sports to keep the hair totally out of the way.
Hair Products we LOVE
If you are looking for a long-term solution to flyaways, and protecting hair from damage, try this hair mask – it's our favorite!!
P.S. We have fallen in love with the products of a new skin care line and have become distributors. If you love hair, love skin products *that actually work* and are looking for a side income, we have openings in our team!