Too busy to cook? Don't let the frantic pace of the week get you down. With these crazy easy shrimp recipes, you can make a healthy, home-cooked meal in the time it takes to order and pick up takeout! Many of them are 15-minute meals (or close to it), and who doesn't have time for that?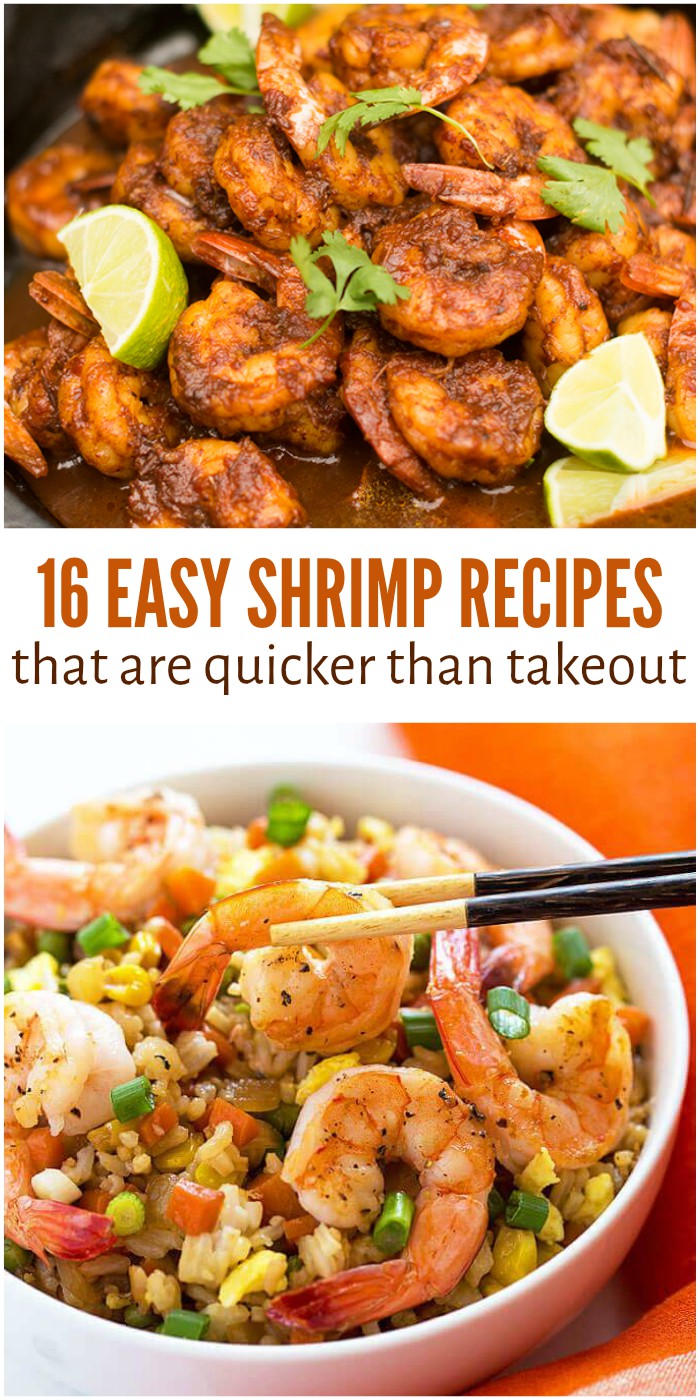 Crazy Easy Shrimp Recipes
How about some Sheet Pan Shrimp Fajitas? Serve the juicy shrimp and tender peppers and onions on warm tortillas for a yummy weeknight meal.
If you're a fan of meat on a stick, you have to try these Pesto Grilled Shrimp. Simply marinate the shrimp in the pesto, pop them on a stick, and grill.
Spicy Cajun Shrimp served over citrus-flavored quinoa is a real treat, even if you don't need to eat gluten free.
When you need a healthy meal FAST to feed your family, this Honey Garlic Shrimp should be one of your go-to recipes. You can have it ready in 20 minutes!
Tequila Lime Shrimp is perfect for stuffing into tortillas or serving over rice or pasta. The pureed ancho chili peppers really make this dish amazing.
This Jalapeno Shrimp Veggie Bake is not only colorful and flavorful, but it's low carb, too.
For another low-carb friendly dish, try Garlic Shrimp and Zoodles. It's ready in just 15 minutes and is so good for you.
When you're craving Italian food, this Spicy Shrimp Pasta in Garlic Tomato Cream Sauce is sure to satisfy. Be sure to only cook the pasta al dente… you don't want it to get mushy in the sauce.
Can't wait to try this Baked Crispy Honey Lime Shrimp! The shrimp is golden brown and crunchy on the outside, while the sweet and tangy honey lime and garlic sauce just adds to the flavor. Bet it would be fantastic over rice.
With half the calories of regular alfredo sauce, both your taste buds and your waistline will thank you for making this Skinny Cajun Shrimp Alfredo for dinner this week.
Not only is this Garlic Ginger Shrimp Stir Fry delicious, but she offers some helpful tips about searing proteins and cooking aromatics for better stir fries.
Why order takeout when you can make Shrimp Fried Rice right at home? It's ready in just 25 minutes and is so much healthier for you.
The sauce in this Greek Shrimp with Tomatoes and Feta is so flavorful that you'll want lots of pasta or bread to soak it up. Yum!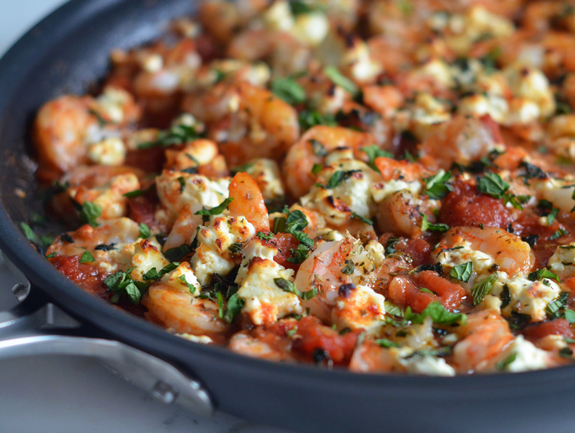 Food on a stick is perfect for summer, so try this recipe for Grilled Jerk Shrimp and Pineapple at your next cookout. It's a great appetizer, or you can serve it as a main course with a few sides.
Spicy Sriracha Shrimp Tacos with Cilantro Lime Slaw is definitely a summer party-worthy dish that your guests will gobble up.
Crunchy asparagus pairs beautifully with Roasted Lemon Butter Garlic Shrimp.
If you enjoyed these easy shrimp recipes, you'll also like: