Here are 17 frozen dog treat recipes that are canine-safe and friendly to help keep your fur baby cool when the temperatures are up.
When the weather starts to heat up, we think of every way possible to cool down. Swimming, air conditioners, and frozen treats are on our lists, and there's no reason you shouldn't pamper your pooch the same way. That's right; dogs enjoy a frozen dessert now and then.
Most of these homemade dog treat ideas can be made with a few simple ingredients, safe ingredients and dog-safe fruits that you might already have on hand, and take only a few minutes to whip together! And don't fret about the cutesy shapes for the dog treats. This is optional since you can use any ice cube tray or silicone mold you already have. In fact, you can get creative with what you use to freeze the treats, from an ice cube mold to a muffin tin to a plastic container.
Homemade dog treats are a great way of making sure you know exactly what your puppy is eating, and can be easily customized to the size of your dog.
Your imagination is the limit when it comes to making frozen dog treats in many other dog-friendly flavours (and colours), so get creative and have fun!

-DalmationDIY.com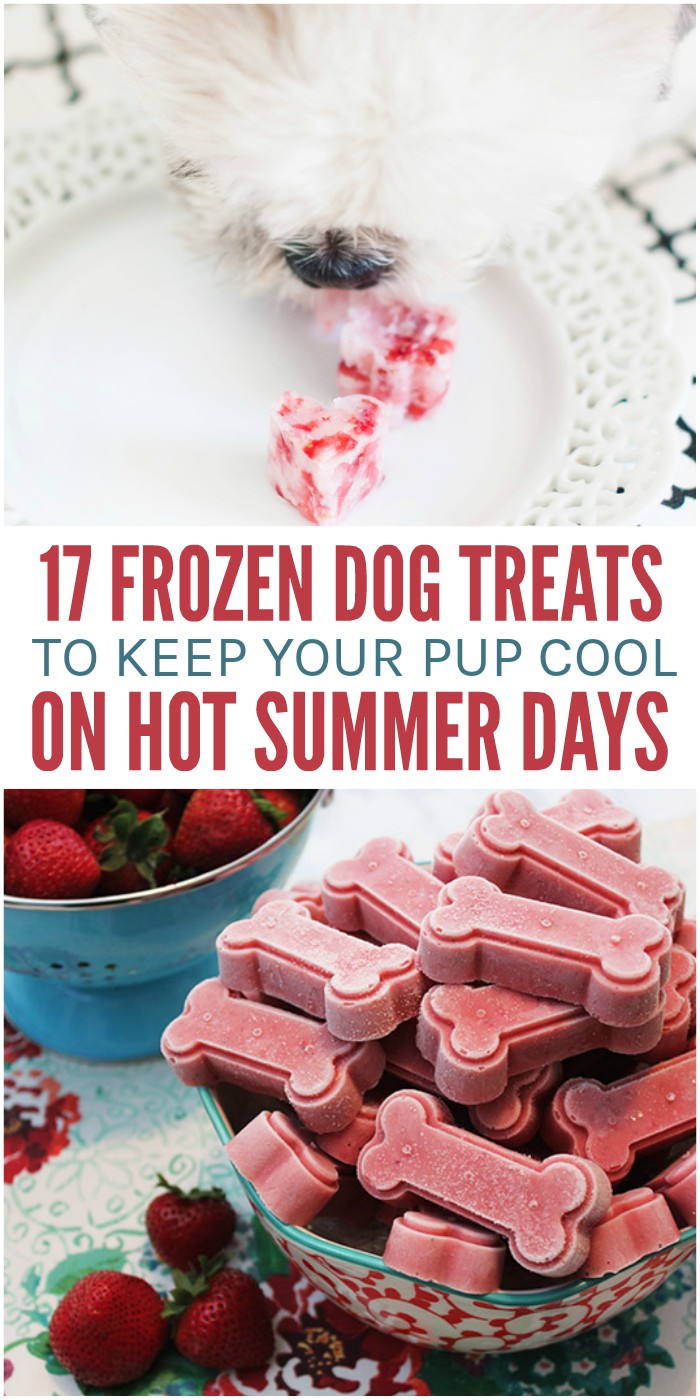 Homemade Frozen Dog Treat Recipes to Cool Down Your Dog
1. Peanut Butter and Banana Frozen Dog Treat Recipe
Can dogs eat bananas? You bet they can! As long as you throw away the peel.
With only 2 ingredients and 10 minutes prep time, these Peanut butter and banana frozen dog treats are a real delight!
Just mash, mix and freeze!
I know our sweet dog loves the Peanut Butter & banana combo, so we're going to make these ASAP!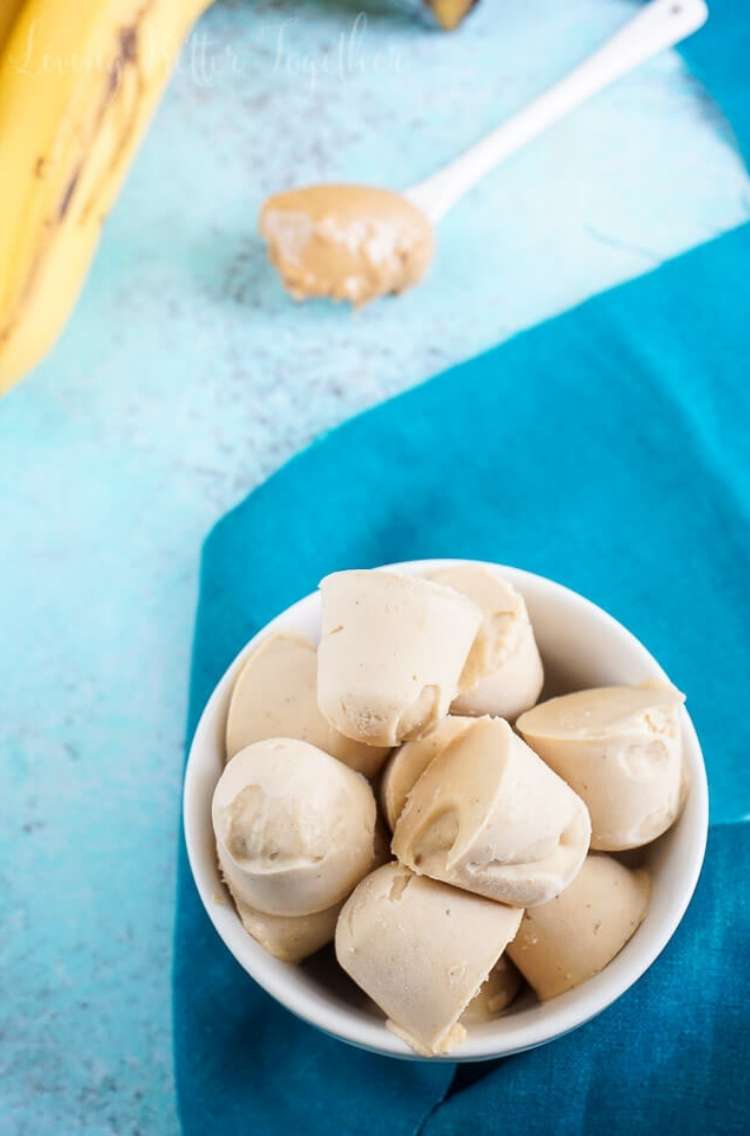 2. Apple and Pumpkin Dog Treat Recipe (or food toppers!)
What about apples? Can dogs have apples? Yes!
In fact, these treats are full of healthy goodies for your dog!
Pump up your dog's food with these frozen dog food toppers. They have a healthy dose of fruits and veggies — only ones that are safe for pups, of course, like:
apples
pumpkin puree
carrots
apples
chia seeds
Throw it all in a food processor or blender, freeze in an ice cube mold and voila!
Dog food toppers can be given as a treat or simply added to their bowl of food to enhance the taste and nutrition of their meal.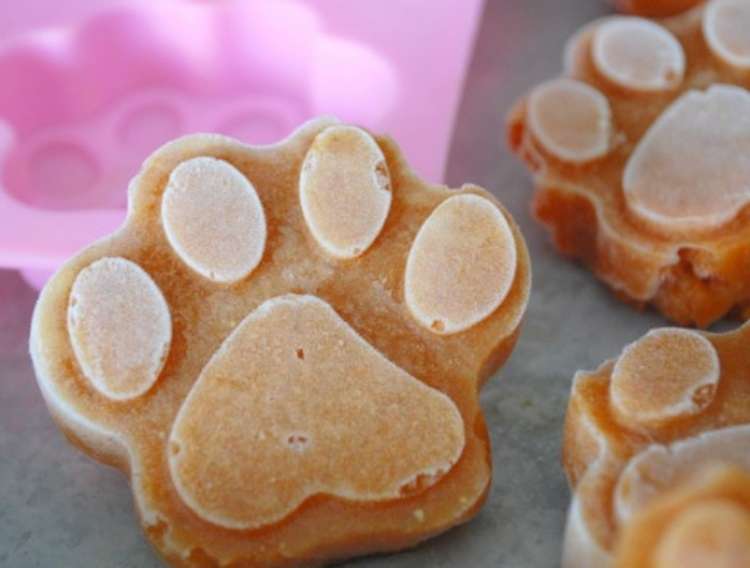 3. Frozen Pumpkin Dog Treat Recipe
And speaking of pumpkin, you should also try these frozen pumpkin dog treats made with pumpkin, yogurt, banana, and a bit of honey.
Using canned pumpkin makes this homemade dog treat recipe a breeze!
You can mix the ingredients with an electric mixer or you can simply use a fork to blend the ingredients together.
And once frozen, these treats are very easy to store. Once they have frozen solid, just pop them out of the ice cube tray and throw them in a freezer bag or container.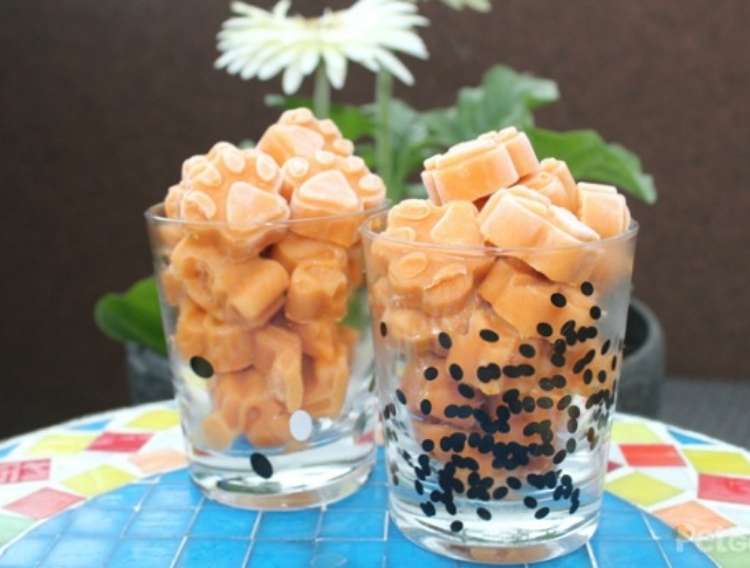 4. Strawberry and Banana Smoothie's for Dogs
We love the cute bone shape of these frozen strawberry and banana smoothie dog treats, but the truth is, the whole family can enjoy them!
That's right! These homemade dog treats contain lots of good-for-you ingredients for humans and our four-legged friends, so don't forget to make enough to share with the hoo-mans.
Strawberries and Blueberries are among the fruits that dogs can eat, and also make a delicious smoothie. Mix them with some yogurt, milk and honey, and your dog will have a delicious treat they can share with you.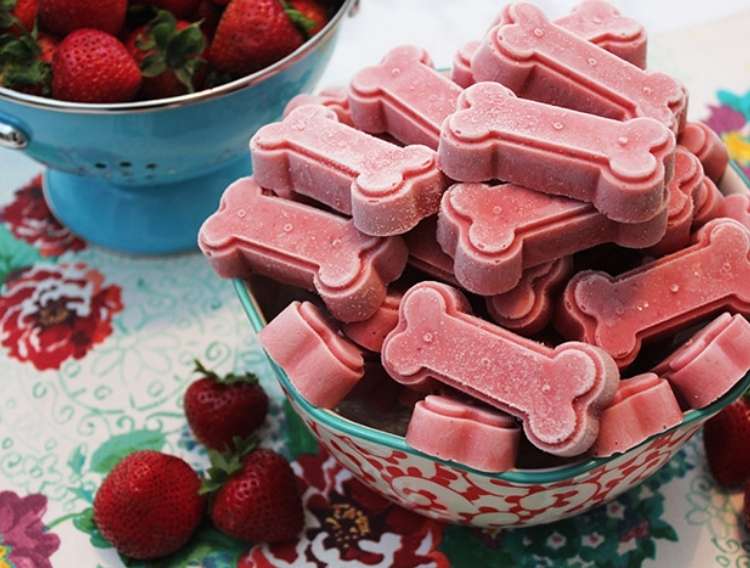 5. Frozen Ganana, Peanut Butter and Coconut Oil Dog Treat Recipe
Coconut oil is good for your dog's skin and fur as well as his immune system, so you can't go wrong with some frozen banana coconut oil dog treats.
Frozen homemade dog treats are quick and easy to make and are perfect for a hot summer day, and the piping method used to fill the molds makes this easy to clean up, too!
6. Better Dog Breath Frozen Treat Recipe
With just 3 ingredients, these chicken stock, peanut butter, and parsley treats will be your dog's new favorite goodie. The parsley helps freshen your pup's breath, too! This treat also makes a great food topper to get some extra goodness in at mealtime.
Don't have parsley on hand? Skip it! Your dog will love these homemade dog treats either way.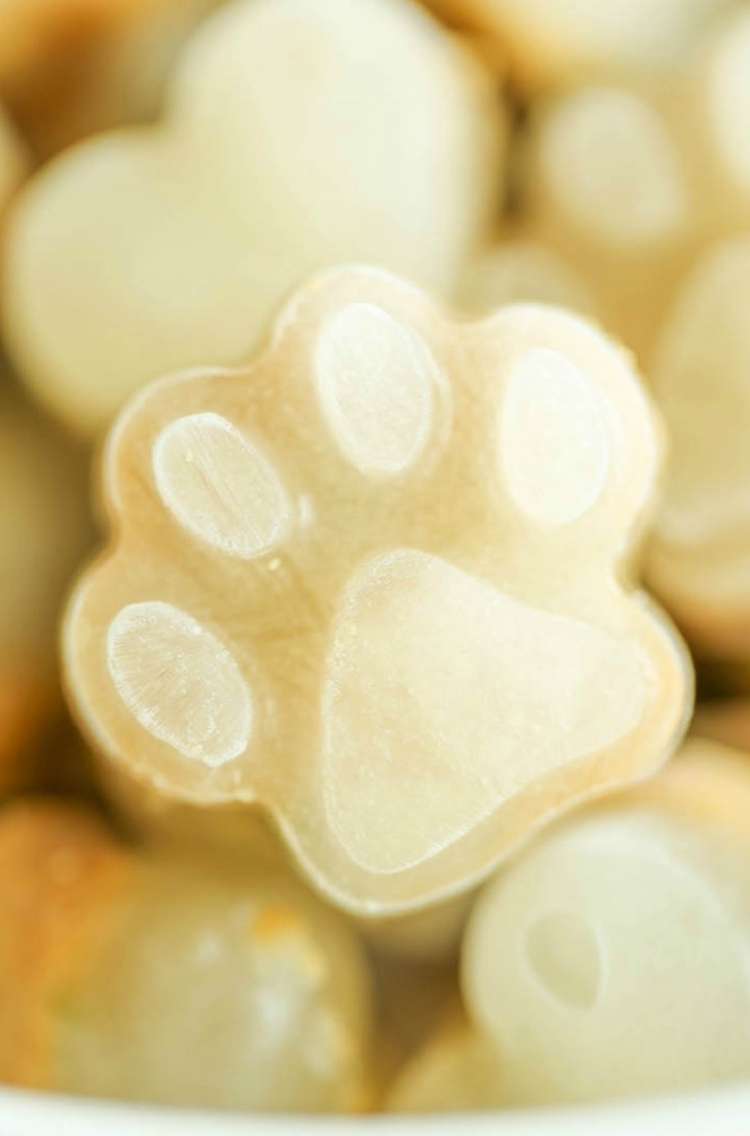 7. Chicken Broth Popsicle Dog Treat Recipe
Don't have any peanut butter on hand? No problem!
Simply freeze chicken broth to make a melt-in-your-mouth treat both dogs (and cats!) can enjoy. You probably already have the ingredients on hand, so this is a free homemade dog treat recipe (as long as your chicken broth is salt-free)! This can also be made using your leftover chicken bones to make a broth. Just make sure there are no cooked bones in your final product.
8. Peanut Butter and Frozen Yogurt Dog Treat Recipe
Two ingredients will get the job done nicely, like these peanut butter and yogurt frozen treats.
To make an easy job of adding the peanut butter to the mold, simply heat it up a bit beforehand. You can layer the peanut butter and yogurt or you can just mix them up for a smooth and delicious treat.
9. Frosty Paws Copycat Dog Ice cream
This frosty paws copycat allows you to incorporate your dog's favorite biscuit into the mix. Double yum for doggy!
These are a great alternative to Frosty Paws Dog Ice cream since you can control the size of the portion.
And with some of your dog's favorite snacks like peanut butter and banana, these pup-sicles are healthy, delicious and might we say, adorable!
10. Neopolitan Frozen Yogurt Dog Treat Recipe
Try a Neapolitan frozen yogurt treat with your pooch. Don't worry… that's not chocolate. It's doggy-safe carob powder to create the "chocolate" layer.
Simply divide your yogurt into 3 bowls. Leave one plain for the "vanilla part", mix one with strawberries, and add the carob powder to the last bowl of yogurt. Layer each flavor in your ice mold and freeze.
For faster prep, you can also just freeze the flavors separately. Piping the prepared yogurt into the ice molds might also make the layering job easier.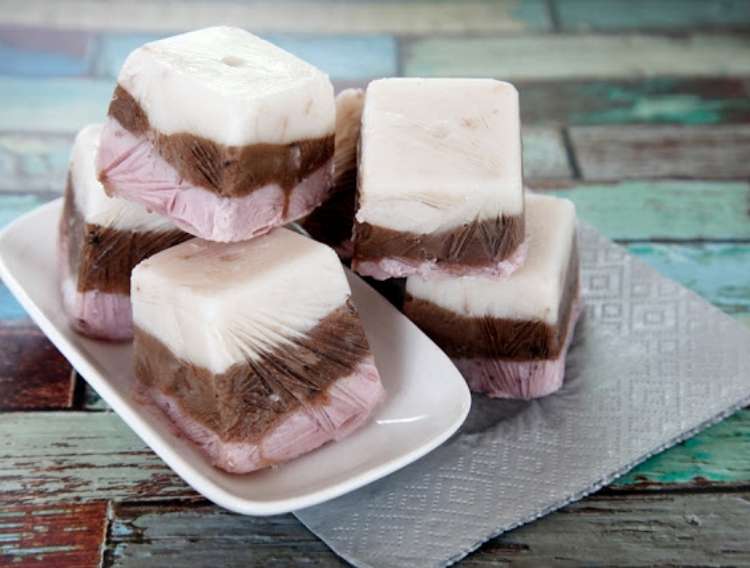 11. Blueberry Frozen Pup-sicle Dog Treat Recipe
Look how happy this doggo is with these blueberry pupsicles! The "stick" is a rawhide treat, but you could use a carrot stick, too.
These homemade blueberry dog treats are great for teething pups, too!
Simply blend peanut butter, blueberries, a banana, flaxseed, and water, and then throw it in a cup or popsicle mold. Add your rawhide or carrot "stick" and freeze.
yum!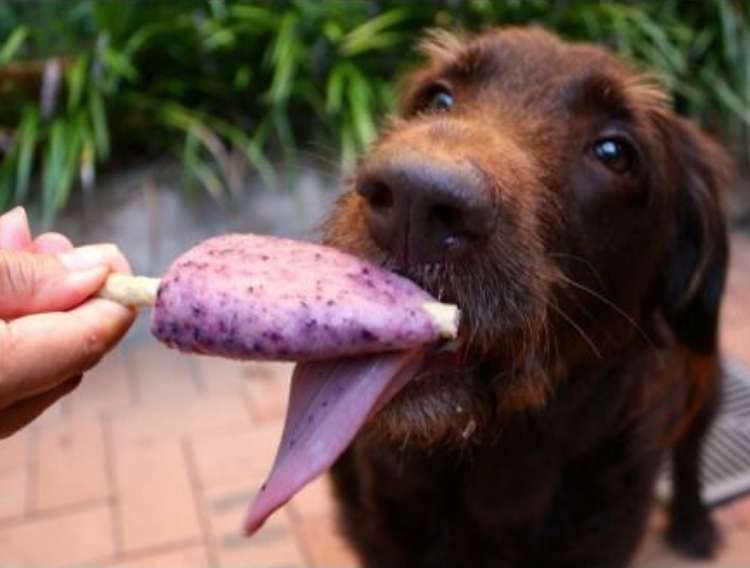 12. Frozen Coconut Oil and Blueberry Dog Treat Recipe
And speaking of blueberries, make another healthy snack: frozen coconut oil and blueberry dog treats. They're so good for your dog, and absolutely delicious, too!
To make these all you will need is coconut oil and blueberries.
That's it!
Just 2 ingredients. Throw a blueberry in each ice cube mold and pour heated coconut oil over it and freeze.
Homemade dog treats can be given to your dog as a treat right out of the freezer, or it can be added as a food topper to enhance the flavor and nutrition of your dog's meal.
Delicious and nutritious! Keep your dog's healthy tail wagging all day long!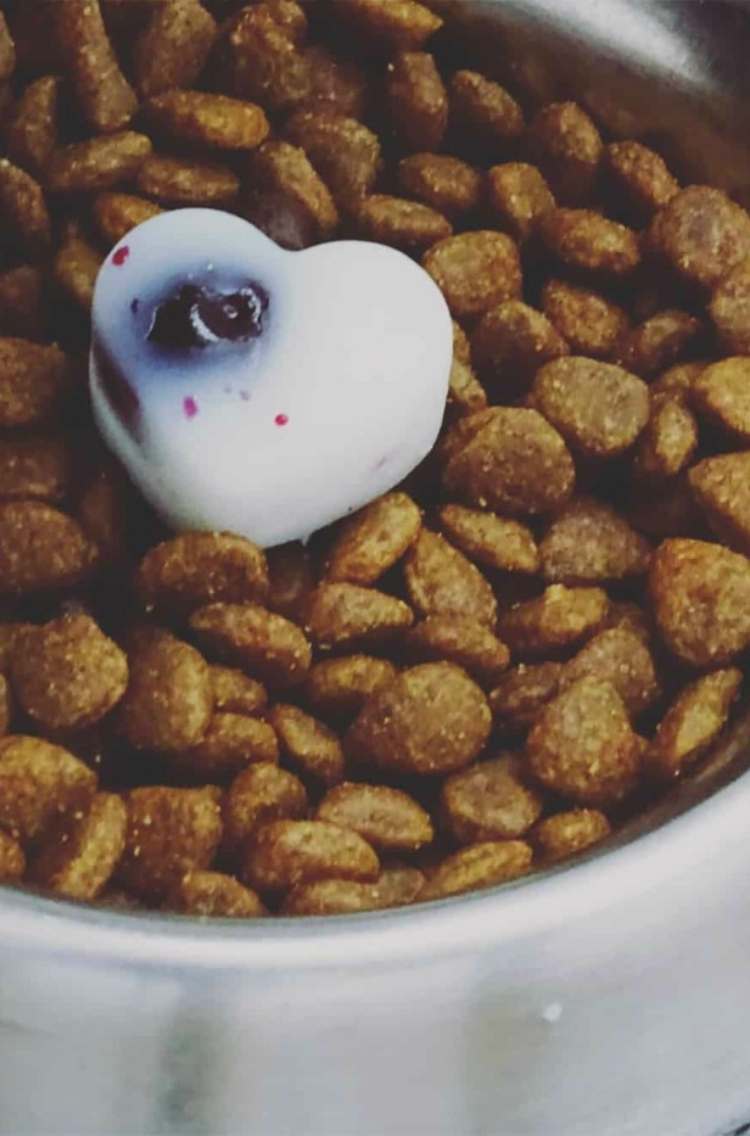 13. Patriotic Ice Pup Pops Recipe
These patriotic ice pop dog treats are great for the 4th of July, but let's be honest… your dog will gobble them up any time of year! The treats get their pretty colors from strawberries and blueberries mixed into yogurt.
There is the option to tint these for a richer color, but this step is optional. Your dog will love the flavors of these dog treats regardless of the color or shapes.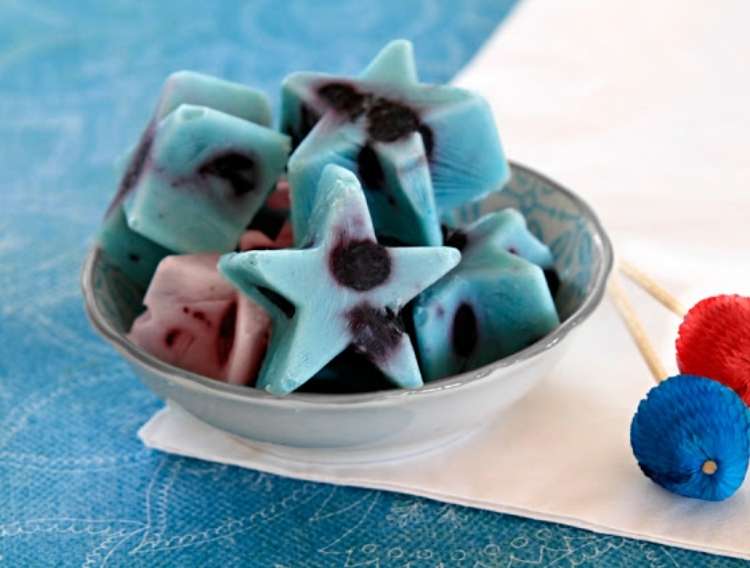 14. Frozen PB&J Dog Treats Recipe
Frozen PB&J treats will be eaten swiftly. Don't use actual jelly… there's too much sugar for dogs. A combination of strawberries and blueberries and peanut butter is almost the same thing.
AND you can't forget to freeze these dog treats with wax paper so they don't stick to each other. And we wouldn't blame you if you tried one of these yourself.
15. Pumpkin and Banana Hypoallergenic Dog Treats Recipe
Mix pumpkin and banana to make these yummy star-shaped pumpkin and banana dog treats. Got a pup with allergies??  The perk of this treat is that it is hypoallergenic.  Hypoallergenic dog treats are healthy and refreshing on a hot day.
Don't like bananas? Switch it up with some cantaloupe or get fancy with some kiwis.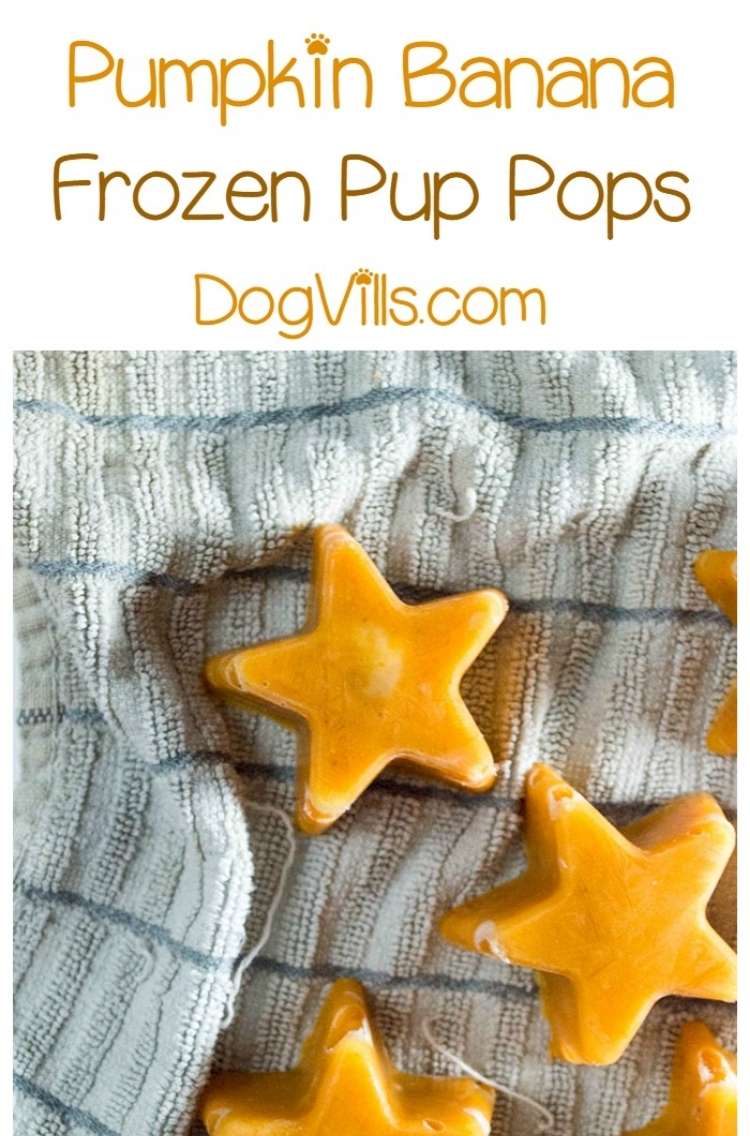 16. Peanut Butter and Coconut Oil Frozen Dog Treats Recipe
Here's another healthy coconut oil dog treat: Peanut butter and coconut oil dog treats! Won't your dog just love them? These can also be given as a treat or can be added to your dog's food as a food topper.
17. Strawberry Coconut Oil Drops Dog Treats Recipe
And one more for the road… strawberry coconut oil dog treats. They're gorgeous! These homemade treats can be made with mini cookie cutters since it doesn't require that the coconut oil be liquid to combine the ingredients. They're like little strawberry candies for your dog!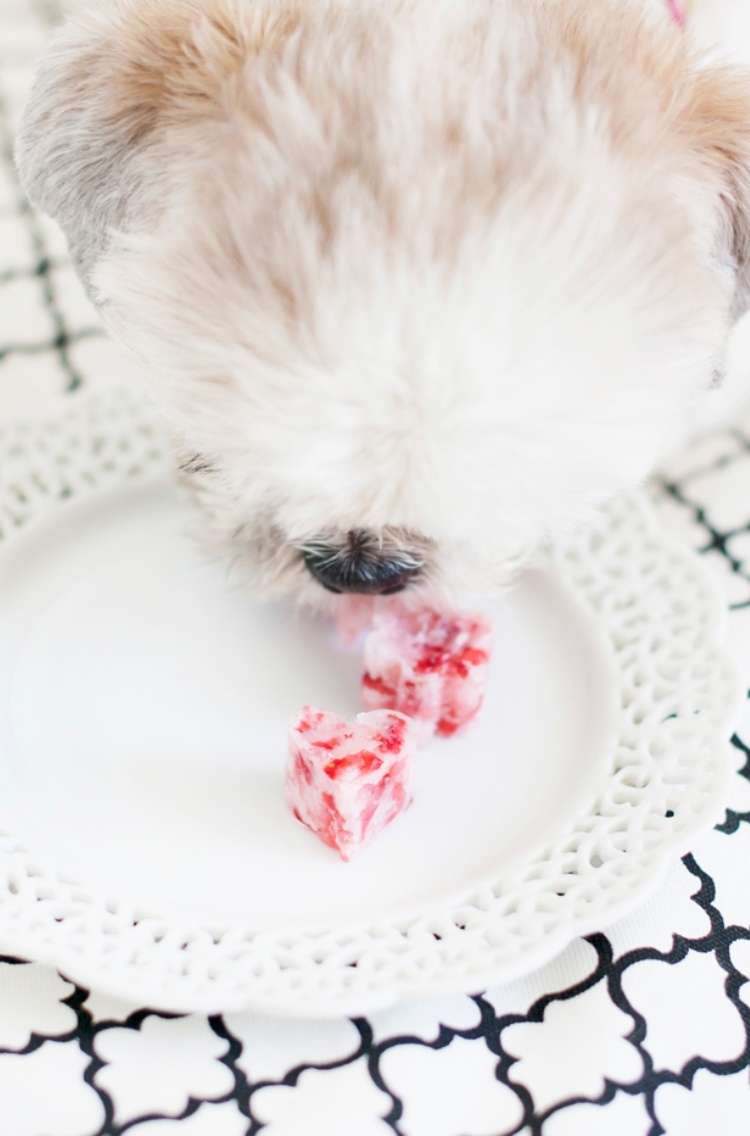 If you liked these frozen dog treats, then you'll also want to read: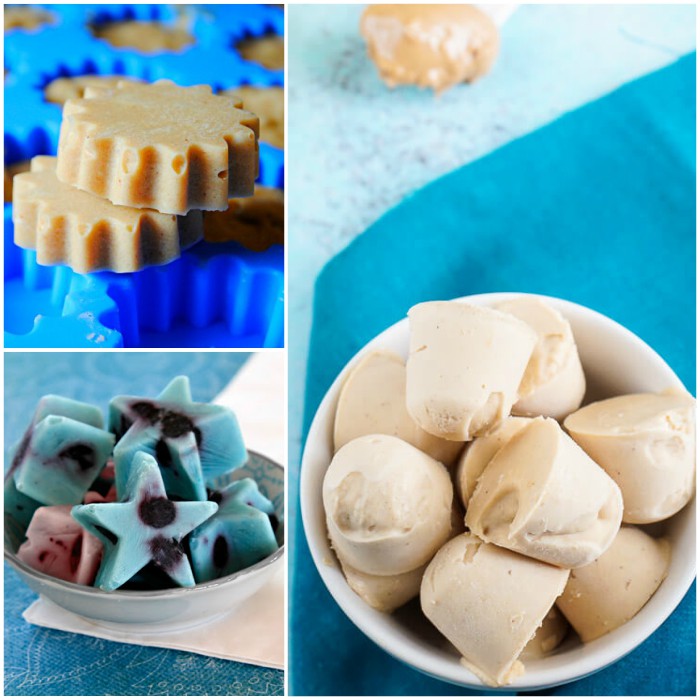 Which of these tasty dog treats do you plan to make for your dog?